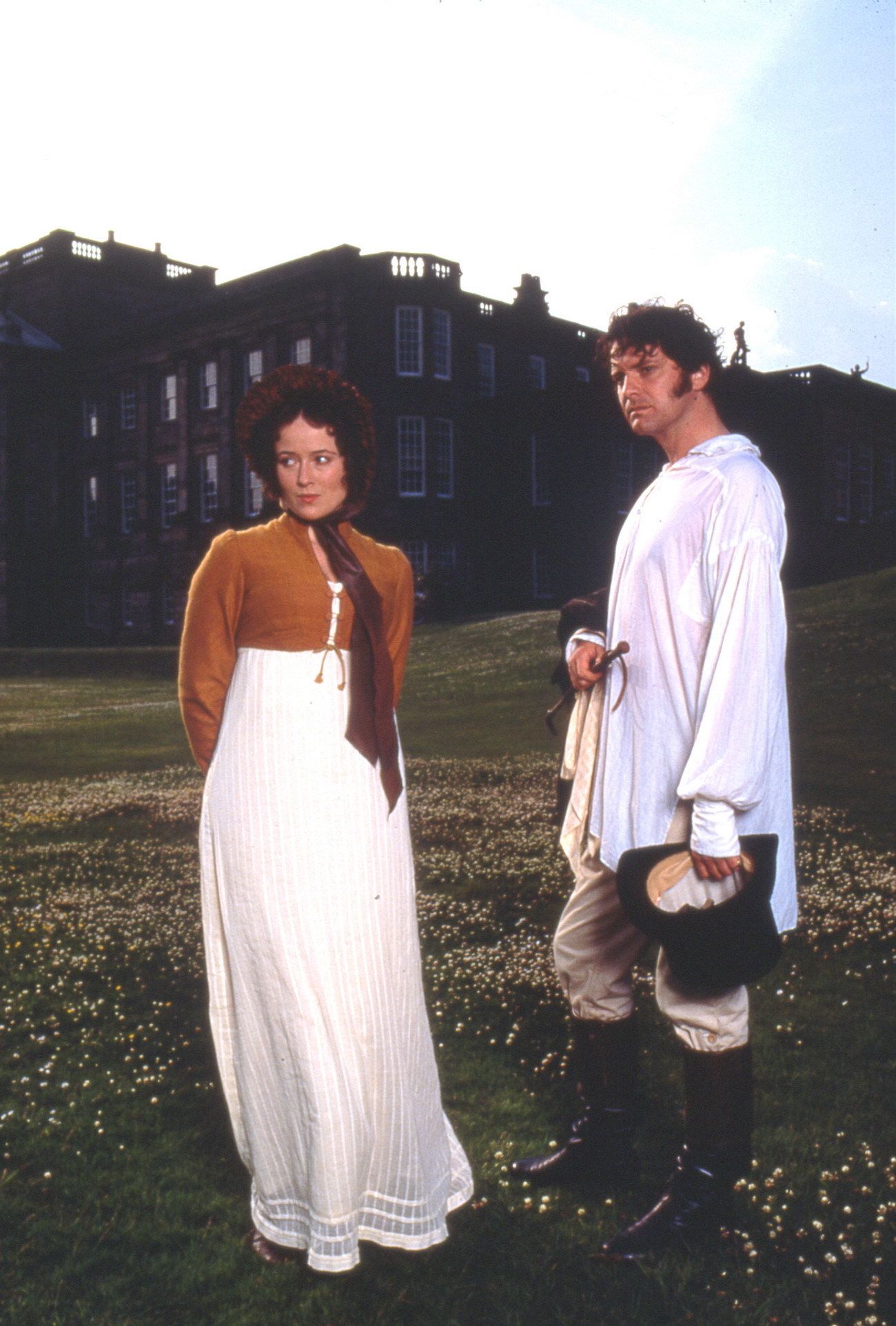 Support Quality Slow Journalism or Lose It
Please read this before you go ahead and soak up this independent journalism feature on the mythology of Colin Firth's Mr Darcy and Bridgerton 2 and Sanditon 2. I've been a lead feature writer for 25 years, interviewing everyone from Sir David Attenborough to Keira Knightley and the luminary actors in Downton Abbey and hundreds of A-list actors. This handcrafted feature took around 15 hours to research and write excluding posts on social media. Thousand of fans read my film, drama and entertainment interviews and editorials and love and admire the writing, ideas and insights and yet we have only earned pennies from Google advertising which continues to refuse to support quality journalism online by setting sustainable advertising rates. The rates are positively 18th Century! Quality journalism must once again be supported by its readers and fans. Please join the #paythecreator movement and donate at the end of this article or become a monthly subscriber for more singular storytelling that makes your week. The more you support, the more I will write for your delight. Thank you, Journalist and editor Extraordinaire. Happy Easter. Alison Jane.
INTRO
Regency fever reigns. Or should I call it Darcy fever? Twenty-seven years after Colin Firth emerged from that lake in a wet, white Regency shirt of impeccable taste and quality as the master of Pemberley in the BBC's 1995 peerless adaptation of Jane Austen's masterwork, Pride and Prejudice, and caused a global, collective feminine meltdown, he is back. Both Bridgerton and Sanditon pay homage to Firth and the concept of the Regency romantic man as they explore and reimagine Austen's world for the 21st Century any which way they dare.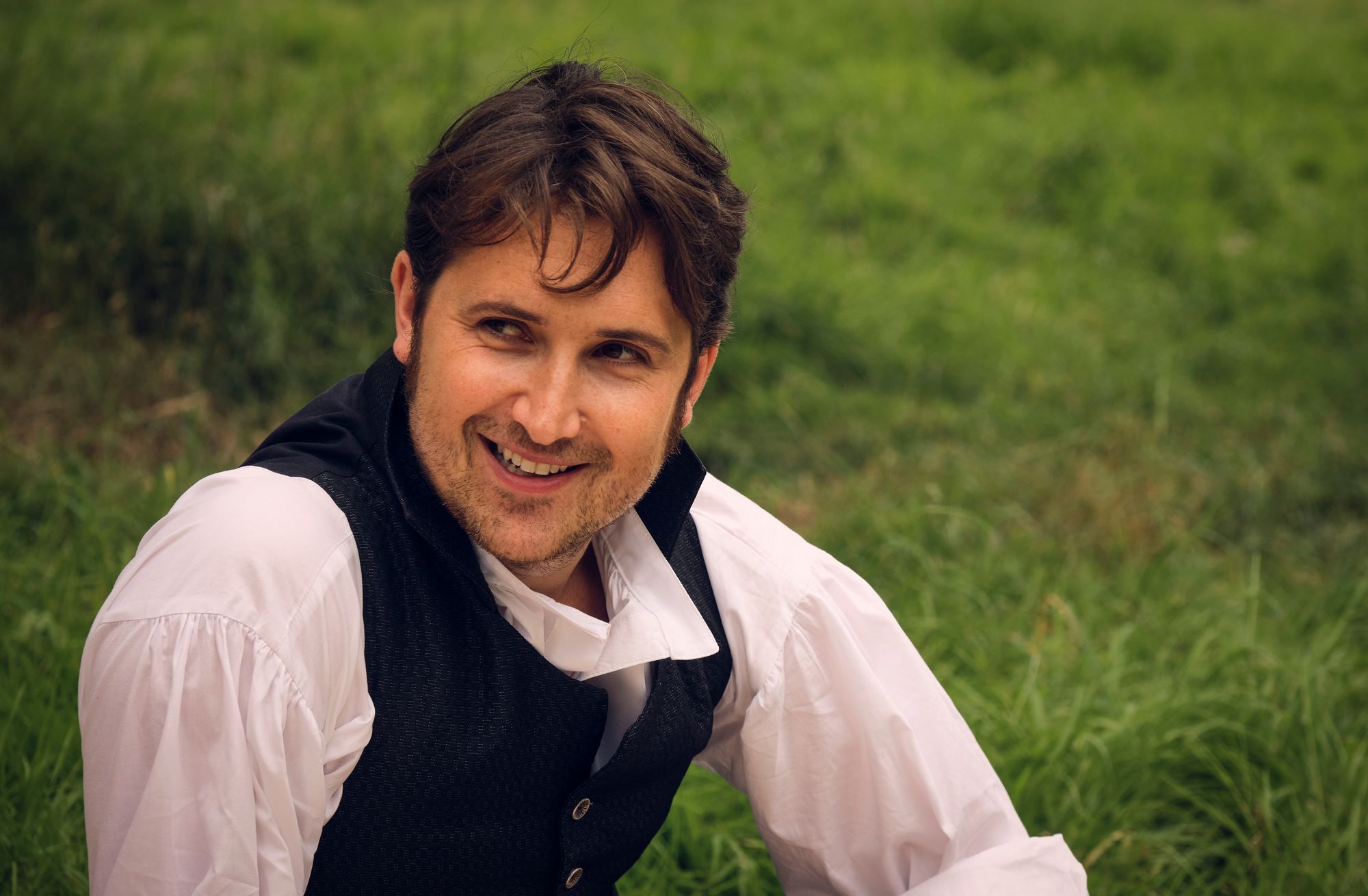 Of course, each new generation likes to revisit our greatest heroes and remake them in a way that reflects our culture now. And yet, should they even try? Can you improve on literary perfection? Can Anthony Bridgerton, his two brothers, Alexander Colbourne, Colonel Lennox or the intriguingly charismatic Captain Fraser played by Frank Blake possibly be a match for one of the greatest romantic heroes of English lit and of the collective female imagination?
Or are they but paler versions of the Mr Darcy ideal in all his pomp, flounces, secret inner nobility and masculine peacock power as we watch and pour over Bridgerton and Sanditon this Spring in all their picaresque, witty and ingenious attempts to reinvent the genre?
Both series have realised that it is the epic struggle for love and to win the heart of this elusive hero that defines the extraordinary appeal of Austen, not too much sex, and there is one item of clothing that defines our man - the flowing white Regency shirt with or without a jabot of cravat, worn under a tailored frock coat or with a waistcoat and breeches.
The Garb of Our Romantic Regency Hero
The garb of the hero is so important because men don't dress like heroes anymore. Golly, it was so much more fun to be a gentleman in the 19th Century than it is in the 21st Century when it comes to fashion unless your name is Harry Styles.
Who wants men to dress like heroes again? Would that thrill you? Tweet and tell me.
Should Men Dress More Like Romantic Heroes?
Now then, let's return to the chase. Thus we have Anthony Bridgerton, heir apparent to the Bridgerton fortune, played with a sort of gallows charisma by Jonathan Bailey, who denies love until he meets his match in Kate Sharma, Simone Ashley - a cross between Kate in Shakespeare's The Taming of the Shrew and Hitchcock's Marnie memorably portrayed by Tippi Hedren.
So, Anthony Bridgerton crashes into the lake in a delicious moment of high romantic farce as he tries and fails to take his eyes off Kate, the clever and more interesting of the Sharma sisters he is really in love with. He emerges from the drink all shook up and quite drenched in a not so subtle, yet resourceful and amusing homage to Colin Firth (if only her majesty had been there to see it). In fact, if you look at the picture here of Jonathan, his shirt is so transparent that it appears to be plastered to him so that his bare flesh and fine torso are visible to admire. Would an authentic Regency shirt become this transparent, I would love to know?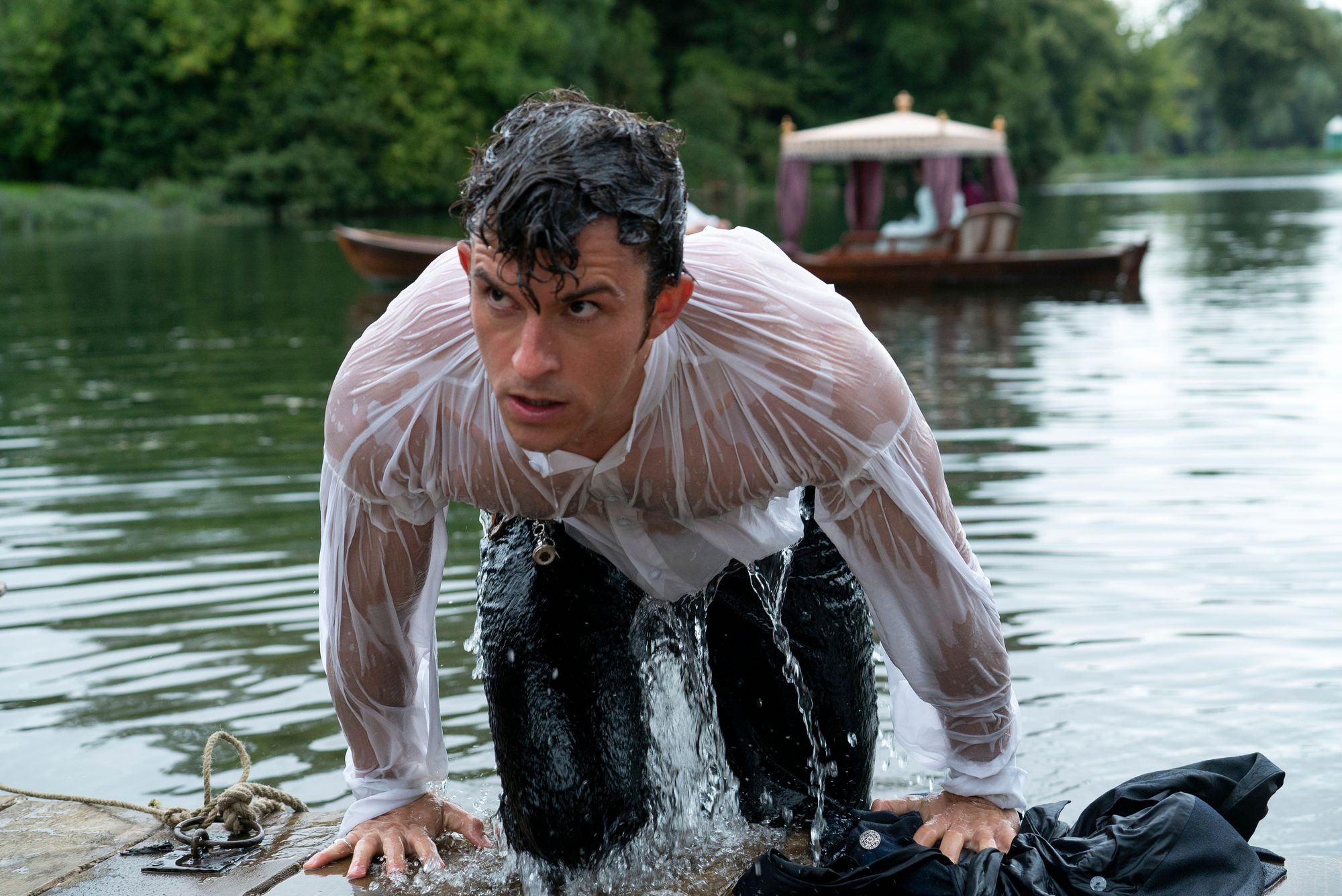 Such a public spectacle would certainly have been perceived as scandalous in Regency society. Skin couldn't be revealed in this way. That doesn't stop both the Sharma sisters from admiring Anthony's body until Kate tells her sister to stop staring so intently while she continues to do exactly the same.
Sanditon takes a different, yet no less daring and provocative approach to the white shirt with the magnetic Colonel Lennox played by Tom Weston Jones.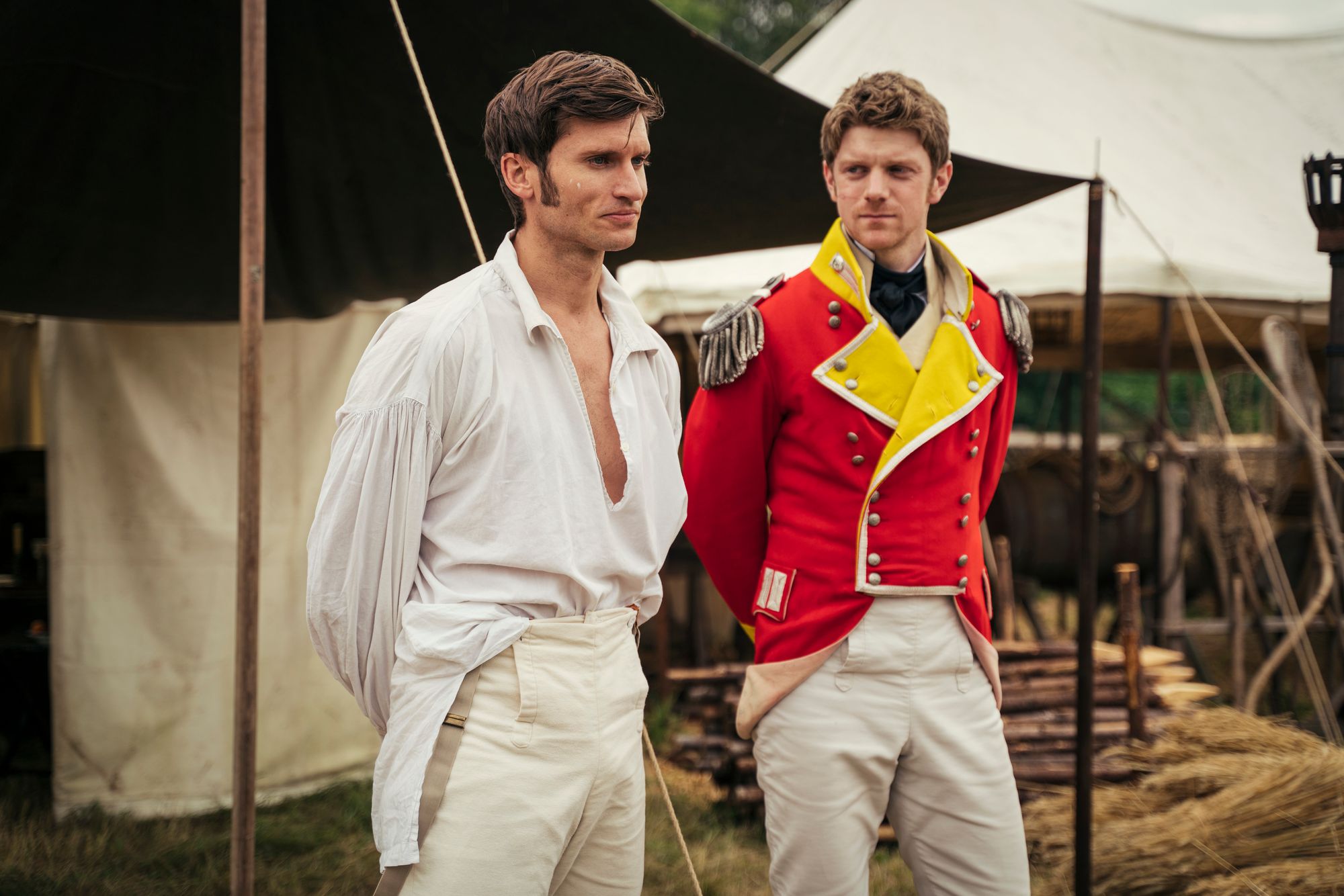 As Charlotte and Alison visit the soldier's camp, the colonel emerges from his tent bare-chested, sans shirt, only to then make a very big deal of putting on a fresh shirt in a rather outre, scandalous stunt, that would give Jane the jitters! It is not remotely authentic unless we have strayed into Becky Sharp, Vanity Fair territory, and a bit obvious and cheeky. Of the two, I prefer the Bridgerton stunt.
I love the idea of revisiting the power of the white Regency shirt. Yet neither scene can outshine Colin in P&P, although they are both entertaining and fun.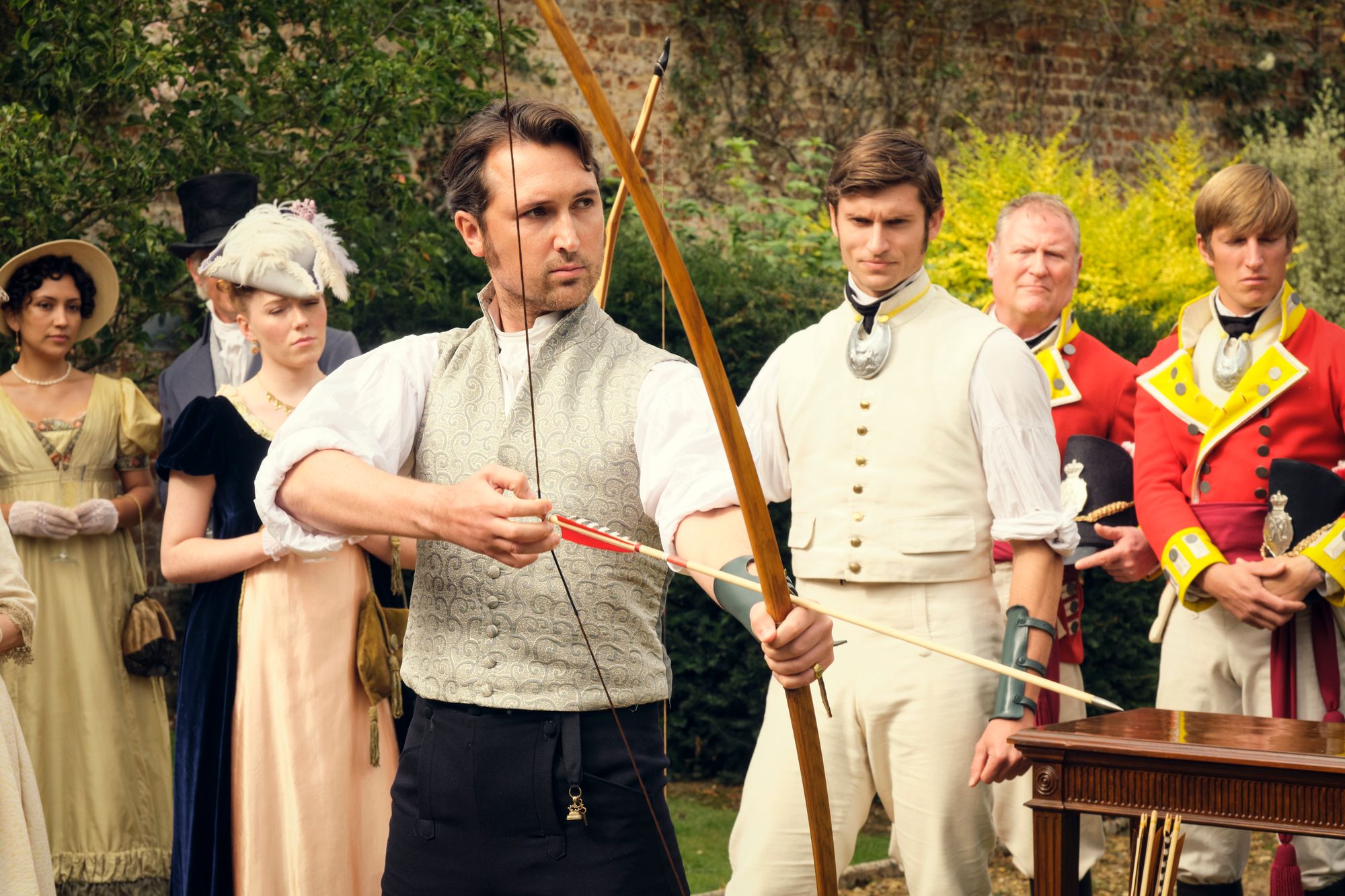 Personally, I find gazing at Ben Lloyd-Hughes as Alexander Colbourne in Sanditon 2 flaunting his white shirt discreetly, like a gentleman, under an elegant brocade waistcoat to spar at archery with his rival for Charlotte more satisfying than any of the above apart from Colin. The thrill is in the subtlety and the idea of being able to exercise one's audacious, feminine imagination about the idea of what lies beneath that gentlemanly exterior.
It's also authentic. Fashion historian Vicky  Haddock says, "The cream linen shirt worn by Colin Firth in his portrayal of Mr Darcy, as he emerged from the Pemberley pond in the BBC's 1995 production of Pride and Prejudice, is a revealing garment in more ways than one. To 20th and 21st-century audiences, the scene of a man emerging from the water with his wet shirt clinging to his chest is titillating, but to Regency audiences, it would have been scandalous!
The White Shirt is Underwear for the Regency Male
"The shirt was an item of men's underwear, that would be pulled on and off over the head. It was expected for it to remain a private item of clothing, with only the collars and cuffs on display. No wonder Kate tells her sister 'Come now, it is not proper to stare' as Anthony Bridgerton undresses after falling in the lake in series 2 of Bridgerton. The shirt can also be seen as a tool to communicate the character development of these male characters as they shed their formal skins to reveal their true personalities (and more!) to the heroine."
Out With Formality
Well, the costume designer in Sanditon 2 has certainly taken license with Regency social etiquette. Alexander Colbourne is shown with his shirt sleeves rolled up, the entire regiment seem to have a mania for open air bathing, or is that just another exuse to show a bare male chest as often as possible? Interestingly, while the female dress in Bridgerton takes a fantasy approach to 19th Century dress, which is sometimes underwhelming; the costuming for the male leads is richly conceived, reasonably authentic and mostly buttoned up in Season 2.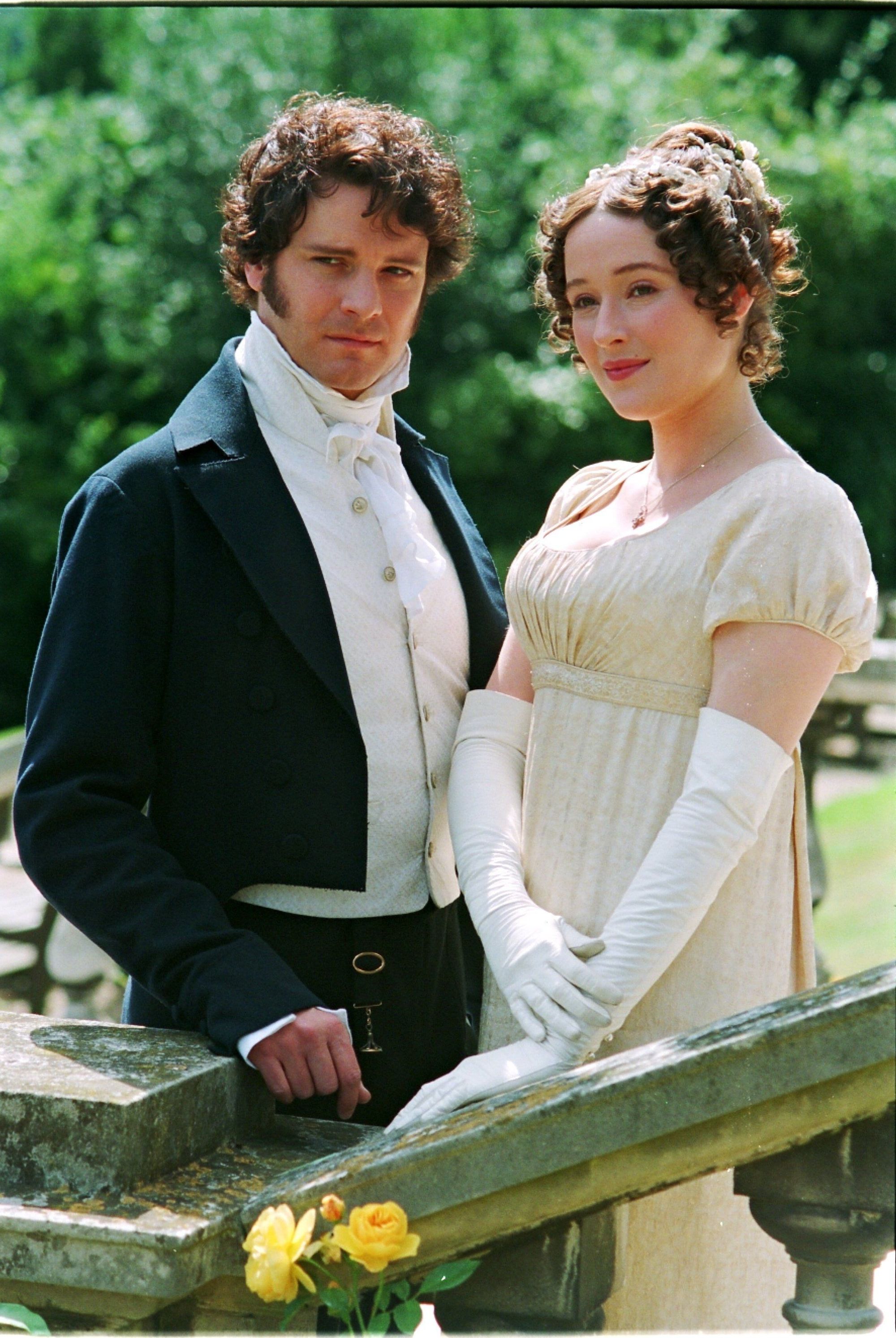 Colin Firth immortalised the white shirt in the celebrated 1995 adaptation of Pride and Prejudice, when in a moment of sheer masculine vitality, youth and vigour, he took off his boots after a long ride and suddenly, impulsively jumped into his lake at Pemberley clothed in a white shirt which becomes alluringly diaphanous, body-conscious and sheer as he swims through the water and then emerges revived and full of life. Then in one of the greatest moments on television, he walks towards his stately pile (a symbol of wealth power and status) and runs straight into the woman he loves and admires ardently - Miss Elizabeth Bennett, played with just the right amount of daring, defiance and steely independence by Jennifer Ehle.
Of course Elizabeth is quite undone by seeing the man she loves in a state of undress that would only be reserved for his lover!
A Triumph of Naturalism, Titilation and Comedy
It's also a moment of naturalism and intimacy that works.
It is also a defining moment of genius by Andrew Davies that clashes social convention and propriety with youth, desire, love and sex and yet we only catch a glimpse of flesh. This was sufficient to turn Colin Firth into a star and a reluctant sex symbol to this day. Such is the power of that scene as a celebration of masculine sexuality that Firth complained that it ruined his career for a while as a serious actor.  
It's interesting to hear a male actor say this. Historically, apart from the seventies, which was a time when social mores were being torn up, it is female actresses who have felt exploited in film, stage and television.
Later, Colin Firth, the son of missionaries, accepted and embraced the accolade as a repressed and heroic sex symbol by wallowing in everything that makes him so hot. The man who doesn't have a clue how attractive he is to women as Mark Darcy in The Bridget Jones films.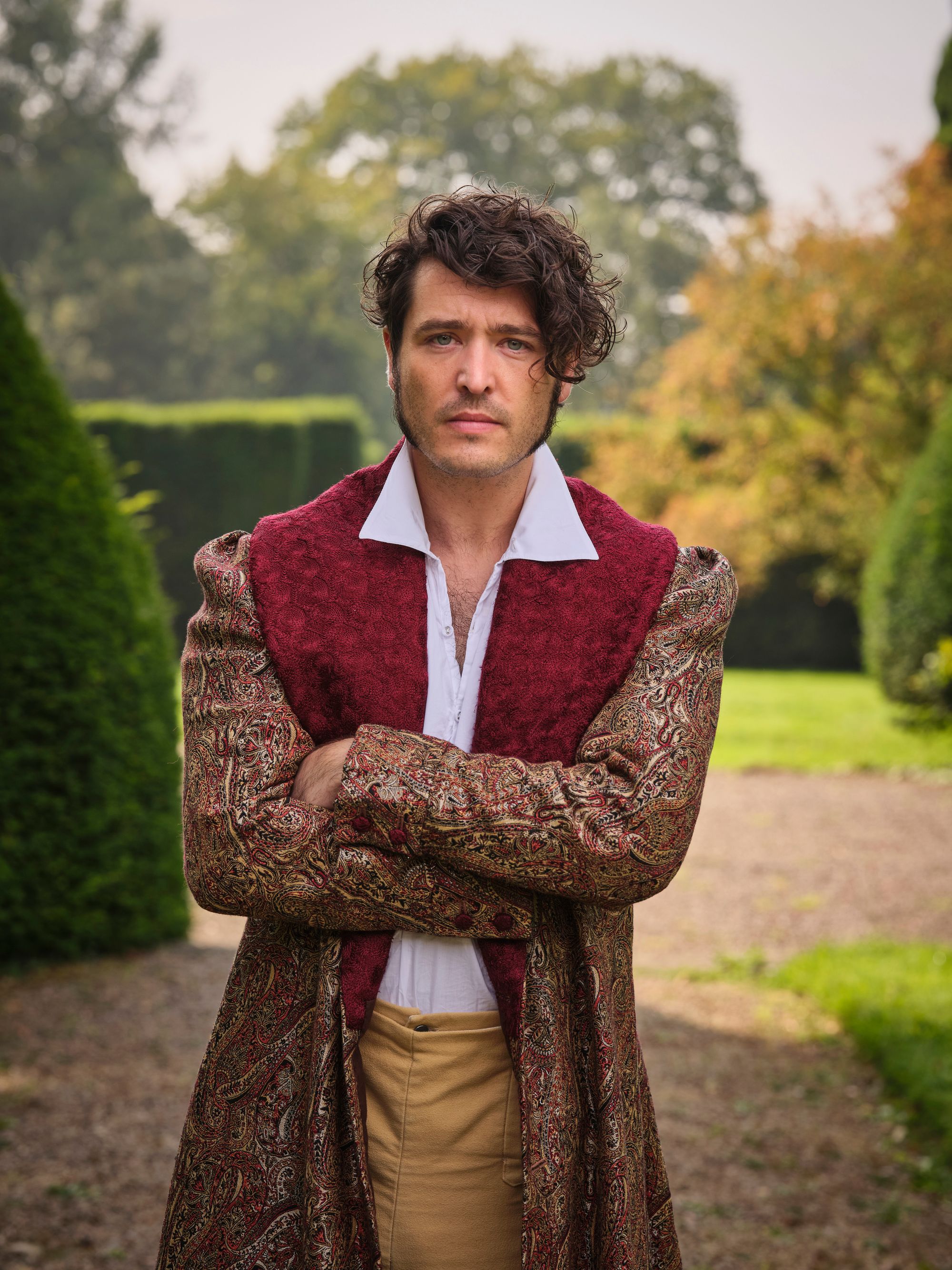 Though we might also throw in a decadent dressing gown worn over the white shirt with such twinkling abandon and ambivalence by Alex Vlahos as Charles Lockhart in Sanditon 2. Vlahos has decided to be the reincarnation of Lord Byron and he is awfully good at it. There is something of the animal in his portrait of himself as a louche, itinerant artist who isn't really in Sanditon just to paint portraits of the wealthy tourists.  He represents a nefarious, archetypal cad and seducer out to ensnare Georgiana by wearing his shirt decadently open, smearing paint on it and walking around barefoot as he weaves his magnetic and reckless trap for our susceptible and vulnerable heiress.
Notwithstanding all these outings for the dress of a gentleman or a cad, I still swoon at the sight of Ben Lloyd-Hughes presenting cornflowers to Charlotte as his broken heart begins to thaw in her company after she becalms his horse and his children. It's the quiet, subtle gestures of romance that speak louder than farce or scandal and create lasting mythology.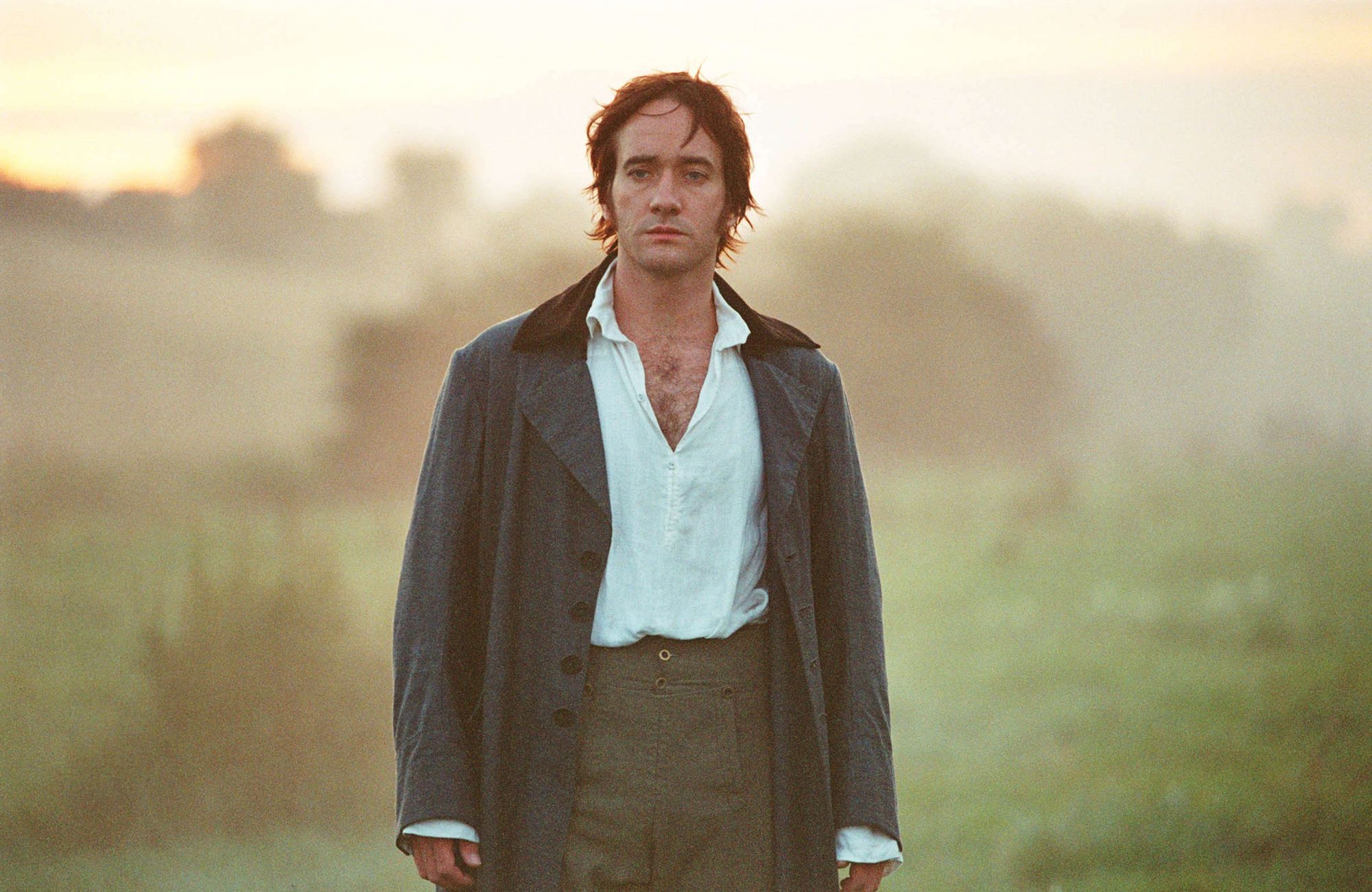 The other great example of this is in Joe Wright's deeply naturalistic film version of Pride in Prejudice starring Keira Knightley as Elizabeth and Matthew Macfadyen as Mr Darcy. While the book is paired down to its very essence, what lingers on is the final scene which is like a Turner painting and suffused in sensuality and romance.
Sensuality, Romance and a Painterly Romantic Eden
Darcy walks through the fields at dawn dressed in a frock coat that is quite unbuttoned to reveal his white shirt and his bare neck and chest. It's like looking at a dream. The choice of clothing is emblematic of Darcy's love and new openness toward Elizabeth as he comes to find her and utters these immortal lines.
"If your feelings are still what they were last April, tell me so at once. My affections and wishes have not changed, but one word from you will silence me forever. If, however, your feelings have changed, I will have to tell you: you have bewitched me, body and soul, and I love--I love--I love you."
The bewitching is what it is all about dear reader, and no one will ever match Jane Austen for her mastery of the English language and ideas about love, courtship and a code of romance that has become a cultural touchstone.
Alison Jane Reid/The Luminaries Magazine Copyright April  2022.
All Rights Reserved.  
Important Notice
Dear reader, we hope you enjoyed this sparkling piece of independent slow arts and culture journalism on the Regency hero. Each article takes hours to research write and polish. We are an entirely independent, arts and culture magazine. We are not supported or funded by Google advertising, we are funded by small subscriptions and donations. Donate or become a Luminaries Magazine today for additional rewards and perks sent to your inbox. We are currently offering new subscribers a complimentary three or six-month subscription to the Clementine wellbeing app featuring hypnotherapy sessions for sleep, confidence and mental health. This is on a first-come, first  served basis as they are donated.
Watch the BBC Adaptation of Pride and Prejudice on Britbox
Watch Sanditon on Britbox and Masterpiece PBS
Watch Joe Wright's Pride and Prejudice Film on Netflix