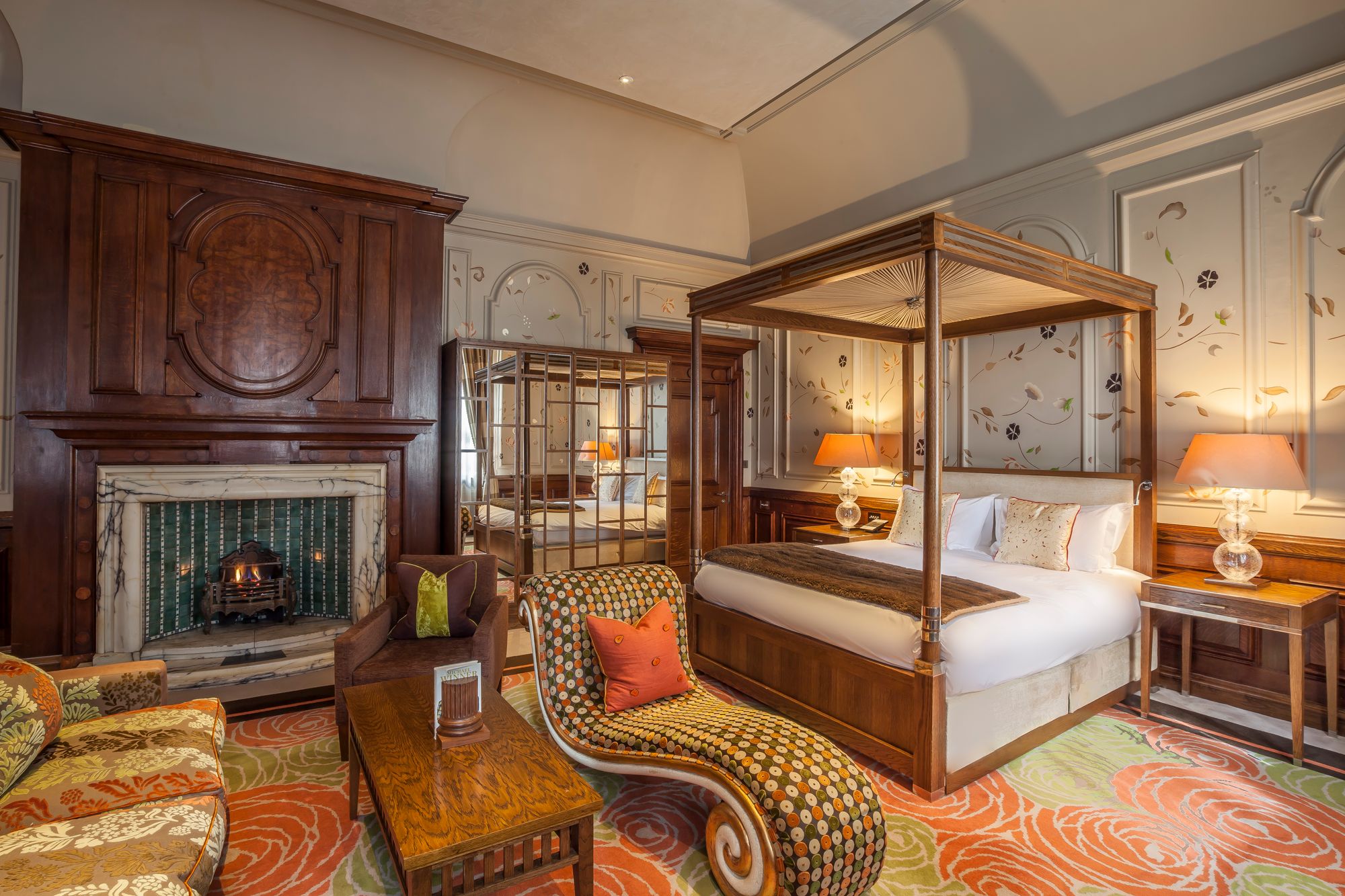 Frank Sinatra sang that New York is 'My Kinda Town.' I agree with Frank. I feel at home in NYC. And yet there is another restless town that pulls at my heart. Reading - my childhood home and the scene of my teenage kicks. A bustling, surprising town that feels like a city, but isn't, celebrated for Fox Talbot, biscuit making and rock 'n' roll, with a thriving community theatre, eclectic food and music scene, beautiful heritage hotels and far better places to lark beside the Thames in all its sequestered beauty without the London hordes. Even better it takes just 25 minutes from Paddington. Nor is it just a hub for technology and commerce. It is the destination, just ask Kate Winslet, she's a Reading girl too.
Do Something Different!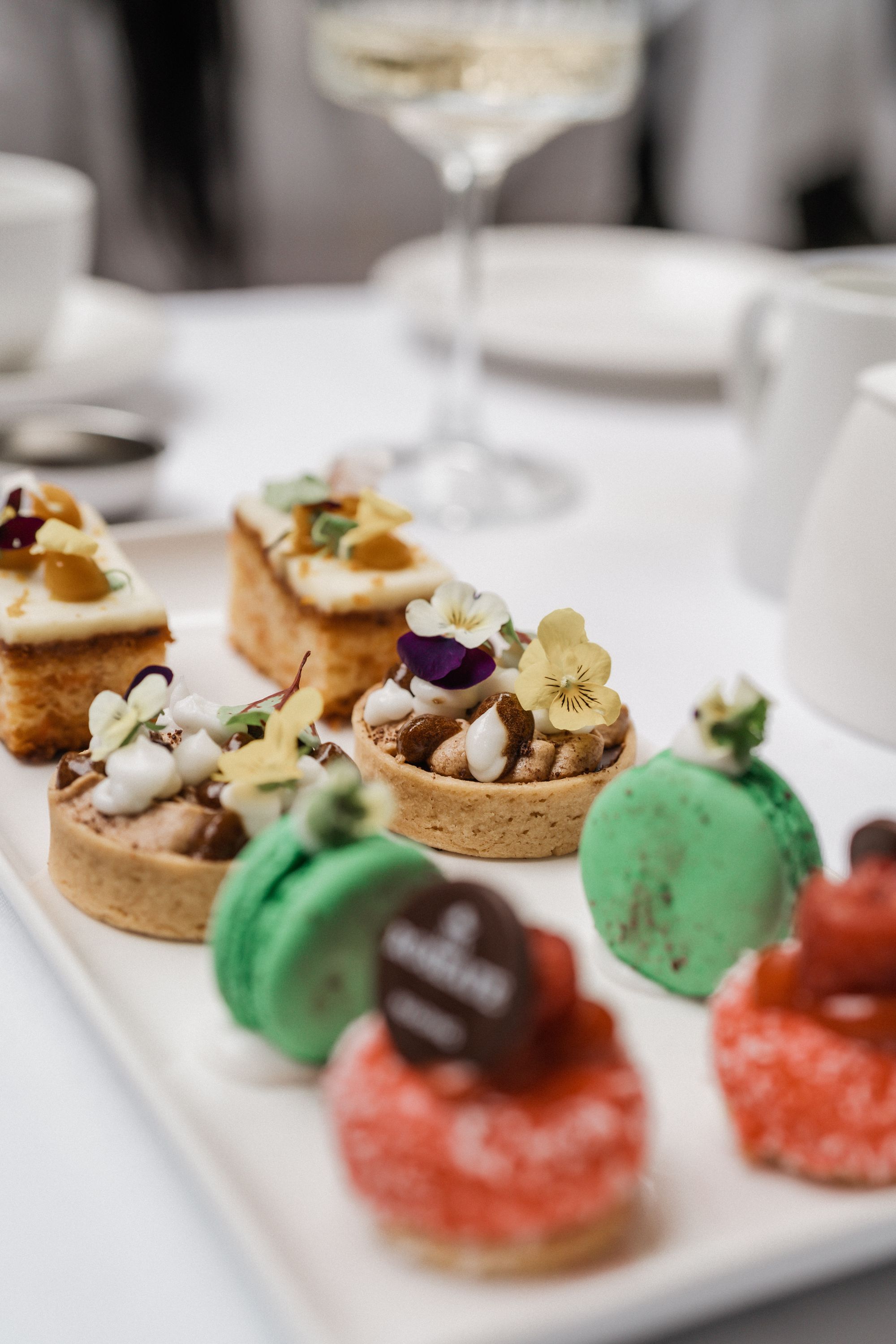 So, reader, I dare you to do something different! Take the train to Reading for a culture vulture, theatre, food and slow luxe travel odyssey that offers an exhilarating change from the metropolis, including beautiful public spaces, a king buried in ancient abbey ruins, a melting pot of food and wine culture from Istanbul to Hungerford and far better value for the discerning traveller in search of authentic slow luxury and one of a kind heritage.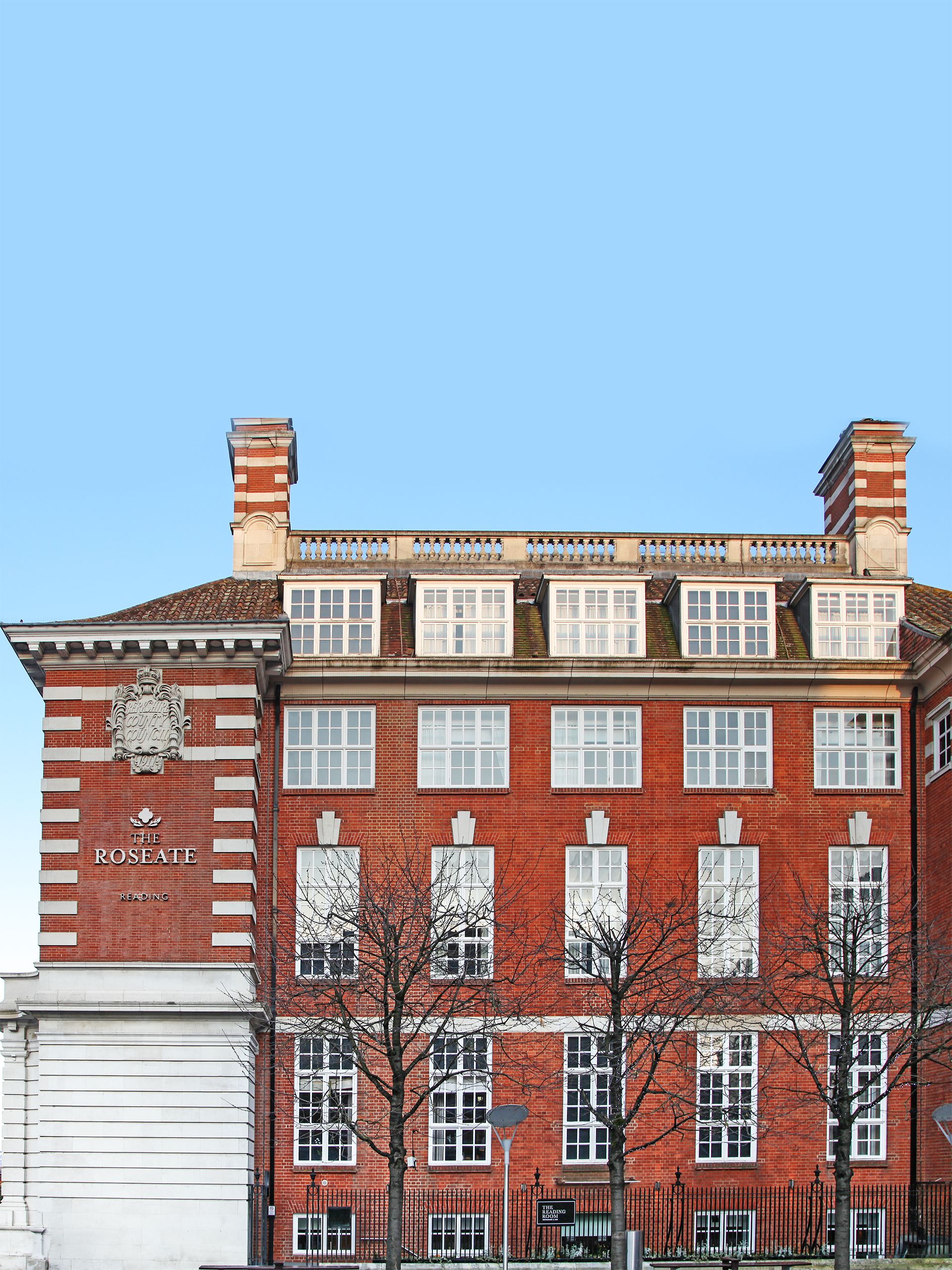 Reading is a thrilling place to see live physical theatre, hike along the Thames path without the London crowds, stay in a room fit for a King and Queen and discover chic and refined culinary hotspots with star local producers fused with Asian prettiness on the plate. Or head to a thriving farmers market and make your feast with local produce from Berkshire beef to honey, cheeses, patisserie and charcuterie.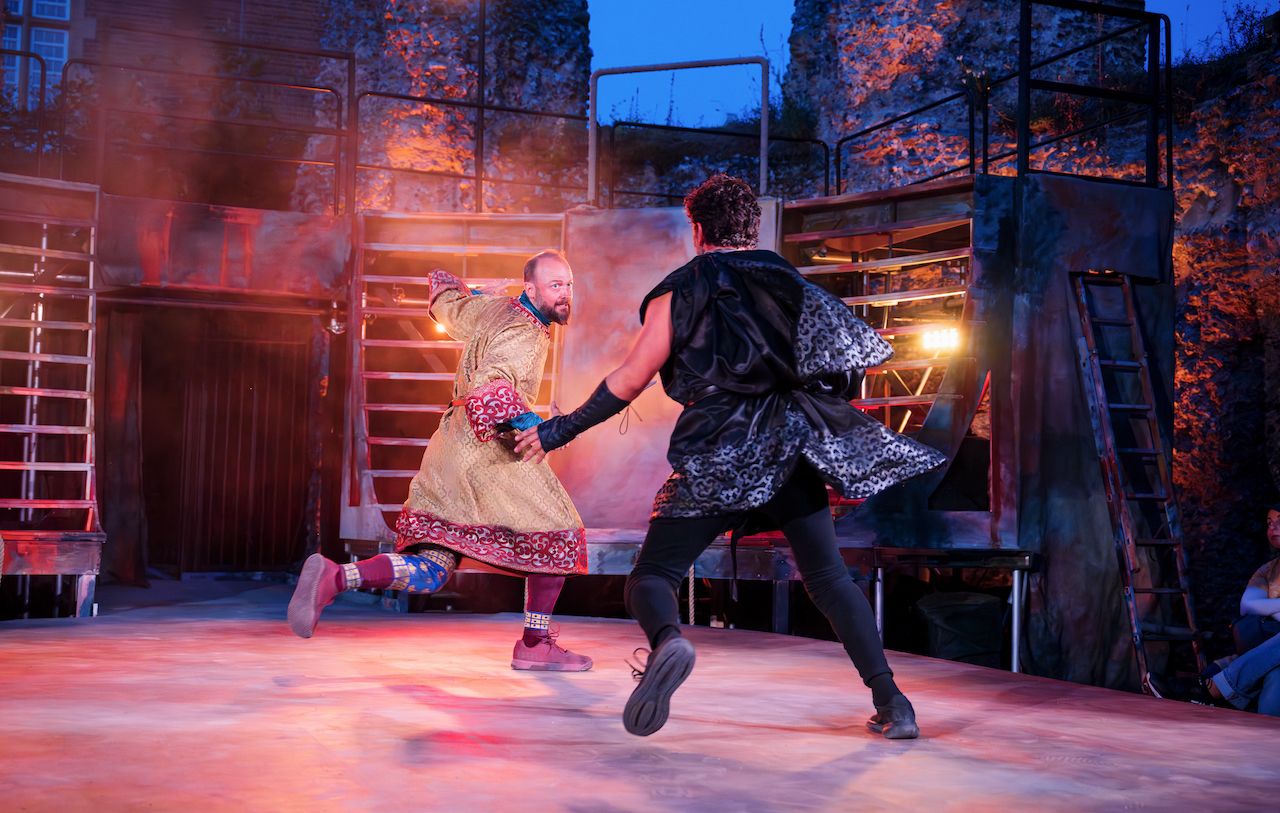 Then venture out and discover the vibrant heritage heart of a city where Kate Winslet took her first steps into a stellar film career through a buzzing community arts scene.
Of course, I am biased. Reading is the city of my childhood and teenage dreams years. I love it. It's where I saw the Sound of Music at The Hexagon aged about ten and took my speech and drama exams because my father wanted me to speak beautifully. I got to do Shakespeare's Henry the Fourth Part 1 and 2. Now, that wonderful schooling is helping me with The Luminaries Live Culture Show and my broadcast journalism. Thanks, Dad. For me, Reading has been both a playground and a gateway to growing up.
It's also where I took the train from platform 1 to university in Wales, kissed a boy on platform 7b dressed like Stevie Nicks meets a Bronte heroine and hung out in the antique market listening to Bowie, The Police and Prince in between buying Victoriana lace petticoats and blouses to feed my life long love affair with fashion and dressing up, not down. Now for vintage clothes in Reading take a look at Dolly Rose Vintage Shed on North Street, Caversham. Debbie, the founder, has a beautiful eye for rare, extrovert fashion treasures from the past to create extraordinary looks today.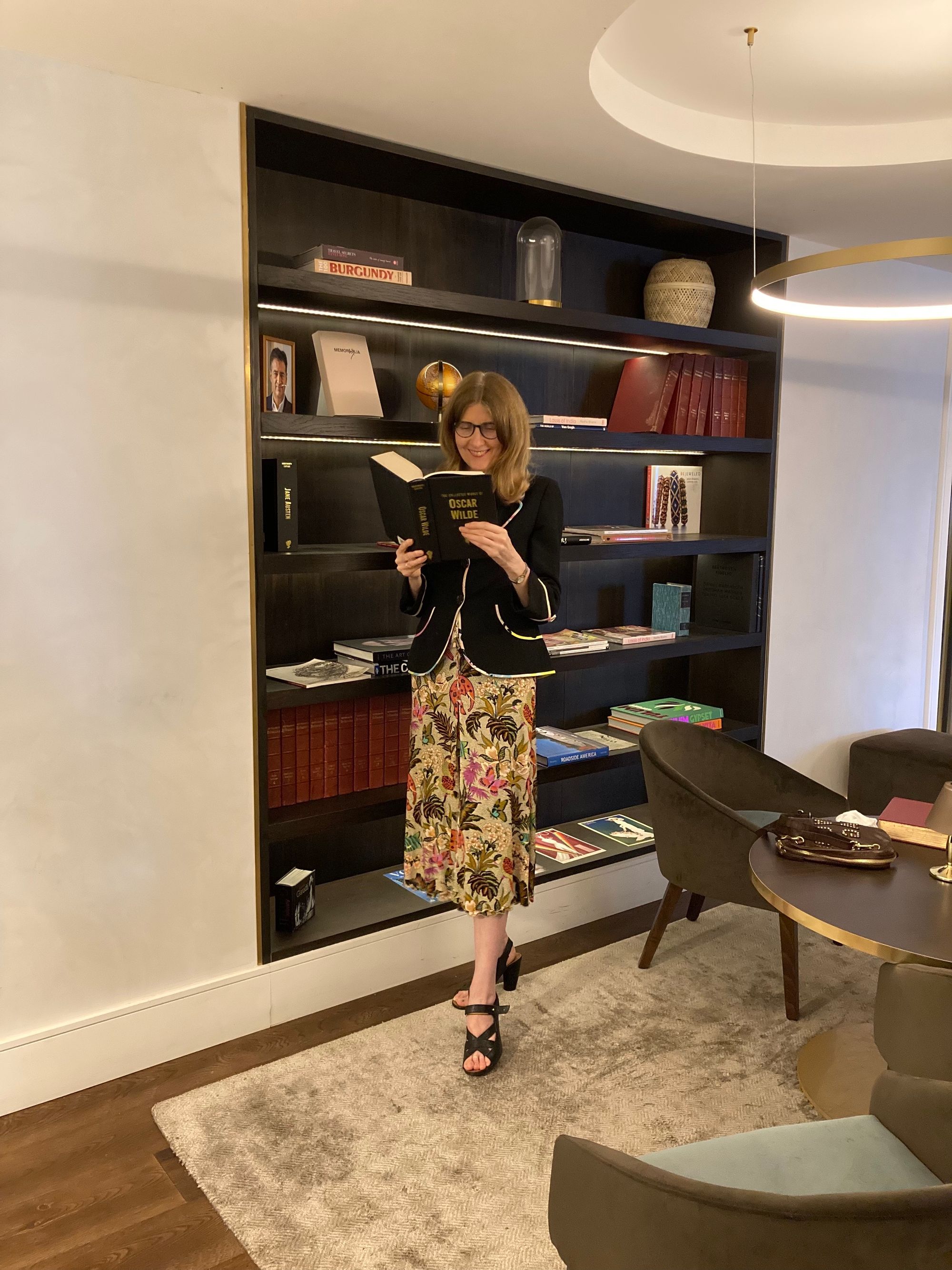 Now here's the thing. On this luminary trip to explore the city's culture, food and travel scene, instead of coming out of the railway station and heading straight into the city centre, I'm turning left into the historic quarter of the town known as The Forbury.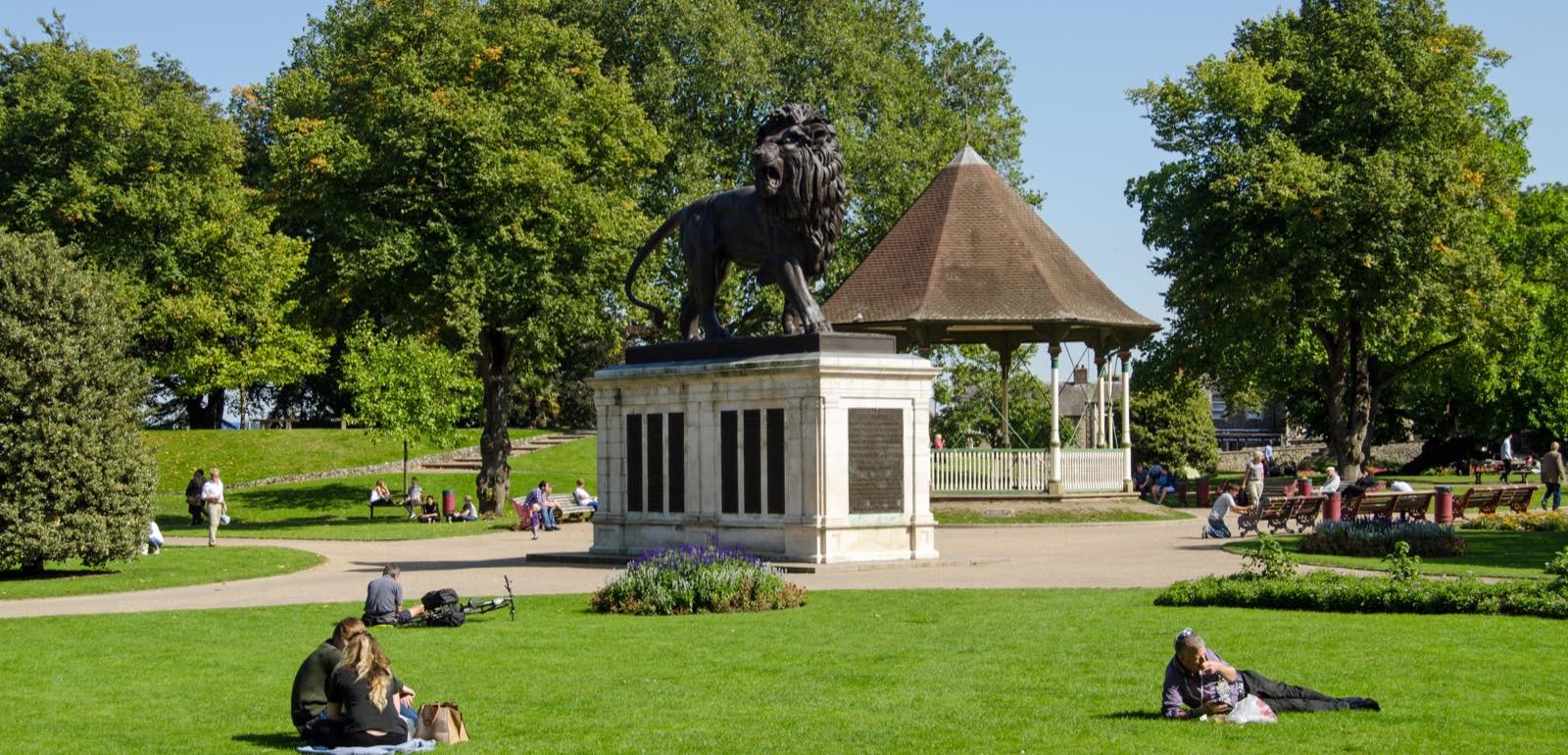 This elegant, open and surprisingly serene part of Reading is only minutes from the bustle of the town and yet it remains a tucked away jewel and the place to escape to look at the city's ancient abbey ruins, walls and arches; mooch along the sleepy Kennet Canal or picnic in beautiful Forbury Gardens, complete with a lion guarding the city. Let me tell you that he does look fierce and extraordinarily life-like.
The gardens are the gateway to the Abbey Ruins and the setting for The Rabble Theatre's ambitious play Henry the 1st, a specially commissioned new history play by Beth Flintoff, which is a bit hit and a cultural cause celebre. See my long-form review here.
Short Review Here. Henry the 1st is a thrilling, not to be missed history lesson into what came after 1066. It's the real story of Game of Thrones and it's physical, philosophical, wicked and tragic all at once, with men behaving very badly and incandescent roles for its four leading ladies. It's also a hot showcase of professional and community acting talent.  You could base yourself in Reading and see the play in Winchester or Covent Garden in July.  Tickets and details from The Rabble Theatre are here. Look out for their future productions and community theatre programmes.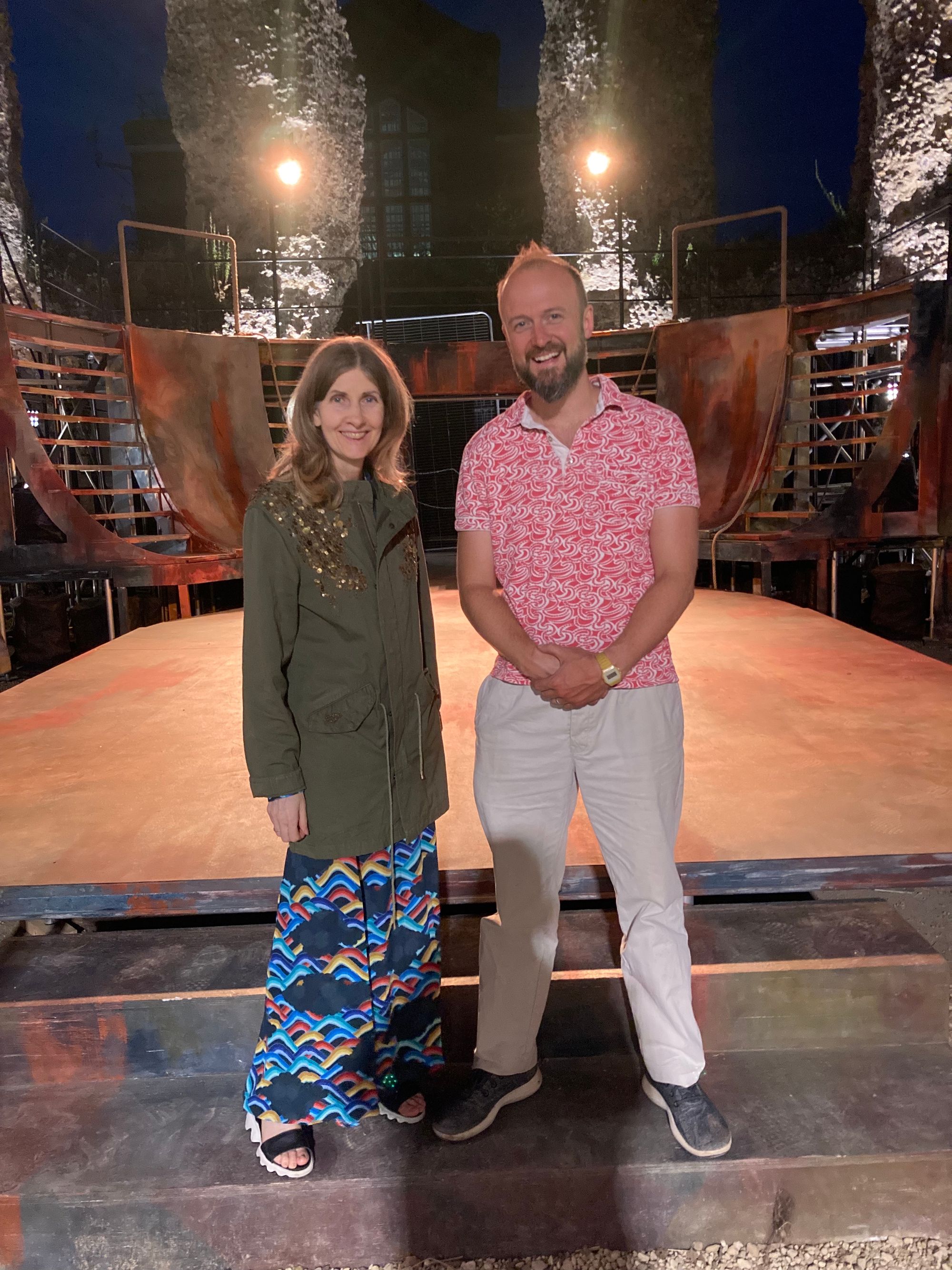 The Roseate Boutique Hotel Reading - The Prettiest Hotel in Berkshire
The Forbury area of Reading is also the location of the prettiest hotel in Berkshire, The Roseate, which refers to a bird with pink-hued plumage. Given the undoubted allure of this gilded hotel, this seems entirely fitting. The former Shire Hall was built in 1911 and designed by the architect Septimus Warwick in the Queen Anne style. Warwick also designed Lambeth Town Hall. The interior of the building has retained its vaulted ceilings, lofty columns and cornices lending themselves perfectly to its transformation into an airy yet intimate, slow luxe boutique hotel which has its own 30-seat cinema, The Upstage, complete with Italian leather seats. There are screenings for special events and at Christmas. Guests can hire the cinema for birthdays and celebrations or just go ahead and ask to watch a favourite film if the cinema is not in use.
The Roseate is my kind of slow luxury hotel. It manages to be both friendly and formal. It is like a rare, embellished, colourful exotic bird and a breath of fresh air and the antidote to all the myriad clone hotels that all look the same. A comment in the visitor's book says it all. "Everything about this hotel is beautiful."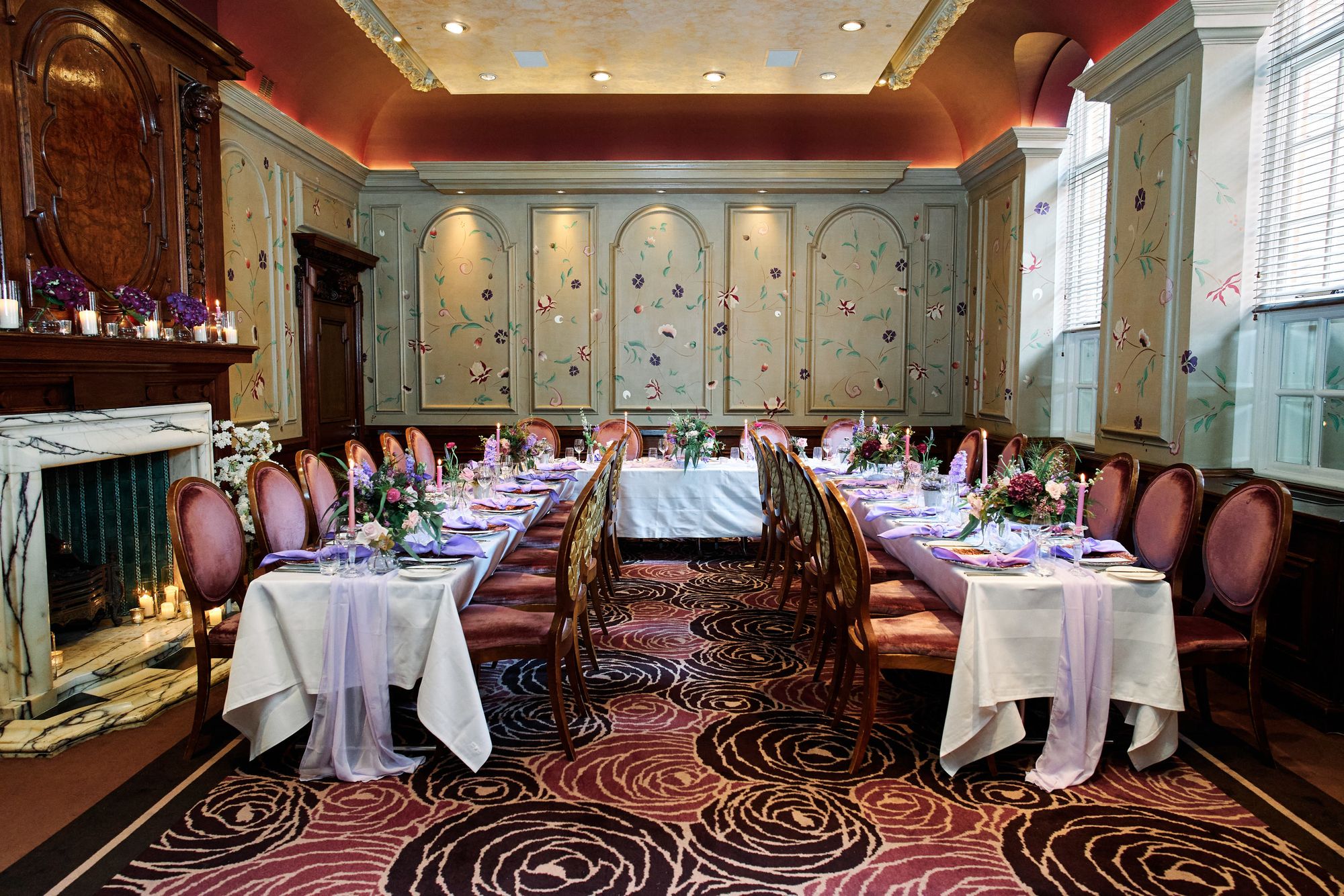 The Roseate's original hall and public rooms have been restored by the hands of many craftsmen and the hotel exudes a wonderful sense of retro glamour, hospitality, playfulness and individuality from the red carpet which sets the welcoming scene to the elegant public rooms filled with contemporary art, handpainted wallpaper and the chic, subterranean Reading Room. This is the place to dine, enjoy a handcrafted, dainty afternoon tea, work or hold a meeting in one of the well-appointed, tucked-away cave-like booths, replete with enticing coffee table books on fashion, food, dream cars, philosophy and travel and curious ancient volumes. Frankly, I didn't want to leave.
The Reading Room -  For Dinner, Lunch, Afternoon Tea and Hanging Out, Slothfully.

Main Course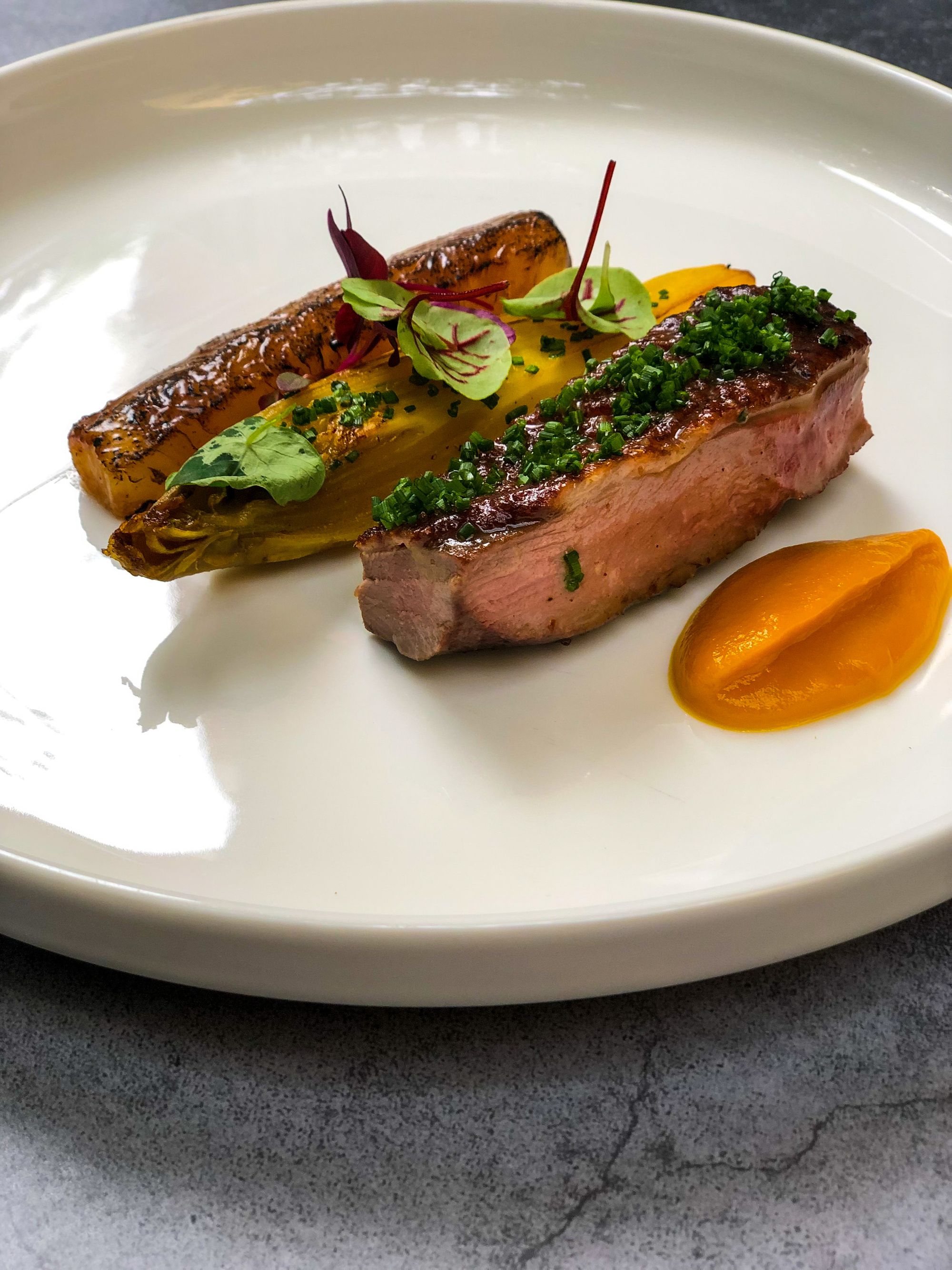 A sublimely satisfying, well-executed dish of juicy, perfectly cooked local beef sirloin, which comes with a silken, comforting mound of pomme puree flavoured with truffle, a rustic ledge of roasted carrot embellished with a garland of vegetables with contrasts of sweetness, earthiness and crunch and a delicious slick of intense gravy accompanied by sauteed bok choi.  This is arrestingly pretty food, using some star locally sourced ingredients cooked with flair, creativity and attention to detail.
Pudding -  A delicate ring of pannacotta, as if made by fairy folk fills my desire for something sweet, but not too sweet. The result is delicate, floral and delicious with fragrant strawberries and spun sugar making it look too good to eat.  

Lunch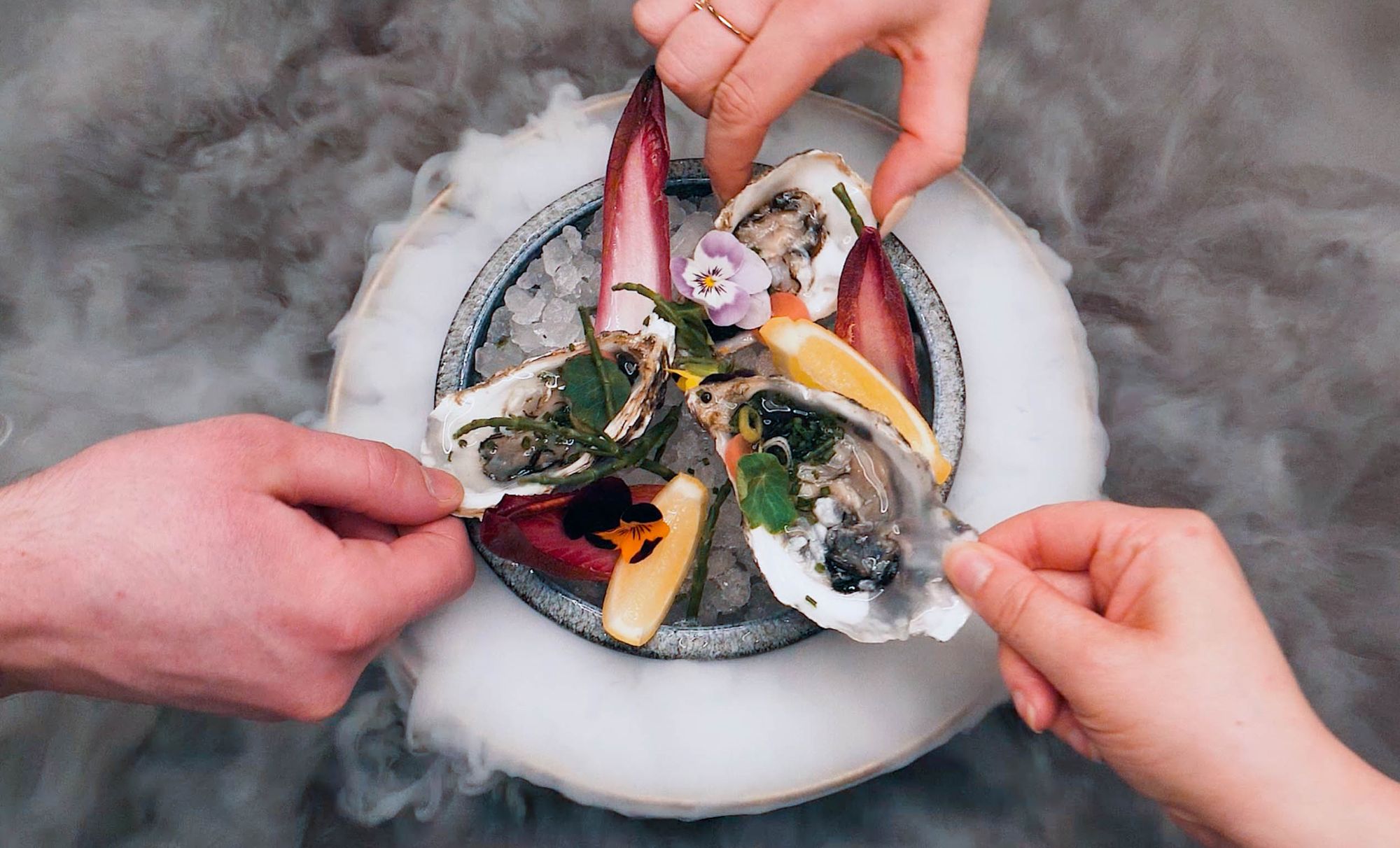 My delicate, delicious lunch of tandoori monkfish with roasted cauliflower, tomato and Cavallo Nero conjures up the tastes, flavours and colours of India. Again, it looks beautiful, as if prepared by a chef who might adore gardening.
I love writing in hotels, cafes and restaurants as I like the freewheeling buzz of people coming and going. I find it very conducive to creativity and focus. I will be back.
The Room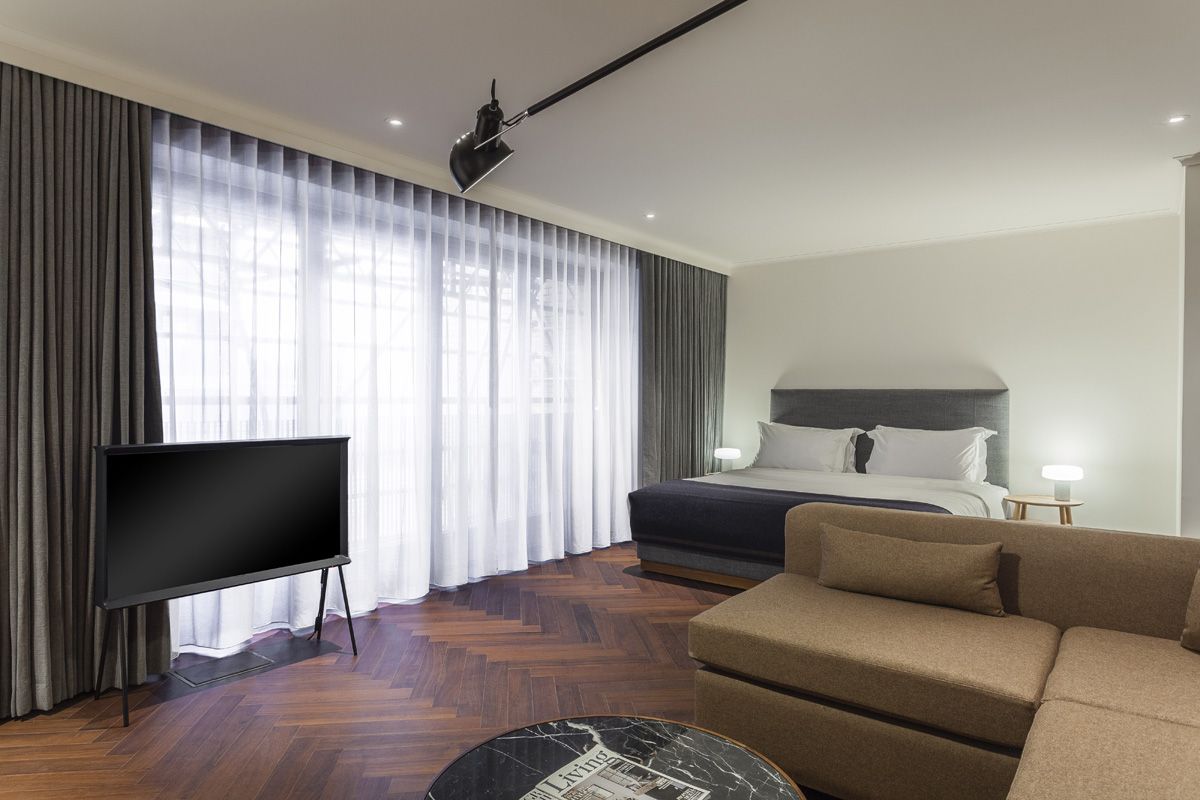 The Roseate has a dual personality. Book your room according to your personality and desires. If you yearn for glamour and a dash of Downton Abbey splendour meets the new-fangled 21st Century, do make sure to stay in the main hotel, where the principal rooms are richly furnished, bold and capacious in size with every possible creature comfort from coffee machines to cosy bathrobes, CDs and DVDs and large bottles of mineral water.  The Roseate Suite contains a grand four-poster bed, a sensuous chaise lounge and a romantic nook for dining a deux.  

The Modern Apartment Room

Quietly minimalist, with a discreet tone of Italian flair and luxury from the svelte wool sofa to the gleaming and efficient white, home-from-home kitchen; the interesting, eclectic lighting; and the white claw foot bath. There is no clutter, which immediately calms and relaxes the mind of the traveller or busy CEO. However, it's not for maximalists, make a beeline for the main hotel.
Toiletries
Worth taking home! They are dinky in size and by one of King Charles's favourite heritage English companies for the gentleman or lady - Penhaligon's.

Sleep Quality - Five Stars

Sleeping well away from home can be difficult. That is not an issue at the Roseate. The beds are sublimely comfortable and peace reigns.  The quality of sleep is dreamy. It is so quiet. The curtains work very well at blocking out the city lights and there is no noise from other guests. Just don't leave the light on in the bathroom as the air conditioning goes on and the sound is noticeable.
Aheli Spa -
The spa features a gym, sauna, steam room and three treatment rooms. In Sanskrit, the word Aheli denotes purity. The spa is designed for detox, calm, balance and rejuvenation.
Perfect for a Road Trip
Tip - If you love road trips, bring your car. The hotel offers parking and you can go off and explore the foodie and wine culture of Reading, Wokingham, Twyford, Henley and throughout Berkshire and Oxfordshire. Or simply follow the Thames.
For more information or to book a stay, visit the Roseate Hotel Reading Website.
AJ's Favourite, Slow Reading Hot Spots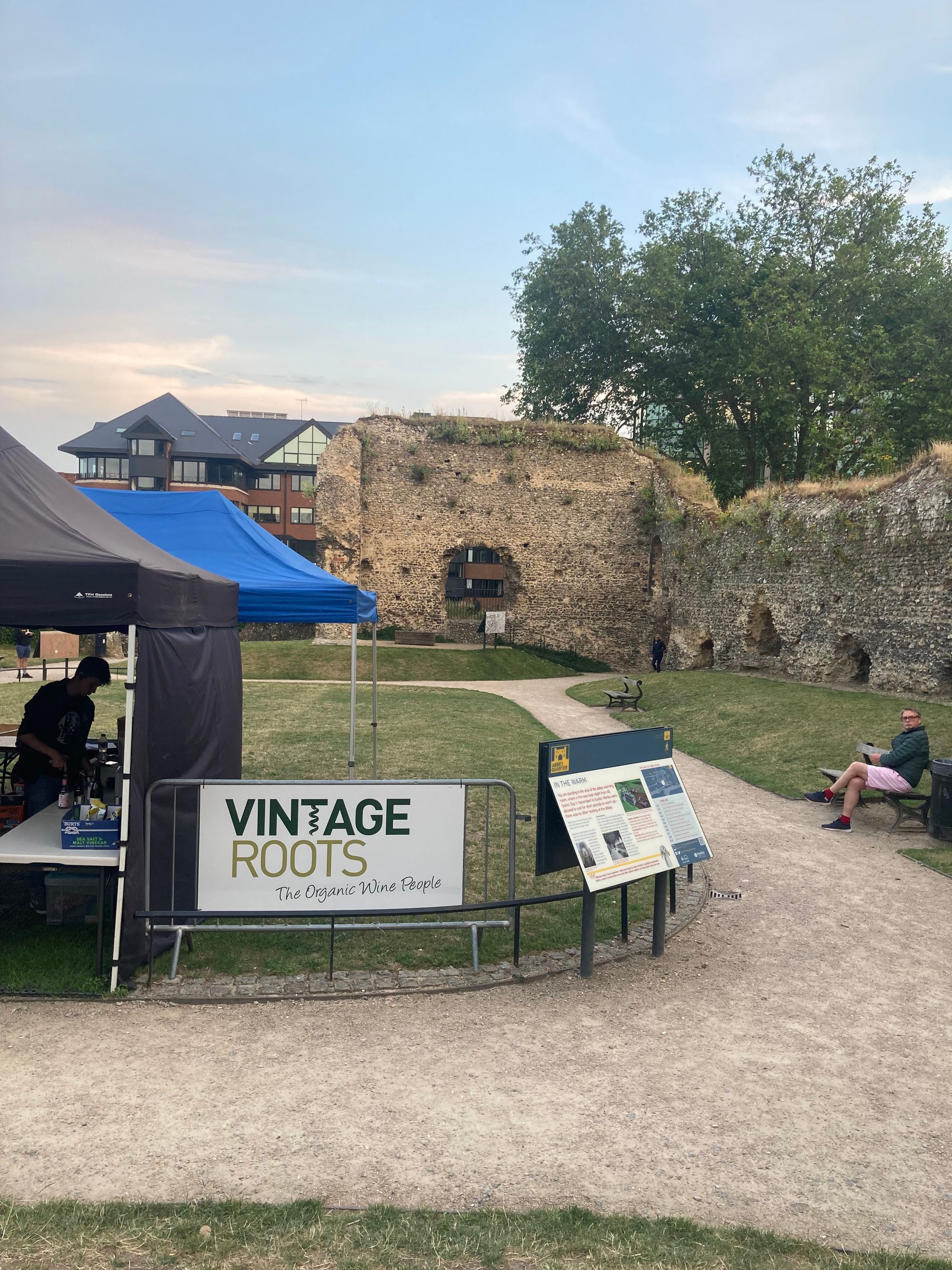 Go Small and Independent to Avoid the Clone Town Syndrome
Reading, in common with just about every major town and city in the UK has a problem with clone town syndrome like Oxford, Cambridge, Southampton, Salisbury, Manchester and many more. You can avoid the identikit shopping malls and fast fashion stores by using this independent culture and shopping guide and by discriminating in favour of small shops, farmers' markets and the delightful area of The Forbury, Harris Arcade and Caversham. Interesting, one of a kind books shops, and cafes are located in these areas. Then vote with your wallet.
Picnic Cafe
A bijou, vibrant independent cafe with colourful tables and chairs outside and a takeaway service and a good place for lunch or tea in the bustling Butter Market. Picnic offers some colourful, interesting and delicious salads and they have a fantastic and ever-changing array of homemade cakes including some gluten-free options. The featured teas and coffee are ethically produced or Fairtrade. Go outside key times to avoid the queues. Tables inside and out.
Grumpy Goat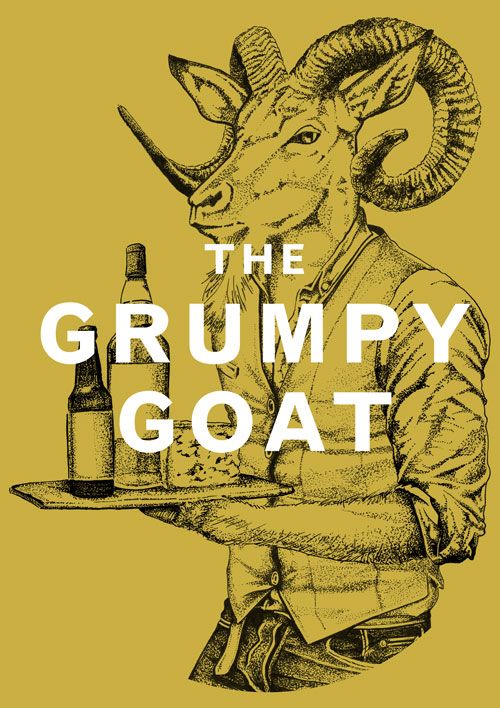 The Grumpy Goat keeps it simple. They offer artisan cheese boxes, delicious toasted cheese sandwiches with a delicious filling including cheese with apple, small-batch craft beer, mead and spirits. If you are hankering after a favourite cheese, just ask. The not-so-grumpy goat team will try and source it for you. Beer boxes include alcohol-free selections.
Smelly Alley, 7, Union St, Reading, RG1 1EU. Enter via Broad St.
Hamlet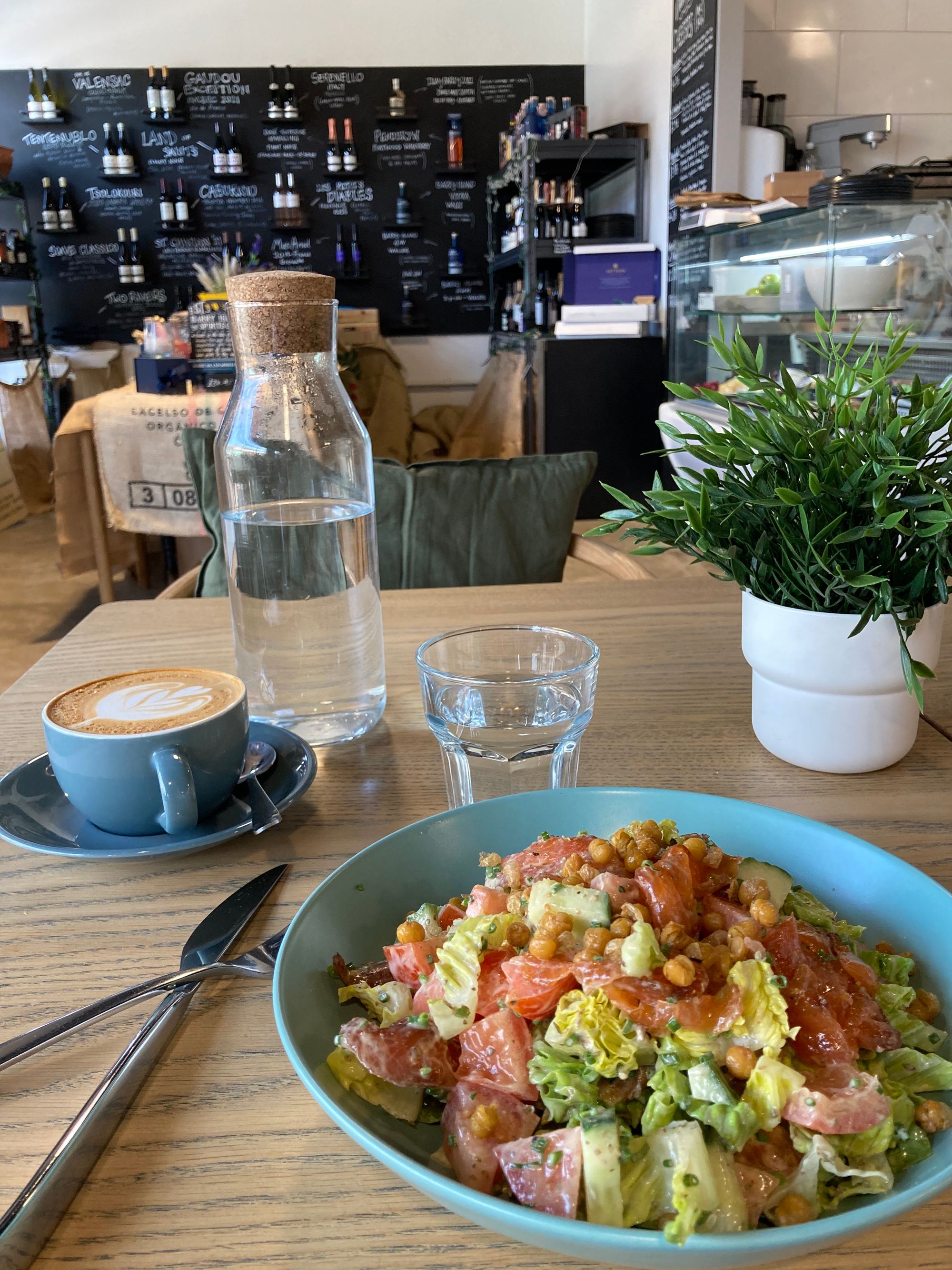 Hamlet Wokingham is a laid-back contemporary bistro with the atmosphere of a California open kitchen, together with a cafe and deli run by two Michelin Star-trained chefs and is worth a quick train trip or take the car to the market town of Wokingham, just seven miles from Reading. The focus is on robust, vibrant small and large plates from a slow-cooked ragu to glistening, buttery slabs of house-cured salmon served with an interesting salad of intensely ripe tomatoes and popped chickpeas. Just about every dish is a feast for the eyes and the palate at Hamlet.
Authentic Slow Food Culture
What makes Hamlet special is the quality and authenticity of the ingredients and the inventive way the chefs use them to make delicious food inspired by the culinary seasons and food cultures across the globe. The restaurant also excels at gluten-free options and there is a chef's table tasting menu.  The artisan coffee is delicious and there is an enticing deli with a handpicked selection of wines, champagnes and English sparkling wines from small producers, plus local cheeses, olives and charcuterie. This bistro-style restaurant is open for breakfast, lunch, dinner and coffee and tea.  Check the website for opening hours.
The Harris Arcade
The Harris Arcade -  My beloved antique market is no more.  The Art Deco Harris Arcade is what remains. It is a delightful, unhurried haven and legacy of old Reading and the place to make a beeline for all things artisan, slow, vintage and independent from fashion to comics.  You will find a cornucopia of independent small shops here from a hatter to a comic specialist, a beautiful house plant shop, a men's grooming emporium and a retro vinyl store. The arcade is located two minutes from Reading station as you head into the city centre on the left.
Reading Farmers' Market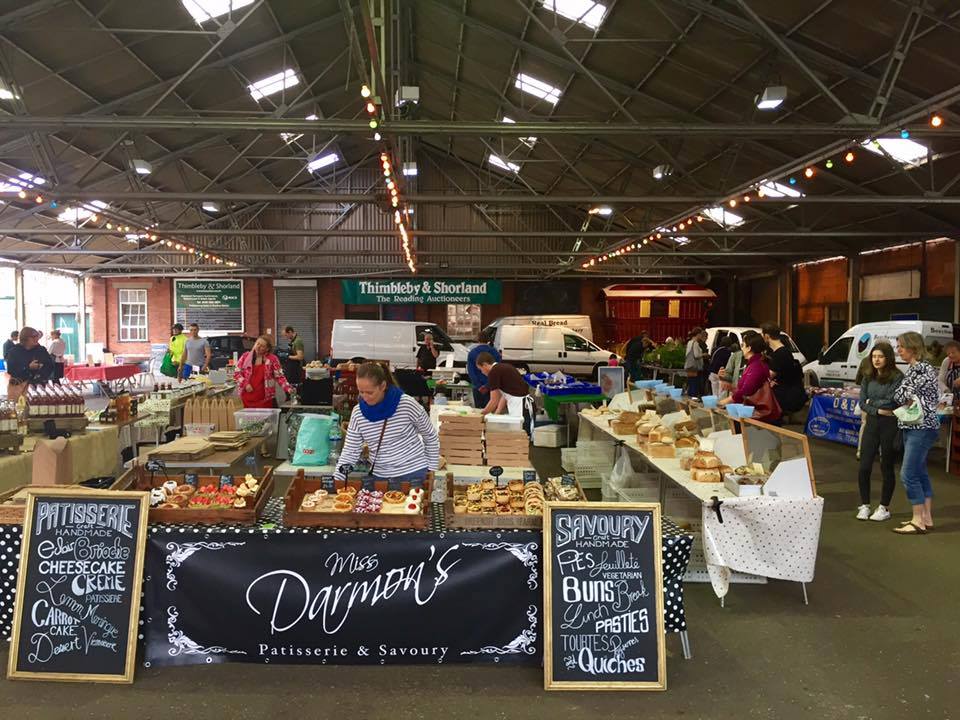 The Reading Farmers' Market is the place to buy slow food from the wealth of local and small made-in-Britain producers in Berkshire. Highlights include artisan bread, local meat and charcuterie, cheeses, local honey, patisserie and wine and craft beer.
Opening Time  8.15 am to 12 noon. First and third Saturday every month.
Address - Great Knollys Street, Reading, RG1 7HD. For more details, visit the website. Reading Farmers Market.
Wonderful Oxfam Book Shop
The most amazing, whimsical bookshop to browse, sit and read and buy second-hand and antiquarian books, including some first editions. Temporarily closed for refurbishment. I hope it reopens soon as it is a highlight of Reading.
Oxfam Book Shop, Market Place, Reading, RG1 2EA  
Reading Independent Breweries and Vineyards
Seek out the Zero Degrees Micro Brewery for an exciting array of speciality beers to taste. Venture a little bit further to Oxford Road and discover the Double Barreled Brewery and Tap Room. On the weekend, the brewery serves street food and 12 lines of draught beer.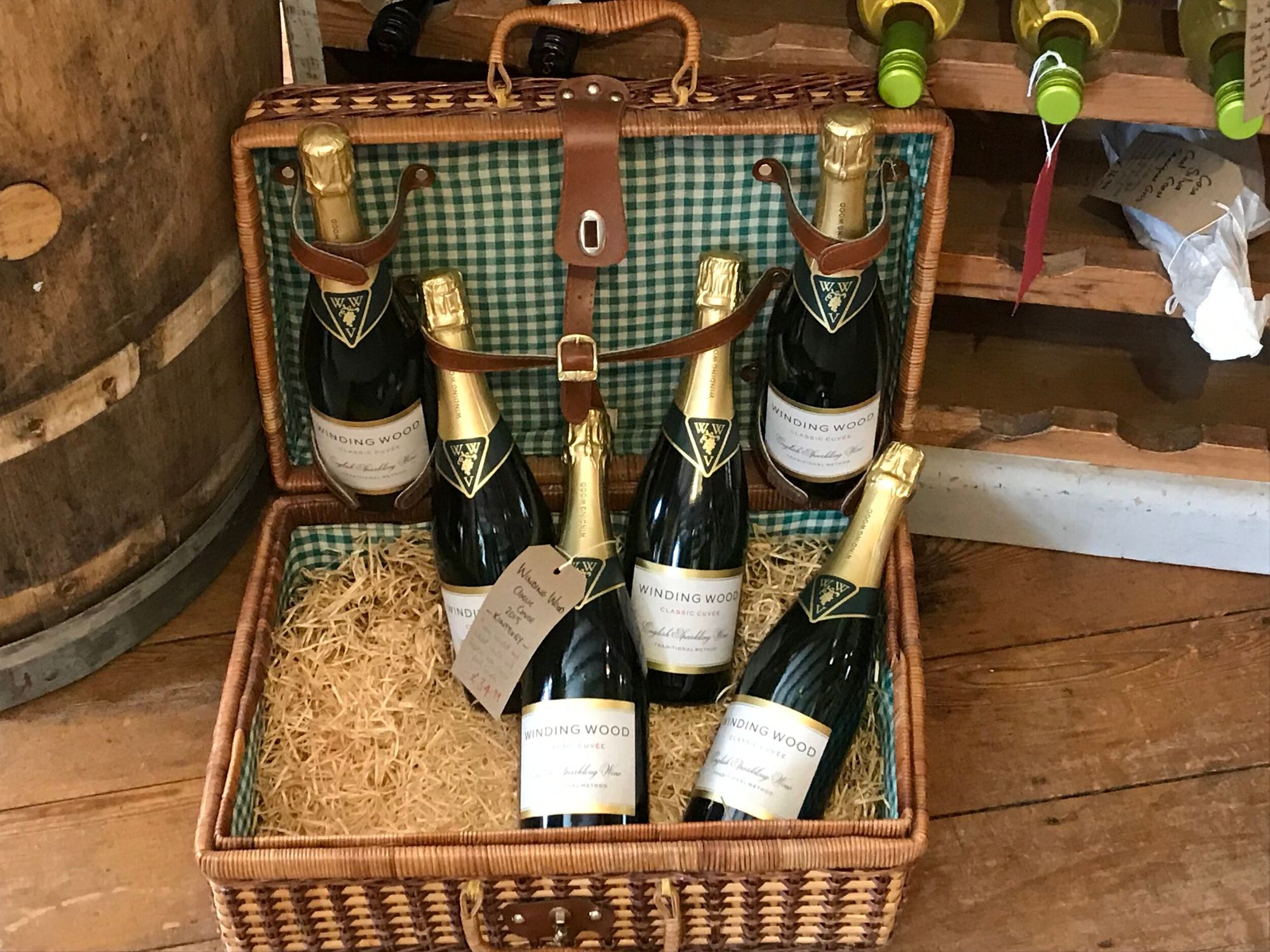 Winding Wood Vineyard - Between Newbury and Hungerford you will discover an award-winning small Biodynamic Vineyard in Berkshire - Winding Wood makes English sparkling wine using biodynamic principles of agriculture and the classic Champagne method to honour the free-draining flint and chalk terroir and the vines.  Daniel Ham of Offbeat Wines is the winemaker and the three sparkling wines on offer include a Brut Reserve, Rose and Demi Sec.  For more information and to take a tour of the vineyard visit the website -  Winding Wood Vineyard.
About the Journalist
Alison Jane Reid is a Scottish/English feature writer, editor and slow luxury tastemaker. Her iconic career in British national newspapers spans three decades. AJ worked as a lead feature writer specialising in cultural icons at The Times Magazine for a decade. AJ trained at Mirror Group Newspapers and went on to work as a contributing editor at The Lady and You Magazine. Her iconic interviews and features have also been published in Country Life, The Independent, ES, The Evening Standard, Coast and Harpers Wine and Spirits Magazine.
She has also appeared in broadcast journalism for  - ITV, Channel 5, Sky, V&A Fashion Documentary and our own television channel on YouTube.
Magnetic, Beautiful Storytelling for Slow Luxury Clients
AJ has created one-of-a-kind pieces of storytelling for the world's iconic luxury brands. Clients include - Pernod Ricard, Escada, Pringle of Scotland, Lending Works, Fairtrade Fortnight, Traidcraft, ABTA  - Slow Luxury Hotel Collection, Inlight Artisan Beauty, The Royal Hotel and Winser London. For information or to discuss a project email Alison Jane - theluminariesmagazine@gmail.com
The Luminaries Needs Your Support
Become a Paid Supporter of The Luminaries Magazine, for quality independent slow journalism and storytelling. Support The Luminaries Magazine Here.
Please note we have no shareholders or investors. We rely on people power, arts grants and high-quality collaborations with responsible luxury brands to fund the magazine creation.  Transparency is important. This arts and travel piece is independent in thought and contains no paid-for advertising or affiliate links.