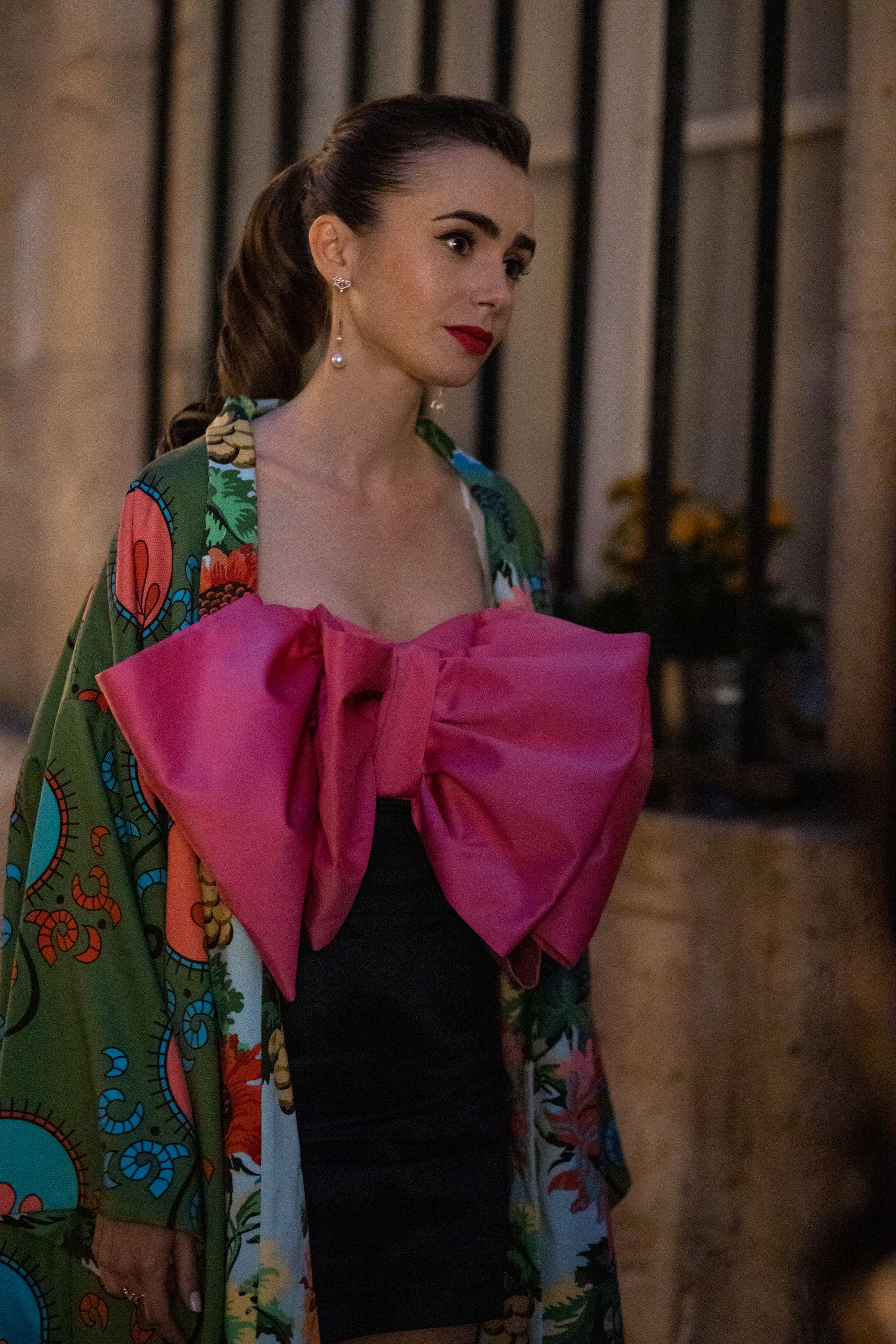 Ah, Emily in Paris! Who could have guessed that Emily played by Lily Collins with a breezy, la jeunnesse dore bravado is a fashion revolutionary, if not an enfant terrible, leading the charge for circular, preloved and vintage fashion! Whether you adore Emily's bold, eclectic, more is more fashion adventures or not, Emily is a genius at making herself seen and heard and orchestrating the zeitgeist.
This gal could singlehandedly make slow fashion an Instagram sensation! Oh wait she has!
Our American girl in Paris knows which way the wind is blowing over Place de L'Estrapade and that it is fine to be outrageously outre with your wardrobe, so long as you are doing your bit for the planet and wearing fabulous vintage and upcycled pieces that are impossible to pigeon hole, rather like Emily herself. Ooh la, la!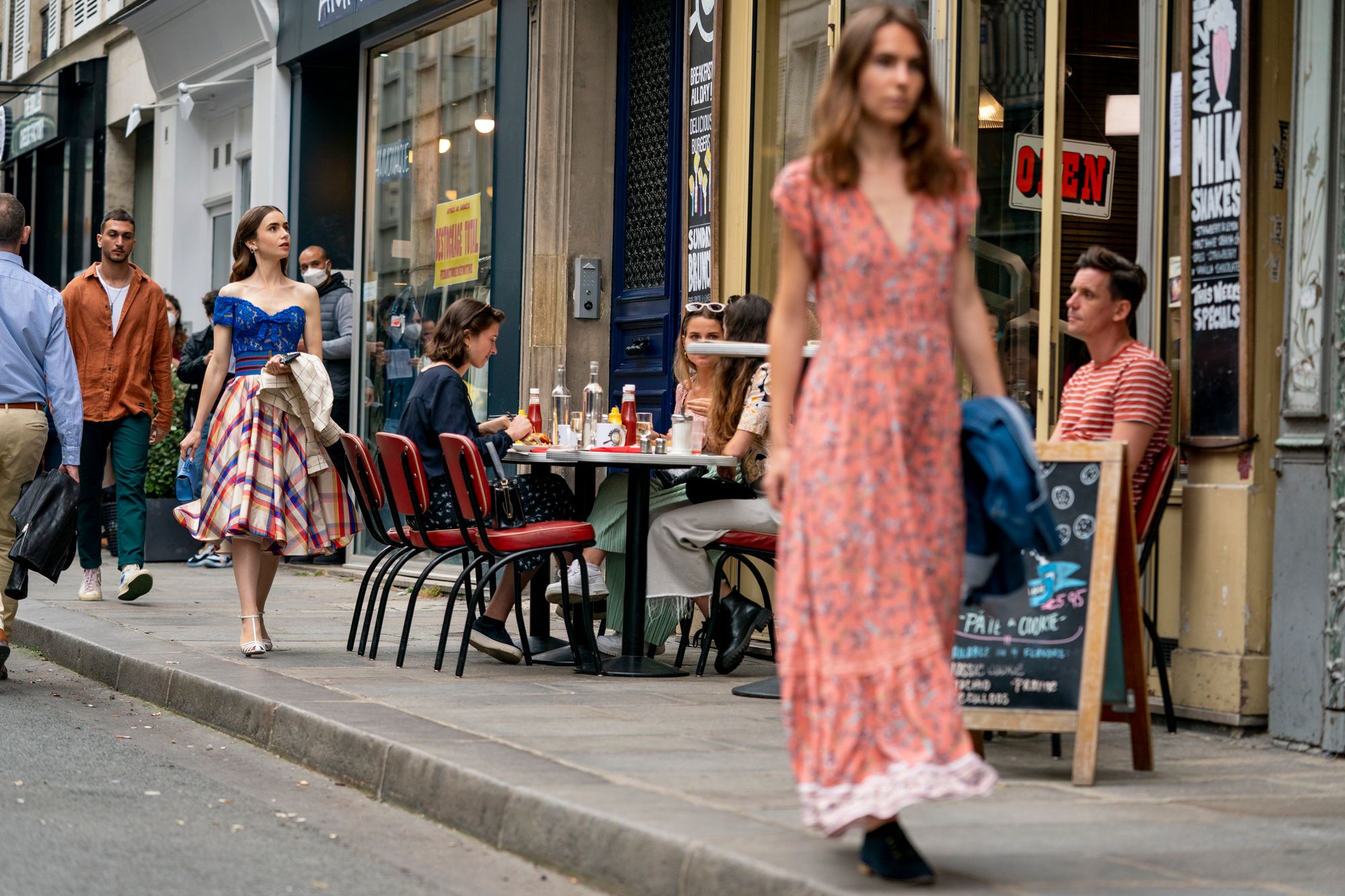 One of my favourite outfits from series 2 is the magnetic peacock blue lace bustier and fifties style, new look full skirt. There is something wildly optimistic and feminine about this outfit which reflects the post-war spirit of the fifties, and now life after Covid.
But wait a moment, there is something far more exciting going on here than Emily just being loud and original and wearing vintage treasures from the best Paris flea markets.
Fashion dictated by trends is dead. It's not good for the planet or our self-esteem. The days when influential fashion editors could tell us we had nothing to wear and ruthlessly peddle a fashion trend every day of the week to sell more clothes and please their advertisers is finished. Today, it is all about slow fashion, make do and mend, the individual and self-expression now.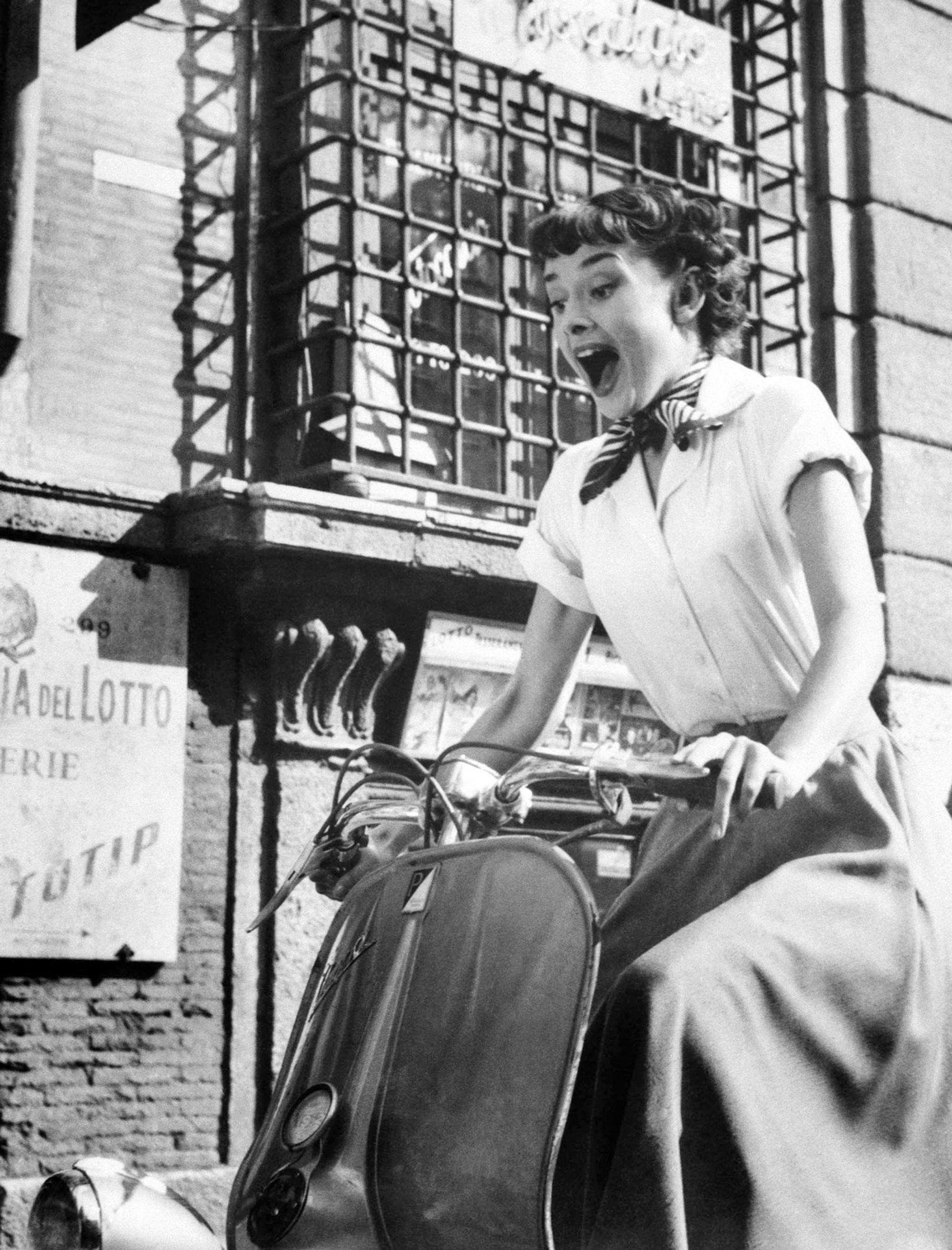 Nostalgia also plays a big part. Look how obsessed we are with the leading actresses of the golden age who continue to exert an extraordinary and eternal influence over what we wear. Collins has been compared to Audrey Hepburn, the most influential of actors and style icons and there is decidedly an air of Roman Holiday about Emily's gamine fashion escapades. Just look at the necklines and hourglass silhouette.
As a result, we can't get enough of retro fashion. The fashion resale market is currently worth 11 times the new fast fashion market and Marylin Fitoussi the costume designer for Emily in Paris Series 1 and 2 makes it clear that she supports responsible, circular fashion and she is clearly having fun mixing it all up.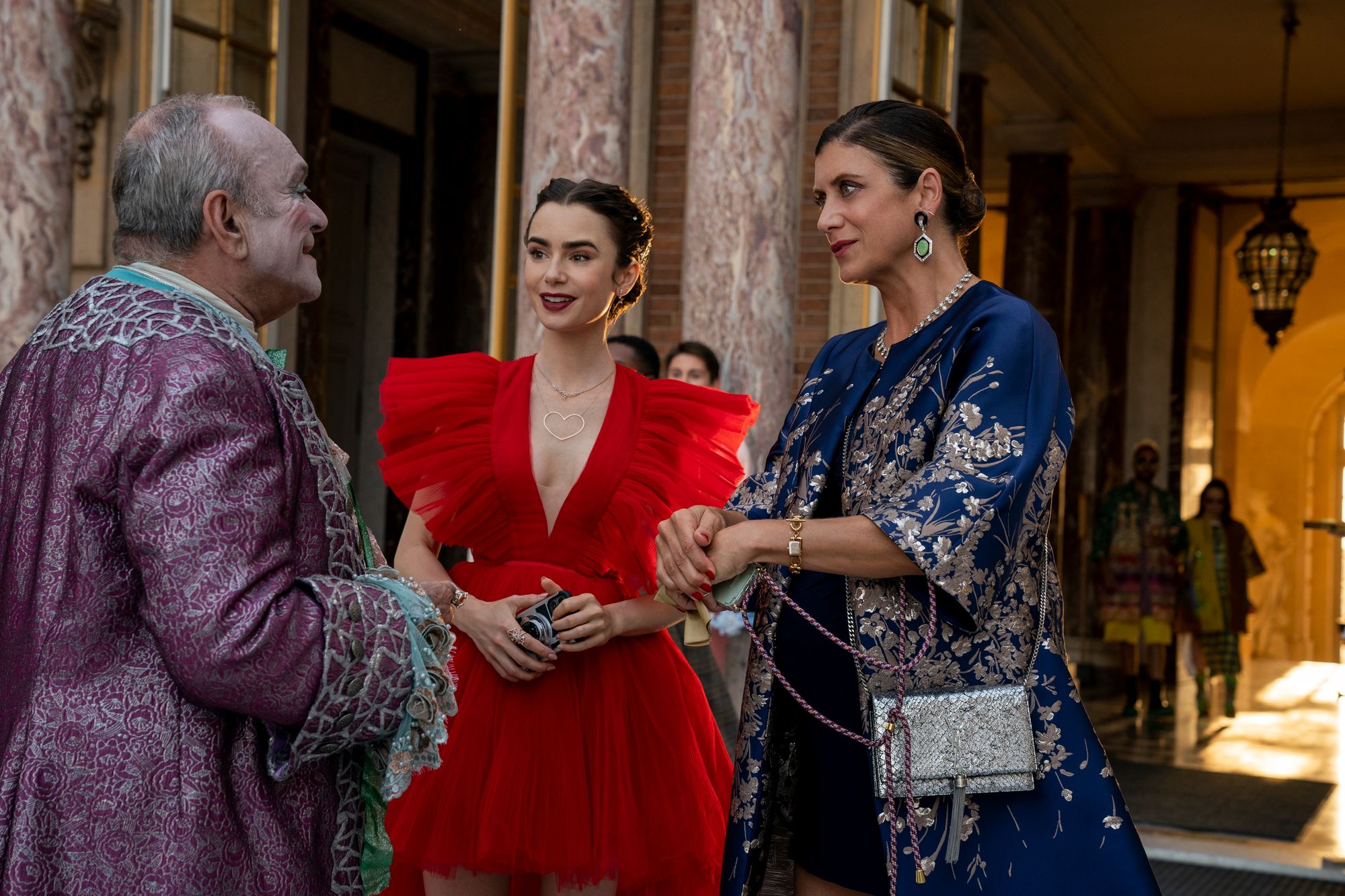 "For the past seven years, I've been pushing upcycling and recycling. We only buy new if something is needed the next day and can't be delivered in time. I love vintage shops, I'm friends with most of the Paris vintage store owners. They phone me when they have unique or very special pieces; anything that the ordinary mortal would shy away from. For Season 2, I decided my challenge would be to combine a couture piece, Dior or Balmain, with a young designer, with a vintage piece, with something you would find at a store like H&M or Zara. Everyone must be able to buy something they love, according to their resources. Buy designer if you can, buy H&M. I do most of my shopping between 3:30 and 5:30 a.m., that's when my mind is at its best."
So what does Lily Collins make of the fearless clothes choices her character makes?
Fitoussi says, "It's wonderful, she's completely absorbed all of Emily's mannerisms, her vocabulary, everything that goes into Emily's very special look. Since Lily is a total professional, she never says no. It's true there are outfits that pull her up short; when she sees some combinations she says, "Really?" with a little smile. If it's just the least bit disturbing, I know it's good. If she's not shocked, I say, "It must still be too simple." We try a lot of things, I put together catalogues of outfits to show her and from that, she decides which she wants to try, what speaks to her. She is very open. Luckily, none of our actors set limits. They trust me and they trust Patricia, and it's wonderful to work that way because we can take it a little further every time. We can set the bar higher."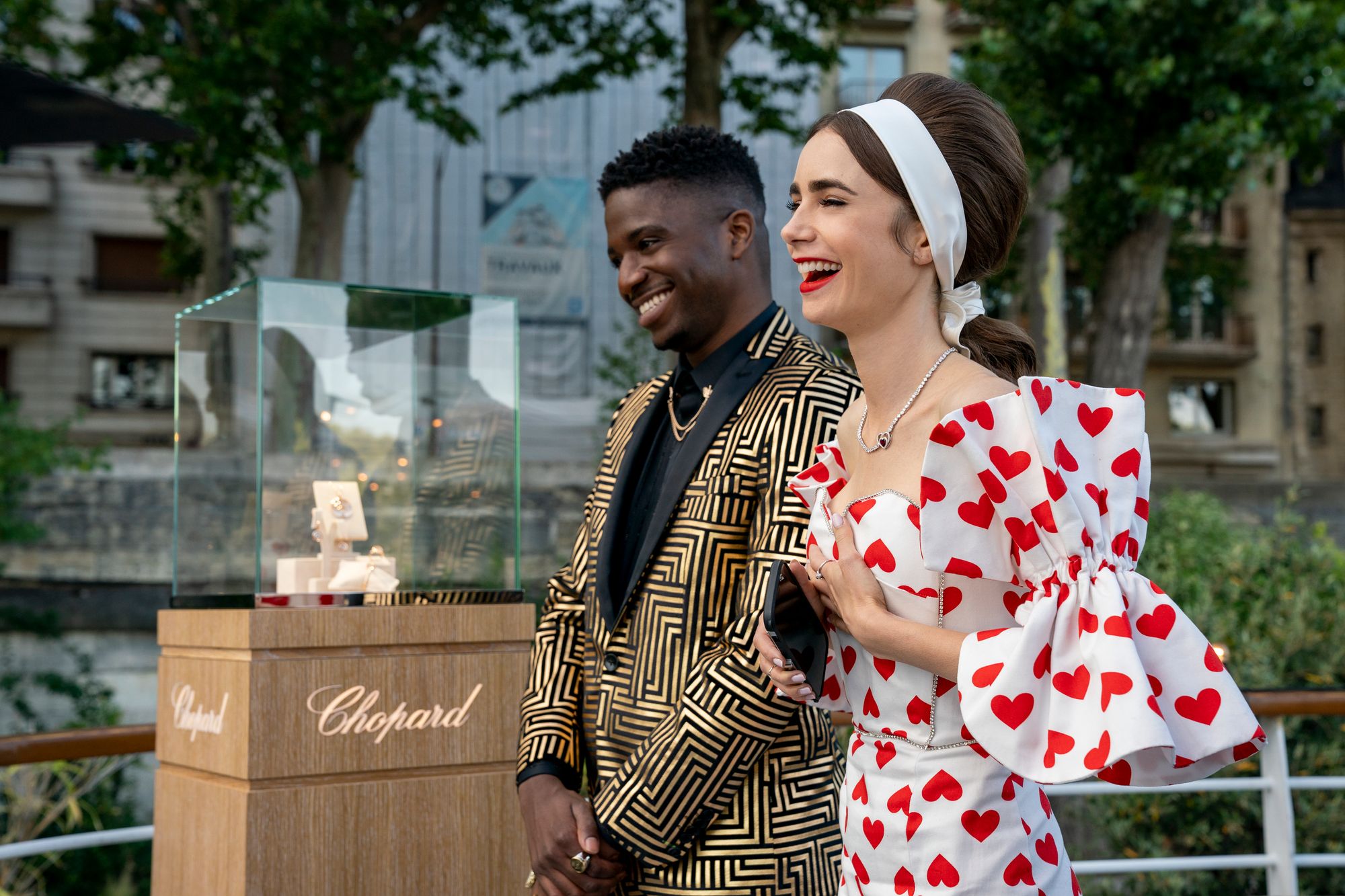 How times have changed. Back in brash 1999, when Patrica Field created a fashion cause celebre with Carrie Bradshaw's excessive love of shopping and status symbol labels for the first series of Sex and the City, it was all Dior, Louboutin's, Prada and the haute  couture kitchen sink.
This time, Field, who is a costume consultant on Emily in Paris talks of the importance of reflecting what is going on the world and that 'trends die young, trends get tired very quickly'.  
Instead, she is more interested in ideas that reflect culture and society now. " It was very important that we try not to repeat what we did in the first season. I wanted to show our audience some new ideas. Last season we used a lot of black and white, so I didn't want to do that anymore. We didn't want to do the bucket hat again, obviously, because we don't want to bore our audience. We don't want them to think, "Oh, I saw that already." We want to provide something new and exciting and interesting. Fashion is liquid and fashion, the most important thing, as far as I'm concerned about fashion, is, like other forms of art, that it reflects the time. Whatever time we're in, you will see it in the fashion."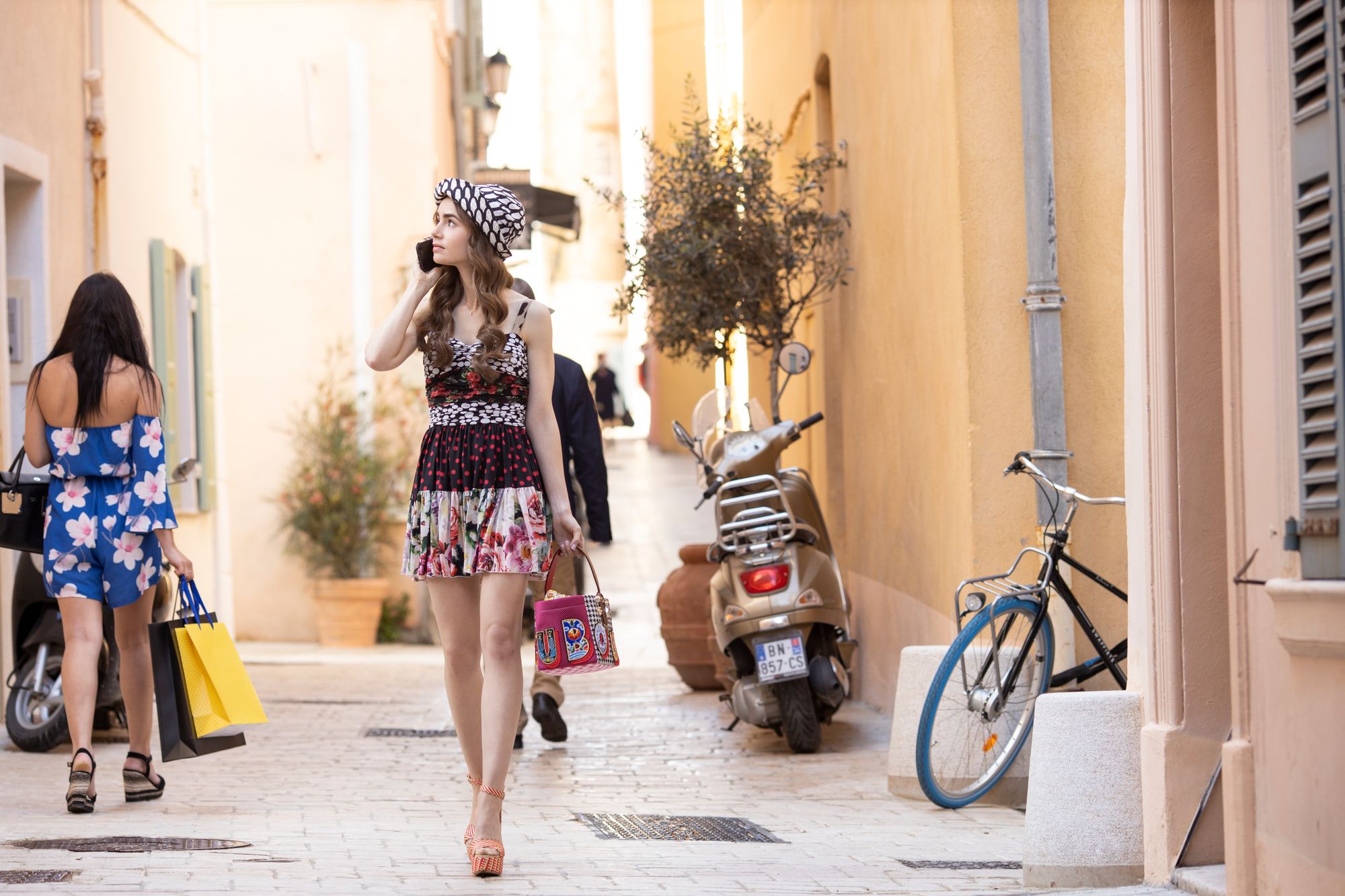 Field has also cleverly anticipated a real need for culture and television to give us confidence, an outlet for escapism and to make us feel happy.
She says, "I recently coined an expression for myself that describes what reaction I like to see with costuming, and it's "happy clothes." I love colour. It enables me to mix and match different combinations that catch peoples' attention. Emily is the perfect gal for colour because when we first started, I was told she's from the Midwest, so she dresses in a Midwestern style. We found, I believe, the right recipe for her last season, and colour has been a huge part of that. People like colour and need colour these days. When we aired episode one, I heard over and over again that it was so much fun to watch Emily in Paris during the pandemic, and that it helped lift peoples' spirits. That has made me happy, and so I hope the clothes this season continue to make our audience happy."
Fashion has always been used as a badge of confidence and valour in difficult times and Emily is the new poster girl for can-do confidence, where dressing the part can get you anywhere, as Edith Head declared.  So let's hear it for a new spirit in fashion where it's all about colour and clothes that make us happy and take care of our planet, which is the best fashion inspiration ever.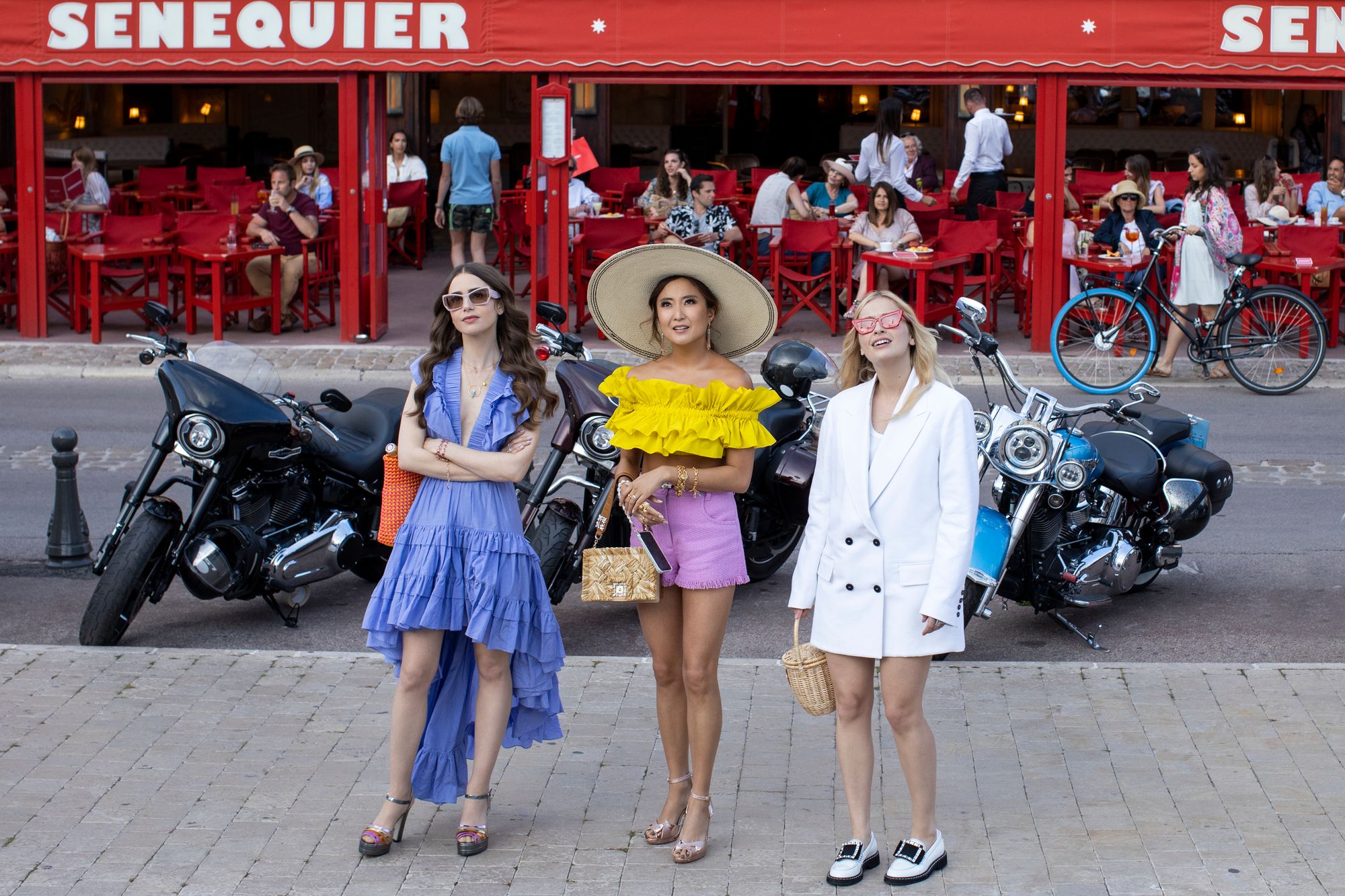 Emily in Paris Series 1 and 2 is streaming on Netflix
Love this fashion journalism? Become a supporter right now, we need more subscribers to support the production of this independent magazine - https://www.theluminariesmagazine.com/signup/
Coming Soon! A guide to the very best places to find preloved and vintage fashion. Subscribe to support its creation faster!