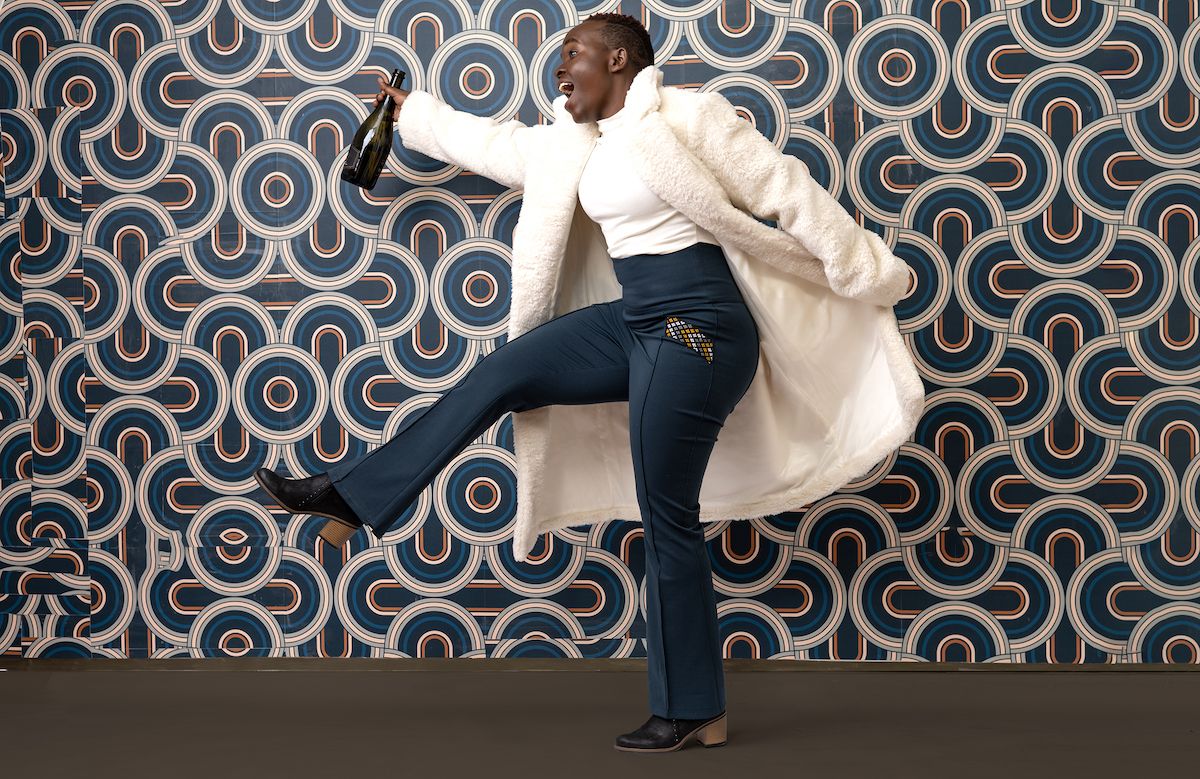 Intro
Givenchy once said, "All a woman needs to be chic is a raincoat, two suits, a pair of trousers and a cashmere sweater." The woman who embodied Mr Givenchy's eternal style ideas then and now is his muse, Audrey Hepburn. Hepburn was far more than the insouciant, incandescent star of Breakfast at Tiffany's, Funny Face and Charade.  She was a tireless UNICEF ambassador for Children and she once said that this was the work she was most proud of, not the iconic Hollywood films.
Perhaps we can all soak up a new spirit of humanity and caring for each other and do it in fabulous style like Hepburn.
A century after her birth, the world's leading fashion designers still can't get enough of Audrey's little black dress, trenchcoat or elegant apri-ski pants. Now, how about investing in trousers worthy of Audrey to swagger in and help our sisters in Afghanistan? Have I intrigued and captivated you?! Then read on to discover one remarkable slow, artisan fashion collaboration from Baltimore to Kabul, with love and sass appeal. Alison Jane Reid, Editor.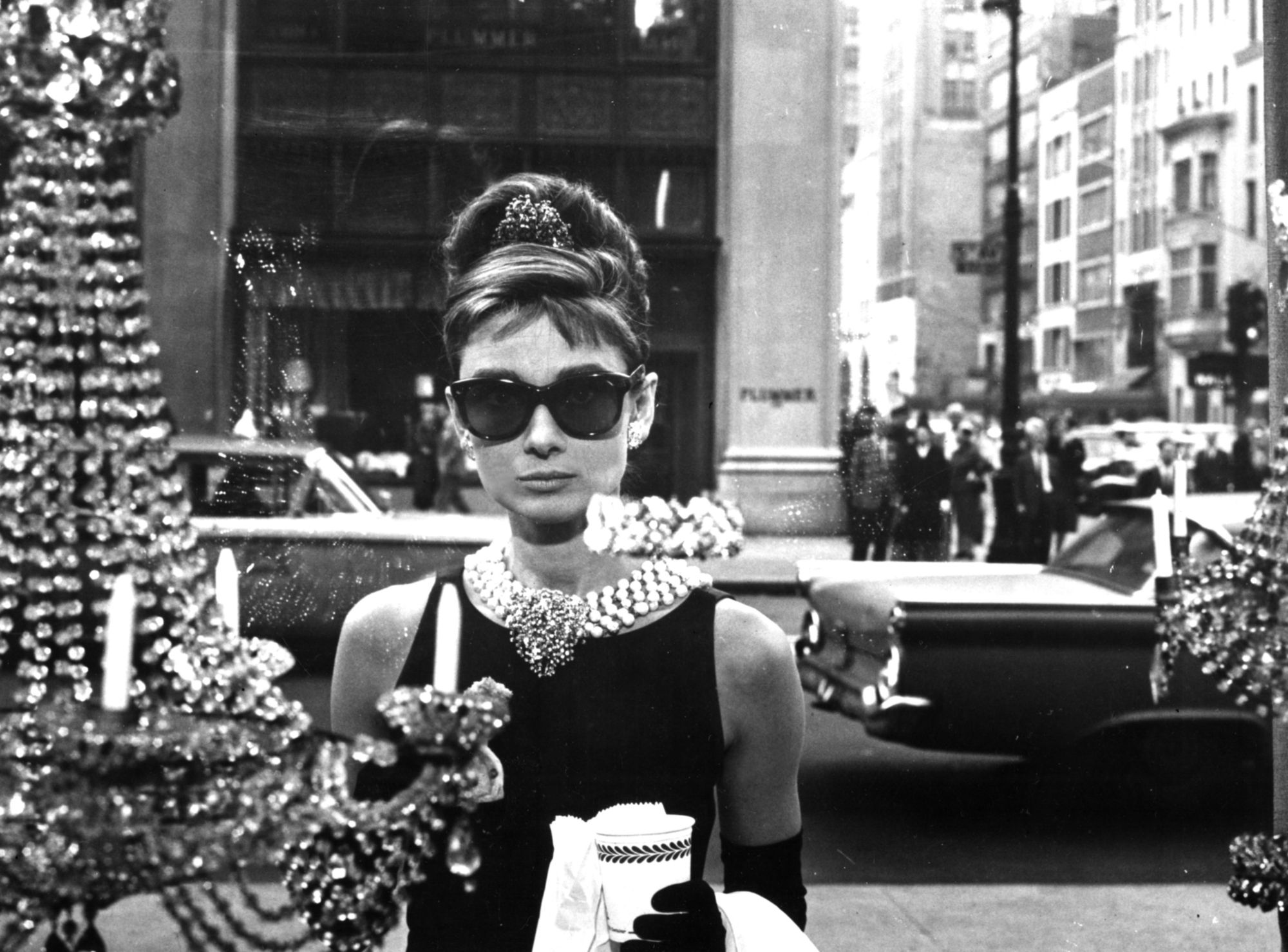 Stacy Haesoo Chong, a slow fashion designer based in Baltimore adores the spirit of Hubert de Givenchy. She is the founder of Shoo Apparel in the US, a slow, artisan fashion house and hopes to inspire the discerning, thoughtful woman to invest in beautiful clothes fashioned to last and create inspirational stories of social impact across our world whilst helping to champion and preserve precious artisan handcraft and embroidery.
Chong had an epiphany a decade ago and exited from fast to slow fashion by working for the Peace Corps and helping women in former war zones set up businesses to become independent.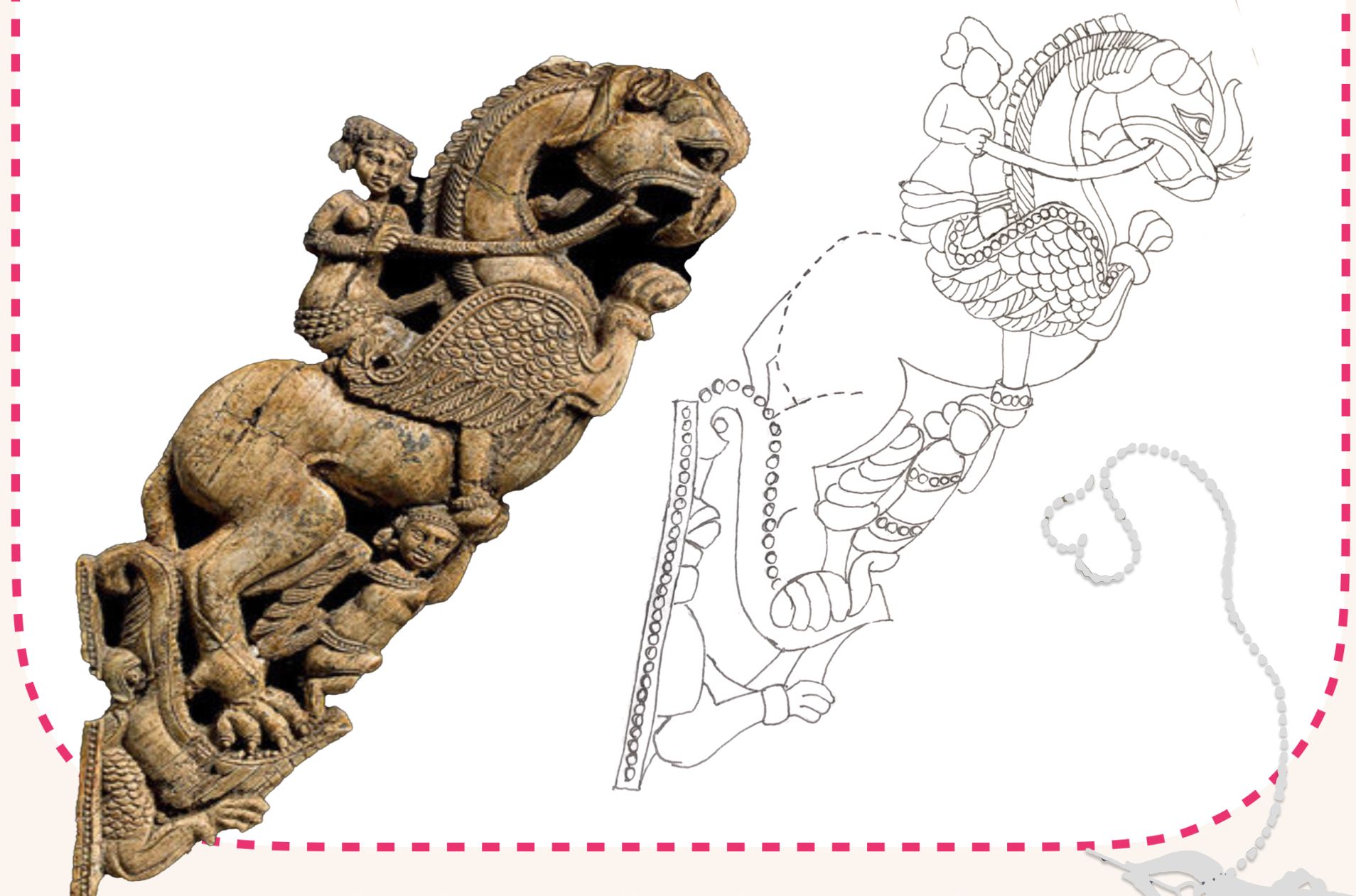 Now she is working with woman artisans in Afghanistan to design timeless, slow luxe fashion trousers in natural fibres with a remarkable and authentic dash of wow factor. Each pair of Shoo Apparel crowdfunded trousers is made in luxurious and hard-wearing Ecovero fabric with a focus on a sublime fit, just the right amount of stretch, clever pockets and sass appeal for each body shape.  
The Beauty, Heritage and Spirit of the Afghan Woman
The piece de resistance is the exquisite fairtrade embroidery on the pocket detail created by highly skilled woman artisans in Kabul. The embroidery distils the beauty, fables and heritage of Afghanistan. The first embroidery features a female warrior on a mythical animal. The second is a captivating geometric design that frames the slanted pockets. These handcrafted embroideries are made using wool and take hours to perfect.  Each pair of trousers sold helps to feed a family in Afghanistan while the women are not permitted to leave their homes to work since the return of the Taliban. Right now, families are struggling to live.
Support the campaign and pre-order a pair of trousers here at SHOO Apparel. Please note SHOO will be taking preorders up to August 2023. The trousers (pants) will be delivered to backers in January 2024.
Interview with Stacy Haesoo Chong, Founder of SHOO Apparel
Stacy Haesoo Chong's Story from Fast to Slow Fashion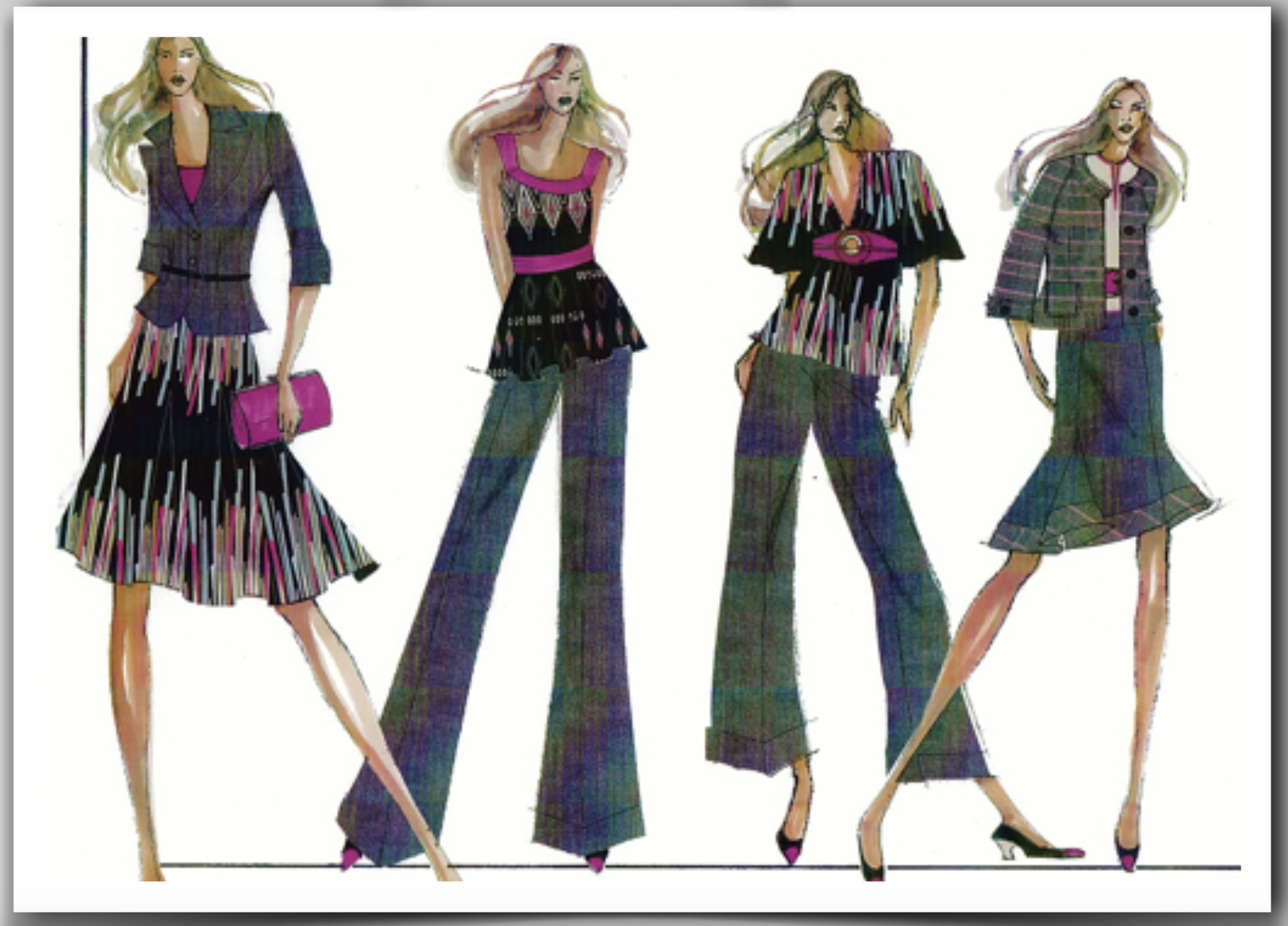 Back at the end of the eighties, Stacy Haesoo Chong's parents wanted her to go to university and study medicine or law. Their daughter had other ideas. "I wanted to be a fashion designer since I was about thirteen." Fortunately, she was talented enough to win a full scholarship to study design and textiles at Parsons School of Art and Design in New York. When she graduated,  she went on to intern at Donna Karan and work for Liz Claiborne, two of the big fashion houses of the day. Chong thrived and soon moved up to a management role. After two decades of relentless work in fast fashion, she was burnt out, demoralised and couldn't do it anymore.  She says, " I saw the exploitation, the pollution and the impact on local communities."
Working for Rory  Stewart's Charity, Turquoise Mountain
Chong sold her flat and possessions and joined the Peace Corps. Later, she took a master's degree in Public Policy with a focus on International Development and eventually, her new life in international development led to her working at Turquoise Mountain, in Afghanistan, a charity founded by British academic, author and politician Rory Stewart.  Chong admired the ancient skills of the artisans she met during her time in Kabul and when she heard that they urgently needed work and support, the SHOO DO GOOD PANTS campaign came to life on Kickstarter.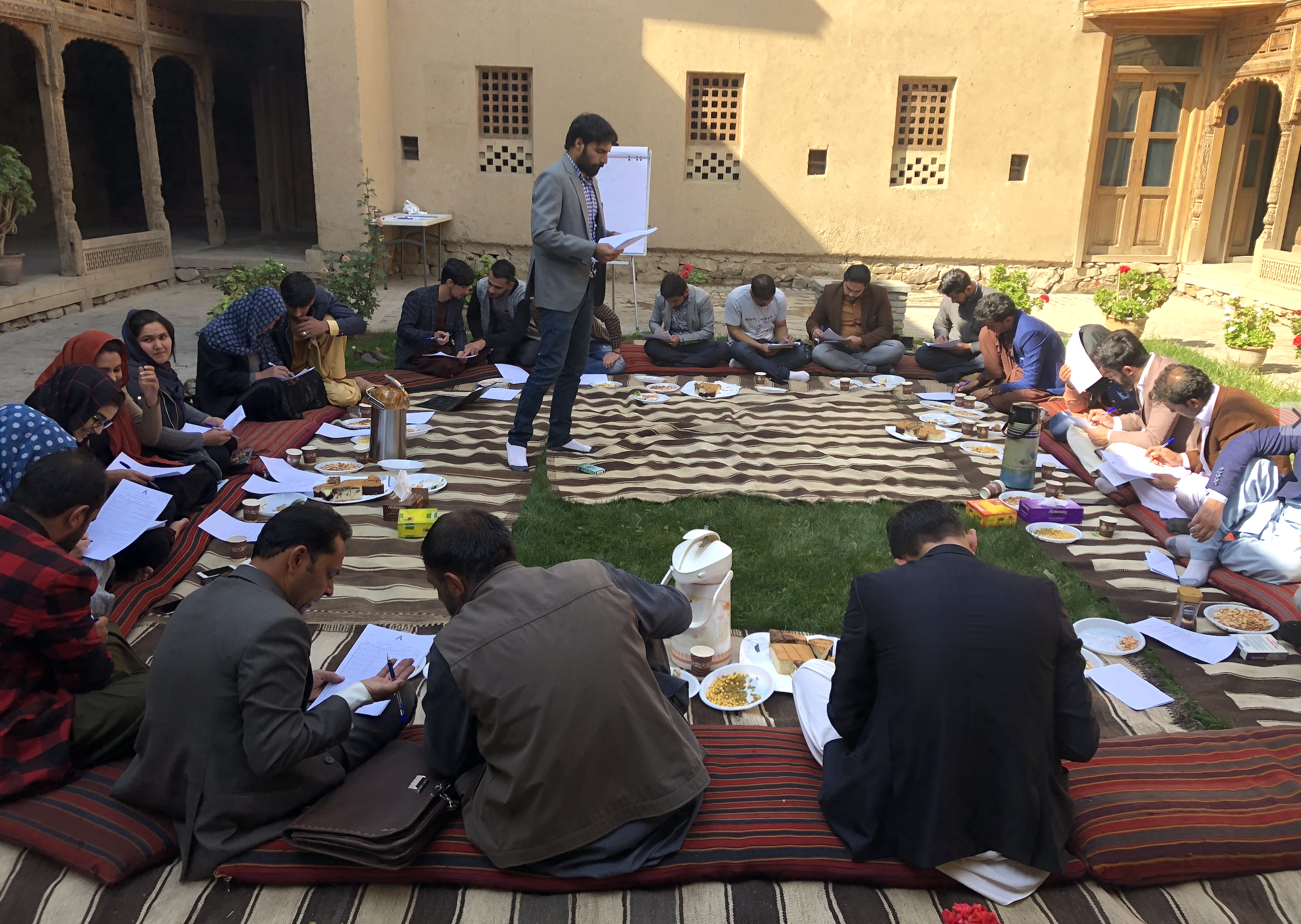 As women in Kabul are stuck at home and can no longer go out to work unaccompanied, she came up with the idea of taking work to them by designing the chicest tailored trousers for the women to embroider and get paid a fair wage to support and feed their families. You can support the campaign by investing in the trousers, which are designed in Baltimore and sewn in New York and read Stacy's story of her remarkable journey from fast fashion to the Peace Corps and then on to slow fashion that connects us all. The Kickstarter campaign has ended. Now you can support the campaign directly via the SHOO Website here.
Read on.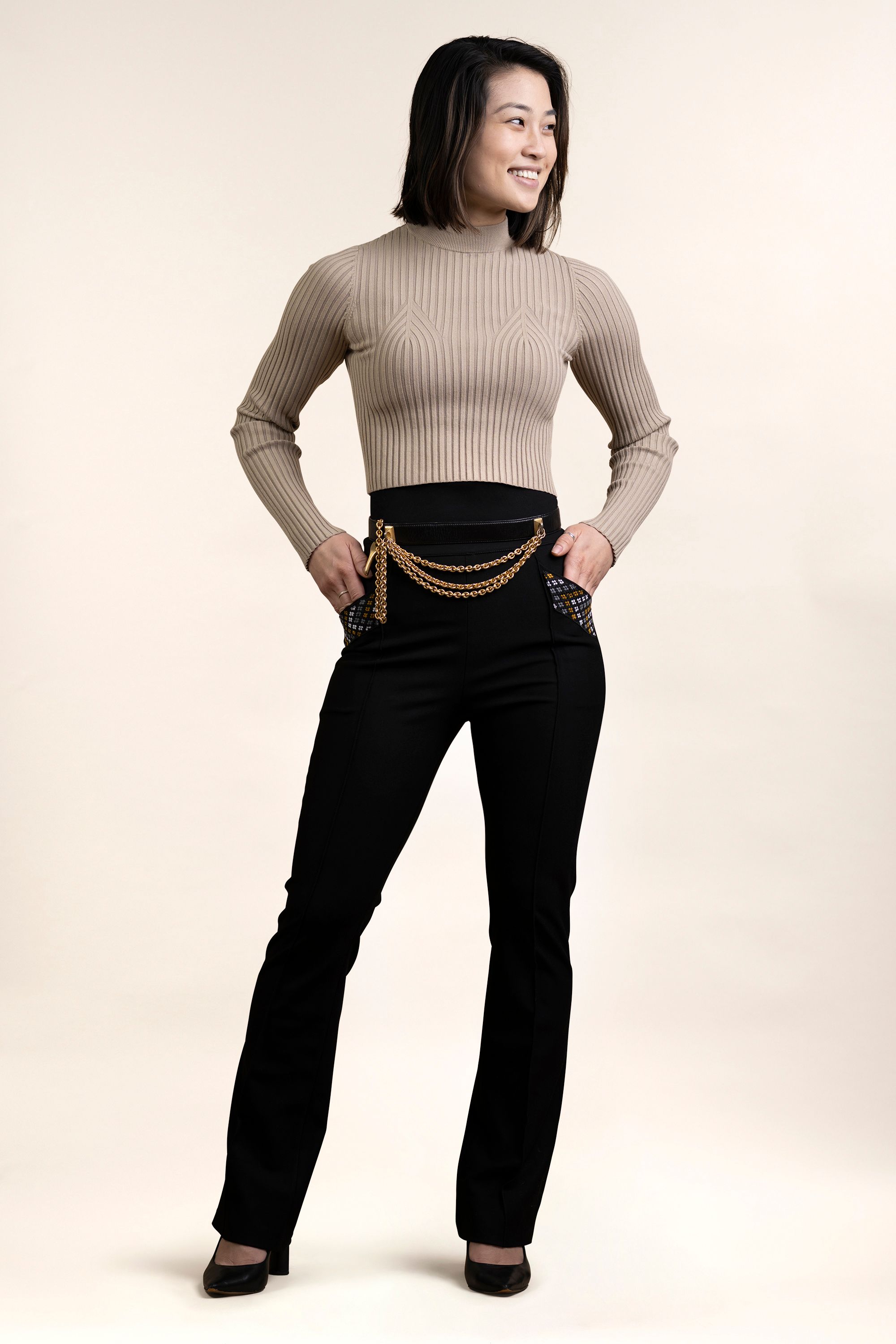 Interview with SHOO Sustainable Fashion Founder, Stacy Haesoo Chong
AJR What is it like to live and run Shoo Apparel, a social-impact,  artisan fashion start-up in Baltimore? Home of one of the largest collections of Matisse paintings, a dust-up with us Brits in 1814 and the place to eat crab cakes? Is it a great place to be an entrepreneur?
SC It is for me. It's a city on the cusp of change with transformation happening right in front of your eyes, and I feel inspired by that.  It makes me feel alive like things are shaking up, and that inspires me to continue pushing to create change in my own industry.
SC I also love the grittiness of the city because it feels a lot like my hometown of NYC. Many people think of Baltimore as being ridden with crime, poverty and drugs; and yes, we desperately need tougher leadership to get the city back on track and to make it safer, but Baltimore also has great neighbourhoods dripping with old-world charm.  For instance, I live by the Inner Harbour area in a charming walkable neighbourhood called Federal Hill which is full of young people from nearby universities, with lots of bars and good food.  I think Baltimore is a hidden gem, with rents and real estate prices that are a third of what it is in NYC. Here, you can find high-ceiling artist lofts with floor-to-ceiling windows at an affordable price.  It's definitely not a fashion centre like NY, but since I run an online business, I don't need to be located at the nexus of fashion. What's more important to me is that the demographic here is sustainably-minded, and it is.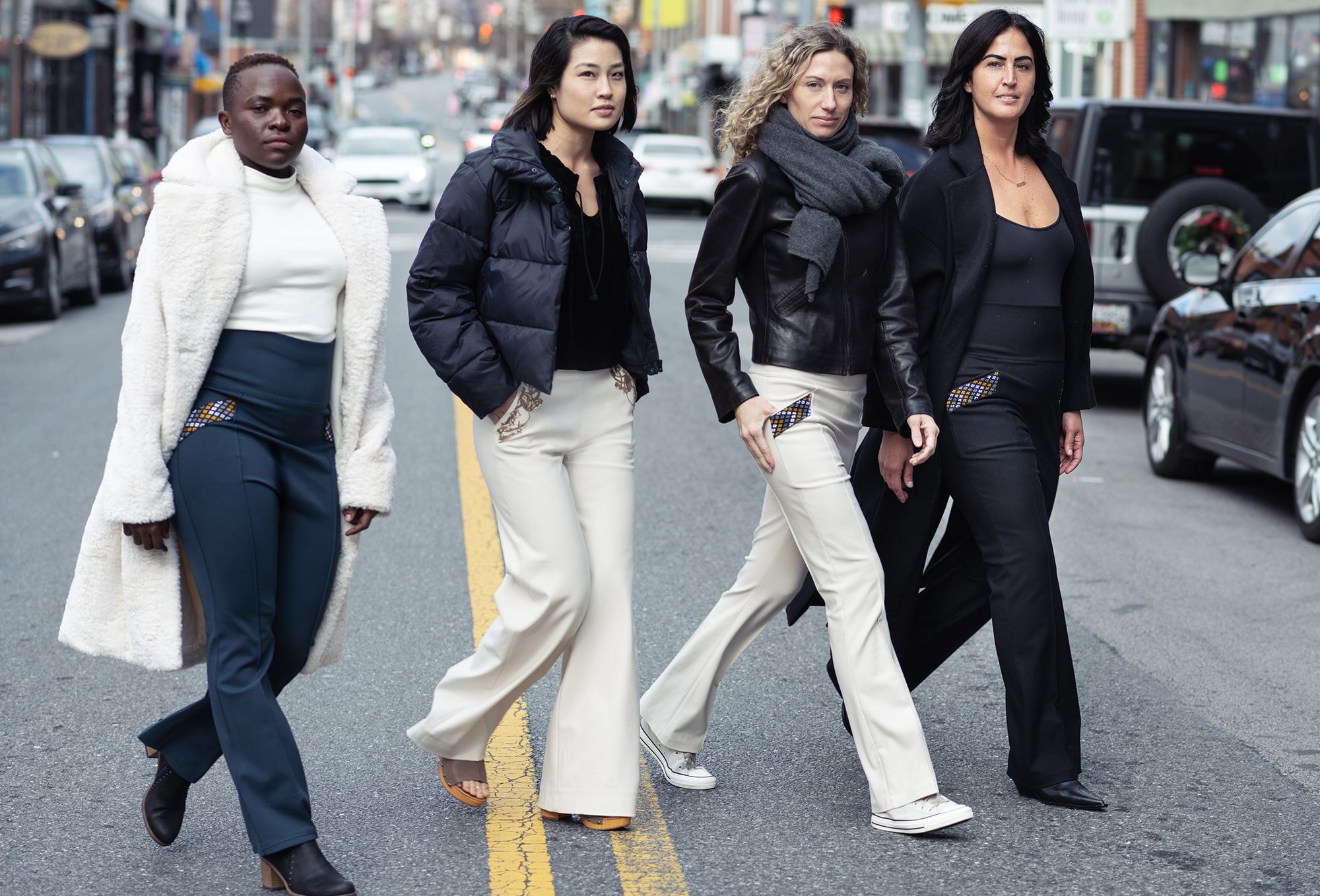 AJR What or who turned you into a social and slow fashion entrepreneur? And tell me about your obsession to design the perfect pair of sustainable pants for the style-conscious, busy woman who wants to look her best, carry her life in her pockets and look after planet Earth. What makes Shoo pants look good and avoid the tide of greenwash?
SC I think I'm so passionate about sustainable fashion because I want to atone for the mess that we (members of the fashion industry) made back in the 90s. When I joined the fashion industry in 1990, mass-market (fast fashion) apparel was the fastest-growing segment of the industry, with brands like Liz Claiborne leading the way with smart-looking career sportswear that all women could afford.  As the female workforce began to grow, it seemed like a revolutionary idea back then to make fashion accessible to the average working woman.  We thought we were making a stand against high-end fashion that catered only to the rich.  My first job out of school was with Liz Claiborne and it was a great company that taught me how to fuse strategy with creative design.  But what we didn't think about were the environmental consequences of promoting a culture of cheap clothing.  When "affordability" became the fashion trend, it became all about making products at the lowest prices.  As we raced to the bottom, the margins got smaller, so the only way to make money was to get volume.  This meant pumping out tons of styles each month, and training customers to buy seasonally until it became the norm to wear clothes only a few times and then buy new ones.  We helped create the disposable culture that is at the crux of the environmental problems we face today. Furthermore, many companies back then simply ignored how factories in poor countries were able to make things so cheap.
SC Finally, I had had enough. I loved creating and was paid well, but it became unbearable after 20 years, so I quit my job, broke up with my boyfriend and just left the US.  I figured I have one life and wanted to live it with meaning and purpose. Since then, I have been living and working overseas doing work that serves communities in need around the world.  One of the things I did after leaving the fashion industry was join the Peace Corps and they sent me to Moldova to help the fashion industry there.  That was the turning point in my life. It was in Moldova that I learned I could utilize my fashion experience to help creative entrepreneurs in poor countries, who were mostly women.  In many developing countries, the textile/fashion industry is often the only industry where women have a real opportunity.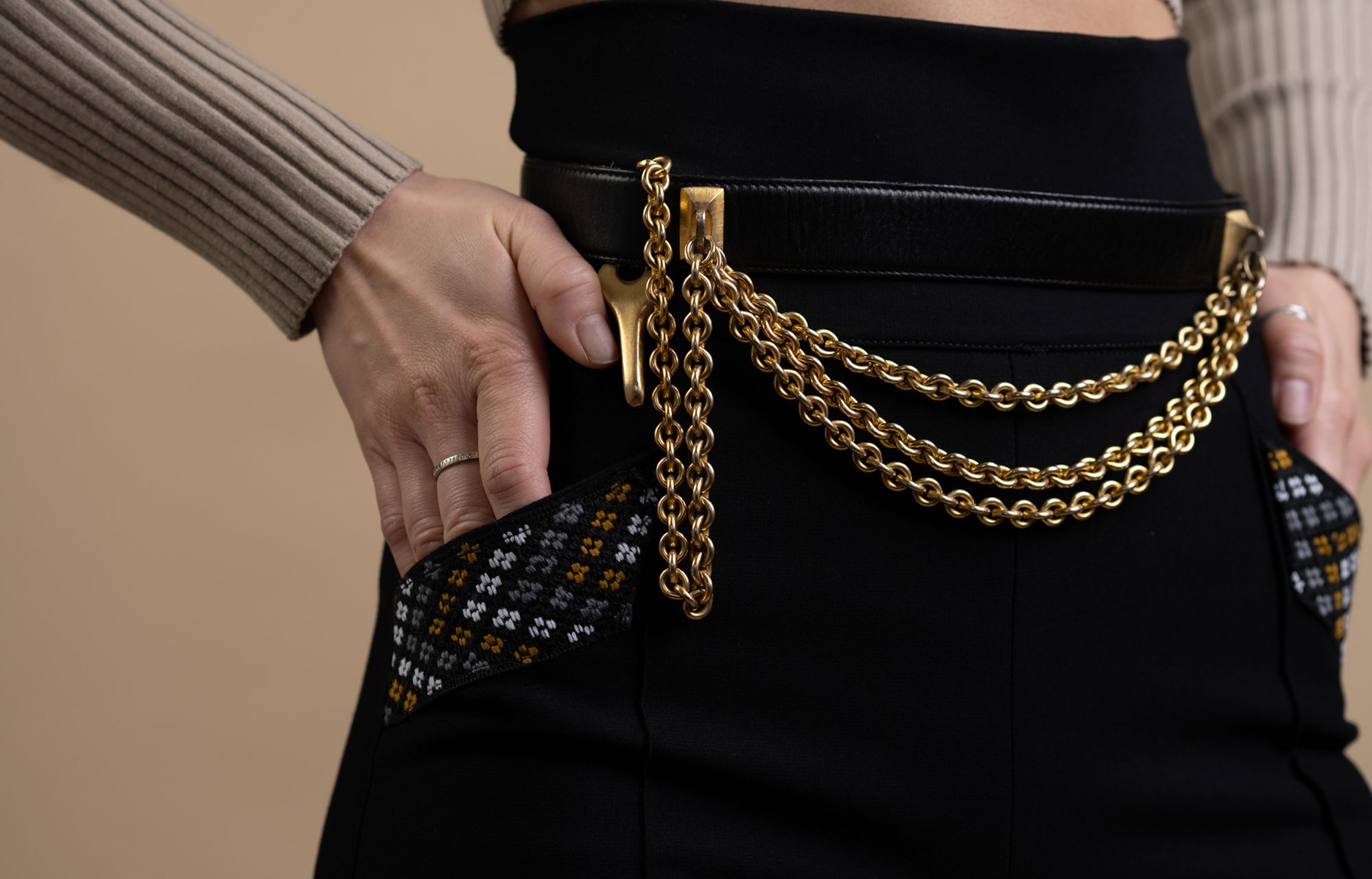 Living overseas for the past ten years in post-conflict countries has really opened my eyes to, and given me a first-hand look at, the damage caused by the apparel industry.  Even beyond the dirty waters and landfills and poisons that apparel makers dump into lands where good people live, cheap factory production is rolling over small makers.  Amazing skills that have been passed down from generations that used to be a way for many women to make a living in poor countries continue to disappear.  I started SHOO because I wanted to create stylish and functional products that women really need and give that work to small producers who really need our support right now.
We Need to Stop Buying Cheap Clothes on Impulse
SC I think a lot of fashion brands want to do the same thing, but it's hard to survive doing it because producing sustainable products is so much more expensive.  In order for sustainable products to thrive, consumer culture needs to change en masse.  It's hard, but we all need to stop buying cheap clothes on impulse, instead, save up to invest in that one quality product that costs more but will last.  Buy less, and in the end, spend less. You had a great quote that really represents the fashion mentality we need to get back to: "All a woman needs to be chic is a raincoat, two suits, a pair of trousers and a cashmere sweater - Hubert de Givenchy."  I want my SHOO pants to be that long-lasting staple favourite in every woman's closet, that she can count on to make her look polished wherever she goes.
AJR. You worked for Turquoise Mountain, the charity set up by Rory Stewart to empower artisans in Afghanistan. Now you are working with the Lawang Artisans to make fabulous, form-fitting, designer trousers with exquisite embroidery inspired by Afghani heritage, including the emblem of a warrior woman a magical animal. How did that happen and what is the situation for women who want to work in Afghanistan after the return of the Taliban?
SC I simply got lucky when Turquoise Mountain hired me. The work they do in Afghanistan and in other countries is humbling, and I was thrilled to be a part of that. Plus, I got to live in Kabul and work in the magical Murad Khani neighbourhood that TM restored and renovated in the original style.  Being there was like being transported back in time.
SC I no longer work for TM but hear from former TM colleagues that it's unimaginably hard for Afghan women right now.  Many men are out of work so women are desperately looking for work that they can do from home.  Since women can no longer go to the office or go out to public places on their own, their handicraft is critical to making money from home.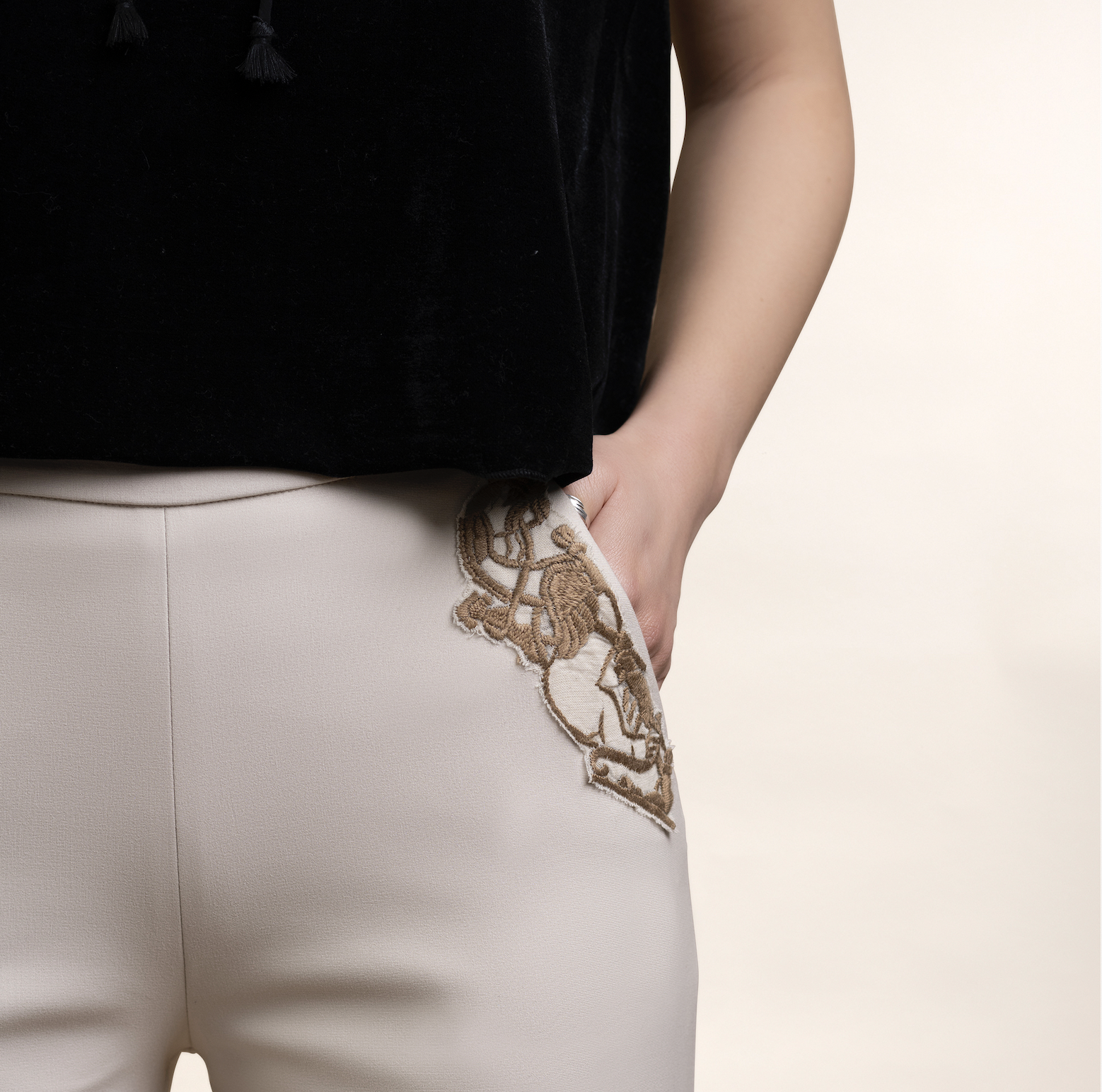 SC I met up the other day with a former Afghan colleague from TM who is now a refugee in the US, and she said that many families in Afghanistan are only able to survive with money that is being sent to them from relatives who are working in other countries.  For instance, this colleague came to the US as a refugee and got a job and is sending money back to Afghanistan.  How else can families buy food when there are no jobs?
I wanted to do something to help, so I designed two pairs of pants that feature Afghan embroidery and launched it on Kickstarter.  It was called the SHOO Do Good Pants campaign.  And, yes, I am collaborating with Lawang Artisans, a large network of women embroiderers who are now struggling to find work, to produce the embroideries for the SHOO pants.
AJR How can readers in any part of the globe support women artisans in Afghanistan and snap up some pants?
SHOO DO PANTS ARE OPEN FOR PREORDERS
SC The Kickstarter campaign for the SHOO Afghan artisan pants ended last month, but we are still taking pre-orders for these pants on our website (www.shooapparel.com).  These pants are made to order, and the deadline to order is August 2023.  These pants not only feature embroideries made by Afghan women, but they are also made with a luxurious natural fabric that is woven with sustainably sourced trees by a small family mill in Portugal, and sewn with high craftsmanship in NYC.  These pants are comfortable and have deep pockets, and most importantly, they are designed to be slimming on the body.  They definitely look chic with that raincoat or blazer, but also with just a simple t-shirt.
AJR. Where is the best place in your neighbourhood for great coffee, cake and to watch the world go from the waterfront area?
SC I'm a bit of a hermit these days, I work all day in my studio and get locally grown coffee to my house which I roast myself, so I don't go to coffee shops often.  However, my favourite thing to do to clear my head is to take the free ferry ride from where I live in Federal Hill to Fells Point just across the harbour. Fells Point has a great boardwalk along the waterfront, and Thames Street, which is a cobblestone street with lots of seafood restaurants, coffee shops and bars, with an awesome view of the harbour.
AJR. What single thing or moment inspired you to study fashion and design at Parsons School of Art in the nineties? What was it like to grow up in New York in terms of music, fashion and teenage kicks? Do you get homesick for NYC?
SC I've wanted to be a fashion designer since the age of 13.  Can you believe that I applied to only one college, Parsons School of Design, because that was the only school I wanted to attend? Luckily I had talent and got accepted with a full-merit scholarship. This was very lucky because, as a first-generation immigrant, it was difficult to convince my traditional Korean parents to send me to fashion school instead of studying law or medicine.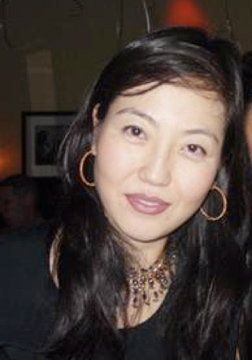 SC But, I'll be honest, I did too much clubbing my first year at Parsons, which is located in downtown Manhattan.  Gosh, we were in the middle of the NYC club scene in the crazy 90s, and I was like a deer in headlights. I look back on all of this with fondness now, but the late nights clubbing led me to miss many classes and lose a chunk of my scholarship that first year in college, and I was too ashamed to tell my parents. So instead, I put my entrepreneurial hat on and approached popular night clubs to partner with me in throwing "Asian Night" parties.  The idea came to me because there were so many Asian students at Parsons, FIT, and Columbia that were looking for ways to meet each other and date, but no events were geared specifically for that demographic at the time.  Moreover, NYC clubs had a very short shelf life in that new clubs are hot for a couple of years and then start to decline as clubbers move on to the next hot club.  If you catch these clubs during this declining phase, even the big-name ones are open to throwing "special events" at their venue on nights that are slow. I often made over $5000 per event and was able to pay the tuition on my own.  I'm not proud that I missed classes, but at the same time, it led to a successful entrepreneurial experience that gave me the confidence to take risks and showed me that I could do anything if I put my mind to it.  It made me who I am today.  Once I graduated and entered the fashion industry, I became a workaholic working 100-hour weeks and loved that life for a long time.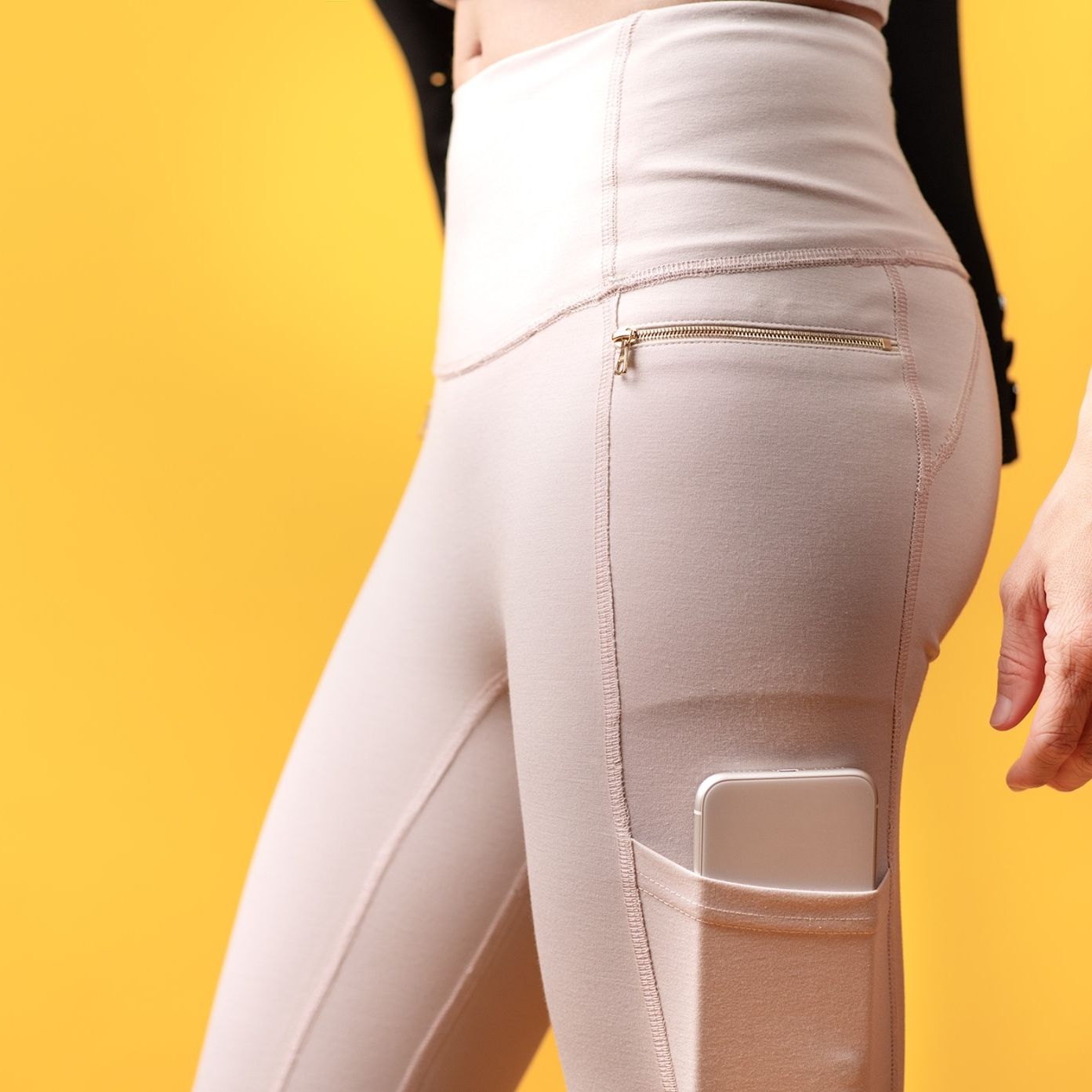 SC Maybe because I had an overload of music and fashion in those years, I do not get homesick for NYC.  I'm older now and prefer nature and animals over city lights. Right now, I'm super focused on SHOO and finding ways to help women in post-conflict countries and making the perfect pants for busy women like me, and I'm happy right here in Baltimore.
AJR. You've gone from working for fast fashion companies to joining the Peace Corps and working for Turquoise Mountain in Kabul. Who would play you in a film about your life and what have you learned from working with artisans in post-conflict countries?
SC Hmmm…interesting question, I would fantasize that it would be Angelina Jolie —if she was Korean that is.  Like me she was a rebel, she's had her ups and downs in life, she goes all in (Do you remember the blood vial she carried of Billy Bob Thorton?), and she found peace doing global relief work.  Of course, we are completely different too, with one being that she collects children from around the world, whereas I collect animals :).
What I learned over the past ten years working with artisans in post-conflict countries is that I need very little to live, and that was liberating somehow.
SC. What is one of the most inspiring experiences from your time in Kabul at TM?
I love animals and all the TM colleagues I worked with closely loved animals as well. I can tell you stories of the way many of us went out of our way to rescue animals in our free time.  We were all there to help the Afghan people, but helping animals in our valuable free time is going above and beyond in my book, and it was inspiring to work alongside people like that.
AJR. All most of us hear about Afghanistan is the devastation of war and the oppression of women. What is real Afghanistan like? Did you visit any of the ancient sites Rory talks about in his book where he walked across the country with his beloved canine companion, Babur? What are the women of Afghanistan really like? Are they very interested in fashion?
SC What I would give to be able to walk across Afghanistan as Rory had.  My own Afghan experience was quite different, as we lived inside the Green Zone which is a compound in the middle of Kabul with high walls and tight security, and we took armored cars when we left the compound.  We were not even allowed to take walks without supervision due to security reasons.
Afghan Women Are Like Women the World Over
SC What struck me the most in Afghanistan was how proud the Afghan people are.  And yes, the women I had met there were interested in fashion, and everything else that women everywhere are interested in for that matter.  Underneath it all, I think people everywhere are kind of the same, and that makes the world feel very small in a good way.
AJR Diana Vreeland said, "Fashion is part of the daily air and it changes all the time, with all the events. You can even see the approaching of a revolution in clothes. You can see and feel everything in clothes."  Diana V was brilliant and used her imagination to make fashion captivating.  Do you agree with her statement about how fashion reflects our times and how that power might be used for social impact whilst not sacrificing one iota of allure, sass and adornment? In fact, are your pants the perfect example of having your slow fashion cake and helping the ladies of Kabul at the same time?
SC Diana V is an icon and an inspiration!  Clothing is an extension of who we are and how we feel, so I agree that it reflects our daily lives and, by extension, everything that's happening in our culture.  Given this, it makes me really hopeful to see fashion trends emerging that are about individuality and sustainability.
AJR What are your passions away from fashion and running a business? How do you escape from it all and nurture the mind and body?
SC My passion outside of business is animals. This is a funny story: I went to an Indian Shaman many years ago in Delhi who told me I would "learn to love through animals" when I asked him if I should say "yes" to my then-boyfriend who had asked me to marry him.  It was a very disturbing answer given that I didn't even have an animal in my life at the time. It came out of nowhere.  But this prediction has indeed come true because there is nothing I care about more than making this planet better for the animals who suffer.  I try to spay and neuter and rescue as many animals as I can in every country I visit. This is what I do in my free time. I believe we are all interconnected and am passionate about making our planet a better place to live for all its inhabitants.
To nurture my body, I do yoga and eat healthily.
AJR Who is your fashion heroine, past or present?
SC It's definitely Chanel. Who else?
AJR Tell me about the design for the crowdfunded pants. What's the secret of a great fit for different body shapes? Tell me about the Lenzing Ecovero fabric.
Great Trousers Are All About the Rise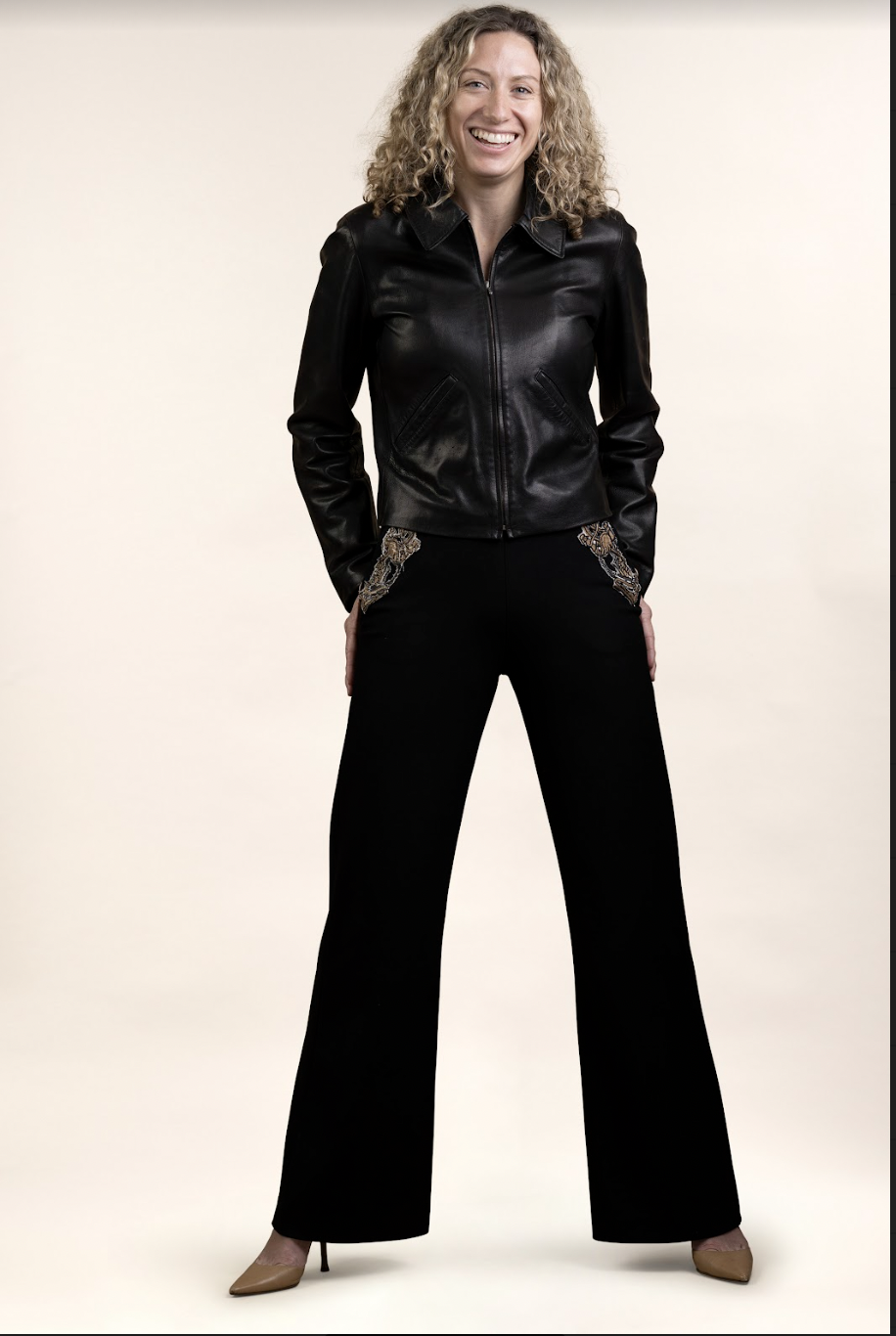 The secret of a great fit in pants is the rise, you have to get the rise correct.  It's impossible for one style of pants to please everyone, but a great-fitting pair of pants can fit well on most body types.  It takes multiple fitting sessions on an industry-standard fit model to get the fit right even for a simple pair of pants.  And we take the time to do that at SHOO because I'm really adamant about getting the perfect fit.
How to Get the Perfect Fit
The fabric is critical to getting the perfect fit too - it needs to have the right amount of body and stretch.  At SHOO, we use a beefy double-knit fabric with the perfect amount of stretch that is woven with Lenzing Ecovero, which are yarns from sustainably sourced trees.  After we developed our fabric, we had it tested by Lenzing to get their sustainability certification before we used it for the market.  I only use high-quality natural fabrics in SHOO pants because they are more sustainable than polyesters and because natural fabrics get better with age.  They last, and they feel luxurious.
AJR  You have lived and worked across the globe. Where do you want to go next and why?
SC I have this dream to buy a piece of land in the Mediterranean and create an animal sanctuary.  I want to wake up to the ocean and provide a happy life to as many animals as I can in my golden age.  Running a social enterprise like SHOO isn't going to make me rich, so I'm thinking it'll need to be in a more affordable hidden gem like Albania.
AJR You are in London and you are invited to Buckingham Palace to meet King Charles to talk about social entrepreneurship. What do you wear?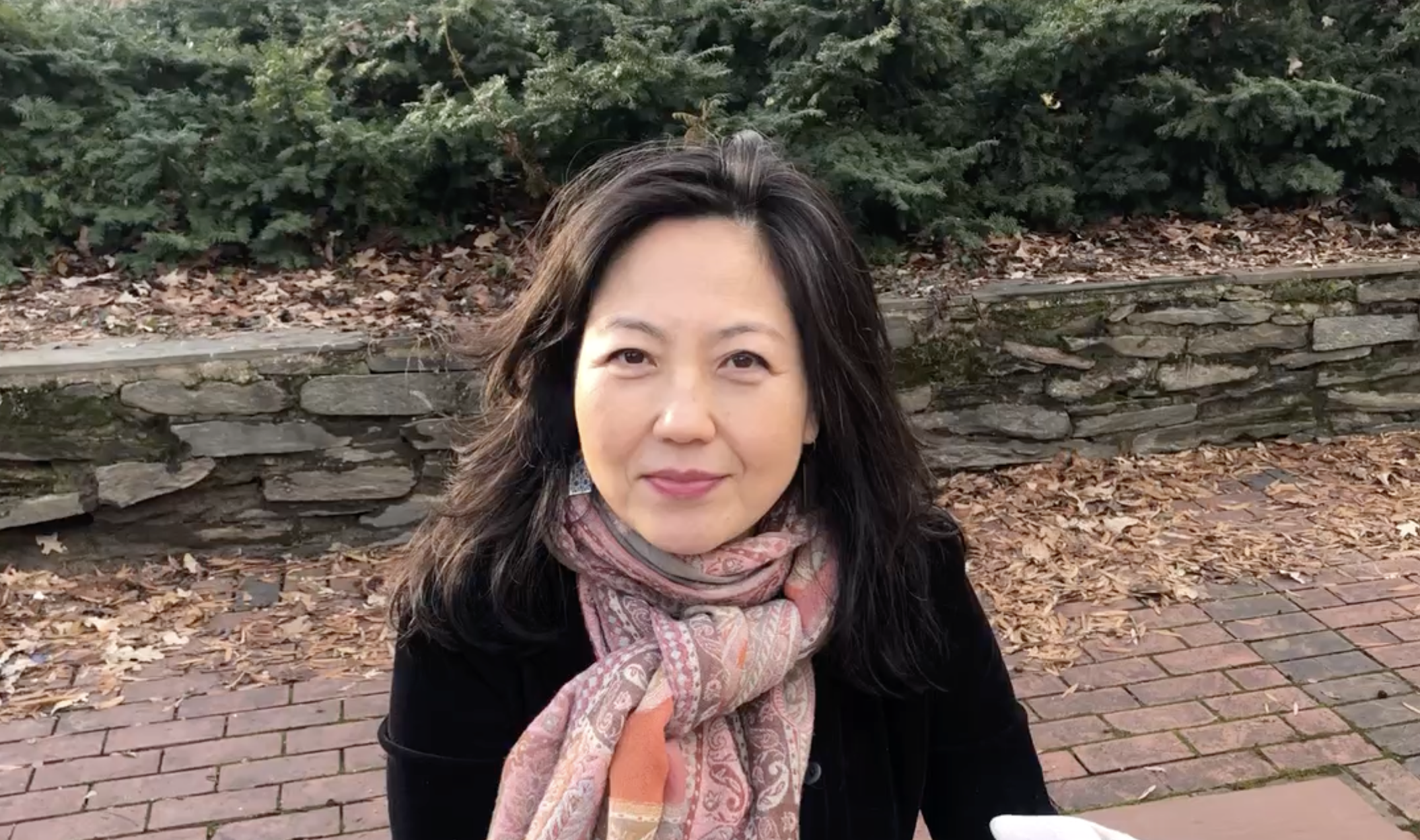 SC Oh, dear. I'll want to wear pants, but whenever I see images of royals, the women are wearing a dress and a hat. AJ, I haven't worn a dress in over ten years, but if I had to, I'd go for a simple well-fitting black dress from either Gucci or Chanel.  I'll probably go look for that perfect preloved vintage piece!
AJ One thing I haven't asked about yet is the women wearing your pants for the campaign. They look like real women as opposed to models. Is that right? Who are they? Did you receive some great and interesting comments from people who backed the campaign and want to help?
SC The campaign was a real grassroots effort, and all the models were women I know either from Peace Corps or from the community.  They are not professional models and I really like that real women of all sizes and shapes who want to help the cause were representing the SHOO pants.  I think they all look fabulous!  My backers are the best, some of them even reached out asking to be a model.  And, they are not shy about sending in design ideas for future pants, which I take into serious consideration.  Their feedback is so valuable to me.
SHOO FASHION
To Discover the World of Shoo Apparel and Support this one-of-a-kind social impact fashion project.  Visit the website. SHOO Apparel.
This feature took days to research, write and create the layout.   Support Long Form Independent Arts and Culture Journalism Here - Signup and please spread the word about the magazine.
ABOUT THE EDITOR
Alison Jane Reid is a Scottish/English feature writer, editor and slow luxury tastemaker. Her iconic career in British national newspapers spans three decades. AJ worked as a lead feature writer specialising in cultural icons at The Times Magazine for a decade. AJ trained at Mirror Group Newspapers and went on to work as a contributing editor at The Lady and You Magazine. Her iconic interviews and features have also been published in Country Life, The Independent, ES, The Evening Standard, Coast and Harpers Wine and Spirits Magazine.
She has also appeared in broadcast journalism for  - ITV, Channel 5, V&A Fashion Documentary and our own television channel.
Support The Luminaries Magazine
I hope you have enjoyed this handcrafted piece of slow film journalism. If you are a paid subscriber brilliant. If not, then please subscribe or make a donation to support this independent magazine. We have no shareholders or investors to keep arts journalism free of vested interests. Join the international campaign to pay journalists and authors for our professional work - thank you. #paythecreator #journalismnotcontent #readinthelumnariesmag
Subscribe and Become a Paid Supporter or Donate