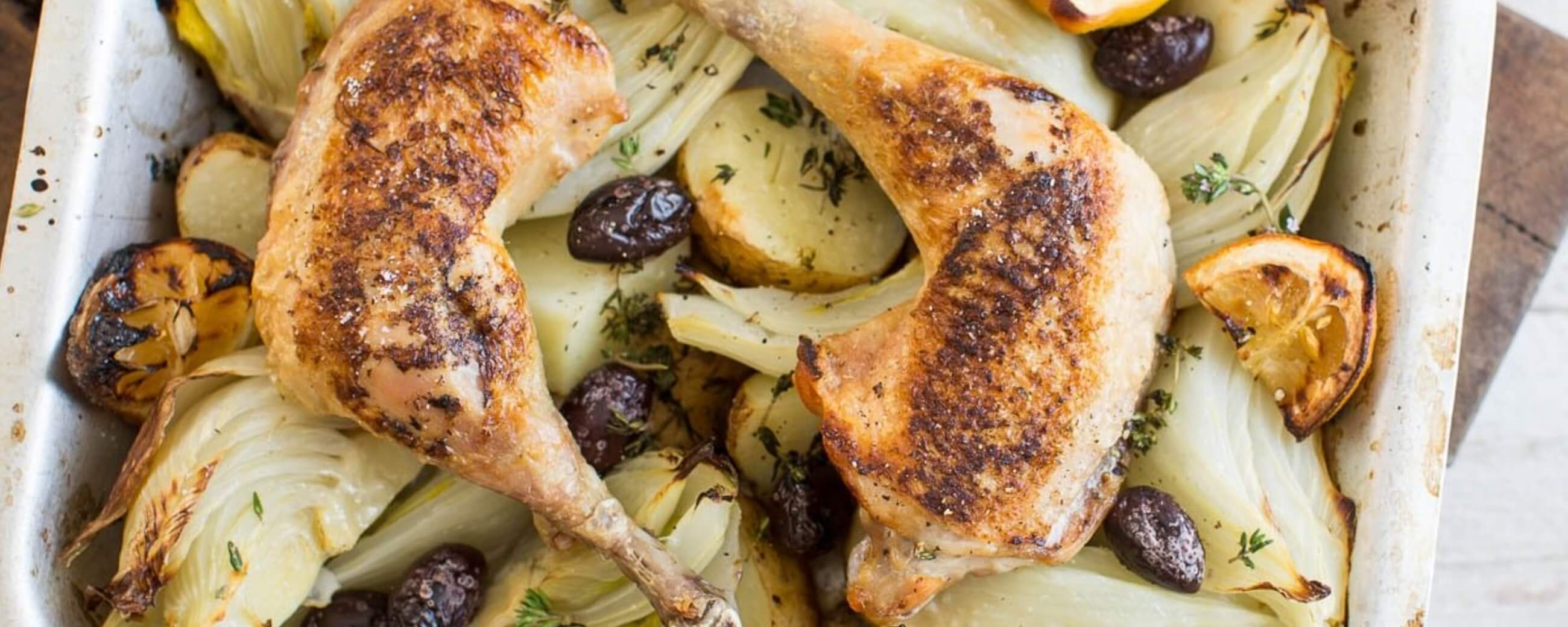 This organic chicken recipe from Riverford Organic combines organic chicken legs (or breasts), good quality tart and salty olives, fennel, lemon and thyme and conjures up the simple, delicious flavours of Mediterranean cooking. Just take care not to add too much lemon juice - the juice from half of each quartered lemon is just the right amount.
Ingredients
2 fennel bulbs
500g new potatoes
4 good sprigs thyme
oil for frying and roasting e.g. sunflower or light olive
2 chicken legs
1 lemon
60g black olives
salt and pepper
Method
Prep time: 15 minCooking time: 45 min
Step 1
Preheat oven to 210°C/Gas Mark 5. Boil a kettle of water. Trim the fennel bulbs of any stalk tops and fronds, reserving any feathery, bright green fronds to use as garnish. Chop the fennel bulbs in half, lengthways, then each half into 2-3 pieces.
Step 2
Pop them in a pan and cover with boiled water from the kettle. Bring the pan to the boil, cook for 5 minutes, then drain. Meanwhile, wash the potatoes and chop any large ones into half's or quarter's so that they're roughly the same size.
Step 3
Pick the leaves off the thyme. Heat a frying pan with a little oil. Season the chicken then fry it, skin side down, until the skin is golden brown. Remove from the heat.
Step 4
In a large baking dish, mix the potatoes and drained fennel, with just enough oil to coat. Season with salt and pepper. Lay the chicken on top, skin side up. Cut the lemon into quarter's. Lightly squeeze each quarter lemon over the chicken and veg (using half the juice of each quarter).
Step 5
Tuck the squeezed pieces in amongst the veg. Drizzle the top of the chicken with a little extra oil. Pop the baking dish in the oven for 20 minutes, then remove and toss the thyme leaves and olives in with the veg.
Step 6
Bake for a further 20-25 minutes or so, until the potatoes are tender, the fennel and lemon soft and lightly caramelised, and the chicken cooked through (the juices should run clear when inserting a sharp knife into the thickest part of the chicken leg).
Step 7
Serve the chicken and veg with any juices from the dish poured over the top, garnished with any fennel fronds.
To find out more about organic farm to fork food or to book an organic box delivery visit the website -  Riverford Organic Box Scheme