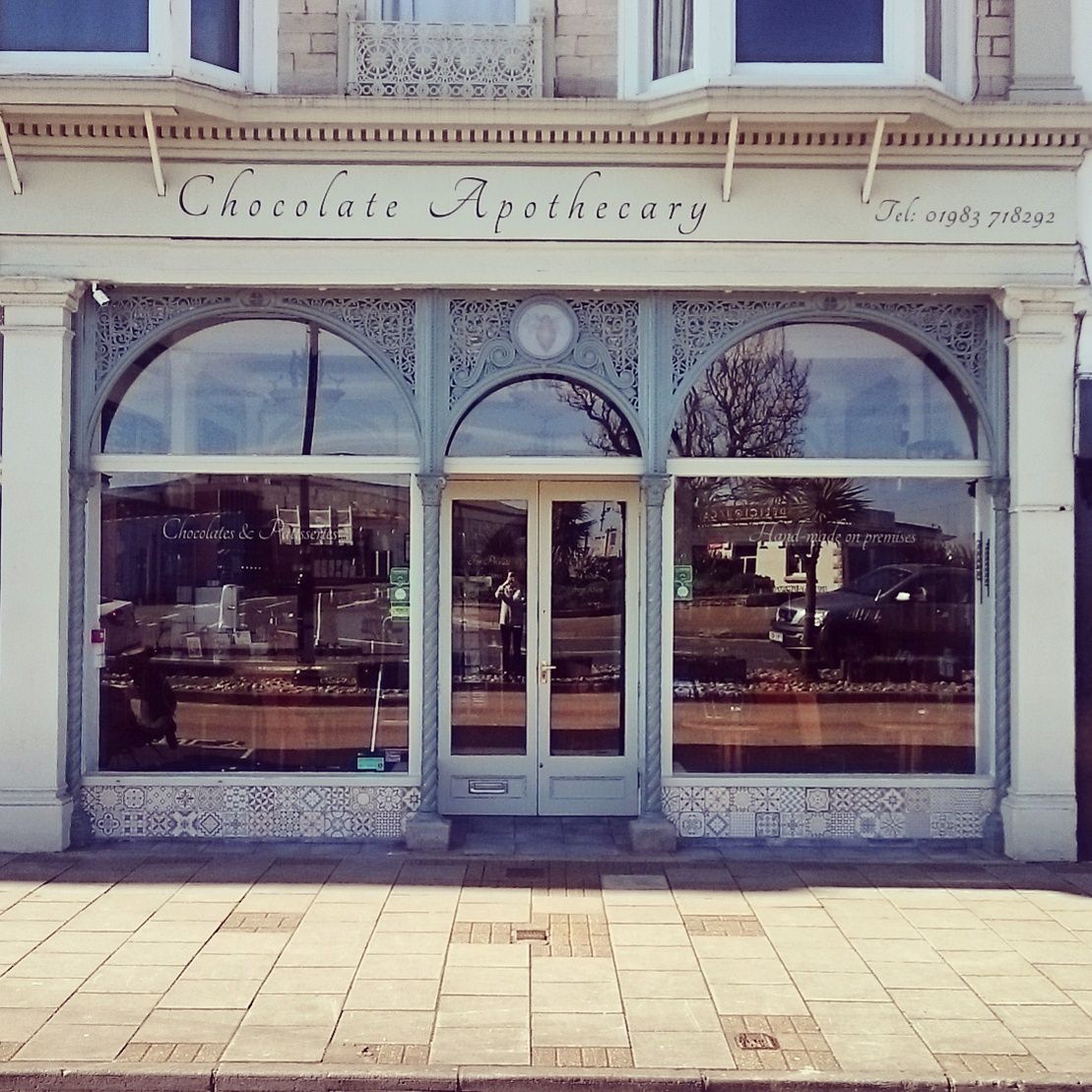 Introducing a new monthly small, independent shop, cafe or restaurant feature in which we showcase and champion a one-of-a-kind independent emporium or small business from slow food to slow fashion or wine and provisions that is beloved by its customers and a beacon for responsible, artisan, slow luxury and gloriously unhomogenised. Read the story, support the magazine if you are not already a paid magazine subscriber and suggest very special places you would like us to review from Malibu to Manchester and Timbuktu to Sienna. Oh, and we don't believe that January should be blue. Let's enrobe it in dark chocolate and think like Emily and chef Gabriel coming together again truly, madly, deeply, over a Michelin star sensuous meal to remember in Provence!   AJ, Founder and Editor, of The Luminaries.
Intro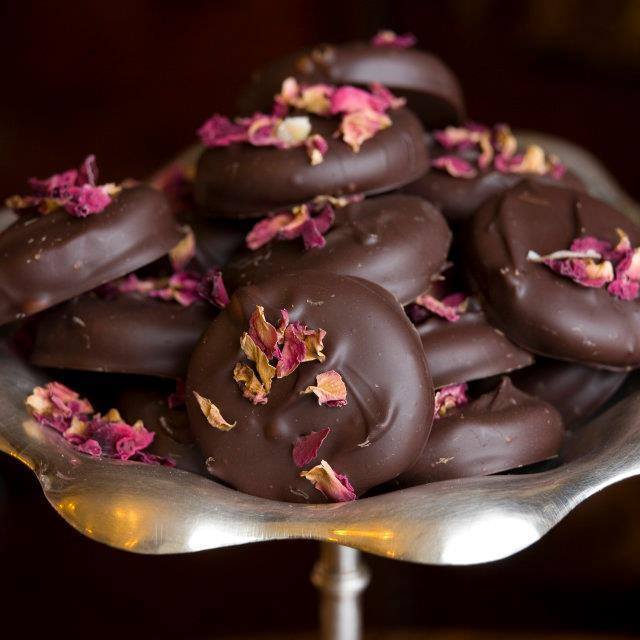 The Chocolate Apothecary artisan responsible luxury chocolatier and cafe is a swell place to gravitate on Ryde Esplanade, on Queen Victoria's diamond in the Solent, the Isle of Wight. Everyone comes here from chic tourists, writers, students, retired London black cab drivers with their pinup pooches and ladies who do coffee, patisserie and lunch.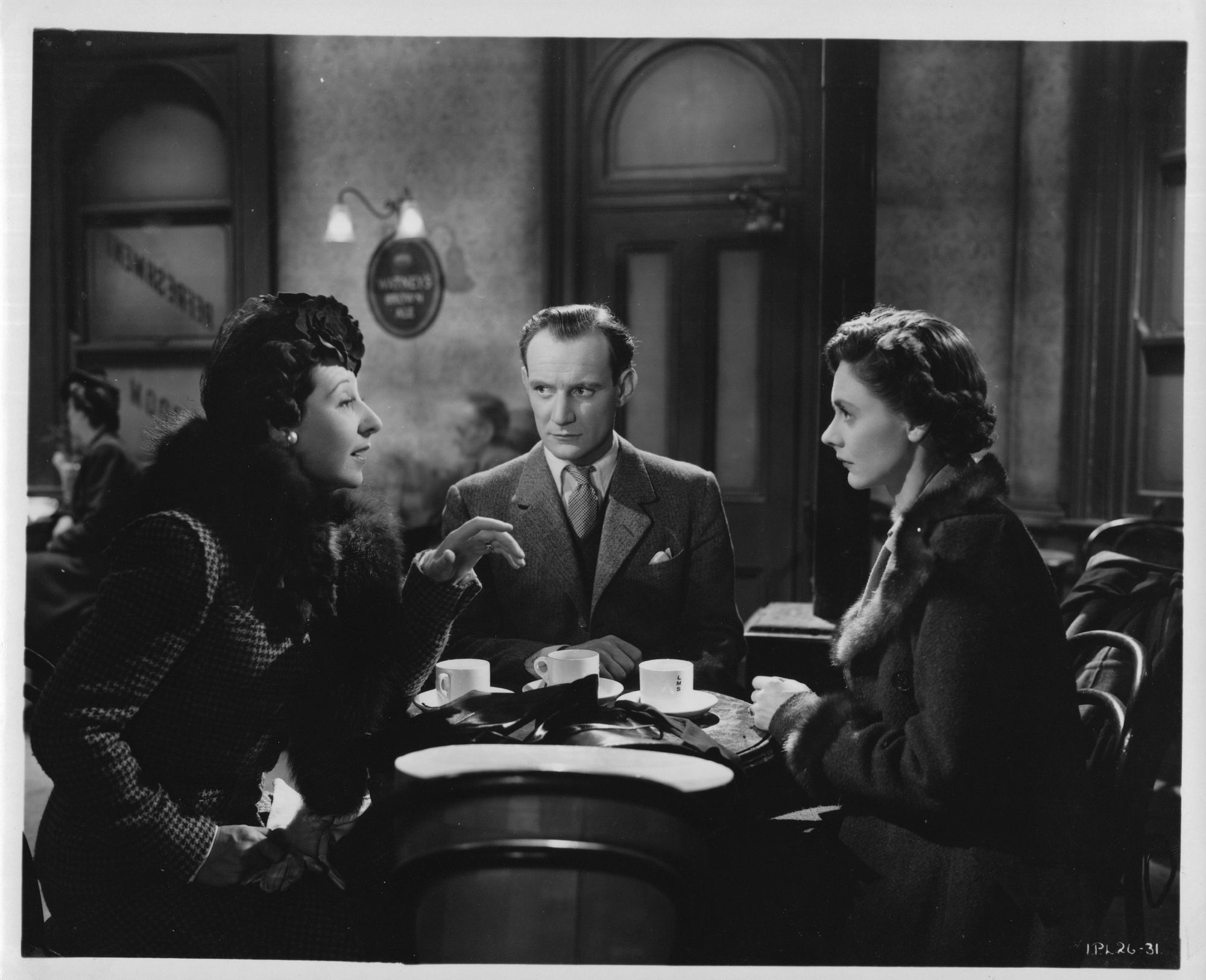 It's the twinkling Brief Encounter cafe and chocolatier on the south coast of England. Railways and travel by sea create such interesting social interactions.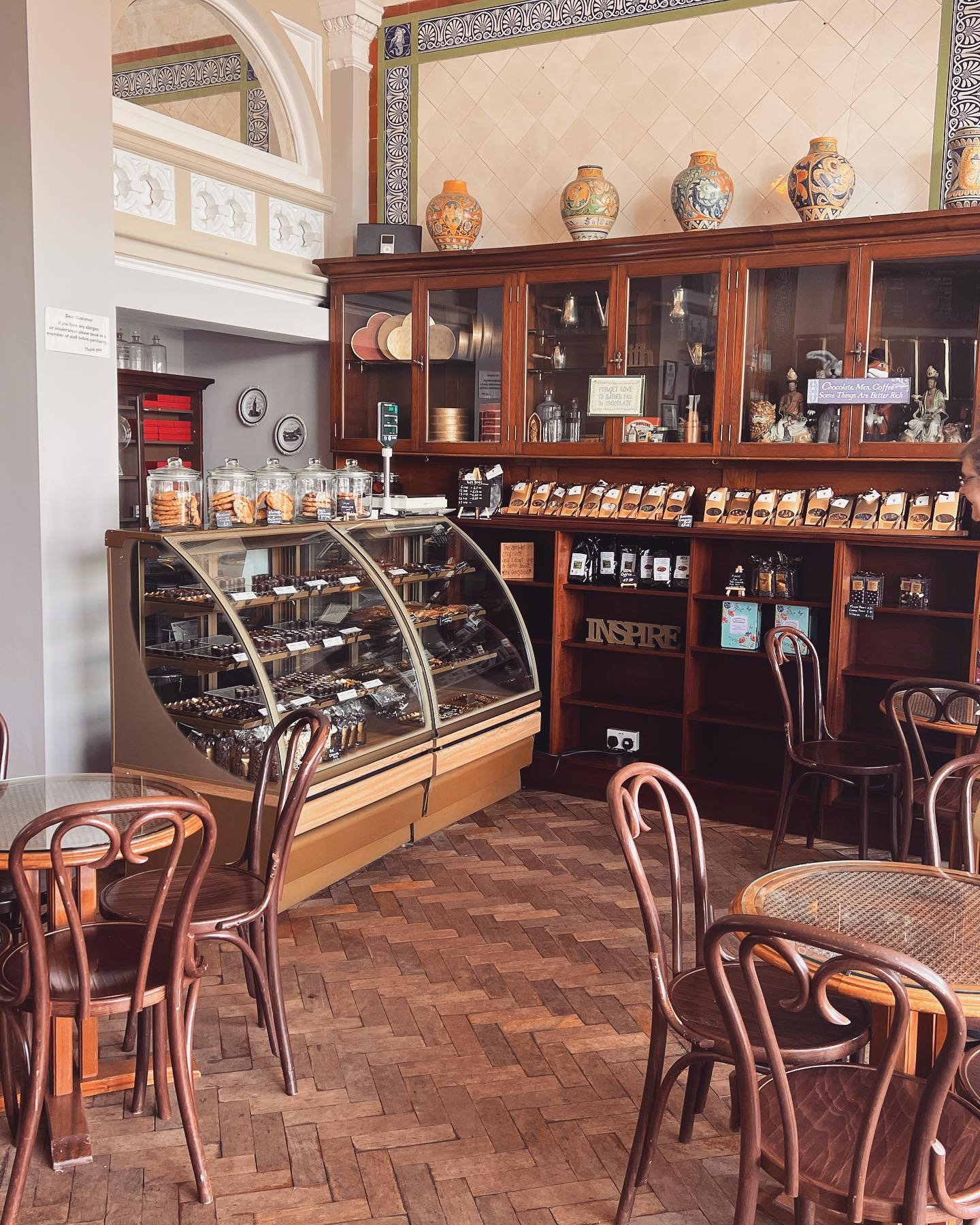 The cafe and atelier are housed in a lofty, former Victorian fishmonger, complete with Minton tiles, proper bistro tables and elegant, raffia fans that glide dreamily in the heat of summer as if stolen from a Pharoah's palace on the Nile.  Quite simply, The Chocolate Apothecary is the epitome of an authentic, independent cafe society and the kind of place that would absolutely have to be dreamt up if it didn't already exist.
The cafe reminds me of the railway cafe in Brief Encounter mixed with a grand cafe on the Boulevard St Germain in Paris. Either way, it's an intoxicating place both for the single-estate chocolate confections and the people who come through the door and unwittingly reveal so much or so little about their personalities through chocolate. One couple demands "two bags of separate chocolates, because we can't agree on anything" and a husband and wife are delighted to stumble across the apothecary en route to a jeweller to buy a considered present.
The elegant atelier with its distinctive green and gold facade was founded by Jane Van Praagh in 2009 and her partner Dave is the chocolatier assisted by Jules.
Says Susan, " We first opened our chocolate cafe on the Isle Of Wight for trade in 2009, and we gave away more than we sold. I thought that I would go bust! But slowly and surely our custom increased into what it is today. We are very proud of the genuine followers, the relationships built and the friendships we have been able to nurture along the way."
Between the hours of 10-5 five days a week and 10-4 on Sundays and Mondays, this one-of-a-kind, restless miniature cathedral to responsible luxury, artisan and fairtrade single-origin chocolate dispenses bite-sized moments of bliss as an unhurried slow, sweet hangout or pitstop to sit and watch the world go by with a perfectly executed Cafe Americano and a florentine or perhaps a decadent dark chocolate organic fig and yes, one is never quite enough!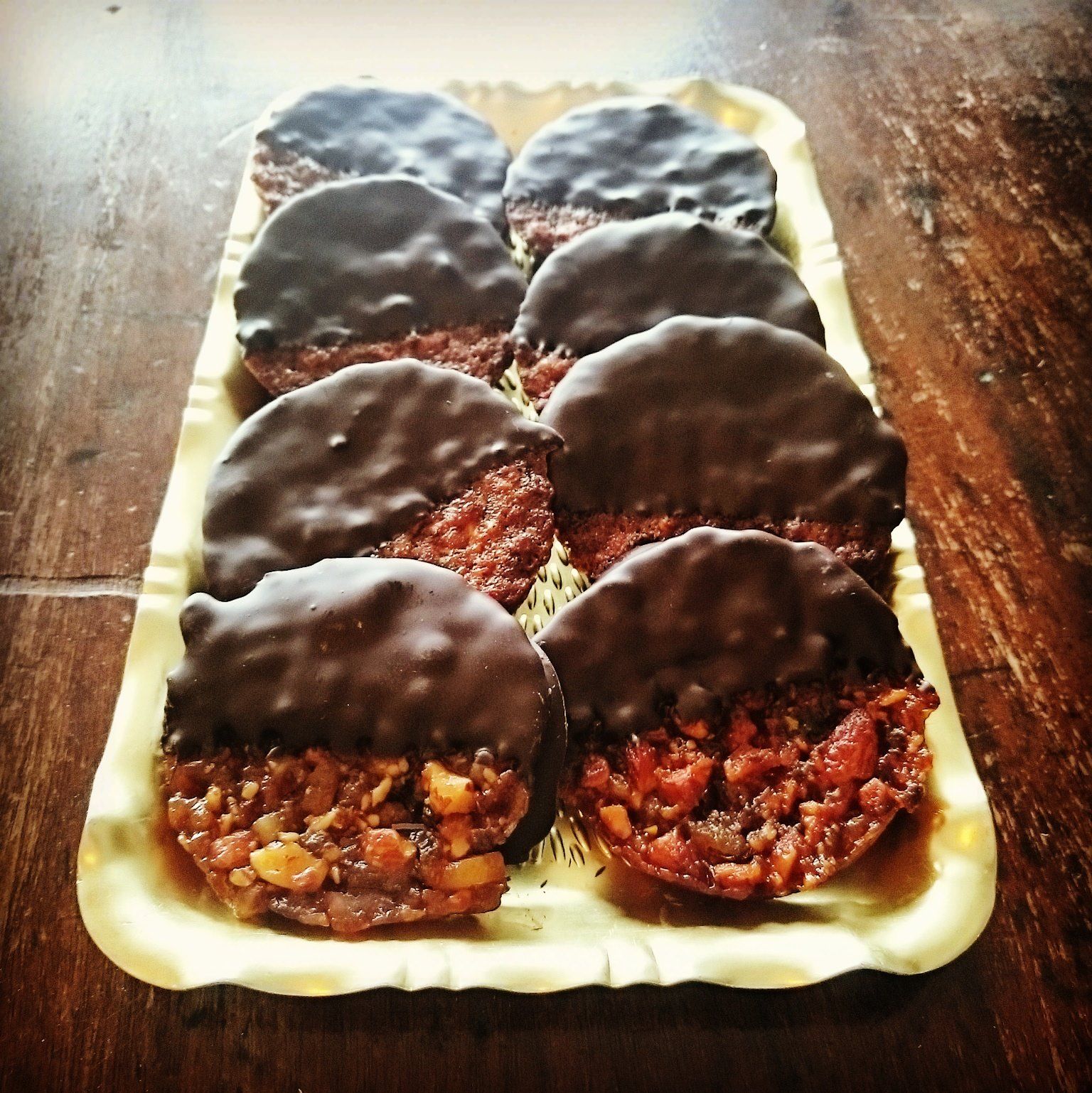 The florentine is perfect with just a hint of bright citrus. It reminds this editor of childhood and Saturday afternoons after going to the cinema club. My mother would take me to our favourite baker in a Berkshire market town for an embellished, sticky masterpiece of nuts, dark chocolate and glace cherries which I would bite into in between sips of frothy, aromatic hot milk with just a splash of real coffee.
Heaven on earth.
That's how my love affair with writing and working in independent, one-of-a-kind cafes began. Well, if Hemingway and Sarte can do it, so can I.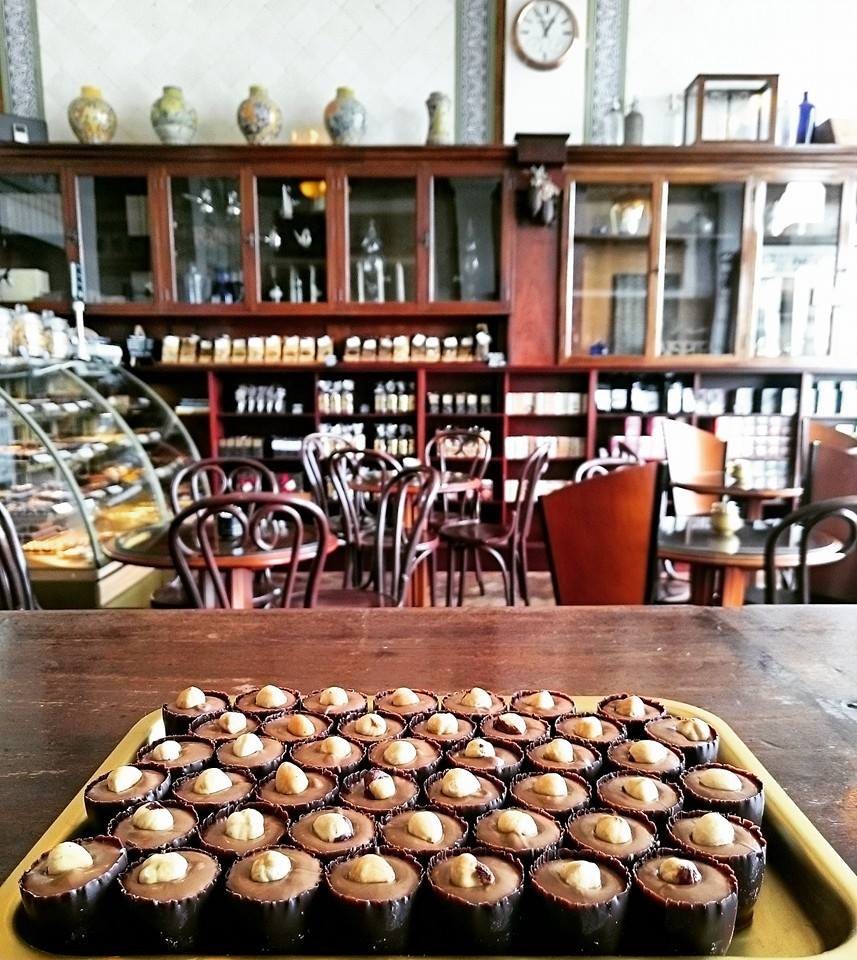 The Choc Apothecary is both a place to linger and the ideal brief encounter place for chocolate trysts, one more cup of coffee or two for the boat or the road, and the joy of random discovery, and, very importantly, as the purveyor of happiness by the box or bag of dainty, exquisitely embellished handmade single origin chocolates from pillowy pink champagne cups to violet, ginger or very boozy cherry kirsch or maybe a bright candied slice of orange and dark chocolate.  Oh and that's before I mention the twinkling, single-origin encrusted chocolate bars made with cacao from Tanzania or Java which make perfect gifts. Or stand and admire handsome Victorian wooden cabinets filled with tins of Scottish shortbread, chocolate tiffin and Turkish delight.
There are a whole lot of chocolate equations to ponder over which is all part of the thrill.
One regular comes in almost every week for her bag of little zingy bombs of crystallised ginger and dark chocolate.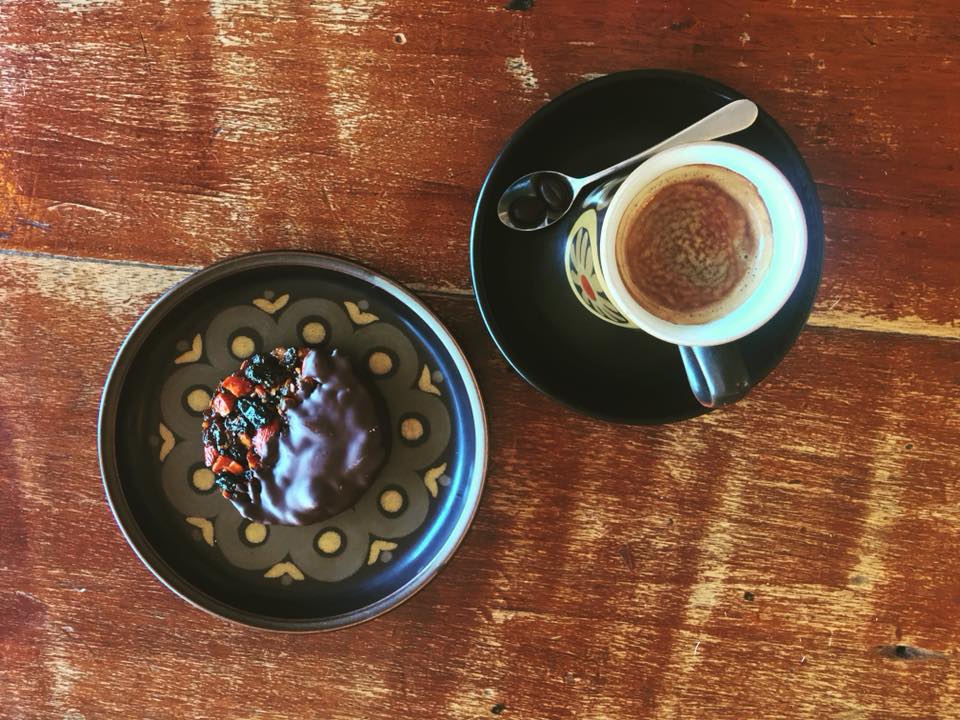 The shop and cafe are a jewel of maximalism and a discerning chocolate mecca for locals and tourists just passing through Ryde to here, there and everywhere.  This curiously elegant and bustling cafe and emporium is cleverly positioned at the bottom of Union St and just opposite the train terminal. It's a minute from the Victorian pier where thousands of tourists first disembark off the fast catamaran or Hovercraft to take their first steps onto Queen Victoria's favourite hideaway island, away from London and the affairs of state.
What could be more delightful than suddenly coming across a twinkling organic and fairtrade chocolate shop and cafe where the world pauses for coffee, tea and community and handcrafted chocolate for the journey or a gift to delight a slow chocolate connoisseur?
The Finer Details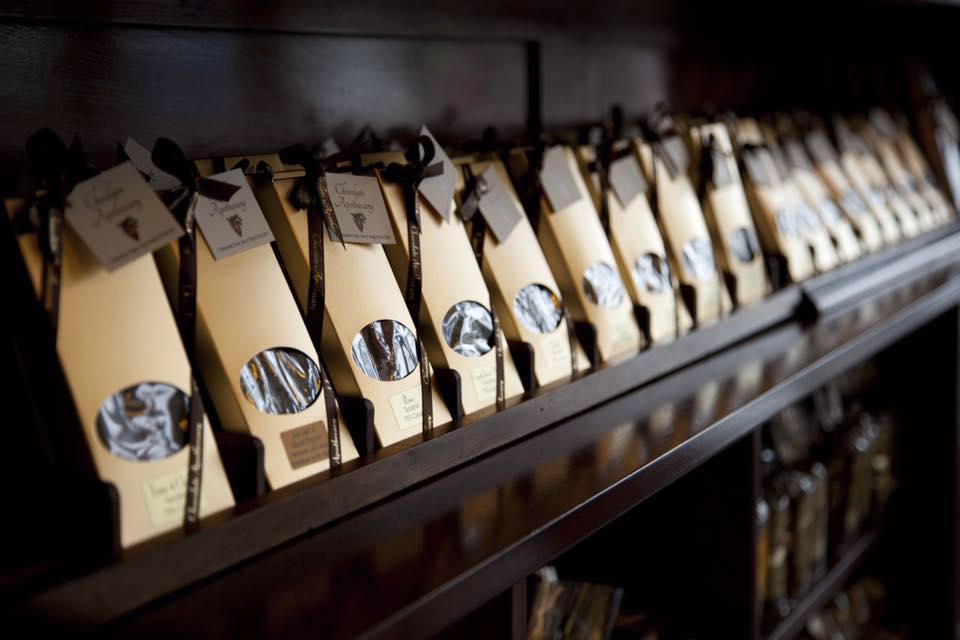 Chocolates, Coffee, Tea and Artisan Gifts from olive homewares to decoupage shells to display pretty fripperies and knick-knacks.
Location 7, Esplanade, Ryde, Isle of Wight, PO33 2DY,  Bottom of Union Street.
Artisan chocolates are sold in gift boxes, bags or loose to go with hot chocolate, tea or artisan coffee. Prices for boxes from £13 -25. Also available via mail order online. Single-origin bars are £5.70 each and miniature florentines are £5.65 per box.
Enquiries Tel 01983 718292
Opening Hours
Tuesday to Saturday - 10 am - 5 pm
Sunday and Monday 10 am to 4 pm.
Website Chocolate Apothecary        
Images Courtesy Chocolate Apothecary
Copyright Alison Jane Reid/TheLuminaries Magazine Jan 2023
Alison Jane Reid became a journalist after graduating with a degree in English Literature. She has been a leading journalist and commentator writing and interviewing cultural icons since the age of 24 and a lead feature writer and fashion editor for The Times Magazine for a decade. AJ has also worked for You, The Independent, The Mail on Sunday, The Sunday Times, ES, Country Life, The Lady and Mirror Group Newspapers.
AJ also works as a consultant storyteller for global luxury responsible brands, with a special interest in luxury fashion, food, wine and the automotive industry. Clients include -  Escada, The Post Office, Pernod Ricard, ABTA, Evergreen Insurance, Aquascutum, Pringle of Scotland, Fairtrade Fortnight, Traidcraft and Winsor London. For enquiries, please email the editor at  - theluminariesmagazine@gmail.com
She is now the publisher and editor of The Luminaries Magazine - an independent arts and culture magazine and social enterprise.
Celebrating the Art of Iconic Journalism for Three Decades in National Newspapers, Magazines and now The Luminaries Magazine.
Join Our Slow Independent Magazine Tribe
Become a supporter and help us realise our dreams for slow, quality arts and culture journalism and placements for undergraduates and new graduates wanting to take up a career in journalism, arts, film and fashion.