Eversfield Organic Farm Shop, Devon
Eversfield Organic Farm Shop + Delivery is the jewel in the crown for serious organic food gourmets who want the best grass-fed meat, wild-caught fish straight off the Cornish fishing fleet from scallops to lemon sole and some of our favourite, artisan, organic and wild pantry ingredients from charcuterie to capacious Sicilian lemons.
Artisanal Milk & Zingy Humous  
It's also exciting to ponder over a wide and exciting selection of hard to find artisan, handmade and organic store cupboard gems such as artisanal milk and cheese to zingy humous with far from run of the mill ingredients. Eversfield Organic offers a delightful opportunity to do your entire weekly organic food shop from an alfresco Sunday roast to fresh turmeric, to smoked salmon and local seasonal fruit, vegetables and herbs from the comfort of your sofa or office.
Award Winning Grass Fed Meat
All the meat on offer is certified organic by the Soil Association and comes from the farms' own, award-winning high welfare, rare breed, grass-fed Aberdeen Angus cattle. The in-house butcher offers some interesting and keenly priced cuts that we haven't come across before and there's a good selection of poultry and wild game with plenty of choice for the freezer.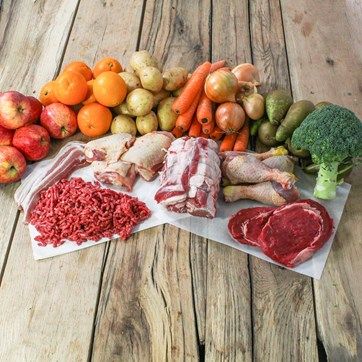 Now let's talk about the dairy. We are very excited to discover that Eversfield stocks artisanal, grass-fed organic milk, butter, cream and clotted cream which comes from the wonderful Ivy House Dairy, foraged originally in the hallowed food hall at Fortnum and Mason. The dairy has a royal warrant from the Prince of Wales and we can understand why. Once you have tried Ivy House milk, butter and cream you will wonder have you ever lived without it. This is how milk should taste and most importantly it is not homogenised, which can affect how some people digest milk.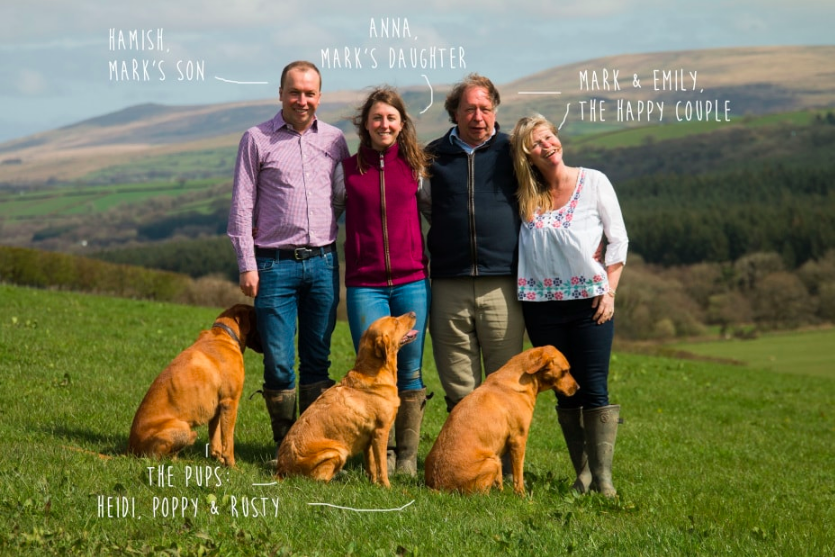 You will also find everything from truly scrumptious humous from Themptation to the only organic coconut yoghurt worth investing in (yes, it is expensive, but worth it) and tangy, raw, gluten-free crackers. Other highlights include a good selection of artisanal organic cheese and there is a well-chosen selection of organic wines, champagnes, prosecco, trendy orange wine and local fruit ciders to try in the Wine Cave.  All diets are catered for from paleo and keto to vegetarian, plant-based and gluten-free and all from the comfort of your computer or mobile device without having to go anywhere near a supermarket. You can click and collect or have your shop delivered as far south as the Isle of Wight and the Hebrides too.
Star Buys – Interesting and affordable cuts of organic meat, Ivy House milk, butter and cream and some of the best organic and additive-free and gluten-free store cupboard ingredients from crackers to sauerkraut.
Cons – some of the fruit and vegetable selections and wild fish are expensive if you are shopping for a family. The chicken stock bags are not very generous for the price.
Delivery options – click and collect from the farm, local delivery to Devon postcodes and nationwide courier delivery using DPD. Tip. Shop for the month or share with friends and get free delivery when you spend £80.00 or more as courier costs can push up the cost of your shop.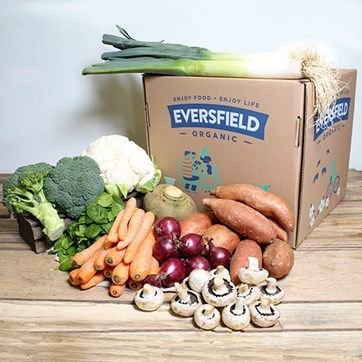 If you are visiting Devon, check out the two organic farm shops in Totnes and Tavistock.
Organic Certification – Soil Association
Picks Organic Farm,  Leicestershire
Pick's Organic Farm Leicester was founded in 1999 by two cousins Nicky Chambers and the late Tim Pick. The Pick family had been farming the rolling land around Barkby Thorpe Leicestershire as tenant farmers since 1600.
Pick Farm is a small farm with big ideas. Most of the organic farm produce is sold via farmers markets stretching from Leicester, Birmingham and Coventry to Queen's Park, Brook Green and Balham in London. The farm also has its own on-site butcher's run by Hamid, a classically trained butcher with a passion for organic produce.
Such is the following for Picks at Queen's Park Farmers Market in London that the farm's organic eggs take less than ten minutes to sell out on a Saturday morning. You have been warned.  Get there at 10.09 and you are too late.  Other organic highlights include the farm's own grass-fed beef from Shorthorn and Hereford cattle, offering a rich, succulent flavour and just the right ratio of fat. The cattle are grazed for thirty months and fed entirely on organic grass.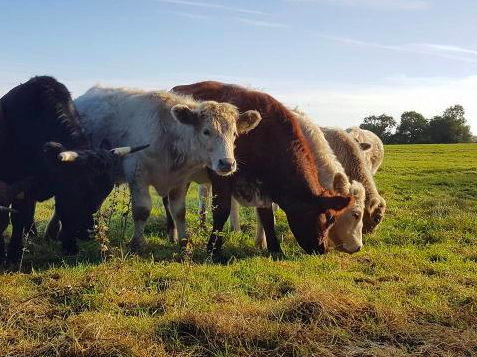 All the farm's pork comes from Gloucester All Spot pigs that live the organic high life, grazing on leftover organic fruit and veg from the farmers' markets. Prices are very good for the quality, care and provenance of the produce. There are grass-fed organic meat selection boxes or you can choose from a wide variety of individual cuts for beef, lamb, chicken, pork and seasonal turkey, goose and duck created by master-butcher Hamid, who previously worked for Selfridges. Highlights include roasting joints, artisan, handmade beef burgers, Old Spot sausages, beef and tomato sausages and grilled meats for the summer barbeque.  Check the website for opening times.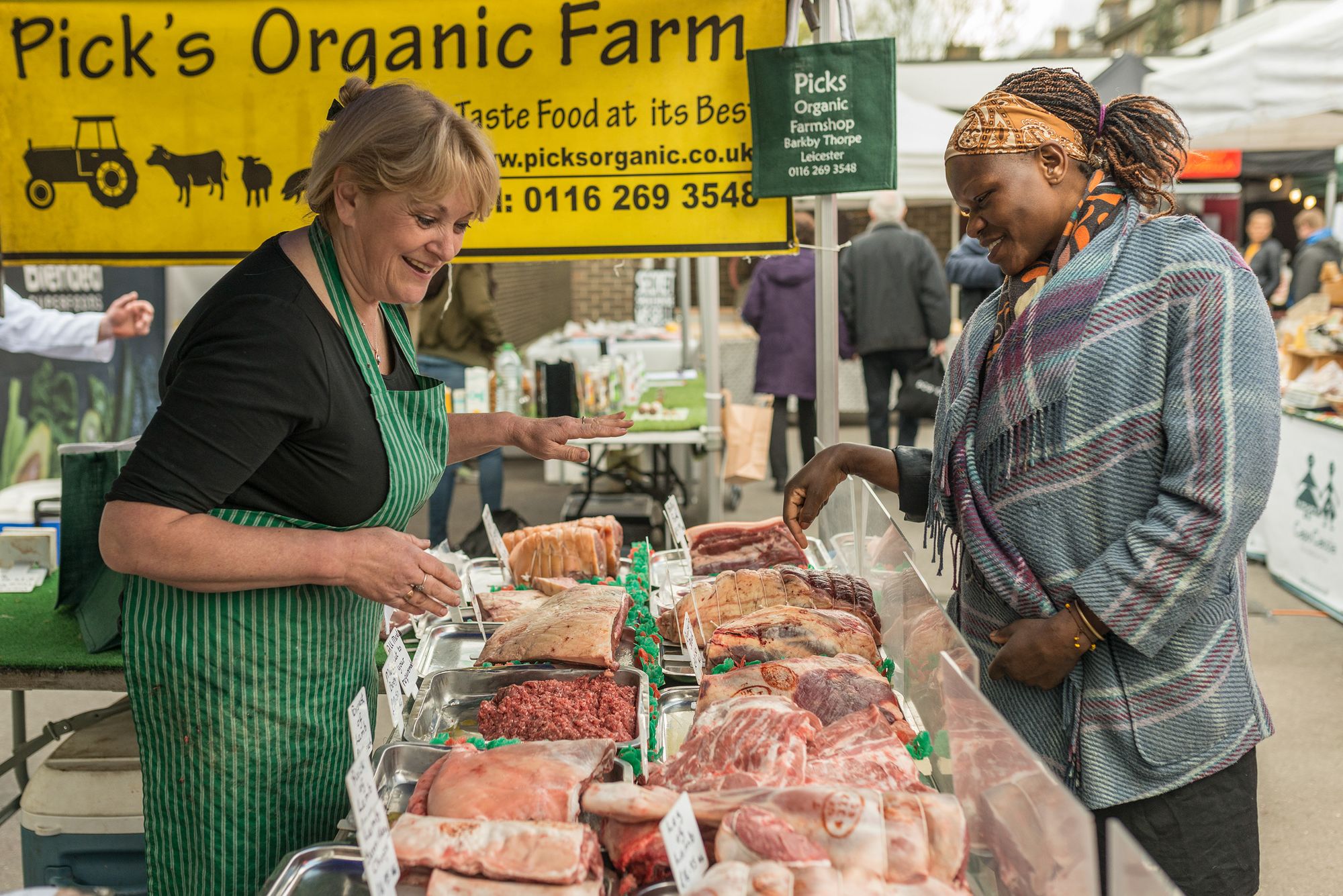 Other organic products – The farm stocks a selection of store cupboard ingredients, plus wine and local craft beer including Big Cat Stout and Long Amber Bitter. The farm grows seasonal blackberries, currants and rhubarb. Other seasonal organic fruits and vegetables are supplied by the 'lovely Marjorie' at Eden Farm in Lincolnshire.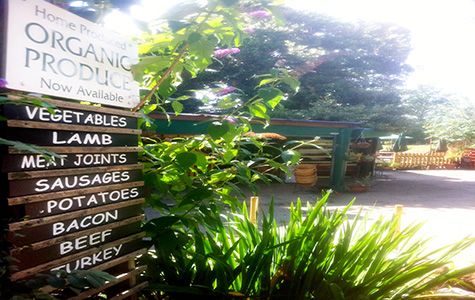 Star Buys – The wide selection of organic, grass-fed meat with speciality butcher cuts and prepared meats.
Delivery Options – If you are local, you can collect your order from the farm's shop. Picks also offer free delivery to hyper-local postcodes in Leicester. Please check.  Nationwide delivery excluding the highlands and islands is £8.33. Highlands and islands £20.00. You can pick up your order from selected farmers markets at no extra cost. Check the shop calendar for market details and times.
Cons – the farm shop doesn't deliver eggs, as they have had too many breaks! They also don't stock cheese. A whole organic chicken will set you back a princely £19.00 but we are told customers stop complaining about the price once they have sampled the meat.
More about the farm.
Tim tragically lost his father when he was fifteen and he was convinced that his father's early death was caused by repeated exposure to toxic farming methods including the use of mercury powder as a seed conditioner. That was the only spark he needed to find a different, kinder way to farm and the farm gained full organic certification from Organic Farmers and Growers in 2004. (Sadly, Tim passed away suddenly last year, after suffering a heart attack. He had just arrived back at Pick's farm after an excellent day at the farmers market).
Stellar Following – The farm has some stellar fans, but we are sworn to secrecy, alas.
Certified Organic - Pick's Farm gained its full organic certification from Organic Farmers and Growers in 2004.
Riverford Organic Farm, Devon
Riverford Organic is one of the pioneers of the organic vegetable box movement which started with one man, Guy Singh-Watson thirty years ago. Riverford now delivers 50,000 boxes of organic veg, fruit and meat every week to UK households.
Based in Devon, Riverford offers a range of vegetables, fruit and meat boxes in different sizes with options for the UK only grown seasonal boxes and zero packaging.
Editor's comment. As a customer for the past year, I can say that I have never looked forward so much to the arrival of my weekly organic veg and grass-fed meat during the height of the pandemic.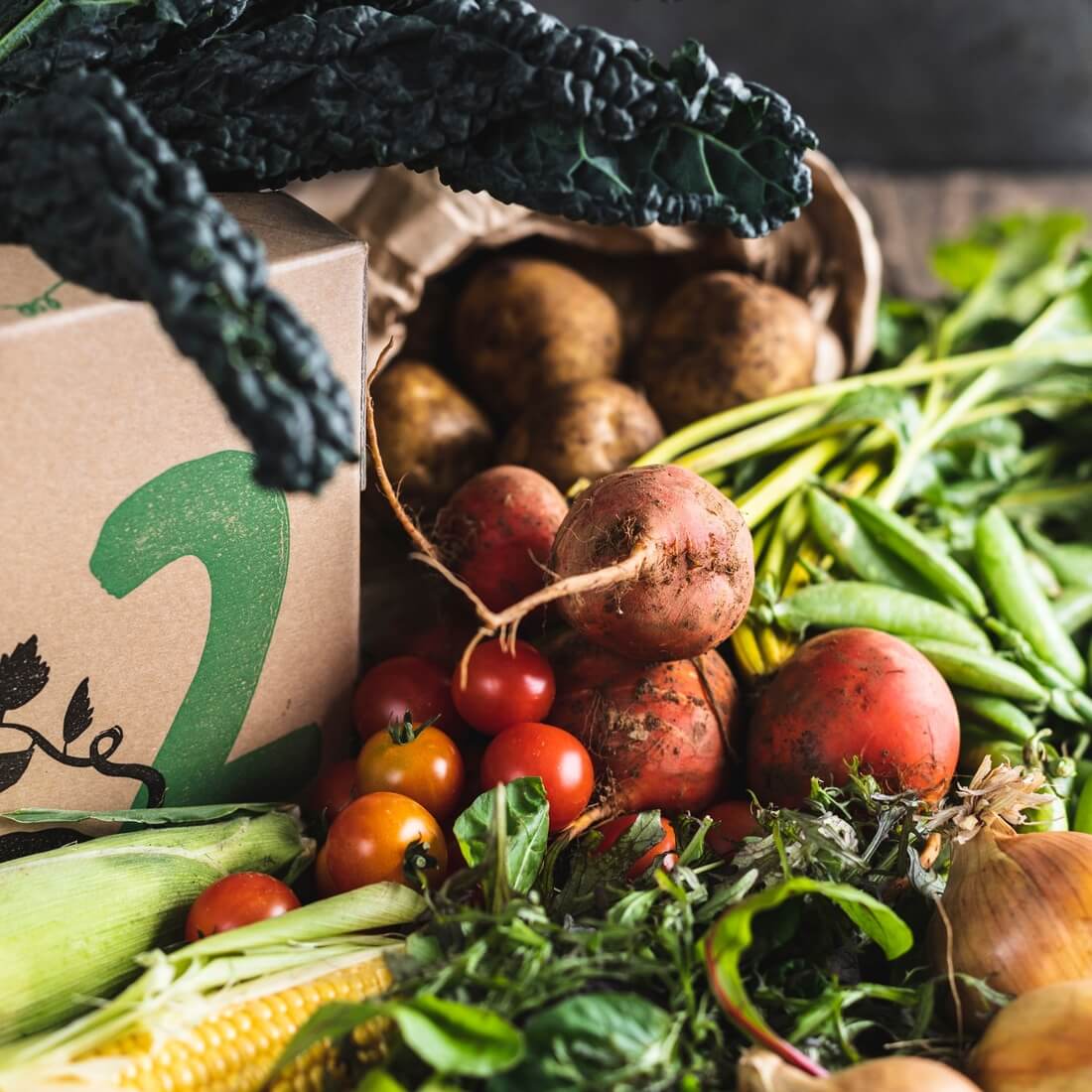 Riverford deserves praise for ensuring that all their existing customers received their weekly boxes while the supermarket shelves were often empty of essential items as a result of panic buying that was allowed to happen for months and is still ongoing.
There is a stark difference between the quality, taste and freshness of farm to table organic vegetables and their supermarket counterparts. If you want to put this to the test, try juicing
A bag of Riverford seasonal spinach or kale and celery and compare the results with supermarket greens. The results are quite startling. Veg box spinach yields around twice the amount of juice and the freshness and quality is super.
Pros – Juicy organic steakburgers, whole organic chicken, seasonal perfumed mangoes, very generous chicken stock bags, spinach, fresh plum tomatoes, British strawberries, blood oranges (in season), artichokes and nectarines. Great to see the return of top-up individual veg and fruit choices to add to your box. Praise too for offering organic veg and fruit at prices that are affordable for all. They also excel at catering for different sized households from small to large.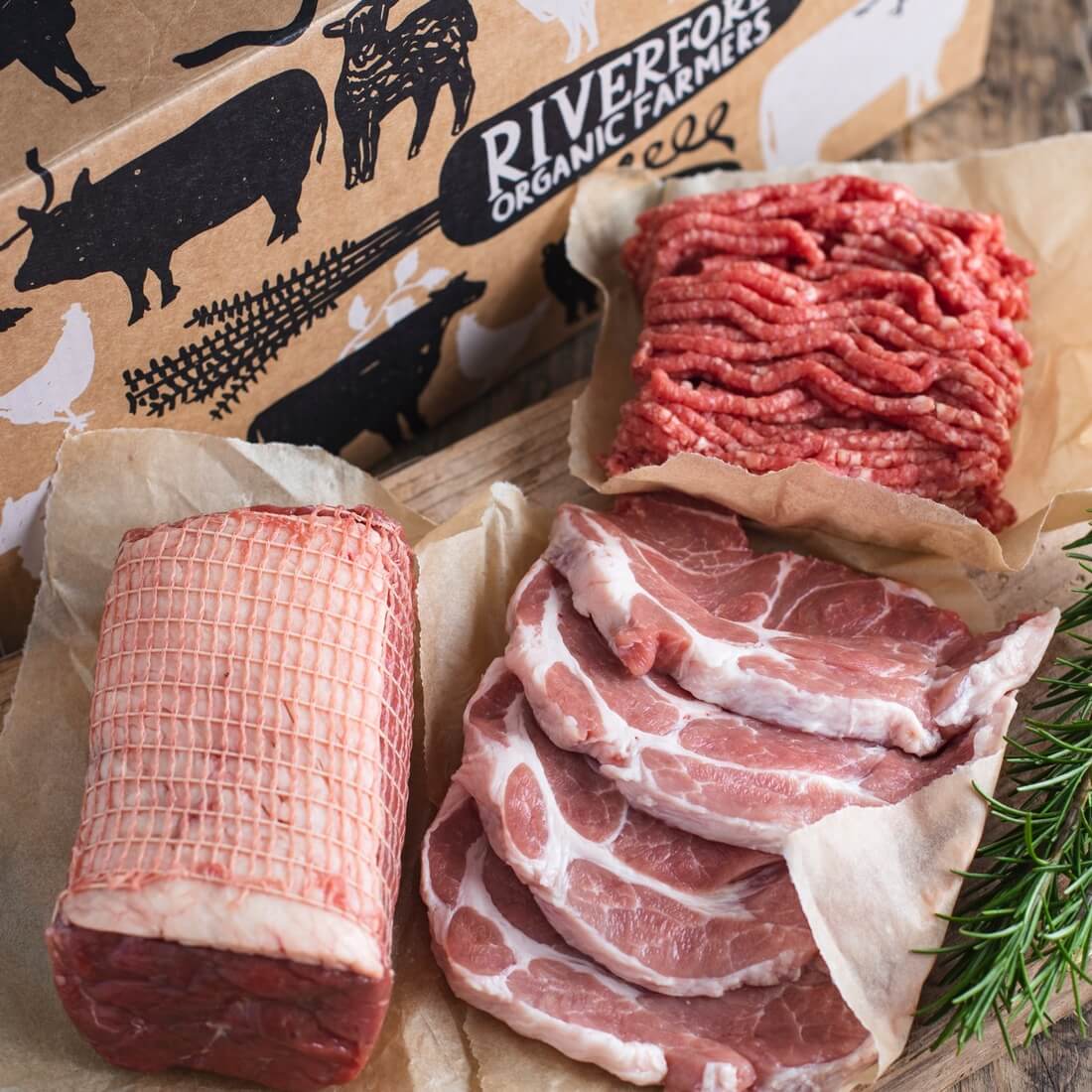 Cons – Riverford has understandably dropped a lot of its store cupboard and fresh pantry ingredients during the pandemic to focus on what they can do well and guarantee weekly supplies. (Ed's note – I miss the beetroot humous!). Some of the boxes also offer better value than others.
Delivery – Delivery is free with a box costing from £9.15 for a salad box.  Riverford does not deliver nationwide.  Check on the website for availability in your area.
Organic Certification – Soil Association.
Penrhiw Farm, Wales
Penrhiw Farm has been farmed by the Thomas family for four generations. Celia and John farm Aberdeen Angus cattle on permanent grassland together with Welsh Mountain Sheep, Tamworth pigs and their own flock of organic chicken for eggs and meat.  They offer a  selection of meat boxes with a wide variety of cuts and prepared meats including roasting joints, steaks, sausages, bacon, burgers and mutton which can be prepared to your requirements.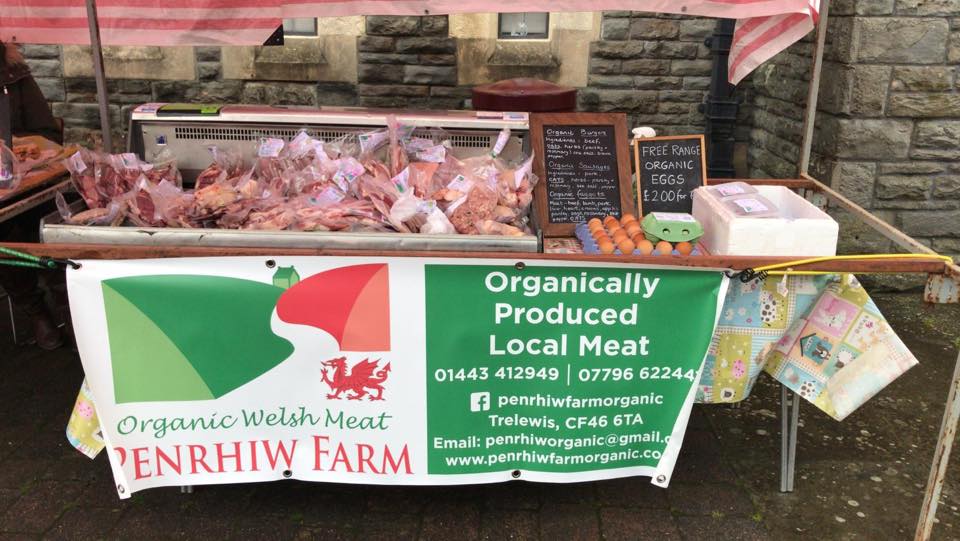 Delivery – Penrhiw offer delivery to local postcodes within a five-mile radius of the farm. Please contact the farm to see if your area is covered. The minimum order is £10.00. Please note they are not currently delivering to local farmers markets as a result of COVID-19.
Pros – The farm offers an impressive selection of meat from native breeds and breeds that are renowned for their succulence and flavour.
Cons - You can't do your weekly farm shop. Penrhiw is great for stocking up on meat and poultry for the freezer. Delivery is focused on the surrounding area.
Certification – Soil Association
Coombe Farm Organic, Somerset

Coombe Farm is based in Crewkerne in Somerset and offers a nationwide delivery service of farm to plate award-winning organic meat including beef, lamb, chicken, venison and seasonal game from the estate farm, together with a varied selection of wild-caught sustainable fish from Brixham Fish Market from lemon sole to organic hot smoked salmon. There's also a selection of handmade pies, charcuterie, Cabrito goat meat, nitrate-free bacon, sustainable, artisanal tinned fish from Pesasur, a selection of handmade ready meals and organic herbs and spices.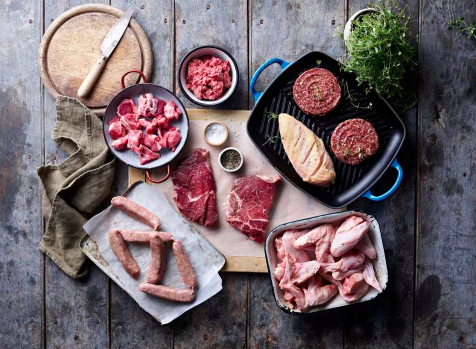 Delivery – Delivery is free with a spend of £90 or more. The minimum shop spend is £40.00 to keep deliveries sustainable and minimise packaging. Deliveries under £90.00 are charged at £3.95. Please check delivery charges to the Highlands and Islands or for specified delivery times.
Pros – It's good to see goat meat on the menu. Goat meat offers a sustainable and affordable form of protein. All meat is delivered frozen to eradicate waste and maintain maximum freshness and taste.
Cons – It's disappointing to still see nitrate used in organic charcuterie.
Organic Certification – Coombe Organic Farm gained its organic certification from the Soil Association twenty years ago.
Hugh Grierson Organic, Perth
Hugh Grierson and his wife Sacha farm climate-friendly, home-bred & reared, pasture-fed pedigree Aberdeen Angus beef, pasture-fed lamb, rare breed pork, slow-growing chickens and free-range eggs. The quality and taste of the meat have attracted national and international acclaim including Michelin star chef Michel Roux Junior. Michele has visited the farm and spent the day seeing organic farming in action for his Balvenie series of food masters. He was suitably impressed. Hugh Grierson offers weekly deliveries across Scotland and the UK of fresh meat, as well as their farm collection point.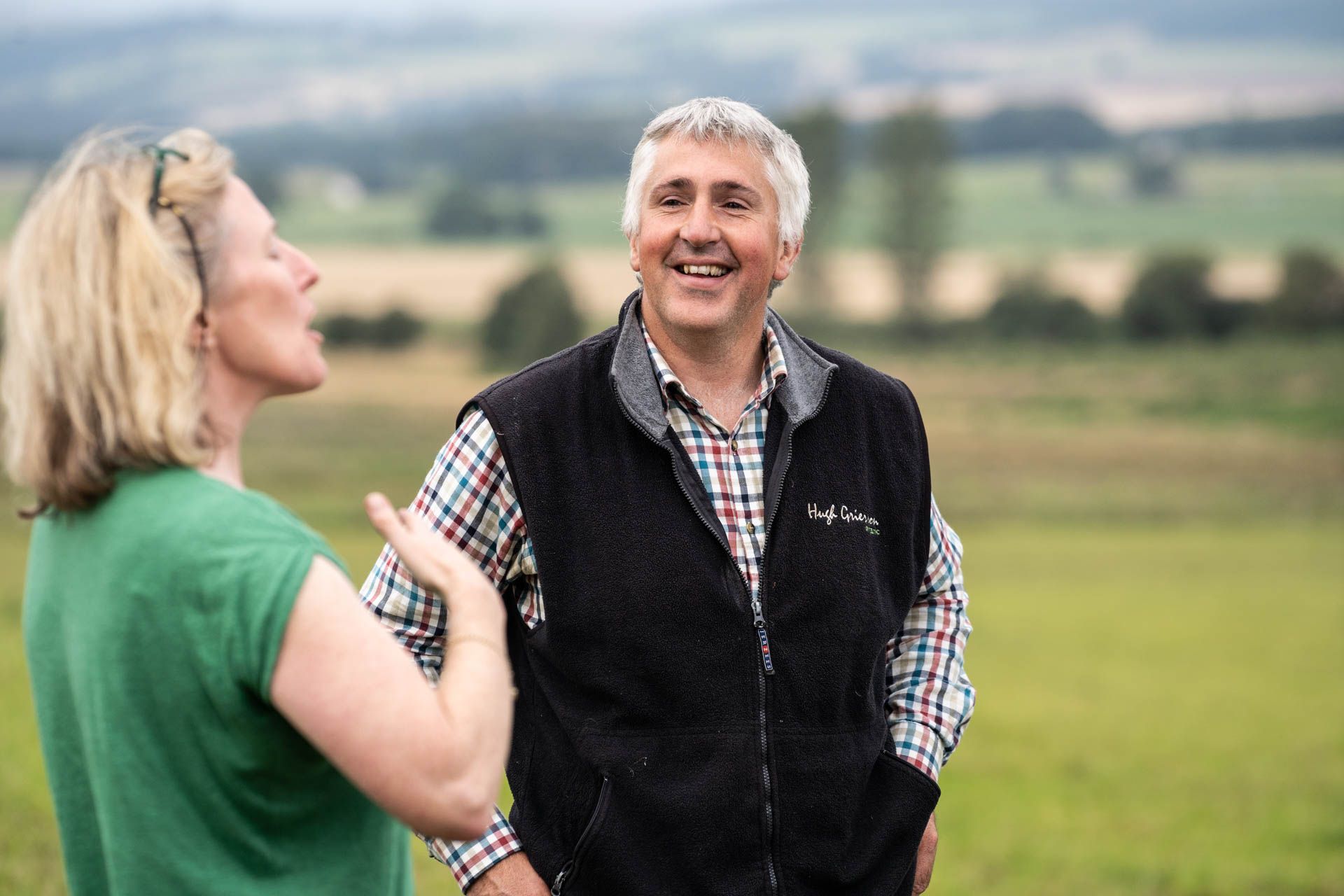 Pros – Organic meat of exceptional quality that also demonstrates the difference and. importance of sustainable animal and mixed farming. Organic farming captures carbon in the soil by sewing clover and offers the highest welfare standards and protects and nurtures biodiversity.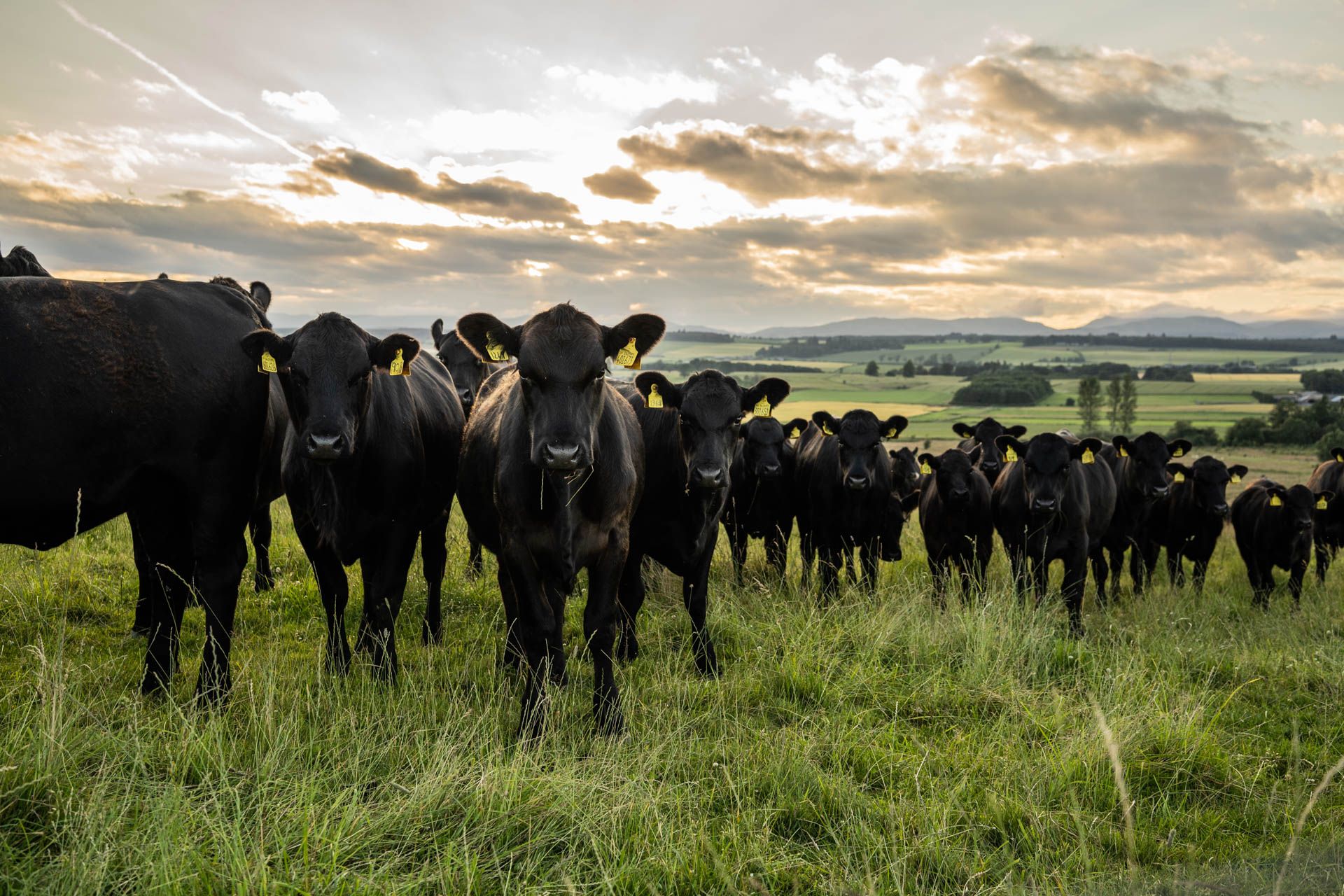 Cons - The online shop is more suited to stocking up on produce for the freezer than a weekly shop.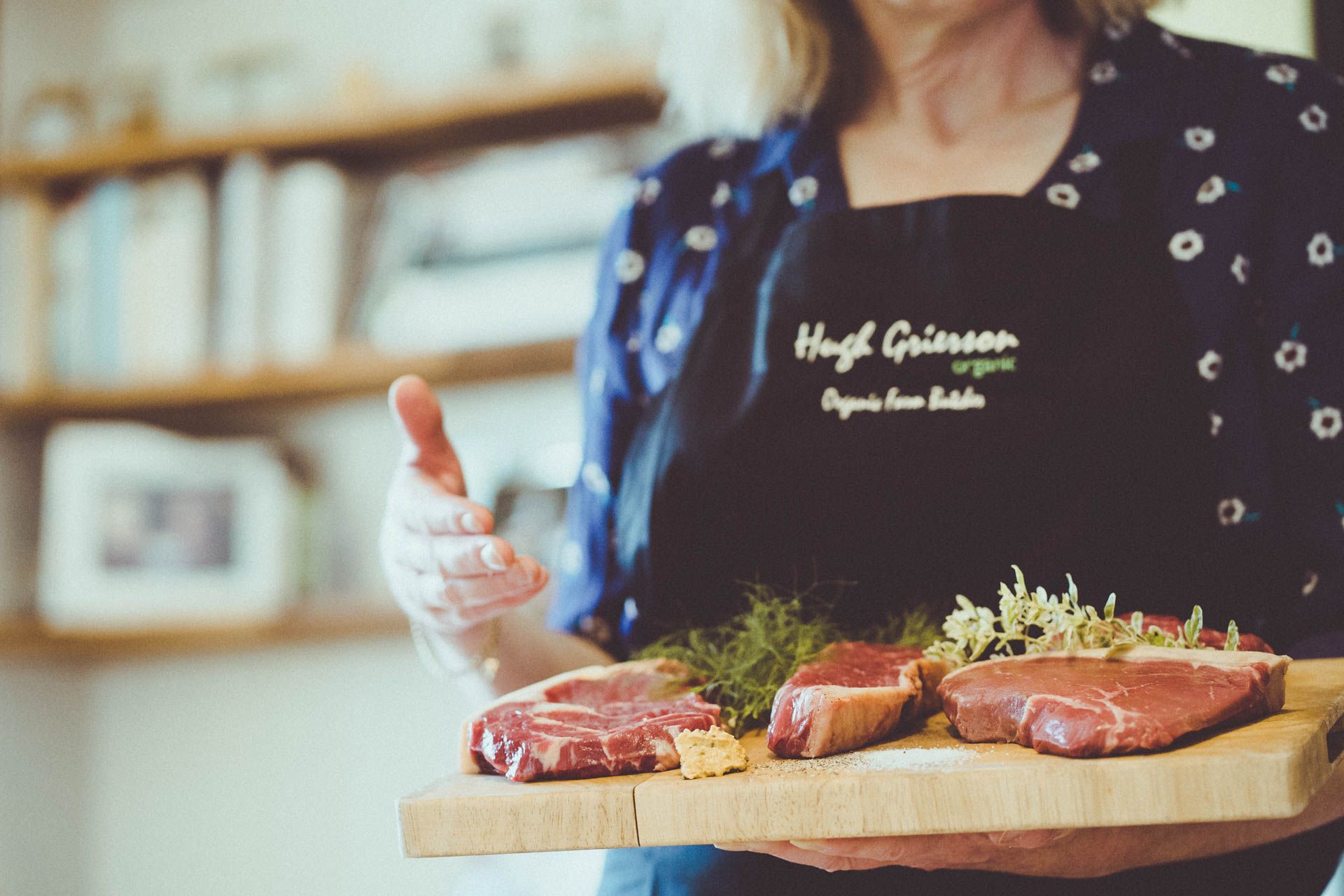 Delivery – The minimum online basket order is £60 plus the delivery charge. For free delivery, you will need to spend £160 and stock up for the freezer or share an order with friends.
Organic Certification – Soil Association
Knockfarrel Farm, Scottish Highlands
Knockfarrel is a small family organic croft in the Scottish Highlands, run by economist turned farmer Jo Hunt and his wife Lorna a professional environmentalist. Their sons Finlay and Angus help out on the farm together with a dedicated bunch of volunteers.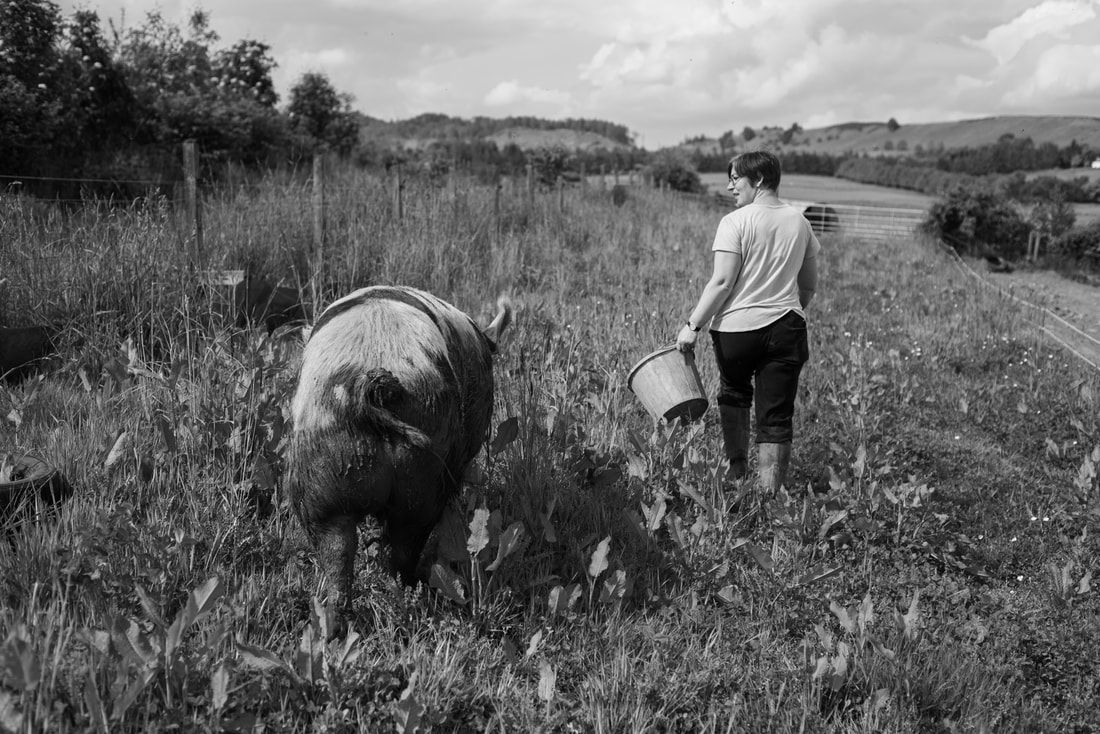 The farm offers its own seasonal organic veg box scheme together with soft fruits, organic eggs, pork, Connage Highland Dairy Cheese, jam, chutney and cordial.  They also attend 40 farmers markets each year and offer a regular order delivered across the region for 9 months each year, from August through to April. (Please note farmers markets are suspended until restrictions lift). Look out for the wind-turbine powered electric van that delivers weekly veg box orders.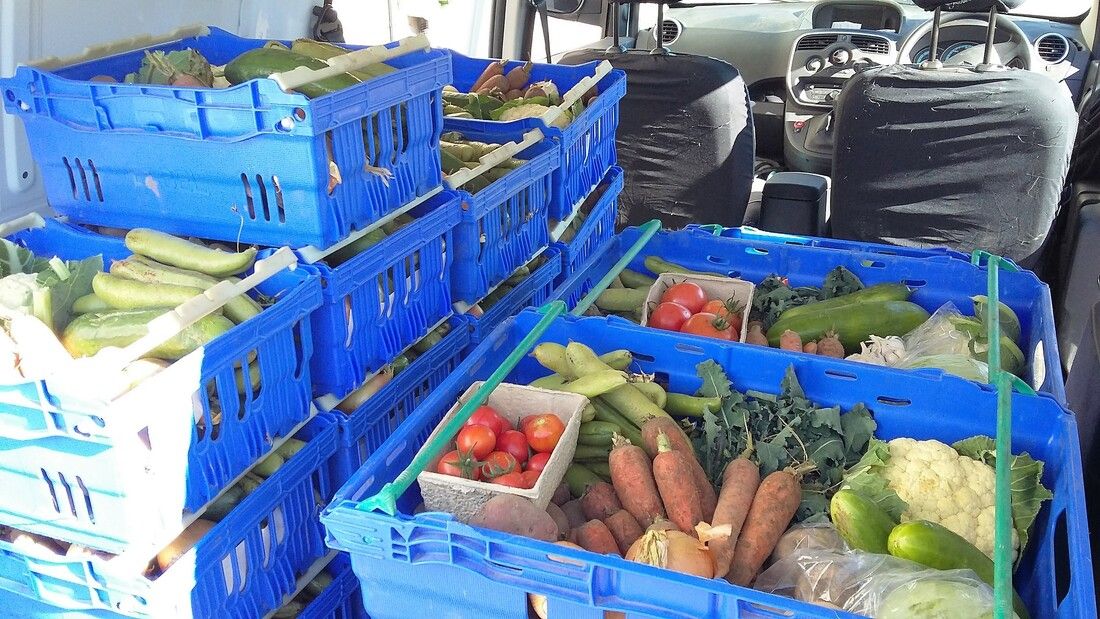 Pros – The delightful range of homemade organic produce from eggs to pesto, cheese, bacon, sausages and chutney.
Cons – None, we are moving to the Highlands of Scotland.
Delivery – The croft delivers to the Black Isle, Wester Ross, Mid Easter Ross and Sutherland. There is a waiting list for certain areas post Coronavirus and the farm does not deliver nationally. Please check the website to see if they deliver to your area of the Highlands.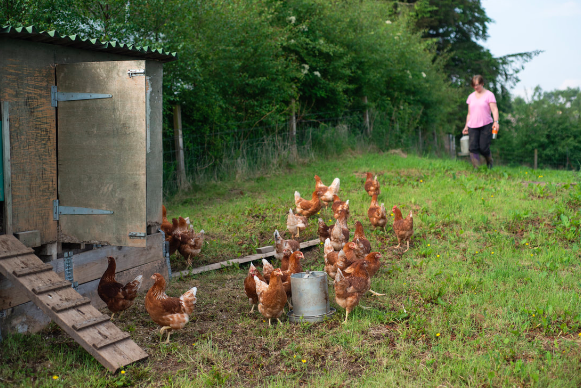 Certification – Soil Association
Helen Browning's Organic, Wiltshire
Farmer and organic campaigner Helen Browning is a heroine of the organic movement. She has farmed at the family farm in Wiltshire since 1986.  The farm shop offers nationwide delivery for a wide selection of organic pork & 'Good Beef' meat boxes - steaks, mince, burgers, hot dogs, sausages, bacon, ribs etc all available to be delivered to your door.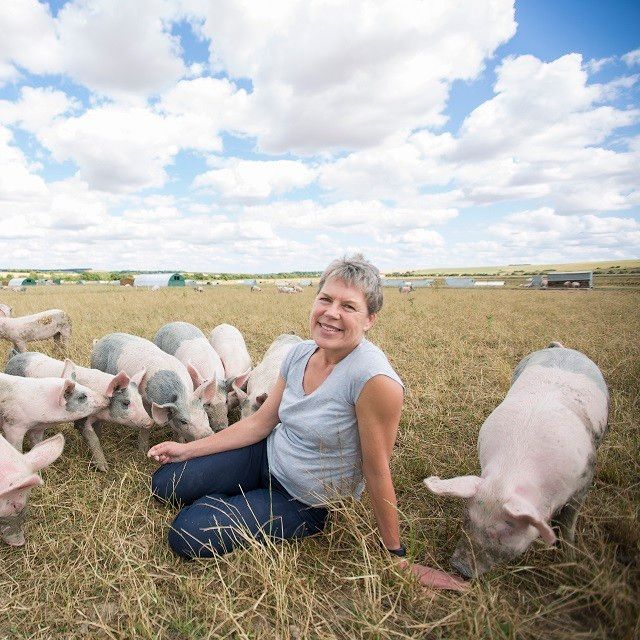 Pros - Helen Browning is famous for her pigs and the quality of her organic produce. We've tasted her sausages and they are very tasty indeed!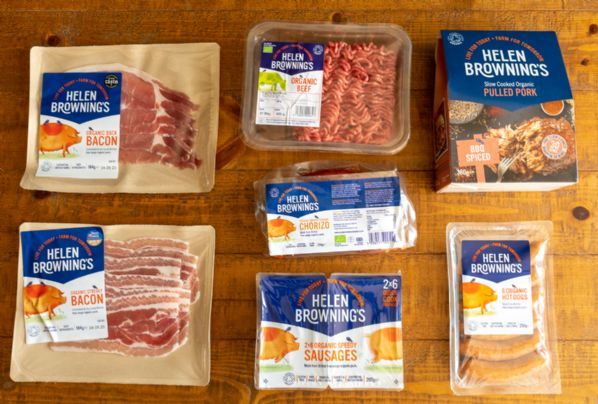 Cons – The organic box scheme is for meat boxes only at present
Delivery – Delivery is free with a spend of £50 or more, except to postcodes in the Highlands, Islands and Northern Ireland. There are also varying options for local delivery in the village or to postcodes in Wiltshire.
Organic Certification - The Soil Association
https://helenbrowningsorganic.co.uk/
Abel and Cole, South London
Veg box pioneers Abel & Cole began 30 years ago when Keith Abel started to deliver organic potatoes around South London. Currently, they deliver seasonal organic fruit & veg boxes, alongside artisan bread, organic milk, meat, recipes boxes and meal kits to homes in London and the south east of England.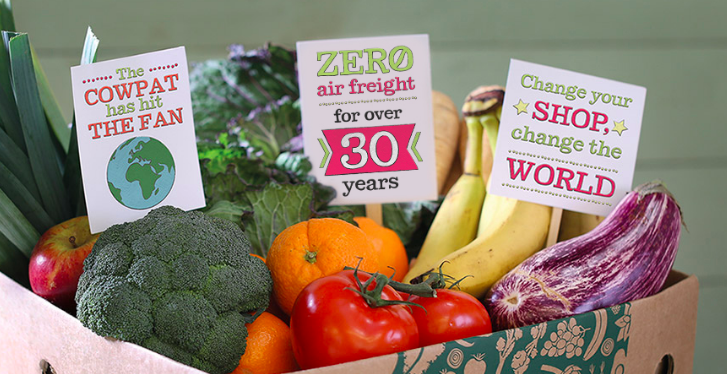 Pros – There is a wide and interesting selection of fresh organic produce together with household items and artisan Greek foods.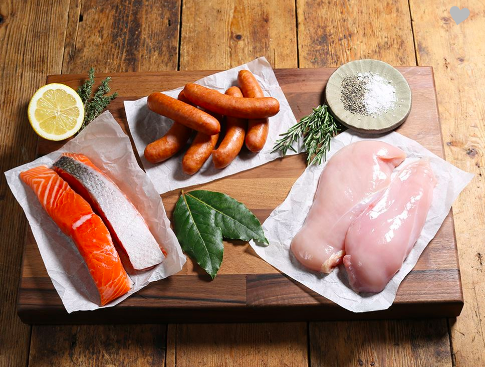 Cons – There has been a reported drop in quality by regulars during COVID-19. Hopefully, the quality of the vegetable boxes was the result of a temporary supply problem and will soon be rectified. Previously, the freshness and quality of organic produce was very good. Prices are the highest of any organic box scheme in the UK. This is off-set by weekly deals and special offers on boxes.
Delivery – Boxes start at £12.00 for a small fruit box. A small mixed veg and fruit box start from £14.25. A delivery charge of £1.50 is also added to all box fees.
Organic Certification – The Soil Association
Eva's Organics, Cumbria
Eva's Organic is a small family business based in Cumbria. The business was founded by Mike and Debby Simpson and they were joined full-time by their son Robert in 2016. Robert has a degree in environmental science and he is passionate about farming that meets people's food and nutrition needs with the freshest produce whilst tackling climate change. After two decades in business, Eva's grows more than fifty varieties of organic fruit, salad crops and vegetables all year round in polytunnels. Now, they have introduced their own handmade, award-winning organic apple juice which regularly sells out.  Eva's Organic offers weekly box scheme home deliveries around North and West Cumbria, West Northumberland and South Dumfriesshire.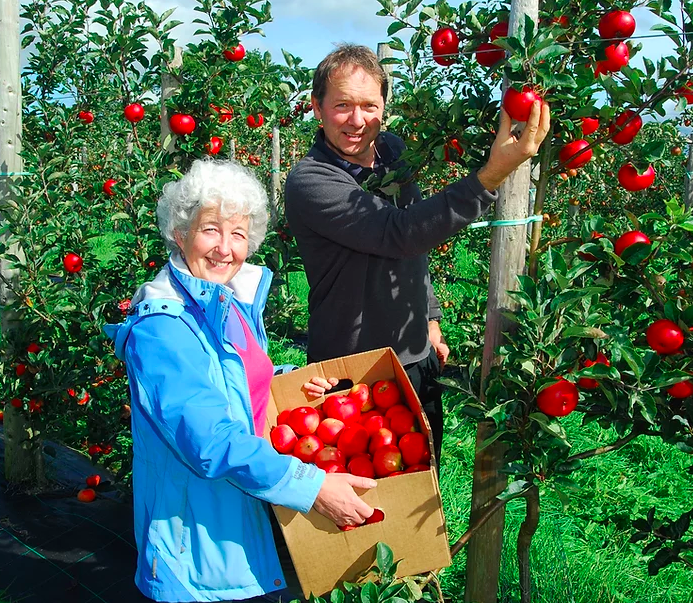 There's a shortage of high quality, British-grown soft fruits and berries, so it's exciting to see that Eva's grows organic cherries, strawberries and seven varieties of apples. Eva's offers organic veg boxes and mixed fruit and veg boxes with prices starting at £7.50 with a minimum order of £13.00. A case of three bottles of their popular artisan organic apple juice costs £7.50.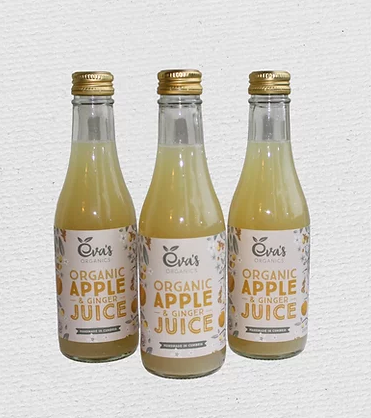 Pros – There's an excellent choice of soft fruits, salads and vegetables all-year-round.
Cons – We can't think of any other than all this wonderful organic produce is only available locally!
Delivery – Delivery is included as part of the minimum charge of £13.00 per box delivery.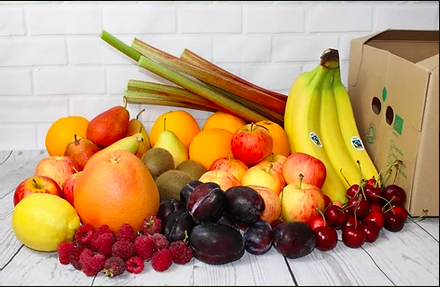 Organic Certification – The Soil Association
Living Larder, Apse Heath Isle of Wight
The Steward family have been farming at fertile Galley Horne on the Isle of Wight since 1922. In 2013 Will and his wife Aimee returned to the farm to focus on growing organic vegetables and salad crops. The farm gained its full organic certification from the Soil Association in September 2019.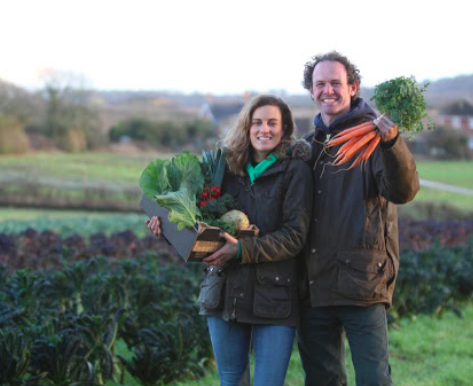 Living Larder offers its own organic vegetable boxes featuring the freshest seasonal organic vegetables from carrots to oakleaf lettuces, speciality onions and baby beetroot and mostly bought-in fruit bags with some local organic produce such as plums. Please note that the fruit can include some local fruit from non-organic growers. (You can specify that you only want organic fruit). Veg boxes start from £10.50 for a basic box and rise to £25.00 for a large box.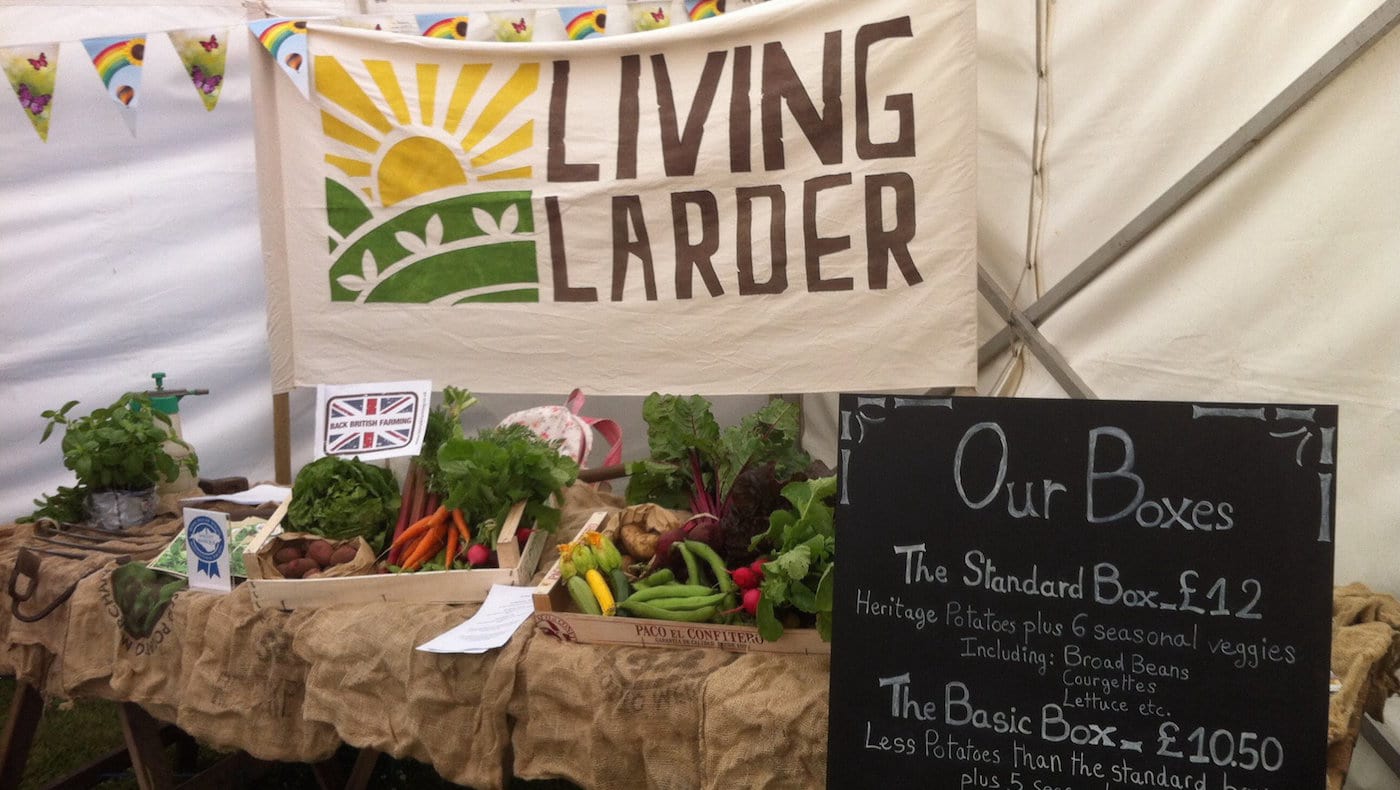 Delivery is included with a minimum spend of £10.50. Please note you can't order fruit bags without a veg box. The veg is delivered in reusable trays. Just leave the amount to be collected with your next door.
Pros – The quality of the vegetables is reflected in the vibrant colours and delicious flavours.
The service is very friendly and they will allow some substitutions. Just ask nicely! The farm is very flexible with weekly or fortnightly deliveries and the ability to pause deliveries. We love the weekly letter with news and recipes.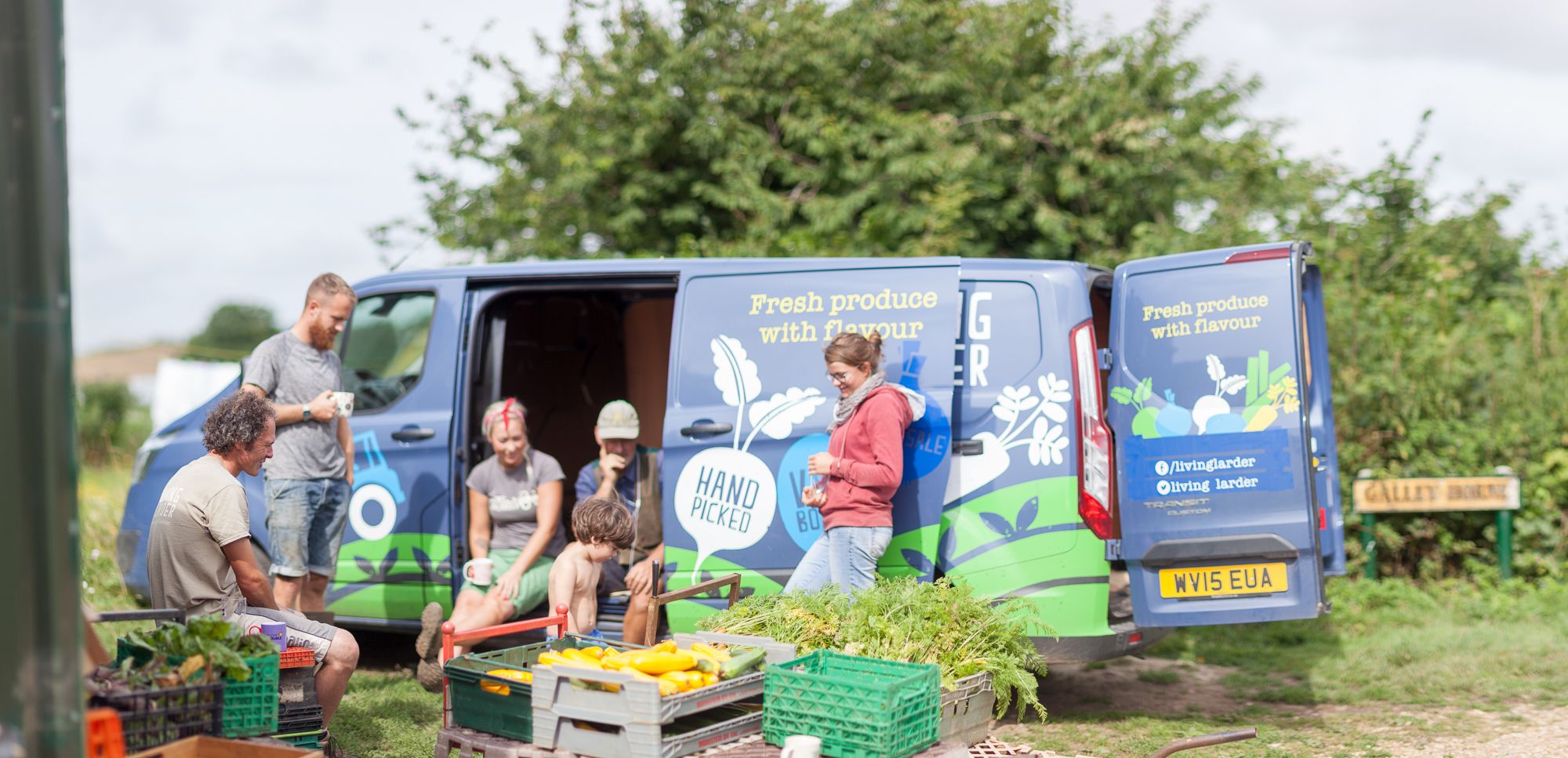 Cons – Fantastic for seasonal vegetables and some organic fruit. It would be great to see the farm offer other organic produce so that it would be possible to do a weekly shop.
Organic Certification – Conversion to organic farming began in 2013. Certified organic by the Soil Association in 2019.
https://www.livinglarder.co.uk/
Hackney Organic Growing Communities
Growing Communities is an award-winning, Hackney-based not for profit with the goal of building a more sustainable food system for 20 years. They support small, local, organic farms with fair prices and help communities take back control of how and where their food comes from. Choose from 10 different bags of fresh, seasonal fruit and veg from 15 collection points around Hackney, starting from £8.65 per week.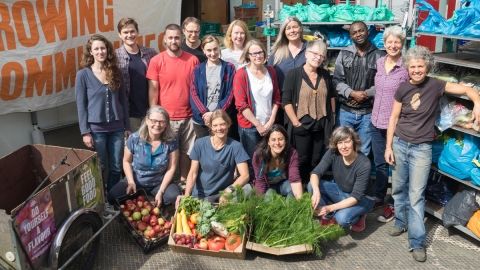 Pros – Cuts down on food miles and champions organically grown fresh and affordable local produce.
Cons – Collection only.
Delivery – You need to collect your vegetable box from a collection point. There is no door to door delivery.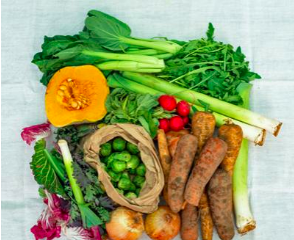 Certification – Soil Association
Mourne Manor Organics, Northern Ireland
Mourne Manor Organics are a family-owned, organic farm based in Newcastle Co Down. They have been delivering organic fruit, veg, meat and eggs to the local community since 2002 and now deliver across Northern Ireland with their own vans and a courier service.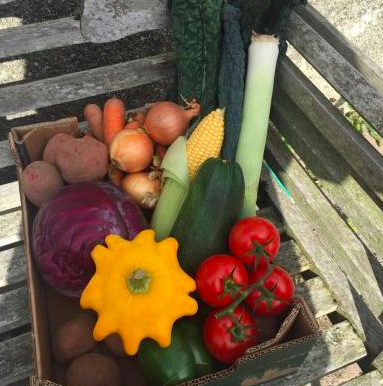 Pros – A large selection of organic vegetables, fruit, eggs and meat and a wide selection of boxes to suit small and large households.
Cons- Mourne Manor does not produce or grow its own organic produce. All produce is sourced from a wide range of organic producers in the UK and Europe.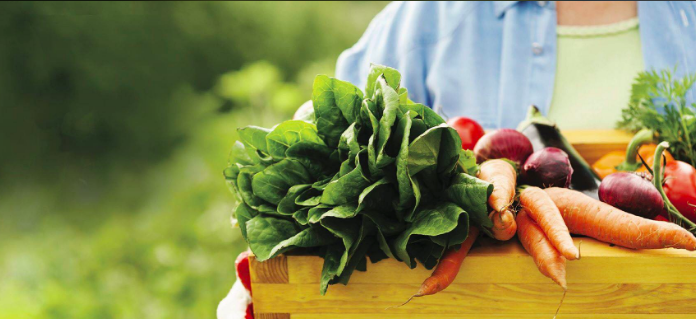 Delivery – Delivery charges range from £2.99 to £4.99 according to your postcode. Check the website for details.
Certification – Soil Association
Waterland Organics, Cambridge
Waterland Organics are a small organic farm that has been running a box scheme since 1994 in and around Cambridge as a Community Supported Agriculture Scheme (CSA). They only supply vegetables grown on their own farm - the scheme currently offers organic vegetable boxes sold in advance from August to December. Prices start from just under £60.00 for four box deliveries.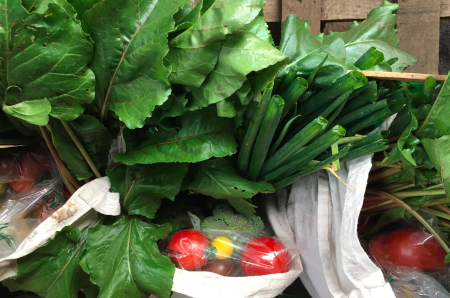 Pros – Incredibly fresh organic produce usually picked on the day of delivery. Great for families or people who can share boxes.
Cons – The  scheme is very popular and you need to commit to boxes in advance and pay for them upfront.
Delivery – Only available in Cambridge. Delivery is included in the cost of the box.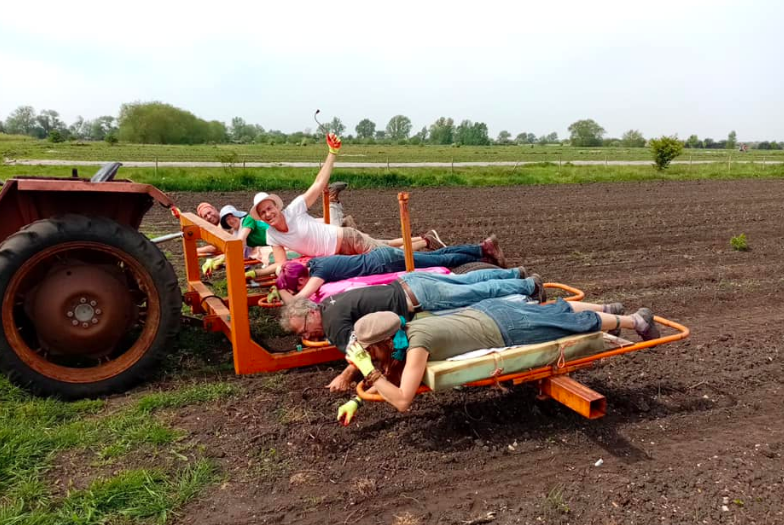 Certification – Soil Association
Higher Hacknell Farm, Devon
Higher Hacknell offer nationwide delivery every week from their Devon-based farm and butchery. There's a wide range of meat boxes on offer, or you choose your own bespoke selection from the winners of the Best Organic Meat and Best Organic Farmers at our 2019 BOOM Awards.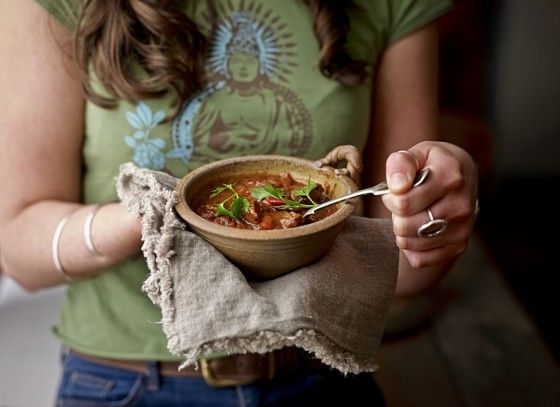 Pros – The farm offers a wide choice of meat boxes and the freshest seasonal organic vegetables selected each week. The shop also includes some tasty handmade meals in a box for the freezer or on days when you need a break from-scratch cooking!
Cons – Higher Hacknell is better suited to a monthly rather than weekly shop unless you live on their doorstep.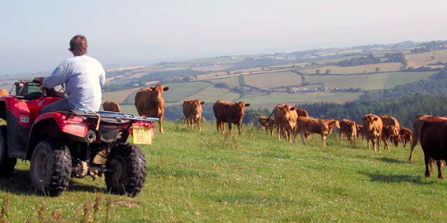 Delivery – Delivery costs £8.50 for orders up to £120 in value, £5.00 for orders between £120 and £200 in value and is FREE over £200.
Organic Certification - Soil Association
Veg People, Manchester
Serving Greater Manchester, the Veg Box People focus on supporting local organic farmers and offering the freshest local organic fruit and vegetables at fair prices. They deliver to collection points in Greater Manchester and Macclesfield, weekly or fortnightly. Sizes of starter, small, medium or large veg bags are available, with options of additional or no potatoes or fruit bags. Prices start at £9 for a small box that would feed 1-2 people and rise to £15.85 For a large box suitable for feeding 3-4 people.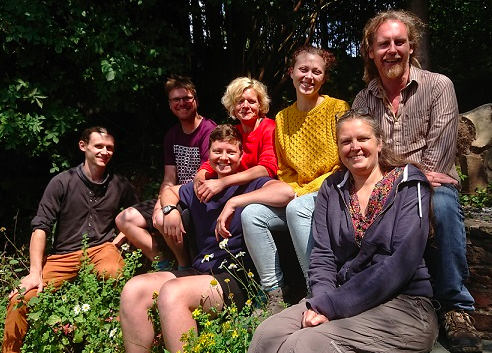 Pros – Prices are very good and more accessible to everyone.
Cons – There is no home delivery.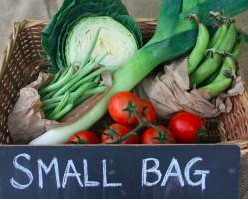 Delivery – Pick up from local collection points.
Certification – Soil Association
Researched and Written by Alison Jane Reid
Layout and Design by Sophie Fenton - Hobbs