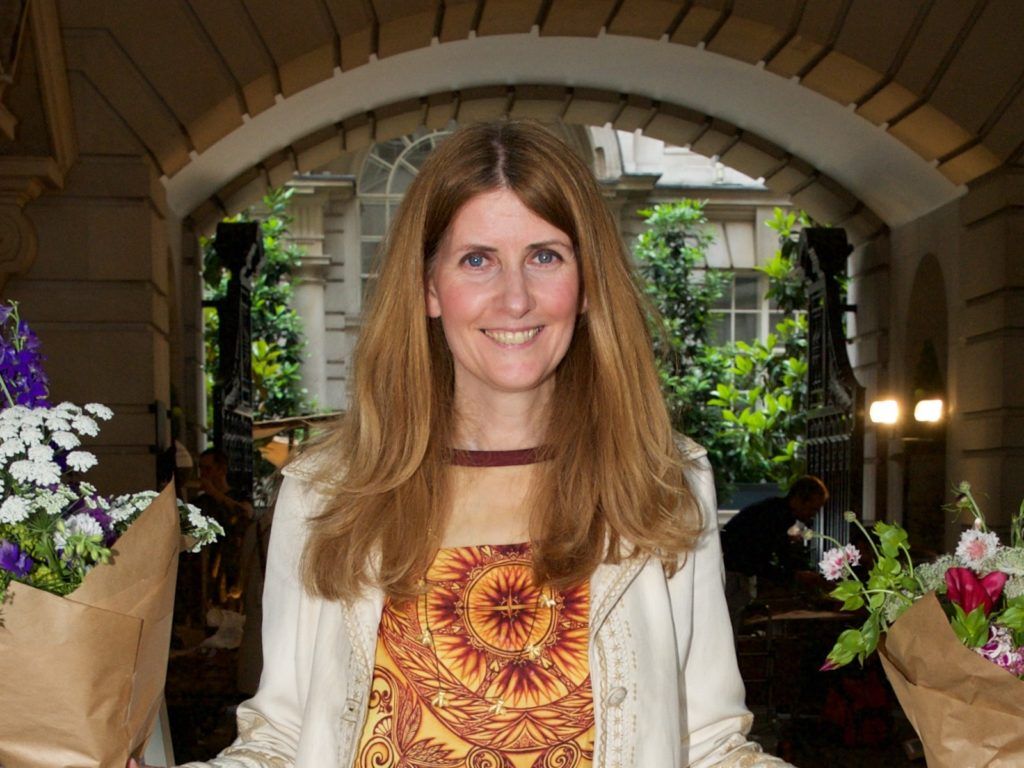 Culture Journalist Alison Jane Reid has been writing about icons, film, music and slow fashion for two decades. Here she celebrates her eternal love affair with Regent Street, London W1, the celebrated Mile of style and Heddon Street where David Bowie posed for the immortal Ziggy Stardust album cover. This restless, statuesque street is a slow walk away from The Ritz, The Royal Academy, Hyde Park and London's oldest department store Fortnum and Mason. At the very beginning, AJ used to file her couture fashion stories from the chic, painted pagoda telephone boxes. They are like Dr Who's tardis inside and really do need to be returned!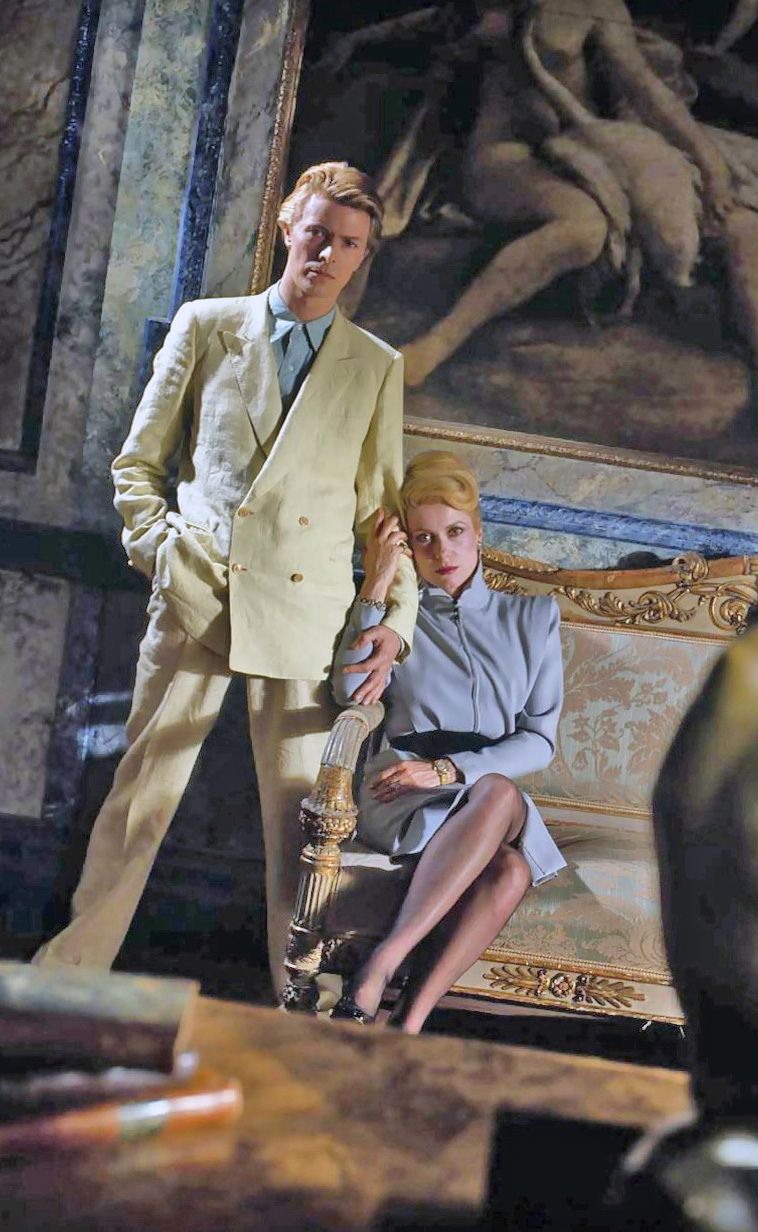 Dear Readers,  It will soon be Valentine's Day and I've written an ode to one of my favourite heritage hotspots in London, The Mile of Style - Regent Street W1, the place to shop for British and cutting edge luxe fashion, eat the cuisines of the world and just walk like a flaneur slowly, to explore the history of London in film, fashion, music and food.
I adore London's Regent Street the way I like a man who makes my heart do flippy little somersaults. It is a grand, dizzying passion that never, ever stands still.
I have interviewed, kissed, shopped, dined, flirted (outside Anthropologie and the Cafe Royale), grazed, skipped, dashed and fallen in and out of love on this extraordinary street throughout the ebb and flow of my grown-up life – and I never want it to end. My mother took me to Regent Street as a child to buy my first special, party dress – a sublime scarlet creation in velvet corduroy; with a contrasting paisley bodice and delicate lacing, that started my giddy, life-long love affair with being a la mode. Reader, I practically slept in that dress for weeks and it did have puff sleeves just like Anne's in Anne of Green Gables.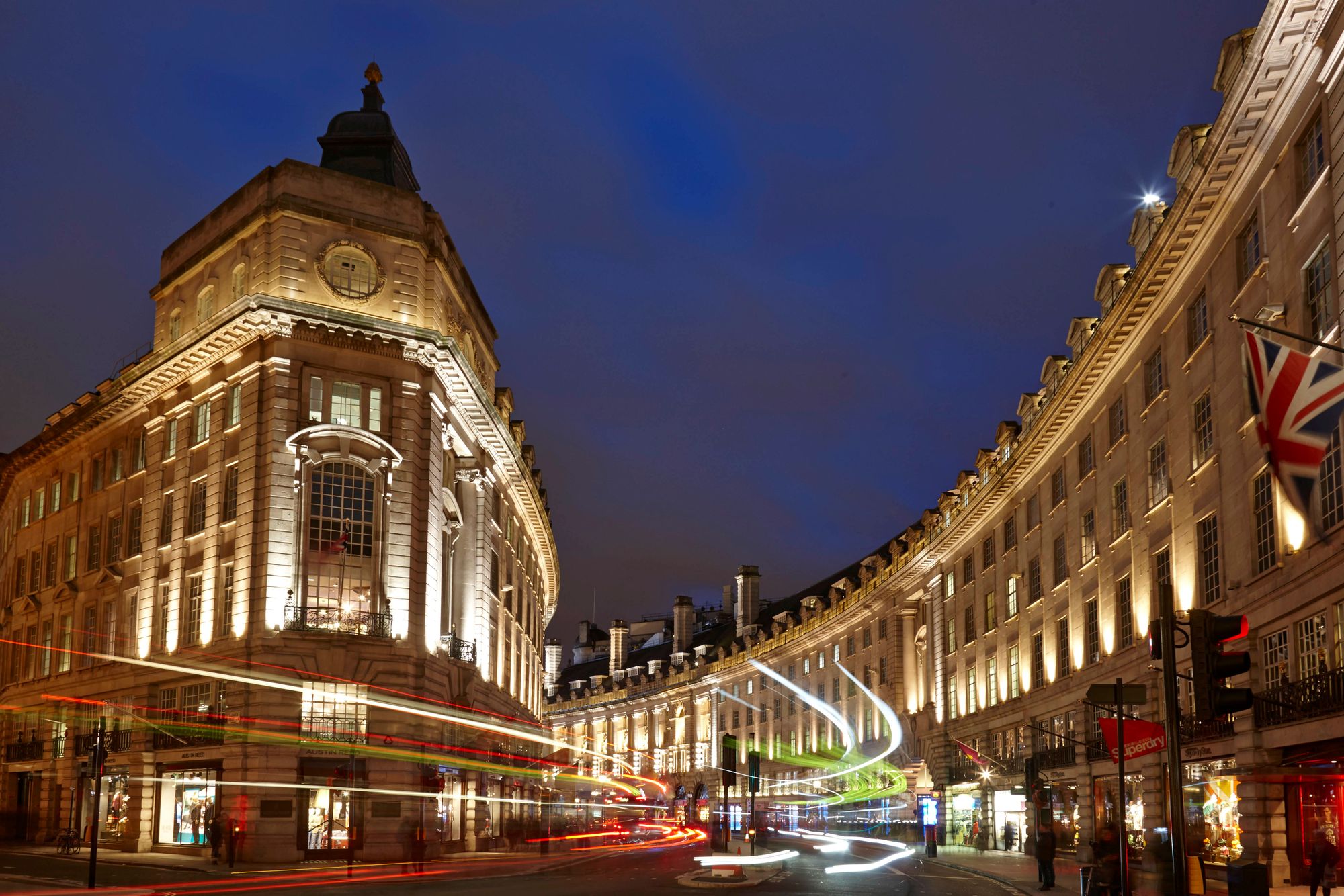 As a writer, I live in my imagination and John Nash's metropolitan 1819 masterpiece is my eternal playground. My Versailles in the city. I am drawn to 'The Mile of Style's bustling, twinkling, elegant, showy charms. For the giddy possibility of finding the one! Oh, I know you understand perfectly well- the dream of a dress, princess coat or mile high, goddess heels that we just have to make our own. Can you close your eyes and imagine that right now?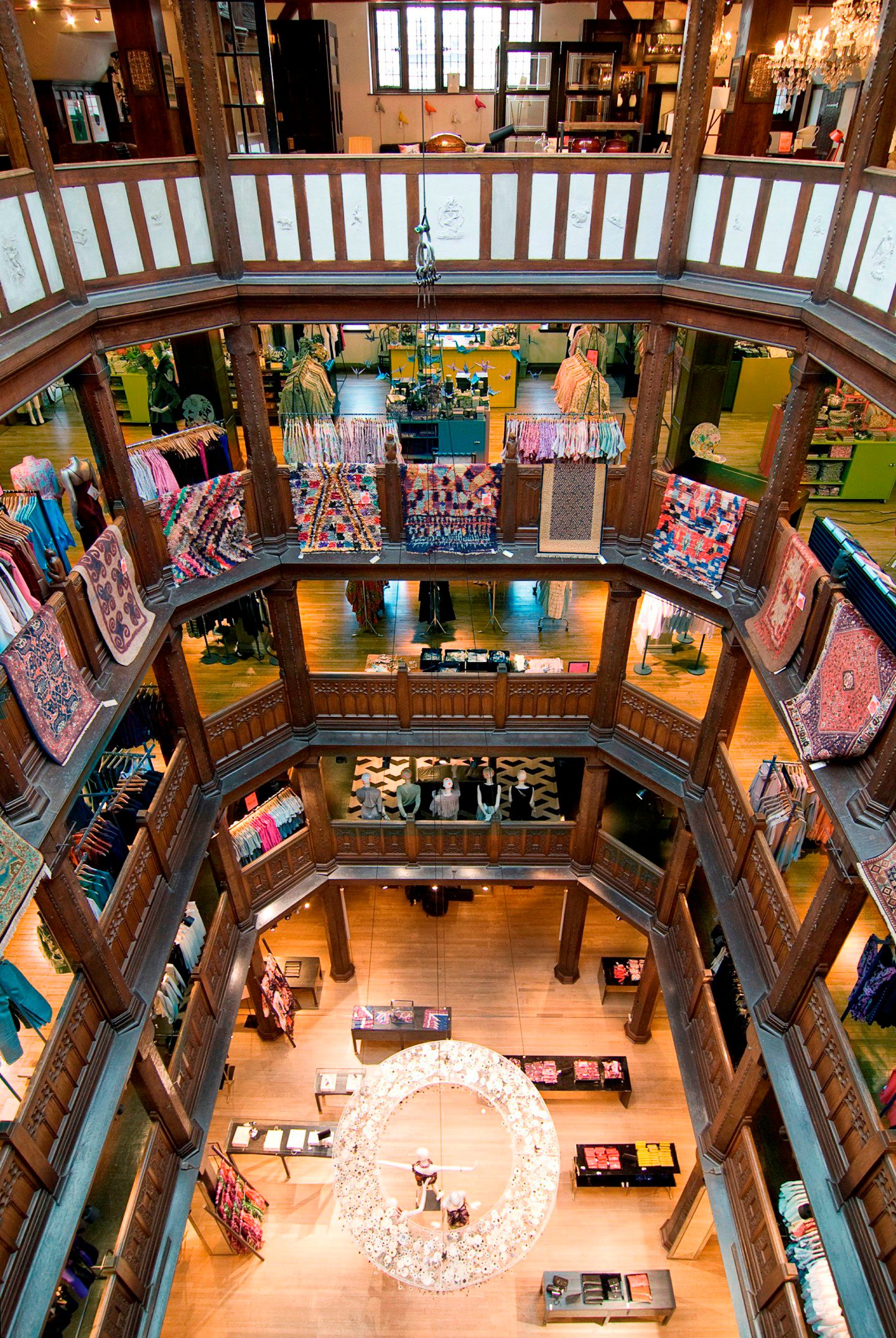 After an absence of more than a week, I start to long for her company. Yes, she has to be a she! The moment I come up from the tube at Piccadilly and embrace Nash's sensuous 'Curve' – I smile, and think, 'there you are, I am home.' I often daydream that home is a jewel box pied a terre in the gods… and that I can be found strolling home, baguette in hand from Fortnum's in my marvellous impulse buy Aquascutum dress, all froth, cameos and monochrome, Dioresque drama, at 8.30 am, just as the first shoppers arrive on the street. Nothing feels more decadent and truly glamorous than walking around in an exclamation mark gown the morning after the night before, spent kissing, talking and feasting on piscatorial delicacies at Bentley's, the perfect, romantic tryst supper hangout on Swallow Street. Or going to the theatre on Shaftesbury Avenue and tumbling out in time for a late-night feast in China Town.   Then, skipping across the street to the reincarnated chic Café Royal with its gleaming, magical golden doors, hinting at untold, golden age allure and razzmatazz within.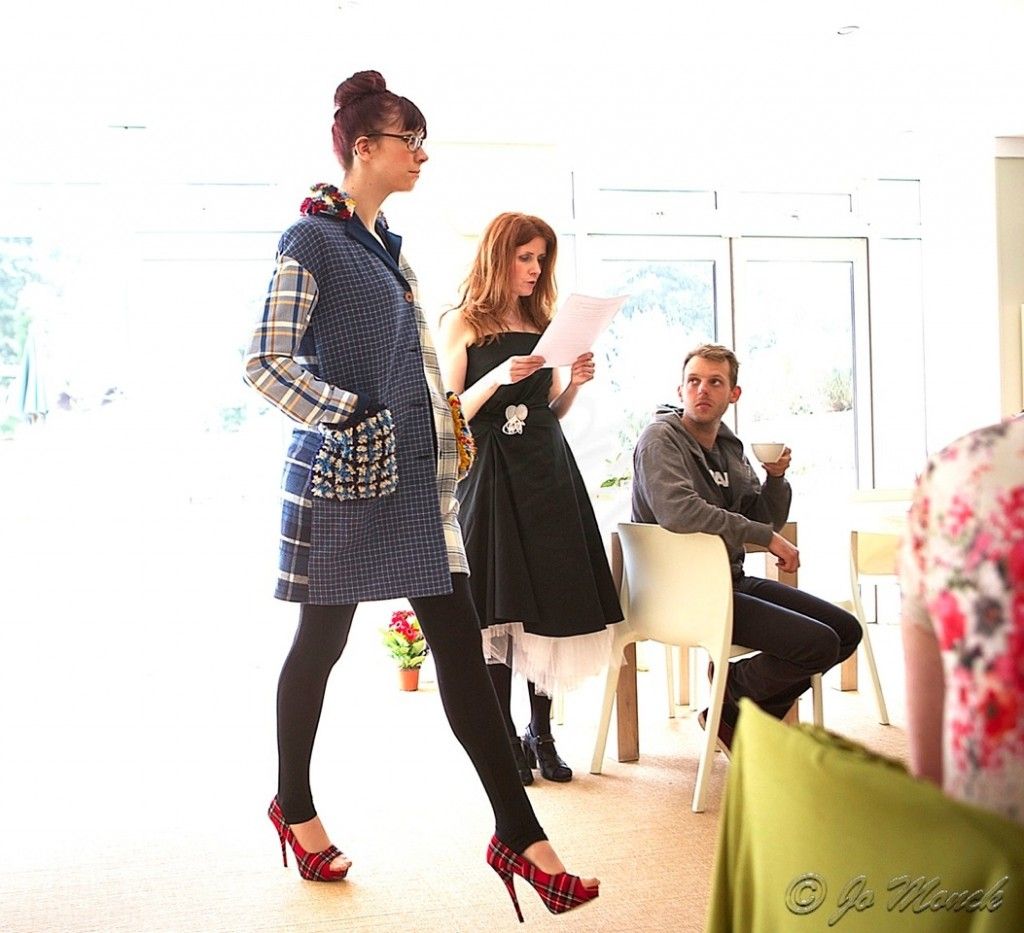 (Alison Jane wearing that Aquascutum Dress! At The Luminaries Organic and Local Fashion Tea Party and Slow, Sustainable Catwalk Show.  Photograph By Jo Monck – jo-monck-photography.co.uk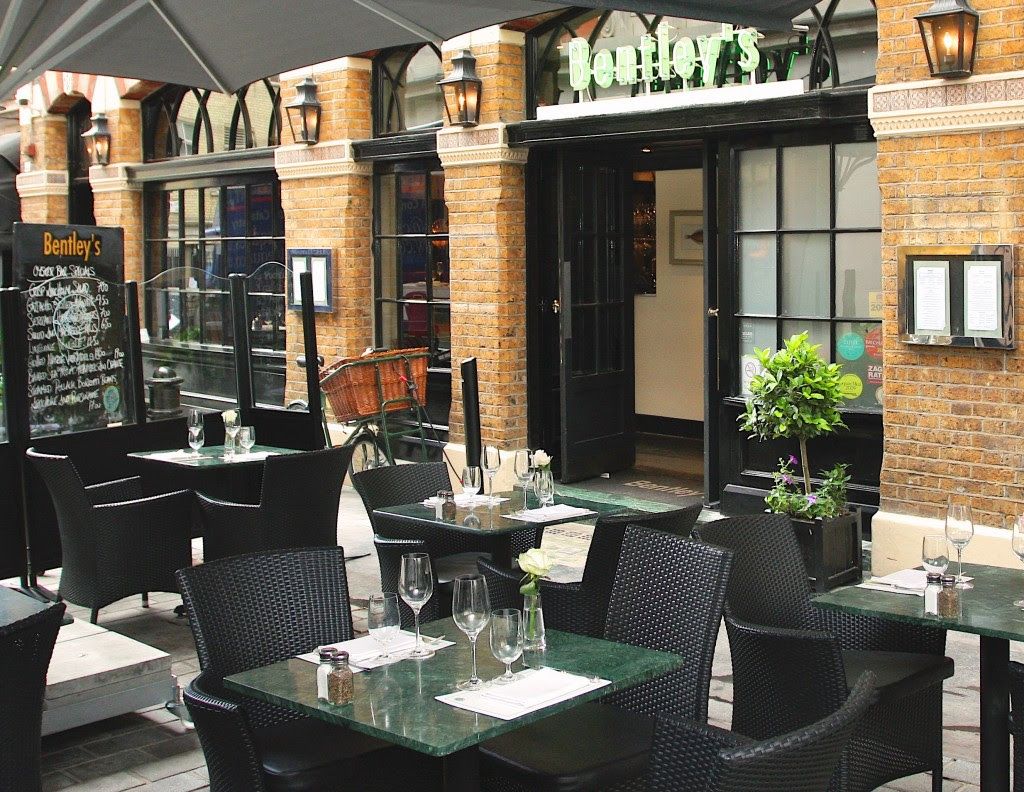 Regent Street is such a clever, chameleon street. It manages to be both alluring and practical. All the places I want to gravitate to can easily be negotiated down her ancient cut-throughs and alleyways that lead in and out of its wide, magnificent thoroughfare to Piccadilly and Green Park and Soho to the east. Life is like the Frank Sinatra song – It's Witchcraft – and the living is swell on Regent Street.
Who couldn't fail to be astonished by the grandeur, vision and optimism of the Prince Regent and his architects? Two hundred years after Regent Street first transformed the heart of London's West End, it is still the Queen of Shopping Streets – The Mile of Style – an exclamation mark to mercantile dreams and aspirations. But reader it is so much more than that.
Don't just admire the swell boutiques of Burberry and Guess. Look up and admire Lions rampant and oriental arches that are straight out of The House of Flying Daggers. Be curious, like a cat and get lost down the interesting alleyways and side streets, which hint at all manner of secrets and special places, away from the hoi polloi.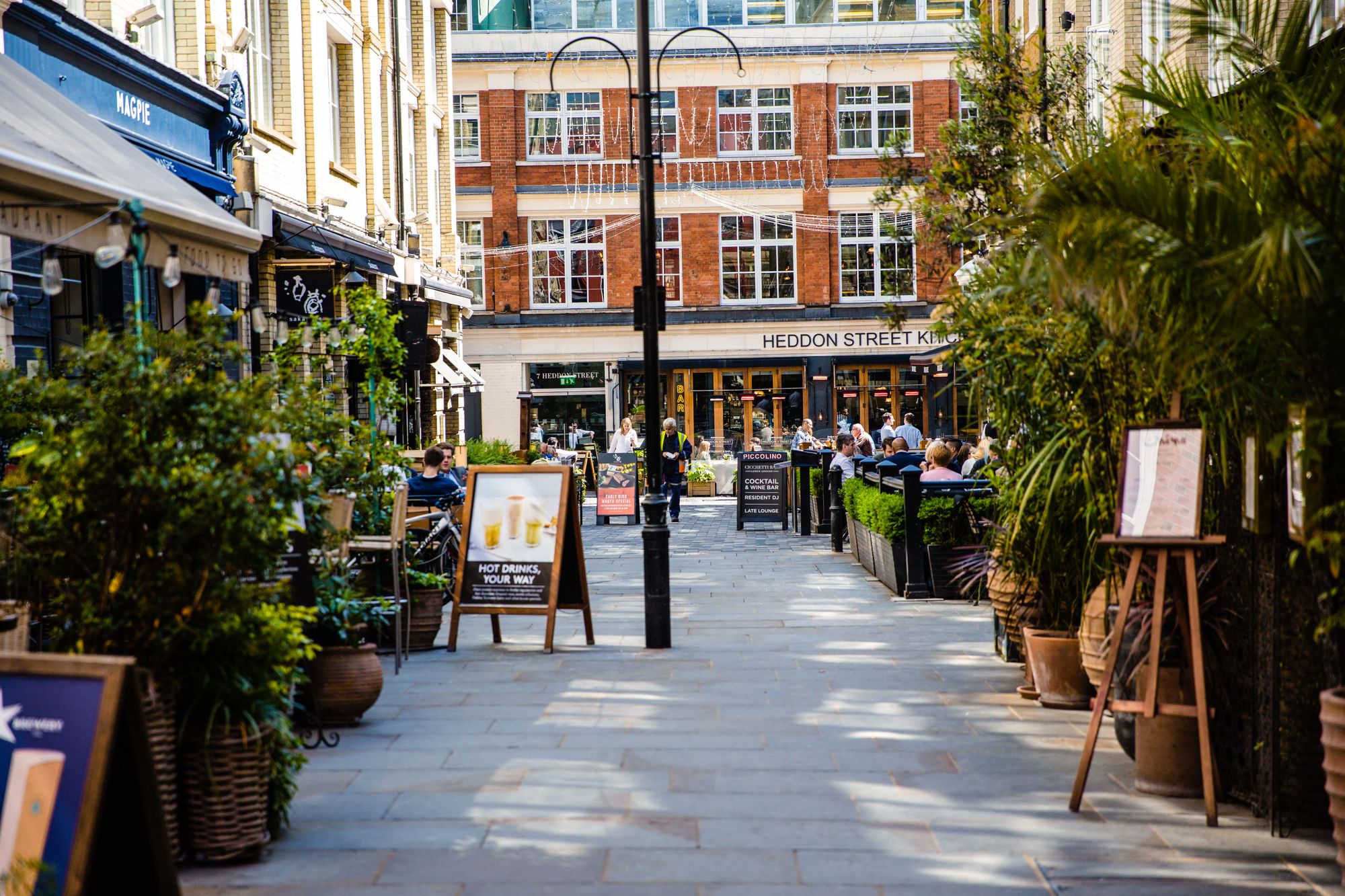 Who would know that Heddon Street is a secret playground, just a minute from the hurley burly of one of London's busiest streets? Walk straight to No 23 Heddon Street – now a place of international pilgrimage with a shiny plaque dedicated to David Bowie and his Ziggy Stardust. When you have celebrated your inner Bowie, discover a chic, metropolitan oasis, with independent shops and a cornucopia of gastronomic stars to experience such as the Michelin- starred Sabor. Pose at the walk-in bar and feast on ham croquetas and a glass of spicy Vermouth and throw your napkin on the floor to show your appreciation! Or wear your very best dress or suit to dine in the Michelin-starred El Asador restaurant and take yourself on a culinary Spanish adventure across Castile, Andalucia and Galicia. For quintessentially British classics, executed with flair and slow food ingredients, make a beeline for Gordon Ramsay's Heddon Street Kitchen and have the beef wellington experience for two with a glass of champagne.  
Many iconic fashion names come and go, so I love the quirky emporiums that have been Regent Street stalwarts for decades. The cashmere shop is brilliant for glam capes and throws, and the idea that pom-poms really are forever in fashion. Nor could I resist the temptation to try every aromatic blend of Rainforest Alliance coffee in the Nespresso store and wonder what has Amal got that I haven't to offer the world's most eligible swain, George Clooney? Then, naughtily posing next to his super smooth image, with my accomplice, slow couturier, Lucy Tammam at Atelier Tammam.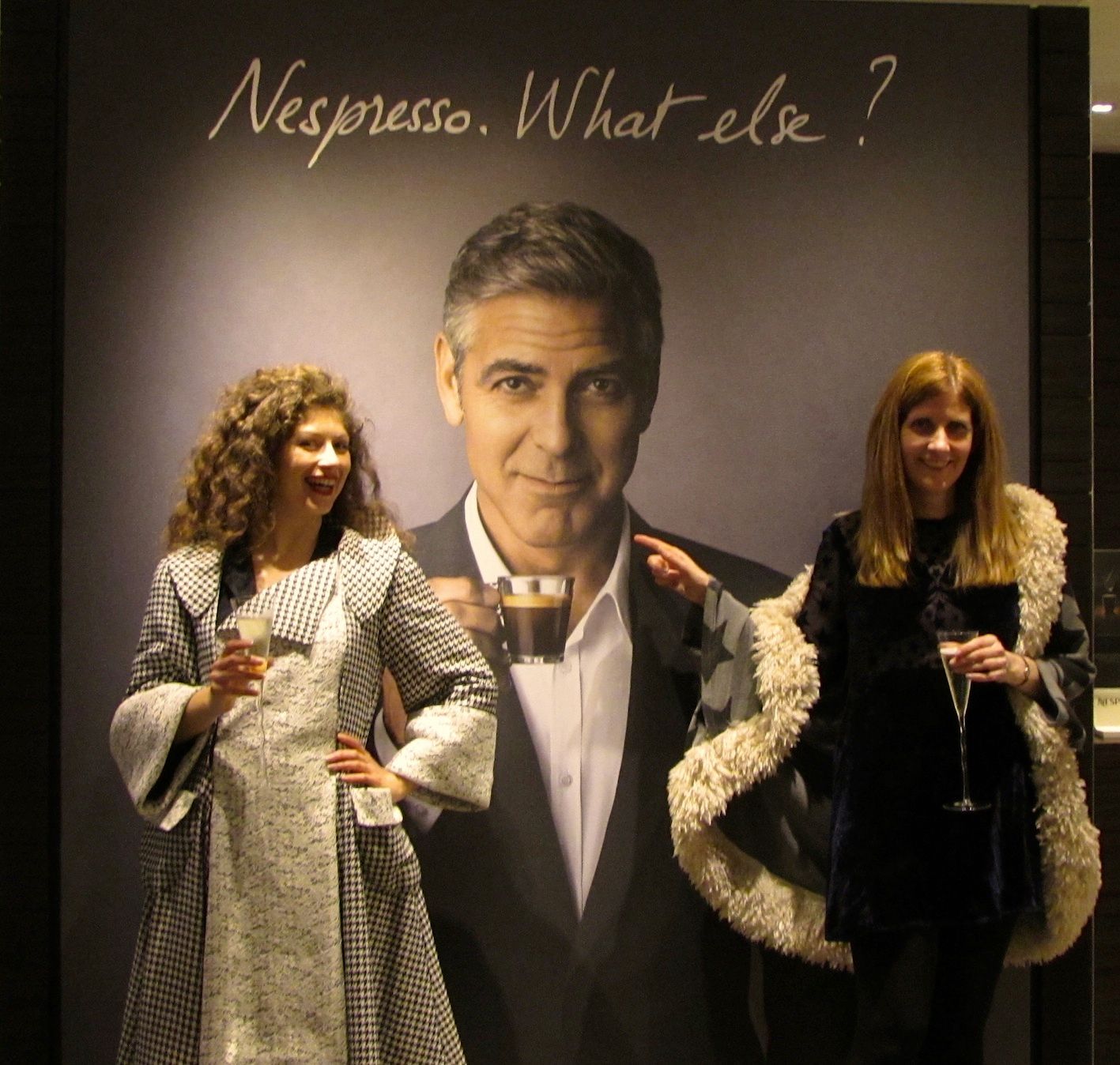 Alison Jane, Editor of The Luminaries Magazine with Sustainable Couturier, Lucy Tammam at the Nespresso Regent Street Stor
I've sat in the elegant drawing room at No 100, Regent Street, once home to Aquascutum and imagined Cary Grant popping in for tea, to pick up an elegant new suit and just being Cary Grant in this very room!  I have also fallen very hard indeed for a sublime air force blue military coat with gold epaulettes that required a mortgaged sized investment. No reader, I lost that fashion battle and I am still pining! How times have changed. Aquascutum is currently no more on Regent Street or England and can only be bought in China. Now Mulberry has taken up residence with the sublime staircase and fabulous loo!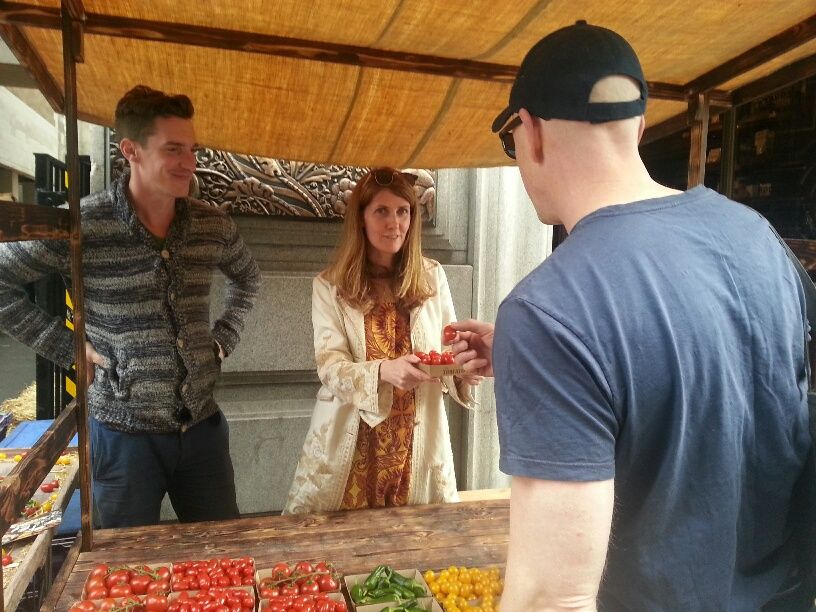 Oh, and do make a beeline for Liberty and bask on the polished wood staircase and discover every nook and interesting cranny of this grand arts and craft department store. Yes, not only can you find the perfect, ladylike coat or witty day dress – Liberty cleverly incubates the hottest new stars of Brit fashion. If you want a dress that will stop the traffic, this is the place to know.
The truly brilliant thing about Regent Street W1 is how all the little arteries that feed off the street are a haven for independent talent. Skip down Beak Street and you will discover quirky art galleries and café society. If I want to feast on superfoods and do a super healthy shop, I go to Wholefoods at the Piccadilly end of Regent Street and marvel that organic chocolate is now a bone fide superfood, and stock up on organic and fair-trade dark chocolate bars, baby sardines, Higgeldy Piggeldy, multi-coloured quiche slices and cherries and figs enrobed in dark chocolate – for a guilt-free treat. You also have to get to know the natural beauty and health bar on the first floor – I've had some very helpful advice from their trained, holistic healthcare whiz kids.
And when I am done tearing about, and I just absolutely need a kir royale and my own clever James Bond to kiss and share my day with – I skip across Piccadilly to meet him in the pretty Harp Room at the swish Sofitel Hotel, at the very beginning of Regent Street.
Somehow, it seems fitting that my day begins and ends on London's greatest street, Regent Street W1. Then, as we go out into the night, in search of supper, in one of her secret, marvellous hot spots, I smile knowing I will work hard and play hard again on The Mile of Style – maybe tomorrow, or the next day, but most decidedly very soon.
Alison Jane Reid Copyright  February 2022.    
Alison Jane is available for commissions and to tell the story of your iconic brand – theluminariesmagazine@gmail.com or tweet to AJ - luminaries_mag
About Journalist and Editor Alison Jane Reid -  Alison Jane took a degree in English Literature and began her career in magazines and national newspapers at Mirror Group Newspapers. From the Mirror, AJ became a contributing editor at The Times Magazine for a decade, writing about cultural icons, fashion, food and design. She has also worked for You Magazine, The Lady, Country Life, ES, The Illustrated London News Group and the Sunday Times.
Alison Jane also works as a consultant storyteller for iconic luxury, slow and circular brands. Clients past and present include - Escada, Aquascutum, Pringle of Scotland, Winser London, Pernod Ricard, Viridian, Mindful Mixology, Lending Works, Milk and More, Literally Pr, Celtic and Co, Avant Habit, The The Post Office, Inlight Artisan Skincare and Purity Organic Skincare.
For more information on Regent Street w1 London go to www.regentstreetonline.com
The memorable places mentioned on the iconic Regent Street:
Fortnum and Mason: 181 Piccadilly, London W1A 1ER
0845 300 1707
Bentley's: 11 Swallow St, London. 020 7734 4756
Café Royal: 68 Regent St, London W1B 4DY
020 7406 3333
Burberry: 121 Regent St. 020 7806 8904
Guess: 160 Regent St. 020 7292 2830
Oxfords Cashmere: 143 Regent St. 020 7287 0535
Nespresso: 54 Regent St. 0800 442 442
Wholefoods: 20 Glasshouse St, London. 020 7406 3100
Sofitel St James Hotel London: 6 Waterloo Place, London. 020 7747 2200
Follow us on Twitter
Watch David Bowie and Catherine Deneuve in The Film The Hunger.
This feature took many hours to research, write and create. Become a supporter of our slow, people-powered arts and culture magazine today. Read our mission story here and support here.