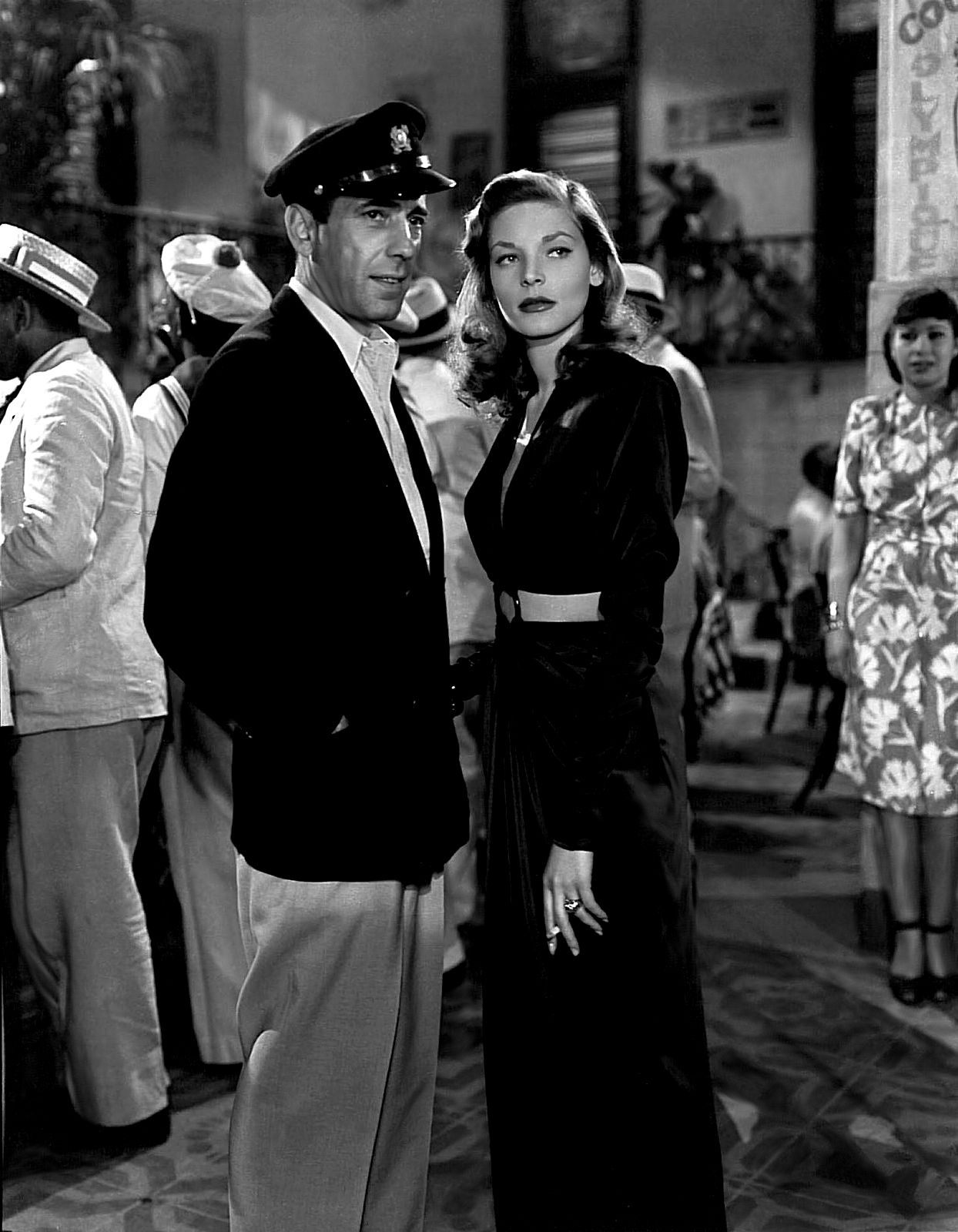 Intro
Long before Madonna, Princess Diana, Hilary Clinton or Michelle Obama.. there was Lauren Bacall - Harper's cover girl, film goddess, mother, consort of Bogie and 'the look' of 1944.  Almost eighty years after she wowed Hollywood and captivated the heart of Humphrey Bogart in To Have and Have Not, we still want to dress like Lauren whether she is playing a tough nightclub singer, a ditzy New York society couturier in Designing Women or the darling of Broadway widowed at 32.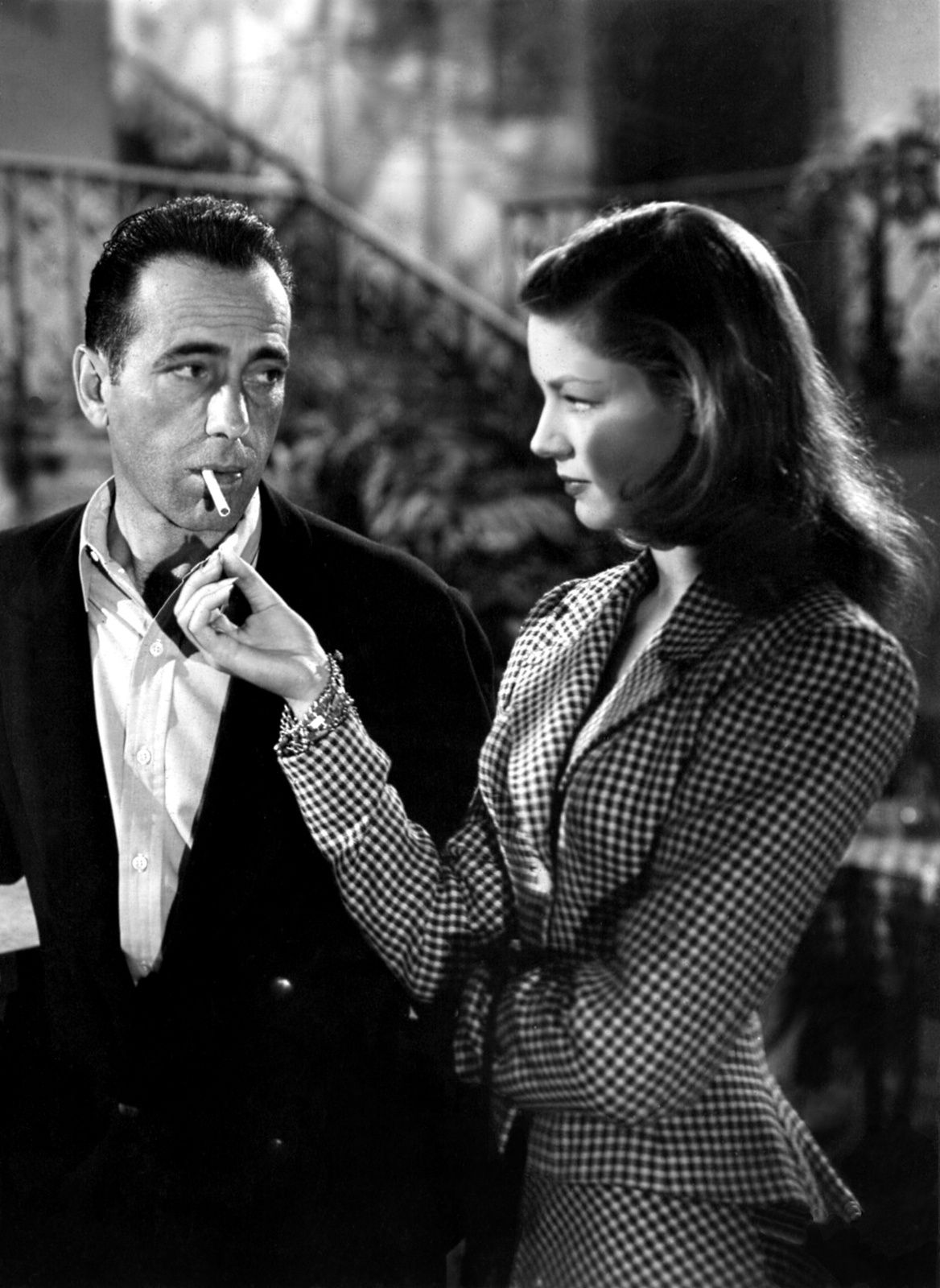 Lauren is the eternal pied piper of classic Hollywood goddess style for the sensual yet strong, confident, professional woman and her love of the fabulously tailored suit, daring, mid-riff revealing, sensational, form-fitting, satin gown or oversized white shirt in luxurious, feminine natural fibres from silk to Pima cotton and wool.
It is impossible to overstate the importance of Lauren Bacall on the modern woman's wardrobe. She looked like a piece of fashion dynamite.
Together they constitute the Lauren look executed with breezy fashion alchemy at Winser London the go-to fashion house for women who love fashion to be clever, miraculous and show-stopping. Then, there is  Jasper Conran, the darling of eighties power dressing. Jasper also knows just what women want and has created a sublime version of the shirt dress, with stellar attention to the little details, in a kaleidoscopic array of fabrics, textures and lengths in Schiaparelli pink to midnight blue and stick of rock, seaside stripes to emulate the Cote d'Azur in its heyday. Take a look here -  Jasper Conran.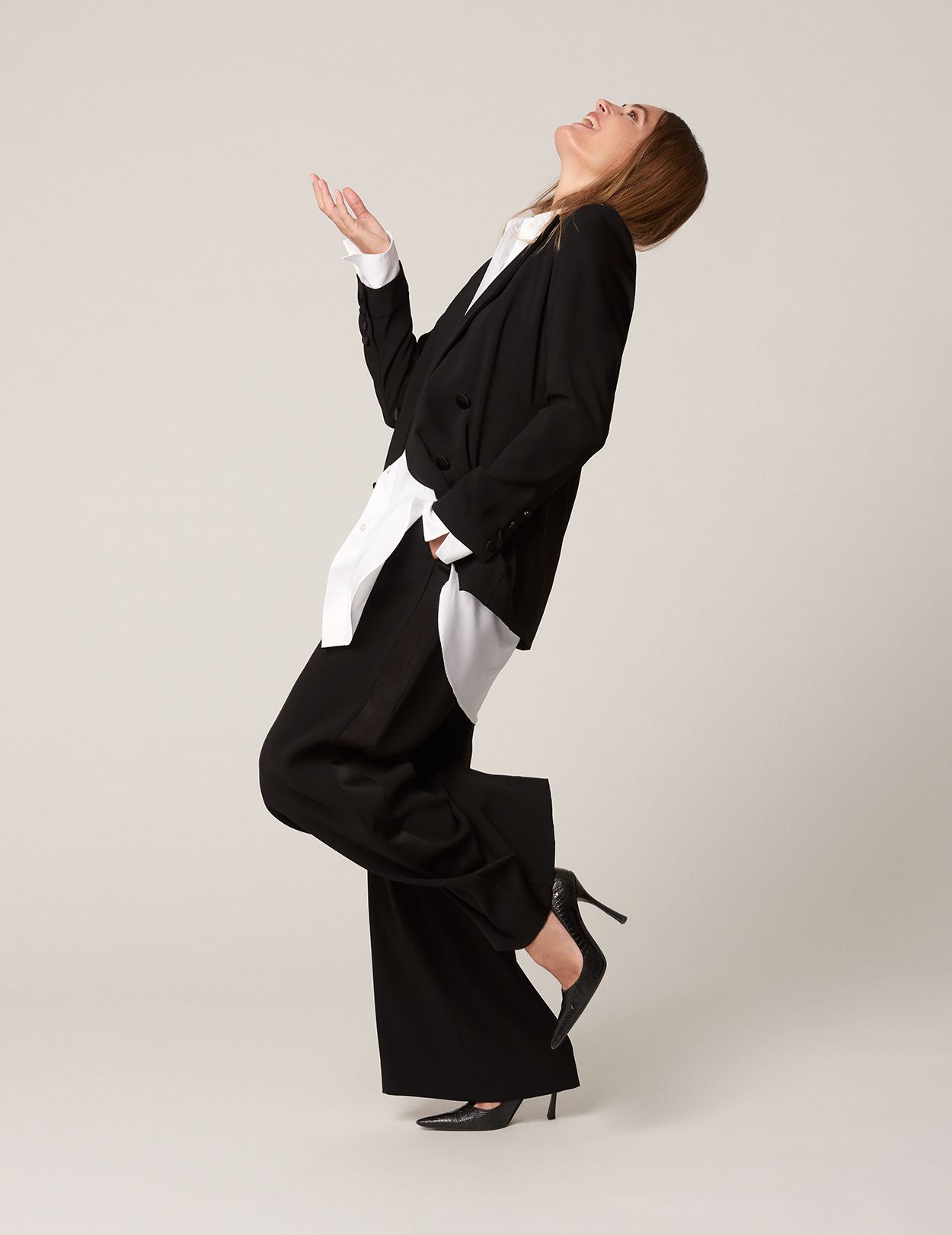 Reader, I have never forgotten the impact of seeing Lauren Bacall show Bogart how to whistle in a form-fitting suit inspired by Howard Hawks's stylish wife, Slim, matched by Lauren's long, lustrous hair snaked around those perfectly chiselled cheekbones with a face like a Siamese cat.
Lauren dressed and acted like a girl who could always get herself out of a jam. A confident woman in a man's world. I liked that. So, I went out and bought my first silk satin tuxedo evening suit in a sale on Bond Street, inspired by an indelible cinematic moment and a desire to hold my own surrounded by a whole lot of crazy testosterone-fuelled macho men in a national newspaper. Later, the newspaperman and love of my life, G, loved to read Hemingway to me out loud and we would play at being Lauren and Bogie in our little railway cottage in Islington.
"You do know how to whistle don't you Steve? You just put your fingers together and blow..." Ernest Hemingway.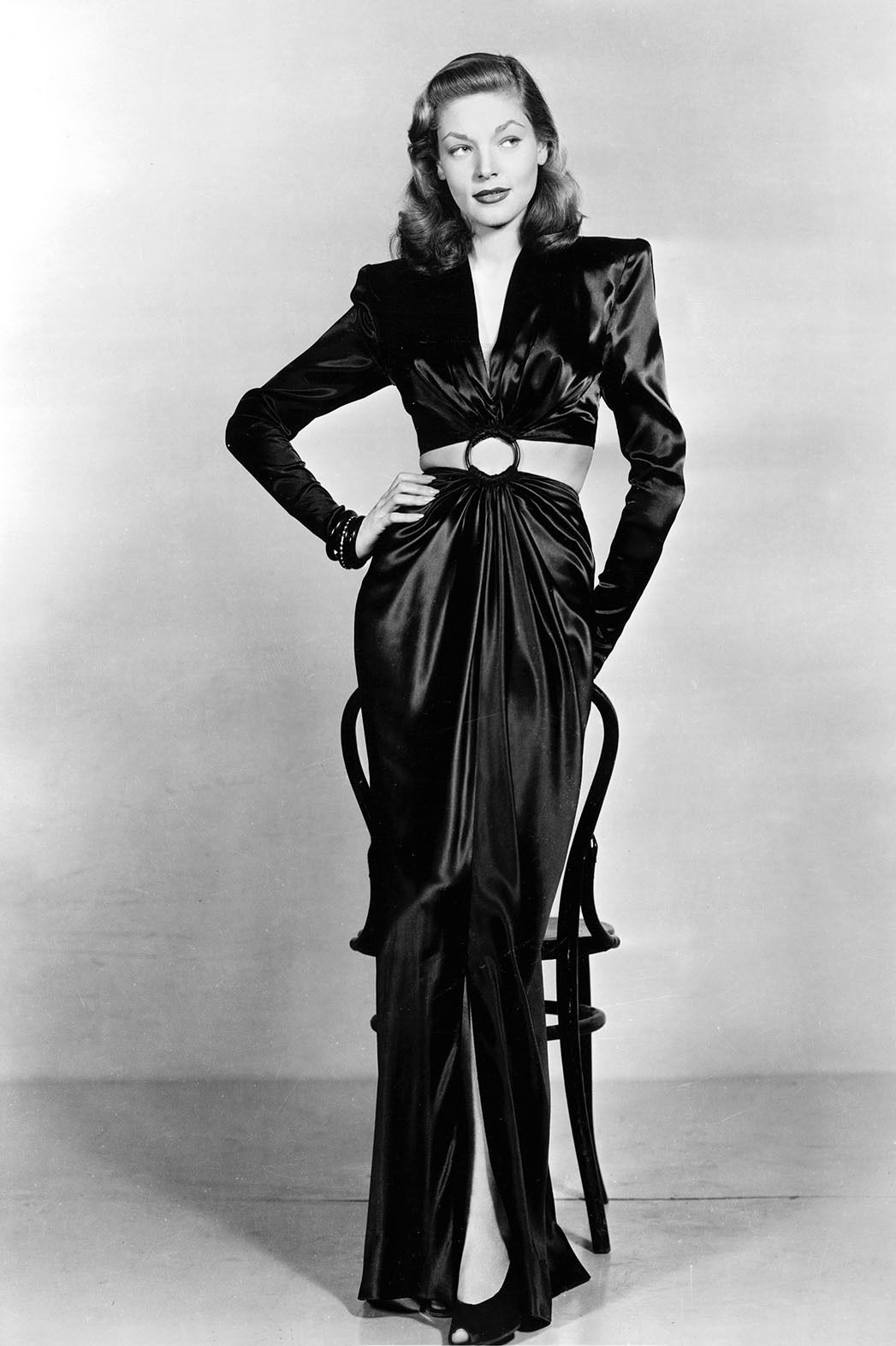 The point is that film and fashion are immortal bedfellows. Many of the clothes that you love to wear today have their roots in Hollywood's golden age, and before that, they were appropriated from men's clothing to make a point.
While a Hollywood goddess could pretty much wear whatever the studio dreamt up, women in the real world could not. In the 1930s, ordinary women were arrested for daring to dress like a man and go after the same freedoms.
Not until the sixties and seventies and the advent of the sexual revolution, would designers from Saint Laurent to Ralph Lauren rip up the taboo and tell women they could wear whatever they damn well wanted.  
The Lauren Look in the 21st Century
Kim Winser OBE,  the founder and CEO of Winser London, who was the changemaker at Pringle of Scotland and Aquascutum, has garnered awards for creating an indispensable wardrobe for the professional woman inspired by Lauren Bacall and Audrey Hepburn. Each season she carefully refines her bestselling Lauren trouser suit, classic white shirt and fabulous long shirt dress inspired by Bacall's breezy iconic style on and off-screen.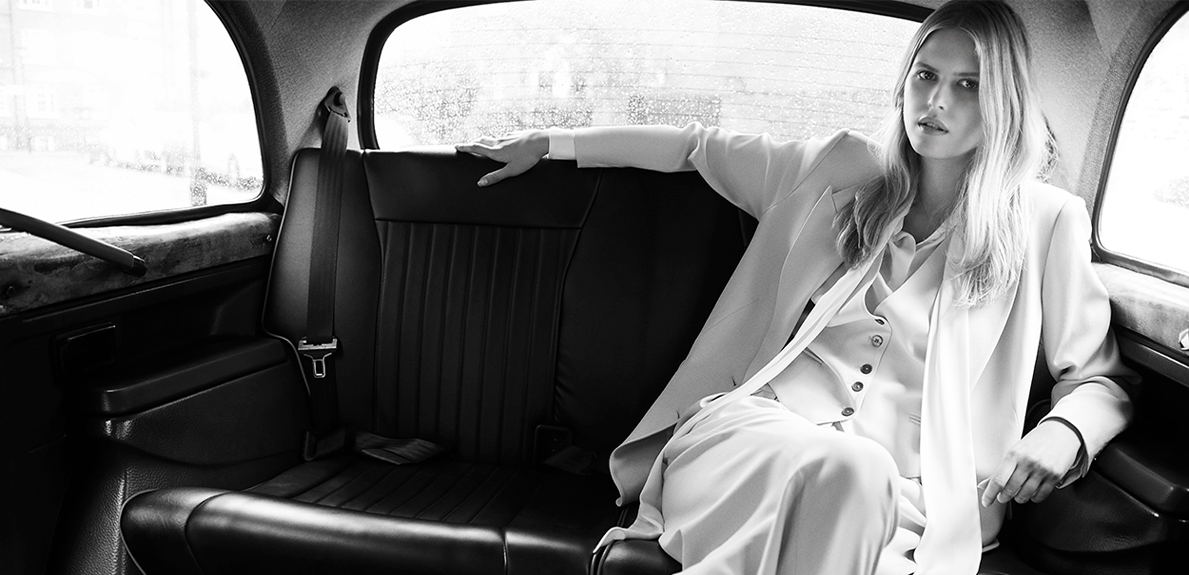 Lauren was into high-octane allure, never into a fuss. She portrayed women who were independent, sassy and alluring. That was fashion catnip to a feature writer and fashion editor just starting out in newspaperland.
It played on the idea that Bacall's perfect jacket and wide-legged trousers, reinvented again by St Laurent as a modern, feminine suit of armour could be my fashion suit of armour too.
The elegant, independent woman who knows her own mind owes Lauren Bacall, the Queen of classic film noir a huge debt of gratitude sprinkled with Hollywood stardust.
It is a look that each generation of women can make their own and Diane Keaton and her Annie Hall character is another brilliant example together with former first lady, Michelle Obama.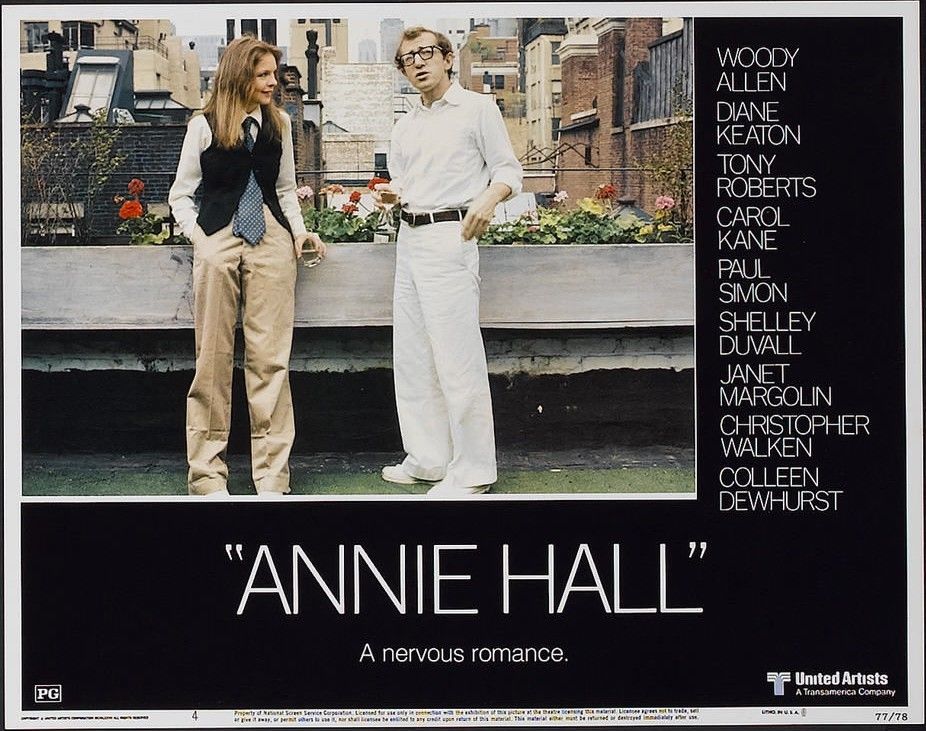 Lauren, who started out modelling for Diana Vreeland at Harpers Bazaar stood five foot eight and a half inches tall in her bare feet. She was tall for a leading lady. She had a body and face made for sinuous, molten, elongated gowns, white shirts and masculine meets feminine trouser suits. Catherine Walker, the late royal couturier, also used this idea to transform Princess Diana into a global fashion superstar. Diana was tall too and she had an athletic shape rather than curves, so Walker would create the illusion of curves using bias cutting techniques she perfected after studying classical couture techniques in the V and A Museum.  
This play on men's tailoring for women reinforced the fierce, independent women Lauren Bacall played on screen, notably, in four films with Humphrey Bogart -  To Have and To Have Not, The Big Sleep, Dark Passage and Key Largo.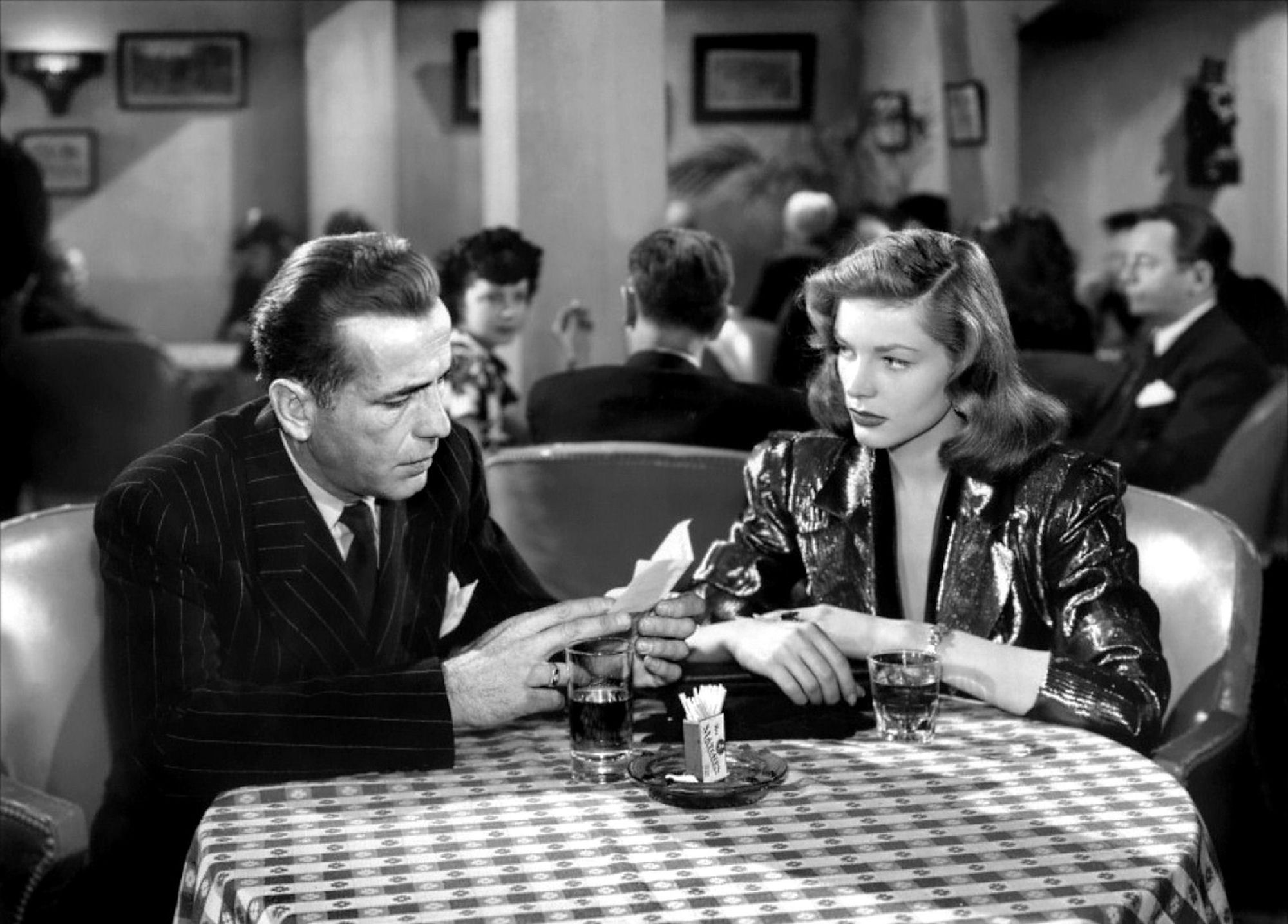 The trouser suit immortalised by Lauren Bacall is a forever, timeless fashion staple that has nothing to do with trends. It's about style, tailoring and emancipation. I love this confident version by Winser London here in high-octane white or enigmatic, cinematic black. Or black and white together for a style nod to the movies.
It offers an approach to fashion that is the opposite of pretty frills and fuss. It suggests a woman who can hold her own in a man's world. A woman who is confident, smart and able to call the shots. A man's woman.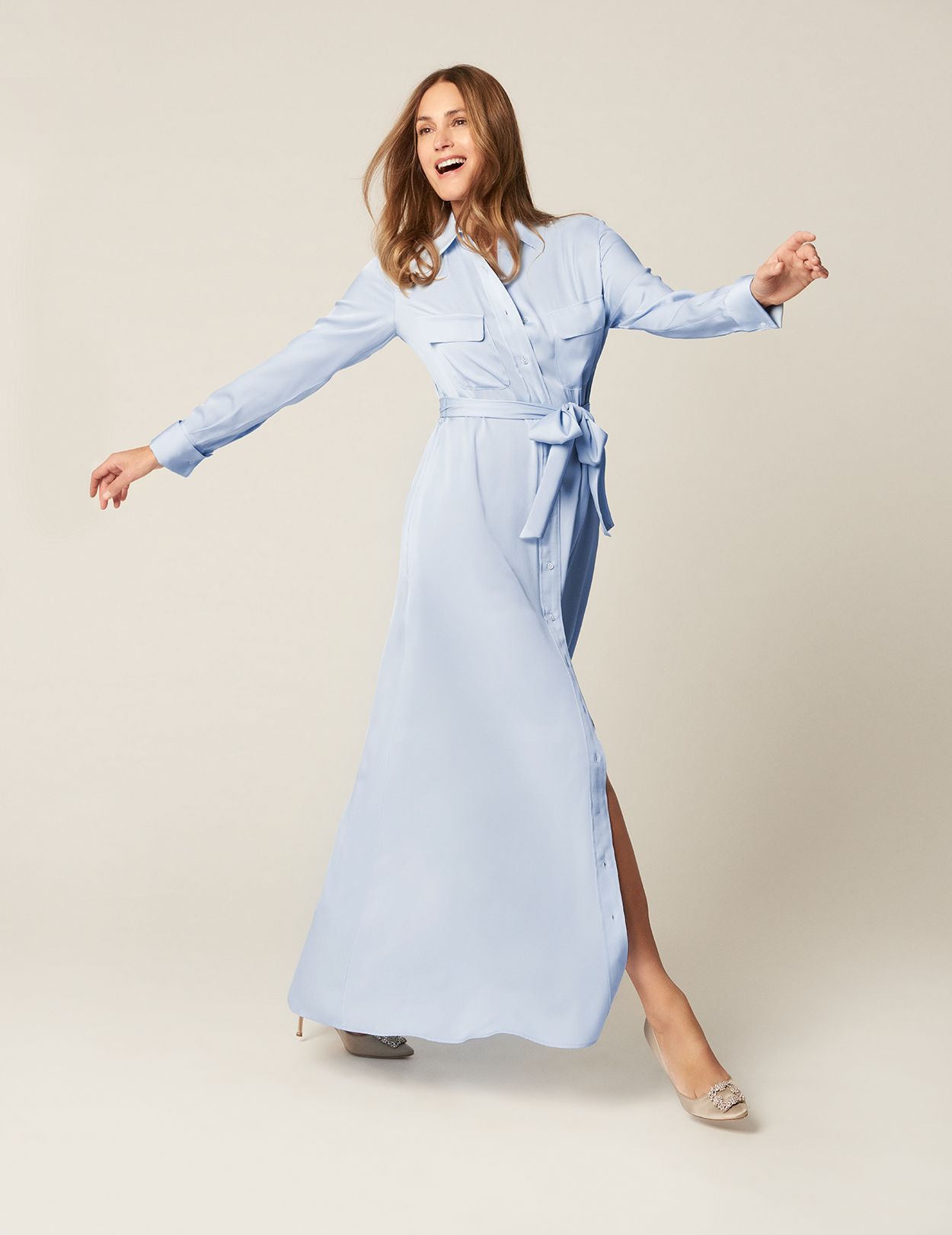 Lauren stood out in New York and it wasn't long before she collided with Hollywood and film director Howard Hawks who gave her a seven-year contract and put her in her first film role in To Have and To Have Not opposite her future husband, Humphrey Bogart, and the 'Lauren' look created a fashion moment that continues to this day.
Bacall would later reveal that she was terrified on set. But we don't see that and that is the magic of film.
Of course, Bacall had an accessory that is immortal. Those satin lapels look even finer in the arms of Bogie!
Alison Jane Reid - March 2023 Copyright The Luminaries Magazine/Alison Jane Reid. Film Still Images Copyright and for editorial use only.
Lauren Bacall in Film
Watch Lauren Bacall and Humphrey Bogart onscreen in their four classic films
Support The Luminaries Magazine
Slow Independent Journalism Needs You! Join Our Tribe Today. Support The Luminaries Magazine.