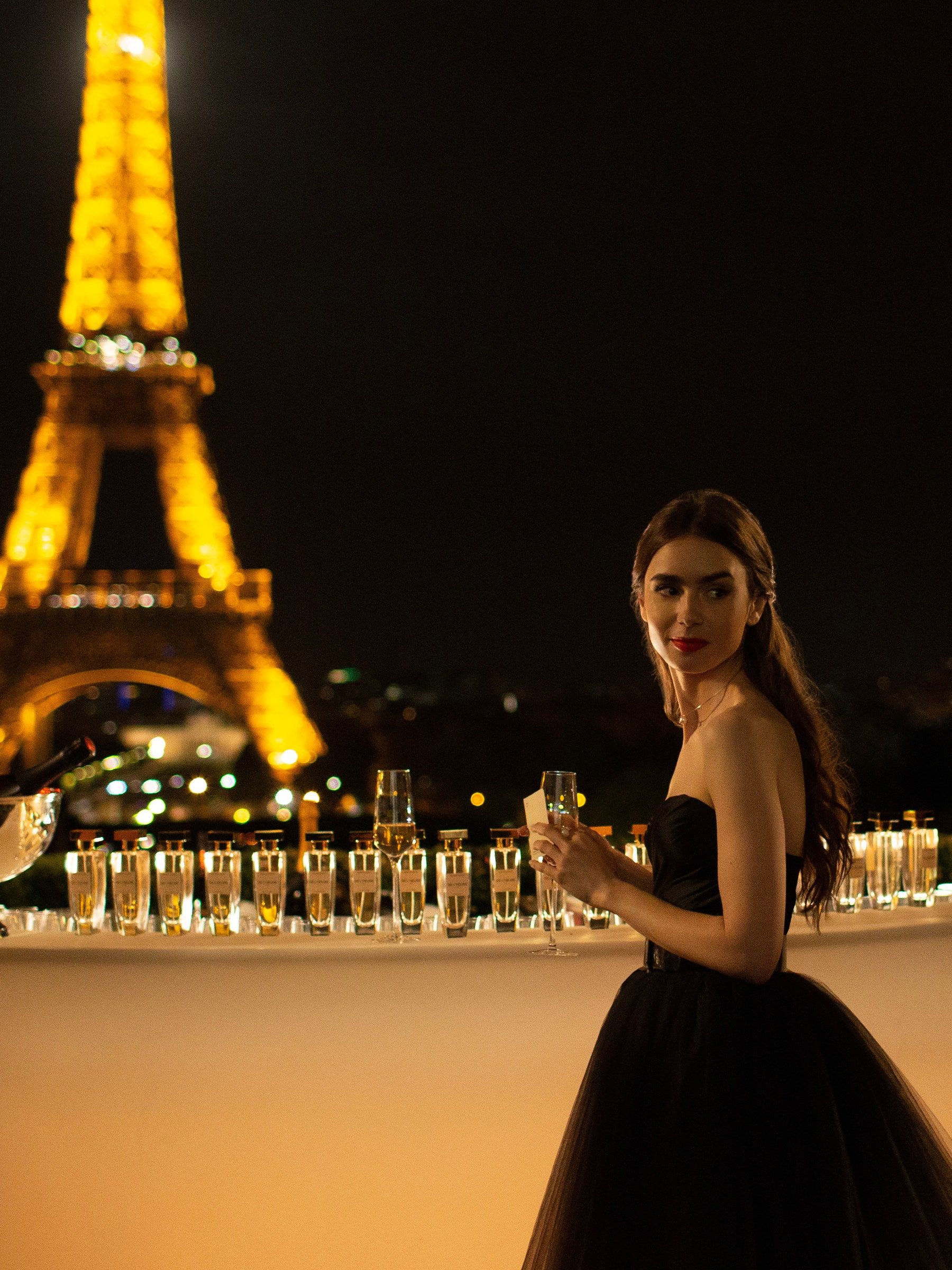 'You don't come to Paris to be good', declares Lucas Bravo's enigmatic, organic wine-loving chef, Gabriel, to the new Audrey Hepburn for the Instagram generation, Lily Collins, star of Darren Star's sequel to SATC – Emily in Paris.
The sparks certainly fly between Lily Collins and Lucas Bravo, France's hottest new hearththrob since Alain Delon.  They can't keep their hands off each other and their will they or won't they romance courses through the rom com of the moment with Paris itself as the twinkling matchmaker, while Collins shows her talent for comedy as a serious dramatic actress.
Collins plays Emily a bright, ambitious, label-loving all American girl with a masters in marketing to who suddenly gets to trade places with her boss and move to Paris. To that you add a pinch me I must be dreaming wardrobe of couture that makes Amal Clooney look like a fashion wallflower. How she can afford a mortgage in Chanel handbags I have no idea, but her fairy fashion godmother is Patricia Field and she is having her American in Paris fashion moment.
Now let's get one thing straight reader. Emily in Paris is more like a trip to Disneyland Paris than the real Paris. The series has provoked fierce debate about the way Parisiens and French people are portrayed as being mean, snobbish, lazy, unwashed, naked and with bad plumbing. Here's the thing. In my experience as a journalist, Paris can be a little chilly, and I am not talking about the weather. It all changes in an instant if a Parisien native likes you. Suddenly they are inviting you to dinner or even on holiday. As for Americans in Paris, they don't come off lightly either. Emily massacres the french language, she's too loud and opinionated and she sleeps with adorable Camille's seventeen year old brother and then steals her boyfriend!
It's comedy, get over it. Comedy is meant to be in bad taste.  Plus what we all want right now is a good helping of fantasy, romance and ridiculous levels of glamour and decadence, and that's what Darren Star delivers. Ditto the possibility of love, friendship, beauty and seriously good food and wine and I'll take it all, Paris mon amour!
In Emily's new world, the streets are always beautiful, with an artisan boulangerie on every corner, and her world is suddenly full of sensual delights and intriguing, powerful men who are so into her. She has a wardrobe of clashing couture and she is about to get an education from love to steak, Van Gogh to French plumbing and how to survive in Paris when you don't speak French.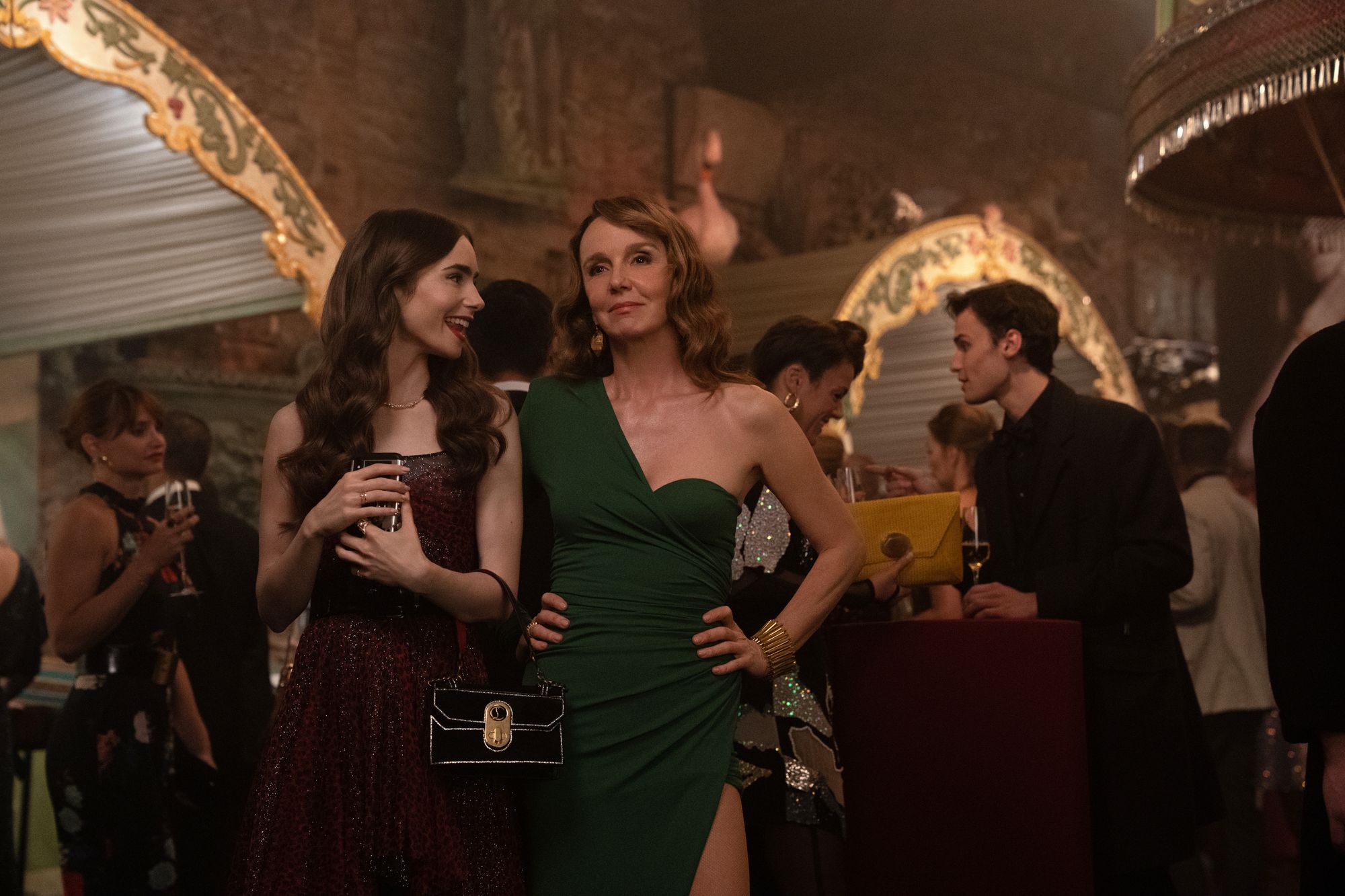 Are you ready?
There's just one thing. Don't come to Emily in Paris expecting to pickup where Sex and the City ended. Emily is more SATC's upstart, younger sibling. For starters, Emily is in her mid twenties, she is just starting out in life, and she is less worldly, introspective and sophisticated than SJP and the gang. She doesn't hide her excitement or opinions on anything from croissants to sexist perfume campaigns and she wears her heart all over her latest bag or bucket hat. She downs her tasting champagne in one girlish gulp and her only reference for Gabriel's native Normandy is the beach in Saving Private Ryan. But this is what makes her real and likeable. Reader, do you remember what it was like to be 21 or 24 and in Paris for the very first time? I do. I had my bottom pinched incessantly, the plumbing was definitely a challenge and the steak and pain au chocolat tasted like heaven.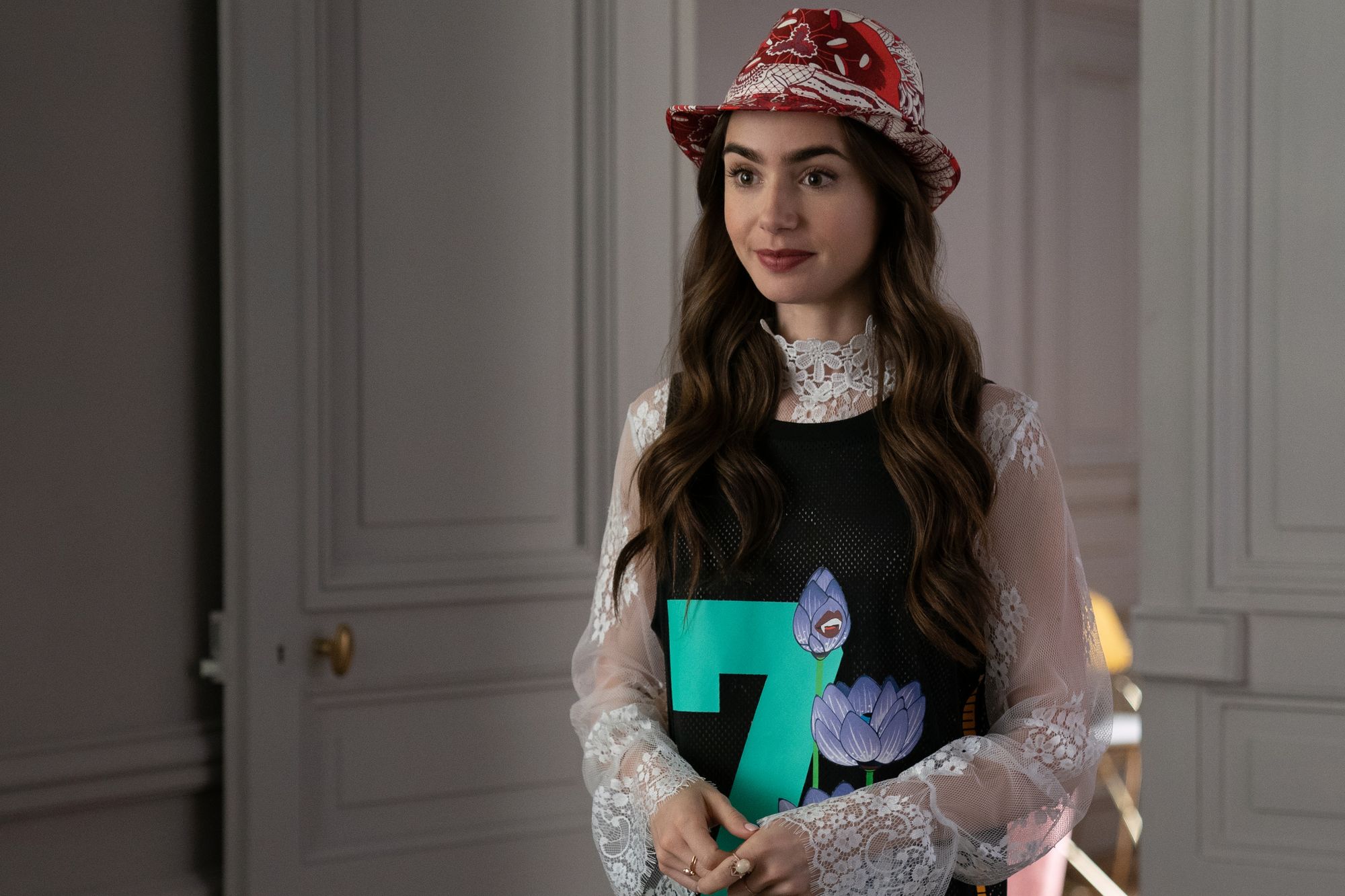 As for the fashion in Emily in Paris it's just as beautiful as in SATC, but less experimental. Emily favours a riot of colour and clashing prints and textures. She also likes to expose a whole lot of leg. As for the storylines, they are lighter, sillier, more romantic and strewn with cultural cliches. It's all so Instagram perfect and rather like stepping into a perfume ad for Chanel No 5 - it's Emily in wonderland which makes it the ideal escapist viewing as the nights draw in.
Emily likes rules, hard work and status symbol labels as a cultural badge of success. She could be Margaret Thatcher's secret love child. She lives to work.  One moment she is living in Chicago faking interest in her almost fiancee's Socks game; the next moment she grasps the opportunity to move to Paris and work at Savoir - the exclusive luxury marketing firm her company has just acquired.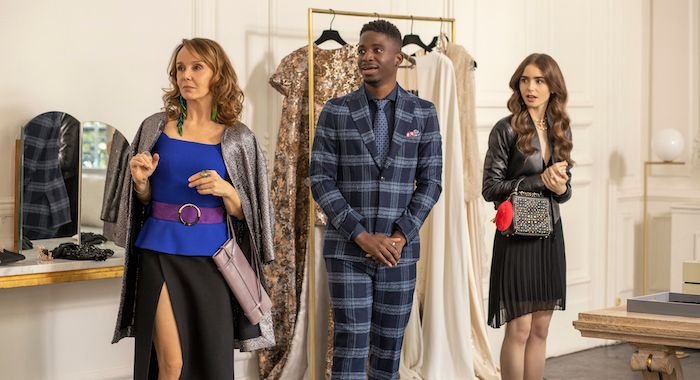 What could go wrong? Of course, there has to be some impediment to this charming scenario of a dream life in the city of love. There is. Her French colleagues hate her and cruelly brand her 'la plouc', the hick. Emily doesn't speak a word of French, her enthusiasm is considered de trop, and so far her experience extends to marketing the hell out of pharmaceuticals and geriatric products. What could she possibly understand about the rarefied realm of French luxury goods when she has never set her well-shod feet in Europe before? She is branded 'obvious' as opposed to mysterious and je ne sais quoi sexy like her steel and sex bomb boss, Sylvie, brilliantly underplayed by Philippine Leroy-Beaulieu.
Fortunately for us, none of this stops our plucky heroine from meeting insults with penis cake and flaunting her Eiffel Tower shirt at every Instagrammable opportunity. Collins is a force of nature as Emily, and handles the lighter comic moments with aplomb, while Luc and Julien are her perfect sparring partners, can we have more of them please?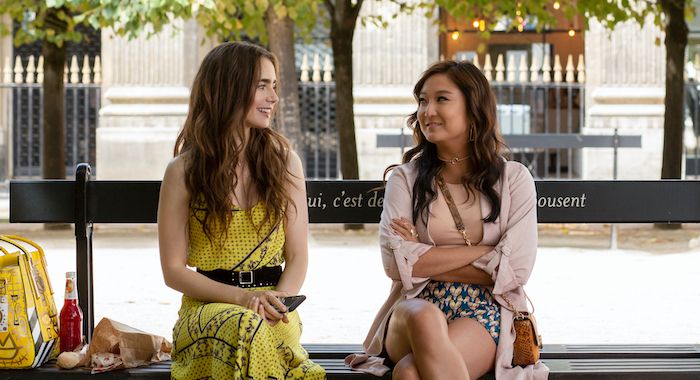 So far so good. Emily in Paris is fast, frivolous, often plain narcissistic, a reality free zone and as sugar sweet as a Mont Blanc. Have you noticed Emily hasn't even so much as looked at the Metro? Plus she only has to take a couple of steps on achingly chic streets and the next moment she encounters the most remarkable people from Mindy a runaway Chinese heiress slash pop star slash nanny with a hot wardrobe befitting a real Broadway starlet - to Camille a champagne heiress with the chef- boyfriend we all want to steal. Anyone for crepes at dawn?  
Suddenly, without clicking her heals, friendless and forlorn Emily has two new BFs in Paris. Soon the pavements will be paved with diamonds or bottles of de l'heure perfume.  But who cares? It's an adorable fantasy, I will take it.
When life in the real world becomes Covid-grim out comes the fantasy and romance on Netflix and we love it. It certainly beats another depressing detective series set in the north of England about serial killers or dysfunctional families.  Collins handles the comedy with the twinkling joie de vivre of Hepburn in Roman Holiday, if not quite the same degree of  laissez faire innocence, regal rebellion and adorable insouciance.
Oh and Ashley Park absolutely steals the show with her heartfelt version of La Vie en Rose in the park, dressed in a diva-worthy coat of white feathers, singing as if her songbird voice depended on every pitch perfect note. It's a moment when Broadway comes to Paris. It's also pure fantasy and sublimely magical.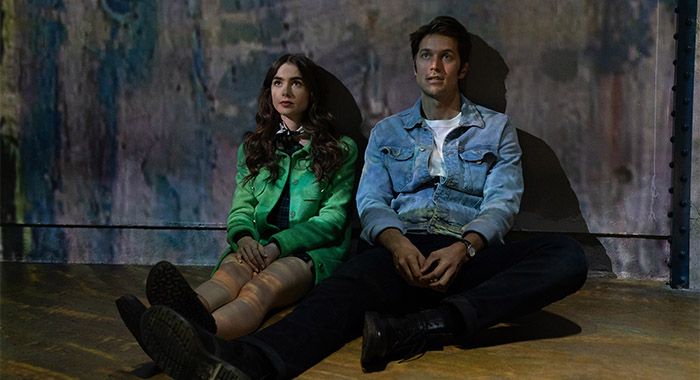 But there is a problem. Emily in Paris is clearly set in the present, with Macron as president, but nothing about Emily's life new high-octane life in Paris seems to reflect the seismic events going on in the world from Covid-19 to climate crisis.
Emily appears to have fallen down the rabbit hole into a near perfect version of the present. Even getting fired by Sylvie doesn't count, it's France!
SATC did a better job of balancing all the glamour and privilege with grit and darkness too. Whereas Emily seems to reside in the equivalent of Paris Neverland, complete with spooning swans.  As a result, the story of Emily seems to happen in a moral and social vacuum and it just doesn't quite succeed in capturing the zeitgeist in the way that SATC did.
If Emily is guilty of stepping over the real world, it does the lift the curtain on the secretive, elitist milieu of French luxury which has ruled the roost for more than a century.
.
There are lots of silly, unwritten rules in luxury and fashion that one dare not break unless you want to be excommunicated. The snobbery and desire maintain a veil of mystique is real. Emily wants to lift the lid and it is fun watching her try.
Look a little closer at the whip sharp battle scenes between Emily and her blowsy boss Sylvie and you are witnessing an existential crisis for the soul and identity of French haute luxury. It's a fight between old school marketing and the horrors of 'opening things up' and offering a peak behind the veil to the gawping 'ringarde' basic, Instagramming public.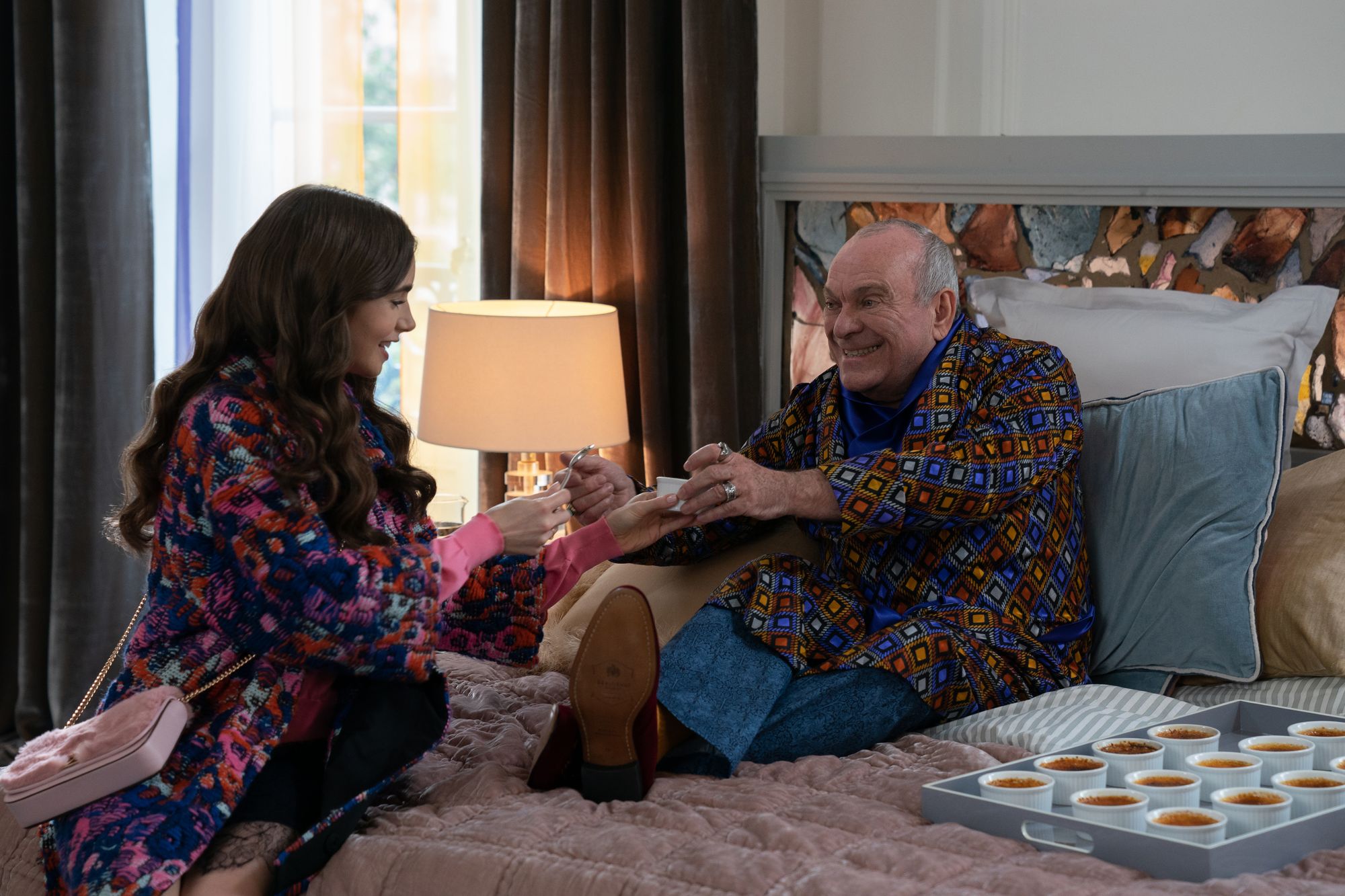 Emily is the cheerleader for the ringarde bitches of this world. Just a girl from the American mid west who loves Gossip Girl and flaunts cheap charms from Winetka  in order to worship at the altar of French couture. "You need us," she tells the couturier Pierre Cadault, who is horrified by her lack of reverence for tradition. Equally, he is tantalised by her bold ideas on how to reinvent his ailing fashion house and appeal to hot young Hollywood starlets, rather than his ancient clientele who have one very expensive foot in the grave.
In a brief moment of candour,  Sylvie tells Emily, "you want to open everything up and I want to close it down."  
Technology and social media are tearing down decades of formality, secret codes and rules.
Beyond the battle between the old and the new, Emily in Paris is a perfect binge watch if you hold your nose over the silly merde jokes, the rather naughty cliches about Parisiennes being rude, unfathomable, sex-mad, slightly crazy and fond of saying no to everything before they say 'yes'. Because this just can't be true right?
One thing that does make me uncomfortable is seeing Mindy and her friends from Shanghai spray very expensive champagne over each other. It feels crass and wasteful in such dark times. Ditto the scene where a drunken Emily falls into bed with her friend's seventeen year old brother. No, that is just plain wrong.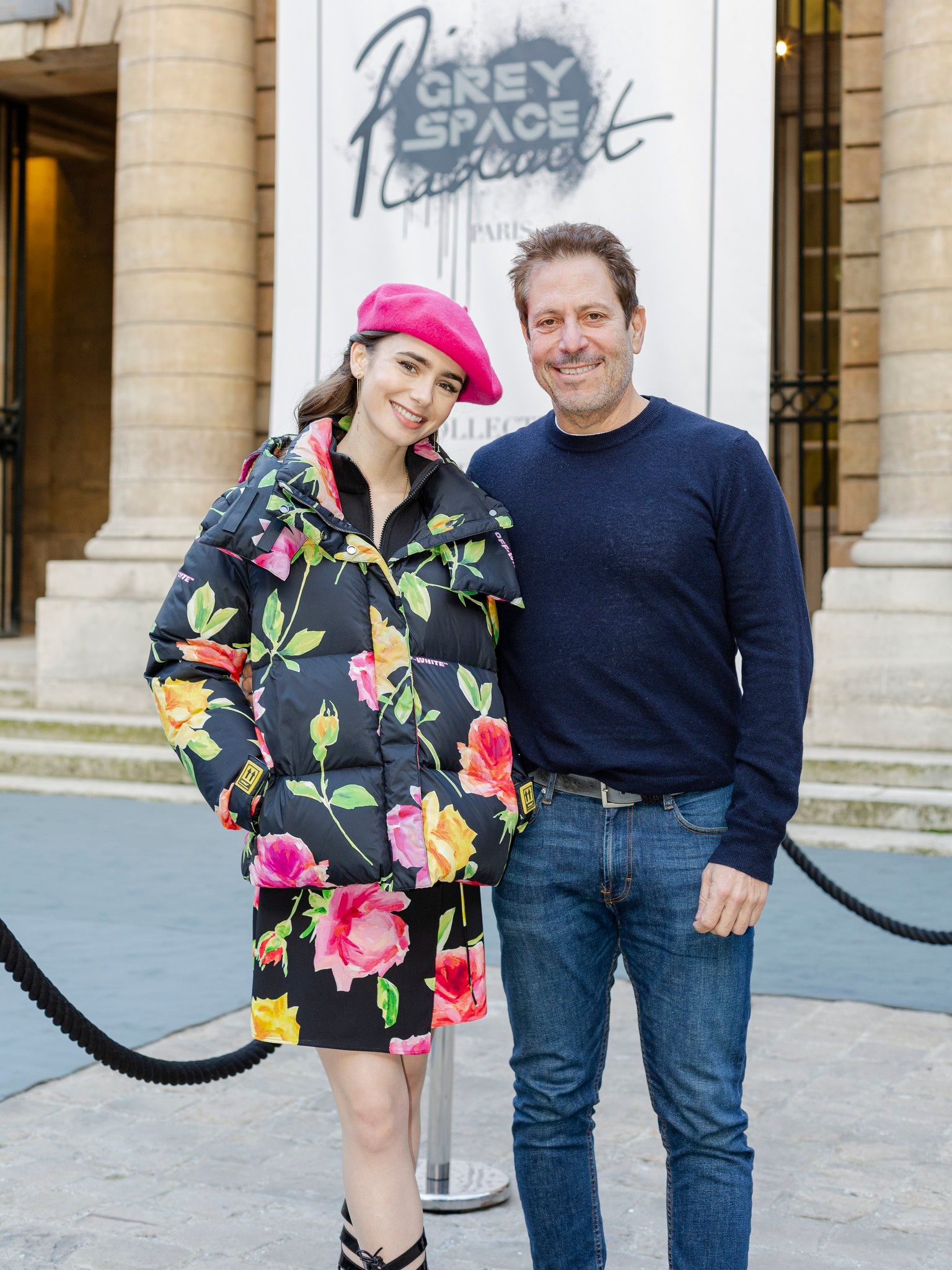 Is it bad taste? Yes. Perhaps Darren Star is taking us back to the greed is good decadence of the eighties.
Any moment Emily is going to turn into Marie Antoinette and say 'let everyone eat cake, we've got a drug for diabetes and obesity'. Does her lust for money, power and status remind you of anyone? Perhaps her creator is not just sending up American greed and French snobbery, but an ostentatious, rather selfish way of life which is equally endangered?
But here's the thing. Emily in Paris isn't great, cutting-edge drama, but it is brilliantly fun, lighthearted, silly and entertaining. Darren Star has judged the mood perfectly. We are all craving escapism.
Look at the rapturous mood on social media. I chatted to two ladies in my local cafe yesterday and told them I was reviewing the series. The excitement was unequivocal. They both loved Emily in Paris for the same reasons - the fashion, the glamorous storylines and hot French men.
Oh Emily in Paris! I want to hate your joli jeune American in Paris. You really do know how to strangle a beautiful language and at times your life seems so self- centered and ridiculous. But hold on, I can't do that, because I love your optimism, your shoes, your mermaid hair, your endless opportunities to dine out on real French gastronomy and your somewhat Wizard of Oz adventures and misadventures in this brazen fairytale vision of Paris where the Eiffel Tour always twinkles, no matter what disasters and scrapes you find yourself in.
In Emily's Paris there is no talk of Trump, climate change, homelessness or pick pockets and any moment I expect you to put on your red shoes and they will be Chanel, of course.
It's a beguiling fantasy.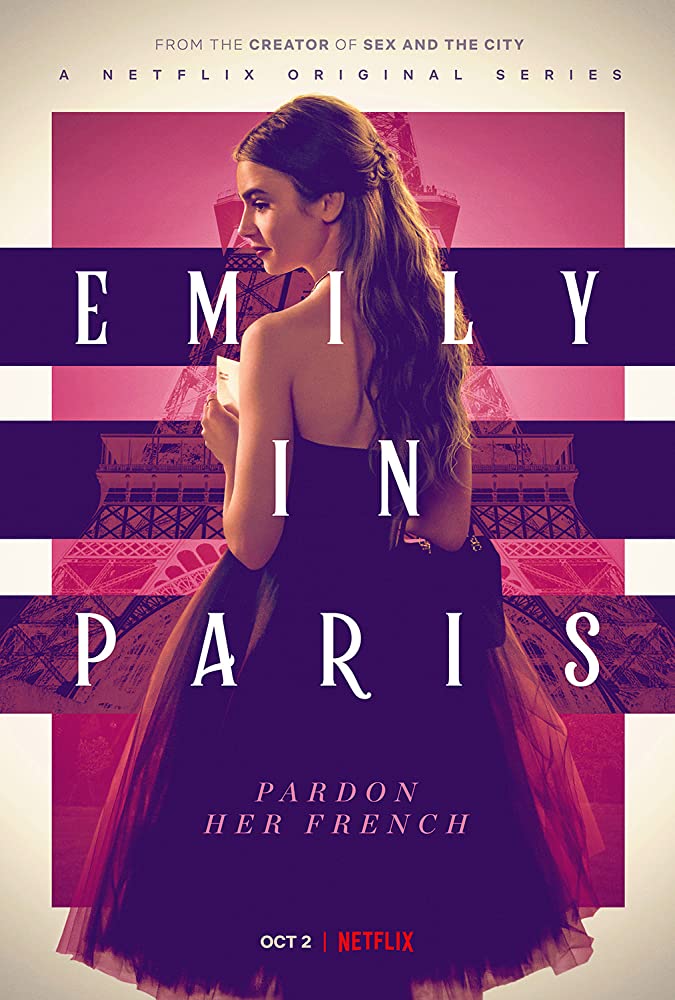 Who wouldn't rather be Emily right now biting into a pain au chocolat, motoring along the Seine with the heir to a couture house or sitting on Gabriel's lap on the way to Champagne? Emily in Paris throws out cliches like strings of costume pearls, but it sparkles and twinkles like an chilled glass of Perrier Jouet and it crackles along with enough outfit changes, cat fights and French boyfriend shopping try outs to blow the gloom and uncertainty right out of Covid-19.
It reminds me of my own Paris adventures. At twenty-five I went to Paris with less than £100 in my pocket. I had a wonderful time. Five years later I returned to interview Karl Lagerfeld's latest actress muse, having been told over and over again that an interview with the designer for the Times was 'pas possible'. Then, during the interview, Karl kept looking over at me, and eventually, he sent an assistant across and asked me if I would like to interview him too! An hour later, I was sitting with Karl at his favourite pavement restaurant, eating steak blu, with a Kir Royale while he proceeded to give me an interview at hundred and fifty miles per hour. He was outrageous, charming, erudite and spontaneous.
So I always have a soft spot for Paris. Lily Collins is like a Henry James heroine in Europe. That wide-eyed startled appreciation and relentless thirst for life is  uplifting while our collective wings are clipped.
Through Emily, we can all fly around the city of love on a scooter, feel the flaky, chocolately pleasure of a proper pain au chocolat made with golden flour as it melts in the mouth and go out to play with Mindy or adorable Camille without a Covid care in the world. How I miss those carefree days with close girlfriends. Emily in Paris will do very well until the day we can visit Paris again for real.  Who doesn't long for that? Oh and finding out what happens to Emily, Camille and Gabriel in series 2.
Emily in Paris is streaming on Netflix.