Yummy Sea Buckthorn Energy Balls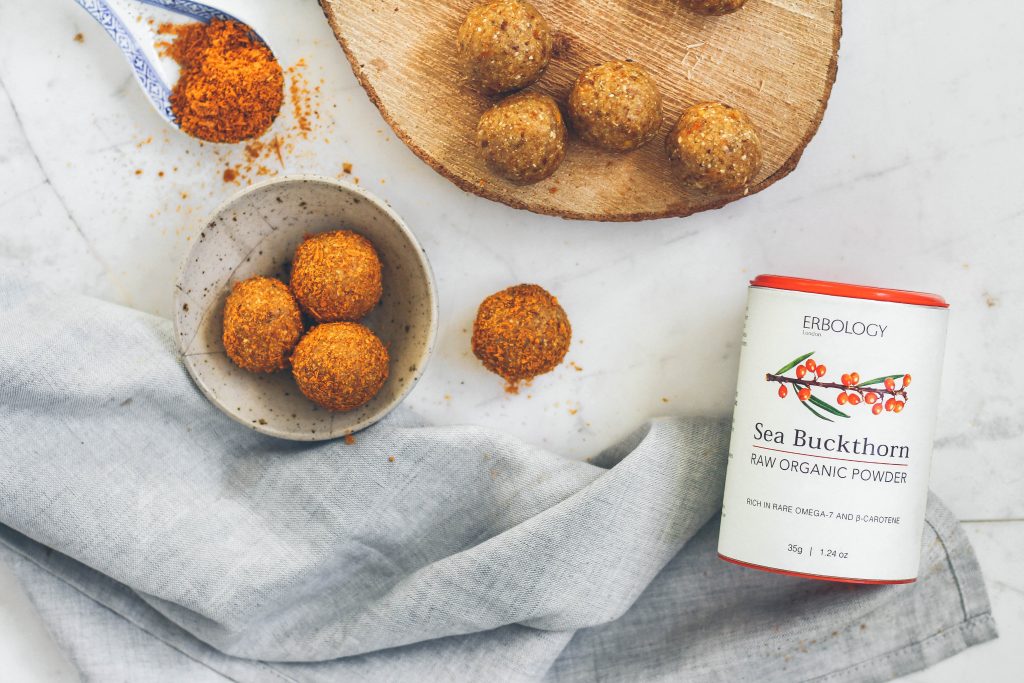 Have you discovered the awesome, bright orange sea buckthorn berry? This remarkable berry contains the rare omega 7 oil and it is rich in antioxidants, vitamins C and E and beta carotene.  It has a deliciously sharp, zingy taste and works very well in this delicious energy ball recipe from our friends at Erbology. This vibrant plant-food company make the most wonderful, artisan food as medicine plant foods and deliciously nutritious snacks from organic and wild-cultivated plants grown in Europe. Sea buckthorn has be shown in scientific studies to be good for cardio health, mucous membranes, immunity and brain health. Try making a healthy organic breakfast parfait with granola, plain Greek or coconut yogurt and sprinkle with sea buckthorn flakes and a dollop of raw honey – delicious!
Makes around 10 balls, prepares in 15 minutes.
Raw, 100% plant-based, vegan, gluten-free, free from refined sugar
Organic Ingredients:
½ cup raw cashew nuts
½ cup hemp seeds
½ cup golden raisins
2-3 drops vanilla extract
Lemon zest from 1 organic fresh lemon
½ tsp maca powder
1 ½ tsp  Erbology Sea buckthorn Powder + a bit more for covering
2 tbsp raw agave syrup
Pinch of sea salt
Steps:
Place cashews in the food processor and mix until finely chopped.
Add raisins and hemp seeds and mix again for about 1-2 minutes.
Add the rest of the ingredients. Mix until they start to blend well together.
Take the mixture out and place in a bowl.  Prepare another bowl with some sea buckthorn powder.
Form little balls (around 20g each) with your hands, then roll each ball in the powder.
Place the energy balls in an airtight container. They will stay fresh for up to 2 weeks. Buy Erbology Sea Buckthorn Powder at Amazon