Ethical Hedonist Spy
Gourmet Goat,  Urban Food Awards and LifeStraw Water Bottle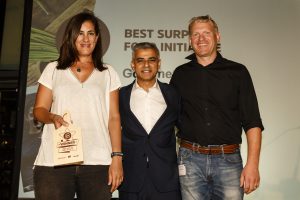 Is it possible to create vibrant, delicious, award-winning street food from surplus food waste that would otherwise be thrown away? Of course it is. Welcome to the sustainable food revolution. Last night one of our favourite Borough Market foodie stars, Gourmet Goat, triumphed at the Urban Food Awards, scooping the top slot for the best surplus food producer and praise from Sadiq Khan, Mayor of London, who talked about championing a thrifty new food culture in London where good food is no longer wasted and no one goes hungry.
Sadiq Khan Salutes London's Flourishing Food Producers and Entrepreneurs
Sadiq Khan said: "I salute the breadth and expertise of the army of Londoners producing and growing the very best food and drink and it's fantastic to see their entrepreneurship flourishing in our great city.
"It was a privilege to present the Best Surplus Food Initiative award to Gourmet Goat and I'm pleased to support the Evening Standard's campaign to reduce food waste and tackle hunger in the capital.
The Mayor of London and City Hall Works to End Food Waste and Hunger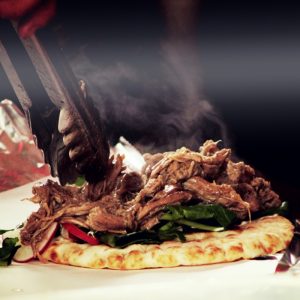 "We're taking action at City Hall and I'm also calling on London's food industry – retailers, restaurants, suppliers and producers – to be more open and transparent about how much food they throw away. I'm confident that together we can bring about a significant reduction in food waste and by donating this surplus to charity we can help some of the capital's poorest and most vulnerable people."
No one deserves this food innovation award more than the husband and wife duo behind the Gourmet Goat. This bustling, friendly producer's stall in Borough Market is a magnet for locals, regulars and tourists who flock again and again for an ever changing seasonal menu of scrumptious east meets west culinary delights, inspired by Nadia's grandmother, Mrs Elpiniki, who clearly knows a thing or two about slow cooking and how to bring out the flavour of meat.
 Sustainable Street Food that is a Feast for Senses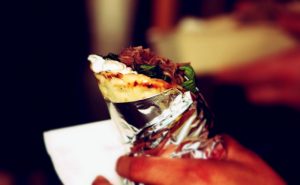 The leanest goats meat is either slow cooked until it falls apart or grilled to sizzling, succulent perfection. Then the meat is lovingly paired with a plethora of herbs, spices, green chilli and tart, creamy tzatziki to cut through the succulent richness of the tender kid meat. The result is a super nutritious meal that feeds the eyes and the senses and instantly transports you to the eastern Mediterranean and foodie heritage that inspired it – but don't take our word for it! Go and try it soon!
Thousands of Londoners voted for their top growers, producers and retailers at the Urban Food Awards, which is organised by City Hall, Borough Market and London Food Link. A panel of judges including chefs Tom Hunt, Rowley Leigh and Oliver Rowe and food writer Olia Hercules had the challenging yet enviable task of whittling down the shortlist in 11 food and drink categories.
More Winners at the Urban Food Awards...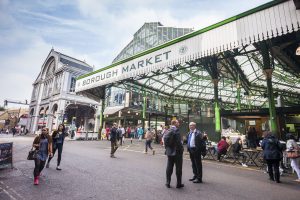 Other winners on the night included the Food Assembly, who won the Best Retailer category, after building a community network of 12,000 members in London buying fresh food directly from local farmers and producers.
Growing Communities – a Hackney-based social enterprise – won Roots to Work for using their own farms to grow food for a vegetable scheme to teach people how to grow and cook local organic food. The winners of Capital Growth's Growing Enterprise were Forty Hall Community Vineyard after its first release of wine for sale to the public.
Gourmet Goat collected its second award of the night after scooping Sustainable Street Food, while Bee Collective picked up Most Inspiring Producer for providing a honey extraction service to London beekeepers and volunteering opportunities.
Donald Hyslop, Chair of Trustees of Borough Market said: "London's food and drink scene is more diverse than it has ever been. This is a city whose food scene crackles with innovation and ambition, a place where people are throwing themselves into the production of food with an energy and enthusiasm that can't help but drag you along with it."
Get a LifeStraw  Refillable Water Bottle – Ditch Bottle Water For Good!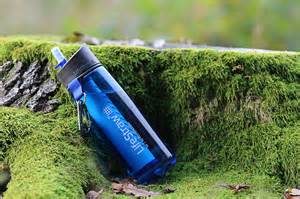 At last there is a refillable water bottle that leaves us with no excuse to buy bottled water on the go. Instead, we will be more than happy to flaunt an eye catching LifeStraw, refillable water bottle in a rainbow assortment of colours from purple to midnight black. Then there's the clever eco innovation bit. A two-step carbon filtration system invented to make contaminated water safe to drink in the third world. The LifeStraw filtration system promises to remove all the elements that put us off drinking water from the tap – chlorine, bacteria, protozo, odor and bad taste. We certainly noticed that our usual tap water didn't have the usual metallic taste.
This is a good way to stop the nightmare of plastic breaking down and ending up in our seas, landfill or the countryside and then back into the food chain. The only thing that would make this water bottle even better would be a more bijou, handbag sized version. The current edition is ideal for cyclists and modern cavemen, but perhaps a little cumbersome for a ladylike ethical fashionista. Price Approx 54.95 Euros   http://waternlife.com/buylifestrawfromwaternlife
Quote of the Day "Ice cream is exquisite – what a pity it isn't illegal – Voltaire
Picture of the Gourmet Goat and Borough Market, Courtesy of Borough Market – www.boroughmarket.org.uk