Ethical Hedonist Spy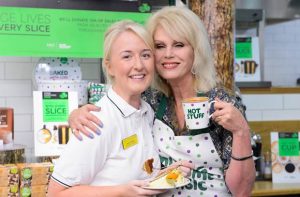 Joanna Lumley is Hot Stuff at M&S
Actress Joanna Lumley is as British as fish and chips on the promenade, M&S and the last night of the Proms. So it's good to see her handing out coffee and cake in the Kensington branch of M&S, ahead of the world's biggest coffee morning in support of Macmillan on September 30th. As Patsy in Absolutely Fabulous, actress, presenter and seventies IT girl, Joanna Lumley, is rarely seen without the fashionista accessories of a bottle of 'Bolly' and a wardrobe dripping in Prada. This month, she's cheerfully ditched the Prada, as she takes on the mantle of the M& S poster girl for Plan A, its sustainable charter, focused on waste reduction, sustainable supply chains and championing ideas around community.
It's All About Community
Talking to a throng of admirers in M&S as she handed out sweet treats, Lumley discussed the importance of tackling cancer and championing our communities.  "There are currently 2.5 million people living with cancer and by 2020 almost one in two people will get cancer at some point in their lives. It's the reason that the work of Macmillan professionals like Sarah is so critically important and why I'm proud to work with M&S on this incredible partnership. I urge everyone to get involved, pop into M&S for a coffee & cake this month and spark something good."
For more information on World's Biggest Coffee Morning and to get your free coffee morning kit visit www.coffee.macmillan.org.uk or text SEPT to 70550.
To learn more about Macmillan's partnership with M&S, visit http://coffee.macmillan.org.uk/about/sponsors.
The Circular Economy Exhibition
The Future of Luxury – Waste Not Want Not with Elvis and Kresse
Did you know that the building and construction industry produces over 800 million tonnes of waste each year? This represents one third of the total EU annual waste production. So, what if we created a circular economy and designed a new model, where waste becomes invaluable, covetable, sought after and surprising? Interested? Then don't miss this exhibition that explores beautiful, thrifty and ingenious ideas around creating zero waste from everyday industry. Exhibitors include sustainable design wizards, Elvis and Kresse, who mounted a rescue for London's discarded fire hose, and inadvertently created an exciting, sensuous new luxury goods house. Get ready to admire their recycled leather chair, lampshade and bag.
Let's Start with the Problem
 Says Kresse Wesling: We call ourselves backwards designers. We don't start with 'a thing' that we want to make and then acquire the materials to make it. We start with a problem, a niche waste, an undervalued resource, and then work out the best possible way to save it. We want to maximise its value, its future… we are always keen to deploy as many aspects of circularity as we can.  The whole process is filled with challenges, but when you start with the premise that waste simply shouldn't exist, no challenge is insurmountable.
Circular Living is a collaboration between The Built Environment Trust and Arup. The exhibition sits alongside the Circular Building (located outside), an exploration by Arup, Frener & Reifer, BAM and The Built Environment Trust of circular economy principles in the construction industry and its supply chain.
The Circular Economy Exhibition is on until September 28th 2016.  Address – Building Centre, Store Street, London WC1E 7BT. Tel 0207 692 4000; opening times Mon-Friday – 9.00am – 1800.
For more info on Elvis and Kresse – www.elvisandkresse.com
Theresa May – Champions Apprentices Not Celebrities at London Fashion Week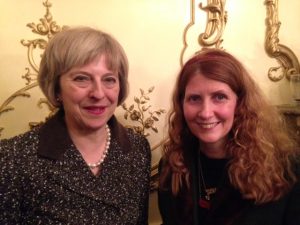 Having met our new Prime Minister, the kitten heeled, leopard print loving Theresa May, it comes as no surprise to see our soignee, but rather no nonsense pm telling the mavens of the fashion world to bring their back room heroes and heroines, the future Alexander McQueen's, and fashion apprentices to her London Fashion Week Party at No 10 tonight. The word is that she is not interested in just meeting celebrities. Bravo Mrs May! It's good to see a more democratic focus on talent for a change. It all fits in with our new Prime Minister's call for more social mobility, aspiration and diversity in the UK. Where better to start than the often-closed, world of haute fashion? May gets some of her chic, ritzy suits made by a local seamstress in her constituency – so she is no slave to to labels, unlike Edina and Patsy!   www.londonfashionweek.co.uk
Quote of the Day –  
"Every Child is an artist, the problem is staying an artist when you grow up." Pablo Picasso.