Catwalk Stationary from Fashion Offcuts
Kapdaa are a growing business in the rise of the slow, sustainable fashion industry. The company specialises in collecting the scraps and offcuts of designer materials and transforming them into something new and desirable. Rising from the ashes, "left-over" pieces of fabric which would have otherwise been discarded are reborn into artistic pieces of stationary. Welcome to the brave new world of the circular economy.
Picture walking around with a notebook tucked under your arm that has been produced from the twinkling offcuts of the fashionable masterpieces that have marched down the runways of London, Paris, New York and Milan.  Kapdaa reinforces the idea that every scrap of garment, every end of roll cloth, every piece of material matters and deserves to be championed in front of the world. This is all about a continuous cycle of creativity as everyone involved is inspired to participate in this cyclical motion of sustainability.
Last year Kapdaa partnered with Selfridges during last year's London Fashion week and they continue to inspire designers and fashionistas alike to contribute to this exciting trend of luxury with thrift.
The New Era
Fashion has always been something which transcends, which captures the imagination of the public. Designers have a responsibility in creating an artistic piece that not only represents the modern times we live in but seeks to challenge it and move it toward a better, more sustainable day.
This is the next era in fashion iconography. For more info – visit Kapdaa
Christmas Cocktail Chemistry – Dark Matter Provides the Right Formula
"When I create a cocktail I create a story, and one sip of this one makes it obvious why I chose its name Naughty and Spice – it is liquid perfection"
The mastermind behind the 'Naughty and Spice' cocktail, Georgi Radev, shares his unique recipe in serving up the perfect festive cocktail.  With its lavish and spicy taste, combined with its dark, fruity and elegant presentation, you'll feel like the naughtiest, most wicked person and all in the comfort of your own home!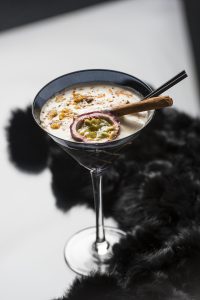 Naughty and Spice: Georgi Radev of Mahiki Cocktail Bar and Club, Mayfair, London
What You Need
Ingredients:
40ml Dark Matter
15ml Honey Cream
15ml Pimento
10ml Real Passion Fruit
40ml fresh orange
15ml lime
Method – shake
Glass – cinnamon mug
Ice – cubed and crushed cup
Garnish – half passion fruit, honeycomb, and grated orange zest and nutmeg on the top. Cinnamon Stick.
Dark Matter is Scotland's first and only purpose built rum distillery and was winner of a Gold Medal in the 2016 Global Rum Masters.
Dark Matter Spiced Rum has 40% ABV, 70cl VOL and an RRP of £35, and is available from a range of retailers nationwide. Stockists can be found at www.darkmatterdistillers.com
Written and Researched by Kevin Worrall. Edited by Alison Jane Reid.