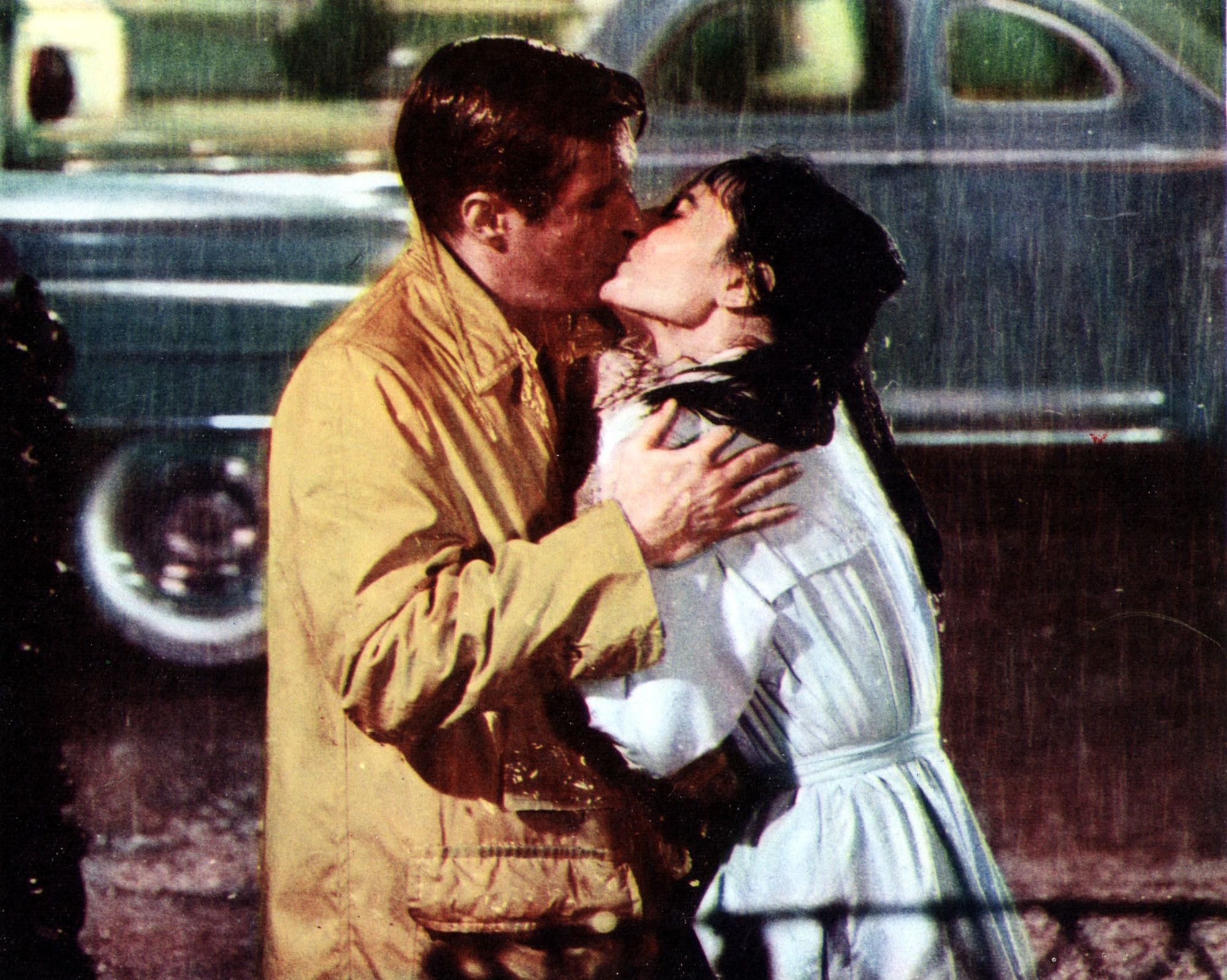 Intro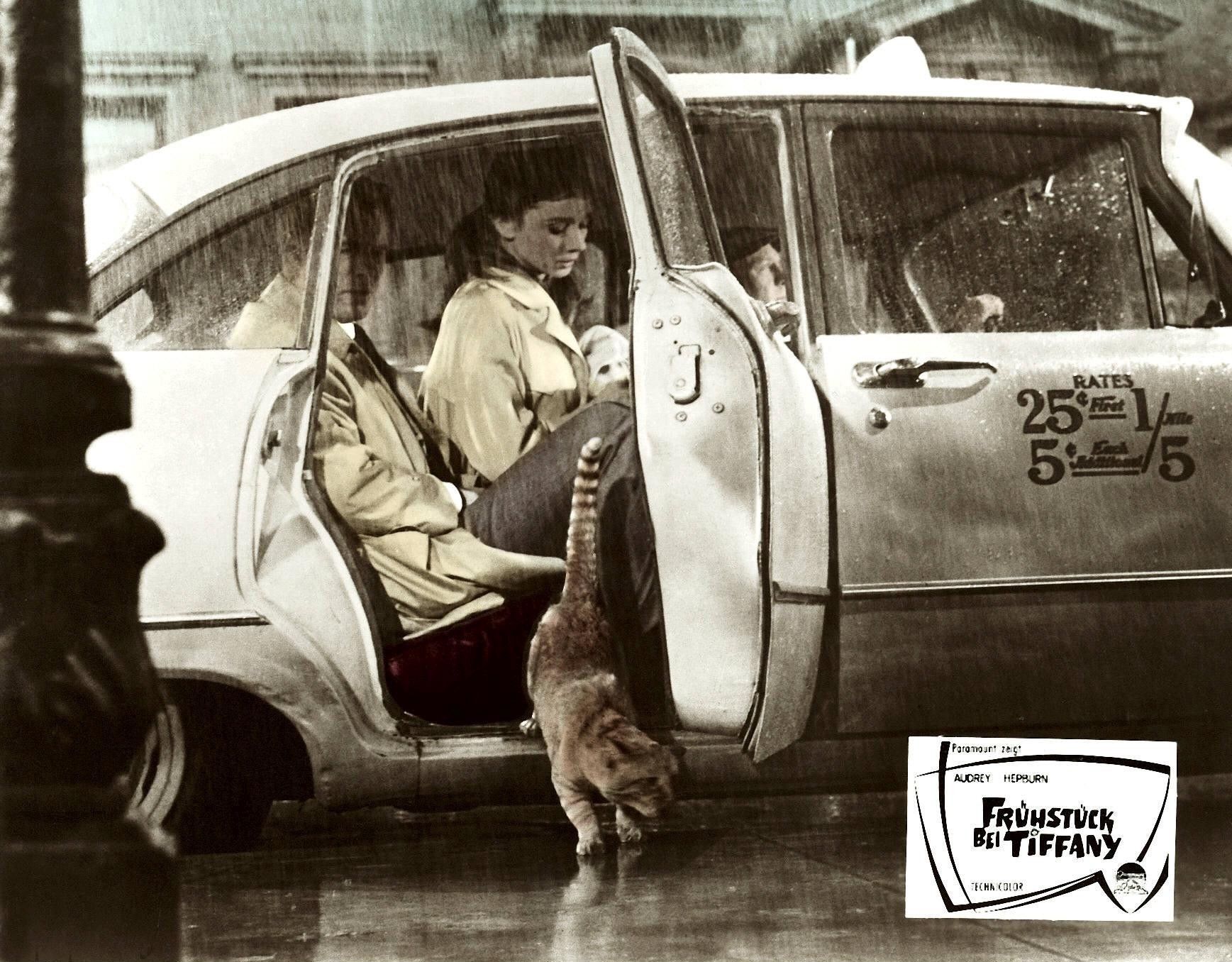 Spring has sprung and that means time to delve into the extraordinary history of a fashion comet, the heritage trench coat. The kind of coat that has slow written in its DNA as it has been engineered for action and longevity. Thus, the trench coat has been worn and flaunted by quite a galaxy of luminaries from Humphrey Bogart to Sir Ernest Shackleton and Lauren Bacall. This only ads to its fashion gravitas and allure. Bacall wore hers to the Queen's coronation in 1953.  
The trench coat has certainly seen active service born out of indelible moments in history and at the movies, a la Audrey Hepburn, Celia Johnson and Cary Grant. Now, you could play follow my leader and commandeer their style to jump in puddles, feel elegantly invincible and celebrate being fearlessly alive. The point is to find a trench coat for life, that could also become a future fashion heirloom to pass on.
Are you ready?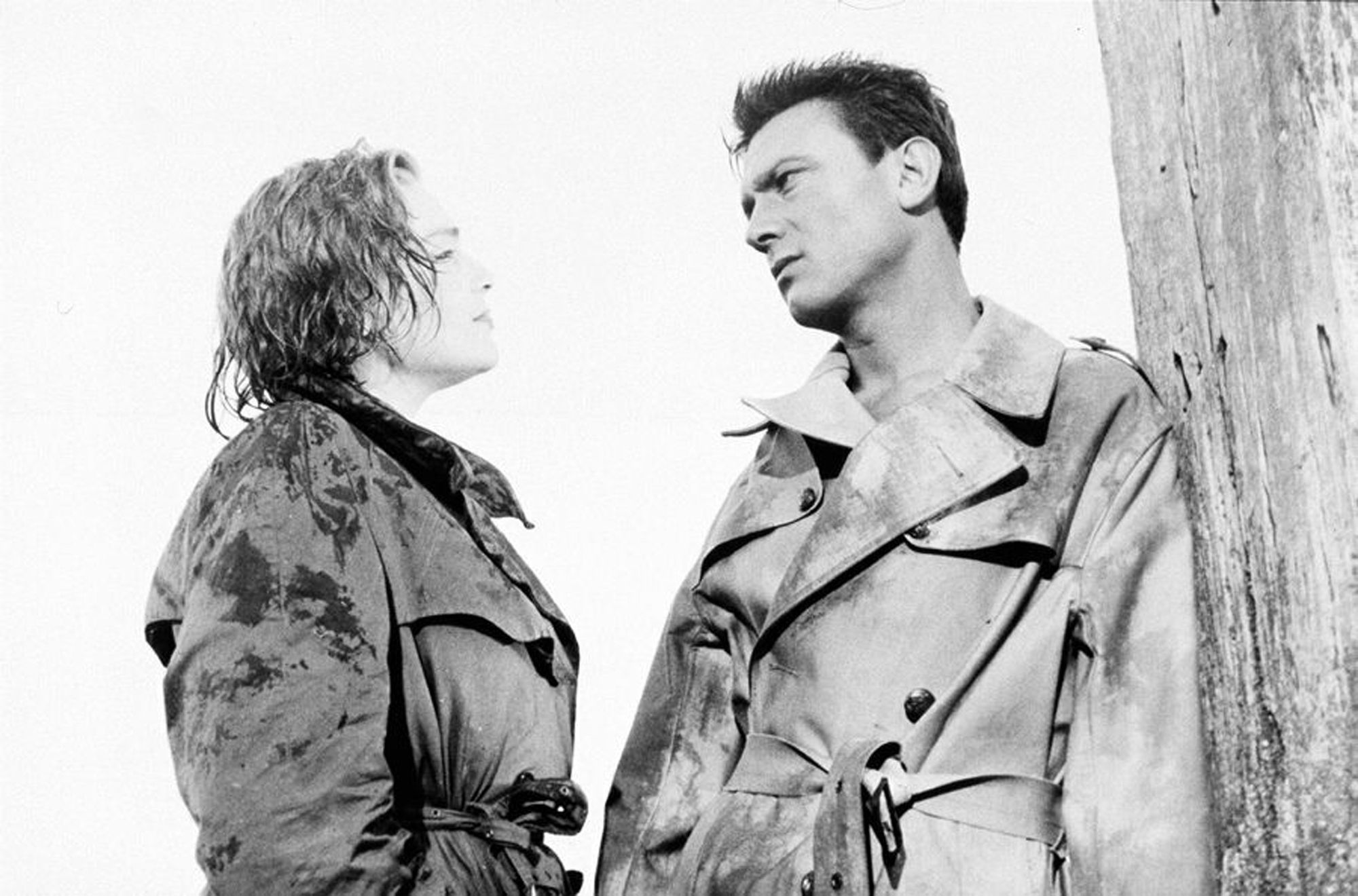 After reviewing Room at the Top and watching Simone Signoret and Laurence Harvey joyfully go barefoot at the beach, clambering around rock pools in matching trench coats on the BFI Player, I felt it was time to celebrate a style superstar that is indispensable and forever in fashion.
Read on to discover how to choose a fabulous sustainable trench coat for life.
The Incredible History of The Classic Trench Coat
This slow fashion story is steeped in Hollywood, British film classics and noir allure.  An ode to the cinched, buttoned-up trench coat born out of war, love and fabric innovation and fashioned to made in Britain perfection by Burberry who invented the classic trench coat between 1914-18. Oh,  and let's not forget Aquascutum, Cary Grant's beloved fashion marque in its heyday. They used to make damn fine raincoats too. Tragically, the brand which started at 46, Regent Street, London W1 is currently not operating in the UK. I really hope that the situation changes soon. If not Cary, you will have to come back as the sartorial ghost of Piccadilly.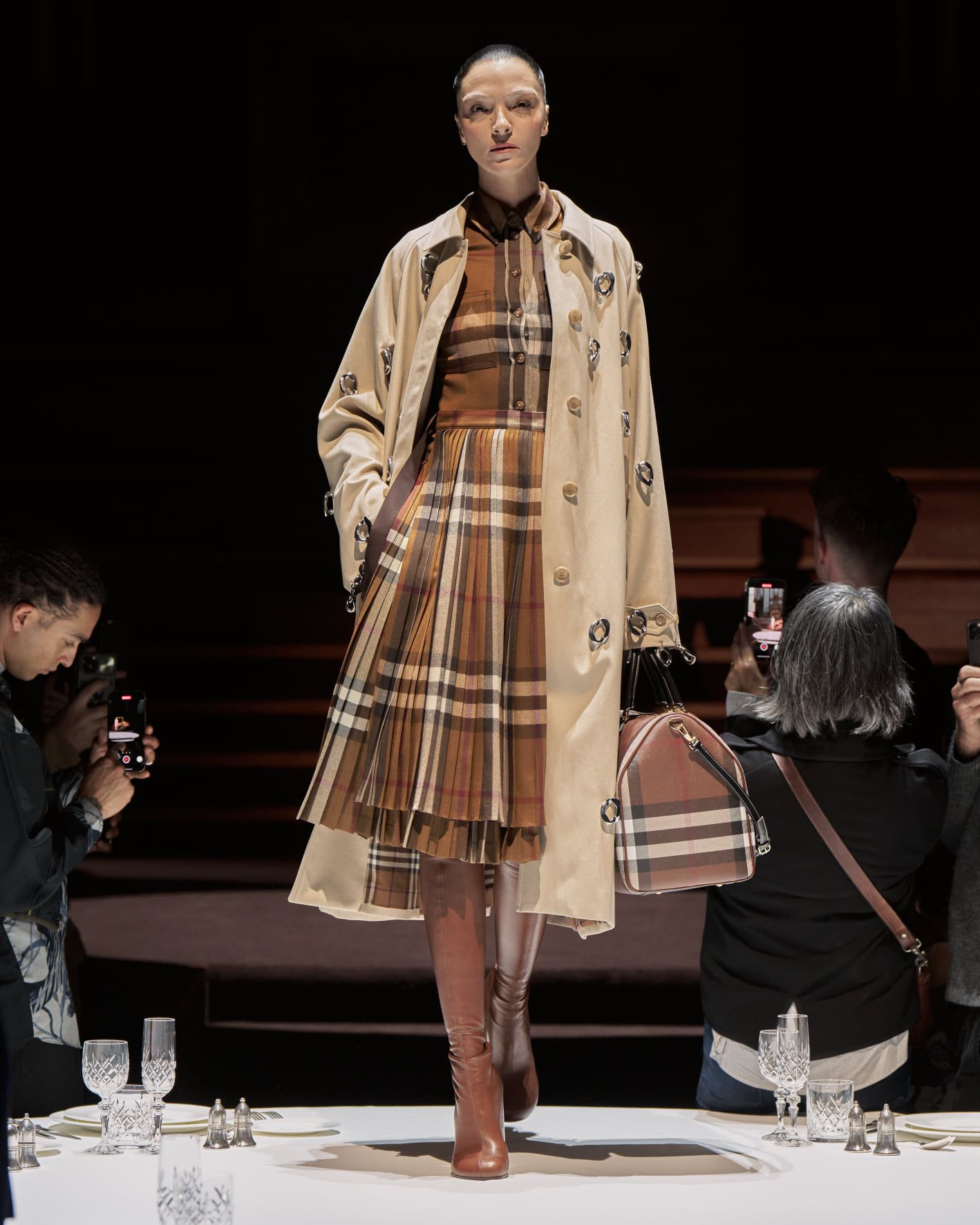 So, I have turned slow fashion editor sleuth to uncover the very best, timeless examples of the slow, heritage luxury investment trench coat for you dear reader, that champion and celebrate ideas around slow, organic, vintage, preloved and circular luxury fashion with a focus on plastic-free natural fibres from organic cotton to wool, silk, viscose, leather, shearling and corduroy.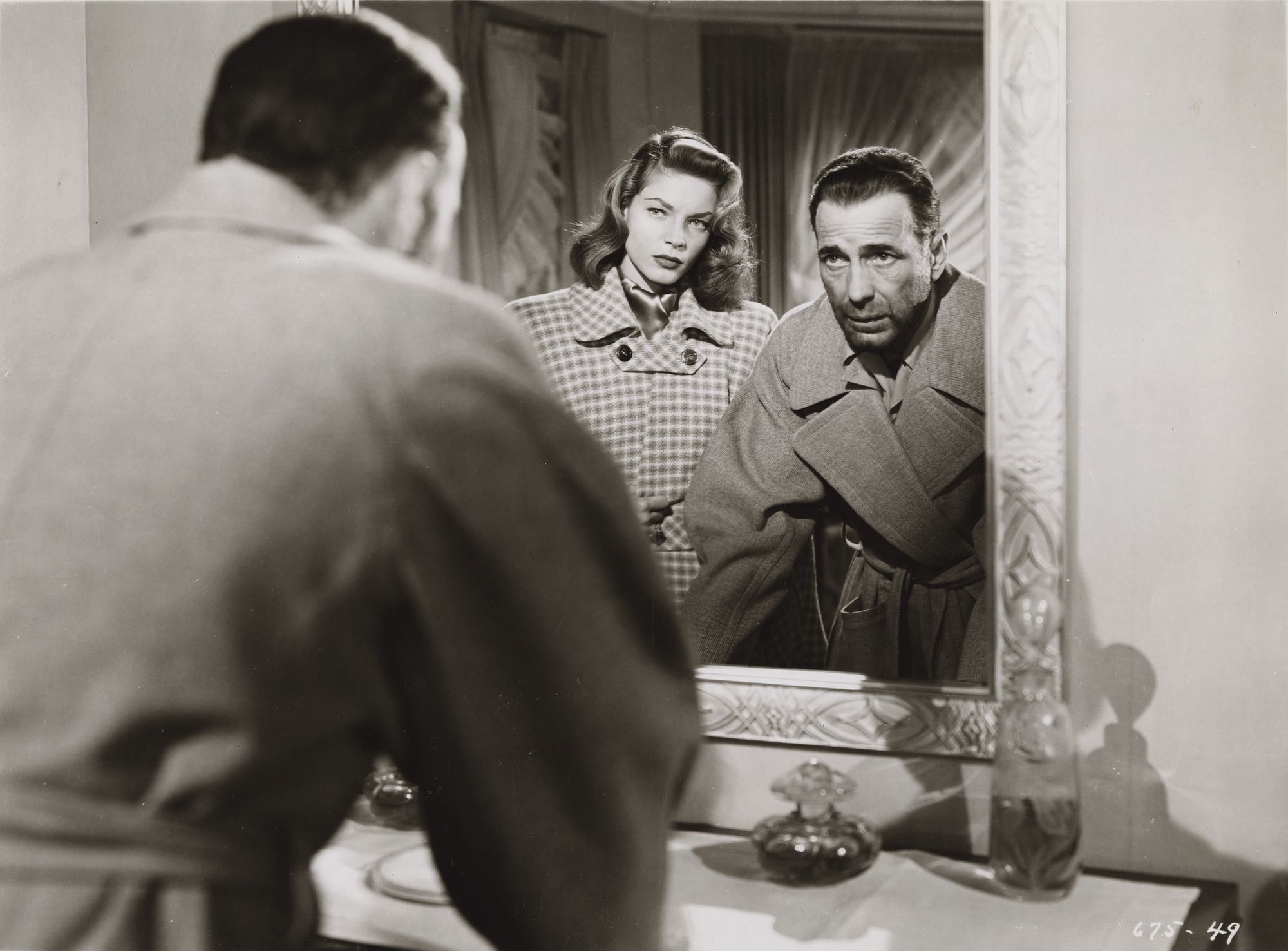 For a lifetime fashion investment, service and a future vintage heirloom to pass on, head straight to Burberry. It doesn't get any better than the Waterloo, Kensington or Camden heritage trench coats. After all, it was Thomas Burberry who invented the classic trench coat for the explorer Sir Earnest Shackleton and then for the war effort. More than a century later, The Burberry trench coat remains the pinnacle of timeless slow fashion craftsmanship, luxury, quality, exquisite attention to detail and practical allure.  
For stylish and innovative slow luxury, alternatives look at Harris Wharf, Winser London, Mirla Beane, Pangaia, Bella Freud, Raffauf (Germany) and The Outnet for Superbrands for less especially Dolce and Gabbana, Valentino, Etro, Chanel and Burberry.
The Best Classic Sustainable Trench Coats
Burberry -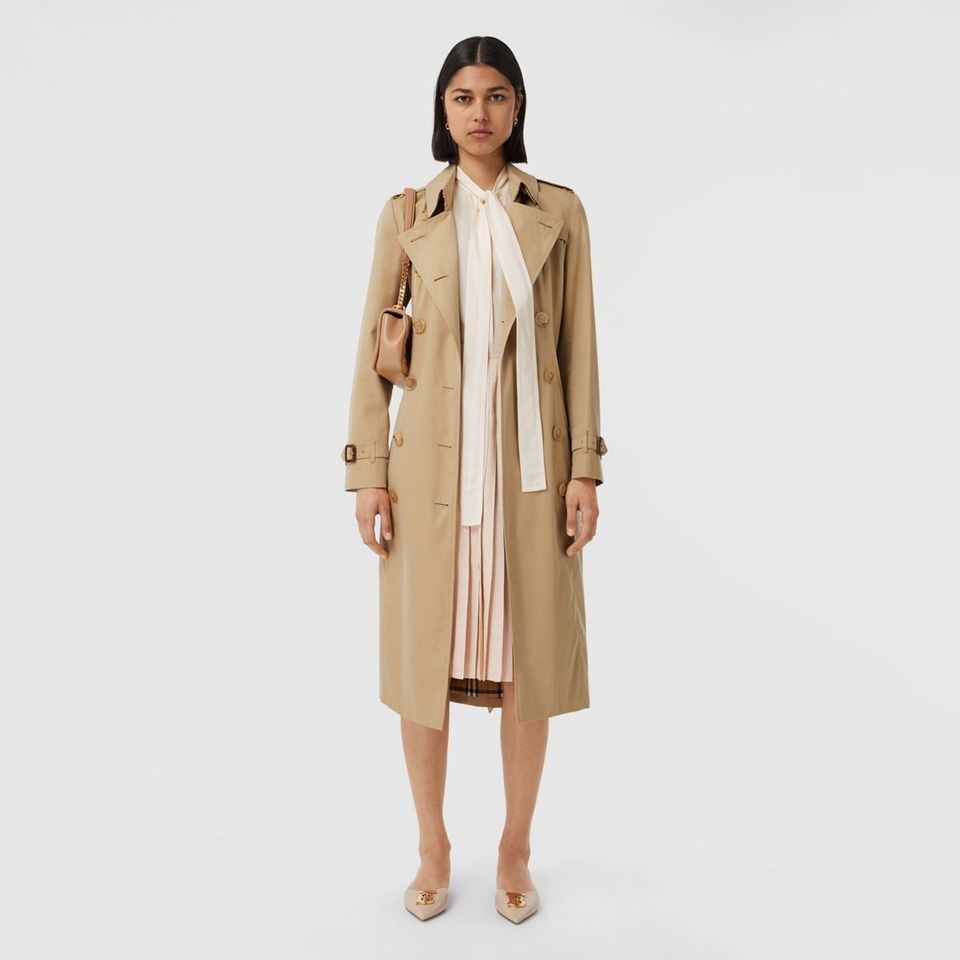 Nothing can equal a Burberry heritage trenchcoat in organic cotton gabardine for film god or goddess style, longevity and iconic good looks. The made-in-England coat is a work of art and craftsmanship and the closest thing to a coat of armour. The coat is an investment to last a lifetime and then pass on. Bravo for keeping plastic out of this fashion superstar in the Waterloo, Chelsea and Kensington styles. We also applaud Burberry for supporting the British fashion industry and working with mills in the north of England. The outer part of the coat is now made from 100% organic cotton gabardine and the famous check inner lining is made of cotton and the sleeves are viscose. The buckles are fashioned in calf leather. The coats are offered in different lengths and alterations are possible to attain the perfect fit.
Burberry  Prices from approximately  £1790 at the time of going to press.
Harris Wharf
Harris Wharf offers the trench coat in a light airy, luxurious, felted wool and yummy, uplifting colours from tangerine orange to lime green and a sleek minimalist aesthetic.  The length is perfect and the coat includes lots of thoughtful details from the longer length to the decadent wide lapel. The collections are conceived in London, with made-in-Italy fashion expertise. Price, £650.00.
Dolce and Gabbana at The Outnet
Spotted on the Outnet. The classic trench coat for fearless fashion extroverts!  A marvellous classic cotton canvas trench coat by the Sicilian masters of La Dolce Vita style - Dolce and Gabbana. There are just a few head-turning coats in one spectacular colour, fuchsia, in sizes 8 and 10. Down from £2,200 to  £1,320.00.
Winser London -  Last season this award-winning, youthful brand aimed at the confident working woman created the perfect evening satin trench coat. The coat was pure Hollywood. An almost floor-sweeping coat for dramatic entrances and exits worthy of Lauren Bacall. I hope they bring it back, it was perfection. Gillian Anderson's collaboration with Winser London includes a classic wool trench. There are just a few left in sizes small and medium, now on sale at £250, down from £450.
Mirla Beane
The Mirla Beane trenchcoat takes the blues out of rainy days with a playful design and pretty colour-pop shades of sugar pink and paintbox green. The fabric is water-resistant sustainable cotton and free of plastic. The coat features distinctive contrast stitching, curved seams on sleeves, and a wide-tie waist belt to create that all-important cinched waist.  The coat is a practical mid-length to keep you dry all over. Price £350. Currently on sale at £175.00. Currently sold out in the zingy green shade. Hopefully, it will return soon.
Editor's Fashion Insider Tips and Secrets
I will let you into a secret. Many of the truly great artisan luxe fashion houses mostly work with natural fibres, because they epitomise luxury, craftsmanship and longevity. Coats fashioned in natural fibres are tactile and a pleasure to wear and they are biodegradable. The Outnet is the fashion connoisseur's go-to treasure house for super luxury pieces and previous seasons' collections for less and with very good customer service too.
The site currently has a very beautiful Dolce and Gabbana beyond trends fuchsia military trench coat in cotton canvas, with a storm flap, detachable belt, buckled epaulettes and slanted pockets. The coat is on sale at 40% off, with just a few left in sizes 8 and 10.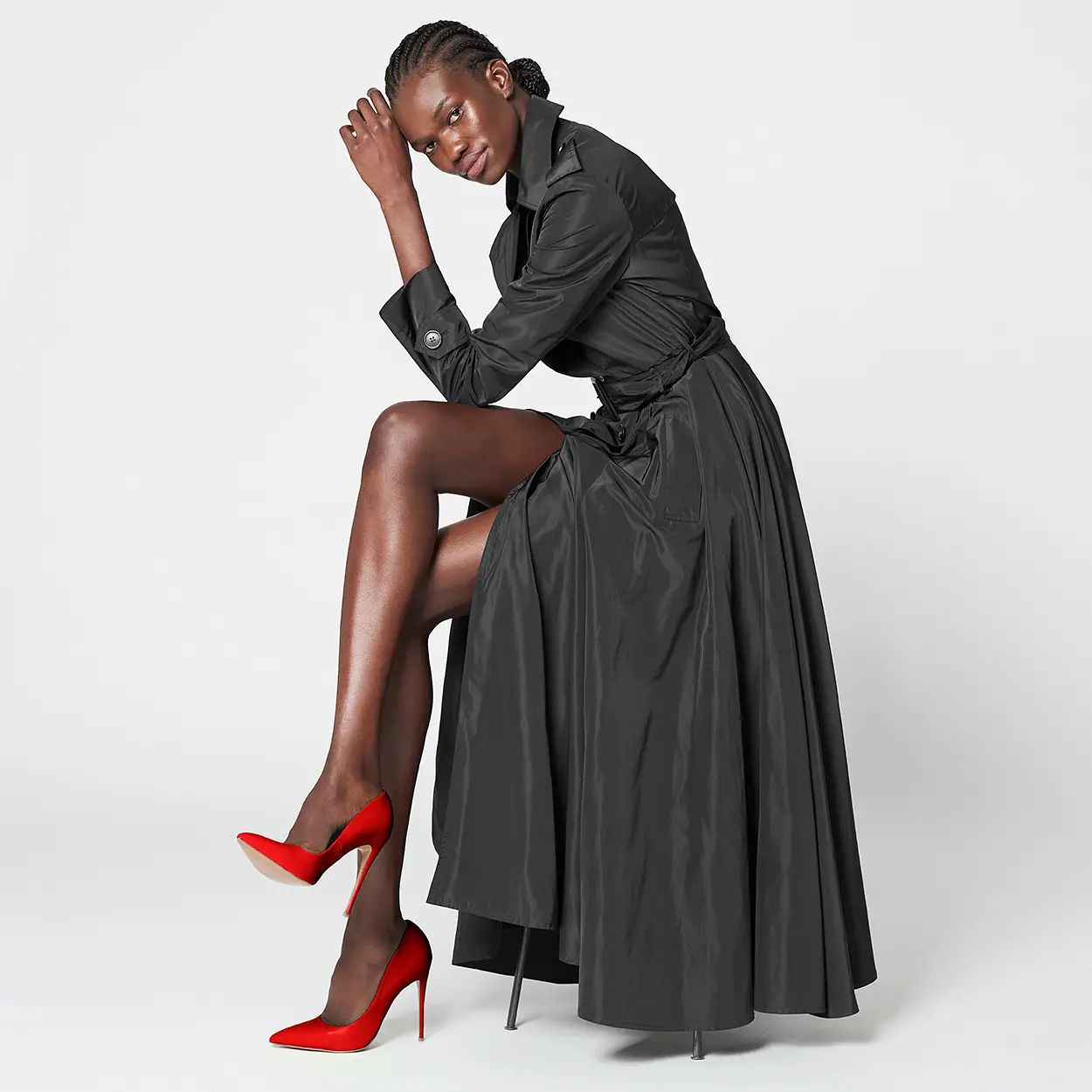 Go Second-Hand and Preloved
If you would love to be the custodian of a second-hand Burberry trench coat in very good condition, then the most fertile hunting grounds for preloved luxury fashion are HEWI, Oxfam Online, Rokit Vintage and Vestiaire Collective in the UK. Of course, charity shops in the poshest areas are good hunting grounds too.
However, there are often fewer bargains to be had in well-heeled, high-footfall areas as second-hand goods and slow, preloved luxury have finally become all the rage with Fortnum and Mason, Liberty and Selfridges now featuring everything from vintage fashion to china.
This week, we noted that Oxfam Online has some vintage trench coats by iconic marques including Yves Saint Laurent, Burberry and Aquascutum. There is also a spectacular preloved Temperley Trench Coat. Please remember that these luxury items have been donated to Oxfam to support their international campaign work. There is only one of each garment, the condition is clearly stated and Oxfam offers a safe returns policy if you are not thrilled with your purchase.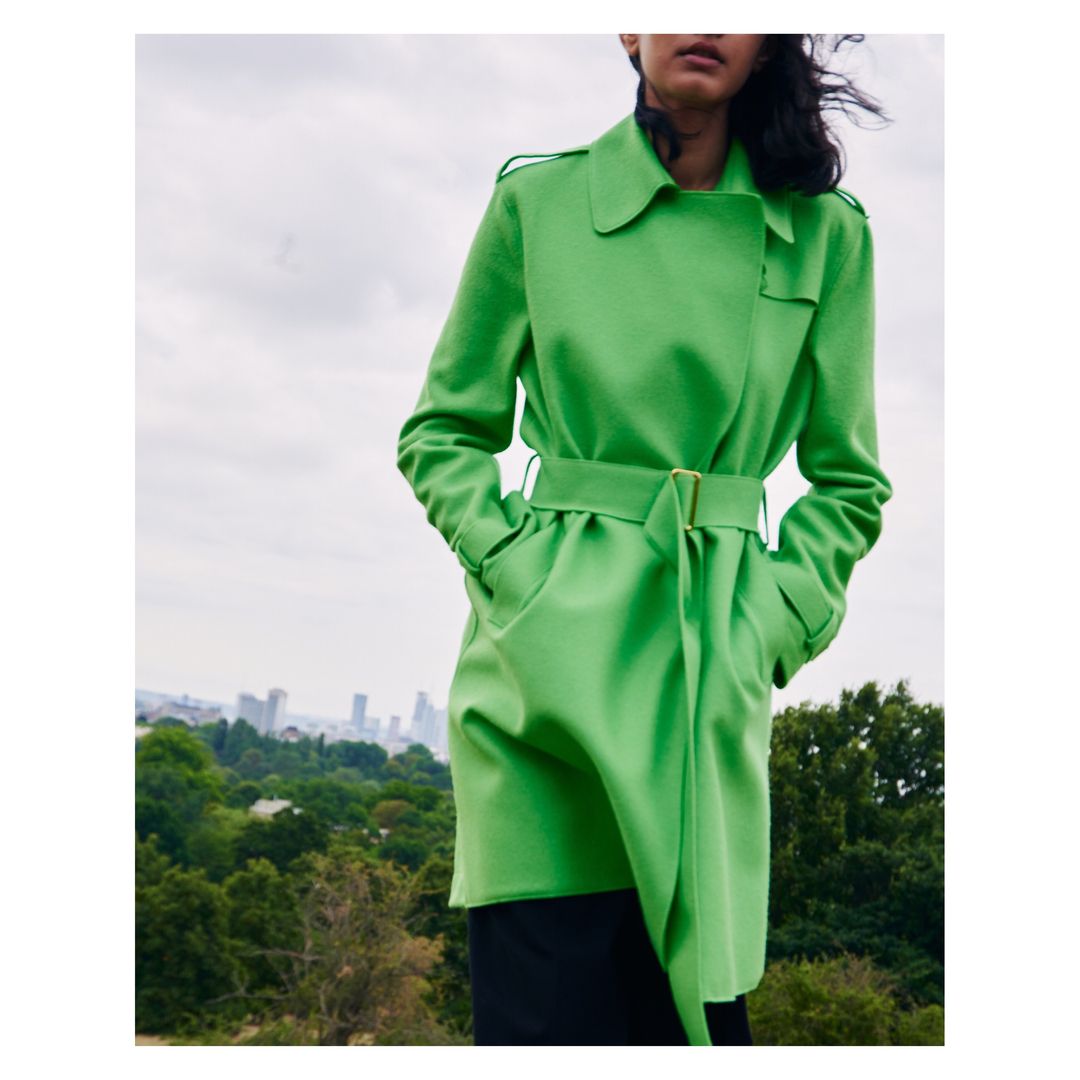 Audrey Hepburn and the Trench Coat
If Audrey Hepburn was alive today, I have no doubt she would wear Burberry's Waterloo trench coat, now with the outer fabric made in 100% organic cotton. A coat inspired by history and indelible film masterpieces that have lost none of their power or allure to transport us. Films such as Dark Passage, Charade, Breakfast Tiffany's, Room at the Top and the brilliant new Australian news drama The Newsreader.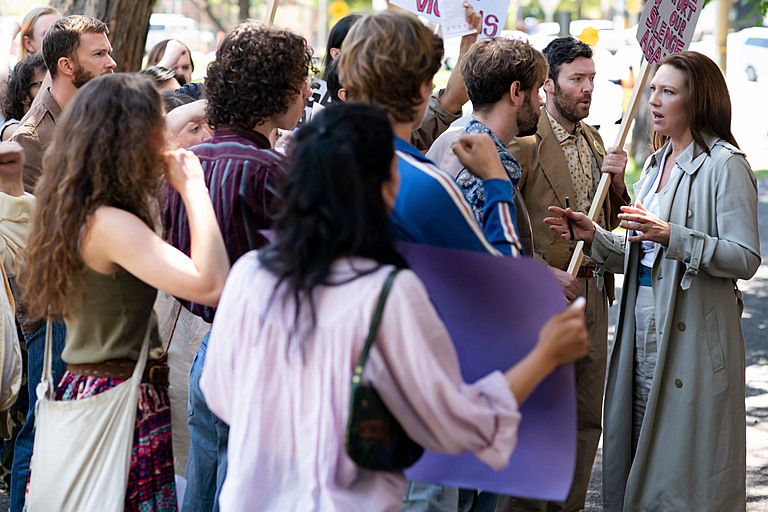 As a journalist and agent provocateur champion of circular, slow, artisan and organic ideas from fashion to food for two decades, it's exciting to see Burberry using organic cotton for its iconic trench coat and there is no plastic in its construction - bravo for making a timeless icon free of greenwash.
What is it about the classic trench coat, especially if it is made by Burberry or a vintage Aquascutum raincoat that makes it such an exciting, timeless and evocative fashion star? Well, reader, it is about provenance, craftsmanship, pedigree and razor attention to the little details that are without equal.
The History of the Trench Coat
Delve into the history of the trench coat and you will discover a rich and fascinating history that begins with a practical surge smock coat worn by agricultural labourers. These early garments were often smeared in fat as an early form of waterproofing. The problem was the wearer wouldn't smell very sweet! The challenge was how to make a lighter, more practical coat that offered freedom of movement that could keep the weather out and go to war.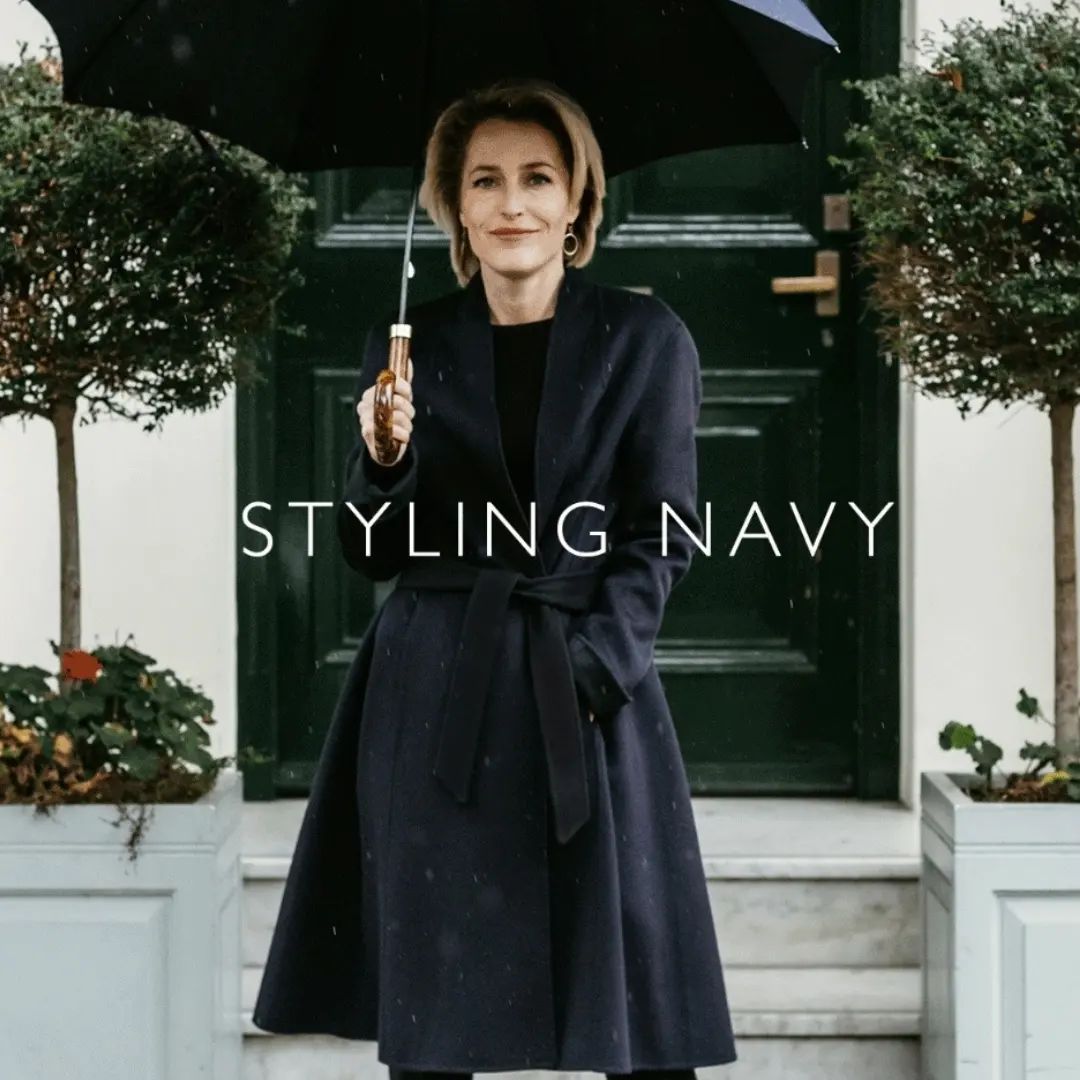 Along came Burberry and Aquascutum. Today, both are celebrated iconic British fashion houses that became great British brands through fabric innovation and an exciting relationship with Hollywood, the military and British films.  The founders, Thomas Burberry and John Emary both invented ways to waterproof cotton in the 19th and early 20th Centuries that made it possible to create a practical, waterproof coat that adventurers could wear to explore the world and officers could go to war and stay warm and dry and look smart. The fabric was gabardine.
It's quite something to think that the trench coat started service in the Crimea war and First World War to keep men warm and dry in terrible conditions.
Aquascutum and Burberry both designed new waterproof fabrics by weatherproofing cotton and included all manner of practical details including the famous collar that could be pulled up and a multitude of useful, capacious pockets, flaps, vents and buckles to create a brilliantly warm and practical piece of military kit that could also house a sword.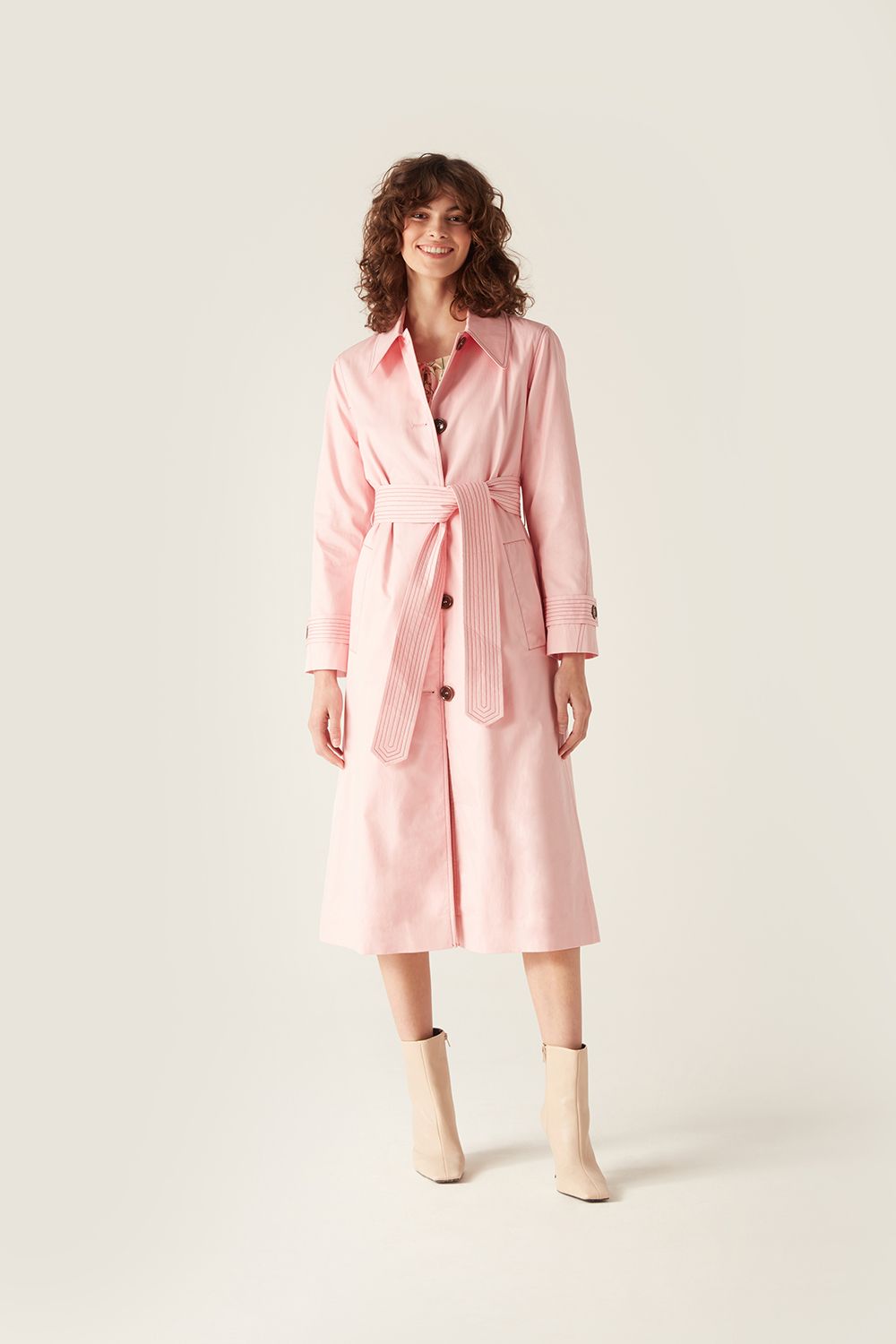 That's the wonderful thing about the trench coat. It's practical and a real looker at the same time. If you want to see some good examples of the trench coat, head to the V&A Museum.
Then Hollywood caught on and dressed its leading ladies and men from Humphrey Bogart to Cary Grant, Audrey Hepburn, Simone Signoret, Garbo and Laren Bacall in the trench coat to imbue a sense of allure, mystery, sometimes danger and seediness, daring and romanticism.
That's the power of the trench coat. it's a coat of armour born out of dirt, fashion innovation, war and Hollywood fantasy.
Over the past century and a half, the trench coat has become a global clothing icon, born out of war, mud, innovation, film noir and crazy love and a style right of passage for anyone who loves fashion, iconic Hollywood style (and practical glamour) and gets dressed for rain, love or adventure or all of three!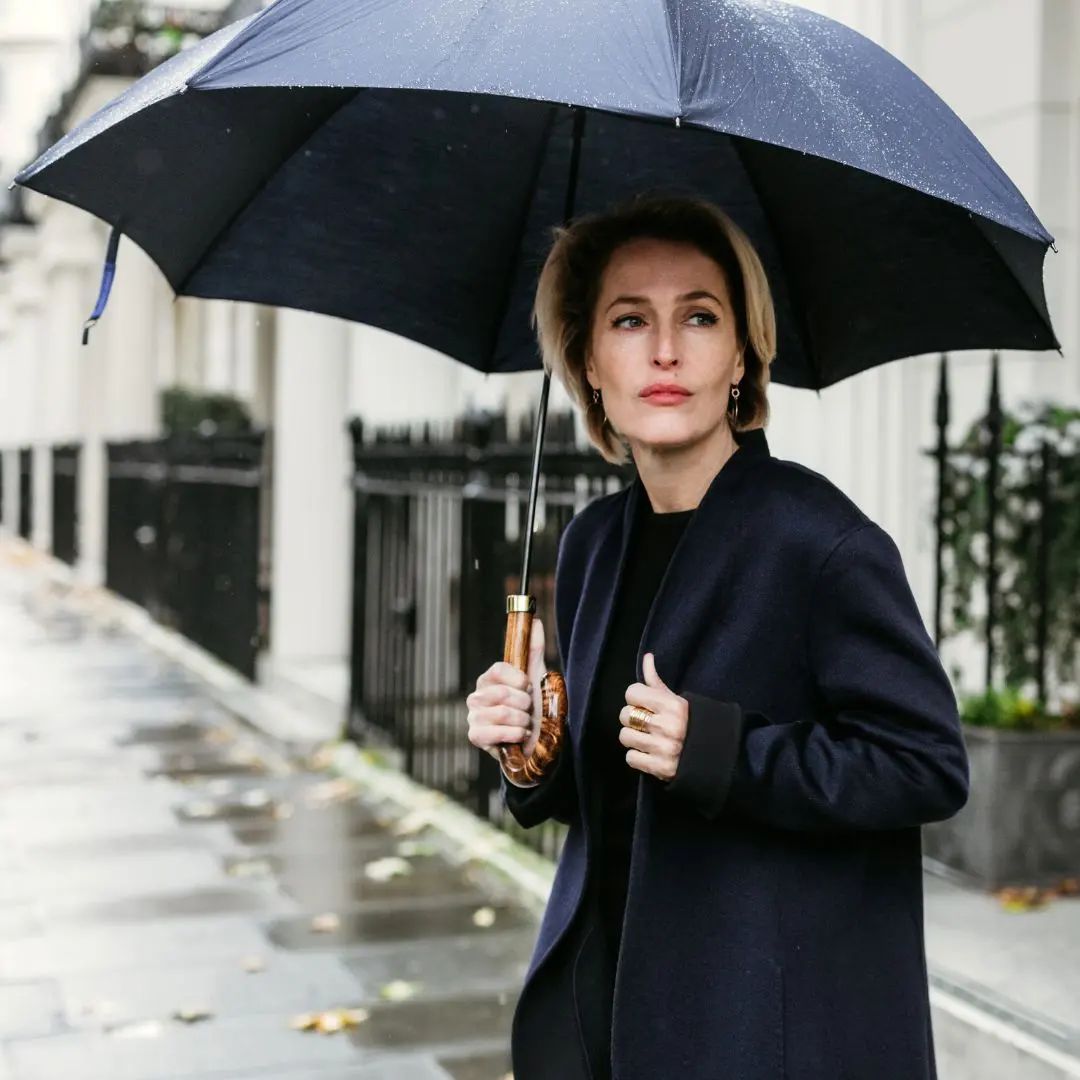 There is a wonderfully candid picture of Lauren Bacall at Queen Elisabeth's Coronation in 1953 by Robert Capa. Bacall is wearing a Burberry Trench which you can see here. There's also a terrific film still of Lauren with Humphrey Bogart in the noir film Dark Passage, where he wears the uniform of hacks, private eyes  -  a pale trench with the collar turned up, dangerously.  
I have sprinkled this story with some examples of where to buy a slow, forever and circular trench coat. A coat made of natural fibres that will give you a lifetime of service and is free of plastic.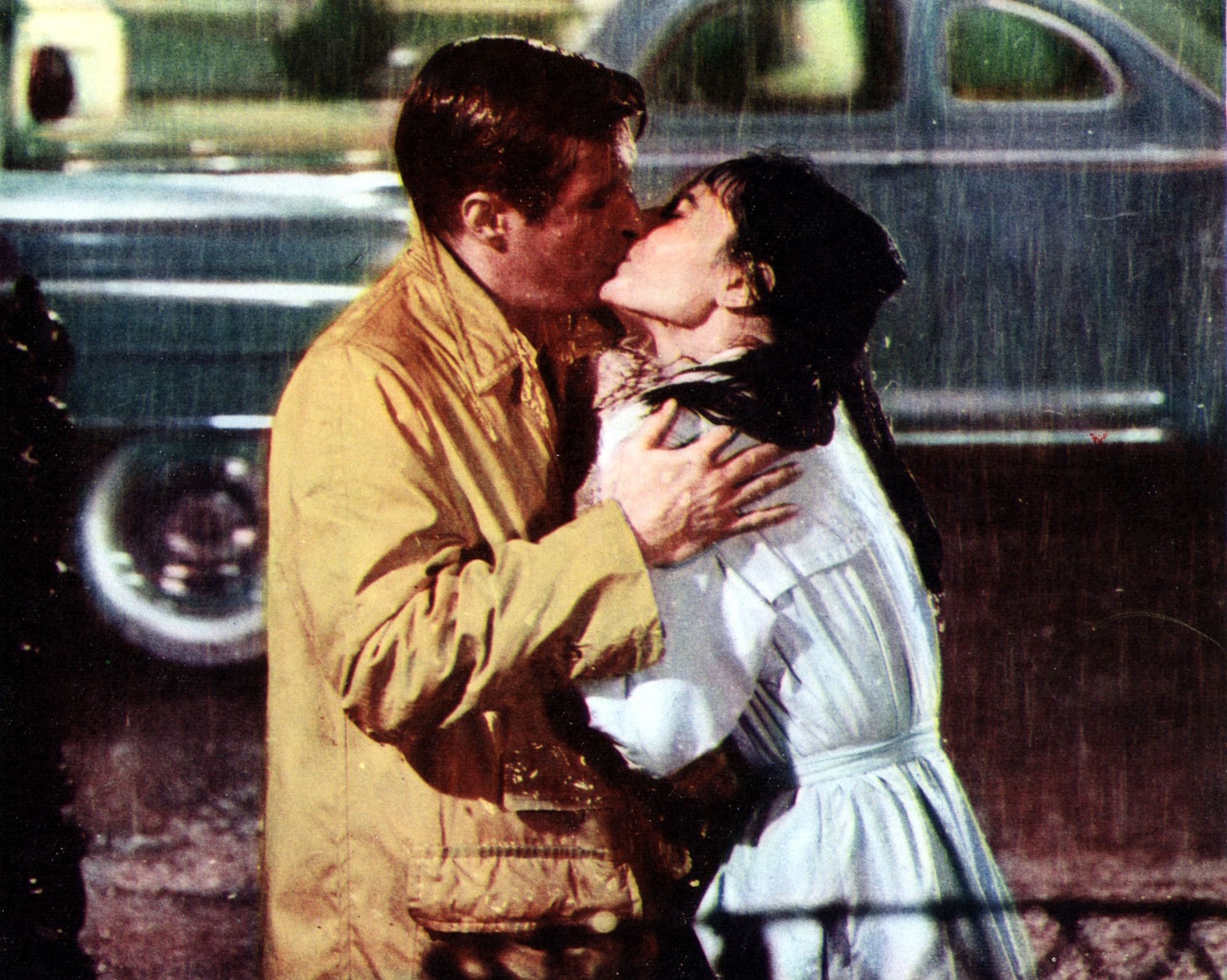 For me dear reader, I fell hard for the trench coat the first time I watched Breakfast at Tiffany's and witnessed the moment Audrey Hepburn opens her heart to love wearing the Burberry Waterloo trench, with poor, drenched, no-name slob 'Cat' nestled between her and the man she loves as the rains come down on New York.
Of course, her hair is soaked, her shoes are waterlogged and yet...  miraculously... nothing is getting through that marvellous Burberry trench coat, as it is famously designed of cotton gabardine to repel water and gave birth to the global fashion house of Burberry we know today.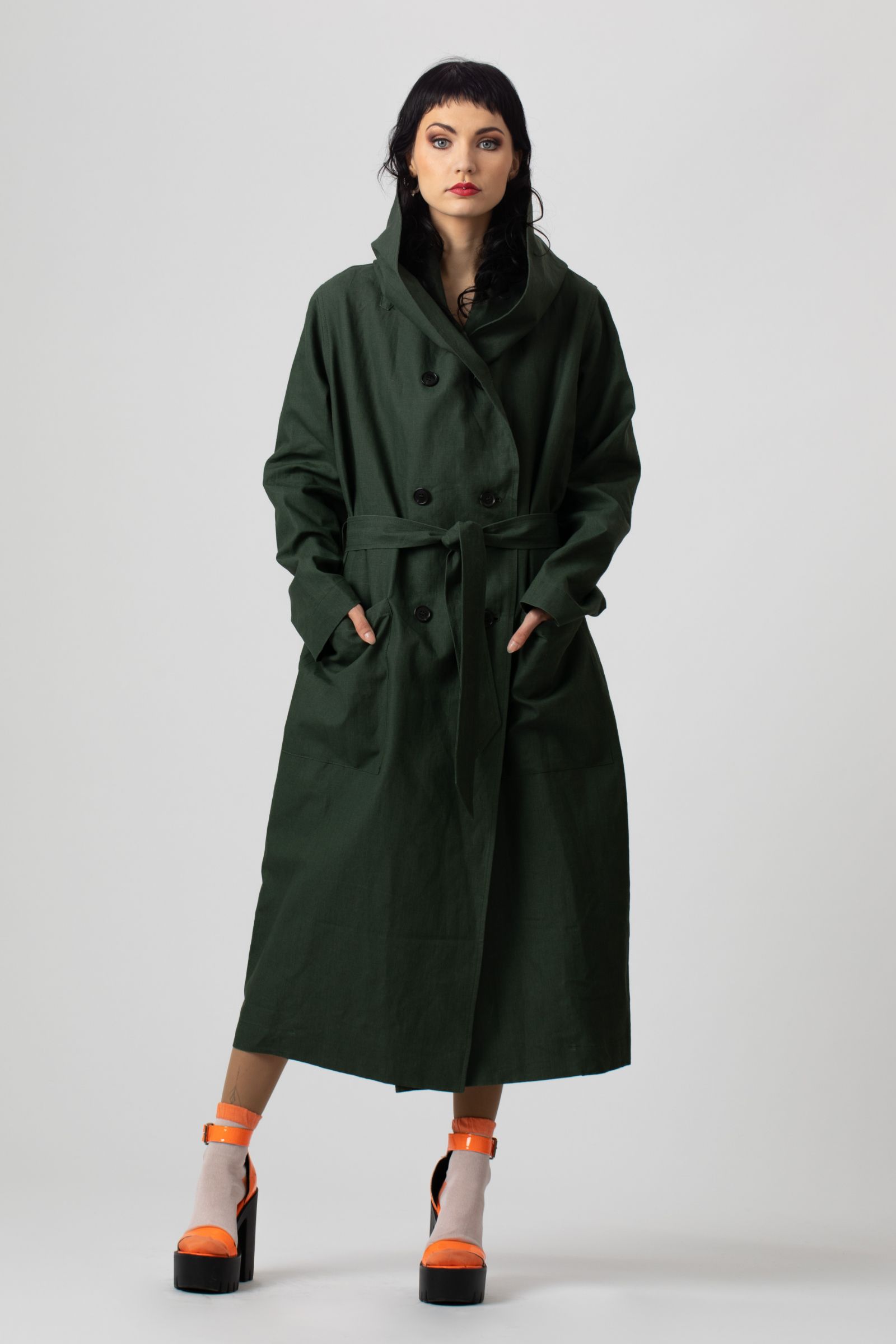 I hope you enjoy my editor's pick of elegant, timeless organic cotton trench coats and preloved trench coats for the modern Holly Golightly, war correspondent, private eye, feature writer and admirer of old Hollywood, and most especially in the rain or in a spirit of a great adventure.
Alison Jane Reid - March 2023
The Best Places to Buy a Luxe Organic or Natual Fibres Trench Coat
The Best Places to Buy a Second-hand Burberry trench coat or other famous fashion makes.
Hardly Ever Worn It - HEW
Charity Shops in the Very Best Postcodes
How to Buy Second Hand
A word of warning. Ideally, buy from professional sellers or sellers with trusted badgers for honest, accurate sales. Plus prompt professional help when the process goes wrong. We have found HEWI, Oxfam Online and ROKIT to be far better, transparent and more professional with accurate descriptions of garments and easy no-fault returns.
Sadly, some of the major sites are inconsistent or not terribly nice and professional to deal with. Read the reviews and you will see who to avoid or proceed with caution. ( Editor's comment. I have tried them all and I am dismayed at the poor customer service. You can find wonderful fashion treasures, just be very careful. Check out reviews for sellers and pay for vetting or only shop with sites that offer no quibble returns.)
Alison Jane Reid/The Luminaries Magazine Copyright March 2023. All Rights Reserved.
About the Journalist
Alison Jane Reid is a Scottish/English feature writer, editor and slow luxury expert. Her iconic career in British national newspapers spans three decades. AJ was a lead feature writer specialising in cultural icons at The Times Magazine for a decade. AJ trained at Mirror Group Newspapers and went on to work as a contributing editor at The Lady and You Magazine. Her iconic interviews and features have also been published in Country Life, The Independent, ES, The Evening Standard and Harpers Wine and Spirits Magazine.
We Need Your Support
Independent Quality Journalism Urgently needs your support. Become a paid supporter here or donate to join the international campaign to pay journalists and authors for their professional creative work. #paythecreator
Support The Luminaries Magazine