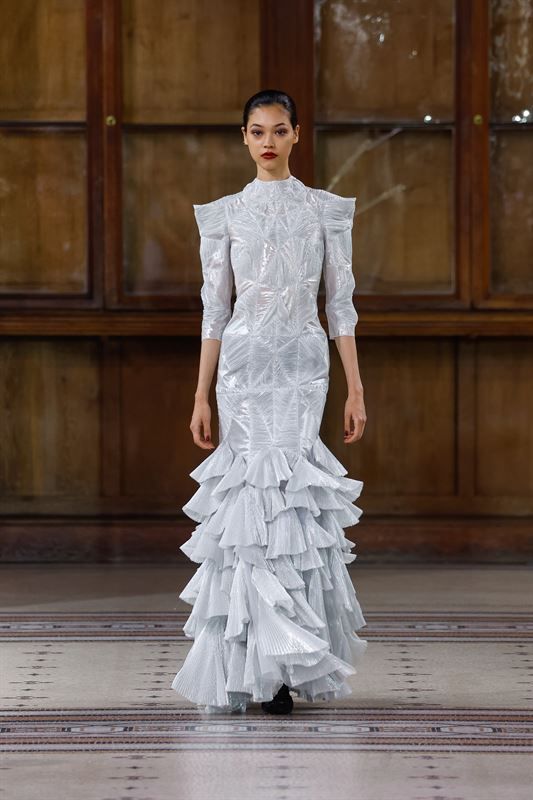 I've been dreaming about this moment. Couture is always about the zeitgeist and the way the wind is blowing. Well, don't panic, couture has gone organic as Persian-Swedish couturier ArdAzAei sends her models down the runway in a fluttering, audaciously kaleidoscopic debut collection at the Salle de Textiles, Musee des Arts et Metiers in Paris that would delight Einstein, Elon Musk and Madame de Pompadour. For 'Imagination rules the roost'.
Princess Leia Meets Paradise on Earth
Imagine paradise on earth clashed with Star Wars, Princess Leia gowns and you will get the picture. The models resemble living flowers in fluttering,  blooming, work of art fashion masterpieces or like space travellers ready to go to Mars with Elon Musk in organic, pleated, embellished and opulent, peau de soie red carpet gowns, svelte, Studio 54, masculine meets feminine trouser suits and optical illusion evening coats that defy the imagination.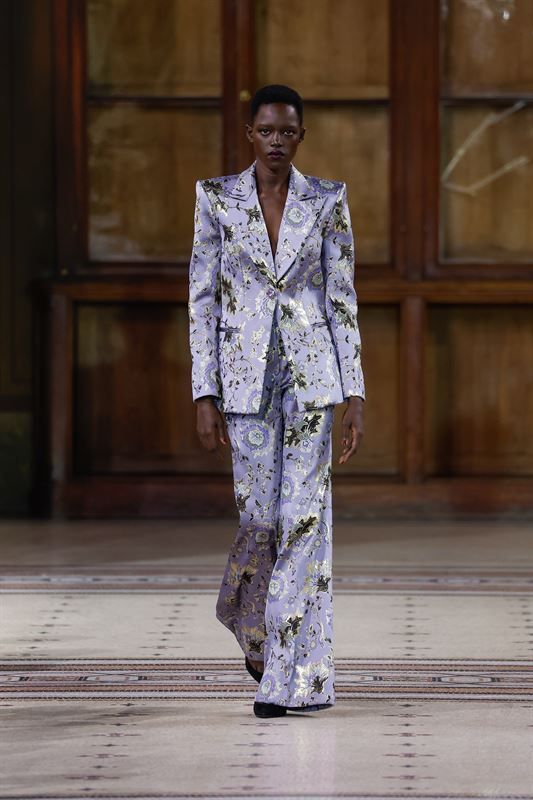 The level of artisan fashion craft is a wonder of the 21st Century. Each garment is a conscious ode to the breathtaking skill, heritage and artistry of the French haute couture artisans and peerless made-in-Italy fabrics.
Nature clashed with mathematical precision rules the roost in radical haute couture that goes beyond seasons and invites patrons to invest in heirloom fashion designed to last a lifetime and to embrace precious fabrics that honour, nurture, protect and never squander nature's resources from Gots-certified silks, satins and brocades to upcycled sequins and fair gold.
Star Pieces that Tremble, Flutter and Mesmerize the Onlooker...
Star pieces include The far-out silver, silk georgette pleated and applique gown worthy of Princess Leia and just the thing for dancing on Mars. The dress looks like a hologram, embellished with one hundred, mesmerizing pleated fans. Masculine, feminine, rock 'n' roll trouser suits in more is more, Ziggy Stardust opulent, flower power prints and gowns constructed with mathematical precision and exclamation mark beauty to tremble like the wearable embodiment of a flower.
Couture to Delight David Attenborough
Bahareh, (Ardazaei's founder and creative director) you should have invited Sir David Attenborough and Harry Styles to admire your exploration of our blue planet. David adores bold, exotic flowers. And Harry wouldn't be able to resist your sensuous, flower power, seventies trouser suits or riotously beautiful gowns.
The collection is called Midnight in the Persian Garden and it offers an ideal marriage between the couturier's Persian heritage clashed with Scandinavian minimalism and an appreciation for botany, architecture and one-of-a-kind French savoir-faire.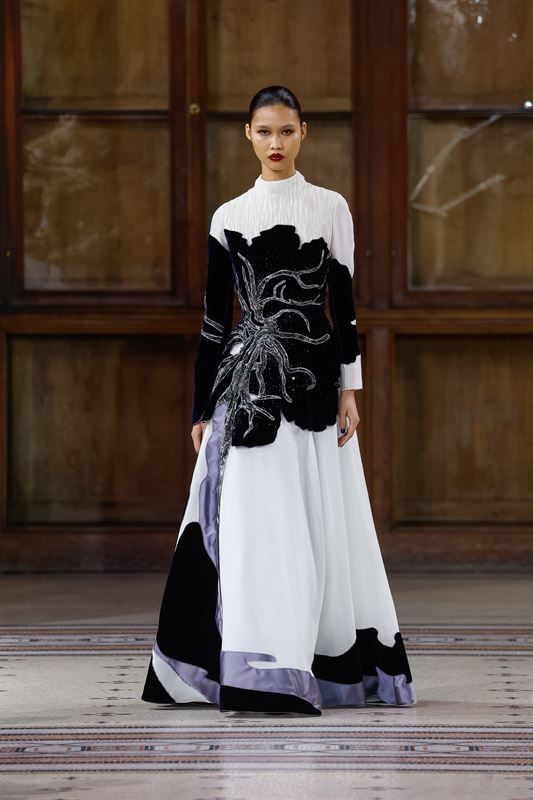 "I have been searching for the long-lasting beauty and respect for nature that you'll find in the Persian garden, some of which date back to as early as 4,000 BC," says Bahareh Ardakani, ArdAzAei's founder and creative director.
Ardakani was born in Tehran in 1984 and emigrated with her family to Sweden the following year. She went on to study design engineering and economics and the breathtaking precision of her designs reflects her interest in mathematics and geometrical forms which clash audaciously with the lovely Persian rose and parrot flower mixed up with mesmerizing geometrical lines, waves and symbols, creating a visual spectacle as the wearer moves.
A Poetic Ode to Nature
A poetic ode to the transcendent beauty of nature, 'Midnight in the Persian Garden' honours the incredibly complex systems of engineering required to create such sublime spaces through couture's intricate techniques of smocking, pleating, embroidery, and appliqué.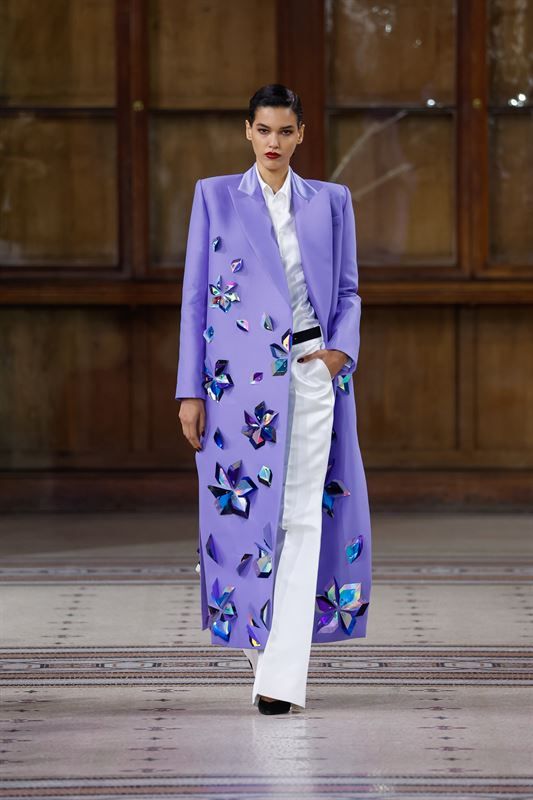 An evening wear collection of red-carpet gowns and cocktail dresses, tailoring, jewellery and accessories, the collection sees a recurring reference to the Persian Rose and the Parrot Tulip, with the flowers informing silhouettes, three-dimensional sculptural forms, and elaborately embroidered jacquard.
Sharp, masculine meets feminine seventies tailoring in the form of contemporary women's suits see sleek jackets and flared pants with hypnotic floral patterning evoking the undulating chaos of nature's rhythms.
Another key theme running throughout the collection is the dynamic between mathematic forms of composition—a key element of Persian garden architecture—and the craft of the handmade, evident in crystal sequins custom-cut to the lines of the ArdAzAei logo, designed by M/M (Paris), which are then hand-embroidered to create organic forms.
The dynamic is used to stunning effect in an evening gown which sees 60 metres of fabric pleated and cut into geometric shapes appliqued to its top, while 100 hand-painted pleated fans go into the construction of its flared skirt.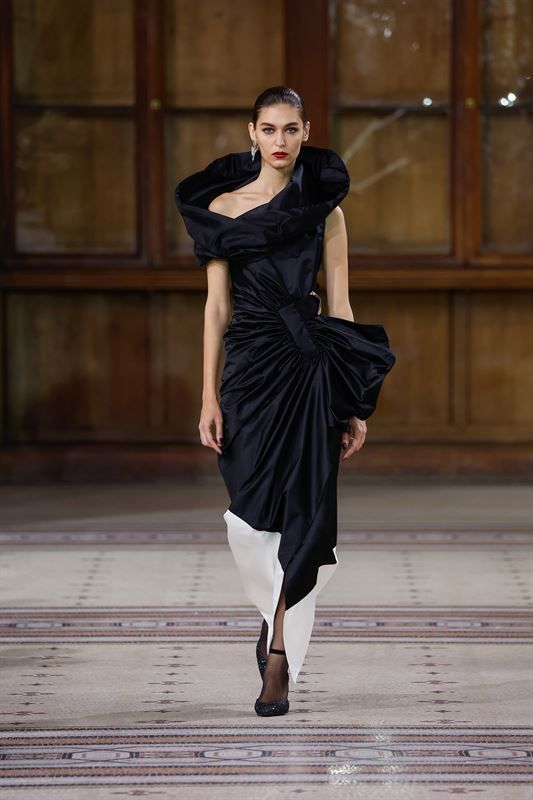 In order to realise such intricate forms of construction, the collection is made in France in collaboration with highly skilled couture artisans focused on upholding the highest craftsmanship and material standards. The show venue, the 'Salle des Textiles' at the Musée des Arts et Métiers, pays homage to the country's rare artisanal expertise.
By Editor-in-Chief Alison Jane Reid. Copyright July 2022.
About the Journalist
Alison Jane Reid is a British editor, iconic feature writer and consultant storyteller for responsible luxury brands.
With a 25-year illustrious heritage and track record in journalism, AJ trained at Mirror Group Newspapers and went on to work as a lead feature writer at The Times Magazine for a decade. She has interviewed several hundred cultural icons from Sir David Attenborough to Karl Lagerfeld, Vanessa Redgrave, Sienna Miller, Kim Cattrall, Hugh Bonneville, Catherine Walker, Bryan May and many more.   She has also worked for You, The Independent, The Lady Magazine, Country Life, ES, The Sunday Times, Red and The Illustrated London News Group.
About Editor Alison Jane Reid
Alison Jane is the founder and editor of The Luminaries Magazine. A new independent arts and culture magazine focused on slow journalism and storytelling. We are funded by readers, arts grants, small, independent, responsible businesses and live journalism interviews and events. Support quality, independent journalism today and become a supporter - Subscribe here. If you are a responsible, slow business, talk to us about becoming a founding member - email the editor - theluminariesmagazine@gmail.com
For more information visit  - ArdAzAei
Paris Show Credits
Artistic Direction M/M (Paris)
Styling Emmanuelle Alt
Casting Piergiorgio Del Moro
Hair Duffy
Make up Diane Kendal
Music Frédéric Sanchez
Production La Mode en Images
ABOUT ARDAZAEI
With ateliers in Paris and Stockholm, ArdAzAei is where Persian heritage, Swedish modernism and French savoir-faire collide.
As a luxury womenswear brand engaged in the search for the sublime, ArdAzAei eschews trend-based consumption to instead offer made-to-measure couture, and one prêt-à-porter collection of formalwear per year, released in drops according to the seasons on the digital flagship ArdAzAei.com
ARDAZAEI COUTURE AND THE GLOBAL ORGANIC TEXTILE STANDARD
ArdAzAei focuses on working with textile suppliers that can reveal the details of the origins and processes behind its products, tracing each fabric right through the supply chain of raw materials, yarn spinners, weavers, and print and dying techniques.
Transparency and Gots Certified Silk
Transparency also relates to how the company operates. As such, ArdAzAei received the Global Organic Textile Standards (GOTS) certificate in 2022. GOTS is the leading textile processing standard for organic fibres, which assesses a number of ecological and social-ethical criteria of the entire textile supply chain, covering not just the fabric used, but the entire end-product. ArdAzAei is proud to announce that two of the couture collection's silk gowns are certified organic through GOTS.