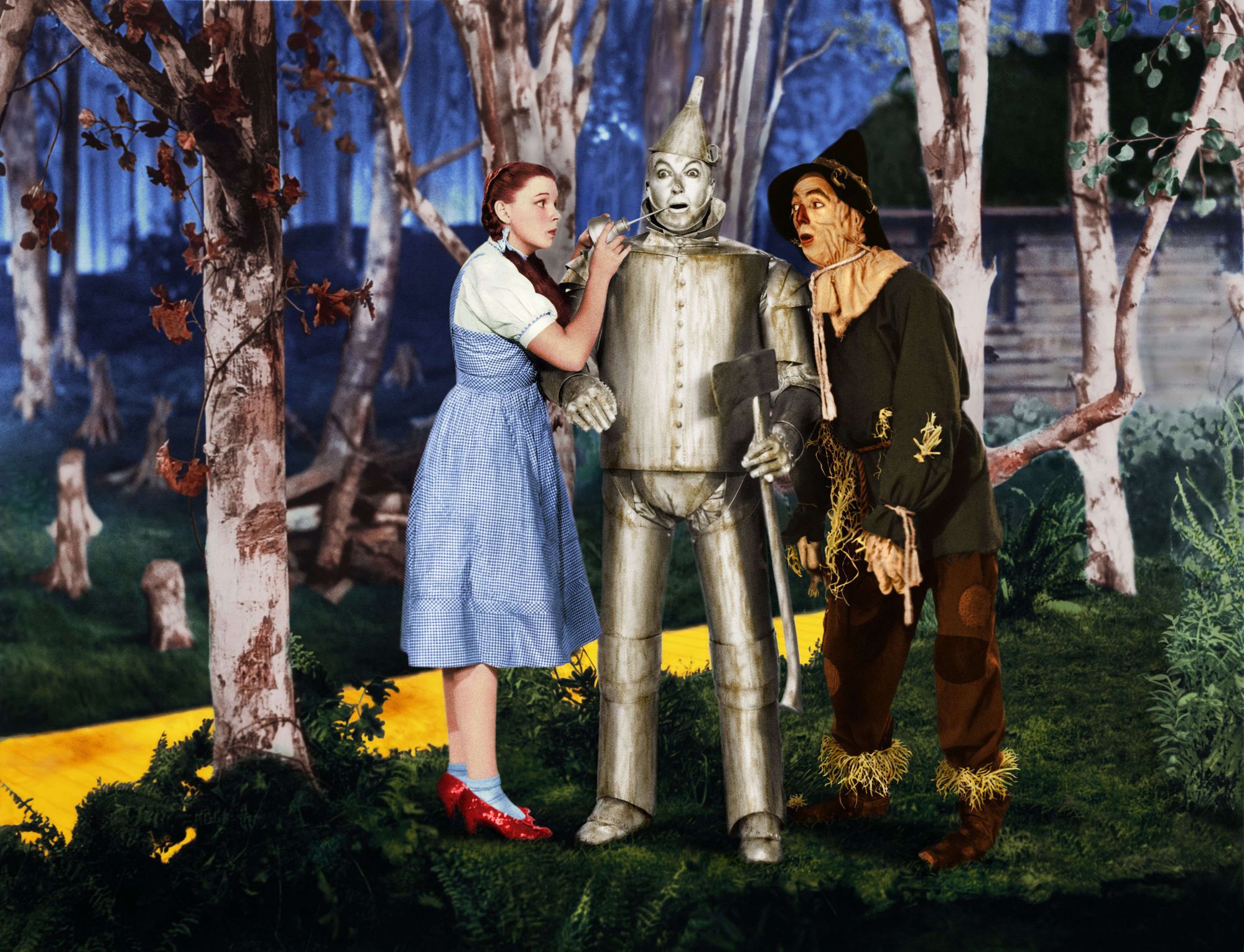 Judy Garland as Dorothy Gale in The Wizard of Oz is our inspiration for the first in a new series of iconic film, costume and fashion stories and how to recreate these looks with forever, slow fashion, investment pieces, sprinkled with stardust. Hollywood and its flesh and blood screen goddesses from Garbo to Judy Garland, Marilyn Monroe and Audrey Hepburn continue to exert an extraordinary impact on what we long to wear. This season Miu Miu's Dorothy Mary Jane's are completely sold out and designers from Ralph Lauren to Alice and Olivia have re-imagined Judy's sweetly demure, blue check pinafore dress for the 21st Century woman who wants to walk along her own yellow brick road.
Why does this influence live on? That's simple. The film industry was still in its infancy in the thirties and forties and Hollywood could and did attract the brightest and very best talent. From the actors to directors, writers, photographers and costume designers - film represented a flowering of ideas, innovation and heightened glamour, escapism and sometimes propaganda too.
The other reason is that we love notalgia.
Some of the greatest films ever made in Hollywood's Golden age continue to be woven into our fashion DNA from Dorothy's red glitter shoes to the little black dress, trench coat, oversized picture hat and prairie, blue-check, gingham dress. Dorothy's blue gingham dress was designed by the celebrated costumier Adrian. While it is a departure from the opulent gowns he created for Greta Garbo and Joan Crawford it is a fashion masterpiece designed to evoke the idea of the wholesome, plucky, apple pie American girl. It certainly created a big impact on America's mother's and daughters when the film was released says costume historian Vicky  Haddock.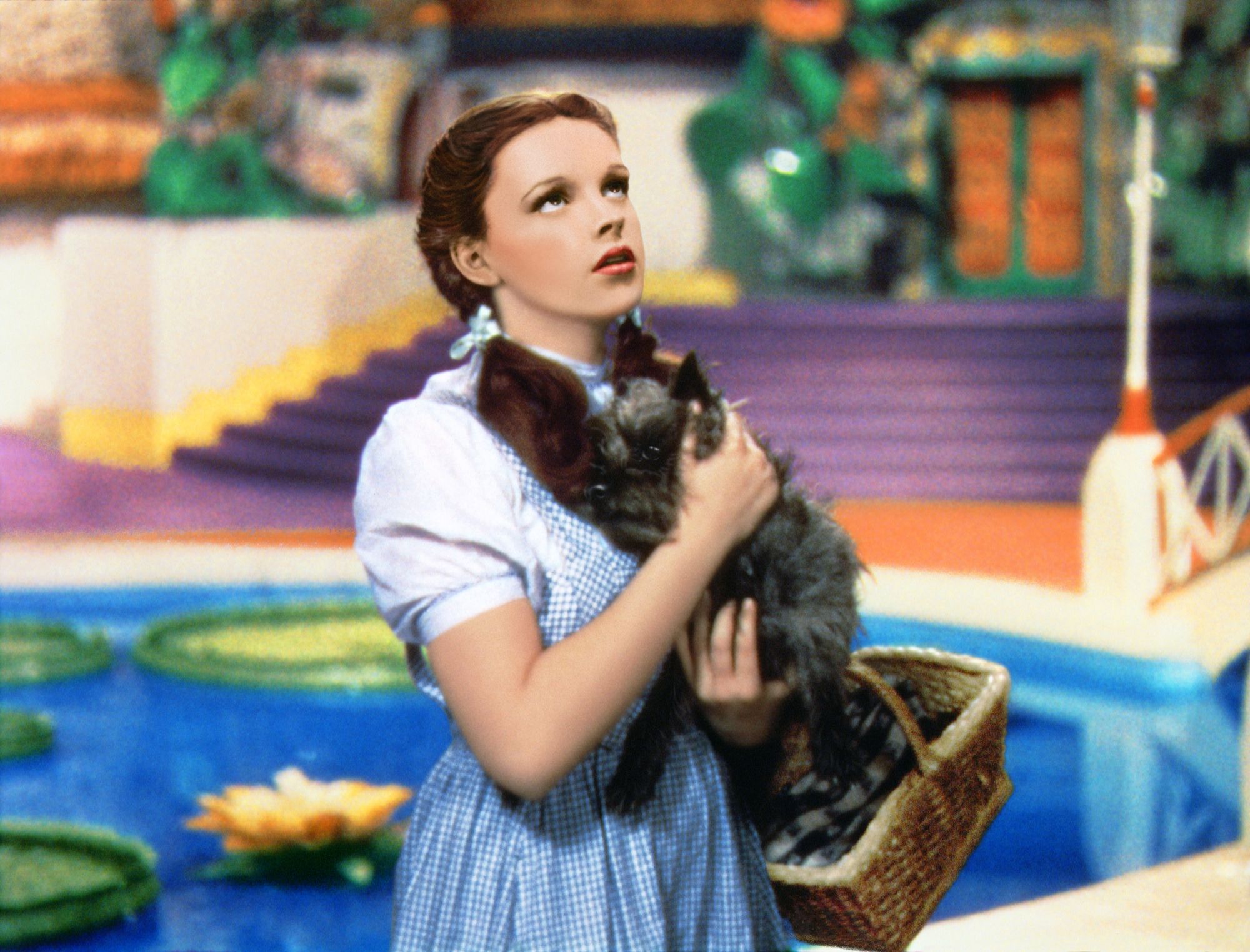 Vicky adds, "Dorothy Gale's dress was copied and sold by retail chains and department stores in America after the film's release in 1939. Imitations can also be seen in fashion magazines and sewing patterns of the period, which could be used by those who wanted to recreate the 'All-American Girl' image conjured up by Judy as Dorothy."
The dress epitomises the innocence and sweetness of childhood.  There's something about gingham that seems to go with long, carefree summer days, picnics and all that endless larking about and going on great adventures, which Dorothy is rather good at! The Three Graces has a blue gingham, slow fashion masterpiece that could be worn for many summers to come and one day you could pass it on.  
More than 80 years later, The Wizard of Oz is the most-watched film. "In 2015, one of two dresses believed to have been worn by Judy in The Wizard of Oz sold for $1.56 million in New York 2015," says Vicky.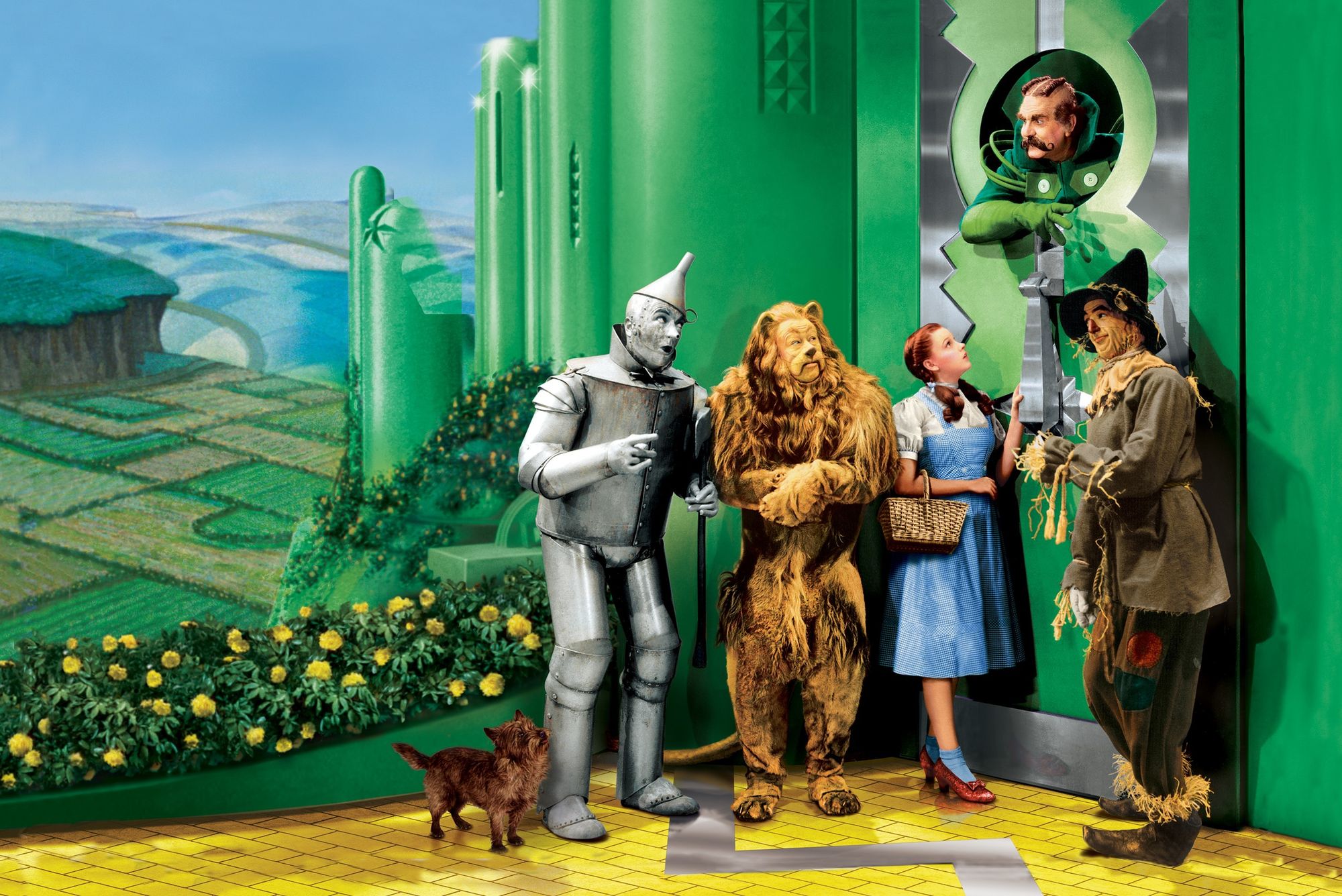 That is a remarkable amount of money for a dress worn by Judy Garland as a child star. The money seems less outrageous when viewed in the context that the film is considered to be the greatest film ever made. It is also one of the top ten films to see before the age of 15. In other words, the dress is priceless by association. It is also a film that most of us see at a formative age that can have a profound effect on our imagination and how we view the world and the challenges we may face.  
I was ten years old when I first saw Judy Garland in The Wizard of Oz. How I wanted those twinkling red shoes and the pretty as a picture, blue gingham summer dress and to click my heels like Dorothy. While the dress was pretty, and like most little girls, I adored dresses; the red shoes belonged to a different fashion stratosphere! These were shoes imbued with magical powers and I yearned for the same invincible powers. Oh and the glamour too! I  was so captivated by the film that I even set up my own little miniature museum of costume in my Wendy house in the garden.
Judy Garland was a Renaissance woman.  And never mind what Louis B Mayer thought of her. She was beautiful and gifted with chocolate brown eyes and full lips. By the age of two, she could sing Jingle Bells and she was a star of vaudeville before MGM discovered her. She could sing, dance and act and move effortlessly from musicals to serious acting roles and wow them on Broadway.
She is the only Hollywood star to have received a juvenile Oscar in 1940 for the best performance by a juvenile actor for her song 'over the rainbow' in The Wizard of Oz.
Her tragedy like many brilliant actors, musicians and performers is that the star becomes a product to exploit and make other people very rich, powerful and greedy and lose their humanity.
Judy died at the age of 47, but her talent makes her immortal. Whenever you are feeling down watch Judy Garland in The Wizard of Oz and that rich, wistful, magical voice will transport and inspire you.  
Top Five Slow Fashion Gingham Summer Dresses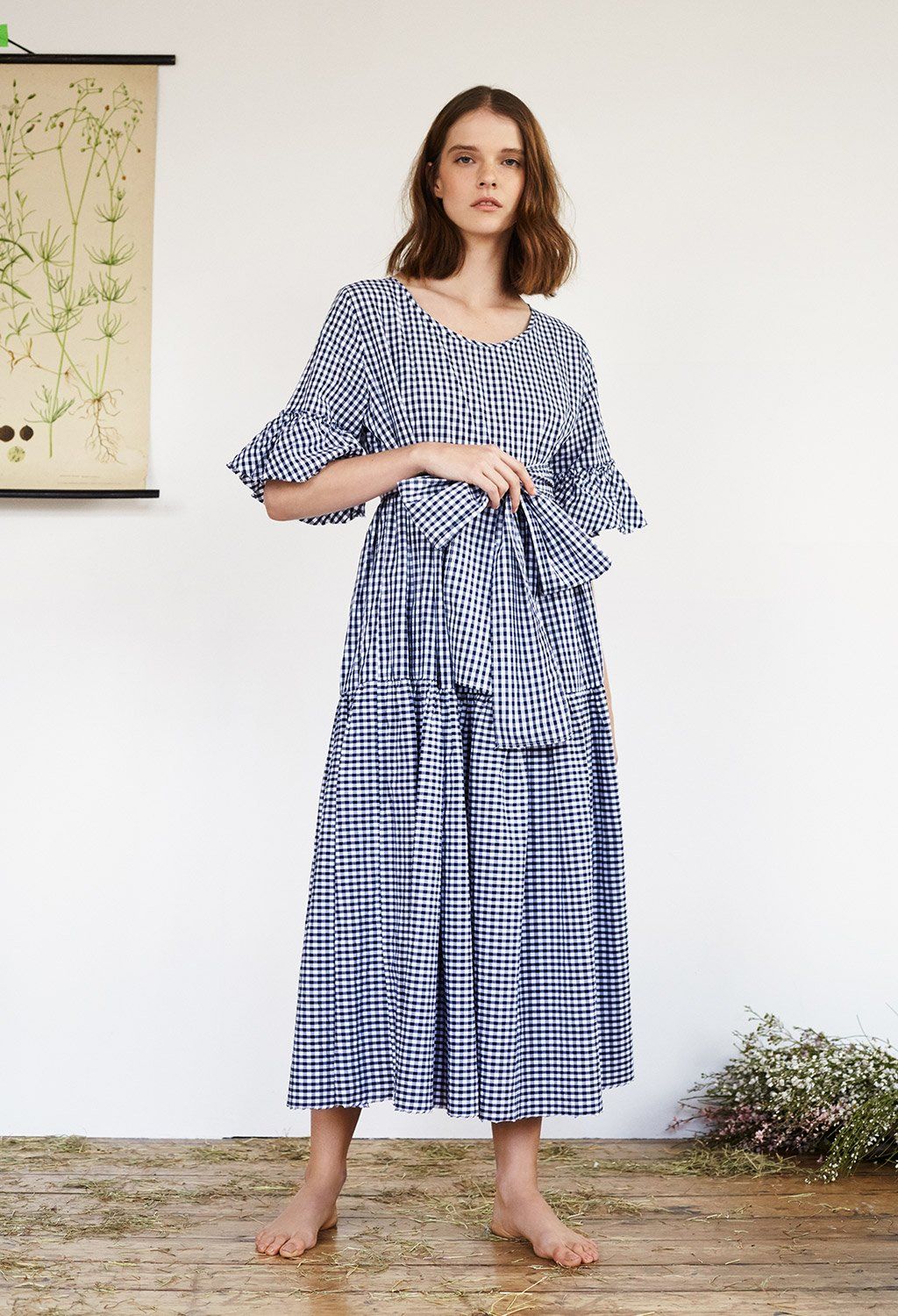 We've picked five slow fashion houses for the prettiest,  Dorothy-inspired gingham dresses in blue and other shades too.
The Three Graces - The Cordelia dress features a shirred bodice, pretty ruched straps and a subtly flattering gathered skirt that falls to an ankle-length flourish. Price, £495.00. Cordelia Dress.
Justine Tabak -  The go-to designer for exquisitely conceived forever slow fashion masterpiece dresses that never go out of fashion. Justine's Primrose Hill incarnation of the gingham dress has us sighing over the rare attention detail with acres of fabric and bows and ruffles galore, what more could a girl ask for?  Available to pre-order. Price £180.00. Primrose Hill Dress.
The Reformation - For the sassiest of modern Dorothy's a cornucopia of gingham dresses and two pieces to suit every mood, personality and occasion. Check Summer Dresses Collection.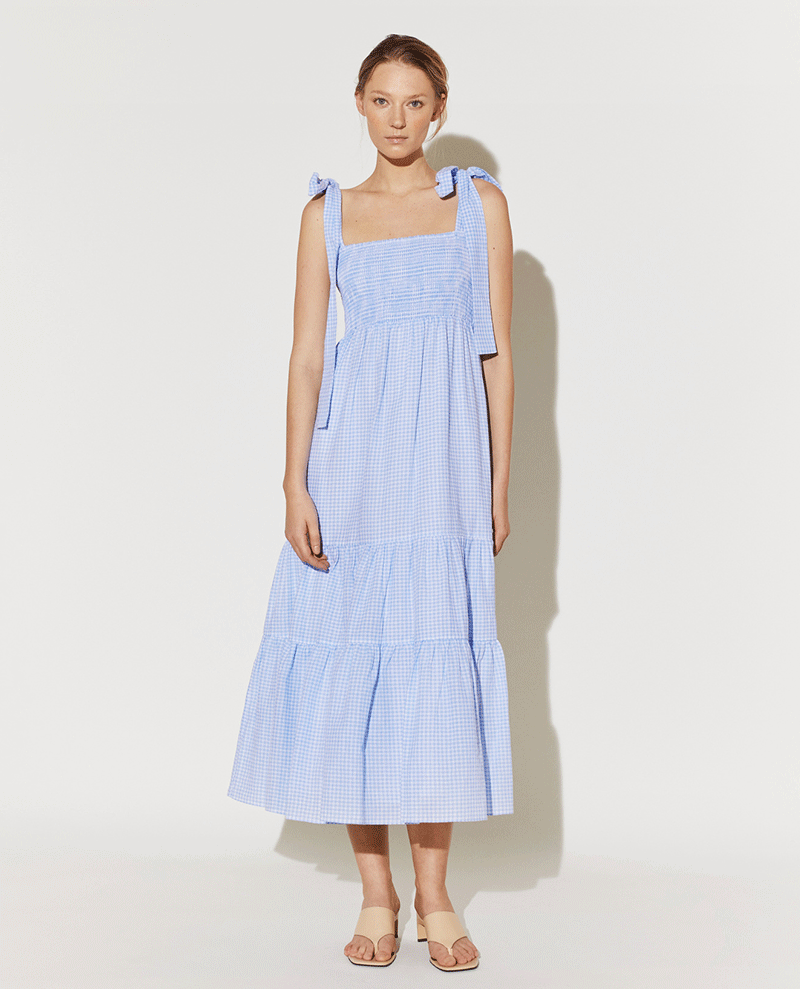 Biscuit - This independent Edinburgh boutique has some exquisite gingham dresses including an adorable maxi sundress with shoulder ties and a ruched bodice by Malina Eloise. Price £265.00. Malina Eloise Gingham Dress.
Plumo -  For the perfect gingham dresses in an interesting brown gingham check, it has to be the Amira dress with puff sleeves by Baum and Pfergarden at Plumo. Reduced from £229.00 to  £89.00 in the summer sale.  Amira Gingham Dress.
Red Glitter Mary Jane Shoes and Pumps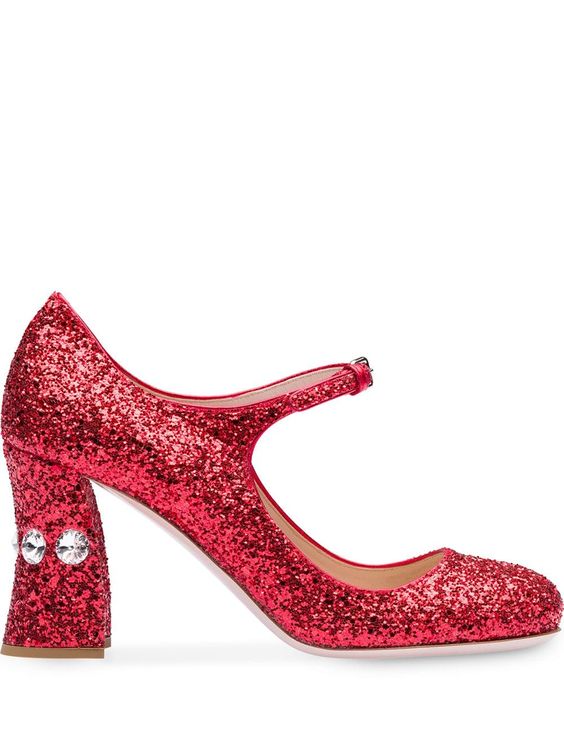 Red glitter shoes! Every girl should have at least one pair. If you want to break the fashion piggy bank, look at Miu Miu, Kate Spade, Dolce and Gabbana, Saint Laurent, Jimmy Choo and preloved treasure trove sites like Vestiaire Collective for barely worn designer gems. For the affordable way to dress like Dorothy, look at dancing shoes and red glitter ballet flats at Ballerette.
Subscribe to Support Independent Journalism and Publishing
I hope you enjoyed this iconic film and fashion story. Support independent, handcrafted magazine journalism. Are you a supporter and subscriber? If you are that's wonderful, thank you for your support. If you are not a paying subscriber, please consider becoming a paid supporter right now. We depend on paid subscriptions, our exciting new ticketed culture show and storytelling for responsible brands. Help us do more to support write about the arts and culture and support the artist, writer and small producer.  Thank you, AJ, founder and editor.
Follow us on Twitter @luminaries_mag and @vickyhaddock