Jenny Chandler
Serves 4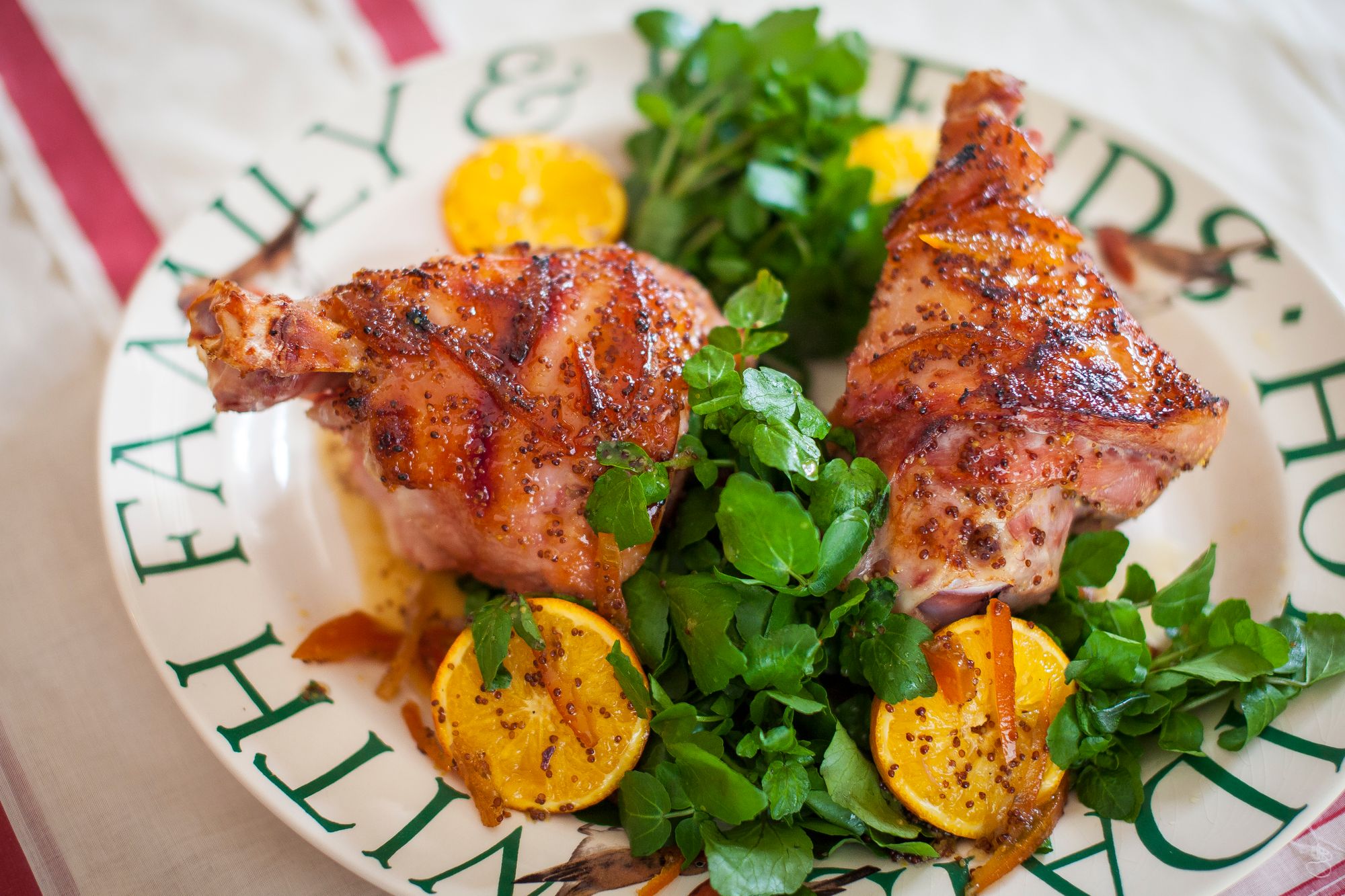 Hocks, which are basically the pig's ankle, just above the trotter, can be sold smoked or unsmoked (I prefer the latter). Either way, it is always best to soak them in cold water for a few hours, just in case they are excessively salty. Butchers sell cooked or raw hocks: it's wise to ask for a gammon hock if you want to cook it, as ham often refers to cooked meat.
For the ham hocks:
2 x 1kg gammon hocks, soaked for at least 4 hours
1 carrot, halved
1 onion, halved
1 stick of celery, halved
1 leek, halved
6 peppercorns
3 cloves
1 bouquet garni
For the glaze:
5 tbsp marmalade
5 tbsp runny honey
2 tbsp grainy mustard
2 oranges, halved
A good bunch of watercress
The hocks can be cooked well ahead of time. Put the ham hock ingredients into a large saucepan and cover with cold water. Simmer gently for 2-4 hours (hocks vary in size enormously, mine took just over 2 hours), skimming off the frothy scum from time to time, until the meat is really tender and begins to fall from the bone. Allow to cool in the stock.
Once cool, store the hocks in the fridge. They will keep better whole rather than chopped or pulled. Keep the cooking liquor in the fridge to use later as a stock.
Preheat the oven to 220C. Remove the outer layer of the skin from the hocks, leaving plenty of delicious fat. Mix together the marmalade, honey and mustard and spoon over the ham fat to glaze. Rub the cut side of the oranges in the marmalade mixture too.
Place the hocks and oranges in a roasting tin with a couple of centimetres of ham stock and roast for 20-30 mins, until the glaze looks gloriously caramelised.
Serve surrounded by watercress and squeeze over the juice from the roast orange halves. Perfect accompanied with potatoes or legumes and some good green veg.
Recipe in Collaboration with Borough Market. The market is open. More info and opening times on  the website - Borough Market