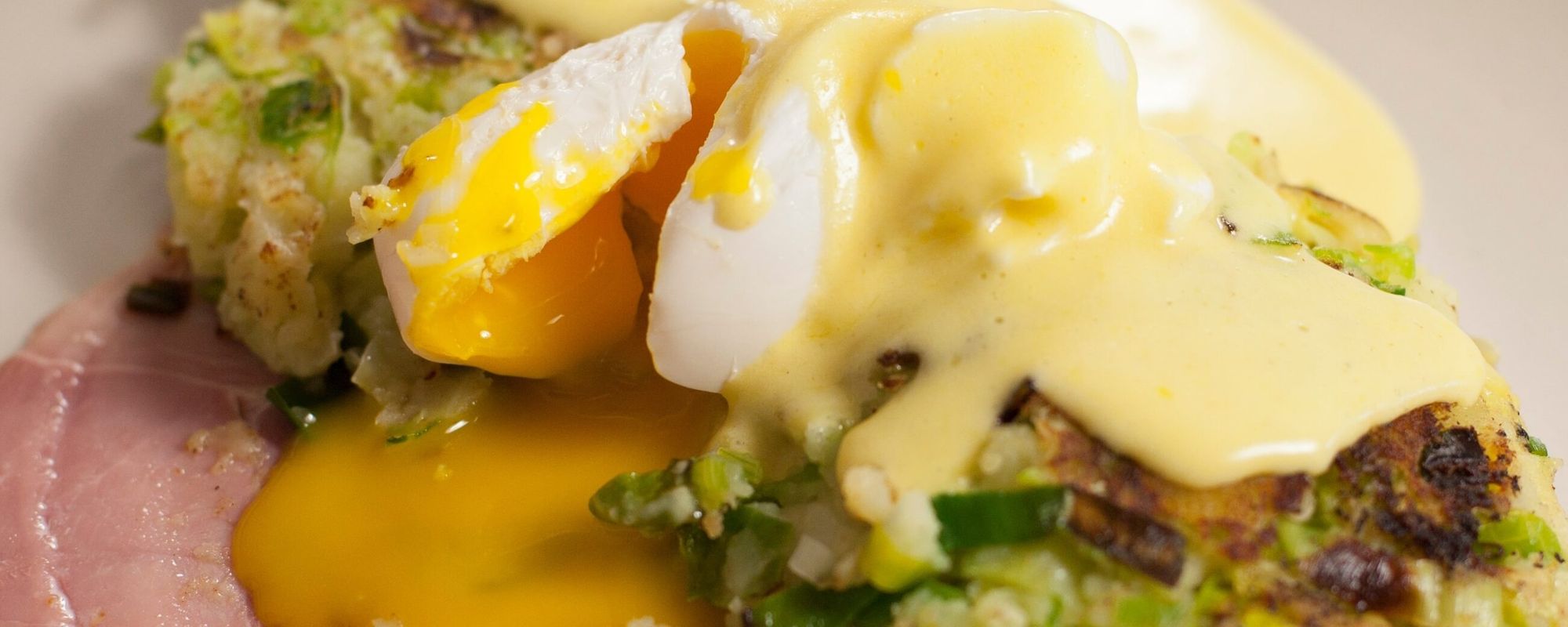 MainServes 440 minThis is a lovely way of enjoying Christmas leftovers. If you're not confident cooking poached eggs, you can fry them instead. The easiest way to cook lots of poached eggs together is to cook them one by one, carefully transferring them when cooked using a ladle into a bowl of cold water to stop the cooking, then gently reheat them in hot (not boiling) water before serving. Make sure your eggs are fresh or they will not poach well – the whites will separate from the yolks.
Ingredients
main
1 large leek, finely sliced
oil for frying, e.g. vegetable or sunflower
butter for frying
400g floury potatoes, cooked and mashed (use leftover potatoes if you like)
200g Brussels sprouts, cooked and thinly sliced (use leftover sprouts or cabbage too if you like)
4 eggs
white wine vinegar
4 slices of ham
salt and pepper
for the hollandaise
4 egg yolks
splash of white wine vinegar
250g unsalted butter, melted
1 tbsp Dijon mustard
1 lemon
MethodPrep time: 10 minCooking time: 30 min
Main
Step 1Cook the leek on a low heat in a splash of oil, stirring now and then to stop it catching, until softened without colouring. Mix with the potatoes and sprouts, season well, then form into 8 balls and gently flatten slightly into small pattie/burger shapes.
Step 2Melt a knob of butter in a non-stick frying pan. Fry the cakes until golden and crispy on both sides, in batches if your pan is not big enough. Keep warm in a low oven while you poach the eggs and make the hollandaise.
Step 3Bring a large pan of water to a gentle rolling boil (not bubbling). Add a good splash of white wine vinegar and swirl the water with a wooden spoon into a whirlpool.
Step 4Crack one egg into a small bowl or ramekin, then tip it into the pan. Cook for 2 ½ minutes. Keep the water in the pan hot for reheating the eggs.
To make the hollandaise
Step 1Put the egg yolks and a splash of white wine vinegar in a heatproof bowl, one that fits snugly over a pan of simmering water (don't let the bottom of the bowl touch the water). Whisk constantly over a gentle heat until voluminous. Gradually pour in the melted butter, whisking constantly, until you have a smooth, glossy sauce (you may not need quite all of the butter).
Step 2Stir in the mustard, a squeeze of lemon juice and salt to taste.
Step 3Reheat the eggs in the hot water, then serve 2 cakes each with a slice of ham, a poached egg and drizzle over some of the hollandaise.
Recipe Courtesy of Riverford Organic. Riverford offers a Farm to Fork Organic Box Scheme with organic veg, meat and store cupboard ingredients delivered to your door -  Visit the website for details -  Riverford Organic