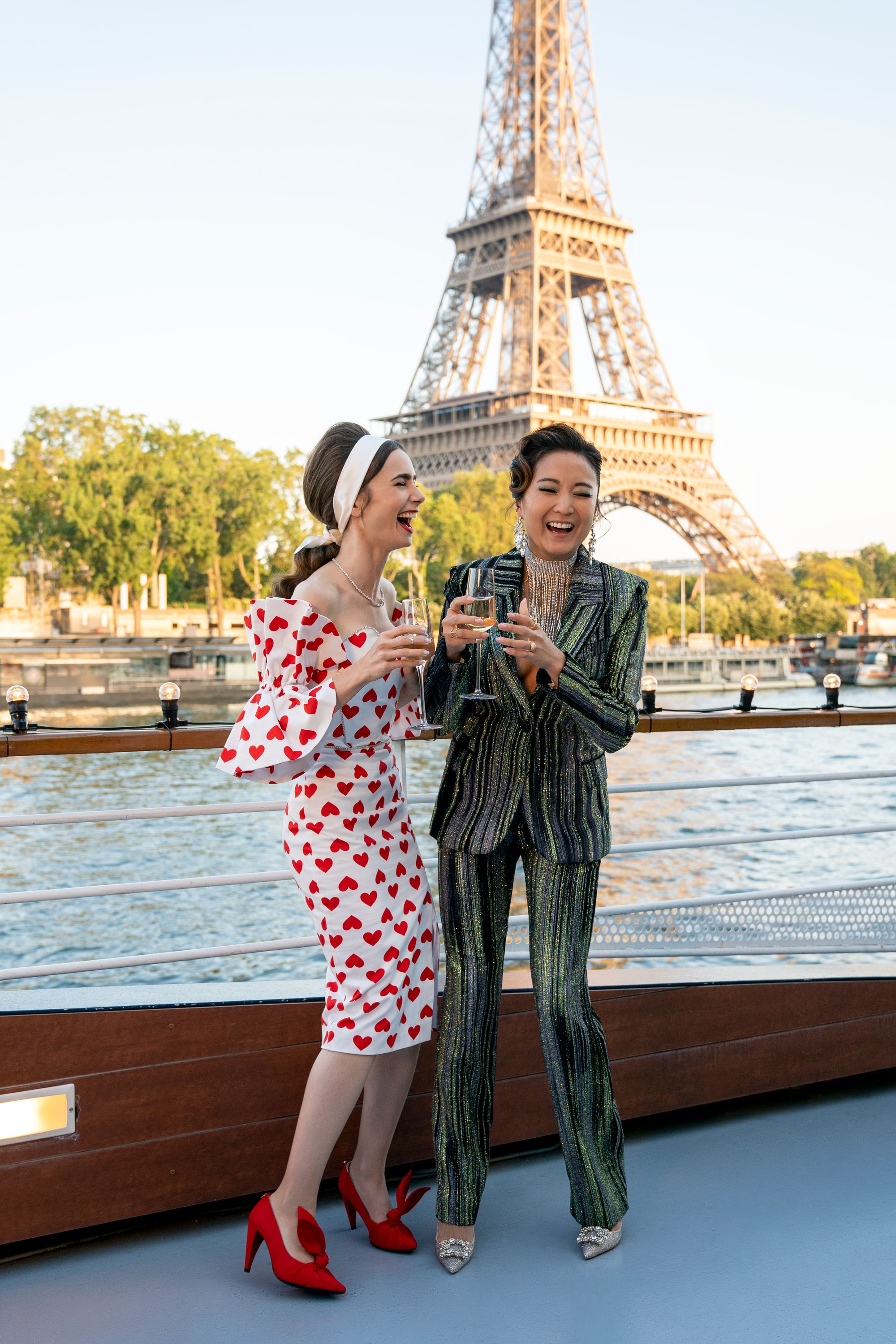 Is Emily in Paris the most fun we can have via osmosis?
Thank the stars and heaven for Ashley Park,  Tony-nominated Broadway songbird actor and dancer extraordinaire busking on the Pont des Arts, as the runaway heiress, on one of Paris's most photogenic and alluring hotspots in a dreamily eclectic vintage style dress that is a riot of cultural symbolism, slow fashion and marabou and singing her way to a massive hit with Mon Soleil. It's showtime and the escapism we all crave. No wonder the series made it into Netflix's top ten shows and Emily in Paris was the most-watched comedy of 2020.
A Singing Bird of Paradise
If Park's wistful, elegiac struggles to be heard and taken seriously in her own right doesn't brush off the collective trauma of the past two years, nothing can. Music can do that. Park is nothing less than a singing bird of paradise with the moves and star persona to match.
High octane, old school glamour is back with a dash of Broadway stardust not seen since Cary met Big on a certain bridge in  2004 and then again in the sequel Just Like That.
The scenes on the bridge certainly lend an Alice in Wonderland, stellar stardust highpoint to Emily in Paris 2 and it reinforces why the series is such a hit. It's the drama, misadventures and comedy we need to re-discover the confidence to go out and live again.  Darren Star did it in 1998 with Sex and the City and he has pulled it off again more than two decades on with a clever new take on his heroine negotiating the crazy and intoxicating world of fashion, culture, gastronomy and luxury.
I like this mixture of drama, comedy and fabulous chanteuse interludes. It works. No wonder series three and four have been commissioned faster than it takes Pierre Cadault to throw another pointless, ugly tantrum.
It's the postcard from Paris that says that life, culture, fun, love and dressing up are back on again - let's spray a bottle of Champere to that.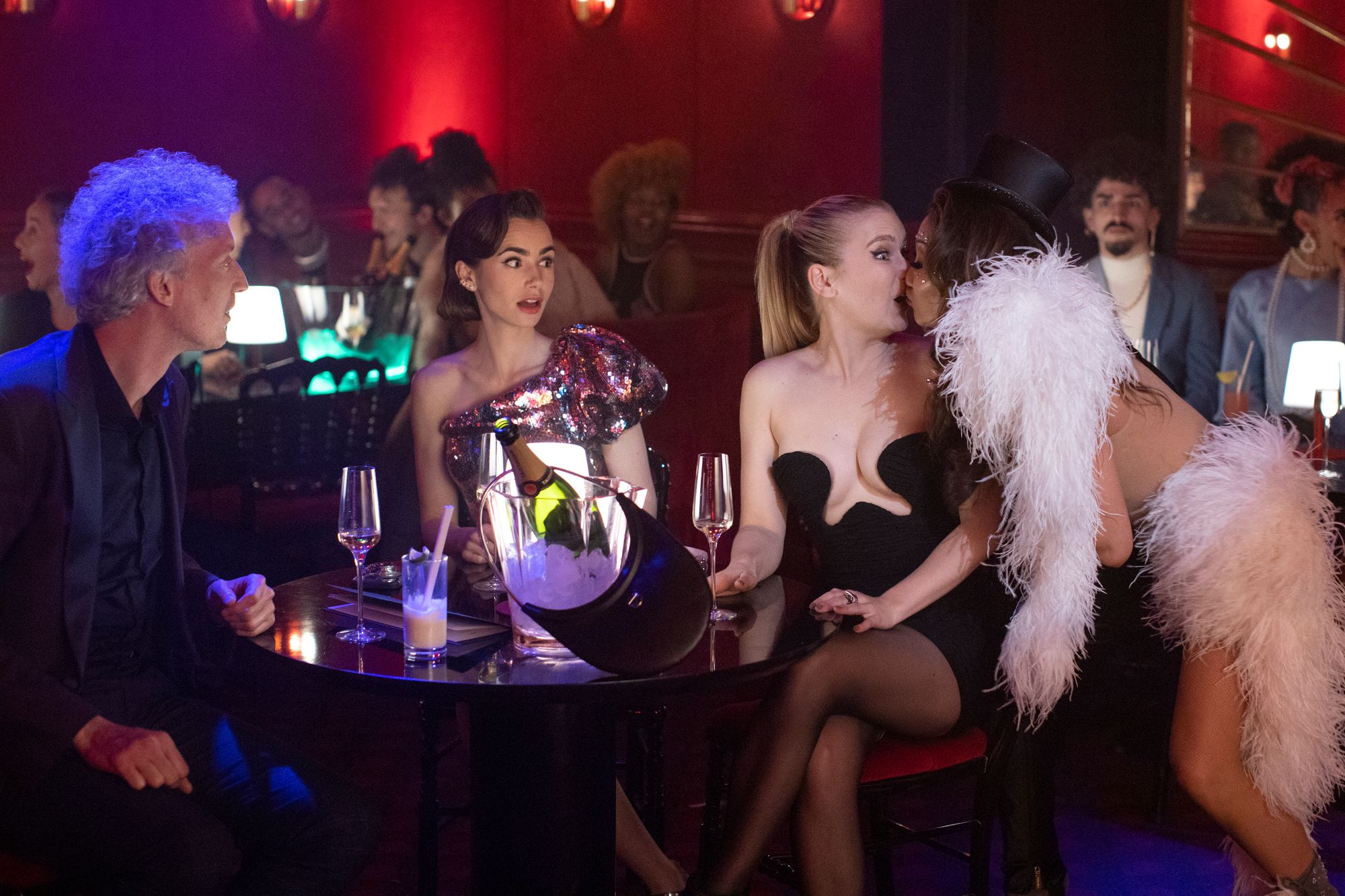 Ashley Park as Mindy Chen is the perfect wing-girl for Lily Collins's skittish Emily, the American in Paris who has gone rogue in the city of Hemingway, dog poo, over-priced cafe complete and fashion as a religion. Well, we can blame Coco Chanel for that.
Friendship and the Paris Beau Monde
Collins and Park have blossomed into close friends outside the series and that closeness and obvious camaraderie reinforce their friendship on-screen and the sense that they are having one hell of a time sticking it to the beau monde whilst revelling in the spectacle and of course joining in, making mistakes and being changed by the experience.
Love,  Romance  and  Self Discovery
Each in their own way is embracing the romance of the city of love, friendship and self-discovery - from Emily sleeping with Gabriel in the heat of a late-night au revoir - to Mindy crawling out of her traumatised shell from the fiasco of Chinese Idol, and enchanting hardened clubbers with her original love song Mon Soleil, written for her by her friend and hitmaker, Freddy Wexler.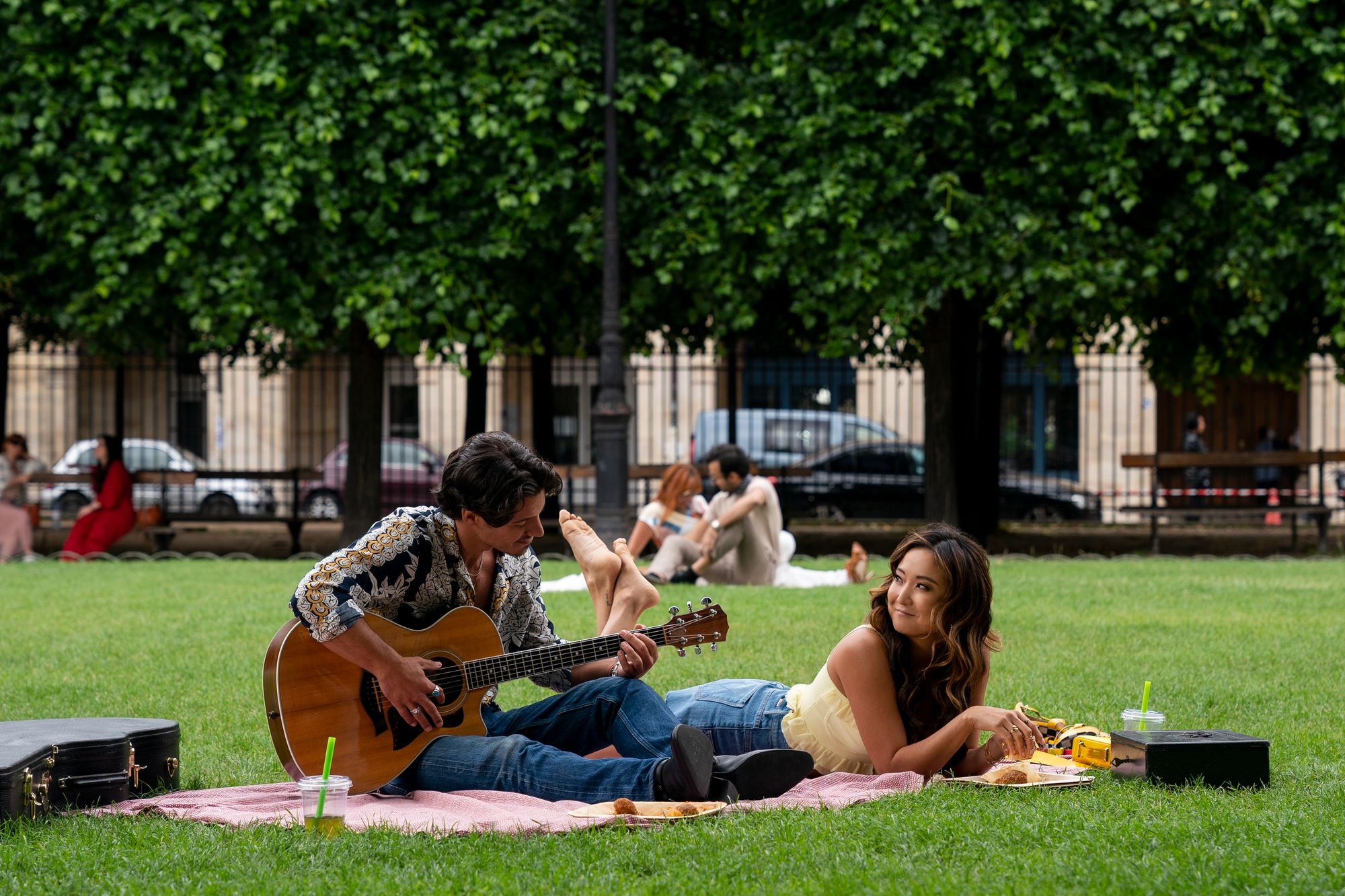 Mon Soleil is busy breaking streaming records for Netflix. And no wonder, the song is soaked in Broadway chutzpah, escapism, longing and sweet romance.
It's intoxicating and it all makes this editor want to run away to Paris right now, and luxuriate in cafe society, culture and romance again. I've had to make do with exhausting every Golden film set in France from Cary Grant and Grace Kelly in To Catch a Thief to Grace Kelly again in High Society with Frank Sinatra and Bing Crosby.
Ashley, both as Mindy and as multi-award winning singer in her own right is the heir to Streisand, Minelli and Julie Andrews. Her voice is pitch-perfect, her delivery confidently flawless and she has the skills as both an actor, dancer and songstress to pull it off with a breezy insouciance we haven't seen since Heath Ledger crooned I Can't Take My Eyes Off You in Ten Things I Hate About You and made it look easy.
Passion will Take You Anywhere You Want
If it all looks effortless, that's because Park has spent years perfecting her craft. She grew up in Ann Arbour Michigan and started attending dance classes at the age of three. During her high school years, she was immersed in community theatre and choir and c0-founded a capella group at the Pioneer High School, coming second in a national competition.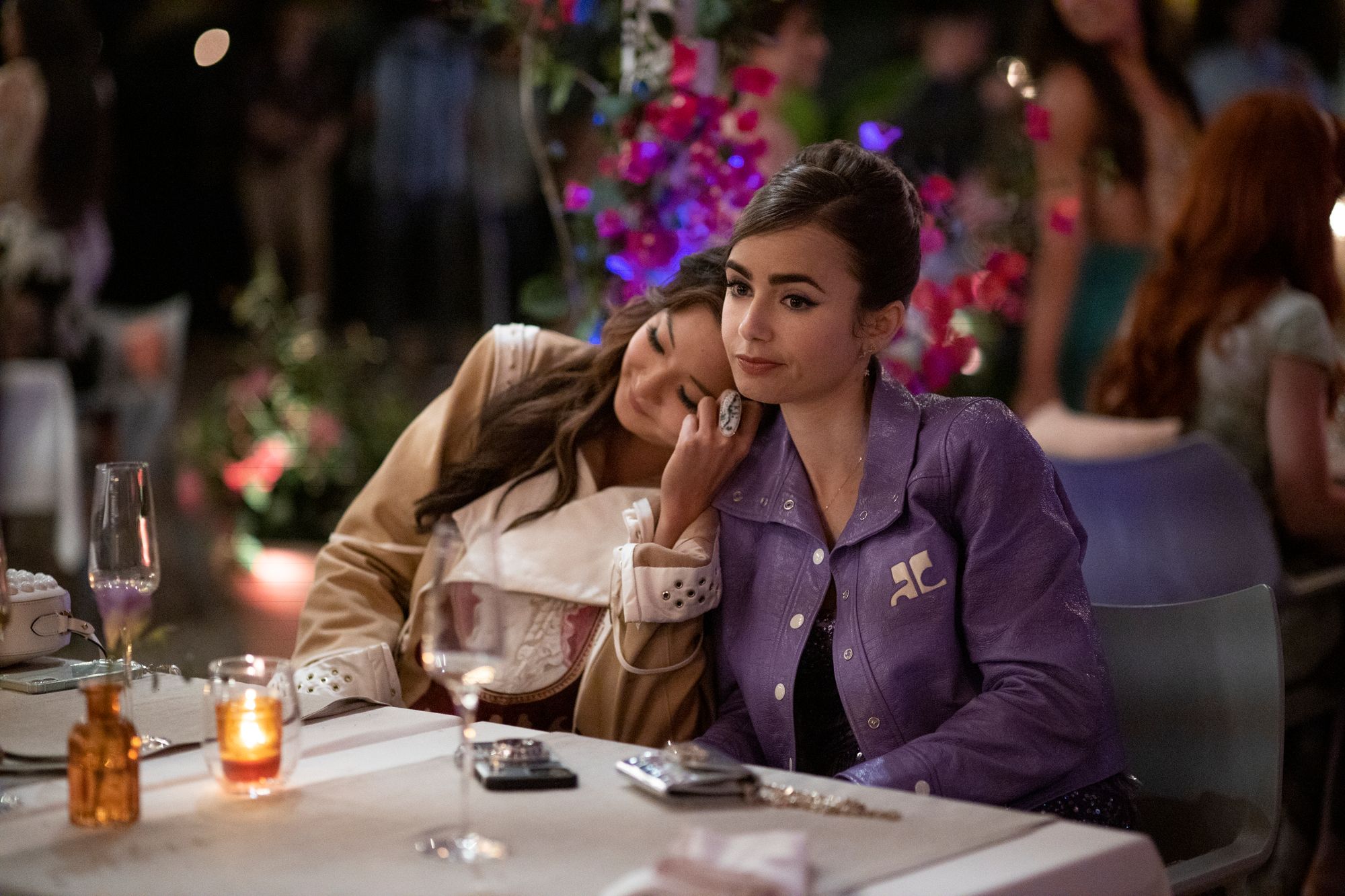 Aged 15, Ashley Park was diagnosed with acute myeloid leukaemia and spent eight months in hospital undergoing chemotherapy. When she recovered, she graduated high school and enrolled at The University of Michigan, graduating with a degree in musical theatre in 2013.
Broadway Debut in Mama Mia
Park made her Broadway debut in Mamma Mia, followed by roles in Cinderella, the remake of The King - Tuptim, Sunday in the Park with George and then came wider recognition with a starring role in Mean Girls.
It's exciting to see Darren Star and the producers of Emily in Paris embracing musical theatre in the second series of Emily in Paris and that we get to hear Ashley Park flex her voice in all its honeyed silk and cotton candy power.
Life is a Cabaret
While some media have complained about the increased musical interludes in Emily in Paris 2, and don't get it, I love it. What's not to love about Ashley Park dressed in monochrome tails, rhinestones and the cheerest chiffon singing her heart out in a Paris drag club and cheekily kissing Cami. It's Cabaret all over again.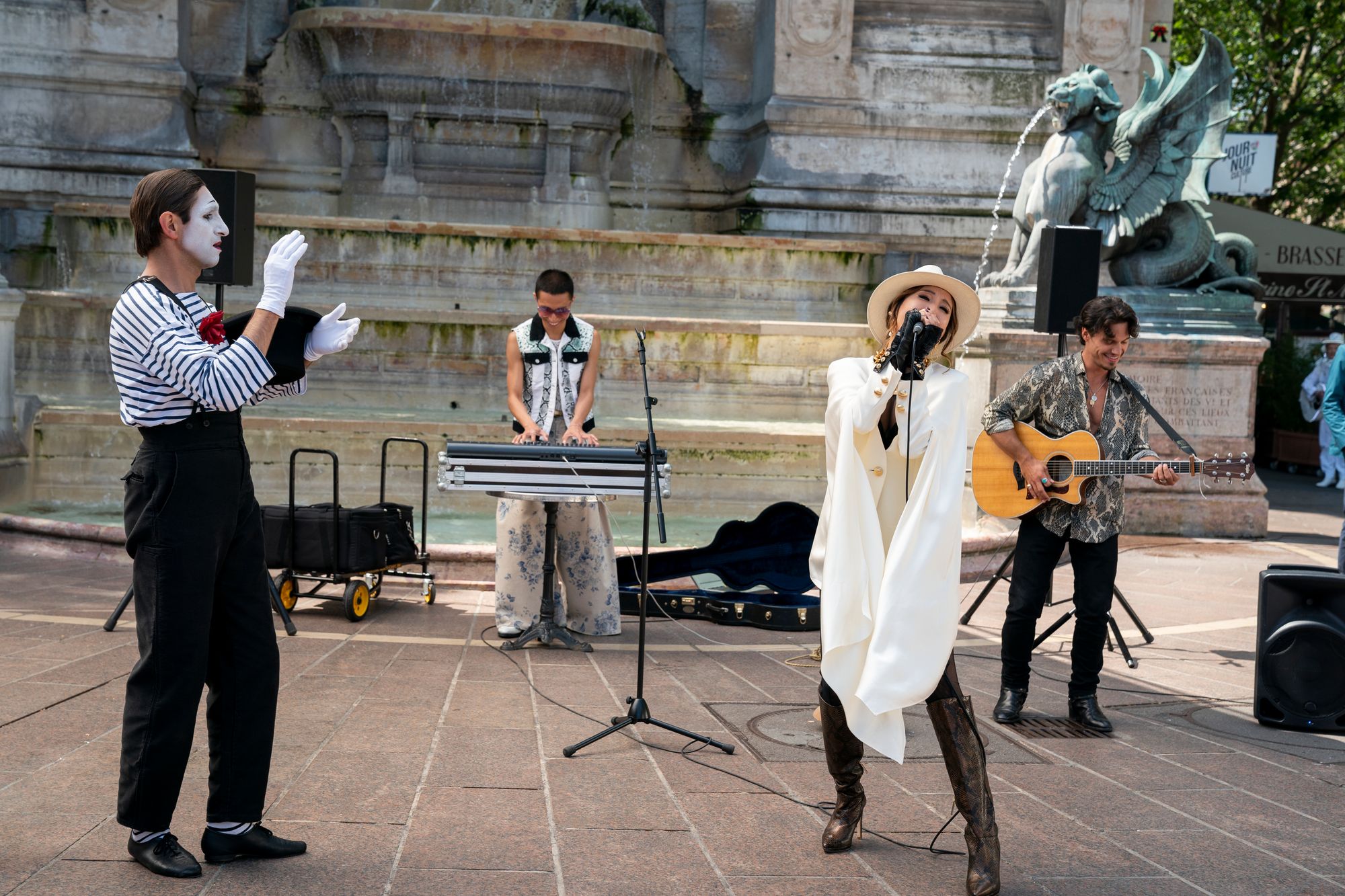 I can also see that Mindy's and Emily's escapades all over Paris will have the same effect on the city as the film Notting Hill. Fans are going to want to visit Place des Vosges, Fontaine St Michel, the Supper Club Roxie and take a ride on a Bateau Mouche at night and reimagine the song where Mindy delivers her own version of Diamonds Are a Girls Best Friend - the song immortalised by another multi-faceted actress and singer, Marilyn Monroe. It is a song about the fleetingness of youth and beauty and that diamonds are the best insurance, against love grown cold. Ashley Park more than owns the song. Now, can't you just see Emily exploiting the idea in a brilliantly insouciant advertising campaign for lubricant or anti-ageing pills with help from her Paris nemesis, the eternal guardian of French luxury with a dash of ruthless pragmatism and chilly sex appeal - Sylvie Grateau.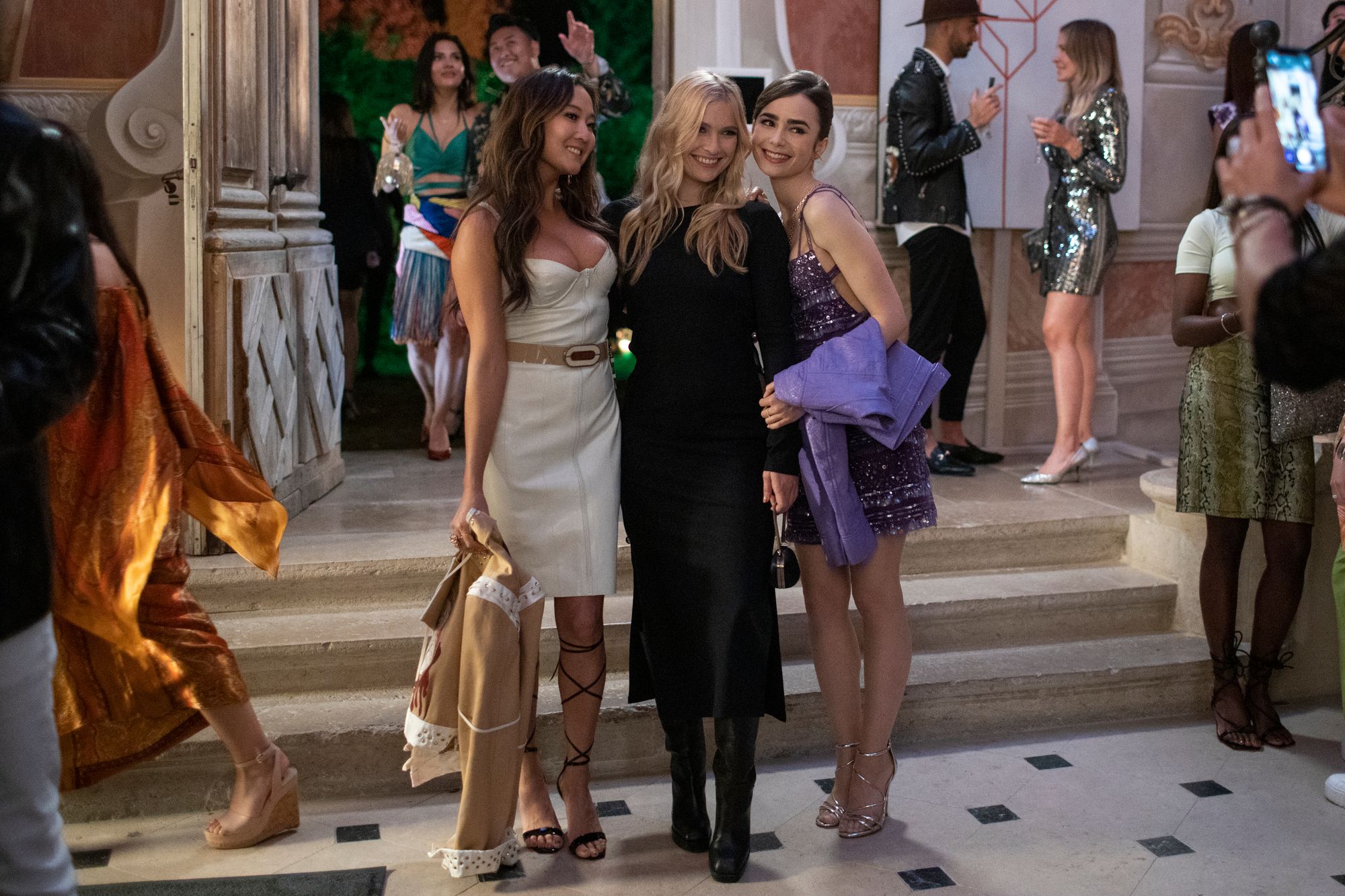 Emily in Paris Series One and Two is streaming on Netflix
All Images Courtesy of Netflix Press Office. Copyright Netflix 2022.
We hope you enjoyed this slow drama and music review of Emily in Paris by our editor-in-chief Alison Jane Reid.
About the Journalist, Alison Jane Reid
Alison Jane Reid is a feature writer, broadcaster and editor, specialising in writing about cultural icons, film, drama, fashion, slow food and luxury. She spent a decade at The London Times Magazine and has also worked for You, The Independent, The Lady, Mirror Group Newspapers and The Illustrated London News.
Alison  Jane also works as a storyteller and consultant for responsible luxury fashion, food and drinks companies and literary agencies. To hire AJ, email her at  - theluminariesmagazine@gmail.com
Like The Guardian, we are open source and depend on people-powered subscriptions and responsible, slow and organic small businesses to support and fund our independent journalism and storytelling.  Support us today - Subscribe and Support the Luminaries and spread the word.