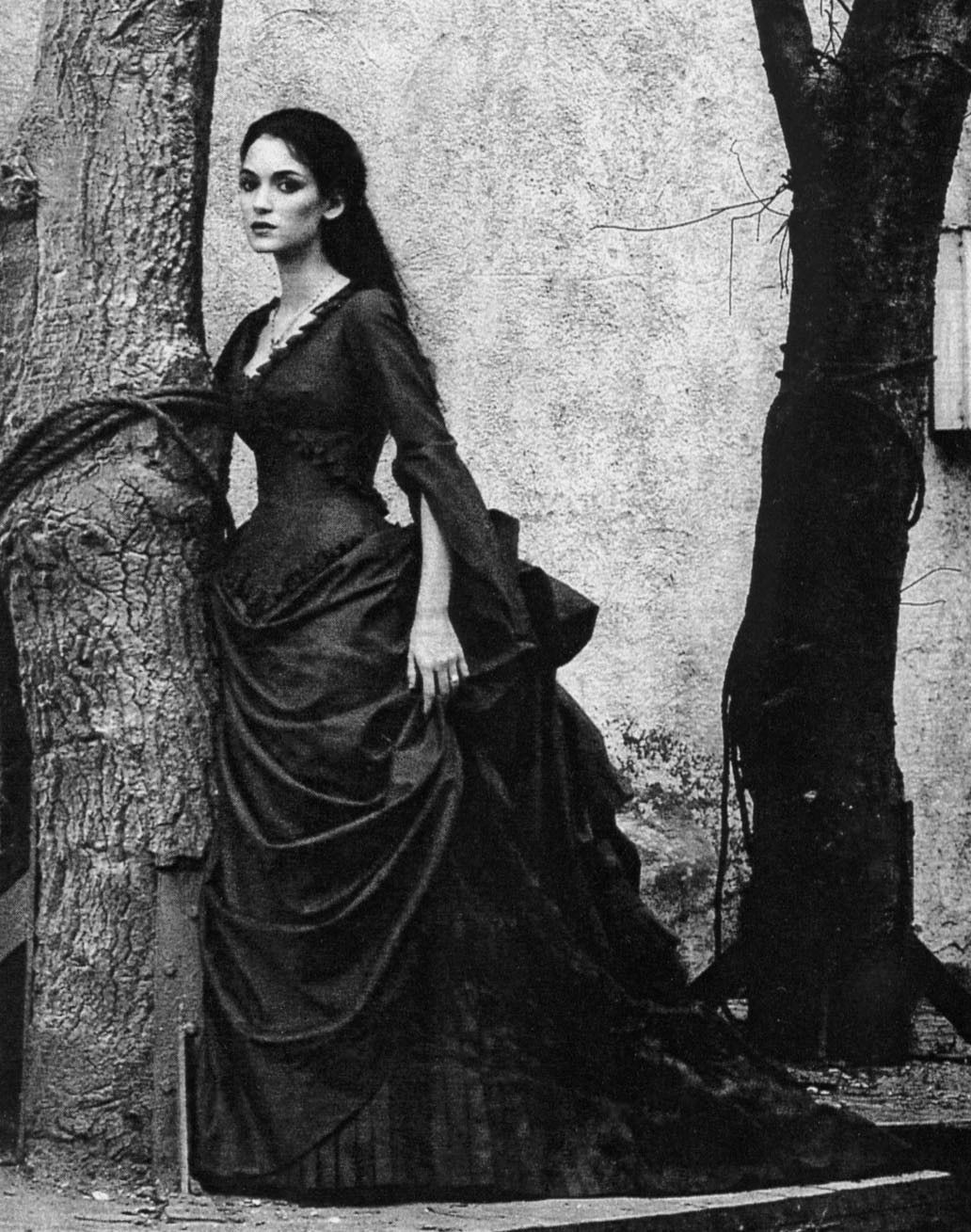 Happy Birthday to Winona Ryder, the startled, kookily beautiful, and compelling star of Stranger Things, Tim Burton's Edward Scissorhands, and Francis Ford Coppola's Dracula, starring Gary Oldman, Anthony Hopkins, and Keanu Reeves.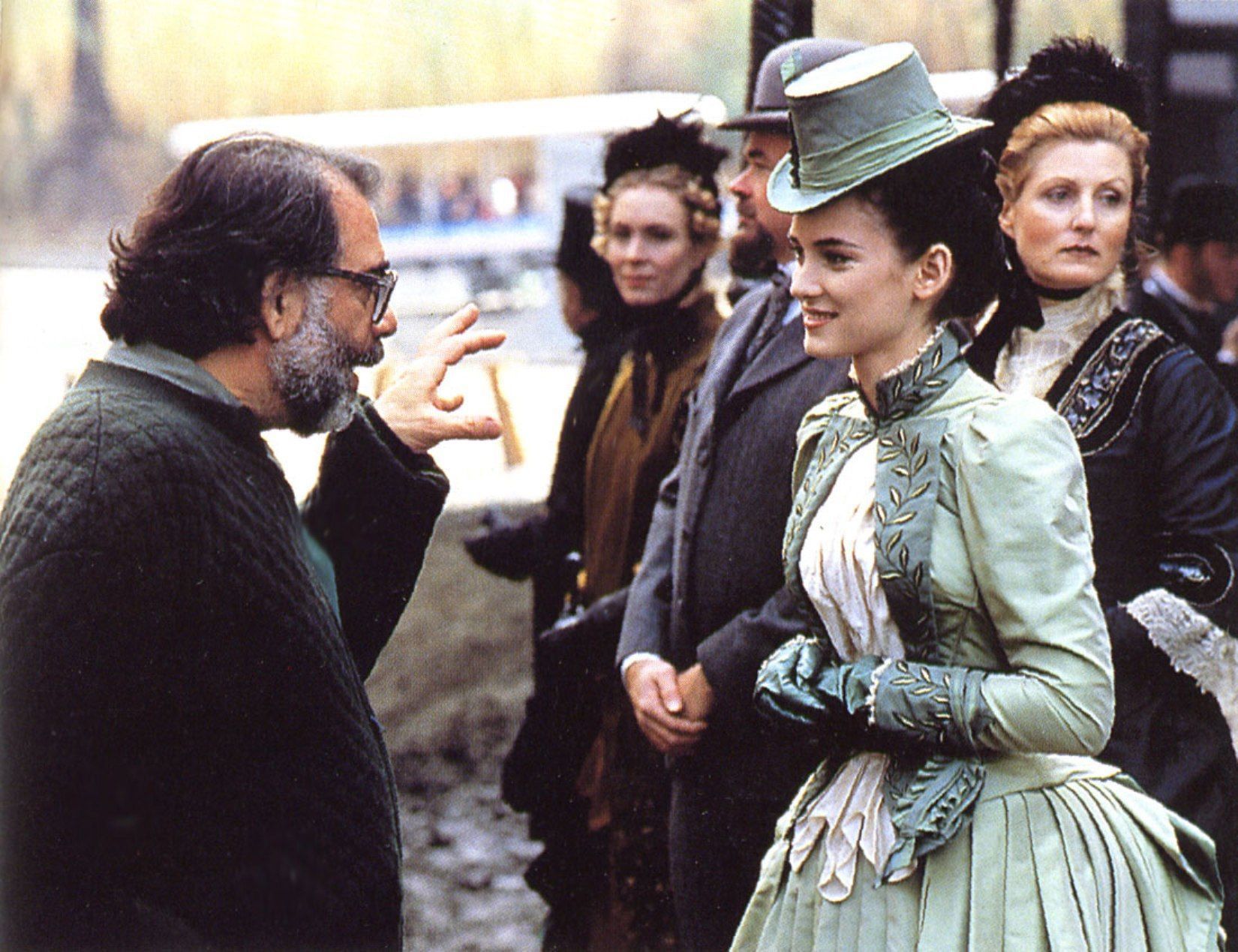 With her luxuriant beauty and inky black hair, Ryder should star in a film about the Pre-Raphealite Brotherhood as Jane Burden, Rossetti's muse.  Winona is our iconic fashion darling this week in gothic, Victoriana-inspired, slow-fashion gowns in black and scarlet, inspired by her historical screen characters in The Age of Innocence, Dracula, and Little Women. Victoriana is all the rage and perfect fashion hunting grounds include preloved, vintage sites, antique auctions and slow fashion houses for that forever dress. See below for this week's Get the Look, as home to Winona and the Oscar-winning costume design of Eiko Ishioka.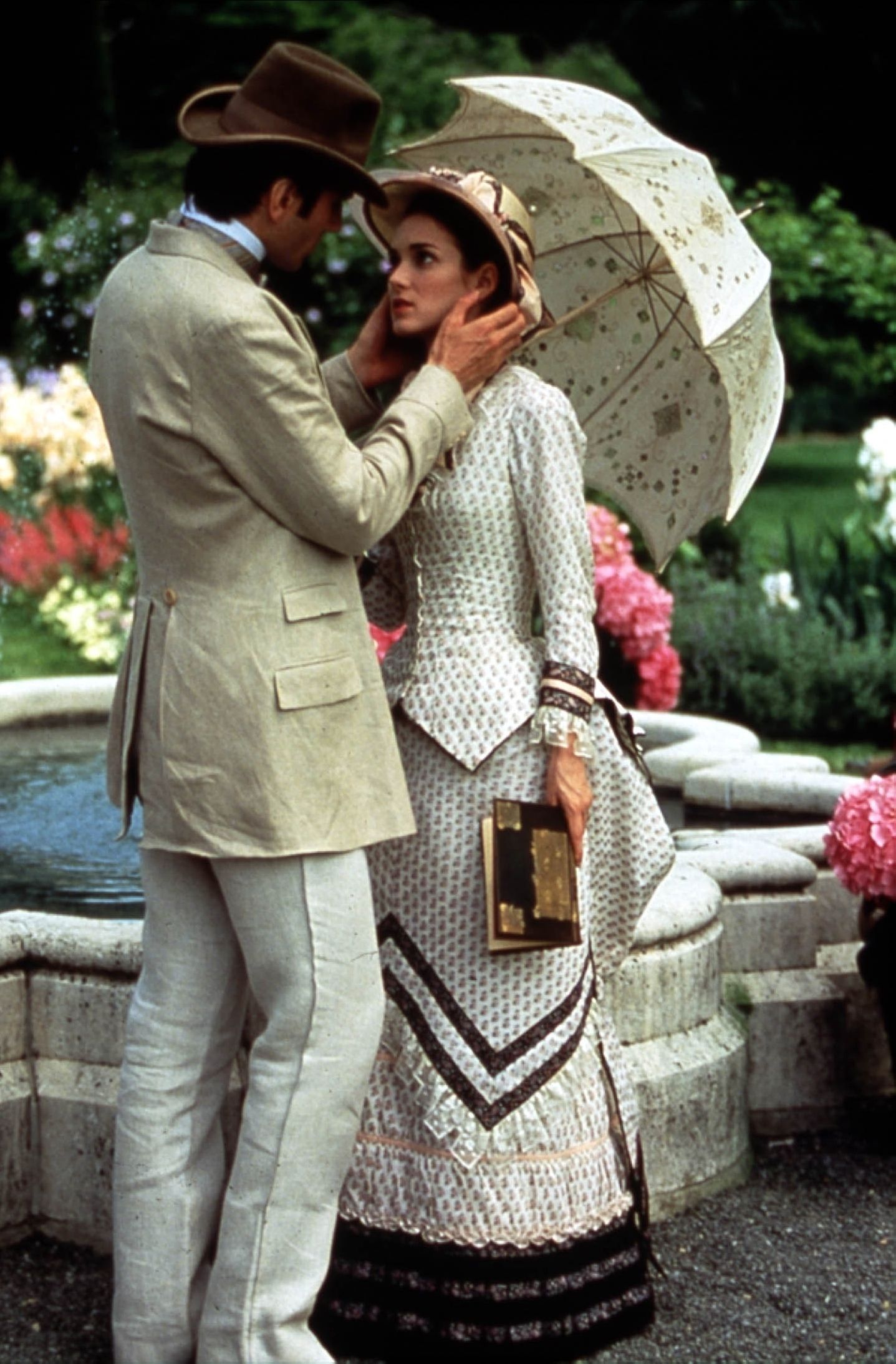 Ryder is an actor who continues to shine with a rare, magnetic intensity as the rebel, ingenue, or misfit. Perhaps an interesting, peripatetic childhood helped her to develop the characters she plays in films. Ryder's godfather was Timothy Leary and she spent time in a California commune devouring books, while her literary parents were hanging out with the Beat Poets. When she was asked about the spelling of her surname Ryder for her first film credit, she chose to style it like Mitch Ryder who just happened to be playing in the background at the time.
Four decades after she first made her film debut in Lucas, she only has to wear her passions on screen, ( Kate Bush T-shirts and lapel pins) to send the enigmatic eighties songstress superstar's song, Running Up That Hill, to number 1 around the globe, including the UK.  Almost four decades after the song enthralled the arty, eighties teenager, hanging out in their bedrooms, obsessing over Heathcliffe and Charlotte Bronte, it's happening again.
What fun.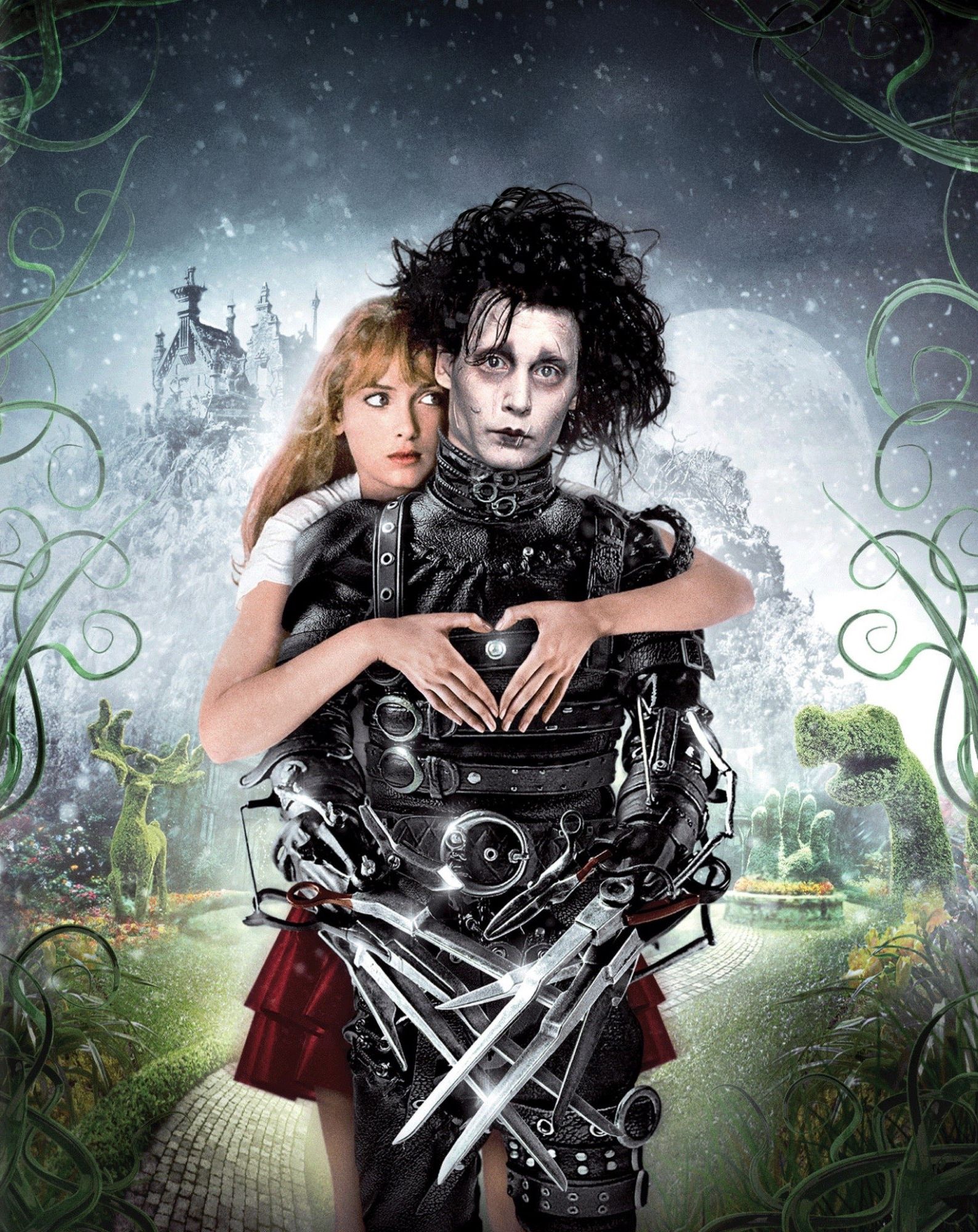 Hollywood's favourite quirky ingenue actor will forever be the dream girl next door as carrot-haired Kim in Tim Burton's dark fairytale masterpiece, Edward Scissorhands, opposite Johnny Depp, her beau at the time.
The film is an unforgettable ode to teenage angst, loneliness, not fitting in, and the magical powers of transformation.
Before that, Burton cast Ryder as goth teenager Lisa, in Beetlejuice, the director's fantastical horror comedy, starring Michael Keaton, Geena Davies, and Alec Baldwin. At the time, Ryder gave interviews in which it is clear she was a natural to work with Tim Burton and that making the movie and dancing with belligerent ghosts was a lot of fun. Beetlejuice is now a horror classic and a huge critical and commercial success.
Ryder went on to play a lot of brilliantly angry young women in - Little Women, Mermaids, Heathers, and Girl Interrupted.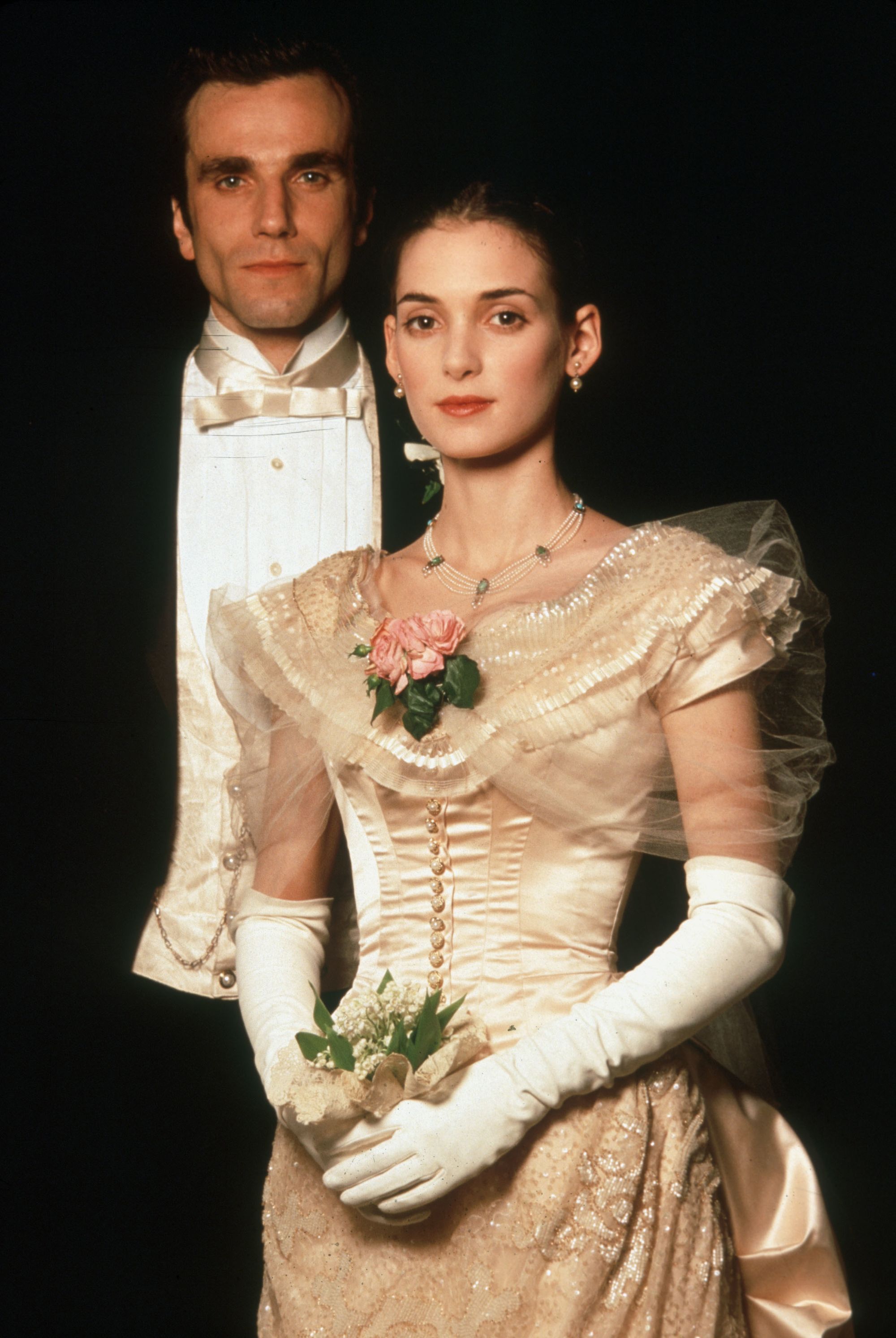 In the nineties, she embraced the literary classics and starred in Bram Stoker's Dracula directed by Francis Ford Coppola to critical acclaim, as Jo in Little Women and the hard-as-nails fiancee in Edith Wharton's The Age of Innocense. The role in this exquisitely conceived costume drama garnered her a Golden Globe.
Ryder took the role of a teenage murderess in Heathers, against the advice of her agent who said it would ruin her career. It was a good decision. She won critical acclaim for the role and while the film was only a modest success at the box office, it cemented her position as an actress with charisma and screen presence.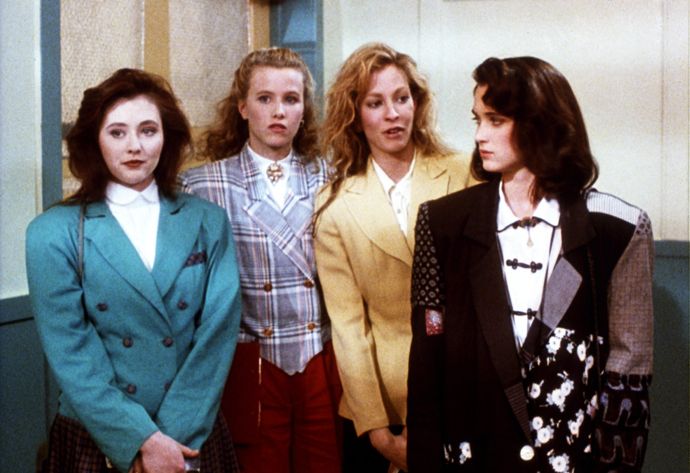 The Washington Post declared, "Ryder makes us love her teenage murderess, a bright funny girl with a touch of Bonnie Parker."
After taking a hiatus from Hollywood in the first part of the 21st Century, Ryder gradually returned to film and television with her hit role in Stranger Things.
As a single mother, whose son disappears, Ryder is seen wearing Kate Bush t-shirts which led to the producers using Kate Bush's Song Running Up the Hill. The song went viral and went to number 1 around the world.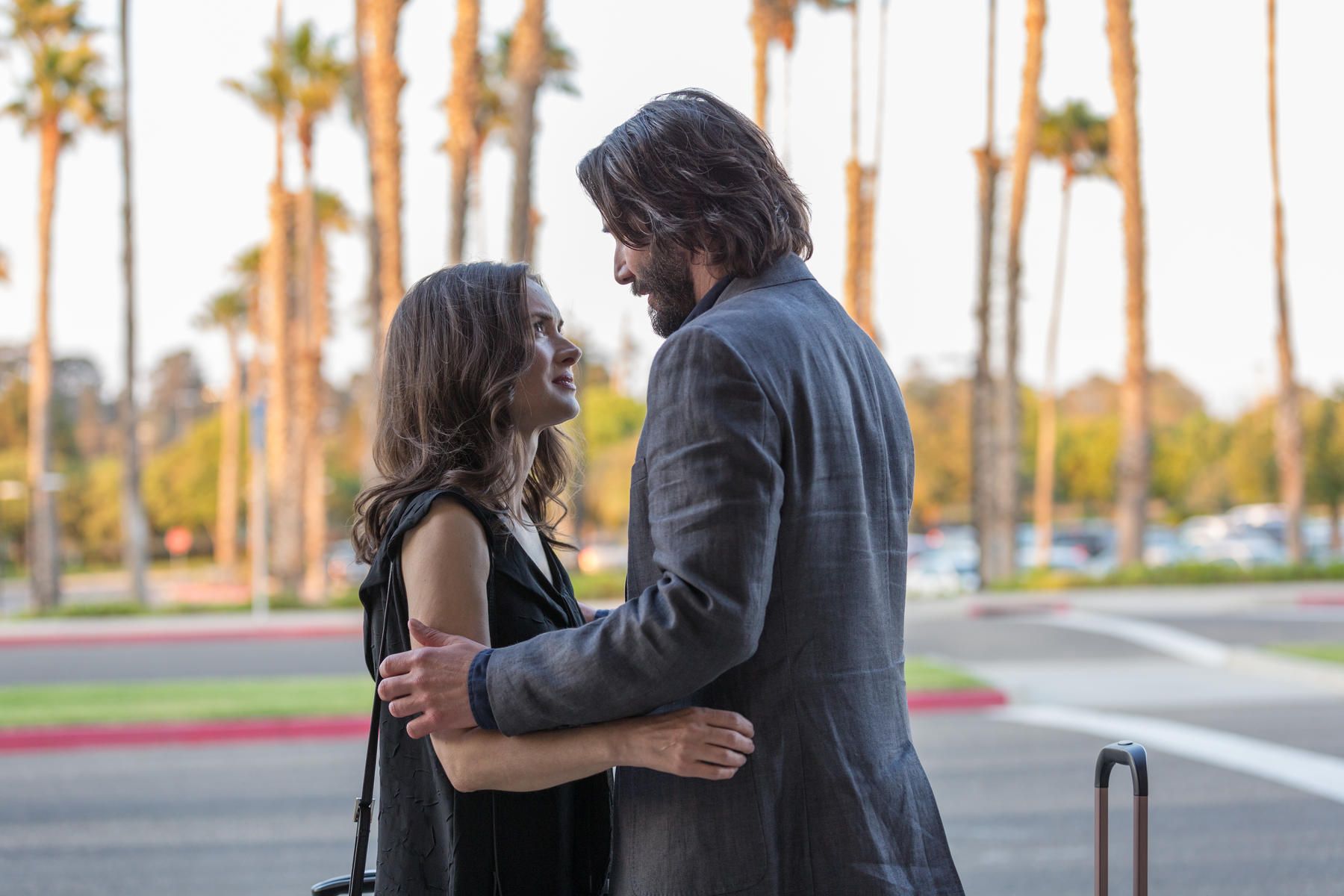 In 2018 Winona Ryder reunited with her Dracula co-star, Keanu Reeves in the romantic comedy Destination Wedding.  This critic hated the first twenty minutes of the film. The title suggests the film was made by a committee. After hanging on for the duration, I decided that the film was saved by irony and its stars who both delivered authentic masterclasses in the exquisite and very real discomfort and torture of love lost and found and in being oh so very human.
Watch Winona Ryder's Best Films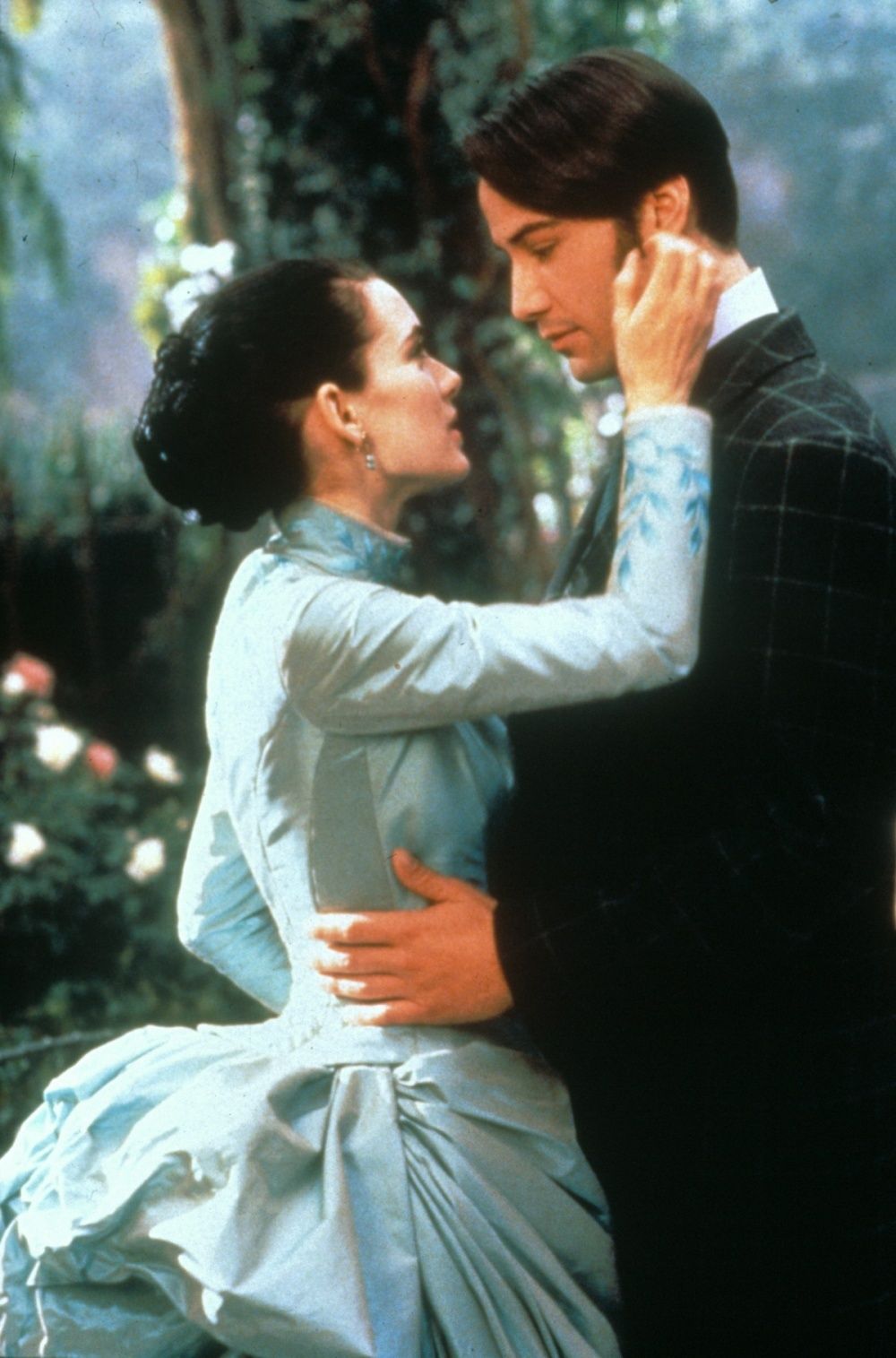 Age of Innocence The Age of Innocence -
Arrow Video via Amazon Prime Heathers
Beetlejuice Currently included with Amazon Prime
Little Women Amazon Prime Video via Universal
Bram Stoker's Dracula Amazon Prime Video
Get the Look - Dress Like a Winona Ryder's Gothic Heroine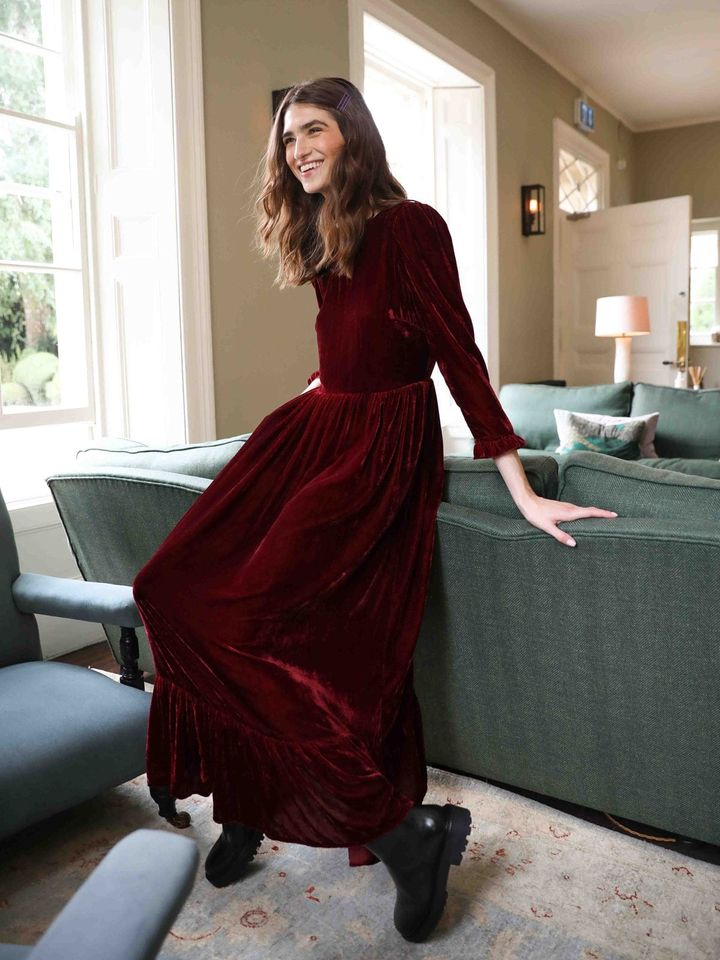 The wasp waists, corsets, ruffles, and bows of the Victorian age, continue to exert an enormous impact on the leading fashion houses from Dolce and Gabbana to Maggie Marilyn, The Vampire's Wife, and Iris.  The collections are positively brimming with a 21st Century take on Winona's sumptuous period costumes for Dracula, Little Women, and the Age of Innocence in shimmering velvets, lustrous, heavy silk, satin, and lace.
Winter Gowns for the Ingenue, Like Winona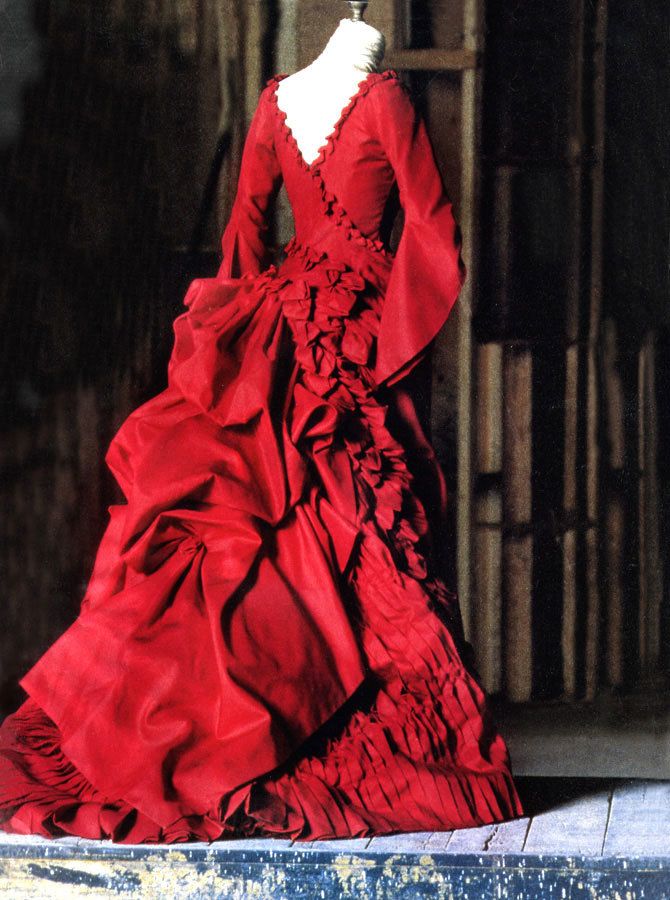 'Gather the Girls' long black silk dupion dress, with ruched detailing and oversized Victorian puff sleeves, sustainably created by Maggie Marilyn, NZD 1,055.00. Maggie Marilyn.
Dark claret velvet Shae maxi dress with v-neck, elegant puff sleeves, and flowing skirt by Iris Fashion, £295. Iris Fashion.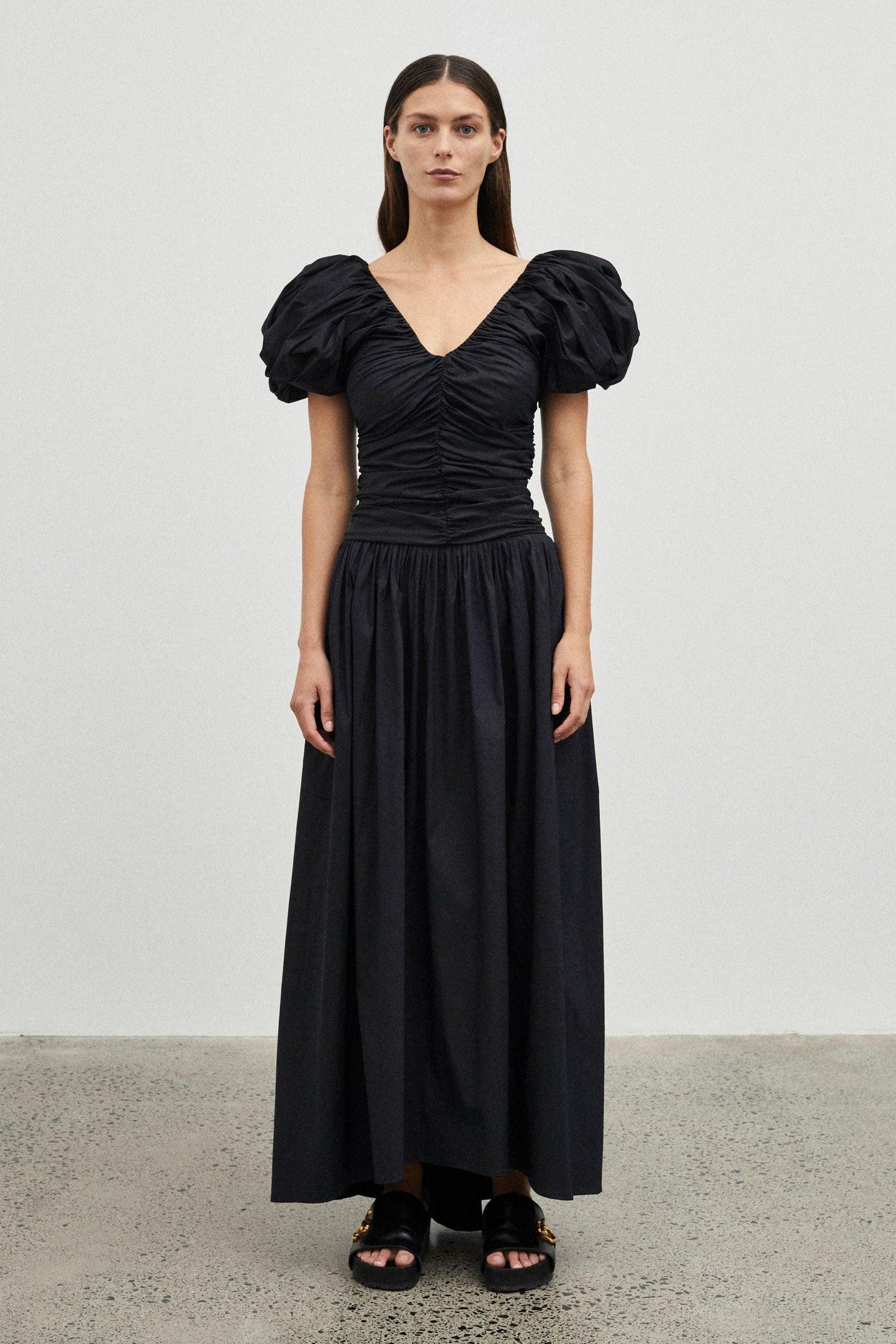 Copyright Alison Jane Reid/The Luminaries Magazine October 2022
Become a supporter of Quality Independent Arts and Culture Journalism Now -  Subscribe to The Luminaries Magazine