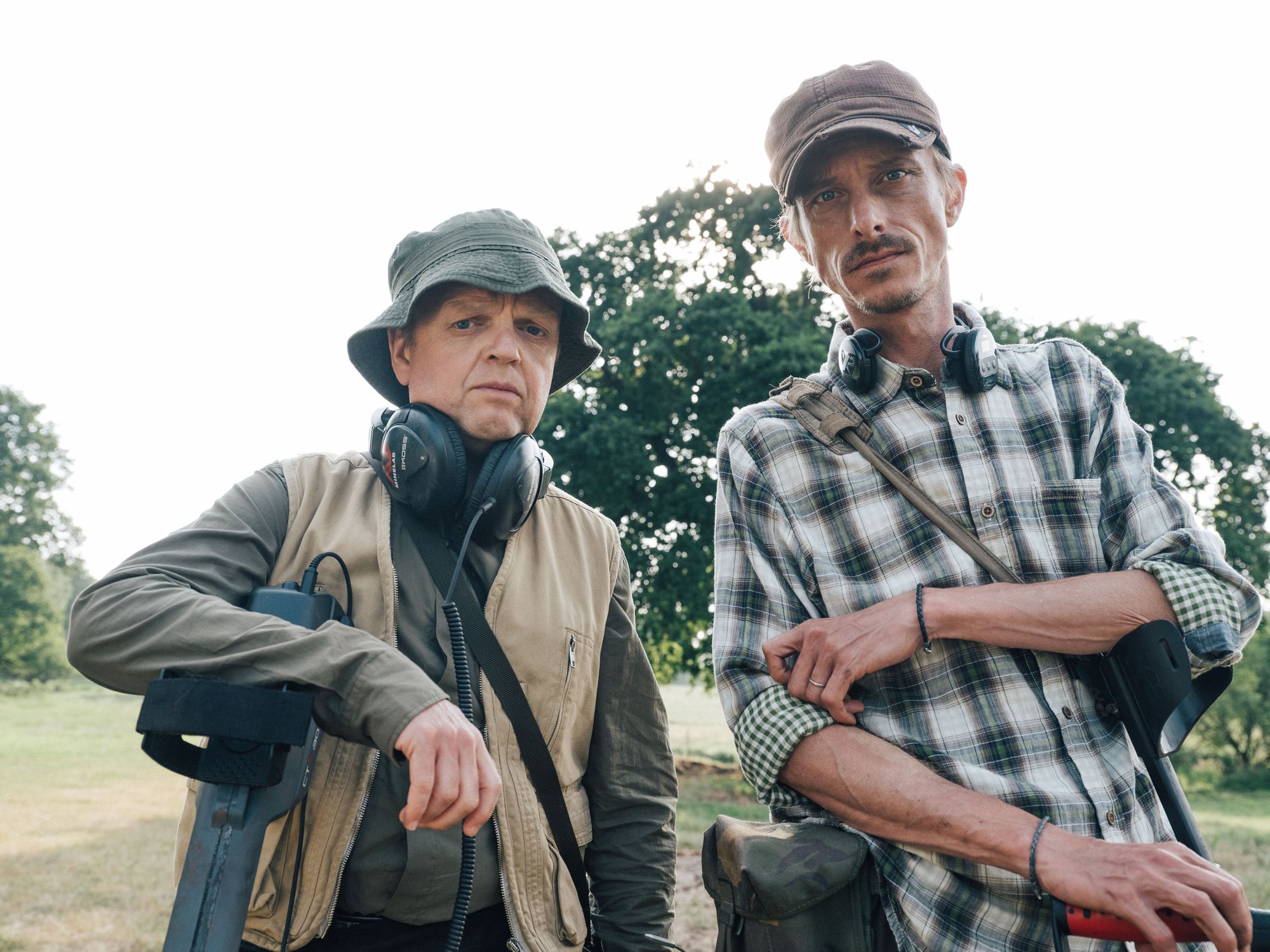 Detectorists
Horray for the return of Detectorists and Johnny Flynn singing his wild-hearted theme song inviting us all to get lost in the briar and bramble, dreaming of kings and golden Saxon hoards!
Yes! If you lost your heart to The Dig, be prepared to fall in love with two more amateur archaeologists extraordinaire starring Mackenzie Crook and Toby Jones as chalk and cheese best friends to rival Jack Lemmon and Walter Mattheau in the Odd Couple.
This slice of life, Bafta, award-winning comedy-drama is back on BBC iPlayer  (if you missed it first time around or you want to wallow again) as the perfect balm for everything that is wrong in the world right now. Mackenzie Crook, who wrote the series plays Andy, an itinerant archaeology student, best mate, frog rescuer, tree-activist and possibly, the world's most inept and careless consort to the fair maiden Becky, played by Rachel Stirling.
Stirling's Becky is a delicious mix of no-nonsense school-mistress feistiness, teasing, insouciance and a shared dislike of settling for a hum-drum life, complete with colleagues moaning about parking spaces in the staff room, when she and Andy could be running off to Africa to realise their dream of working on a VSO Dig.
The fly in their nest is Becky's fierce mum, played by Rachel Stirling's real mother, Dame Diana Rigg, who passed away last September 2020 at the age of 82 from lung cancer. Rigg is brilliant and ultimately, she turns out to be Andy's champion rather than his nemesis without giving away too much!
Detectorists is an ode to nature, the good life and the art of slowing down wrapped up in the kind of slightly mad, bad taste, English Eccentric comedy that we Brits do so well that involves copious cups of tea, going to the pub, lots of other slightly odd people including a mad farmer with imaginary dogs, a student Mata Hari who turns out to be a spy from the rival Dirt Sharks club and a wicked ex-wife who is trying to take Lance to the cleaners and steel his lottery win.
The moment I hear the lilting, faraway voice of Johnny Flynn singing the theme tune he wrote for the series, I'm in comedy clover. It's like mead or catnip for grownups inviting us to lark in the brambles, briars and lonely earth, dreaming of warriors and burial ships laden with gold.  Suddenly, I am transported to a field of stately English oaks alive with birdsong, butterflies, curious magpies and sparrow hawks.  
I'm sitting under a tree drinking tea with Andy and Lance and comparing ring pulls circa 1978, Blankety Blank cheque books and railing about the over eager contestants on Mastermind. Then, because anything can and does happen in sleepy Danebury, the boys discuss the return of their eponymous band, 'Fanny Magnet' for a mega gig at the local pub.
Unsurprisingly, or perhaps surprisingly, they are quite good, although not as good as Johnny Flynn, who drops into the pub in Series 1 episode 3 to play the theme tune and receives less applause. It's a bit like Brian May turning up to play a guitar solo and no one notices. In any case, Andy is too busy quietly causing havoc by holding hands with Sophie, the spy in their midst at the moment Becky comes in to to tell him she is pregnant!
Who knew that that two socially awkward geeks, one with a yellow penis extension, TR7 & the other a constant, faraway look in his eyes, both with a passion for everyday archaeology, talking nonsense and a genius for getting lost searching for gold to rival Sutton Hoo or messing things up could offer such sweet distraction? Oh but they do and it is! It is all about the art of doing nothing and the romance of everyday life in the little things, especially friendship, community and a shared interest in what makes us human.
If you don't hear the siren call to slow down, admire the dragonflies, smell the earth and go time travelling in England's green and pleasant fields you must be made of stone.
Detectorists is like a hug or a cup of organic hot chocolate with cream before bed. You think that nothing much happens, when it's all happening in Danebury  From night hawks in search of Nazi Gold to Lance revealing he has a love child! Life unfolds gently in Danebury and that is just fine, mate. Who doesn't long for the camaraderie of the DMDC club nights and pub hangouts to Lance and Andy being as protective as the New York mafia about their green and pleasant patch of earth until the day they suddenly realise it would be okay to share it with their arch rivals, those silly, silly men who really do look like Simon and Garfunkel on a very bad hair day!
I once read that a geek makes the best boyfriend or husband because once smitten, they are supposed to over undying loyalty! Well, I wasn't sure about these two, but it seems that they were just on a boy's own adventure until they were ready to settle down with their geek goddesses Becky and Terri, whilst never, ever hanging up their detectoring gizmos. Not ever. Horray for that. Role on Series 4.
Watch Series 1-3 of Detectorists on BBCIPlayer
Morning Glory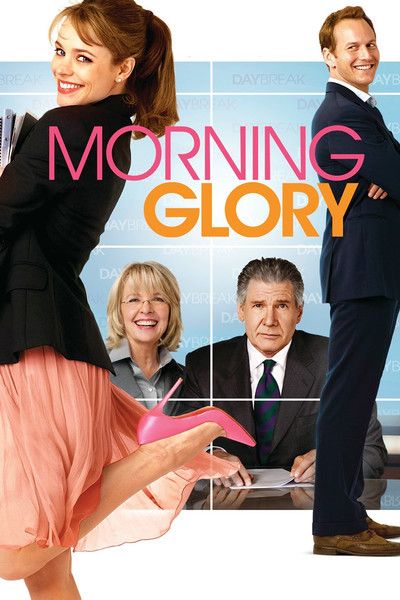 There's far more journalism in the film Morning Glory than there is in the Devil Wears Prada, which is more about the preposterous, unsustainable nature of high fashion and what it takes to sell a whole lot of clothes twice a year and still leave people feeling they really don't have anything to wear.
Having experienced by own Devil Wears Prada moment from an editor on a broadsheet who worshipped the original model, I will take Morning Glory any day.
I was once told to go home and change because I was wearing a Jaffa orange mini skirt by Claude Montana, and my editor at the time, who I rather liked, decided it was suddenly not 'au courant' and I must go home and change immediately!
The world of newspapers and tv can be a mad, bad, Machiavellian place to work inhabited by a cynical bunch of cold-blooded, ruthless ego-manics and assassins. Some of them are quite talented too. It can also be a hell of a lot of fun. Rachel McAdams shows it all, as the earnest, talented tv producer on a local station who is suddenly fired instead of promoted to make way for the bosses son.
That happens a lot too. I can remember the daughter of a Sunday newspaper editor being given a star feature writer role without any experience in journalism whatsoever. The chief sub had to write her stories until she decided it was time to go and play at running a designer clothing store for kids.
Watch Morning Glory to see how Becky Fuller transforms a failing, how low can we go breakfast tv show by being utterly authentic with a good helping of chutzpah and never giving up, kick-ass hunger, raw talent and a burning desire to succeed. It's a lesson that can be applied to any job or profession, not just journalism. She's inspiring. The point is to never give up. The best scenes happen when McAdams and Diane Keaton, a former beauty queen turned co-anchor do verbal combat with washed-up, bad-ass former news anchor Mike Pomeroy played by Harrison Ford. Ford plays the character with a delicious mix of self-destructive venom, arrogance, black comedy, mischief and booze-induced melancholy, sadness and regret.
It's worth watching for the scenes where Mike spits out his accolades, triumphs and escapades and then after making everyone's life hell and risking the show, he turns into a pussycat and makes the perfect frittata on air and charms his producer and the nation. Now that is the media. One day your are the prince or princess of it all and the next day you are yesterday's proverbial chip paper.
Letters from Baghdad.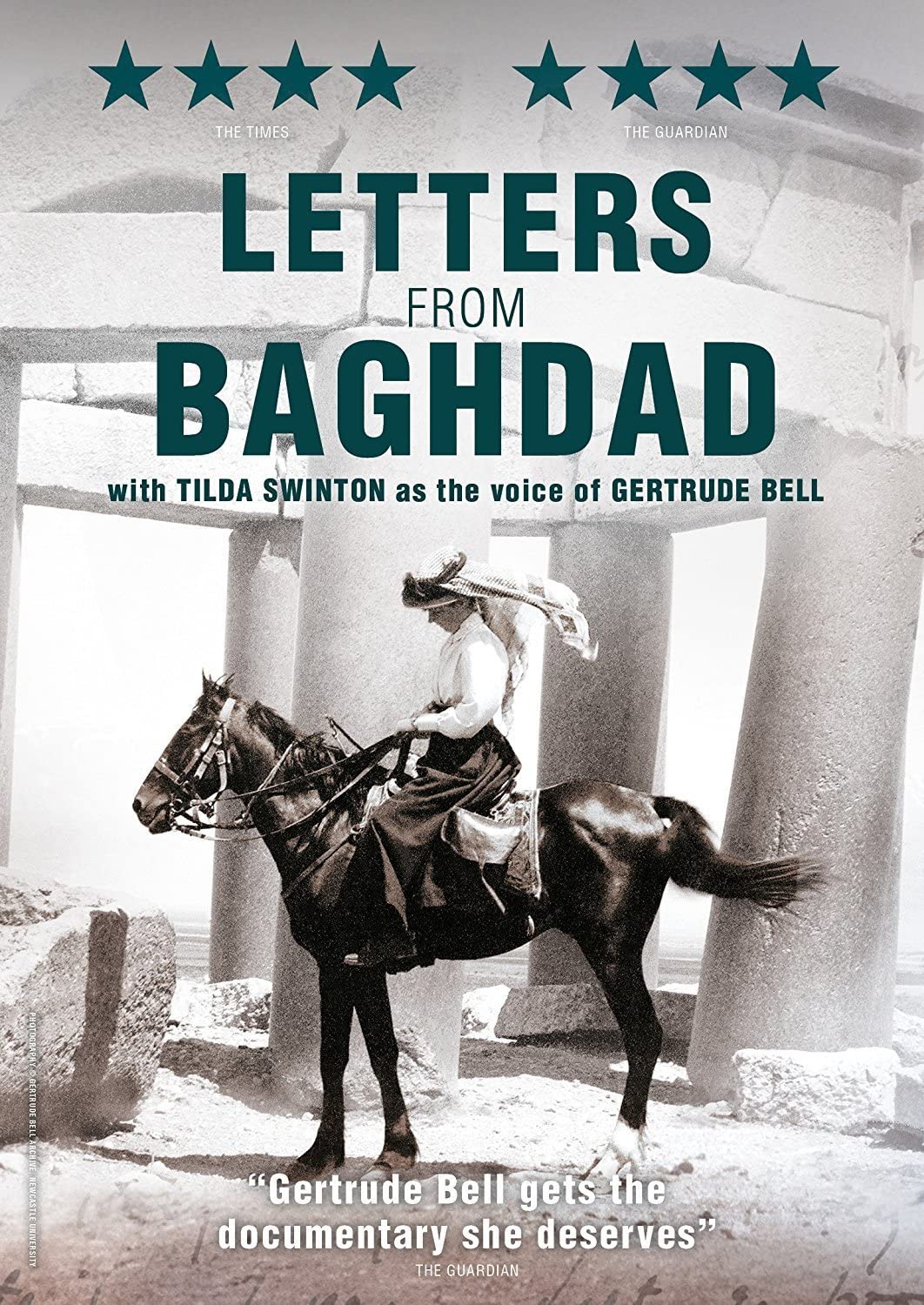 Watching Letters from Baghdad about the extraordinary life of Gertrude Bell, the clever, fashion-loving but not particularly beautiful English woman who ran off to the middle east and became the maker of kings in Arabia, at the dawn of the 20th Century left me wanting more. Her story also shows that despite the privileges of class, wealth and being the first woman to take a first in history at Oxford, the one thing that did hold her back was simply being a very clever woman in a world that absolutely belonged to the men at that time.  And yet, there were men who respected and admired her spirit, intelligence and acute empathy and understanding of the Arab mindset.   These were the desert princes, sheiks and tribal rulers who continue to remember her to this day and christened her 'Queen of the Desert'.
Her poetic, passionate letters paint a vivid, romantic and at times tragic picture of a very gifted and clever woman born ahead of her time who loses the love of her life to the carnage of the First World War. Her story is dramatised with an extraordinary sense of time, place, the sights, smells and peoples of Arabia with the actress Tilda Swinton capturing her intense passion for life, intellectual curiosity and her love for her family and her adored father. Despite her closeness to her family, Gertrude preferred the east to the west and chose to live and work in Arabia. She is the daughter of the desert, studying the nomadic tribes, reading Persian poetry, setting up the first museum of antiquities or creating the modern Iraq and realising the enormity and responsibility of her task and her mission to return Arabia to the Arabs. A story to inspire women and men that there should be no limitations on what you can do to leave your mark on the world.
Gertrude Bell  - Queen of the Desert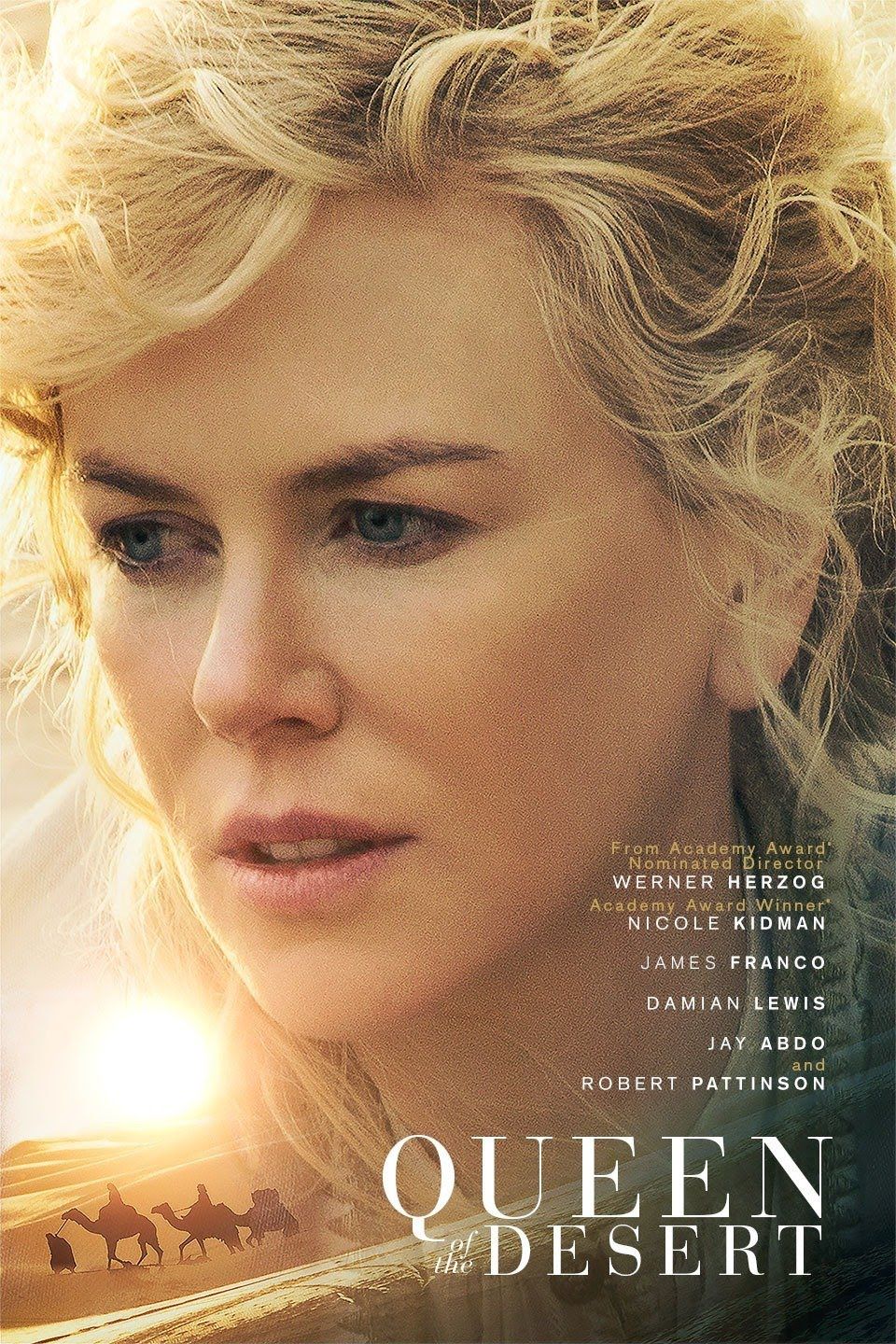 When you've watched Letters to Baghdad, then it's time to see Werner Herzog's very interesting but ultimately failed attempt to commit the story of Gertrude Bell's life to celluloid with Nicole Kidman in the role of Miss Bell in Queen of the Desert. Let me clear, it is still a fascinating film, it just isn't a classic, which is a huge pity. Watch it for the ideas it conveys and for the pull of being an eternal wanderer.
Kidman gives  a perfectly decent performance as Gertrude Bell, but she is not quite remarkable, brilliant or extraordinary enough. Though the main problem begins and ends with the failure to capture Bell's epic life on screen in all its grandeur and the cinematography only succeeds in the most fleeting moments to capture the chimera of the desert, such as the scene where Bell and her lover climb a tower and come face to face with a ravening eagle, devouring its prey.  
Of course Queen of the Desert is going to suffer from comparisons with Lawrence of Arabia and it should. Where is the epic story worthy of the real life material? There is always the lingering sense that is a rather tame version of the real story. The story is too restrained, to hum drum and meandering at times. Nor is there ever really a sense of the risks or the dangers Bell faced taking off into the desert as a western woman alone with her beloved Arab man servant and a few local men.
Damian Lewis is perfectly cast as Richard Doughty Whiley, the married consul she falls in love with. Despite the meeting of hearts and minds, the relationship was never consummated before Whiley's death at Gallipoli. I would like to have seen more about the relationship which was both intellectual and emotional and nurtured out of a deep friendship and the wonderful letters they wrote to each  other in which Gertrude affectionately calls Richard ' Dick'. The trouble with QOTD is that it is only good in parts. I certainly feel that it shows that it is the desert and the nomadic way of life that rules Bell's heart.  She is searching for absolute freedom and her life is like a quest or crusade to understand herself, the people and the history of her adopted home. Alas, the film mostly fails to capture the majesty and vast open beauty of Arabia in the way that Lawrence of Arabia does so well, that even a desert sandstorm cannot obliterate the call of the desert and the desire to just vanish from a relentless, teeming world.
Letters from Baghdad and the film Queen of the Desert are available on Amazon Prime Video.
Copyright Alison Jane Reid, February 2021. All Rights Reserved. Images and film stills courtesy of the BBC, Netflix and Amazon Prime Video.
Support Quality Independent Journalism and Pay for Great Reading Today.
We hope you have greatly enjoyed this arts and entertainment review. If you are not already a subscriber and supporter please take out a subscription now to support quality magazine journalism and publishing on the arts and culture and organic, circular living here  https://www.ethical-hedonist.com/signup/
About the Journalist -  Alison Jane Reid, AJ, is a journalist, author, broadcaster and student mentor and the founding editor and publisher of this independent arts and culture magazine. AJ spent a decade writing about icons, film, fashion  and food at The Times Newspaper in the UK, as contributing editor to the Saturday Times Magazine. She trained at Mirror Group Newspapers and also worked at The Lady Magazine and her features, interviews and broadcasts have appeared in  - The Sunday Times, The Independent, ES, You Magazine, Orient Express, How to Spend It, Red, Harpers Wine and Spirits, Tatler, ITV and Sky and publications around the globe via syndication.  Support AJ, and quality independent journalism. Become a supporter and subscribe today - https://www.ethical-hedonist.com/signup/