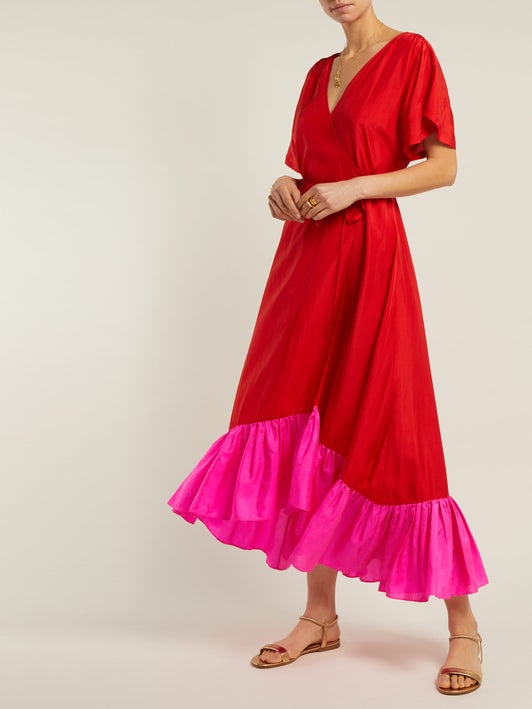 Diana Vreeland declared, "Pink is the navy blue of India, "and that is exactly what this riotously red Anaak maxi dress with delightful ruffles imagines.
Roman Emperors at the Uffizi
It's a hot red and pink love letter from India in the hues of celebration. It evokes thoughts of carefree holidays, wandering around the Uffizi Gallery looking at busts of Roman Emperors on a Monday afternoon or perhaps a gentle walk in parts of Italy that are unspoiled by mass tourism such as the Marche and Ciociaria.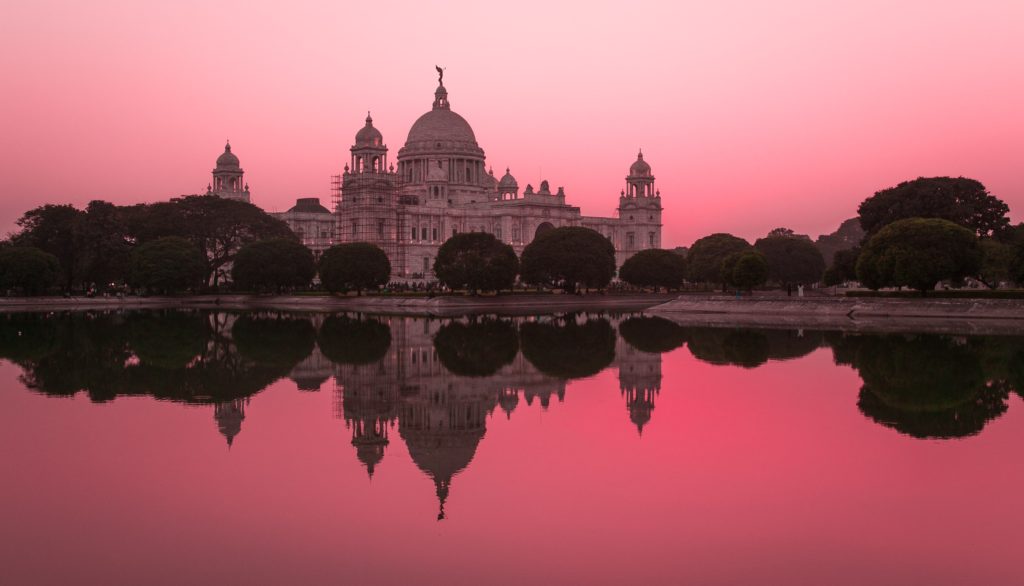 A Forever Future Vintage Dress
If ever a dress could make a girl happy, it's this fluttering red and pink wil 'o' wisp sustainable fashion masterpiece in sumptuous silk by slow luxury fashion house Anaak. This is a forever dress to pluck from a capacious trunk as Spring gives way to long high summer days. One day you can pass it on as a family modern vintage heirloom. There are just a few left in the sale here. Alas, in tiny sizes. However, we love it so much it is more for inspiration and to transport you.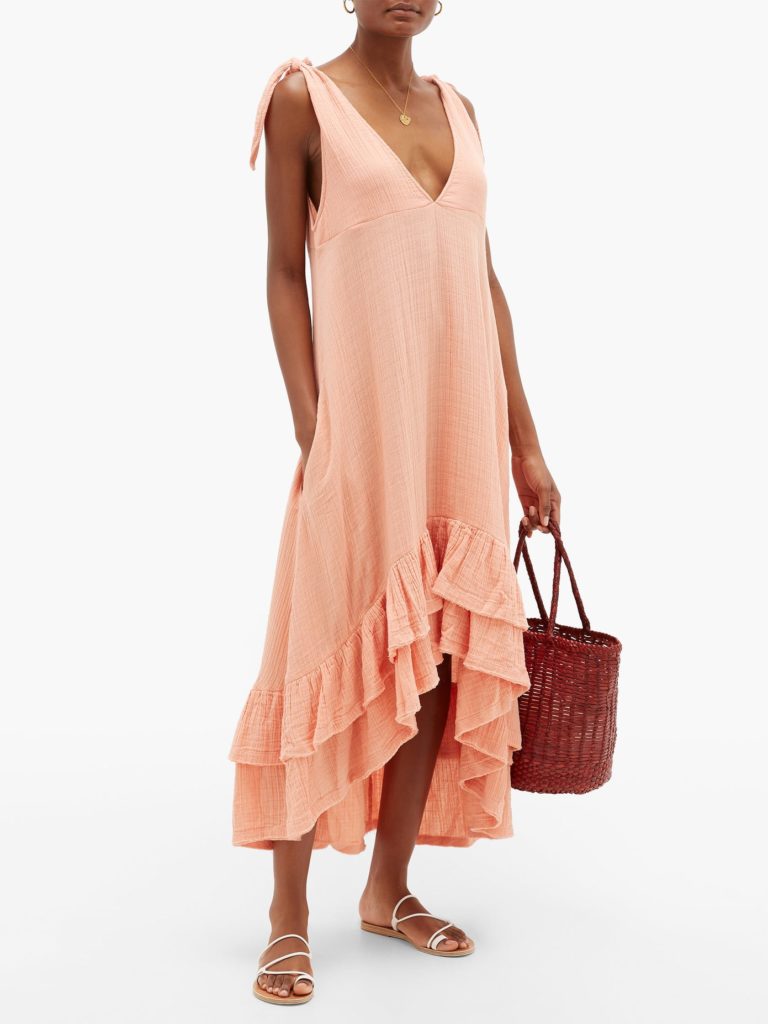 Here is an equally lovely alternative from this summer's collection – the oh so pretty Anneka dress in a muted shade of coral-pink muslin with a carefully shaped bodice that gives way to a sweet cascade of ruffles.
A Partnership with Artisan Makers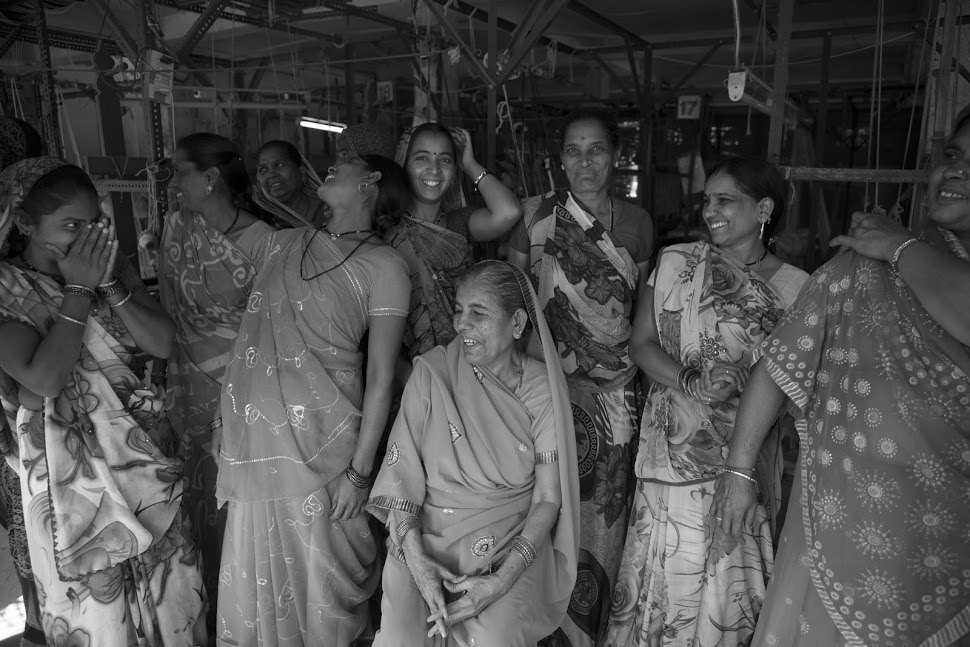 Every artisanal, handcrafted piece in Anaak's collection by textile designer Marisa Maximo is a fair partnership between artisan makers in rural India and Bolivia.
This thoughtful sustainable fashion house uses eco-friendly azo-free dyes, makes in small batches and champions the beauty of natural fibres.
Lock Me Down with Thor Star, Chris Hemsworth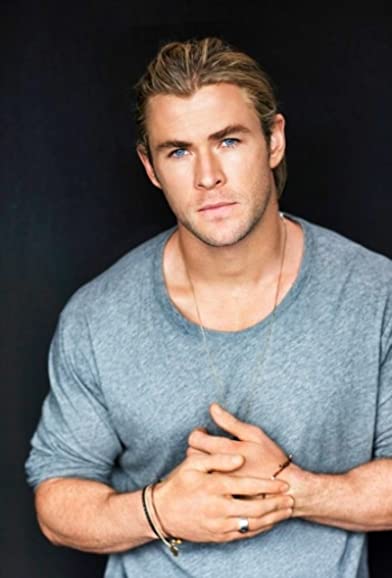 No surprise that film stars playing heroic figures in epic films are the kind of men we women want to spend our time in social isolation with, that or man who can make us laugh.
We Want to See 007 Live Again
Chris Hemsworth, star of Thor and Avengers is the film star most female film fans would love to spend their time in social lockdown with. While No Time to Die, the new James Bond film is the most anticipated film release of the year, with Daniel Craig reprising the role of the mercurial secret agent for one last time.
Can You Make Us Laugh?
It seems we gravitate to heroic characters in times of national crisis. However, there is one fascinating proviso. Given a choice between a physically attractive film icon or a star who can make us laugh, almost half of women polled would opt for a man who can make us laugh rather than good looks, whilst men would choose physical beauty.
No one put it better than Audrey Hepburn when it comes to the importance of laughter.
Laughter is Living
"I love people who make me laugh. I honestly think it's the thing I like most, to laugh. It cures a multitude of ills. It's probably the most important thing in a person."
There are also some intriguing national variations. Dwayne Johnson, the Rock in the Fast and the Furious film franchise, came a close second to Christ Hemsworth, but in Scotland, it is Dwayne who wins women's hearts.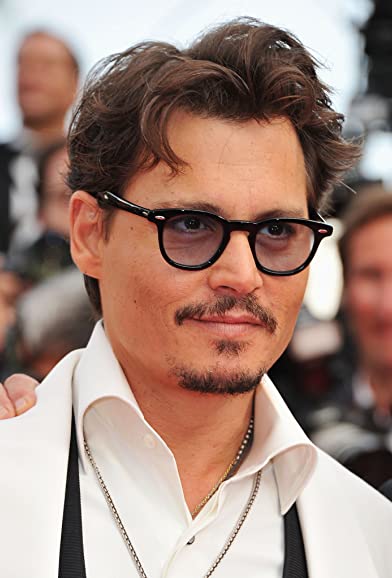 While John Depp shows his enduring status as a much-loved film icon and star of iconic films such as Pirates of the Caribbean, Sleepy Hollow and Edward Scissorhands by coming third in the nationwide poll.
Other film stars who
feature high on the list of lockdown stars include Will Smith, Scarlett Johansson
and Jennifer Lawrence, with the two female stars gaining equal stellar billing
amongst fans.
A Passion for Visiting the Cinema
One fascinating fact is that the national pass-time of going
to see a film on the big screen is still a hugely loved and popular activity
with 25% of UK Film lovers planning to go the cinema within a week of social
isolation ending. Our most missed activities are seeing family (61%), Going out
with friends (56%), travelling (47%) and visiting the cinema (36%).
Twice as many film fans would rather spend lockdown with a
funny actor or actress (32%) than a physically attractive actor or actress
(15%), the study reveals. While men mostly voted to spend their lockdown with a
physically attractive movie star (22.5%), women overwhelmingly opted to spend
it with a funny actor (42%).
A Return to Films on the Big Screen
UK film fans can't
wait to start going to the cinema again, with a quarter of the 2,000 UK adults
polled saying they will visit the cinema to get their movie fix within 7 days
of cinemas opening after the lockdown. A further 27% say they will be back
watching their favourite movie on the big screen within a month.
"The new James Bond movie – No Time To Die – is the one movie Brits really want to see. Around 47% of those polled listed it as the one movie they really want to see when the lockdown is over."
The New James Bond Film
One in 10 Londoners
will visit the cinema on the first day after lockdown ends with a further 23%
saying they will visit the cinema more after lockdown than they did previously.
In East Anglia, the movie star most people want to spend lockdown with is Pirates of the Caribbean star Johnny Depp. But in the East Midlands, they want to be locked down with Will Smith.
The Top 10 Filmstars For Lockdown
Dwayne Johnson
Chris Hemsworth
Will Smith
Scarlett Johansson
Jennifer Lawrence
Johnny Depp
Tom Cruise
Margot Robbie
Colin Firth
Leonardo DiCaprio
THE TOP 10 MOST ANTICIPATED MOVIES IN THE UK
James Bond: No Time to Die
Top Gun: Maverick
Black Widow
Wonder Woman 1984
Peter Rabbit 2
A Quiet Place 2
Ghostbusters: Afterlife
The Secret Garden
Minions 2: Rise of Gru
Mulan
Win AJ's Exquisite Writing Journal!
How would you like to win a beautifully illustrated creative writer's hardback journal with exercises by Joy Kenward to help you fly as a writer and find your authentic writer's voice?
One lucky reader can win their very own copy of our editor's writing journal and workbook often featured on the table where she works and creates the reviews, features and organic food stories for Ethical Hedonist Magazine.
Join Our Crowdfunding Now for Members Only Rewards and Magazine Experiences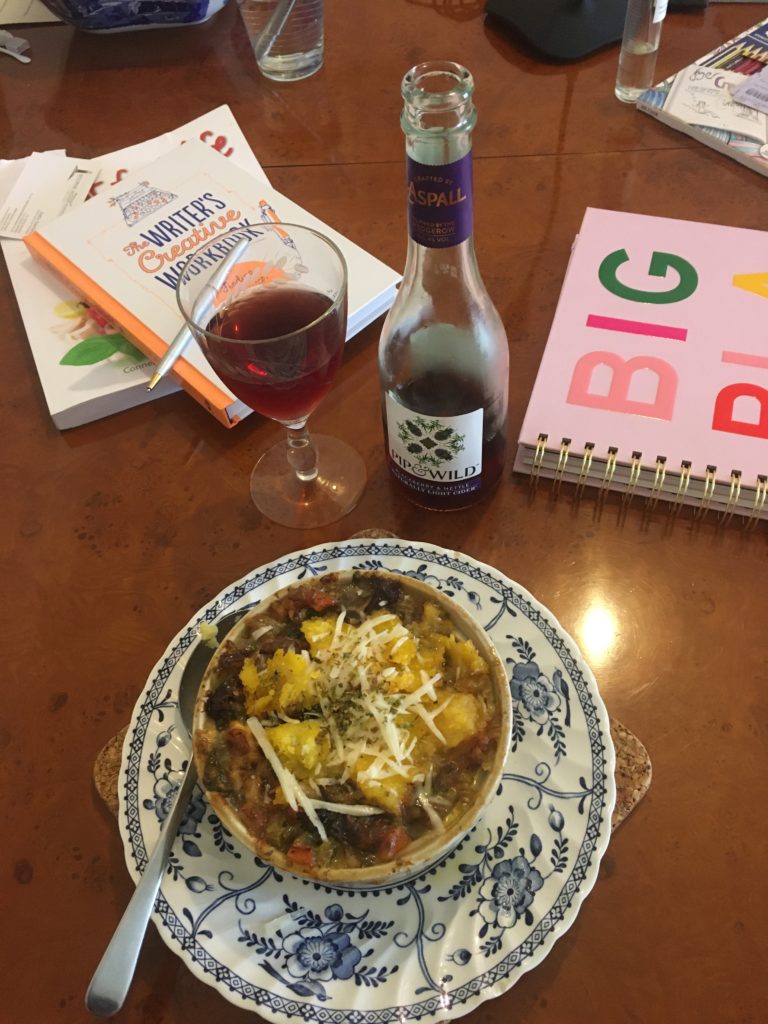 All our donated prizes and giveaways from ethical and organic companies go to our crowdfunding supporters. To support our crowdfunding visit us on @Patreon and Ko-Fi and then let us know on social media why you are supporting this organic arts magazine and spread the word!
The Writer's Creative Workbook is priced £10.99. There is no cash alternative and the editor's decision is final.
Love our Spy Column? Then you might enjoy reading AJ's feature review of Sex Education.