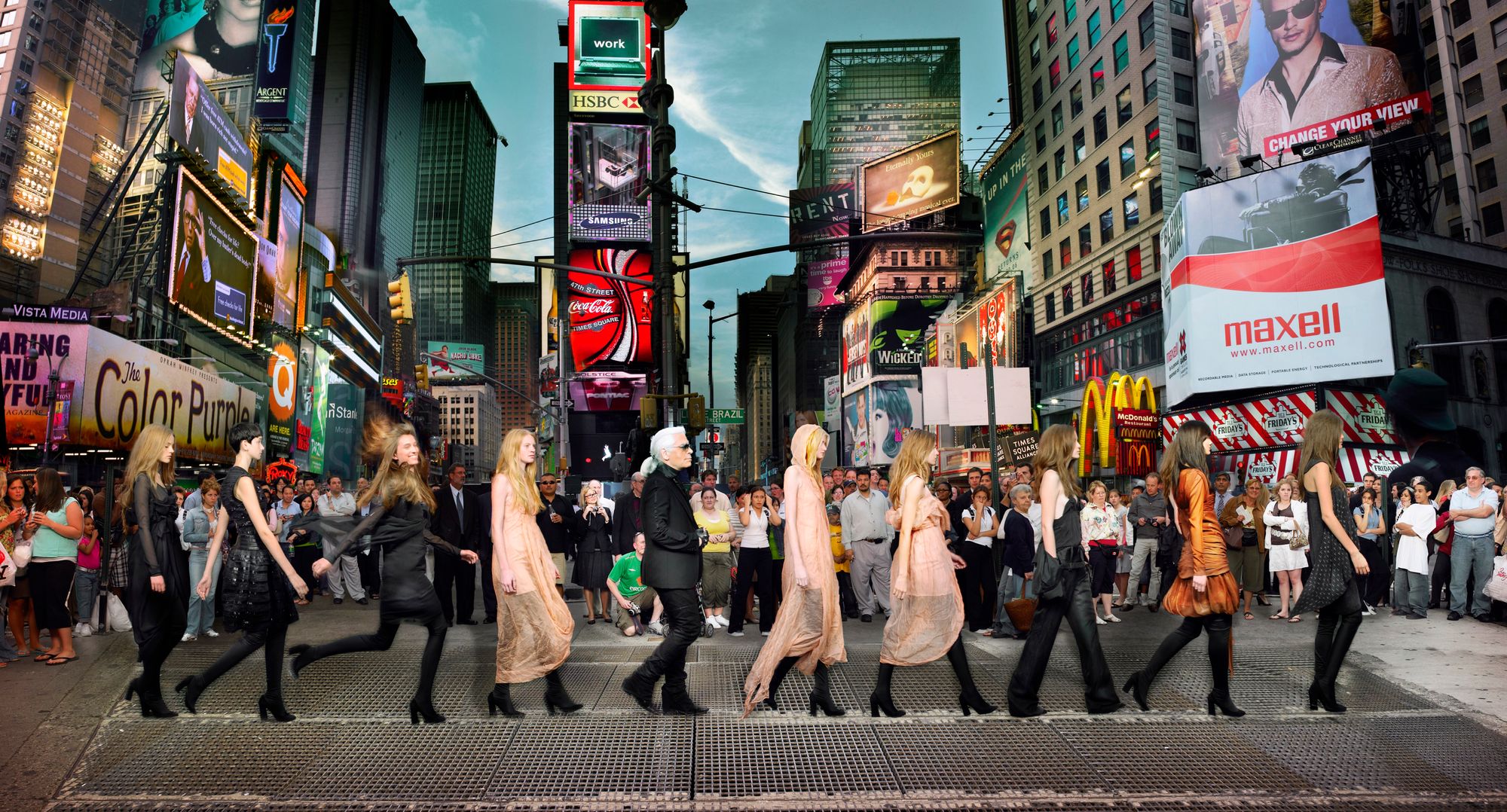 Simon Procter, accidental stellar fashion photographer, fine artist, sculptor and collaborator with the late Karl Lagerfeld, Chanel maestro and pied piper of haute fashion, talks to arts and entertainment journalist Alison Jane Reid about life as a celebrated and collected artist and lensman and why he will never forget his roots growing up in Royston, a mining village in Yorkshire.  This week he unveils his Festival de Cannes portraits of the women in film who define our age.
Simon Procter's professional life changed the day he met Karl Lagerfeld in NYC in 2006. Karl gave Procter a 'make or break' commission to block Times Square and photograph and document his latest Chanel spectacle.
Chanel and Karl Goes to Times Square
Procter acknowledges that this extraordinary commission was both daunting and a lot of fun.
The show and the resulting images were a big success and so began a professional friendship and collaboration between Procter, Lagerfeld and Chanel which gave the elusive Yorkshireman, who looks like a rock star, the golden keys to the rarefied world of Chanel and the business of documenting the flowerings and ideas of his patron's first-class imagination.
Lagerfeld could be wonderfully spontaneous as I remember very well as a contributing features editor for The Times Magazine.  He once gave me an impromptu audience after I interviewed one of his actress muses  (after his entire pr team had said 'non') and then he took me to dinner in his favourite pavement cafe and told me extraordinary stories at 200 miles an hour!
Procter's experience was equally magnanimous.  
"Karl was very supportive of me (as we're  Chanel ) shooting the Chanel shows, I have very privileged access, which I am very grateful for," says Procter.  Lagerfeld also encouraged his protege to publish a book on his collaborations with the fashion house.
https://www.rizzoliusa.com/book/9780847863815/
"We worked on the book together and several major fashion magazine shoots primarily for Harper's Bazaar and V Magazine."
Now Karl is in the great fashion atelier in the sky and Procter has turned his attention to the razzmatazz of film and Cannes.
Festival de Cannes
Amid the hothouse atmosphere of the Cannes Film Festival, Procter unveils a new series of iconic festival portraiture, seeking to tell a new story of the most photographed faces on the planet. Has he succeeded? His iconic sitters certainly seemed to have enjoyed the sittings at the Martinez Hotel.  Emma Watson, Morgan Freeman, Saiorse Ronan, Aishwarya  Rai and Eva Green exude a ghostly gravitas and air of mystery that looks back the Victorian photographer Julia Margaret Cameron and a love of classic mythology, playing gods and goddesses and the art of embellishing images with a ghostly, ethereal beauty which is all about the light and shadow and lush palladian printing.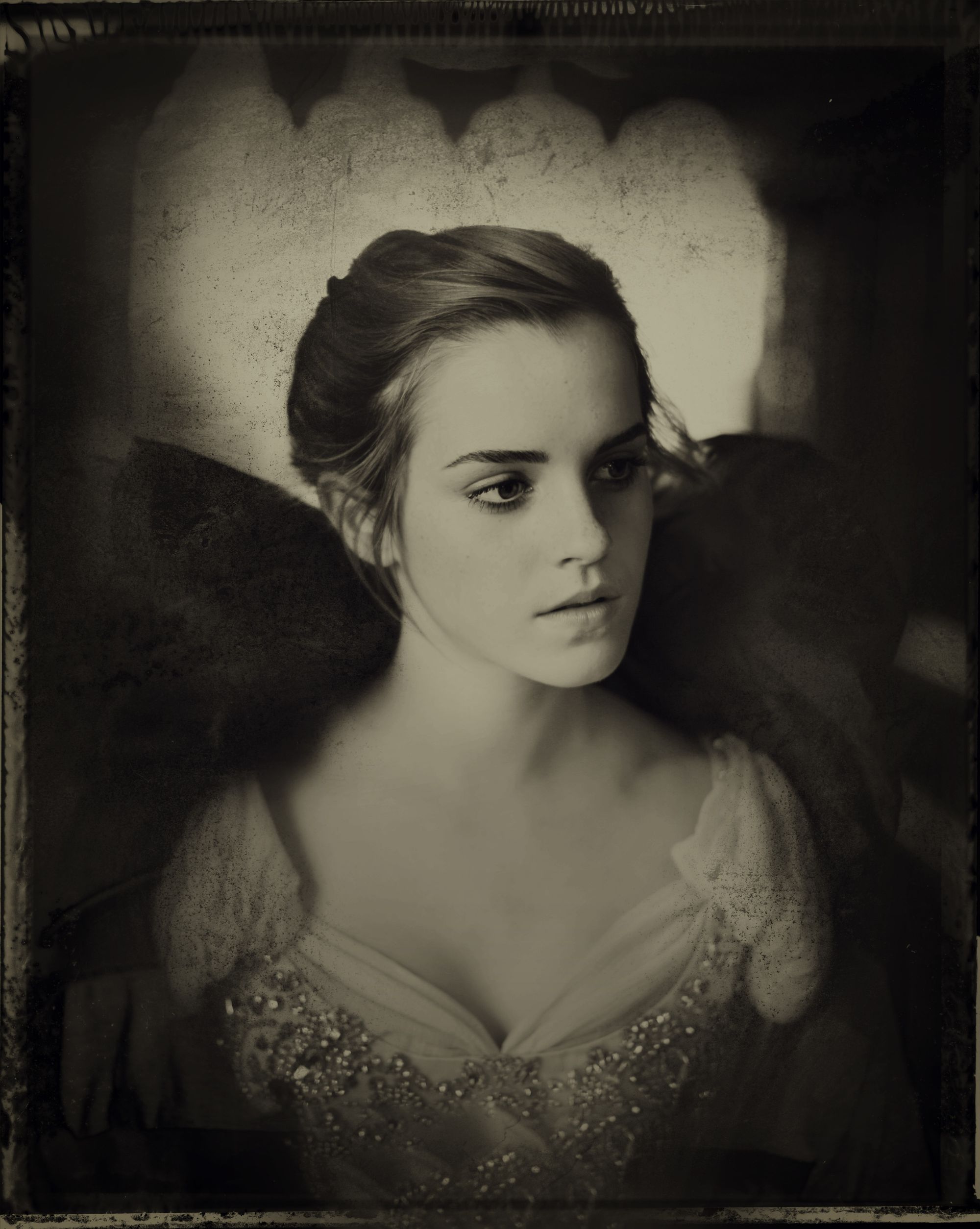 Procter's portrait of Emma Watson is a particular delight. Watson looks like an angel. The years fall away, as if she is Hermione again, in Harry Potter. Bathed in shadows, her face and embellished, Tinkerbell gown lends an air of rare, other-worldly magic.
Simon Procter was working as a fine artist when Karl Lagerfeld invited him to photograph his Times Square fashion spectacle in  2006.
Interview
AJR  In what way is your art influenced by your childhood, your surroundings and your earliest interests and passions?
SP "Art was my earliest passion, lots of drawing, but it wasn't until my teens I realised it was something  I could actually get to do for the rest of my life.
One of my most recent works "the battle of Orgreave" Is based on my growing up in a small miners village during the 1984 miners strike."
AJR  I interviewed Karl and found him to be funny, erudite and with a lively Renaissance mind that works at two thousand light-years per second. What was it like for you to work with Lagerfeld?
SP Ha. That's a pretty good description of the man.
Karl was very kind to me and we ended working together a lot, the thing that struck me the most each time (and impressed me) was his old school politeness.
"Manners maketh the man" my dad. used. To say.
SP You must love what you do and be forever, genuinely interested in the world around you.
Do not worry too much about whatever body else is saying/doing and try your best not to be judgemental. La vie est belle!
(And My kids make fun of me because  I am a big fan of TikTok).
AJR How do you view fashion both as a consumer and as an artist?
SP Fashion was something  I fell into by accident as an outsider, and again by a strange accident, it started at the highest level.
As such I have a curious outsider view of it, the short timeframes are quite mindblowing and I have seen at first hand how art and commerce can work effectively together.
I think generally people do not understand how much commitment is involved.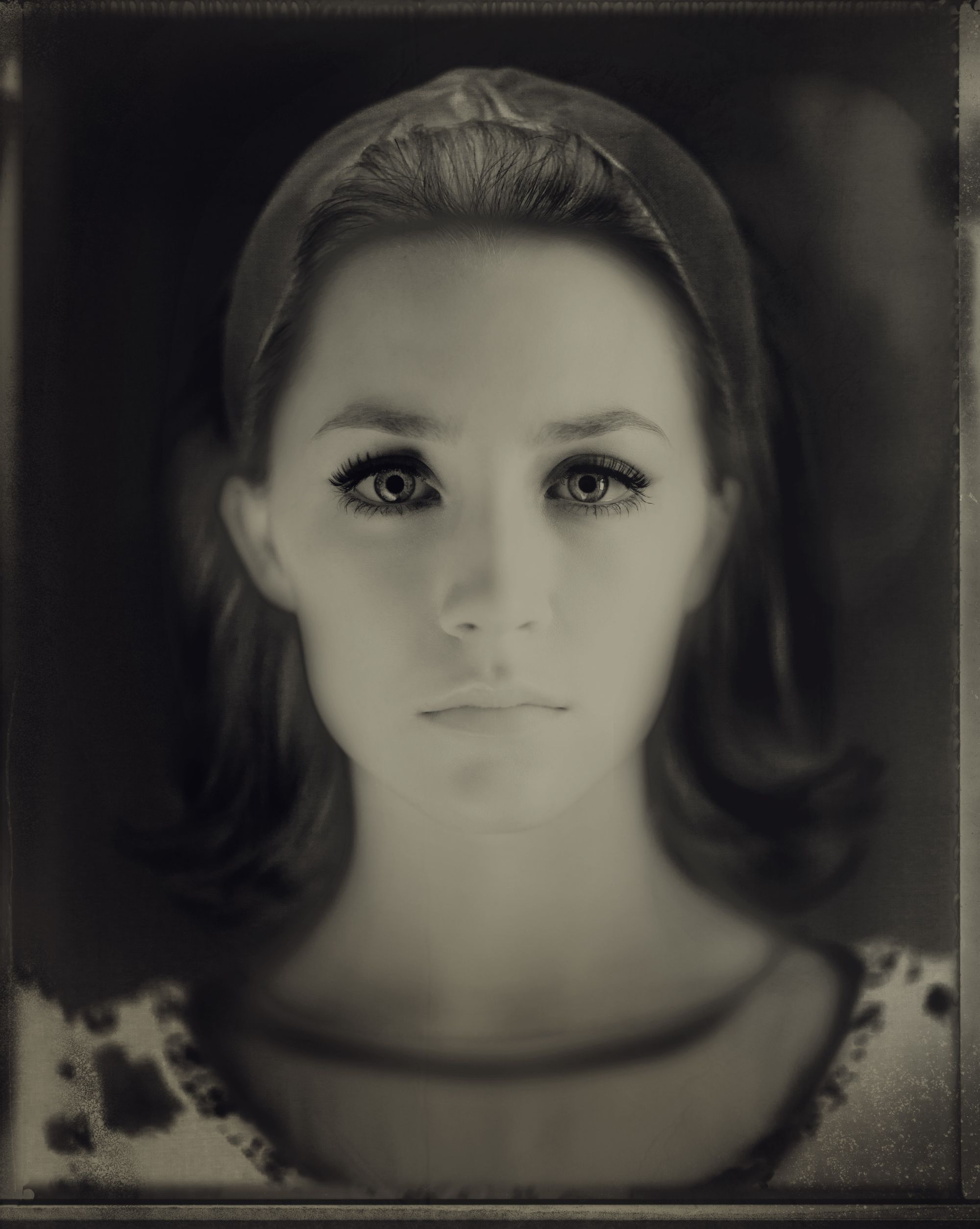 AJR Your fashion photography brims with storytelling, opulence, classicism and symbolism; which photographers and artists inspire your work?
SP Good question, for my studies as a painter I tended more to abstract expressionism and German expressionism.
But we were literally forced to study the history of art and now that is so relevant to what I see possible in photography.
The Pre renaissance painter Poalol Ucclleo's battle paintings; Rembrandt, the sculptor Brancusi, Lucien Freud and at one point I was obsessed with the Russian painter Chaim Soutine.
I love Avedon's work, absolutely love Frank Auerbach (who I just checked is still alive at 90 and is someone I think we will be talking a lot about soon.

AJR What advice would you give to an artist/photographer starting now?
SP You must love what you do or you will never last.
Be interested in things outside your chosen medium
And work hard, all the people I have seen achieve things have an extraordinary work ethic.
There are no magic beans.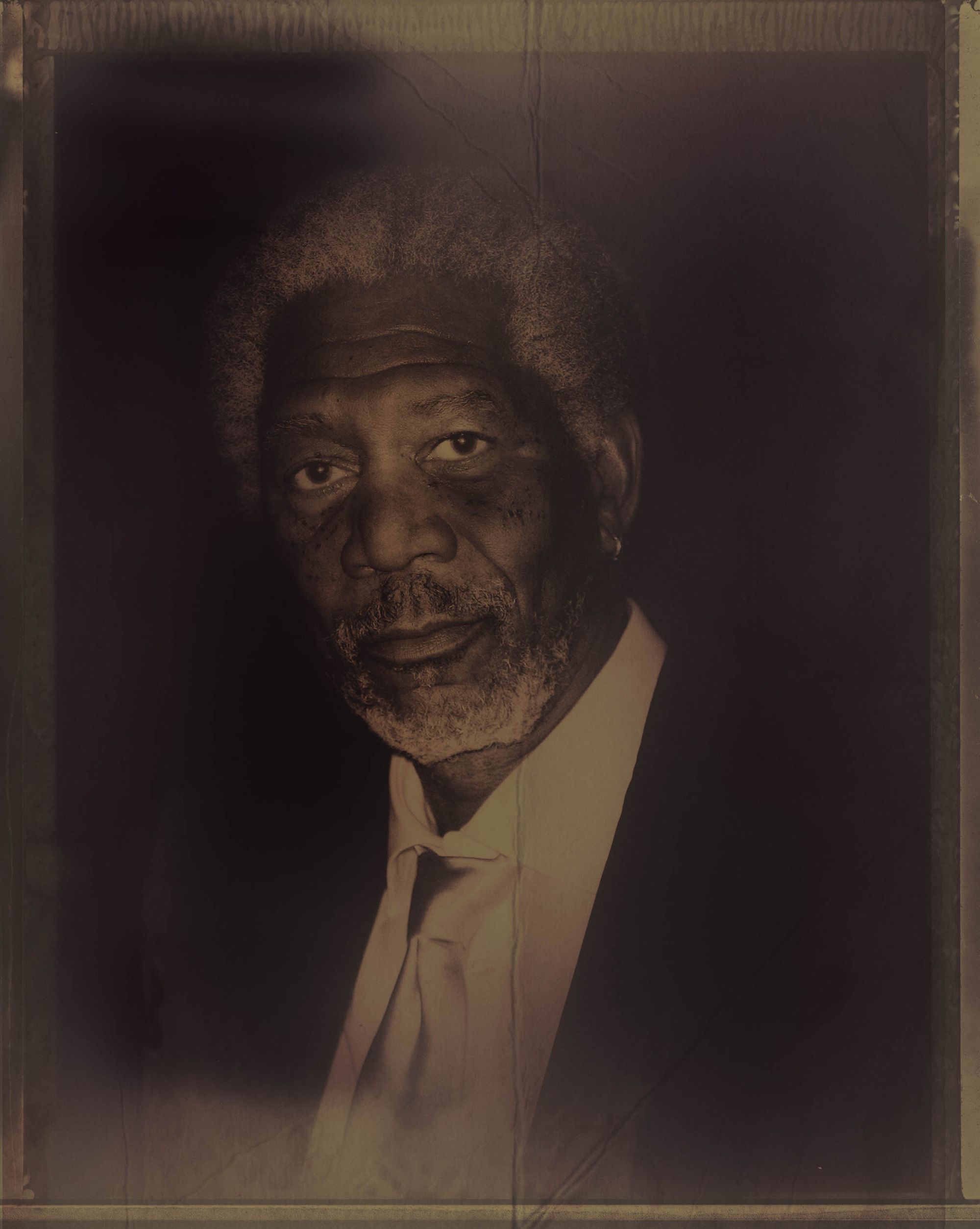 AJR You've photographed many leading icons of our age. How do you approach creating a portrait of a person with a famous face?
SP There's a lot of instinctual things that are hard to explain, it's a bit animal, to be honest.
But be very prepared.
And Bring your A-game every time.
AJR Where do you go or get lost to feed your creative imagination?
SP I have several finely tuned media feeds.
I have a particular interest in Cinema concept artists (these are the artists that paint and sketch what they think a film may look like, and often their artwork exceeds anything we see in the final film.
I also follow curated images on Soviet Brutalist architecture.
Every day I am so amazed to see what people are making.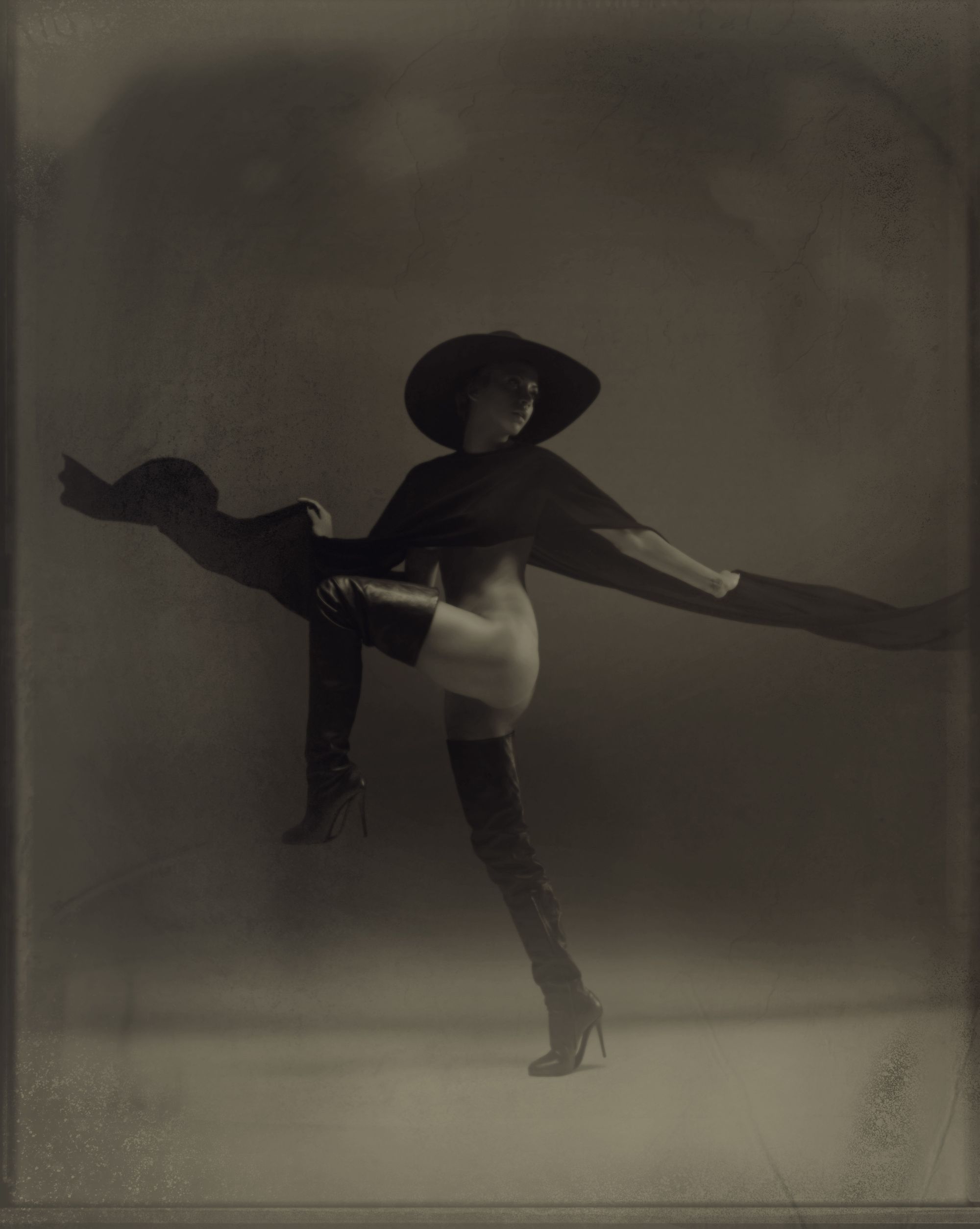 AJR Your rich printing technique and classical references remind me of the work of the Victorian portrait photographer Julia Margaret Cameron. Are you a fan?
SP Thank you That's a beautiful reference, I'll be honest with you and say I do not know her work that well, I never actually studied photography.
AJR That's extraordinary. Who would you love to photograph?
JS Judas Iscariot, bet a lot was going on in his face. And a little more recently I have a very deep respect for David Bowie and am genuinely sad I never got to meet him.
Alive; the HM the Queen

AJR "It is an illusion that photos are made with the camera… they are made with the eye, heart, and head."
-Henri Cartier-Bresson - Discuss
SP Very much true, a camera is only ever a tool. Van Gogh's sunflowers have almost nothing to do with the brushes he held in his hand.

AJR Festival du Cannes Portraits - When did the actors sit for you? What was that like? What did you seek to capture in this series of portraits? And what do you think of all glamour and razzmatazz that surrounds film and fashion?
SP That's a question for a short book. Cannes is insane.!!  One of the things most people don't understand is you are not invited. It's a huge event completely off-limits to the public and as such creates a fever pitch of emotions.
I remember Monica Belucci coming to have her portrait and the press were obsessed (rabid more accurate description) to get pictures of her newborn child. They had a decoy baby in a decoy car, it was crazier than any film plot.
Mostly, I was kind of embedded on the terrace penthouse of The Martinez Hotel (kind of the centre of everything) and most of the stars would actually come there for interviews, makeup, more interviews. It's all very fast. You wait for your moment try to create something that will be remembered, I guess that's what I'm always trying to do."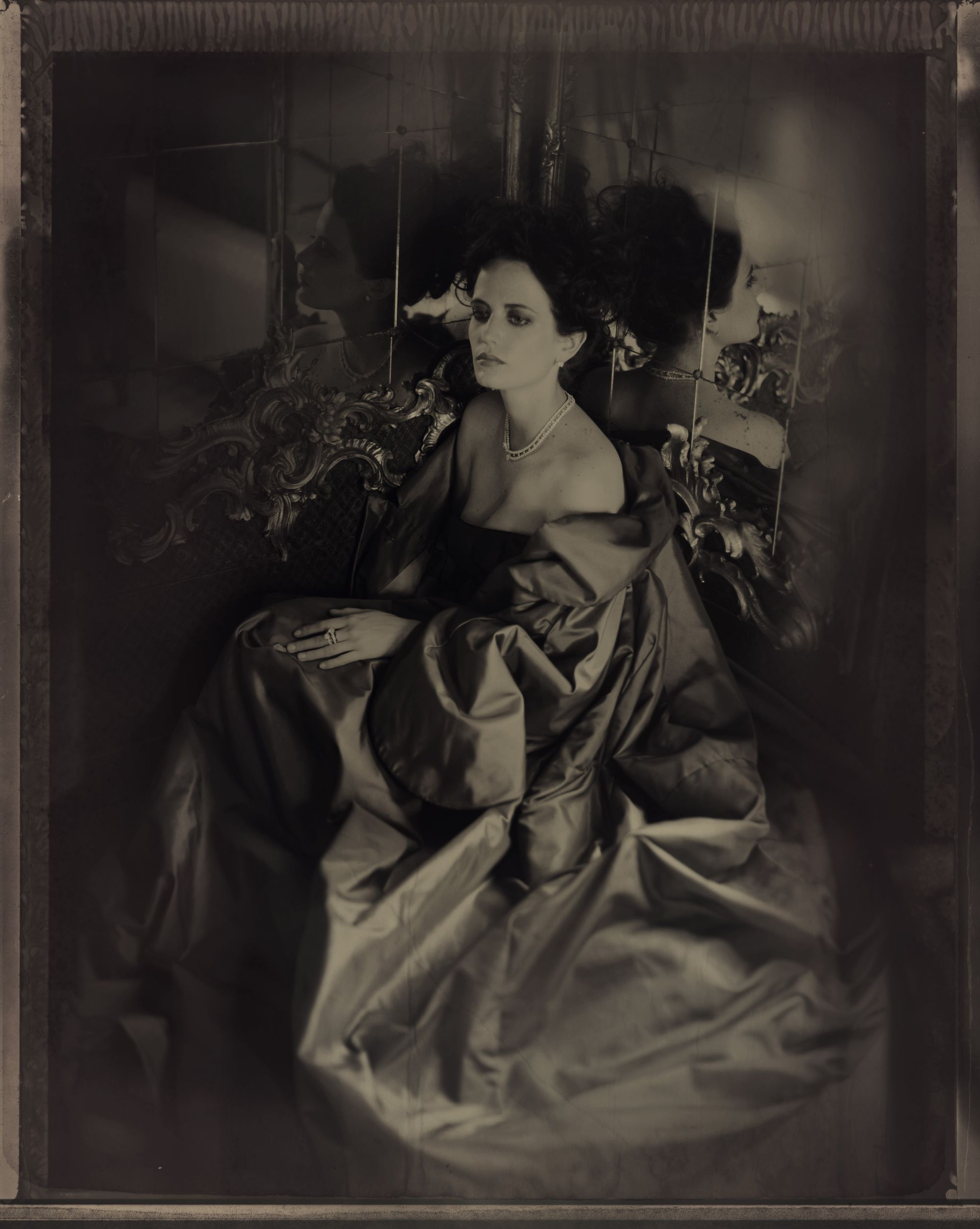 Copyright Alison Jane Reid/ The Luminaries Magazine July 2021
Festival de Cannes Exhibition and Limited Edition Artworks
Wolfcrown Gallery has launched an online exhibition of artists that have been associated with the Festival de Cannes (6th July – 17th July 2021). Celebrating Cannes women throughout the contemporary history of the festival in a series of portraits taken by photographer Simon Procter. The exclusive collectable artworks are produced in limited edition Platinum Palladium prints.
Female Film Icons of Our Age
The collection features Saorsie Ronan, Emma Watson, Eva Green, Natalia Vodianova, Laetitia Casta, Natalia Imbruglia, Aishwarya Rai, Nora Von Waldstätten, Astrid Berges-Frisbee, Miranda July, Noemie Lenoir and Marina Vacht.
The prints are hand printed by Master Printers in Paris, using this intensive, traditional technique with a certified precious metal content. The Platinum Palladium photographic process dates to the 18th Century and uses precious metals and UV light (originally sunlight) to express intensive warm black, to reddish-brown, to expanded mid-tone greys. Platinum Palladium is an expensive and time-consuming process that is widely regarded by collectors as the summit of photographic art.
The Limited-edition Festival de Cannes collection comprises x 12 exclusive prints, available in two sizes in an archive presentation case with museum gloves. The print bears the artists signature, date and edition number, the printer's signature, precious metal content and gallery stamp. Prices from €1,200 to €2,200.
The Wolfcrown Gallery offers exclusive artworks by Simon Procter, some of which come from his extensive collaborations with Karl Lagerfeld, Vivienne Westwood and John Galliano.
You are invited to visit the gallery at a time to suit you https://www.wolfcrown.net/ and email gallery@wolfcrown.net. For more information about the artist, Simon Procter please visit http://www.simonprocter.com/
About Simon Procter
Simon Procter the son of a steelworker, was born in Lancashire and raised in Royston a small mining village in Yorkshire. He studied Fine Art for many years specializing in Painting and Sculpture. He now lives between Paris and his Farmhouse Atelier in northern France.
He has collaborated extensively with Karl Lagerfeld, Vivienne Westwood and John Galliano. He is an influential photographer producing advertising for a wide range of high-level clients including; Chanel, Dior, Nike, Reebok, Speedo, Adidas, Nokia, Hastens, Marriott, Mont Blanc, Falke.
Since his debut exhibition in Miami Basel in 2008 Simon Procter has become one of the most collectable photographers of his generation. His artwork is held in prestigious collections and museums worldwide. In 2015 Simon founded Orcadia Film, a cinema production company.