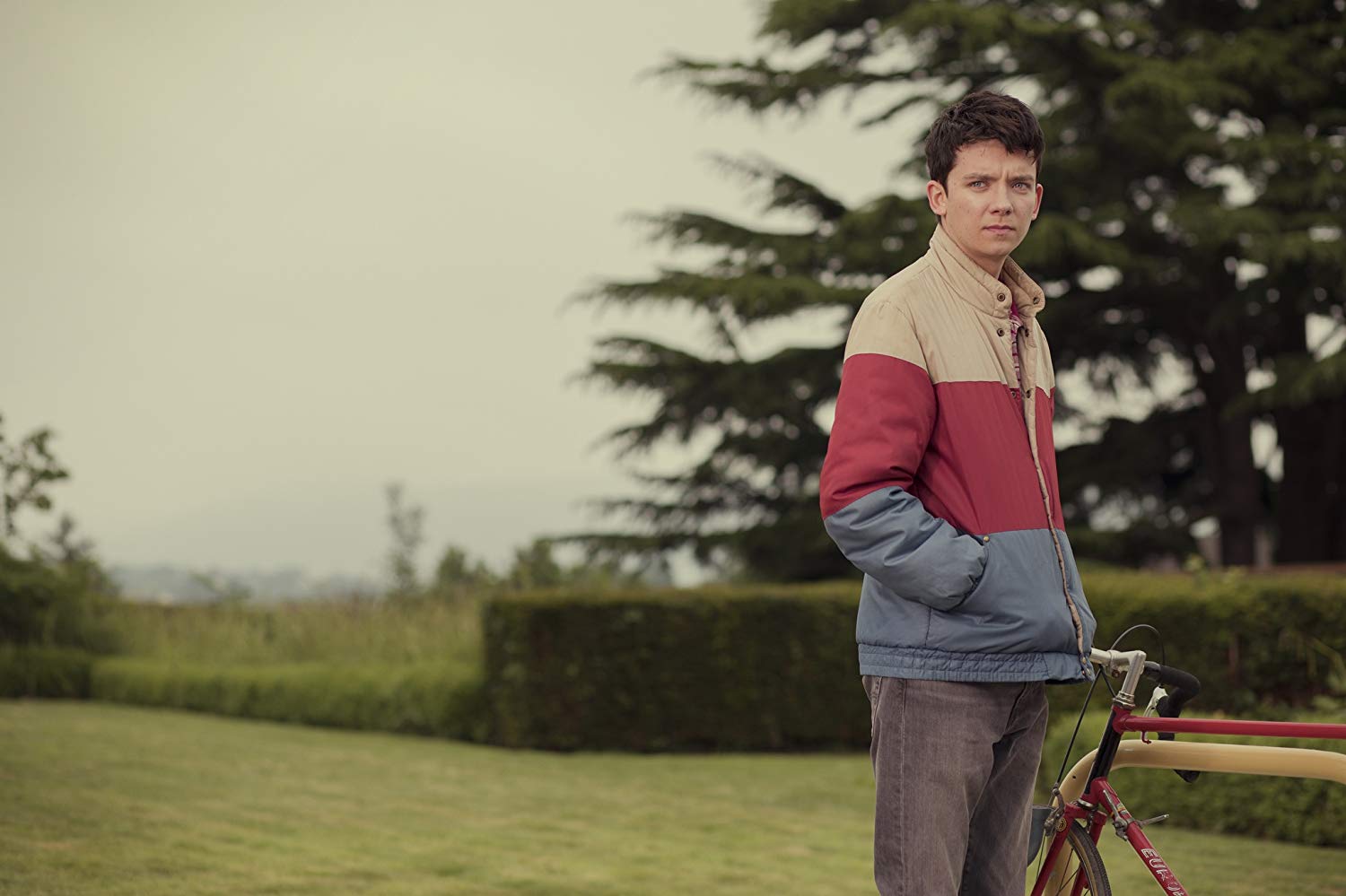 Sex Education Review
This article has been updated and republished on our new Luminaries Magazine platform. We hope you enjoy this long-form drama feature lovingly crafted by AJ. AJ perfected her craft at  The London Times.
The genius of Sex Education is that it isn't really about sex. It's about finding out who we really are. Sure, sex is weaponised as a many splendored banquet to get us hooked from the moment the credits roll, and yet dear reader, its gung ho, unsentimental depiction of sex isn't what keeps 40 million viewers and counting coming back for more of this restlessly brilliant and fearless Netflix drama.
Brutal, Funny and Frank

The pull is its brutal, funny and frank, almost forensic examination of the human condition. Sex Education tackles all the big topics that threaten to overwhelm us now. The tragedy of teenage poverty, what it is really like to go through an abortion when you are only sixteen years old, and how to be comfortable in your own skin whether you are gay, straight or you just don't know. The actors make the quest exquisitely embarrassing, brutal, funny, heartbreaking and absolutely unmissable, all to a 'youthquake' soundtrack running around our brains. If you want to feel alive or to know yourself, watch Sex Education. This essential drama lays bare how messed up and over-analytical we poor earthlings are. Angst is such fertile ground for comedy and everyday tragedy.
The Best Coming of Age Drama
Sex Education is the best coming of age drama since The Breakfast Club, Pretty in Pink or Almost Famous.
The landscape should also take equal star billing with the actors. Moordale Secondary looks like something out of Dickens with its lofty facade, surrounded by lush, emerald forests and rolling hills set along the beautiful river Wye. Filming for the series took place in Monmouthshire including the former campus of the University of South Wales at Caerleon. This gives the school an almost mythical, Harry Potter glamour and nature provides the balm to the general air of hormonal chaos from STI's to catfights and mean girls. Nothing beats taking the morning after pill with a can of craptastic cola in a wooded glade.
The Garden of Eden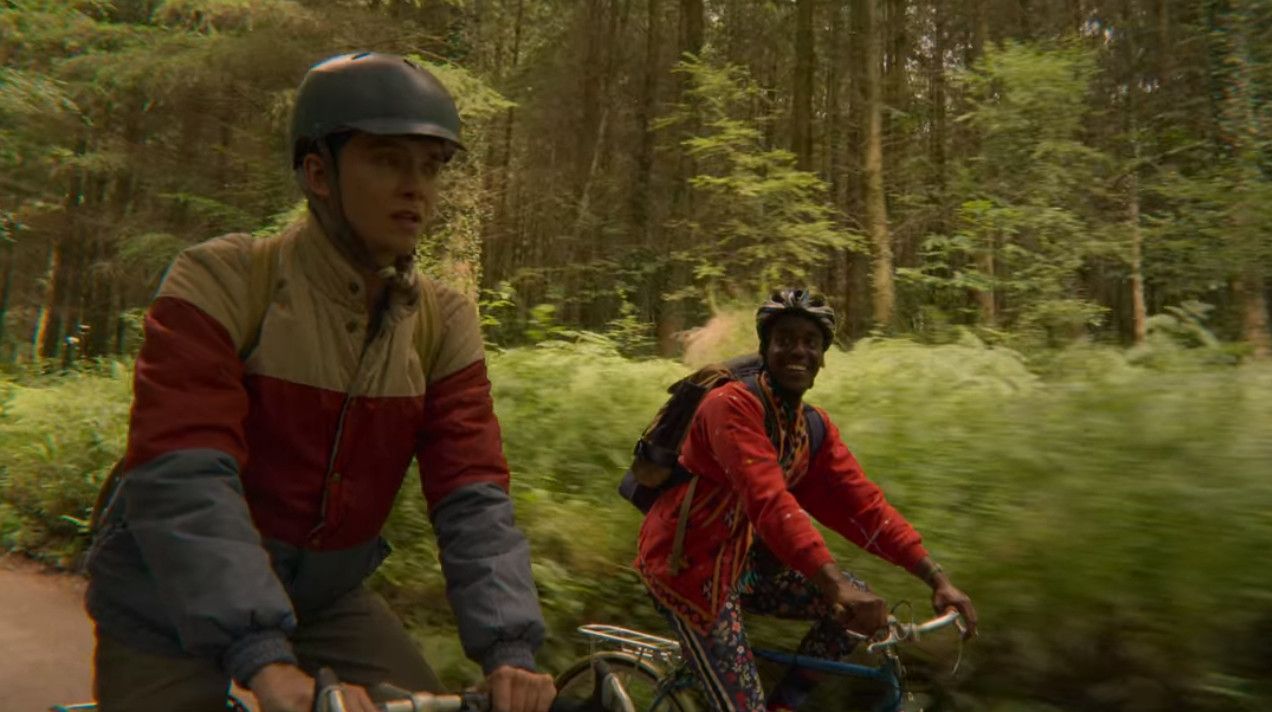 But wait a minute. How can teenagers be this messed up living in the garden of Eden? But they are. Problems are problems whether you live in a countryside pile or a caravan garlanded by green fields. Sex Education gets straight to the heart of all the things that are so terribly wrong in society right now and some things that are right too.
Mental Health to Sex Shaming
Let's get the bad stuff out of the way first – teenage homelessness, persecution, mental health, poverty, inequality, intolerance, addiction, gender identity, bullying, sex-shaming and undeserved wealth and status defined by handbags and scary eyebrow jobs, not by talent, ability, passion or kindness.
Education, Education
Sex Education is turning into a global therapy love-in. It's also a poem to the power of friendship, to love in the most unexpected couplings, to romance and courtship, to girl power, to entrepreneurship, to second chances, to smashing things up and the importance of education, education and love of learning as a way out. Who wants to come to a car wreck tonight?
Watching SE is a bit like trying dad's whisky and smoking mum's cigarettes aged twelve and feeling lightheaded, dizzy and pleasantly intoxicated all at the same time.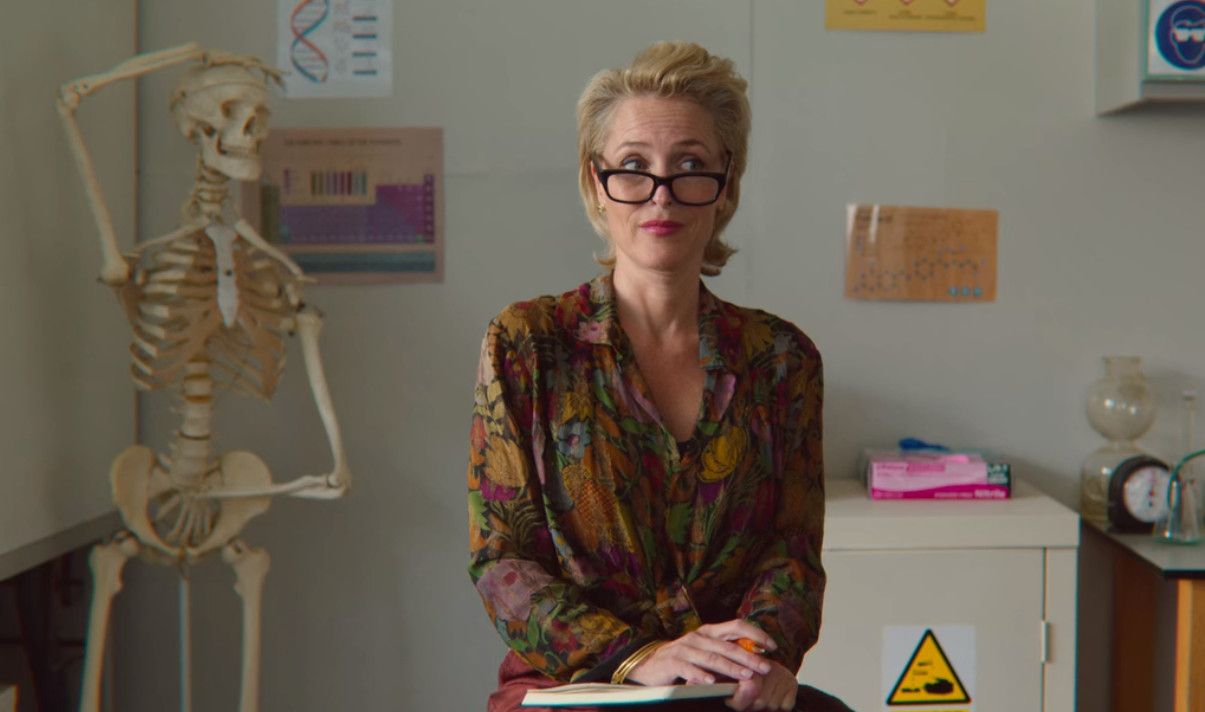 The Prime of Dr Jean Milburn
It's the smartest thing I've watched on film or television since Almost Famous, Rebel Without a Cause or To Sir, With Love. The kind of drama you think no one would be crazy enough to make in such strange and uncertain times, but thank goodness they did. Laurie Nunn its creator should be given a medal for services to humanity. Of course, even the best script would be catch fire if it wasn't so brilliantly realised by a charismatic and talented ensemble cast and by breakout actors Asa Butterfield, Emma Mackay Ncuti Gatwa and Gillian Anderson in her kittenish, bluestocking prime as sex guru goddess Dr Jean Milburn. Surely, it is no accident that Anderson is called Jean, like that other liberated sexual revolutionary, Miss Jean Brodie
The Importance of Talking Dirty
Back in 1994, Anderson initially turned down for the role of Special Agent Skully in the X-Files because the men in suits didn't consider her bombshell material. They wanted Pamela Anderson. Fortunately for us, the director fought for her and won. She went on to garner a galaxy of awards in the role and to inspire women across the globe to take up careers in science and medicine. Now I guess we are just all going to have to take up sex therapy. Or at least talk dirty openly and honestly!
Deliciously Kooky
As Jean Milburn, Anderson gives us a deliciously kooky portrait of a woman who glories in her role as an expert on sex and human relationships and yet she is hopelessly inept when it comes to her own feelings and those of her son. It turns out that they are both traumatised by her ex-husband's serial infidelities.
Fifty is the New Thirty
Anderson is a poster girl for the educated woman who doesn't dress like Nora Batty. She's fearless, she's smart, she's sexy and she's cool. She makes fifty look like the new thirty. It's her attitude of mind. She doesn't allow herself to be defined or held back by age. It's why the students like and relate to her because she doesn't judge them, she listens to them. Her confidence as a woman is an inspiration to any woman who has been told you can't do that now you are thirty, forty or ninety? Why the hell not?
Women Behaving Badly
In the words of Adam, she is like a 'sexy witch'. She sure is and she is up there with Helen Mirren, Jane Fonda and Kim Cattral for eternal sex-bomb status.  As Jean Milburn, she doesn't even both with dating. She has hot, very noisy sex with younger men and then treats them very badly, shoeing them out of the door the next morning as if they are last night's takeaway feast before her ladies turn up for their vagina workshop.
The Vagina Workshop Beckons
The scene where one of her hapless conquests returns with flowers and asks her out to dinner is worthy of Men Behaving Badly in reverse. Anderson refuses the flowers, says she doesn't do relationships, commends his bravado and shuts the door in his face. Of course, it is a send-up of the universal male cad and it is very funny.
Fuck the Fear
And while Otis is embarrassed by his mother's obsession with sex and lack of boundaries, and her naughty and rather hopeless attempts to spy on him, it turns out that she is just as susceptible to love as her clients when the right person comes along and fights for her. All she needs is a champion. 'Fuck the fear' says Jakob, the man who is brave enough, and honest enough, to tell that he wants a relationship with her, and inspires her to write again.
We Need to Talk More
In general, watching other people having sex or trying to look sexy having sex doesn't do it for me. I would rather look at the statue of the Lovers or the colossal statue of David in Florence. After watching all sixteen episodes of Sex Education 1 and 2, I'm a convert. It's good to talk dirty. Above all, we just need to talk.
I Prescribe Sex Therapy
If you are feeling blue I prescribe Sex Therapy. If you are not getting any sex watch Sex Therapy. If you are confused about sex watch Sex Therapy. If you are in a cold, loveless marriage watch Sex Therapy and if you need some laughter therapy watch Sex Therapy and so on.
As the series unfolds, we see that the world we inhabit is obsessed with the three-letter word, but it doesn't mean we understand what to do about it any more than our parents, our grandparents or their parents. We are just as mystified, messed up and obsessed by the sex urge as we ever were, it's just that we live in times where liberation comes with its own chains and a smartphone or computer as a lethal weapon.
Irrepressible Star Quality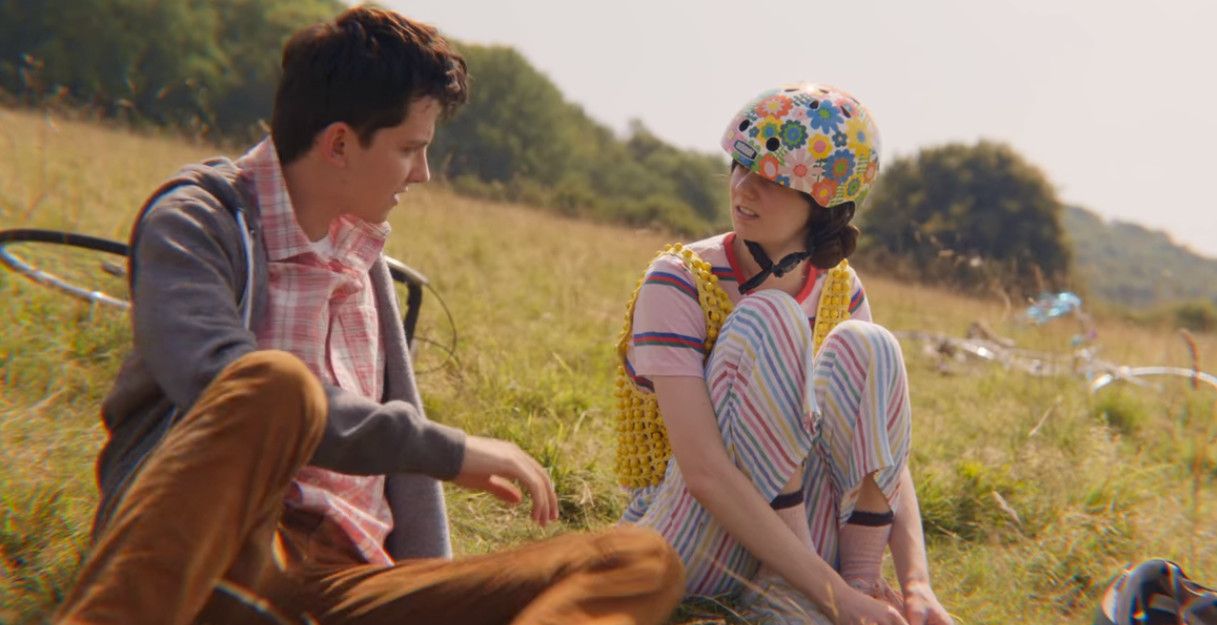 As male heroes go, Asa Butterfield as funny, repressed, bright, over-analytical, geeky Otis could have a seat at the table with John Hughes's The Breakfast Club. He has that necessary and irrepressible star quality which makes us squirm, laugh, sigh and scream, depending on whether Otis is delivering a remarkably insightful sex therapy session when he still hasn't had sex, proffering flowers to his true love Maeve, totally messing things up with Maeve, fighting the desires of his penis, or dancing with his best friend at the school ball.
Woody Allen in Annie Hall
Has anyone been this deliciously repressed and eloquent at the same time about sex since Woody Allen in Annie Hall? I want to put Otis in my pocket and take him out to sort out world peace, but not before I have crossed examined him and Anderson, his screen mum, about how they made it through all the scenes of sexual confusion and humiliation without cracking up.
The Jewel in the Acting Crown
Otis's friendship with Eric played with a force of nature brilliance by Ncuti Gatwa is another jewel in the crown of Sex Education. Gatwa is charisma personified. He's loud, he's naïve, he is all lit up like a Christmas tree, he's impulsive in that way that teenagers are compelled to be and his portrayal of a gay teenager coming out in a strict Christian family is funny, painful, sometimes heartbreaking and authentic.
The Adults Are Just As Confused
Nor are the teachers immune to the same problems as their students. I love that they are just as messed up as teenagers. Favourite moment? Miss Sands (Rakhee Thakrar) wanting Sir to talk dirty to her when he just wants to be sweet, charming, romantic and respectful. Ah, the contradiction and confusion in human congress makes for funny, deliciously awkward television.
Real Love Conquers All
One thing SE does so well is to show how random and unfair life can be. Take Adam, headmaster Groff's son played with a mesmerizing sense of brutish futility, mindlessness and alienation by Connor Swindells. His clandestine love affair with Eric also shows that love conquers everything, including bullying. Sex Education succeeds because the main characters are so well-drawn and they capture the contradictions in human nature. Adam is failing in school and in life because his father is a bully and constantly puts him down. Then we see him turn into the Barbara Woodhouse of dog trainers, and suddenly he is transformed.
A Beautiful Mind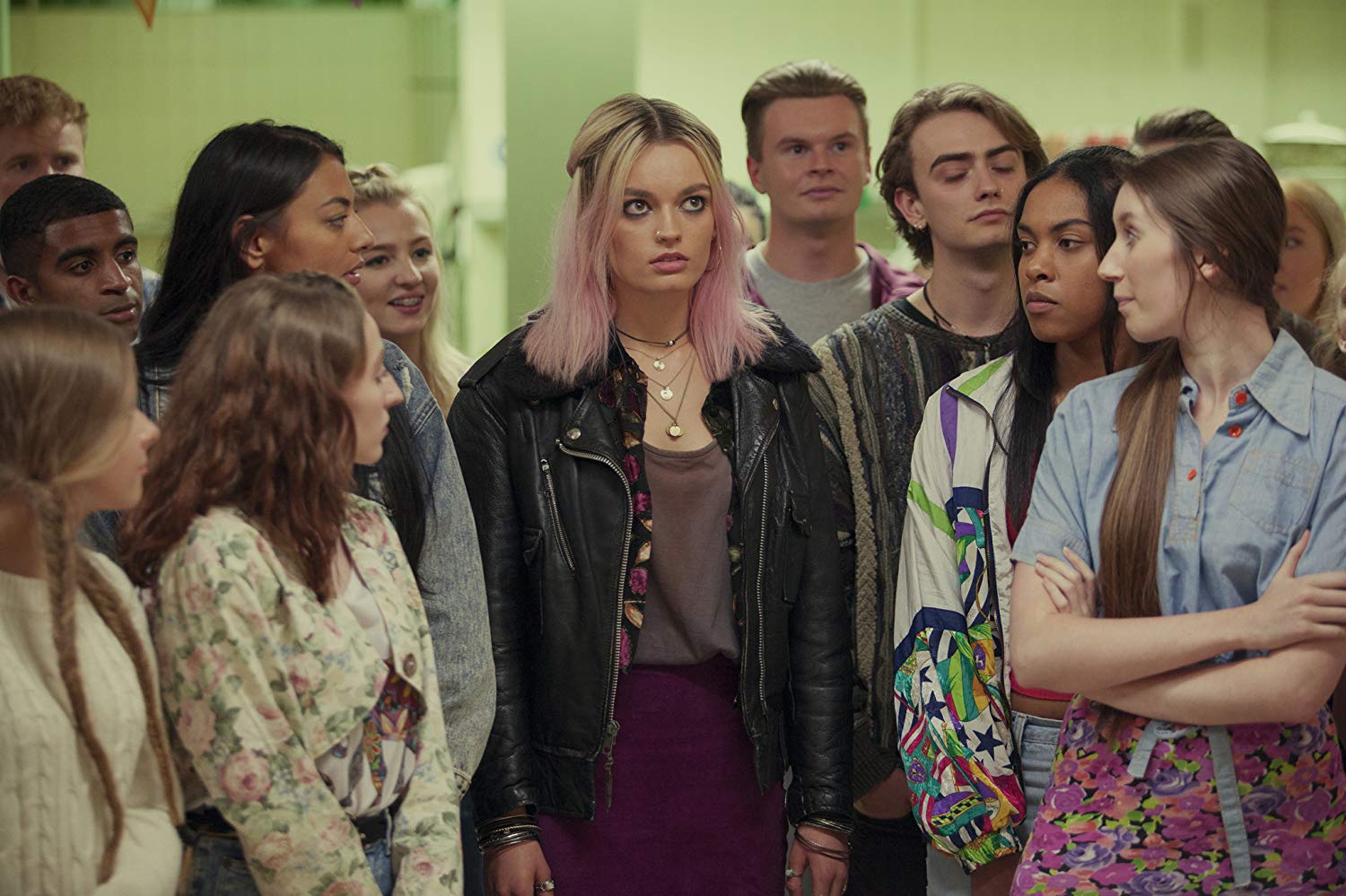 While Asa Butterfield leads an incredible cast of actors, Emma Mackey gives a remarkable performance as the school's cool, brittle hard girl and its most gifted pupil. A girl with a beautiful and extraordinarily original mind who writes existential essays for her struggling classmates for cash to pay her rent. The pain, anger and fury of having a drug addict mother and an absentee father etched across her hard yet still beautiful face.
An Original Thinker
I'm sure we all know people like Maeve. She is so used to struggling and surviving that she doesn't know how to relax, to let people behind the barriers she erects, and to accept opportunities that open up to her because she is clever, diligent and an original thinker. I love how her face changes from hard to soft. How amazing she looks in her black prom dress for the ball. (And how Jackson doesn't notice!) Her gradual transformation from pink-haired punk to belle is exciting to watch.
The Story of Maeve and Otis
The story of Maeve and Otis's gradual unfolding attraction for each other feels very natural and not in any way forced, like it often does in programmes where authenticity is sacrificed for viewing figures and tabloid headlines.
A Wild Thing
Gradually, Maeve starts to warm to Otis and to perhaps see a mirror image of herself. He is smart and geeky and shares the same taste in music and a pretend, anti-romantic view of the world. They could be twins. He is completely traumatised by his parent's divorce and by his mother's lack of boundaries when it comes to sex and she frequently lashes out like a wild thing because she has only known adults who let her down until she is shown love, acceptance and kindness.
Star-crossed Teenage Love
Life gets interesting when Otis starts to realise he really likes Maeve. One day she asks him to meet her after school. Our schoolboy hero is elated and nervous. Now for the grim, tragic-comedy. He is all dressed up in his very best suit, and then it turns out he is collecting his secret love from an abortion clinic. Maeve has just aborted the head boy's baby. How about that for messy teenage, star-crossed love?
And yet the walk through the winding country lanes, as Otis gallantly escorts Maeve home, does feel like a date. For it's at this point that Maeve sees that Otis is there for her, that he is sublimely sweet and kind, giving her flowers, feeding her and providing solace. Nor does he judge her. That's the kind of man any of us would want in the midst of finding how out how very hard it is to be a woman when the kissing is over.
Part of the power and novelty of Sex Education is the return to love, friendship and sex in the real world, not a virtual world. I wonder, do we care more when we fall for people we know through our social networks, friends and family or the place where we live?
The Thrill of Real World Dating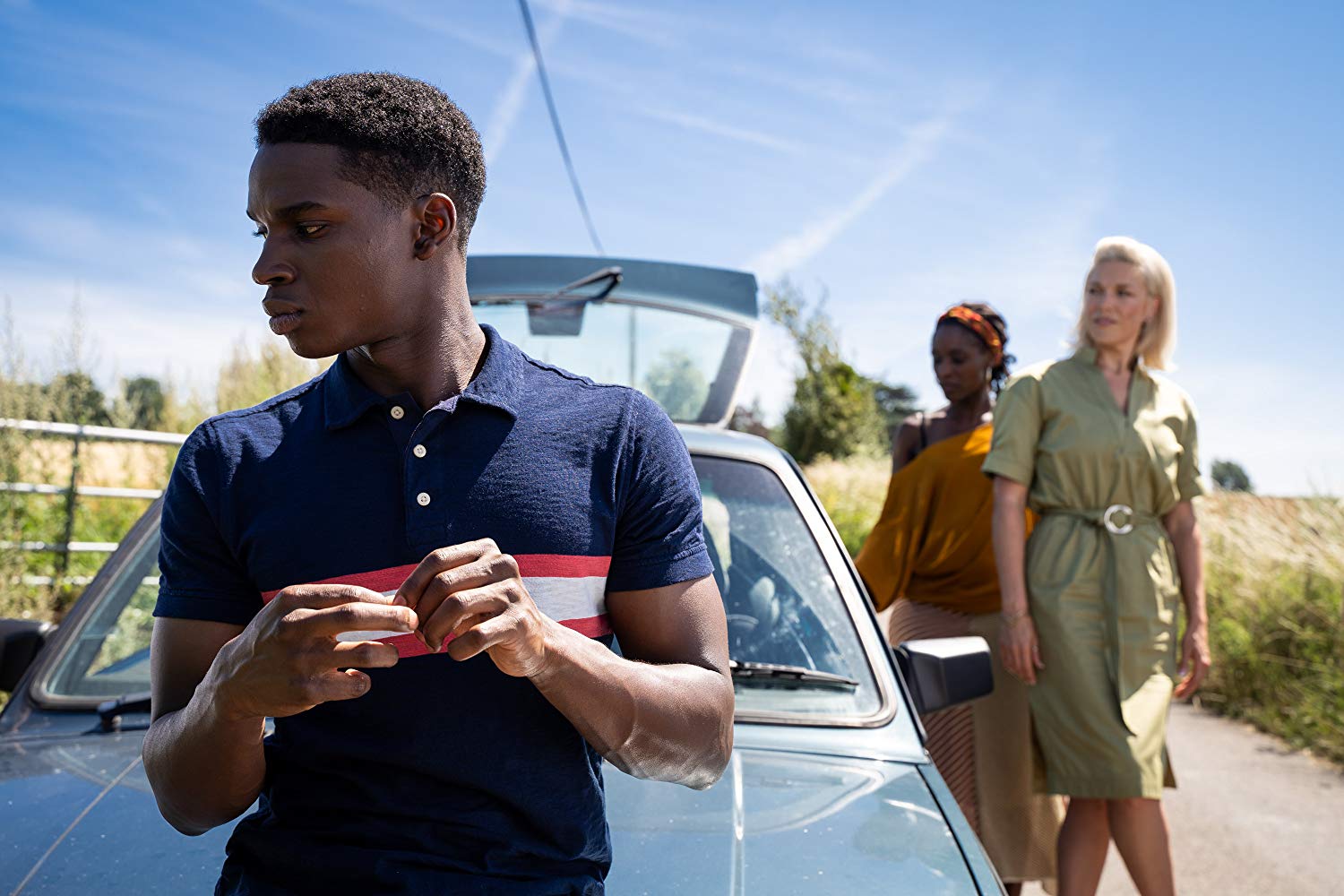 I'm ecstatic that Sex Education hasn't mentioned virtual dating or internet dating apps once. Horray for getting back to real-world flirting, dating, falling crazy in love and all the excitement, bewilderment, messiness, confusion and awkwardness that goes with a yearning for love and intimacy with people that we see every day, not strangers online.
The Boy Next Door
When I was thirteen I had a crush on the boy who lived across the road from me. His name was Dermot. My unrequited crush was exquisitely embarrassing and thrilling at the same time. He was a confident charmer and I was a bookish, hopeless romantic and serial blusher. One day he introduced me to his best friend Neil, who liked rock guitar bands, Clint Eastwood and Spaghetti Westerns. Neil and I clicked instantly. I still like The Good, The Bad and the Ugly, thanks to Neil, my first true love and my prince of penpals at university.
Geeks Make the Best Boyfriends
Neil was also crucially a geek. Geeks make the best boyfriends. Once they are into you, they are devoted and loyal but may need encouragement. But there has to be some tension, sabotage and teenage confusion and misunderstanding between our hero and heroine, Maeve and Otis, before hopefully at some point we may or may not get some kind of happy ending or closure, but I wouldn't hold your breath for a happy ending, though secretly, or not so secretly, it's what we all want.
Images Courtesy of the Netflix Press Office. Copyright. All Rights Reserved March 2020
Sex Education is Streaming on Netflix now
Support More Ethical and Independent Journalism
Do you love our independent arts and culture magazine and everything we stand for? Do you love AJ's evocative feature writing? We need your support to pay our tiny journalist team a sustainable living salary and our two part-time interns.
Become a subscriber today and join our family and community - https://www.theluminariesmagazine.com/signup/
Read More Features from Journalist Alison Jane Reid Like This One – Gillian Anderson Raises Money for Women For Women With Her Hot Lips Sweater
Copyright Alison Jane Reid March 2020.