News Update: You can now buy a crowdfunding ticket to this intimate, exciting culture show on Crowdfunder here -  support quality independent journalism and publishing and help us grow and flourish!
******This live culture show is moving to late August/beginning of  September to give everyone time to have a  holiday, reboot and be ready for these exciting live, intimate magazine shows! Will will announce the new date very soon. Please share, message and let us know you want to support and attend.
Fantastic news Flash! Law and Order: Organized Crime and David Makes Man actor Nick Creegan is my intimate, stellar interview guest for the next crowdfunded Luminary Magazine live talk show. We will also be joined by costume historian Shelley Tobin to discuss the importance and impact of the gangster as an icon of style.  We will also have a deliciously curious gangster-themed cocktail tasting with Danni, founder of the Mindful Mixology - for cocktails with benefits! That means herbs, low sugar or no-sugar options and delicious non-alcoholic options too! Danni has kindly donated a mindful cocktail hamper to giveaway randomly at the end of the show worth £53 to a UK -based show guest. (We will have a virtual giveaway for readers in the US and other countries).  Every show supports the arts and independent journalism and publishing. We go out of our way to champion the artist, writer and small producer. I look forward to seeing you all on the 10th. Founder and editor, Alison Jane Reid.
Buy Your Tickets Here and  Please Share the Show with  Friends Who You Know  Would love it.
Now back to Nick. Nick Creegan is known for David Makes Man, Literature to Larceny and It's Snowing in Summer. In Law and Order Organized Crime, he plays Richard Wheatley Junior, the son of Dylan McDermott's suave, deceptively amiable, international narcotics mogul.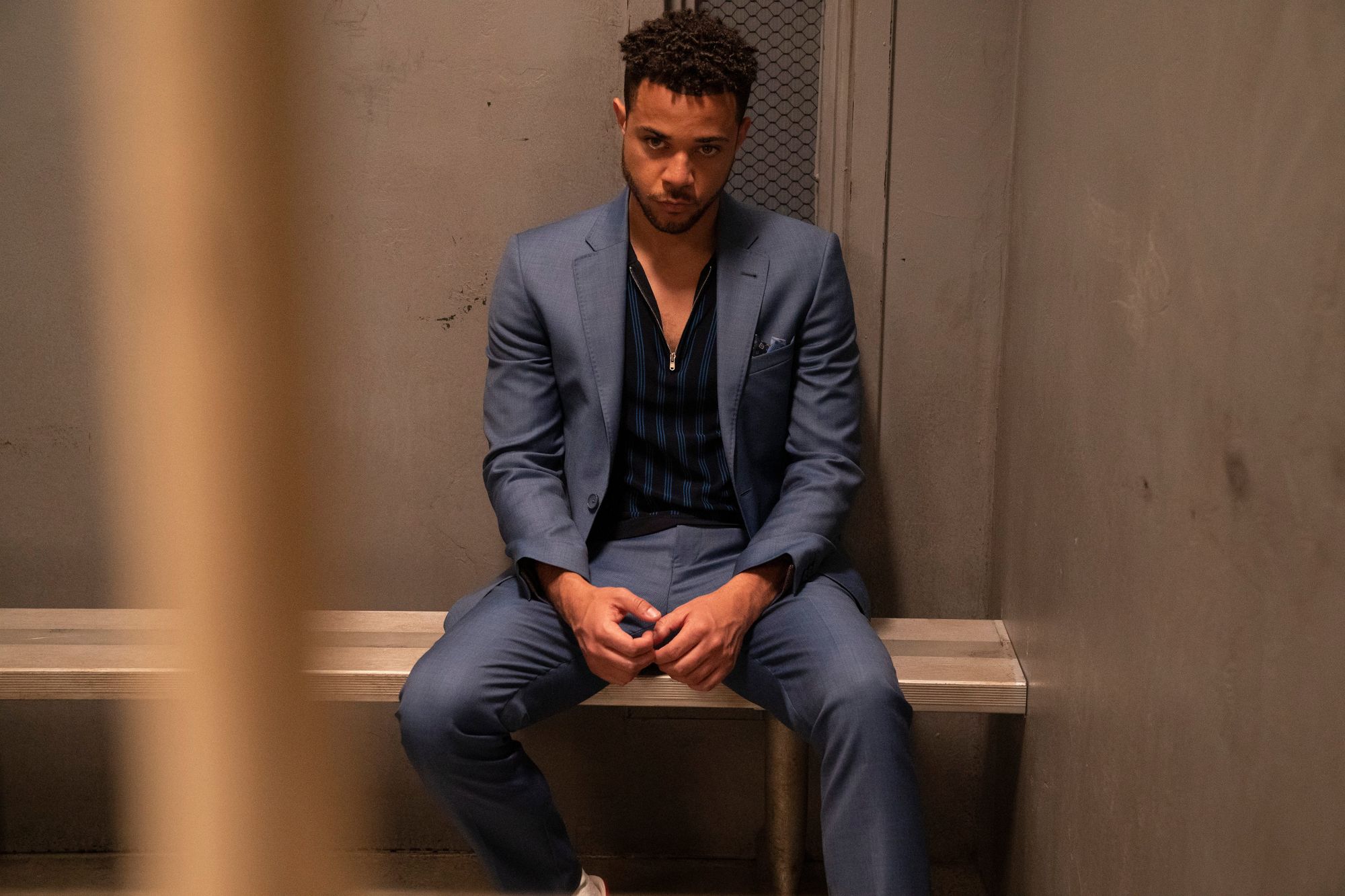 What is about career criminals and haute style? Richie and his father look as if they have both just stepped out of the pages of Fortune Magazine. One hot topic for discussion will be the critical importance of image and style in iconic films and dramas about crime families from The Godfather to Get Carter, Bonnie and Clyde, Peaky Blinders and Law and Order.
There is a buzz around Creegan. In Law and Order OC, he delivers a convincing and emotionally vulnerable portrait of a young man who appears trapped in his father's internecine web of surface glamour, violence, control and malevolence.  
Nick is Jamaican-Irish and he wants to use his platform as an actor to work on social justice projects in Jamaica. He cites the ideas contained in the book The Alchemist and the music and lifestyle of Bob Marley as important influences that have shaped his own approach to life.
I am also looking forward to hearing how Nick made the leap from sports journalism to Hollywood by creating sketches that went viral. The actor from White Plains New York chose the media over acting thinking that a career as an actor would be too difficult to accomplish. In the end, Hollywood came to him, which is the smart way to succeed!
Join Our  Magazine World and Very  Special Club for Friendship and Brilliantly Intimate and Authentic Feature Writing and Live Magazine Journalism
Become a magazine club subscriber today and get £5 off your ticket. Subscriber's receive invites to exclusive private live and recorded shows focused on film, drama, actors, fashion and organic food and wine. The club includes access to special, handpicked rewards, perks and prizes. Sign up here and email us for membership details - theluminariesmagazine@gmail.com  https://www.theluminariesmagazine.com/signup/
Follow us on Twitter @luminaries_magazine  @NickCreegan @Princess_Hamira  @Mindful_Mixology