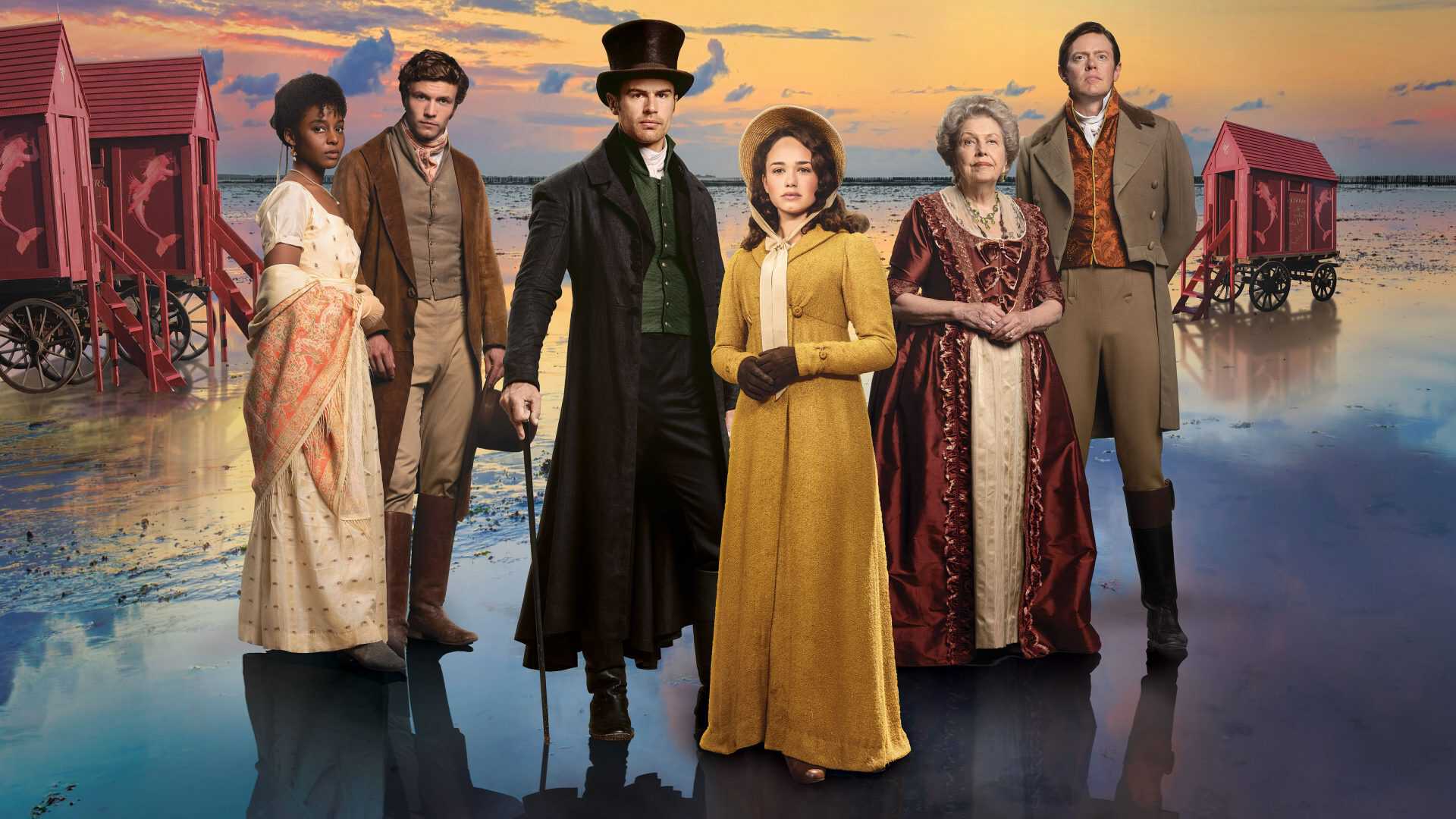 Stop Press -  Dear  Sanditon Sisterhood, we have created a printed novel-style keepsake version of the Sanditon Review and Brean Beach Stunt Story + fan art for you to own and treasure in support of our independent arts and culture magazine. The keepsake costs £20 including postage in the UK and £25 for the US and rest of the world - here is our crowdfunding link - https://www.crowdfunder.co.uk/support-arts-and-culture-journalism
Who will #SaveSanditon? It a daring question fans of the sleeper hit Jane Austen period drama decided to pose in a spectacular art stunt on Brean Beach on September the 14th. The beach is pivotal to the series and it is the location for many iconic scenes in the picaresque seaside drama from the twinkling cricket match to the scene when Theo James emerges from the sea like a glistening Poseidon, naked.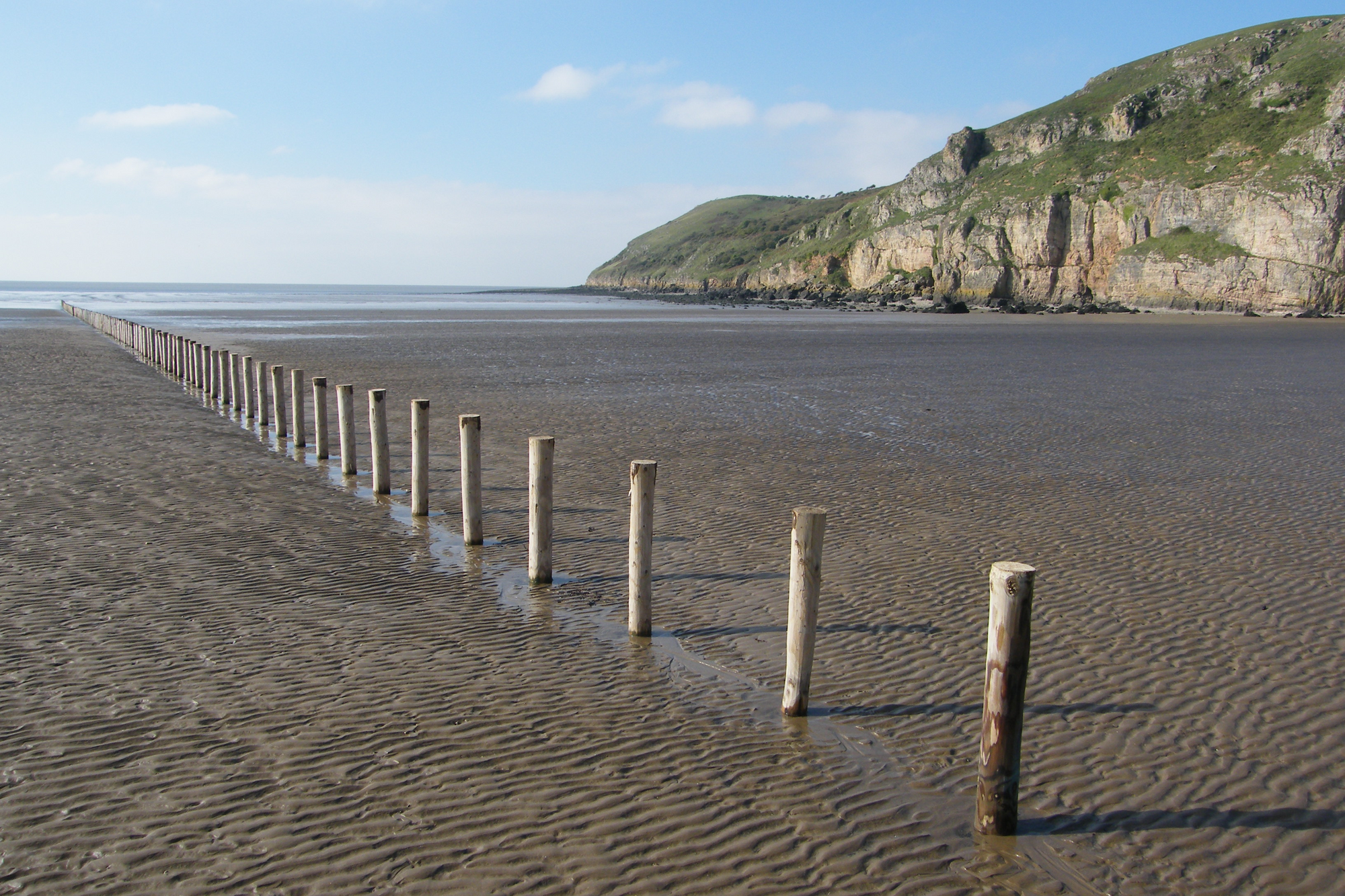 Now Charlotte and Sidney, the newly minted lovers in Jane Austen's last novel fragment have sent a shimmeringly romantic SOS sketched as an artwork in the sand to the world and the producers of the drama as fans clamour to bring the ITV/Masterpiece PBS period drama back for a second series and a fitting denouement to Jane Austen's playful and surprising last novel.
The spectacular Sanditon art stunt was created by the international land artist Simon Beck on behalf of the Sanditon Sisterhood fans.  The fans raised the money to cover Simon's time with a crowdfunding campaign. It seems entirely fitting that the artist compares his art to "a film set" that is then recorded on camera for posterity before it disappears as quickly as it was imagined. The 'Sidlotte' stunt took a mathematical flair for calculations and six hours of intense physical labour by the engineer turned artist to create the artwork assisted by three assistants from the Sanditon Sisterhood fan group.
Beck admits he was "force-fed Jane Austen at school," which put him off a bit. Though he does confess to knowing Pride and Prejudice very well, and clearly, he has watched Sanditon, because Sidney's raffish cigarette in the second drawing was his own idea!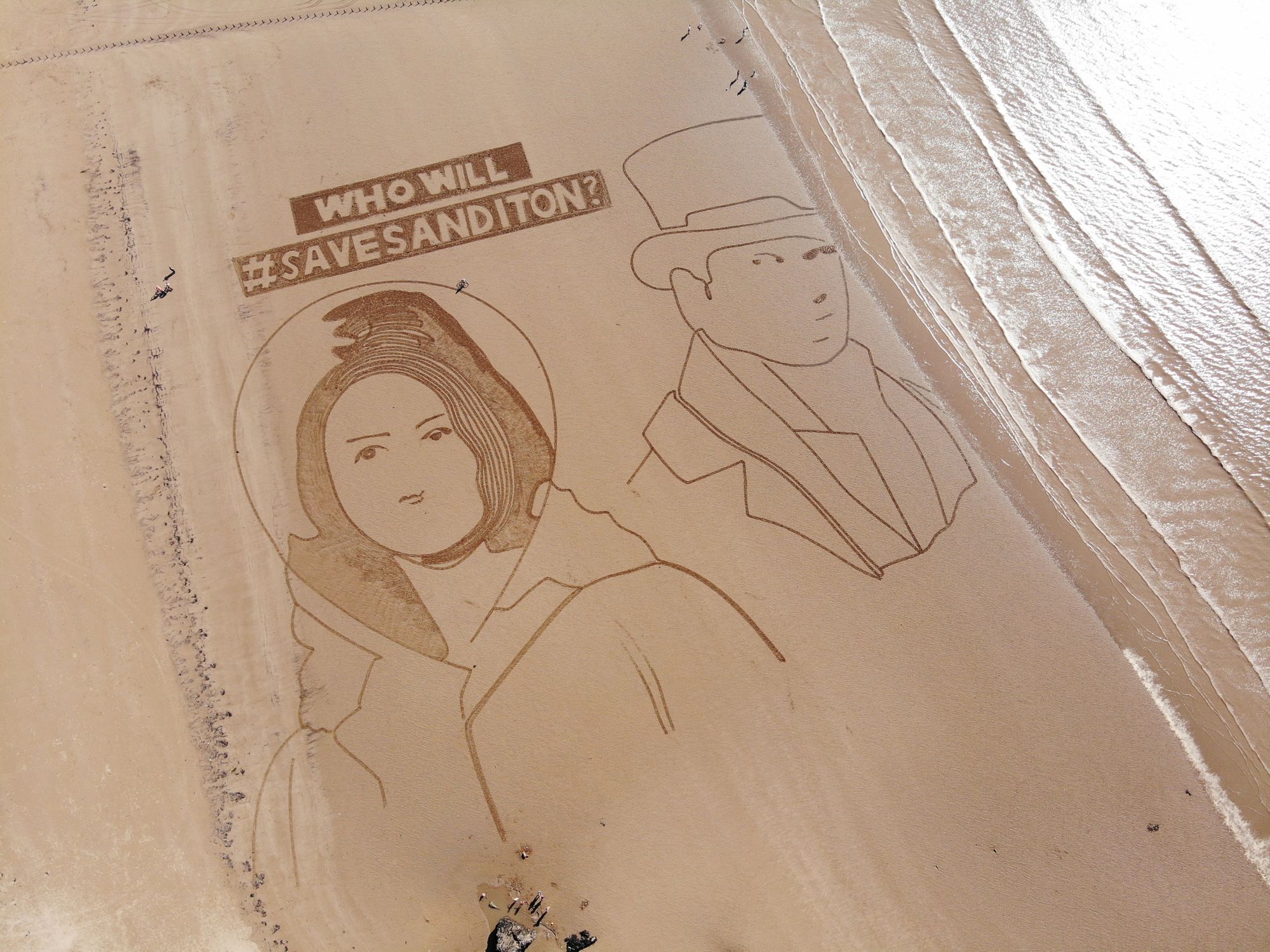 Beck who lives partly in the French Alps and partly in Somerset travels the world creating his alluring sand and snow artworks for clients and fans. His second career has also helped him achieve peak physical fitness. "Creating the Sanditon artwork is the equivalent to a long day walking from Swanage to Lulworth Cove," he says. He also reveals that it is easier to work with sand than snow because it is more forgiving and you can go over mistakes with fresh sand.
Each finished piece of land art is carefully photographed on a Nikon D800 camera to record the detail in large format. What makes his art compelling in the age of climate crisis is that he consciously creates art that leaves no ecological footprint. "Yes,  it is graffiti, and I would not do it other than for the fact that nature will completely remove it. Of course,  the locations would long have been covered with other people's graffiti were it not for the fact that nature steps in."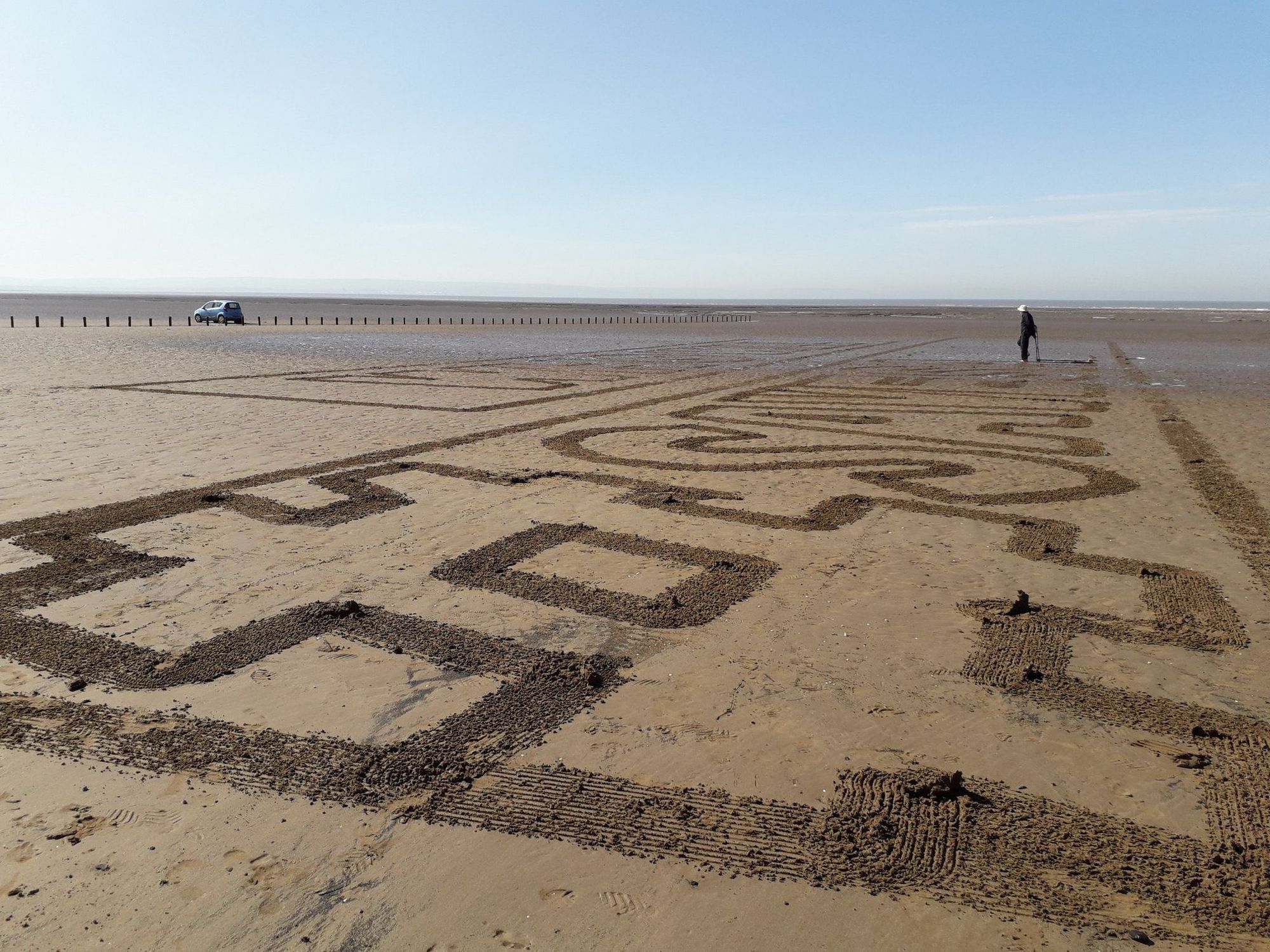 He clearly delights in creating new work, but does he mind that his work is ephemeral? "I get asked that question all the time. It doesn't matter as long as I have time to photograph and document the work before it vanishes. But it doesn't always go to plan."
In fact, the sand didn't dry properly on the day of the Sanditon stunt and the drawing of Sidney was too faint and the tide was coming in fast. Beck returned for a second day and created a second image in perfect conditions of the hero of in his much admired top hat. It is a powerful image which captures the essence of Jane Austen's last great romantic hero.
"Sidney Parker was about seven or eight and twenty, very good-looking, with a decided air of ease and fashion and a lively countenance." - Jane Austen, Sanditon.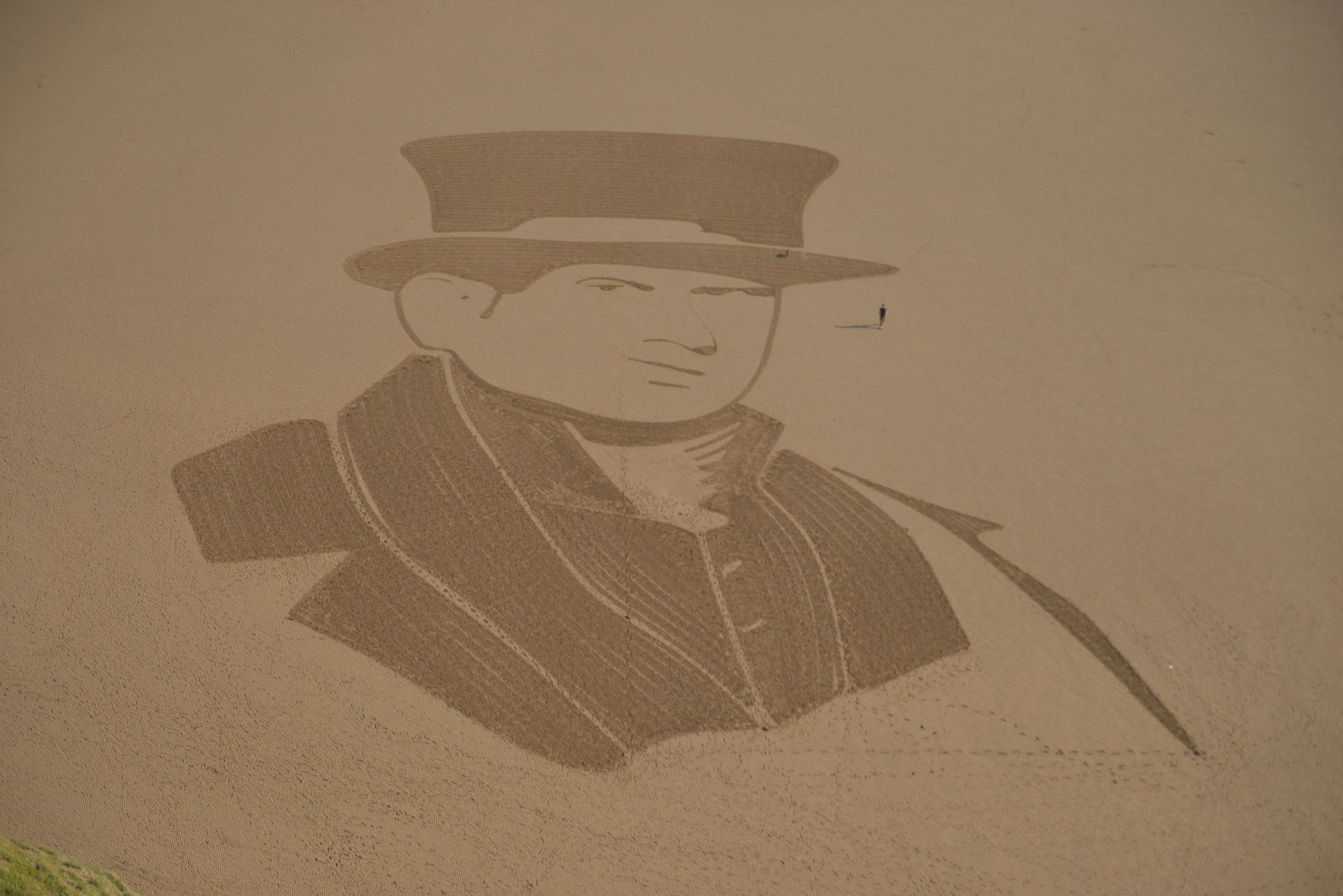 Meanwhile, Sanditon has become a slow-burning hit in 40 countries, but so far ITV haven't changed their minds about commissioning a second series due to initially poor ratings figures when it was pitched against the more established Peaky Blinders on the BBC.  The devoted fans are having none of it. They are now hoping another network will agree to produce a second series as Sanditon currently resides in the No. 2 spot as the most popular period drama to stream after Downton Abbey.
Earlier this year, Amazon Prime tweeted to the fans and declared an interest in supporting a second series. The drama has been very popular in the US and the #Sanditon and #SaveSanditon hashtags have been tweeted six million times.

I wonder what Jane Austen would think if she was alive today and could see that our preoccupation with romance and love is just as all-consuming as it ever was? One fan speaking on twitter this week said, "we need romance to get us through these difficult times."
Certainly, one should never underestimate the power and ingenuity of Jane Austen fans to demand a re-write to an unhappy ending which has never happened before in the world of Janeites. The entire point of an Austen novel is that after many trials and tribulations, the girl always gets the boy.
The 'Sanditon Sisterhood' are adept at making their cause heard and it took them just two hours to raise the money to commission Simon Beck to bring their campaign for a second series to life.
It feels inspired that campaigners have taken us back to the beach where so much of the story of Sanditon takes place. It's why Sanditon sparkles. The expansive beach and the cliffs are the majestic back drop to Sidney and Charlotte's story as they gradually throw off their prejudices and come to know each other and fall in love. Many of their trysts take place either on Brean Beach or promenading on the clifftop overlooking the sands before that most unsatisfactory cliffhanger of an ending.
The cynics might argue that life doesn't always conjure up a happy ending.  But grit and realism is rather overrated don't you think? Why not have a wedding, £30,000 per annum and delight the socks off waspy Lady Denham? It would certainly turn Sanditon into the seaside jewel of the south coast and every respectable mama and daughter would descend to find a suitable husband to the delight of Mr Parker and the myriad Sanditon fans across the world.
Here's to the announcement of Sanditon 2 and the happy ending we must all have soon!

Copyright Alison Jane Reid/Ethical Hedonist Magazine October 2020.
Find more of Simons work here.
Important News Flash! Did you enjoy this piece of arts and drama journalism by AJ, our talented editor? Then please support our incredible magazine with a monthly subscription which costs £5 via our campaign or a donation for more awesome arts journalism, competitions, exclusive features and magazine Zoom nights. Whatever you can afford would be wonderful.
We need your support to survive and expand our beautiful independent arts and culture magazine after our relaunch this September. We have been badly affected by Covid-19, we make very little money from Google advertising and we are now crowdfunding to keep our magazine alive and to flourish -  You can check out our rewards and subscriptions here and become a patron of the arts -  https://www.crowdfunder.co.uk/support-ethical-hedonist-fab-good-news-journalism or you can make a donation to support more unforgettable journalism that moves and delights you including our magical new review of what to stream and watch this week for dreamers and hopeless romantics!
Limited Edition Sanditon Review as a Collectable Manuscript!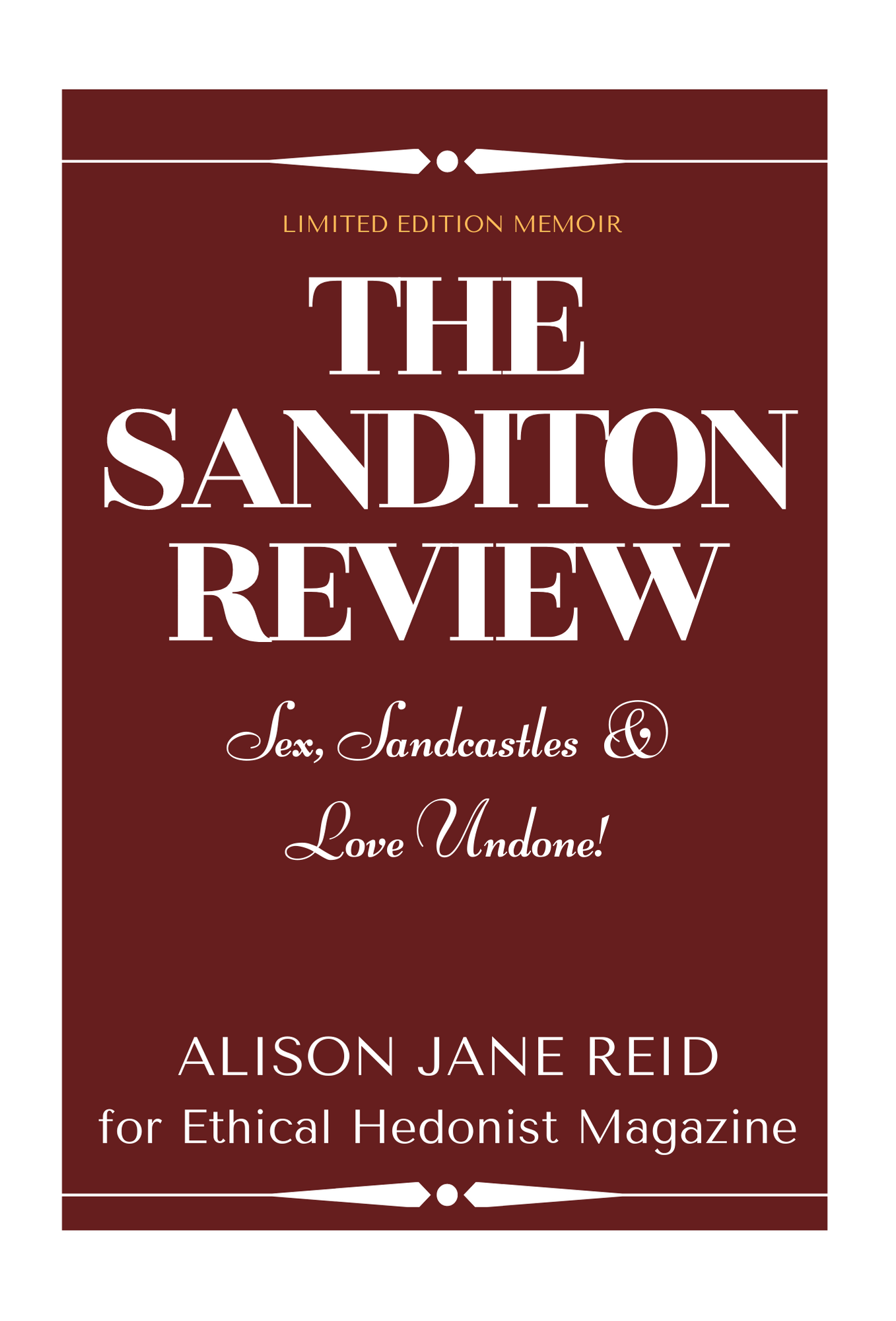 We have created a limited edition, paper, collector's version of AJ's original long-form Sanditon Review + plus this art stunt story and special new illustrations from drama which we can post to fans in the UK and across the world. The review took a week to research, write and perfect. This is now available via our crowdfunding campaign as a very special reward with just 100 Memoirs available - https://www.crowdfunder.co.uk/support-ethical-hedonist-fab-good-news-journalism Tweet, leave a Facebook message or email us if you would like one - ethicalhedonistmagazine@gmail.com @EthicalHedMag  #hashtag #EHSanditonReview #SaveSanditon #SanditonArtStunt