Eco Chic Winemakers rocking Rioja!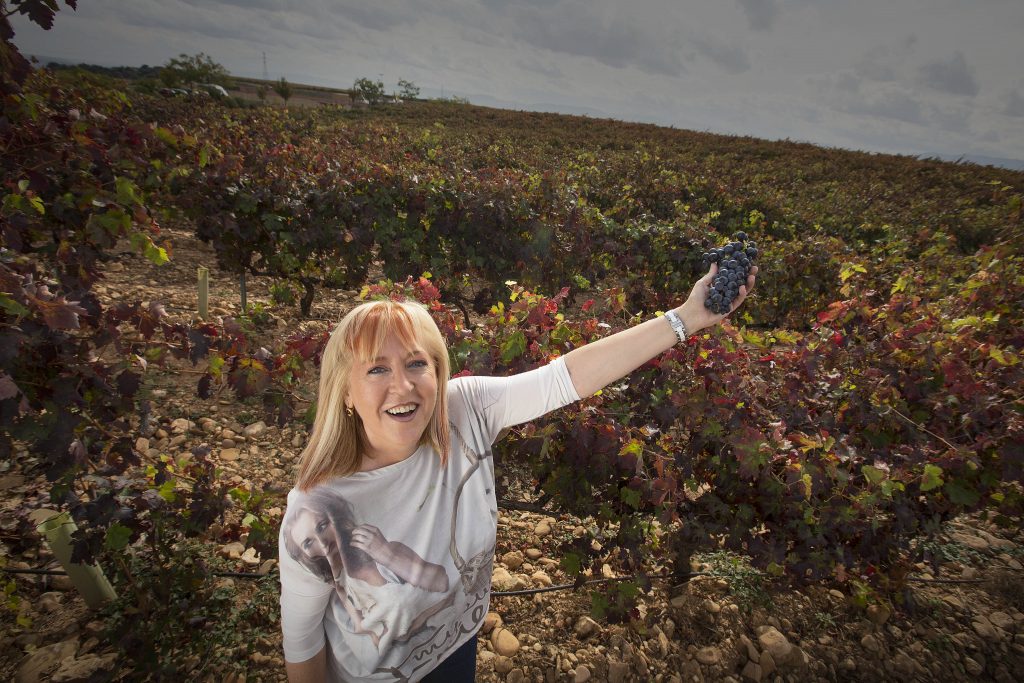 With her candy floss pink and orange hair and deconstructed summer work wear, Elena Adell, Campo Viejo's charismatic, queen of sustainable winemaking, the world's most popular Rioja, looks more like a female Damian Hurst than a master oenologist. But hold on a moment, isn't great winemaking akin to great art?
"Yes!" says Adell, her eyes twinkling like mercury, as she escorts our small party of journalists on a magical mystery tour around one of the world's first carbon neutral winery's – one which also happens to look more like a beautiful, hushed subterranean temple or cathedral, rather than a high tech manufacturing plant, half buried in the rich loamy earth of the Rioja Alta, half visible 100 metres above ground, as a state of the art, wizard winery, which looks like architect Ignacio Quemada's remarkable love letter to terroir, to nature and to an enlightened new greenage.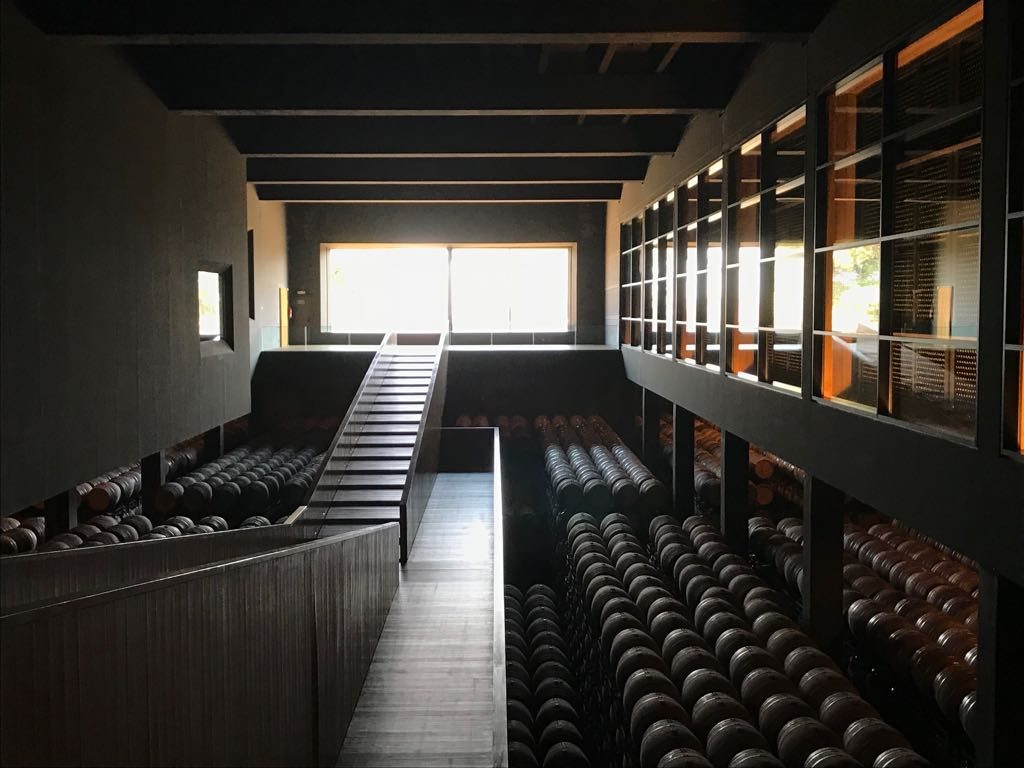 Campo Viejo – A Trailblazing Eco, Artisan Company
A winery which produces 2,7 million of 9-litre bottles per annum in 2017 of some of the world's most coveted red wines, whilst tirelessly looking for innovative new ways to tread responsibly on the planet and garner just about every environmental award going.
Bodegas Campo Viejo is the first Spanish winery to be certified by AENOR for its Energy Management System in line with the ISO 50001 standard; its carbon footprint in line with the ISO 14064 and to certify CarbonNeutral®. It is also the first winery in La Rioja to receive "Q" status for the Tourist Quality Award and has received the Vinum Nature award for sustainable action and best environmental practices.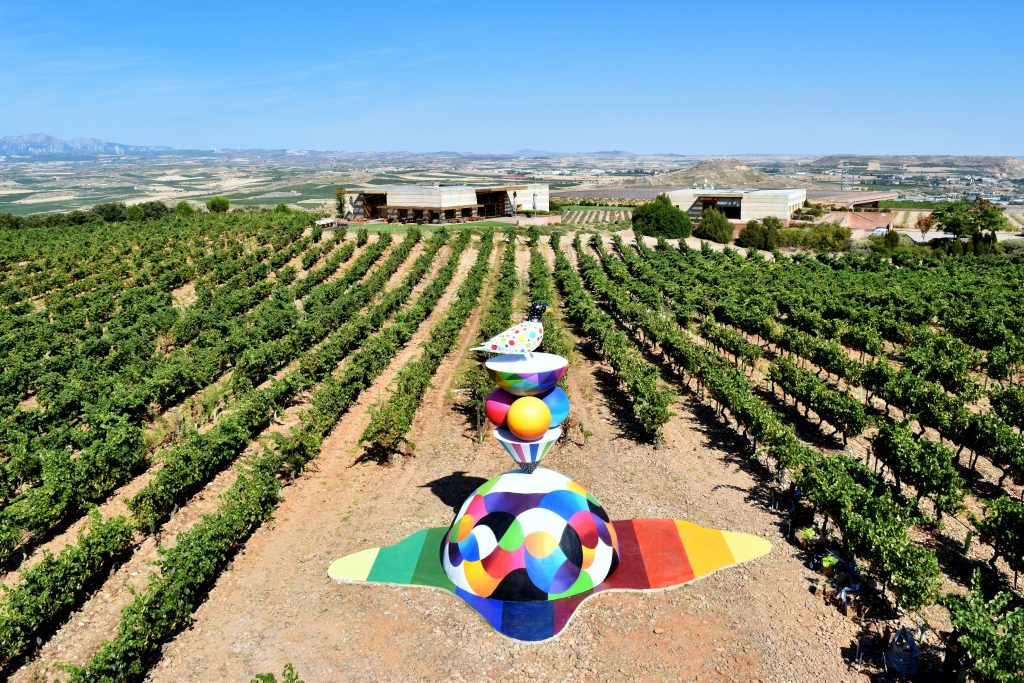 Warming to her theme, Adell says," The creative processes in Campo Viejo and in the art world are quite similar —both start with a blank canvas and a vision of what we want to achieve. Then, the process takes us on a journey of experimentation with flavours and colours, aspects —something our winery attaches great importance to— until you reach the desired result."
Perfection and innovation are two words that spring to mind. Campo Viejo is a remarkable, sustainable, heritage luxury wine marque that is absolutely driven by nurturing the creative imagination of its winemakers, its growers and everyone who works at this trailblazing, slow, artisanal luxury brand. Happy people make happy, extraordinarily delicious wine! It's so simple when you create and nurture a smart, people-centric and earth-centric business.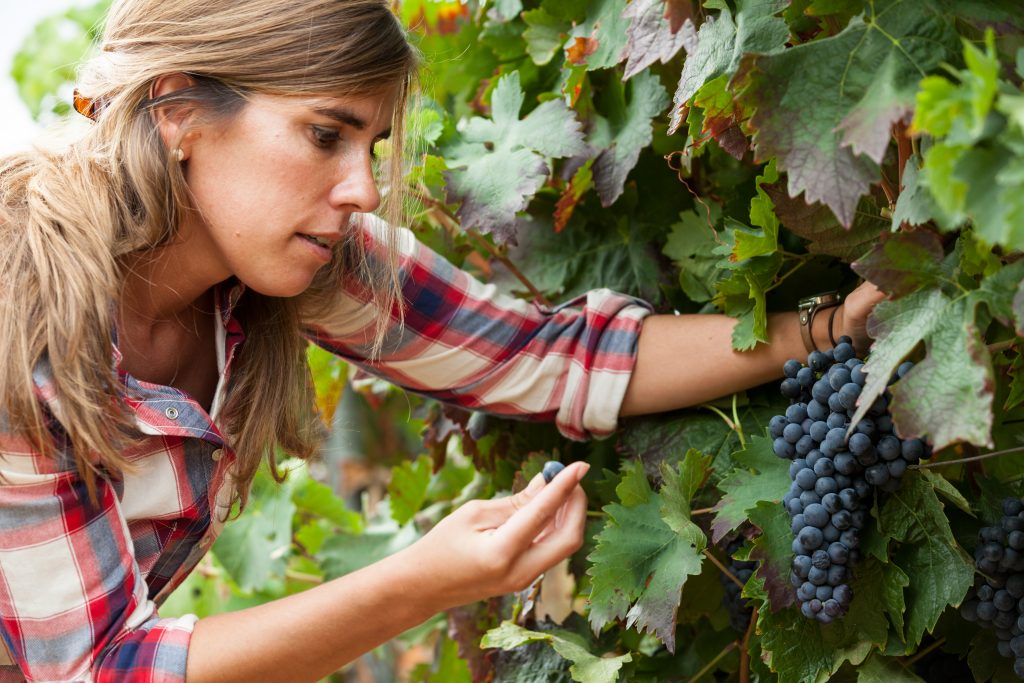 "Success is only possible if it is shared by all – for the benefit of our local communities. There is only one path to achieve that success: entrepreneurial spirit, one of our core values – to be non-conformists, curious and aware of the changes and needs of our society and our stakeholders so that, with everyone's help, we are able to create a world that we are proud to be a part of… the legacy that we want to leave to our future generations." Nicholas Cranz – CEO Pernod Ricard Winemakers Spain.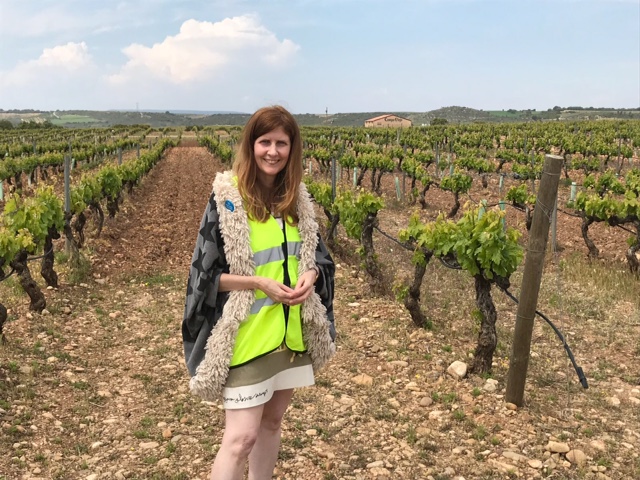 The highlight of the tour is absolutely out in the vineyards, seeing sustainable viticulture in action and admiring the whimsical street art rising out of the earth, like an exclamation mark, topped by a bird with a magnificent plumage of many colours,  keeping watch over the vineyard. Looking out over rows and rows of precious, expertly pruned vines, Elena and the vineyard manager explain the fascinating technique of sustainable pest control called 'sexual confusion'. Whoever came up with that headline is a born Don Draper! The technique is used to control the deadly vine moth instead of routine spraying with herbicides. This innovative, sustainable technique is leading the way to a global reduction in the use of herbicides to control the pests that can devastate the annual grape harvest. This is how it works.
Sexual Confusion for Pest Control!
Pheromones are released into the vineyard to confuse the male moth and stop him from mating with a female. Plagues of vine moths have devastated vineyards for decades and led an over-reliance on agrochemicals to control its deadly progress. The male moth flies around looking for his phantom female mate and he will never find her! Heartbreaking? Yes, but very effective. At a stroke, the procreation and proliferation of the moths are stopped and the vines and its precious harvest are protected.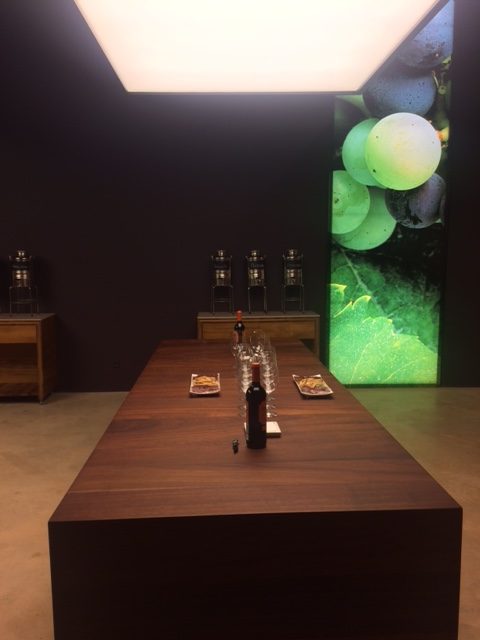 As we continue our tour of this remarkable winery, it is fascinating to witness the marriage of the art of winemaking with clever, clean tech innovation and circular economy ingenuity. Reader, the business of fine winemaking is awfully quiet, serene and dare I say it sexy! Let me explain further.
A Hushed, Serene Library of Wine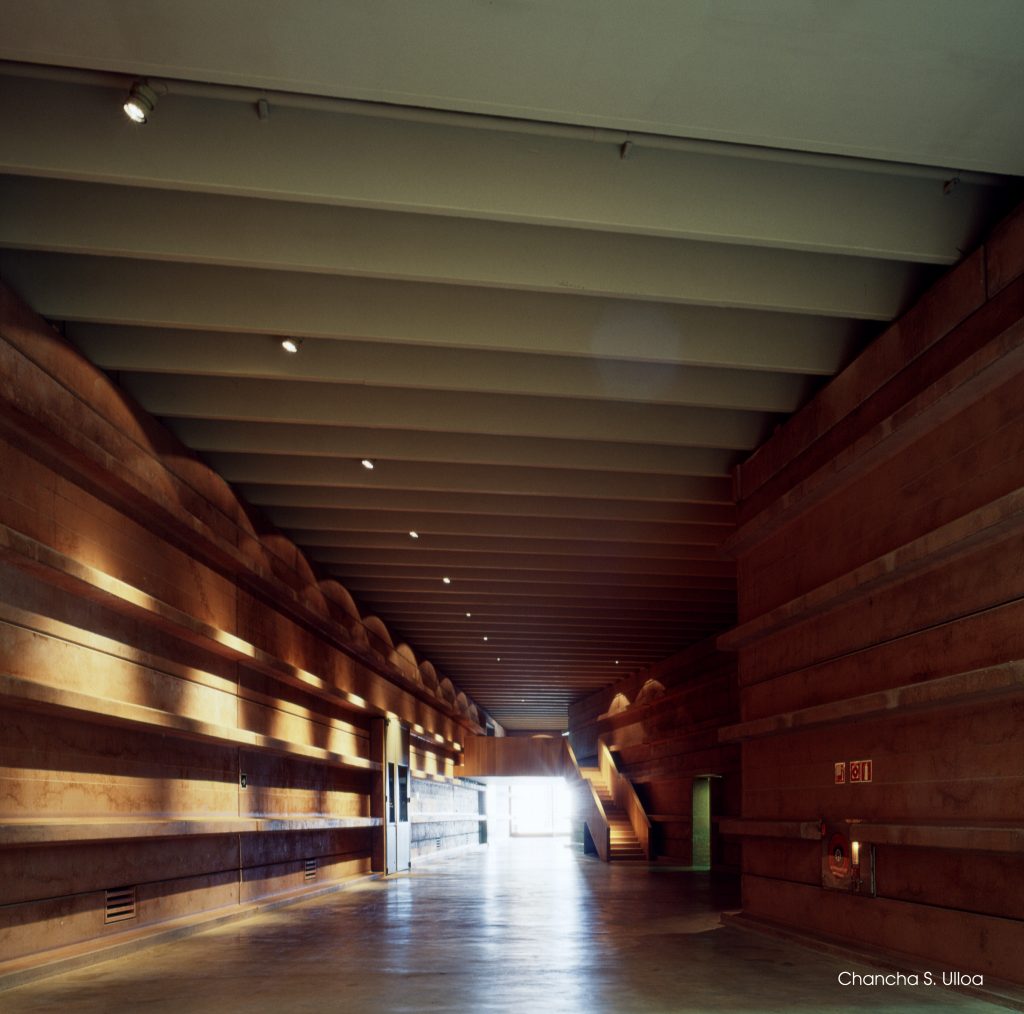 Each process in the winemaking journey from vine to bottle is achingly, beautifully choreographed at Campo Viejo. Firstly, the winery is situated mostly underground. This makes it possible to maintain an ideal, constant temperature and maximize energy efficiency. And while the fermentation room is all about drama, stainless steel and temperature control – the expert aging and turning of the bottles takes place in a vast soporific room, which has the hushed serenity and organization of a great library, its prized catalogue gently illuminated with hypnotic beams of natural light.
Never for a moment does the visitor feel claustrophobic or hemmed in as the architect has found ingenious ways to let light and sun cascade gently into the depths to surprise and delight us while we inhale the pleasing, fruitful, and yet remarkably non-alcoholic aromas of thousands of bottles of maturing Rioja.
The Perfect Pad for a James Bond Villain
As a result, I have the feeling that we have stumbled into the lair of a billionaire James Bond villain. I can just see 007, played by Daniel Craig sparring with his adversary on the vertiginous walkways above the giant stainless steel fermentation vats or in the barrel room, which is home to zillions of gallons of Rioja Reserva, aging in the finest handpicked oak barrels. Then at the push of the button, Bond is caught in silhouette as a giant picture window unveils the spectacular Riojan landscape, which yields up the grapes to make this red and white gold. I wonder whether Bond will find time for an impromptu tasting?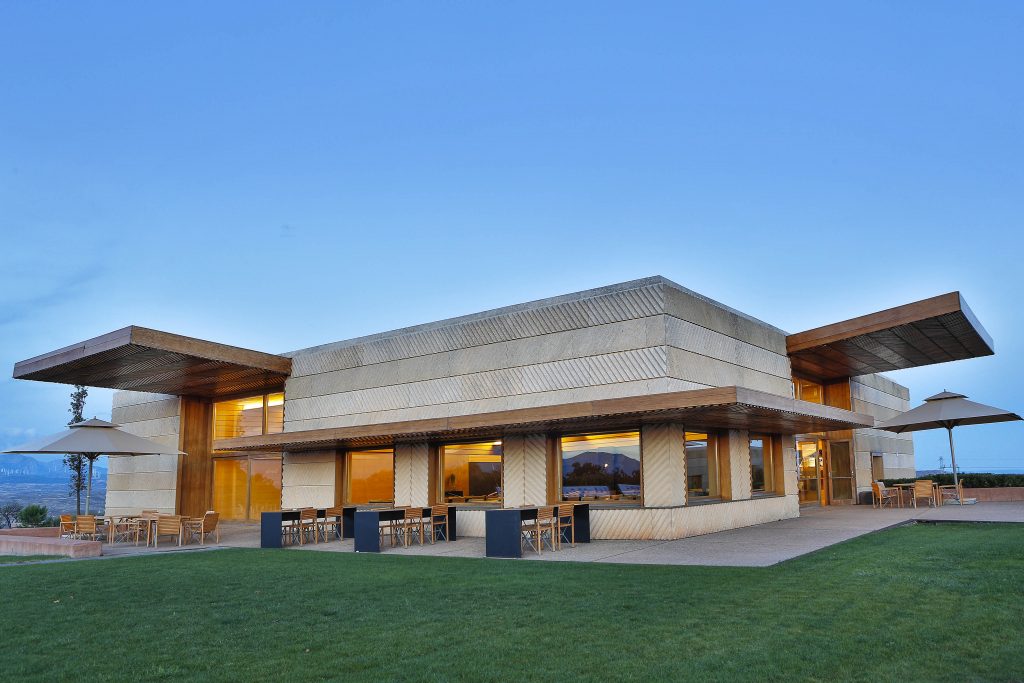 I can also imagine the playful, passionate, Adell, cooking up new wines with her fellow winemakers – Irene Perez and Clara Canals in her experimental wine laboratory with some newly approved Rioja grape varieties – including white Tempranillo, Chardonnay and Verdejo.  Of course, it comes with a dash of Harry Potter magic and alchemy, a highly developed nose and palate, and a genius for peering into the future and knowing exactly what sort of flavours we want to experience before we know ourselves. Now, I will let you into a secret, the buzz is all about the white Rioja's.
The Kiss a Seasonal Supper and Rioja Winetasting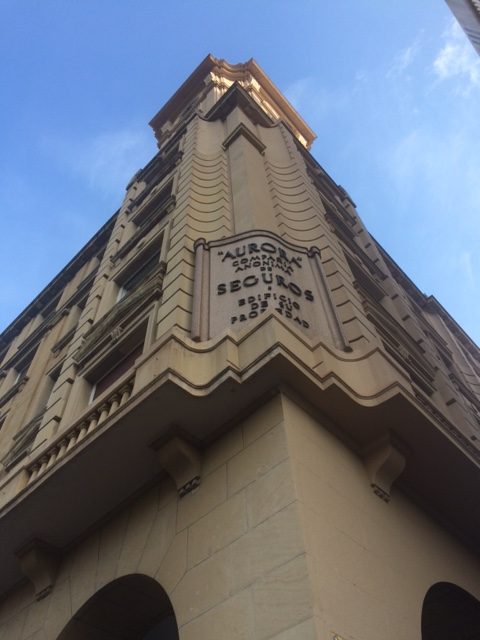 The results of this passionate, precise and artful, eco-conscious approach to winemaking are soon revealed to us that evening over a Campo Viejo wine tasting dinner paired with simple, delicious local food specialties, native to this region of Northern Spain.
The Land of Conquistadores, Flamenco, and Picasso
As we walk through the 18th century stone flagged streets, on our way to supper, we pass a church, which looks like Harry and Meghan's wedding cake, encrusted with creamy, rich royal icing. Nor am I at all surprised to see a couple kissing passionately and getting rather carried away in the heat of a spring evening, as we reach our destination. Well, we are in Spain – the land of the conquistadores, flamenco, and tapas. Our destination is a fabled local family restaurant called Taberna Herrerias. We climb up and up a winding staircase, past curious antique cartoons and ancient foodie artifacts to sit at a large communal table, where the wines of Rioja beckon, with their colourful, bewitching, pretty artworks, and gold medal accolades.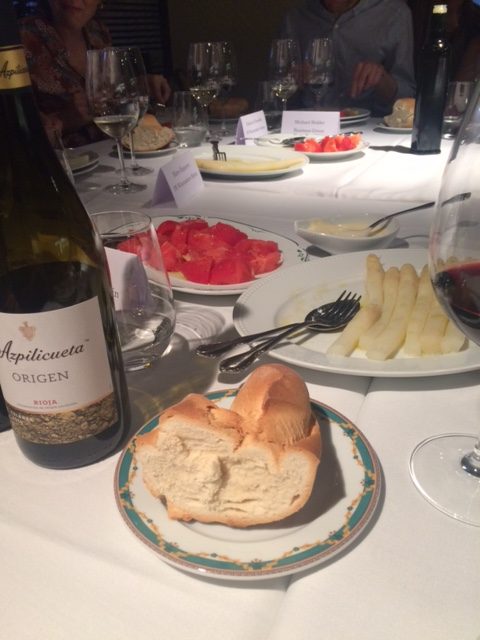 The first course is a plate of sweet, buttery, white asparagus and simple chargrilled artichoke hearts served with homemade mayonnaise and the most delicious doorstep artisan bread, paired with Azpilicueta – a delicate, perfumed, floral white wine, with a lingering, honeyed finish that tastes like spring in a glass.
An Intensely Fruity Rioja Reserva and Perfect Steak and Chips
Next come shocking pink, char-grilled, slivers of steak and homemade chips, which are so good they fly off the plates in a flash. This simple comfort food is elevated into a dish to remember by the expert execution and the quality of the local produce. It is paired with a red Campo Viejo Reserva – an intensely fruity, full-bodied Rioja, with top notes of plums, black cherries and blackberries, and lingering, pleasing notes of vanilla, coconut, wood, and spice.
The sweet finale is a great local favourite – rustic, caramelized golden bread pudding called Torrija served with a creamy dollop of cinnamon ice cream, which partners well with Azpilicueta Origen, a chocolately red with notes of spice, blackberry and strawberry with a dash of cocoa.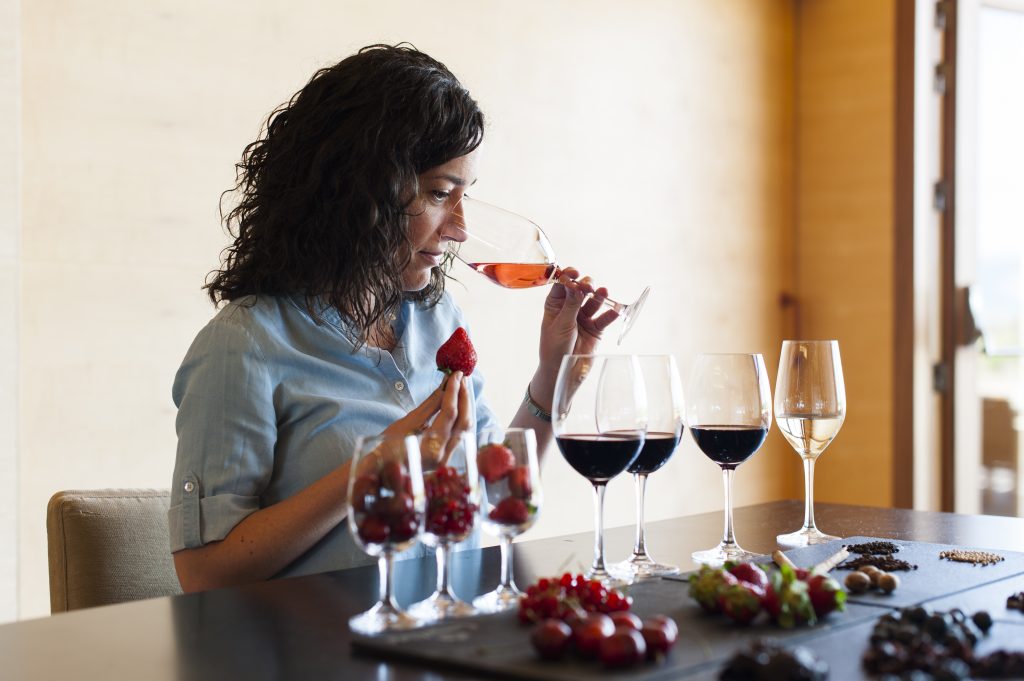 Each wine is complex and delicious, with its own distinct personality. If I had to choose a favourite it would be the extraordinary Azpilicueta white – for it tastes like the honeyed nectar of Aphrodite on a night of good conversation, delicious, seasonal food, and a real sense of excitement, of debate, and the idea of sustainable disruption in the air.
The Three Eco Chic Picasso's of Rioja Winemaking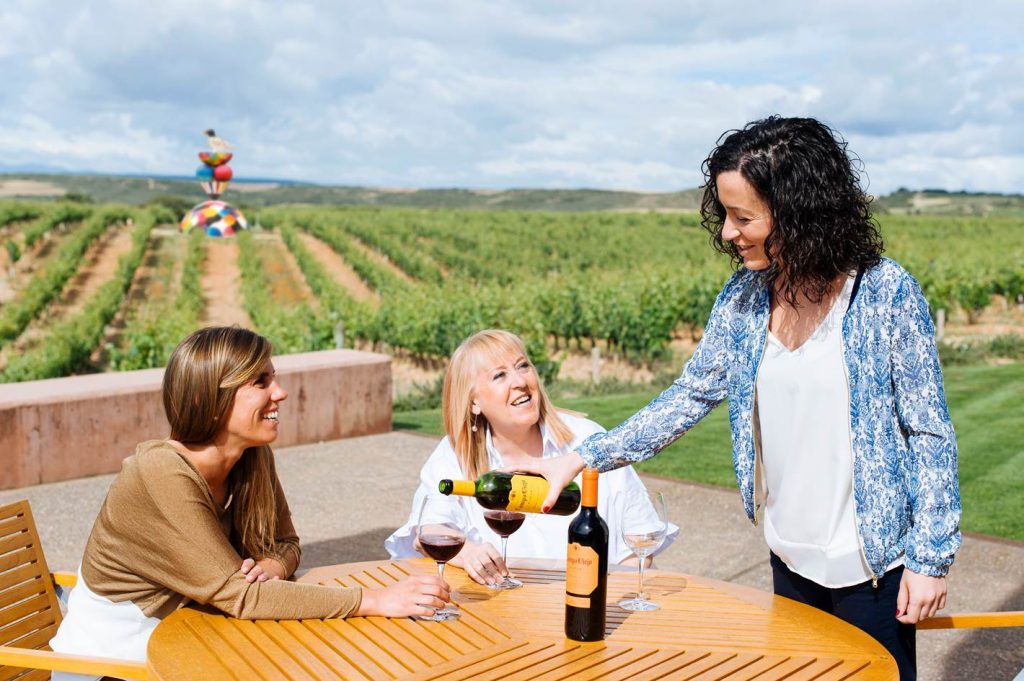 I do hope that these remarkable, award-winning Rioja's truly reflect the future of wine – eco-conscious, authentic, convivial, delicious, responsibly made – and all with the focus on the artistry of Campo Viejo and its flair for constant, restless eco-innovation. With not one, but three remarkable women winemakers leading the charge for sustainable luxury winemaking the future of the vineyard looks alluringly emerald green. I have no doubt that Elena is a female comet! She is leading the way with her passion for biodiversity and her innate understanding that we are all custodians of mother nature, not bystanders. Together  – Elena, Clare and Irene are the three eco-chic Picasso's of wine at Campo Viejo – glamorous, vivacious, passionate artists and creators in wine – one for all and all for one! Together, they make remarkable, complex wines with the jewels of the great Spanish grape varieties, the miracle of healthy, living soil, and the heritage of fifty years of conviviality, art, and fruitful imagination.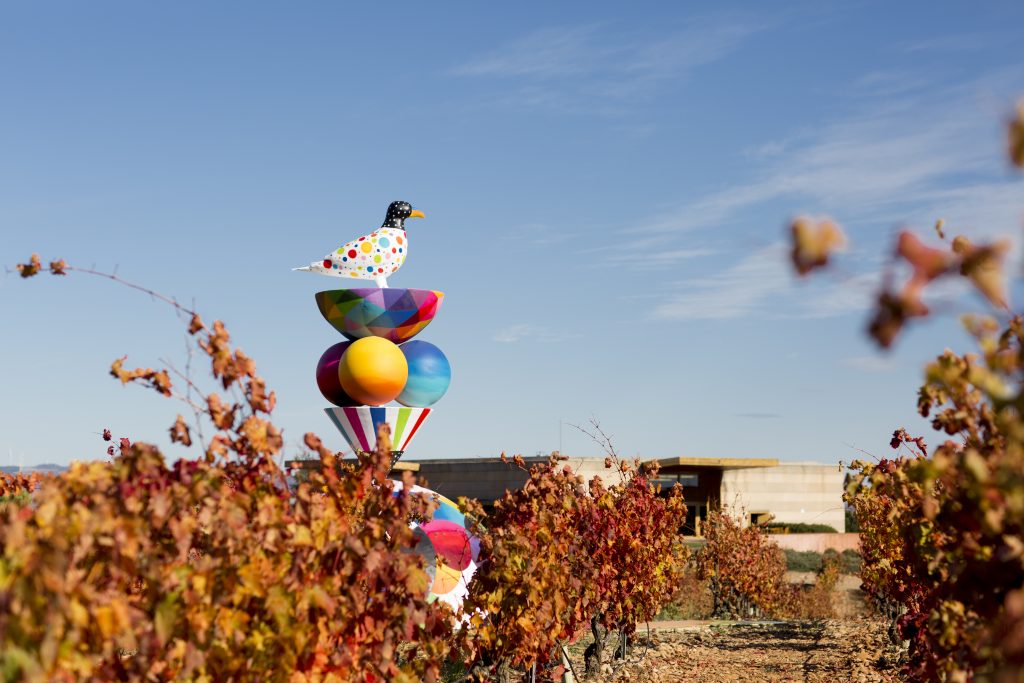 Sustainable Milestones
Spanish winery, Campo Viejo, certified in
Carbon Footprint and Carbon Neutral
Spanish winery, Campo Viejo certified
Wineries for Climate Protection
Spanish winery, Campo Viejo certified ISO 50001 – Energy Management System
Spanish winery, AGE,  certified
ISO 9001 – Quality Management
Rioja winery, Campo Viejo awarded
Q of Tourist Quality certification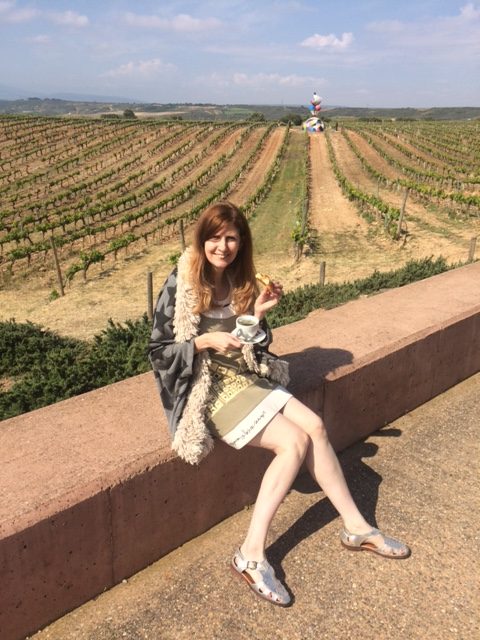 GEOTHERMAL ENERGY
Bodegas Campo Viejo introduces geothermal power, a source of renewable and sustainable underground temperature with minimum environmental impact.
For further information visit the Campo Viejo Website
Feature – Editor-in-Chief Alison Jane Reid Copyright May 2018.
Images Copyright Campo Viejo and Alison Jane Reid 2017
Alison Jane is wearing an organic cotton pop art sundress by Spanish slow fashion house Bichobichejo
We hope y0u have enjoyed this feature on sustainable winemaking.  We would love your support on our new monthly crowdfunding platform on   @patreon