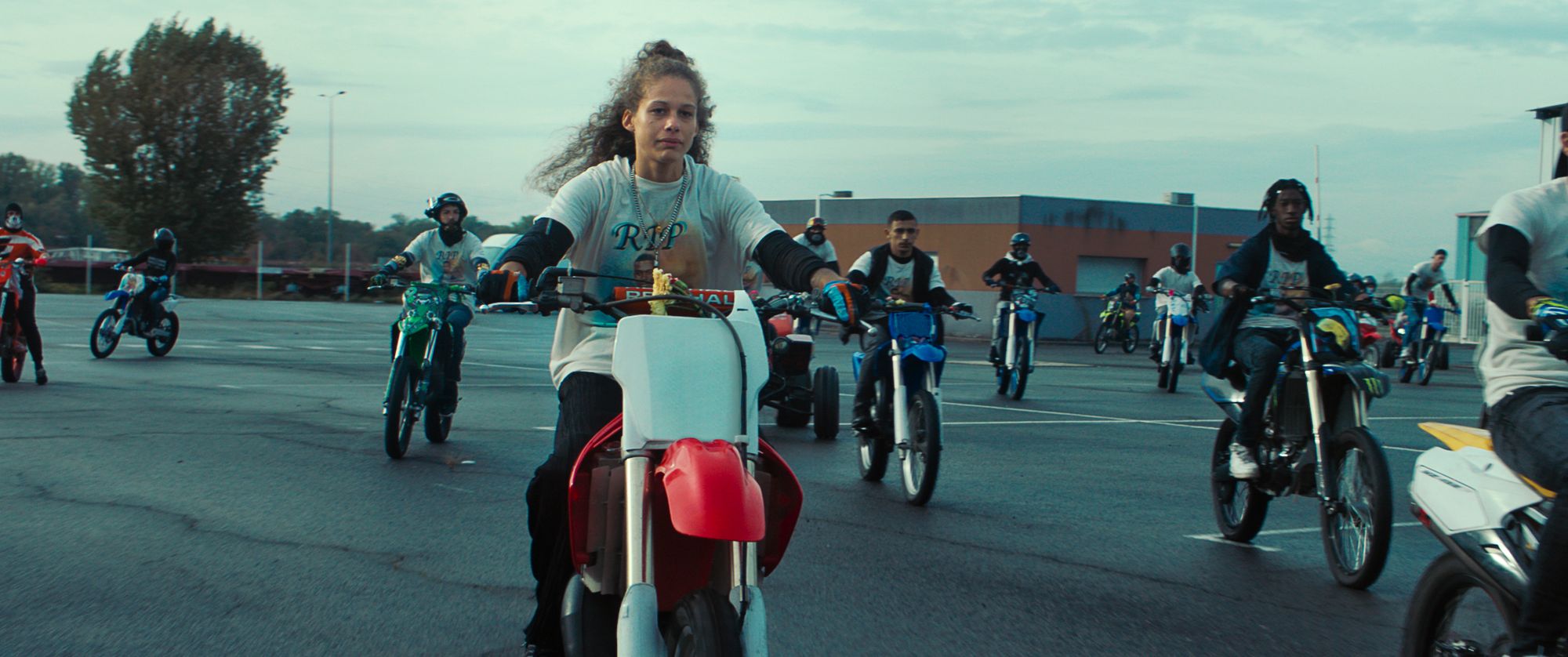 Rodeo, which was selected for Un Certain Regard at The Festival du Cannes 2022, is the blistering, unquiet debut of French director Lola Quivoron writes arts journalist Alison Jane Reid.  What makes this film worthwhile, is the incandescent debut of its star Julie Ledru, a real-life biker, along with the clandestine bike rodeos, which are like watching a guerilla ballet on two wheels. The film makes its debut in the UK at Curzon Cinemas this week, April 28th and online.
Glamour and the Mythology of the Gangster from Brando to Easy Rider and now Rodeo...
However, let's lets get one thing straight. Rodeo is not a film you watch for entertainment, although I could suggest that the over-the-top ending glamorises the idea and mythology around the gangster.
Either way, Rodeo is an unabashed polemic against deprivation, poverty and hopelessness and the idea that all roads lead directly to a life of crime. It's certainly in vogue to suggest that poverty is entirely to blame for a life of crime. The writer of The Gold on the BBC based on the Brinks Matt heist does that over and over again, even though the real-life gangsters behind the gold robbery of the century were no Robin Hood figures.
Stealing Bikes for Kicks and Getaway Money
Rodeo opens with a teenage girl fending off abuse on a grim social housing estate somewhere on the outskirts of Paris. The next moment she steals a motorcycle from two men with a remarkable air of bravado, defiance and skill,  like a latter-day Bonnie in Bonnie and Clyde.
A Blistering, Visceral Performance from Newcomer Julie Ledru
Ledru blisters and shines as Julia, a misfit living an incredibly insecure life. Ledru came to the project with no acting experience and delivers a remarkable performance in front of the camera that is both naturalistic and compelling.  Julia is a chameleon who refuses to be categorised looking for her own version of utopia, as a sort of latter-day Scarlet Pimpernel.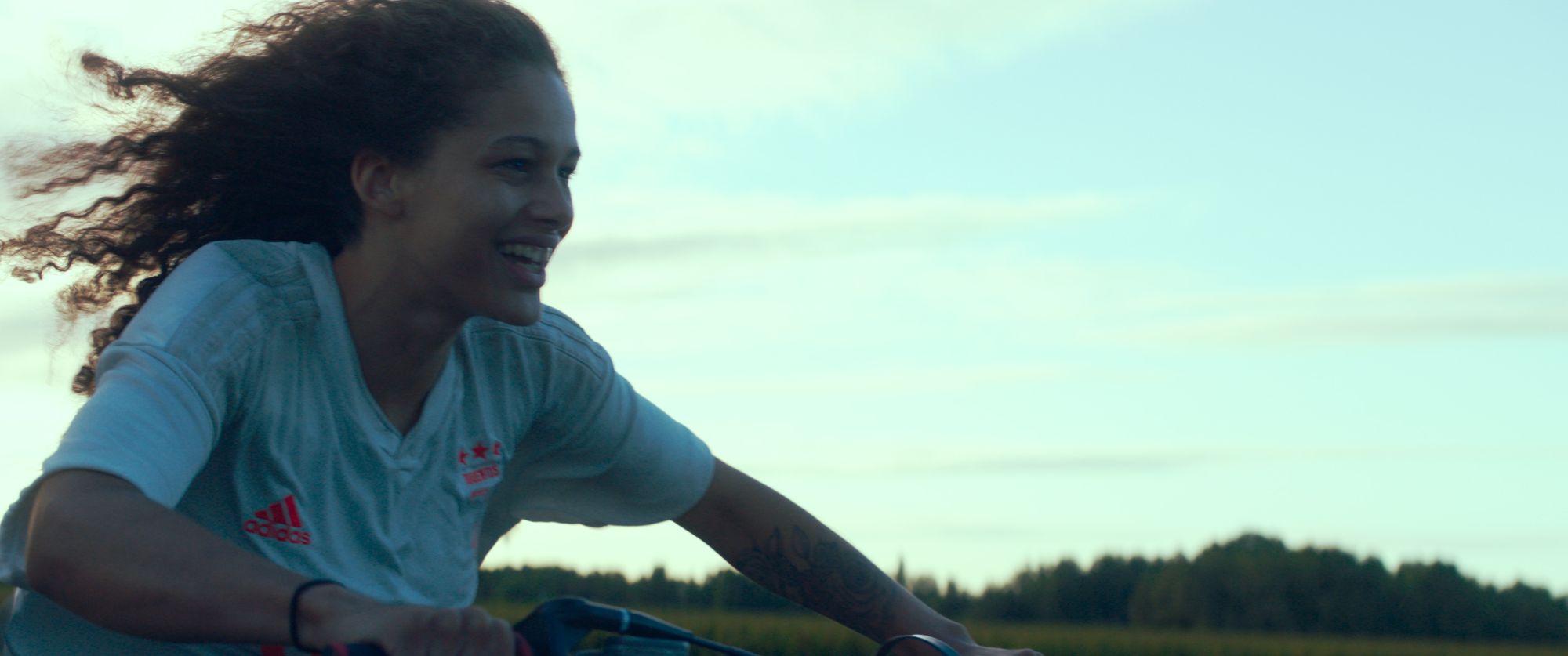 The bike scenes alone are a triumph of execution and cinematography.  They are like watching a ballet on two wheels.
And yes, this film is an unabashed homage to The Wild One with Marlon Brando and James Dean and Rebel Without A Cause - only this time, the misfit is a wild she-cat. A lioness on a bike, mane flowing, and utterly prepared to live fast and die young.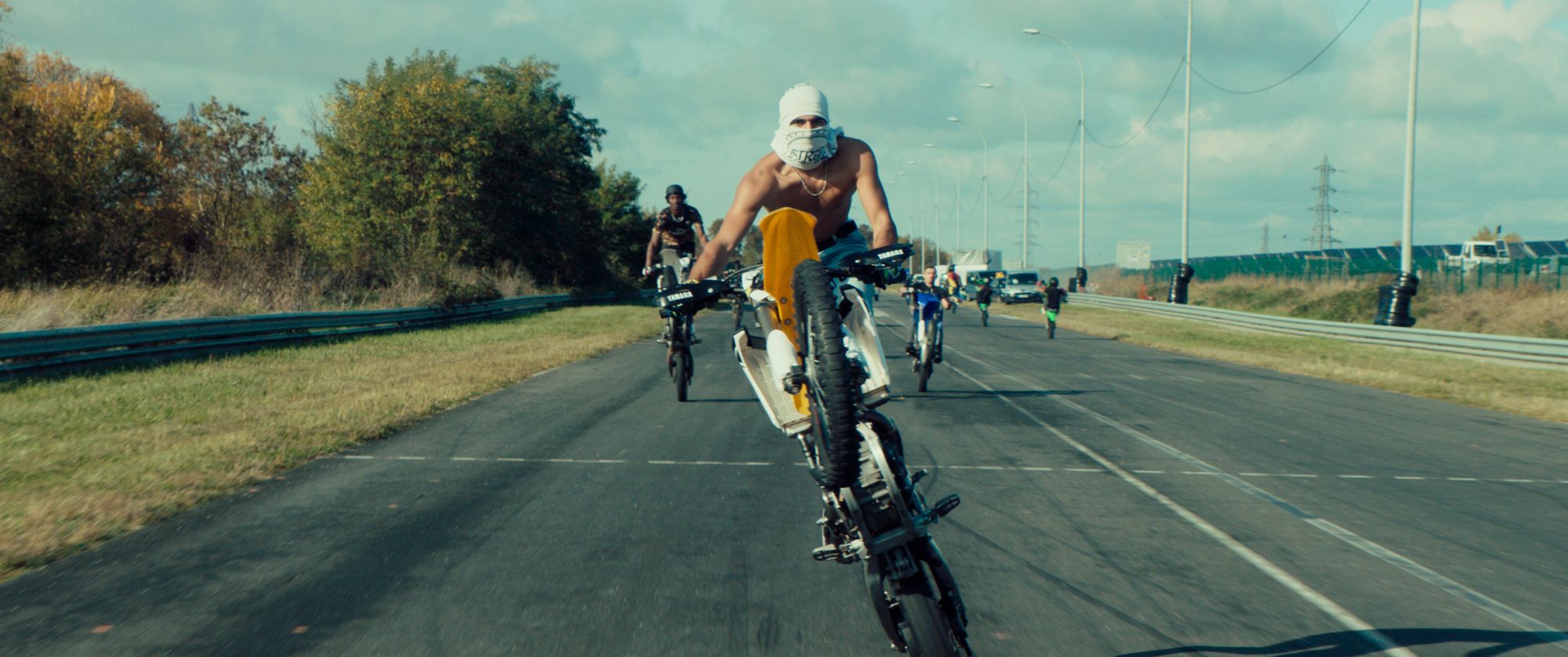 Rodeo is showing at Curzon Cinemas and Online from 28th April 2023.
Read On
Rodeo is a film that haunts the imagination long after the credits have rolled for the ideas that it explores and the brilliant, stream-of-consciousness performance of its break-out star. Julie Ledru convinces as the leader of the pack. She conveys vulnerability, fearlessness and an outlaw charisma that has charm, even as she cons another bike or plans a dangerous heist and jokes that it will be her Brinks Matt and yes, she is talking about the heist of the 20th Century when 26 million of gold bullion was stolen for a warehouse at Heathrow.
A New Amazonian with Nothing  to Loose
What is interesting is how a teenage girl might become a gangster in an Adidas T-shirt and biker boots, her hair flowing out like a latter-day Amazonian.
How does that happen?
This is where Rodeo works as a convincing and authentic exploration into the dark underbelly of inner-city poverty, in this case, Paris, and the clandestine world of biker gangs, illegal rodeos, male machismo, fractured families and how a teenage girl might survive that.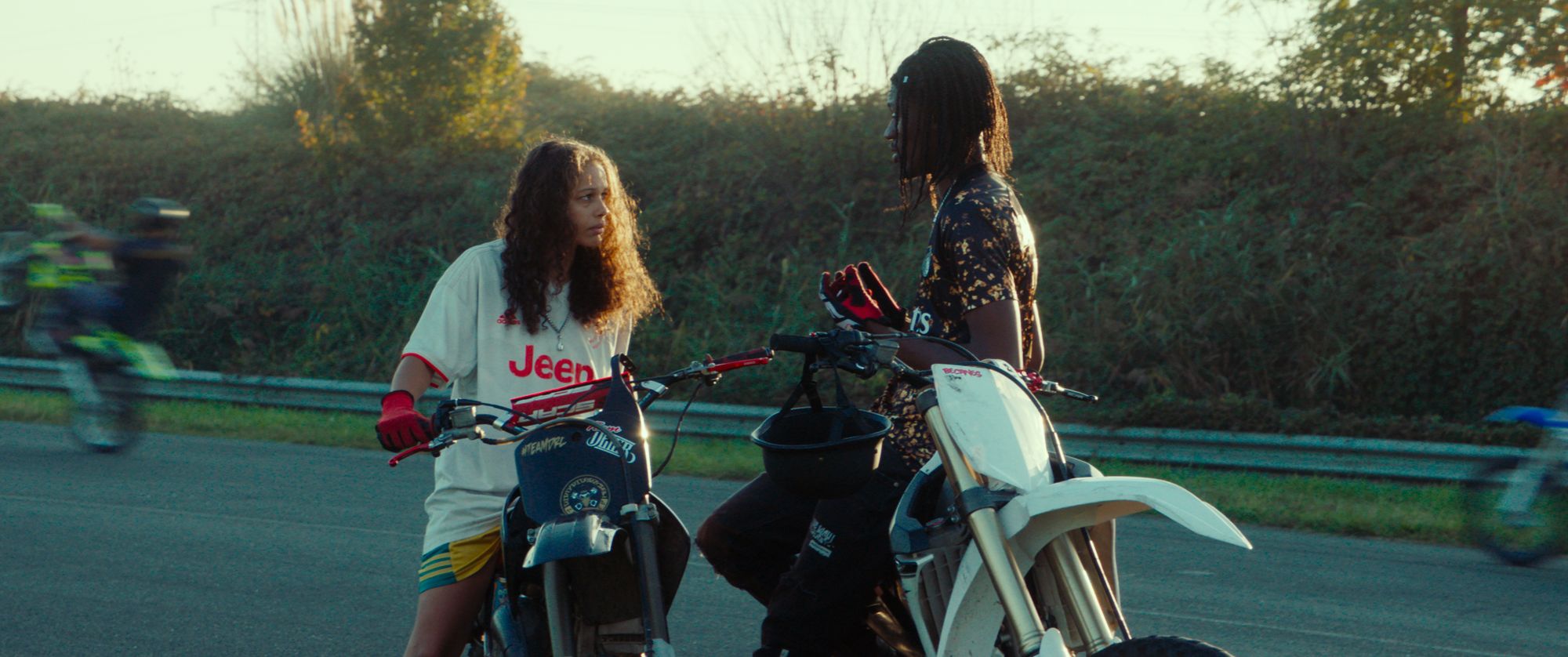 This heart of darkness story is an existential trip into the margins of society.  Ledru a dirt biker herself, was discovered on Instagram by the director who went on to develop the story around her. Ledru is Julia. A fierce, audacious, teenage misfit growing up on the wrong side of Paris, who doesn't have much to live for. Her life is horrible. She is constantly threatened and her own brother calls her 'a whore'. Her mother is absent. She is constantly having to defend herself against the men on the estate.
One day she steals a high-end bike for money and kicks and then we see her experience an epiphany of speed and freedom as she tears out into the green mile away from greyness, darkness and decay.
The Director Takes Inspiration from Emma Peel and James Dean
She is poetry in motion and as a first-time director, Lola tells me, "I was obsessed with Emma Peel when I was a teenager and James Dean in Rebel Without a Cause."
I can see that, but this film is fifty shades bleaker with moments punctuated by the intoxicating beauty of two wheels and what humans are crazy enough to do with them.
The film is tense, incredibly bleak and uncomfortable with an oppressive air of menace and insecurity from the opening frames. At home, in a grim flat, Julia barely exists in a savage hell punctuated by crime, testosterone and a sense of being embattled and forgotten.  This is juxtaposed with elegant cinematography and extraordinary bike stunts from Mathieu Lardot who worked on Spectre and Jason Bourne, which paint the narrative with a visceral, frenetic beauty and escapism.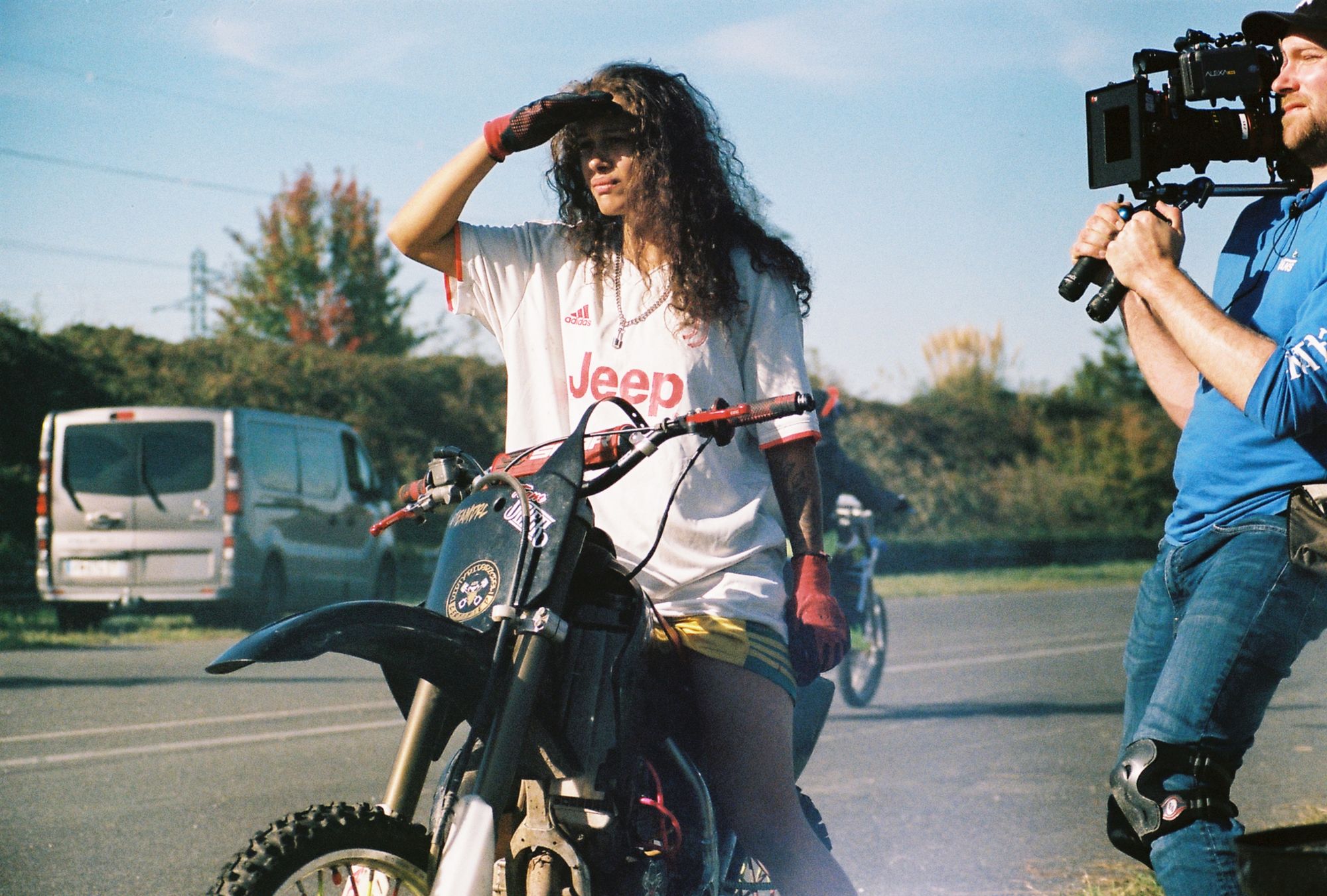 Julia becomes a female warrior of speed with a motorcycle between her legs. Dirt biking is her passport away from a life where she is poor, abandoned, mix-raced and unsafe.  There's just one problem. Once Julia has stolen her first motorcycle, she can't stop. It is far too easy for her. It's a buzz. Then, in search of belonging, she runs into the B-More posse of bikers and she is drawn in by their camaraderie and mastery of the motorcycle.  She wants to join them, even though they don't want her because she is a girl and also, because she is smarter and more fearless than any of them.
For some members of the posse, Julia's cockiness unleashes their worst instincts towards her and she is warned, beaten and intimidated.
The one thing I found formulaic about Rodeo is that with its unmistakable feminist polemic, almost all the male characters are portrayed as violent, predatory, misogynistic, cruel and at times banal and uninteresting as human beings, apart from the lead of the motorcycle posse who dies early on in the story and the character of Kais who lets Julia sleep in the garage and becomes smitten with her exuberance and enigmatic character. Life and people are just not that simple or black and white.
Quiveron co-wrote the script with actress Antonia Buresi who plays Ophelie, the wife of a local gangster, who hires Julia to steal motorcycles to order from his jail cell for a cut of the money.
The Search for a Family
With no family to care about her, Julia is drawn to Ophelie and her unruly son and she is assigned to help them with shopping. She also bonds with the child.  One day Julia invites them to go for a ride, breaking the curfew imposed by the gangster Domino on his wife who lives under house arrest.  For the moment of that ride, the three of them are united in a miasma of speed, joy, three as one and maybe becoming a little family.
Has Julia just signed her death warrant?
Depending on how you feel about Julia's story and her descent into serious criminality, the ending will either seem like a symbolic martyrdom rather than a life behind bars or too hot to handle.
You decide.
Rodeo is showing at Curzon Cinemas and online from April 28th.Copyright Alison Jane Reid, The Luminaries Magazine. All Rights Reserved. April 2023
The Luminaries Magazine is an independent Magazine devoted to the idea of quality slow,  handcrafted journalism. We have no shareholders or corporate angels in order to stay fiercely independent. We are funded by voluntary subscriptions, arts grants and collaborations with little artisan companies.
About the Journalist
Alison Jane Reid is a Scottish/English feature writer, editor and slow luxury tastemaker. Her iconic career in British national newspapers spans three decades. AJ worked as a lead feature writer specialising in cultural icons at The Times Magazine for a decade. AJ trained at Mirror Group Newspapers and went on to work as a contributing editor at The Lady and You Magazine. Her iconic interviews and features have also been published in Country Life, The Independent, ES, The Evening Standard and Harpers Wine and Spirits Magazine. Her features have been syndicated across the globe.
Join our tribe and support us today.