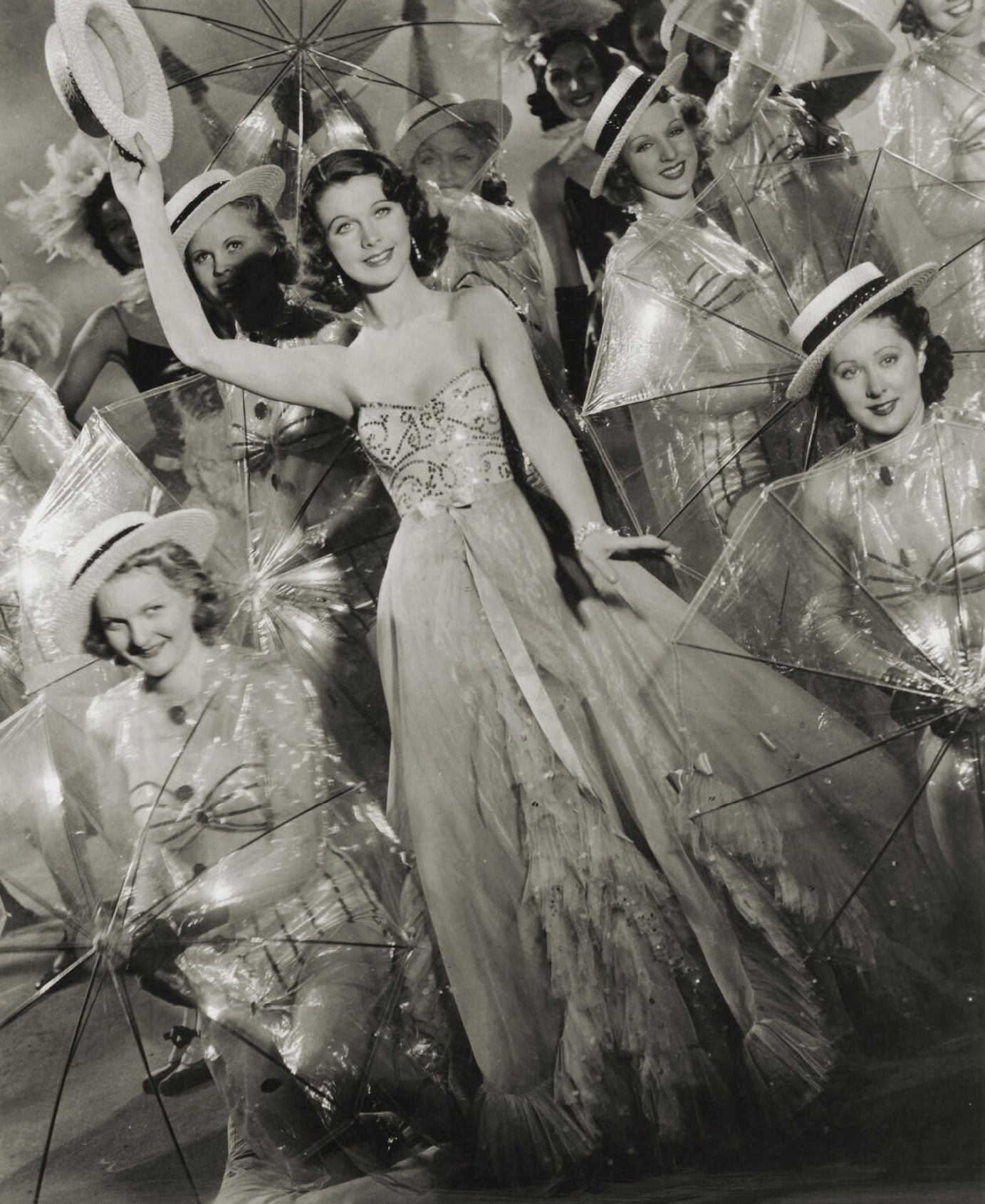 St Martin's Lane (The Sidewalks of  London)
St Martin's Lane, also known as The Sidewalks of London, is a thoroughly irresistible, picaresque, black and white slice of life Golden Age British film about theatreland and showbusiness that fizzes with clever social comment writing, black comedy and unforgettable, intensely brilliant performances.
A Vanished World of Brilliant Street Theatre
It stars Charles Laughton, Vivien Leigh and a vulpine, handsome Rex Harrison in a black and white thirties jewel of a movie masterpiece directed by Tim Whelan which deserves recognition for capturing a vanished way of life and all the razzmatazz, glitter and surface glamour of show business and the pitfalls of fame.
Vivien Leigh's gowns by Victor Stiebel and Rex's elegantly divine black tie suits are a perfect dream too and so are the alluring Deco sets.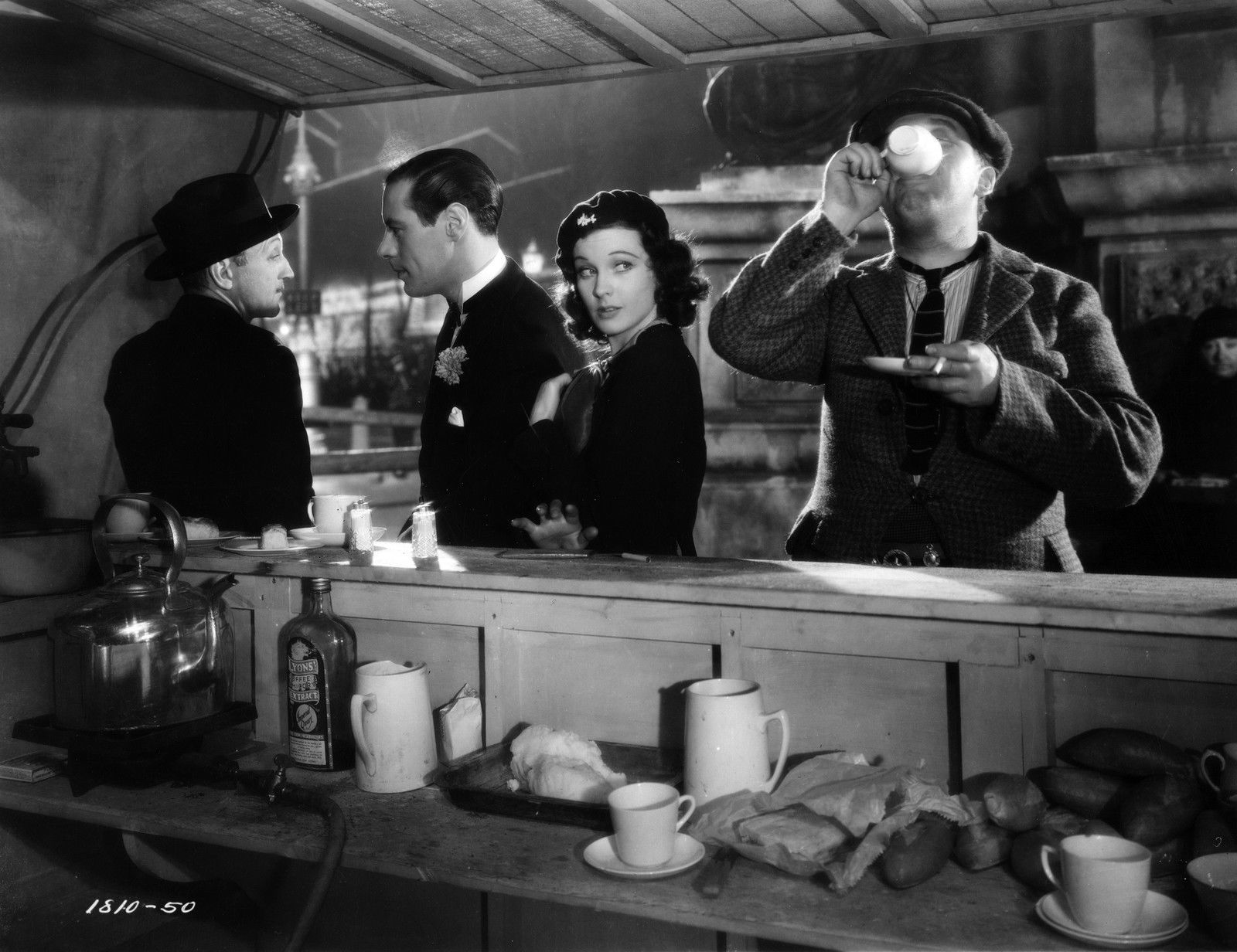 Laughton's performance is a mesmerizing, multi-layered masterclass of emotion, yearning, kindness, vulnerability, theatrical bravado, loss and tragedy. No wonder Daniel Day-Lewis cites him as an actor who inspired him. While Leigh and Harrison and Guthrie are more than a match for Laughton's many splendored verbal dexterities.
A Night Out in London Begins on the  Streets
The film successfully dissects the fragile life of the buskers and talented street performers who used to congregate outside London's great theatres, performing for Londoners at play, where the entertainment begins on the streets, as the theatre-loving public flock to see the biggest stars of the day. It's a film about the haves and have nots and the nature of fame and how precarious and random success can be. The buskers are outside, the stars are inside. Will their paths ever cross?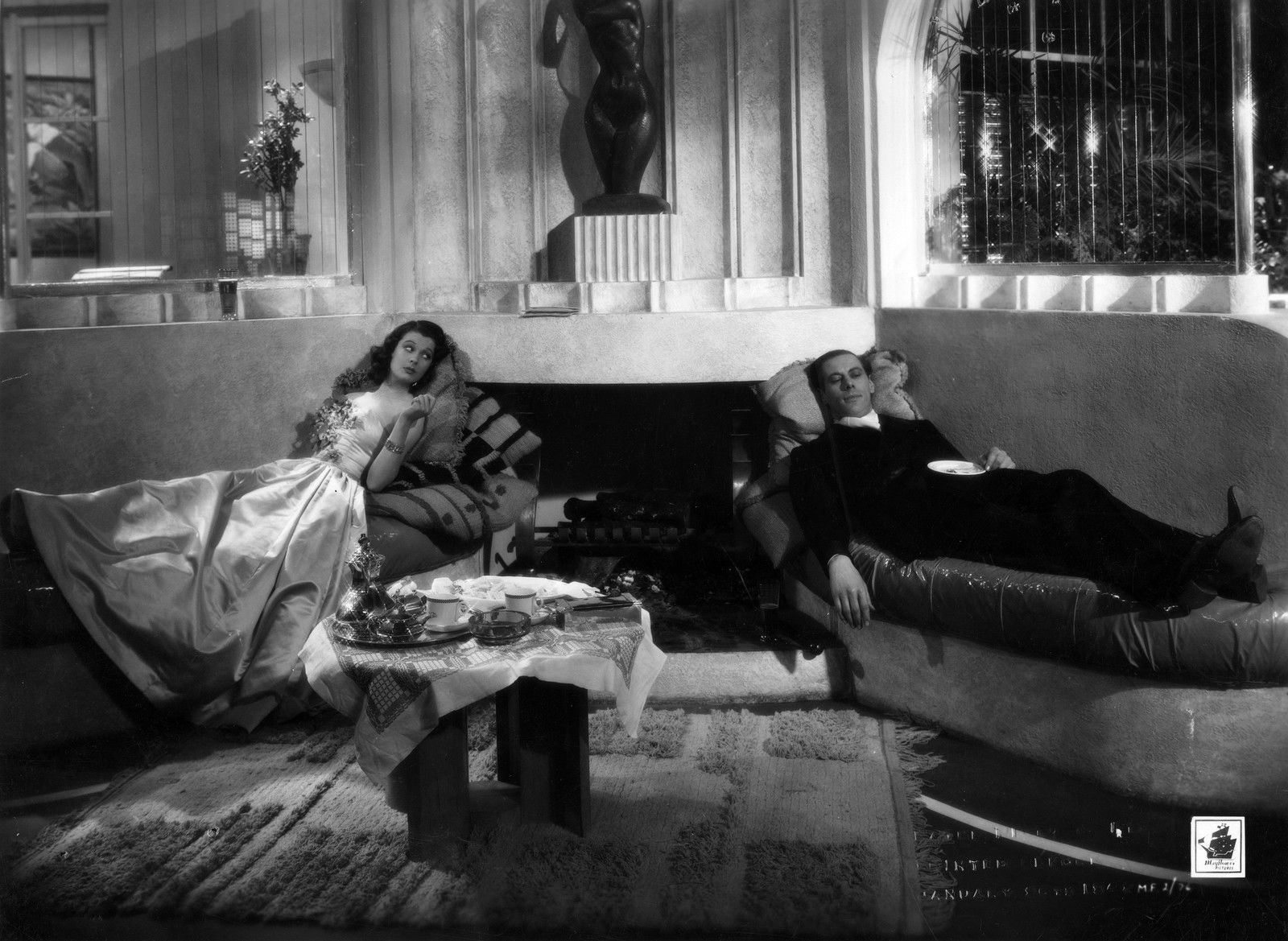 Into this fragile ecosystem comes 'Libby' a homeless orphan and pickpocket played by Vivien Leigh with the raw grace, duality and quicksilver magnetism that would make her a global star a year later in Gone with the Wind.
Libby or Liberty as she likes to be called, ' like Garbo', can sing and dance like a dream and she collides with Charles Laughton's remarkable Mr Staggers, a character brimming with talent, humanity, pathos and human kindness.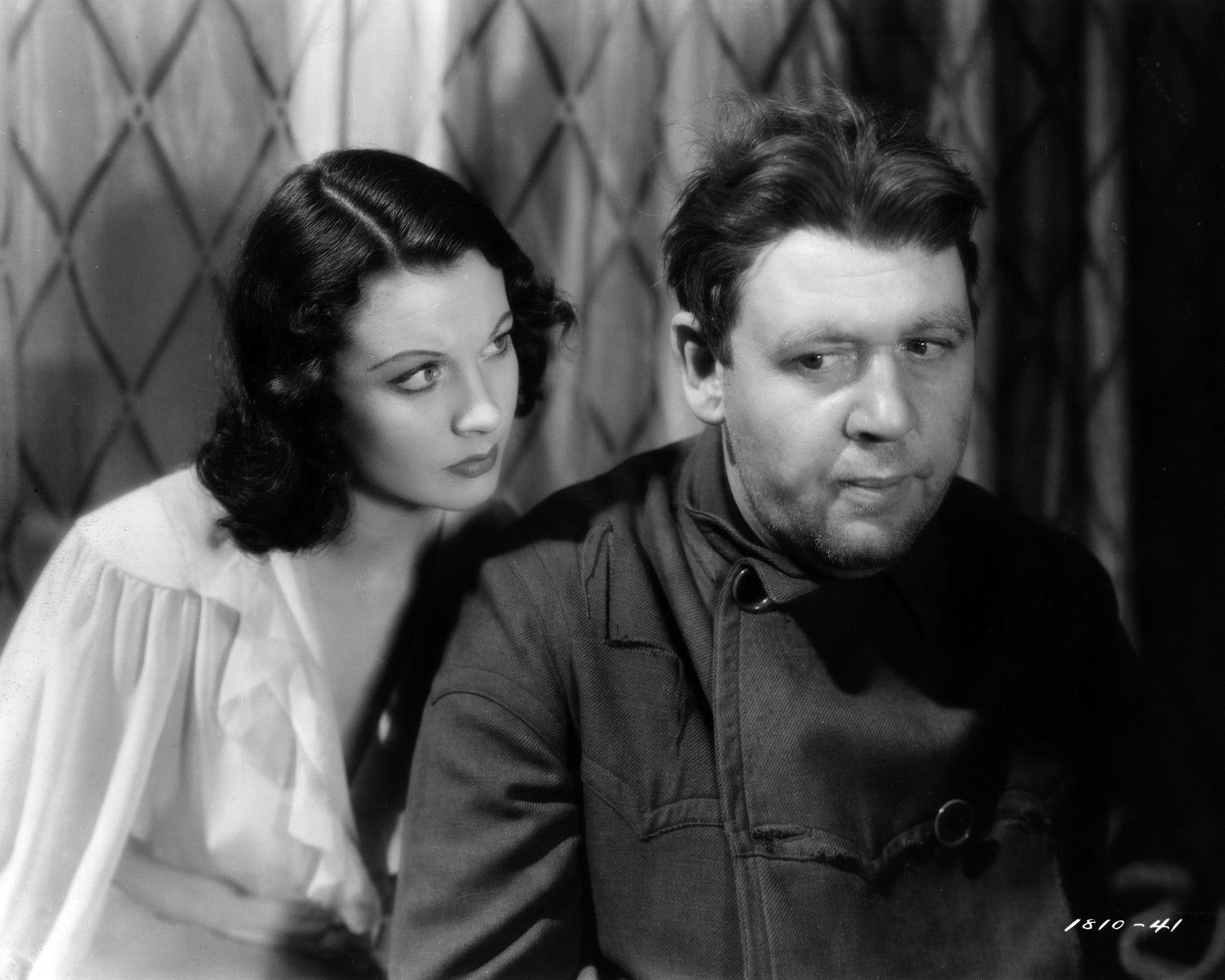 In a remarkable gesture of kindness, Staggers takes Libby in and gallantly shares his room with her after she steals Rex Harrison's silver cigarette case and he follows her to a deserted church where she dances and performs with rare poise and grace like a star. Staggers invites her to join his 'troupe' and in a bittersweet twist, Leigh's character soon outshines her mentor and Rex Harrison's character, a successful writer gives her a break that will transform her into a stage goddess.
The scenes where Laughton and Leigh sweetly keep house are magical, innocent and brimming with a thousand subtle gestures about love, society, generosity, aspiration and transformation.
Go and Hang Out in London's Theatreland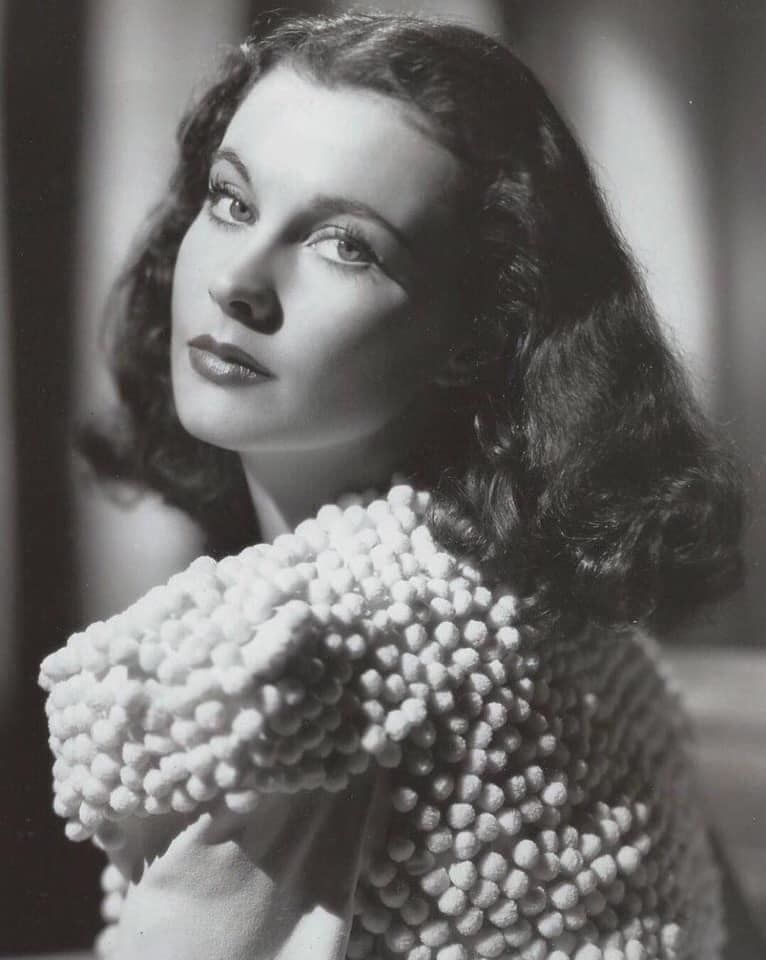 As a journalist and theatre Lover, I know and love St Martin's Lane, a precious part of London that Whelan's largely forgotten masterpiece captures with a restless, tragic-comic brilliance. It's still possible to see some of the biggest names in film and theatre dining in the restaurants and supper clubs after the curtains close. It's a tradition that germinated decades ago to cater for theatreland.
See the film St Martin's Lane and go and wallow in theatreland and appreciate the never-ending passion for the stars of yesterday, today and tomorrow to enthral and entertain you. Alison Jane Reid
Watch St Martin's Lane (The  Sidewalks of London).
Move Vivien Leigh film gems -
Storm  in a Teacup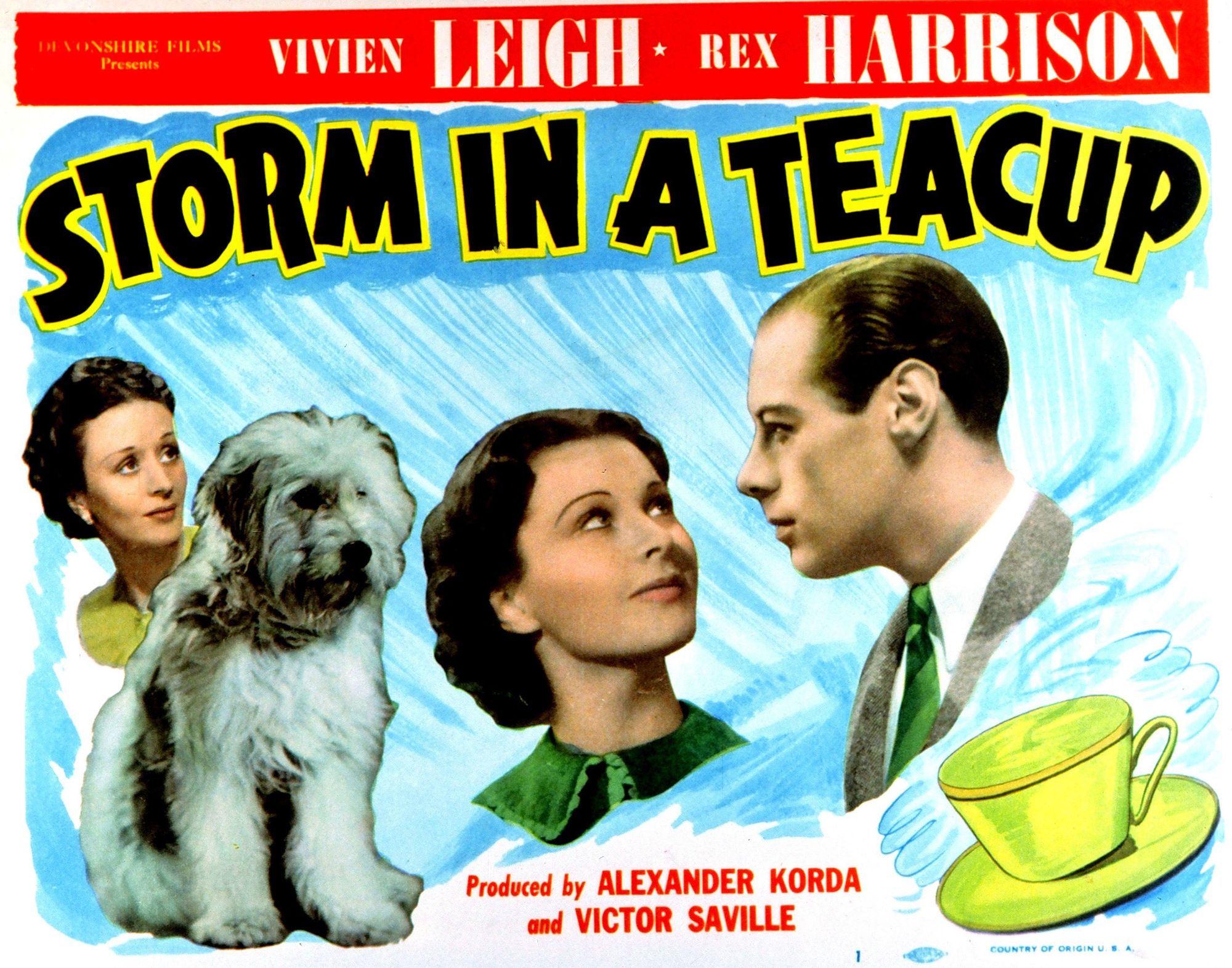 Storm in a Teacup -  Storm in a Teacup stars Vivien Leigh, Rex Harrison, Cecil Parker, Sarah Allgood and Scruffy the English sheepdog in a wickedly sharp comic brew directed by Ian Dalrymple and Victor Saville.
It's a waspy social satire and Golden Age British rom-com set in the Scottish highlands. Rex plays a fearless reporter with a social conscience and Viv is the cooly self-assured daughter of a Scottish provost just back from finishing school in Paris. When the provost dreams of a seat in Parliament, he allows power to go to his head until the fur flies and he is forced to learn a lesson in humanity and social justice.
Full review in a future issue of the Magic Review.
Dark Journey
Dark Journey -  Vivien Leigh excels as a cooly alluring head of the Madeleine fashion house who wafts about in ravishing thirties couture (even though it's supposed to be WW1) and lives a thrilling and extremely precarious secret life as a double agent. She's the consummate, unknowable mysterious social butterfly adept at selling exquisite haute fashion to playboys and their vacuous, spoiled consorts as she flutters around the war-time glitterati and urbane, cynical nightlife of neutral Stockholm.  Then she falls hard for her counterpart, German spy boss Von Marwitz, played with enigmatic elan by Conrad Veidt and suddenly, her life is in grave danger.
There are excellent restored versions of Dark Journey, Storm in a Teacup and St Martin's Lane on Youtube.
Anatomy of a Scandal
Anatomy of a Scandal starring Rupert Friend, Sienna Miller and Michelle Dockery is a taut, brilliantly executed psychological drama that seems very prescient in these dog-day political times and it holds the viewer's attention to the very end.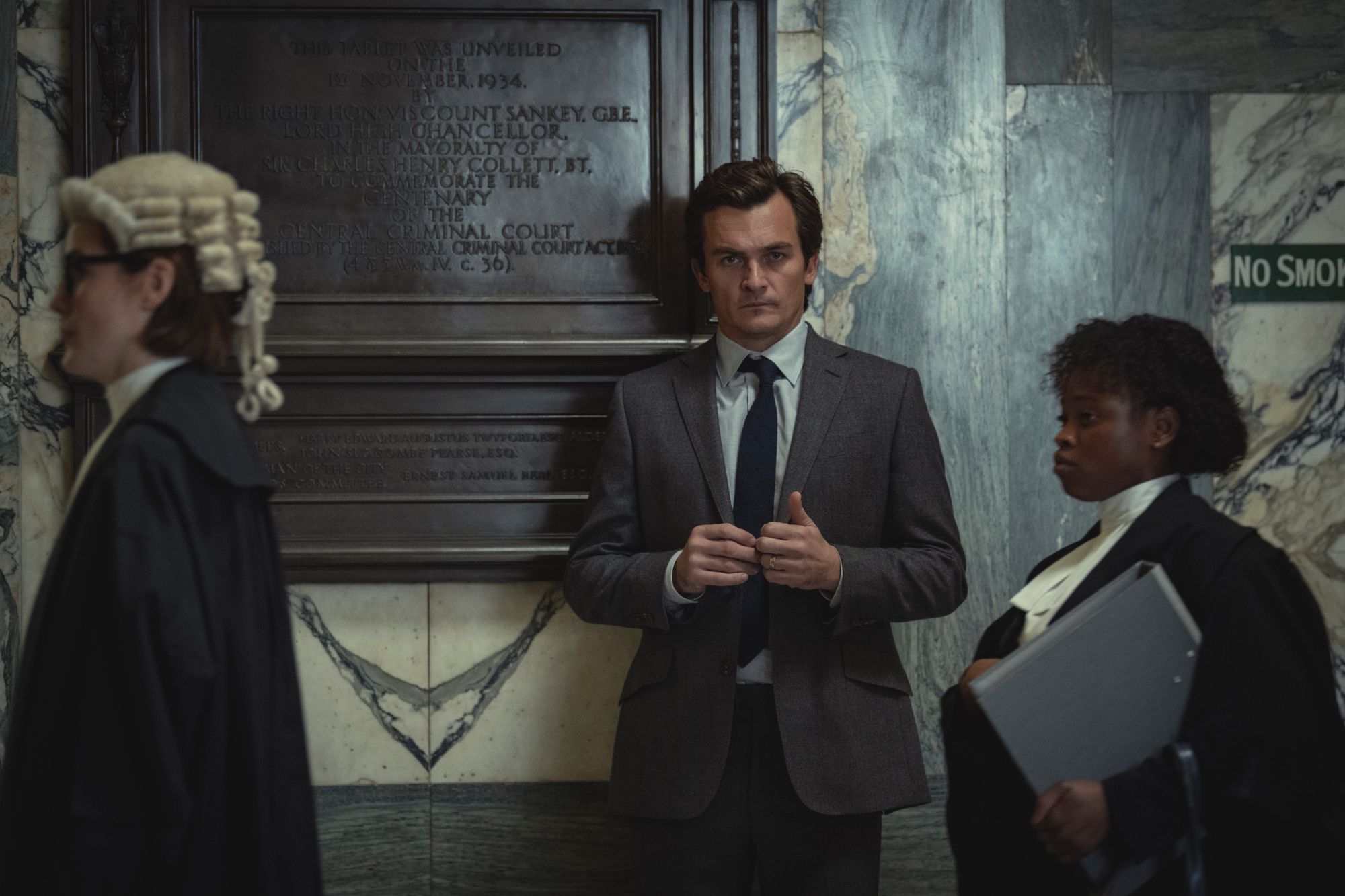 Miller is thoroughly convincing as one half of a golden political couple who have enjoyed every possible advantage in life from their student days at Oxford where she cheats at her essays by commandeering a more talented student to write them (Dockery) and her golden-boy boyfriend-turned husband (Friend) revels in a life of debauched privilege and excess until many years later past misdemeanours begin to unravel. Rupert Friend delivers an uncomfortably unnerving portrait of a government minister whose charmed life begins to unravel after he cheats on his beautiful wife and suddenly his ex-lover accuses him of rape. The story is gripping for the way it explores the duality of human nature and Dockery offers a heartbreaking portrait of trauma and the hunger for revenge no matter what the cost.
The one thing that is deeply unconvincing is Dockery's spectacular physical change from her student days.
Watch Anatomy of a Scandal on Netflix
Clint Eastwood-  Five Top Clint Eastwood Films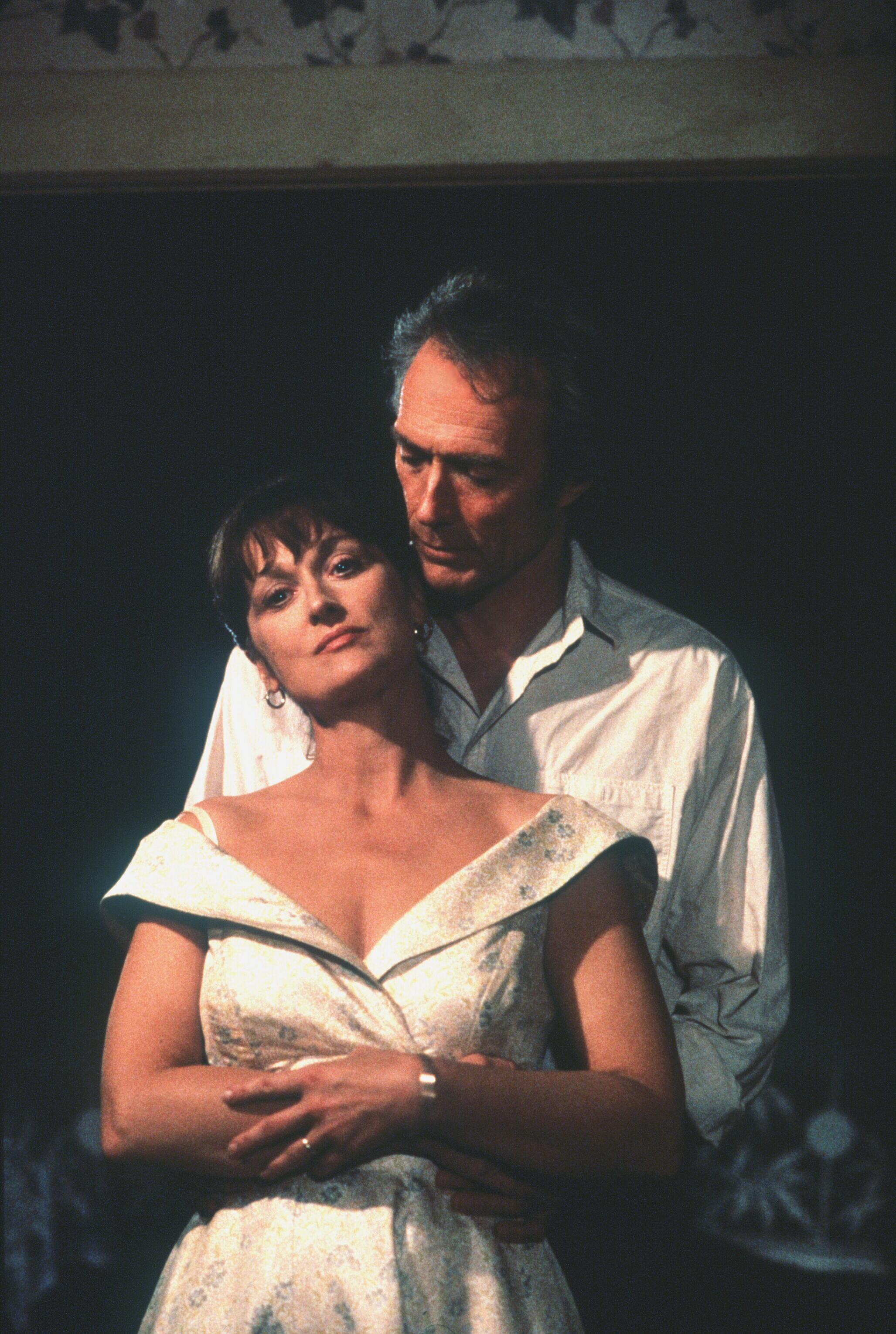 Clint Eastwood  Turns  92 this week. To celebrate a remarkable life as an actor, director and rebel, here are six Eastwood films to watch
The Good, the Bad and the Ugly -  Sergio Leone's final masterpiece in the fabled Dollars trilogy with a score by Ennio Morricone. A sprawling, elegiac, epic spaghetti western starring Eastwood as the 'good' character opposite Lee Van Cleef (the bad) and Elli Wallach (the ugly) in a story of struggle, black comedy, endurance and greed as three men search for a cache of gold hidden during the American civil war.
Watch the Good, the Bad  and the Ugly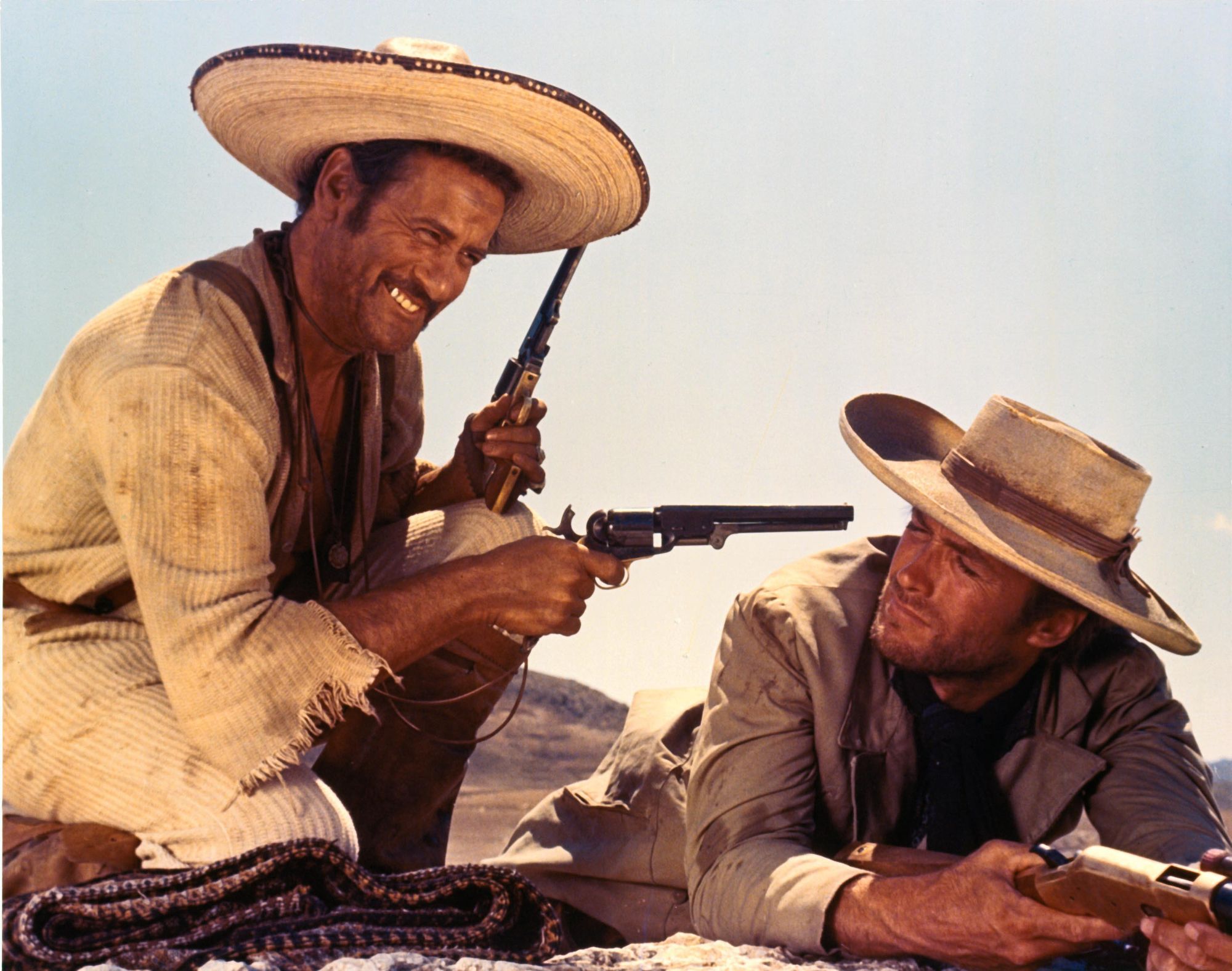 Where Eagles Dare -  A rare chance to see Clint Eastwood and Richard Burton together in a classic WW2 war film based on the Alistair Maclean novel. Maclean also wrote the screenplay.
Pale Rider -  Pale Rider is a fantasy western with Eastwood as its director and enigmatic star. A young girl prays for a miracle after her town of mining prospectors is laid siege by an unscrupulous mining baron who wants all the spoils for himself.  The film was the most popular western in the eighties and features Eastwood as Preacher, a mysterious gun virtuoso in a dog collar who saves the town and departs for the snow-capped mountains without explanation.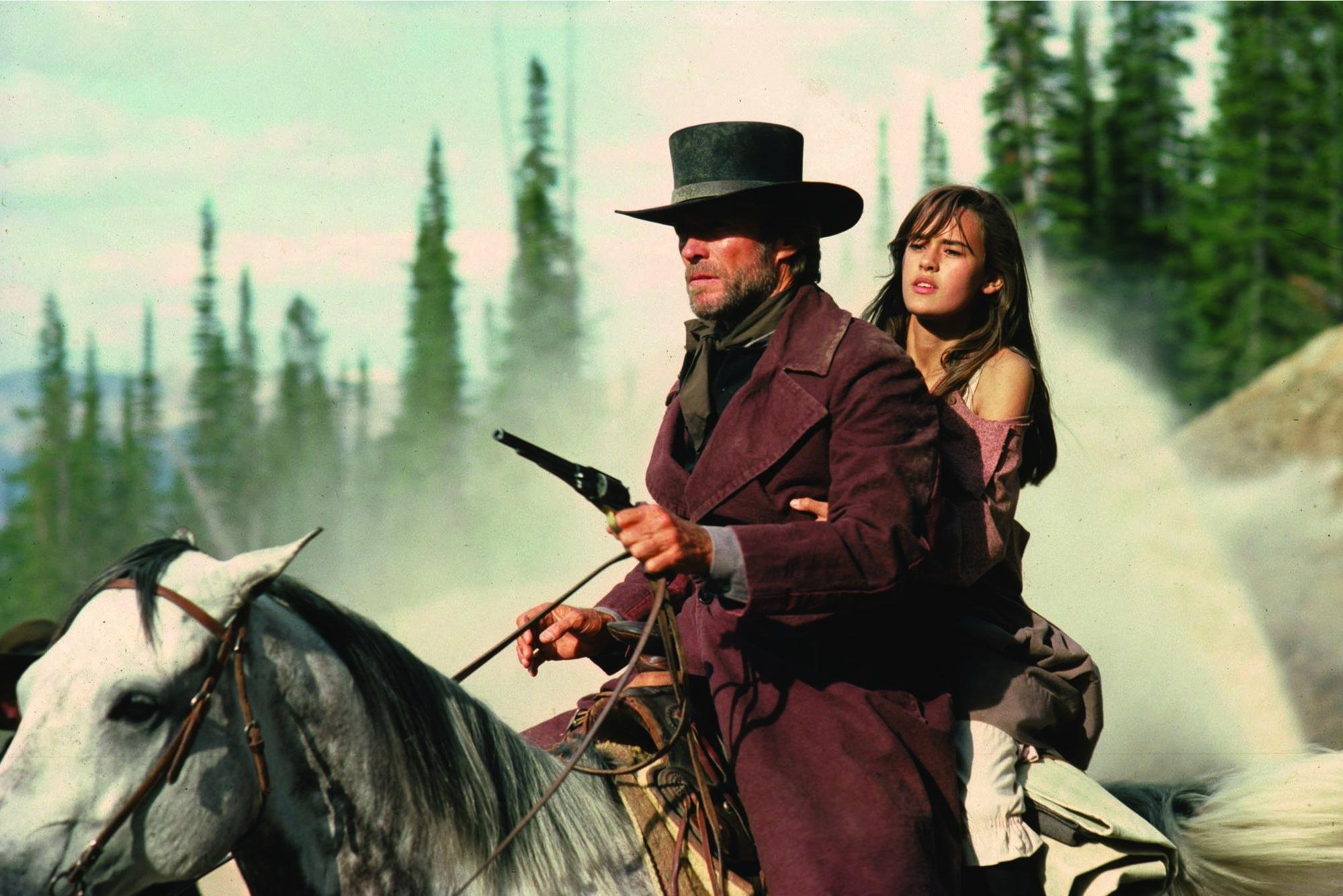 The Bridges of Madison County -  In a rare love story, Clint directs and co-stars with Meryl Streep in the film adaptation of Robert Waller's hit novella about an Italian WW2 bride who sacrifices passionate romantic love with Eastwood's National Geographic photojournalist out of duty and convention, only to be reunited in death.
Watch The Bridges of Madison Country
Thunderbolt and Lightfoot -  Michael Cimino's cult directorial debut. Violence aside, an interesting, flawed, romanticised modern gangster film where Eastwood and Jeff Bridges become tragic brothers at arms.  
Watch Thunderbolt and Lightfoot
Radio Highlights of the week
Dr Michael Mosley's Just One Thing
I like to listen to Dr Michael Mosley's Just One Thing podcast series while I am cooking dinner. I can't get enough of his gentle quest for curious, surprising and effective ways to improve our health and happiness levels with simple hacks from standing on one leg to shadow boxing and eating more beetroot to boost heart health and going for a brisk walk first thing in the morning.
Listen to Dr Michael Mosley on BBC Sounds
We hope you enjoyed this lovingly crafted slow journalism feature. Support the Luminaries for Independent Journalism and Storytelling and become part of the family today.
Subscribe to The Luminaries Magazine and tell your friends.