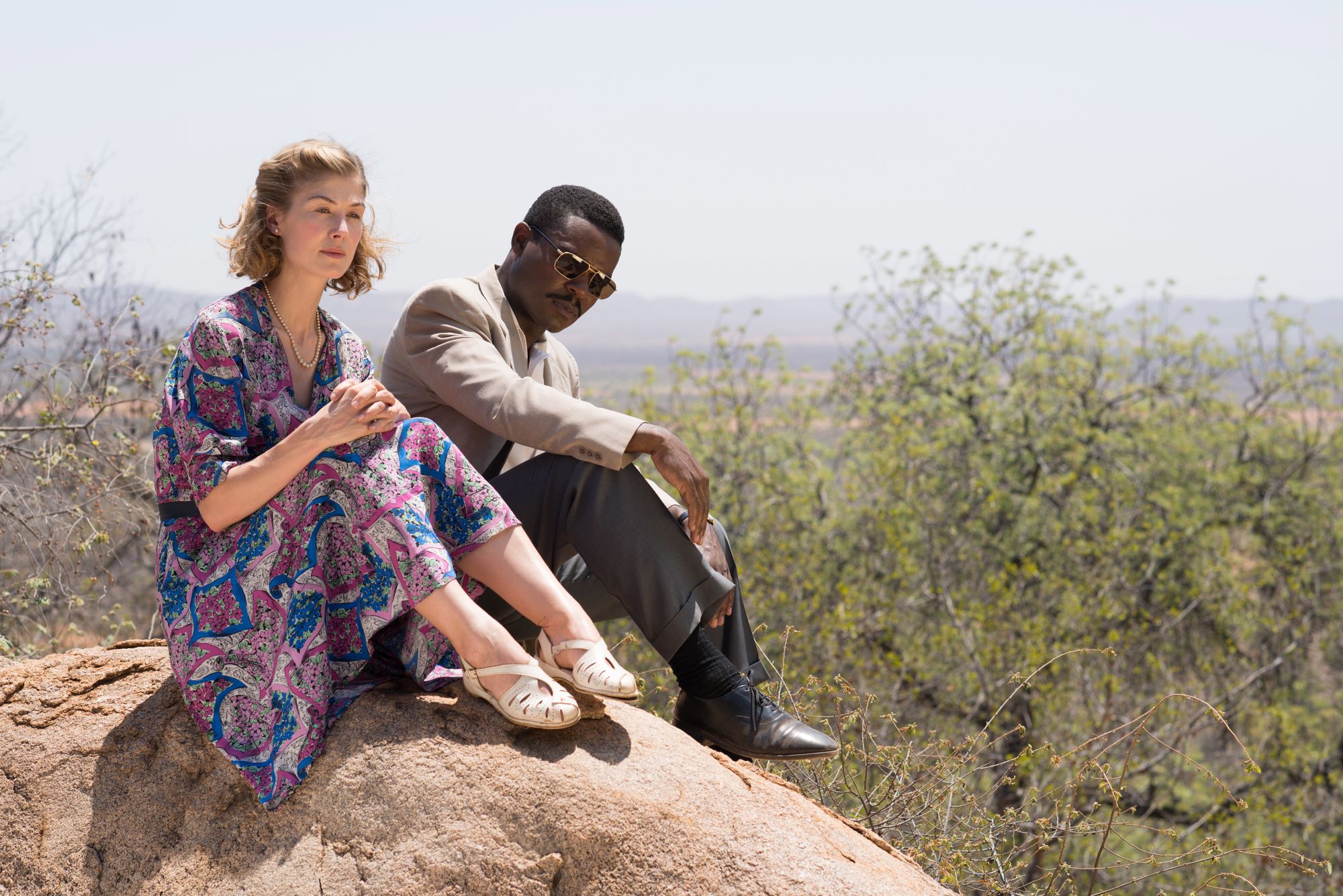 A United Kingdom starring David Oyelowo and Rosamund Pike is our must see film of the week.  
Directed by Amma Assante, (A Way of Life, Belle, Mrs America ), this is true story of an African prince and white Englishwoman who collided over a mutual love of jazz and taught the world a valuable lesson about equality.
Their story echoes that of Prince Harry and Meghan Markle, more than seventy years later. While Meghan and Harry had their seemingly fairytale wedding at Windsor, racism is at the heart of their decision to leave Britain and start a new life free of tabloid intrusion in America. What a tragedy for the British monarchy and Britain itself that we have not learned from the story of the African king who chose a white queen out of love, and eventually, lived happy ever after and created a democratic Botswana together.
The film dramatises the enduring love match and marriage between Sir Seretse Khama, the African Prince and heir to Bechuanaland (now Botswana) - a country of arid gold plains teeming with giraffe, starlit skies and the poorest nation in Africa (at the time) and Ruth Williams the English woman from south London he met at a dance organised by London missionaries in 1947.
Watch the film on BBC iPlayer, Netflix or Amazon Prime Video
Seretse and Ruth fall madly in love over a meeting of minds, a shared love of jazz, dancing the jive and listening to the Ink Spots. Patrick Doyle's mellifluous music sets the swinging tone of fifties London while the fashion of the day from braces to homburg hats and ladylike tailored suits turns Ruth and Seretse into the very best dressed of social outcasts.  Alas the music and elegant period fashion can do nothing to banish the ugly mood of racist Britain in the fifties. Nor does the film shy away from showing the routine abuse the couple experience which includes Ruth being hit in the face by thugs for daring to go out with a black man.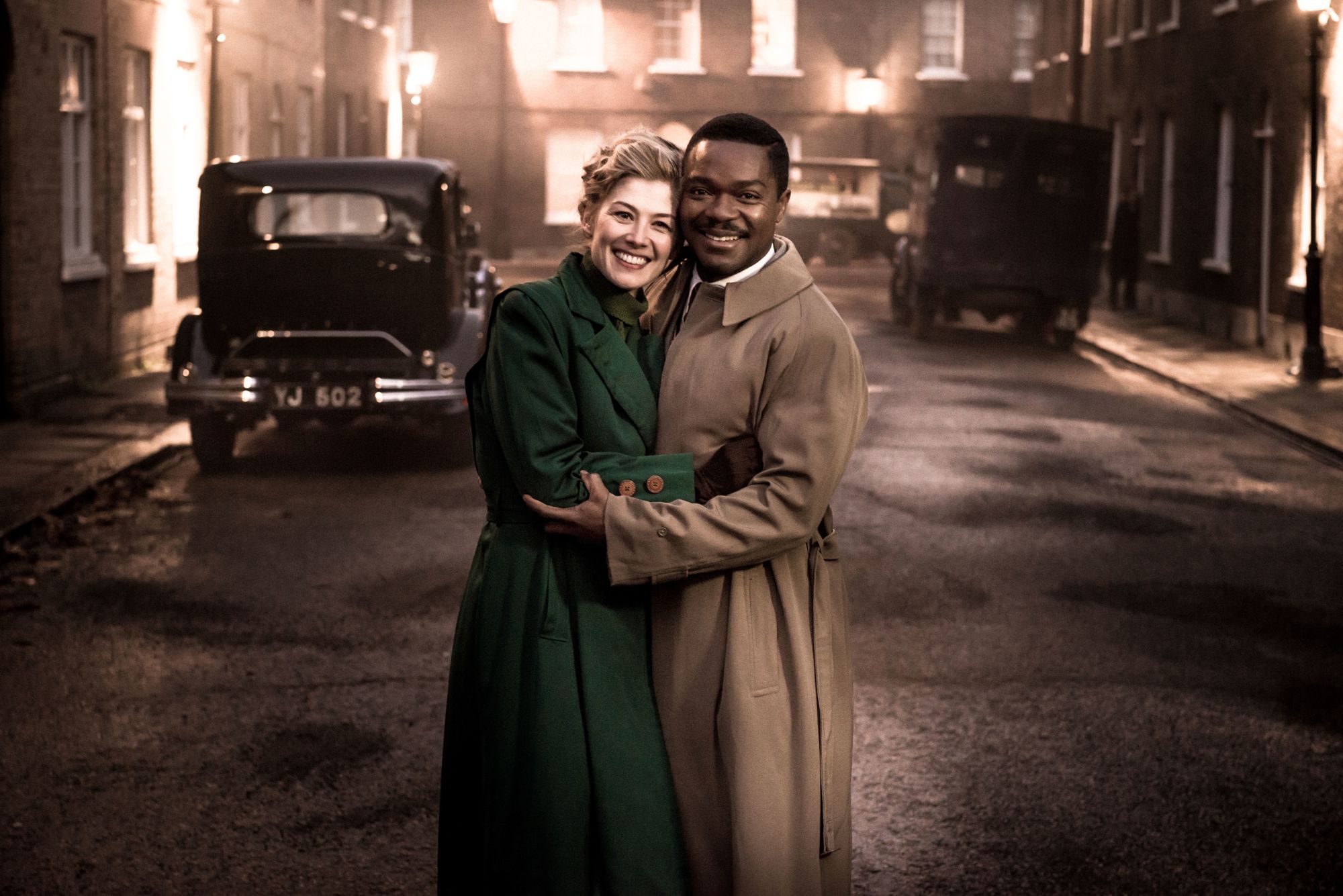 After a year's courtship, they decide to get married and suddenly find their joy interrupted by a diplomatic storm. Ruth's father disowns her for declaring that she is going to marry a black man. It didn't matter that he is an Oxford educated prince who is sitting his exams for the bar. Nor that he is more intelligent, has perfect manners and treats Ruth like the queen of his heart.
When the labour government of the day find out that Seretse plans to marry a white woman, they order the couple to end their engagement telling them that it would be an affront to their African neighbours.  What they really mean is that the apartheid regime in South Africa wouldn't like it and Prime Minister  Clement Attlee is worried about Britain's reliance on South Africa for our gold reserves.
Despite international efforts to sabotage their marriage, Seretse and Ruth went on to defy all attempts to call off their union and they marry in 1948 at Kensington registry office after the Archbishop of Canterbury  refused to allow a church wedding.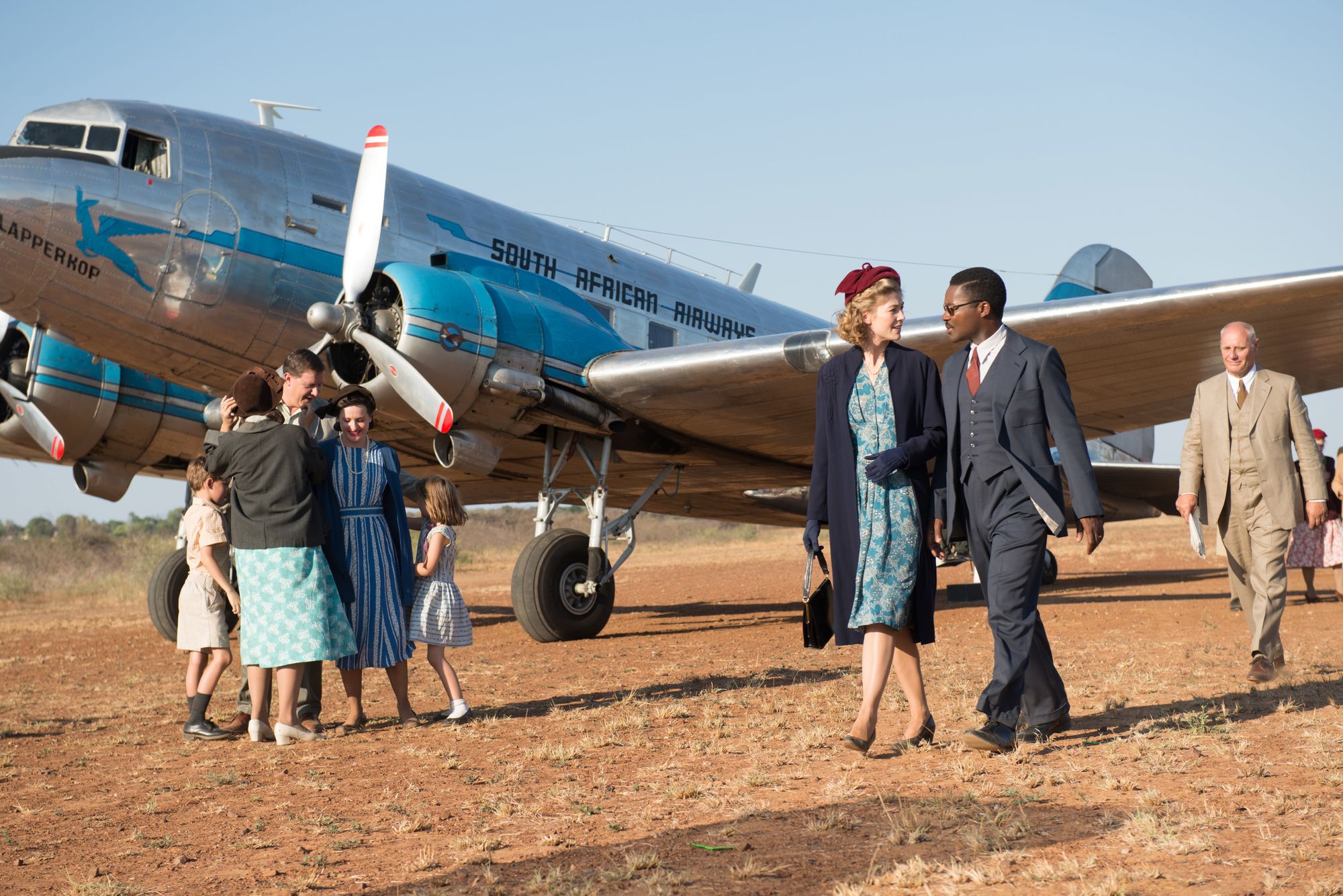 As a historical film, the action moves seamlessly between the corridors of Colonial power in Whitehall and the African savannah where the sister of a king helps to build huts for their people and a prince in waiting cannot drink alcohol in his own kingdom because 'racialist South Africa' and its abominable ideas about segregation between blacks and whites is beginning to infect neighbouring countries.
This is the status quo when Ruth gazes wide-eyed out of the window of the gleaming twin-propeller plane as Seretse takes her 'home' to his kingdom and straight into a diplomatic crisis and the ugly reality of segregation with notices that proclaim 'whites only'.  Dressed in a fifties, flower print day dress and fragile, ladylike scarlet hat, she looks like a beautiful gazelle about to be torn apart by wild animals in the bush. In this case the British Mandarins who govern Bechuanaland as a protectorate and are accurately portrayed as arrogant, racist, cold-hearted bureaucrats.
The question is is will the African dust, get into Ruth's love-struck, colourblind eyes? The answer is not a bit of it!
Rosamund plays Ruth as woman who is fearless in support of her husband. She stands up for Seretse the moment she realises he is the man she wants to spend her life with and she is like a lioness when she has to defend him in front of racist government officials and Winston Churchill.
Sadly, the response of Seretse's uncle, who was the prince regent at the time doesn't help matters either.  It is expected that his heir would take a bride from among his tribe. He makes it clear that the idea of a 'white queen' is an insult the people will never accept. While it is easy to understand his response, after decades of being subjected to racial bigotry and control in his own country, it is a calamity that he initially takes the side of the British government against his nephew.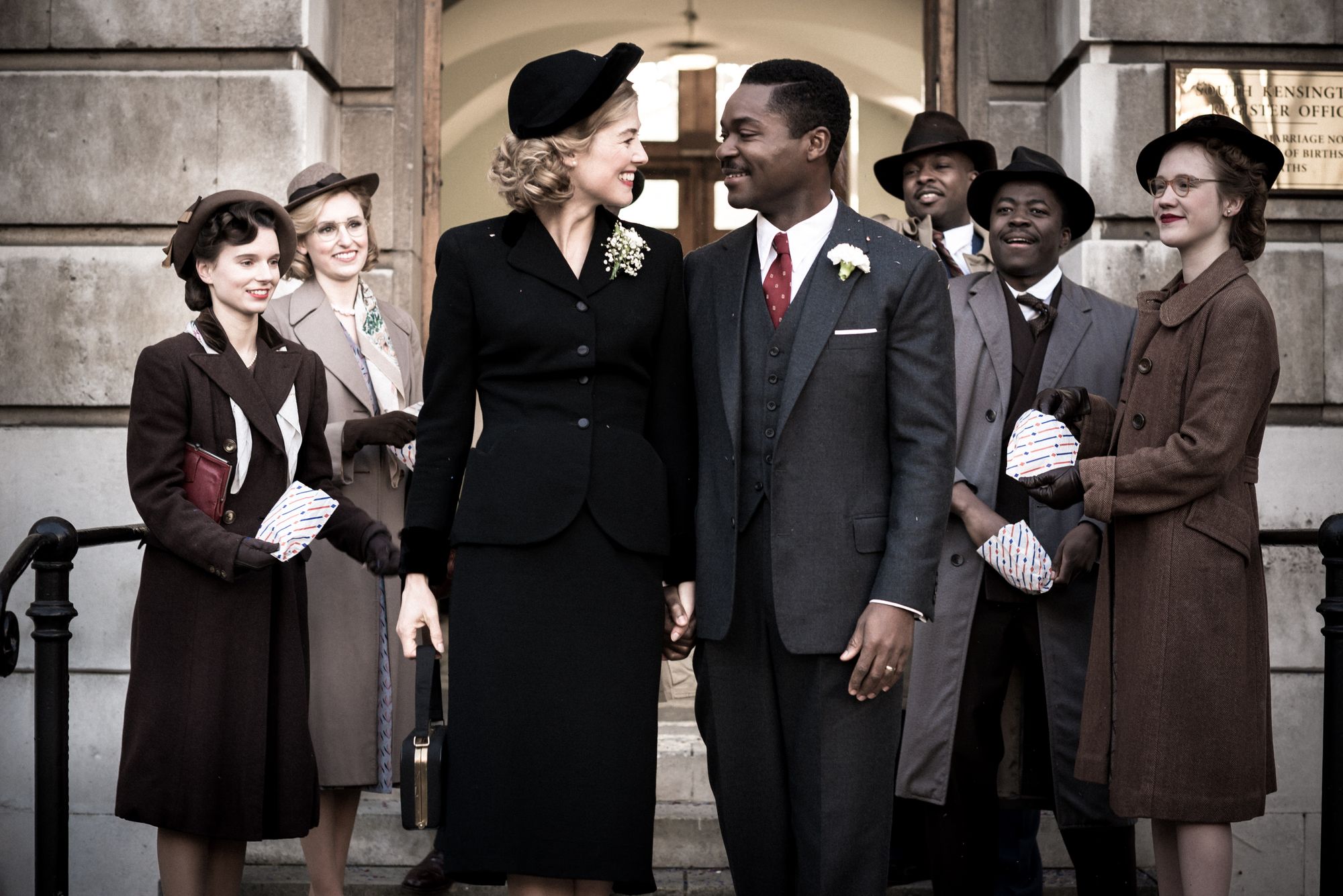 There is wonderful chemistry between David and Rosamund as the star-crossed inter-racial Romeo and Juliet of the forties and fifties. Their love, joy and delight in one another is there for all to see, no matter that they are subjected to all kinds of racial insults, indignities, prejudice and plots to tear them apart geographically. The British government tricks Seretse into returning to London to discuss the crisis in order to coldly tell him that he has been banished from his own country. The level of British meddling is hard to comprehend today. Ruth is forced  to stay in Serowe, with Jacqueline,  the daughter Seretse has never seen. If she were to return to Britain, the British government planned to exile them both from Africa.
In the end, the only way out of the political impasse is for Seretse to agree to renounce the throne and become a private citizen.
If you find this hard to comprehend in 2021, just think about the racial abuse Meghan Markle has experienced the moment it was announced that she was in a relationship with Prince Harry. More than seventy years after Seretse and Ruth defied the entire world and went on to be absolutely devoted to one another and beloved by the people of Botswana, it would seem that the disease of racism is still a problem we need to cut out of society.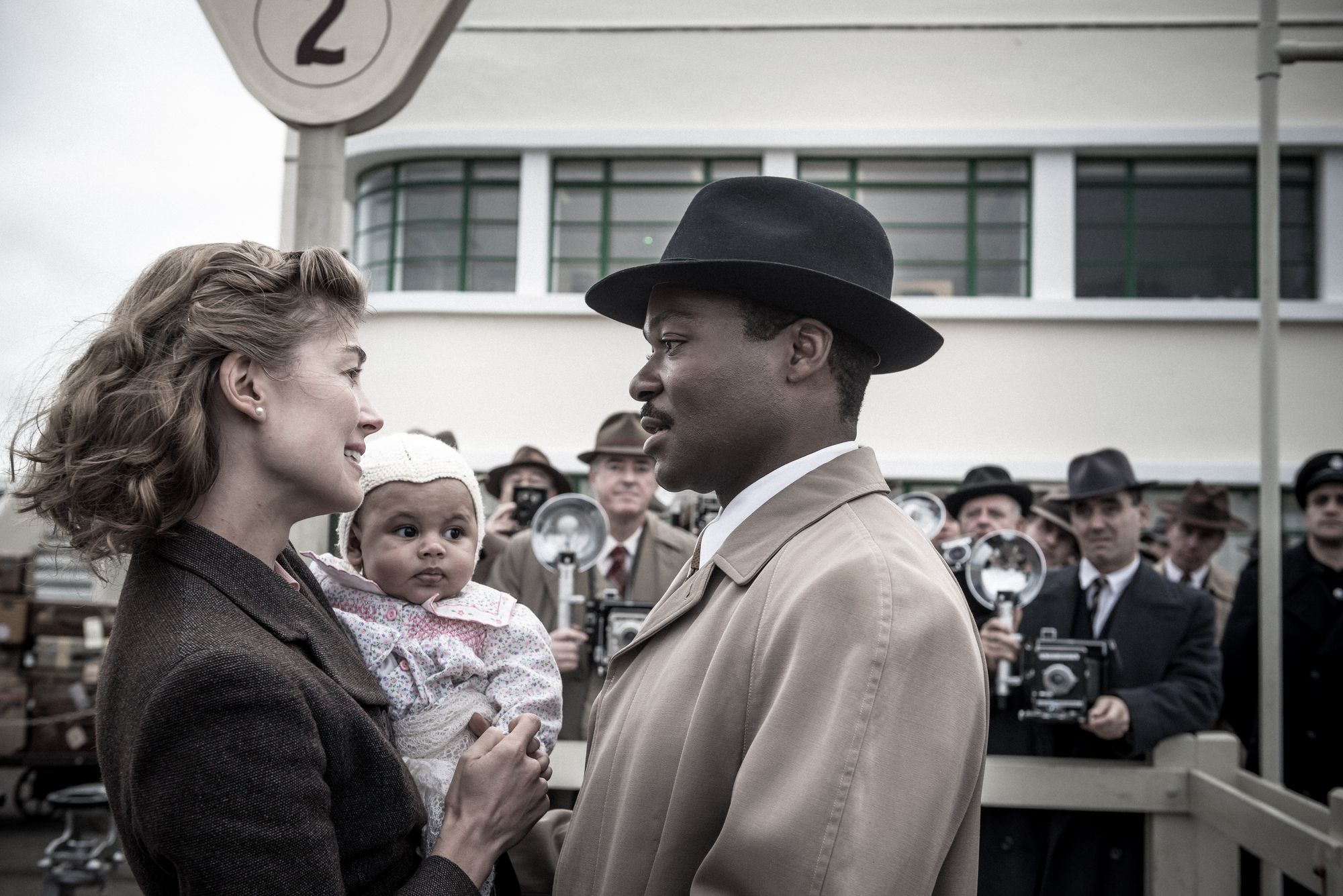 More than anything, the story of Seretse Khama and Ruth Williams is a story about love triumphing over ingrained intolerance, ignorance, racism and vested interests.
The film accurately conveys the blatant racism and intolerance in Britain at the time and the attempt by British officials to impose segregation in a country that doesn't belong to them.
Ultimately, love triumphs. The people of Bechuanaland embrace Ruth, especially when her arrival heralds the rains they need. Seretse renounces the throne, enters politics and begins to prepare the path for independence, equality and to transform the economy by harnessing the natural riches of the country and through tourism.
The British government and South Africa does not come out of this appalling episode without a huge stain of heartless cruelty towards the couple. It leaves the blemish of racism and vested interests on both the labour Attlee government who banished Seretse from his own country for five years to appease South Africa and then Winston Churchill, who reneged on a promise to return the prince to his homeland and his wife. Instead he banished Seretse for life.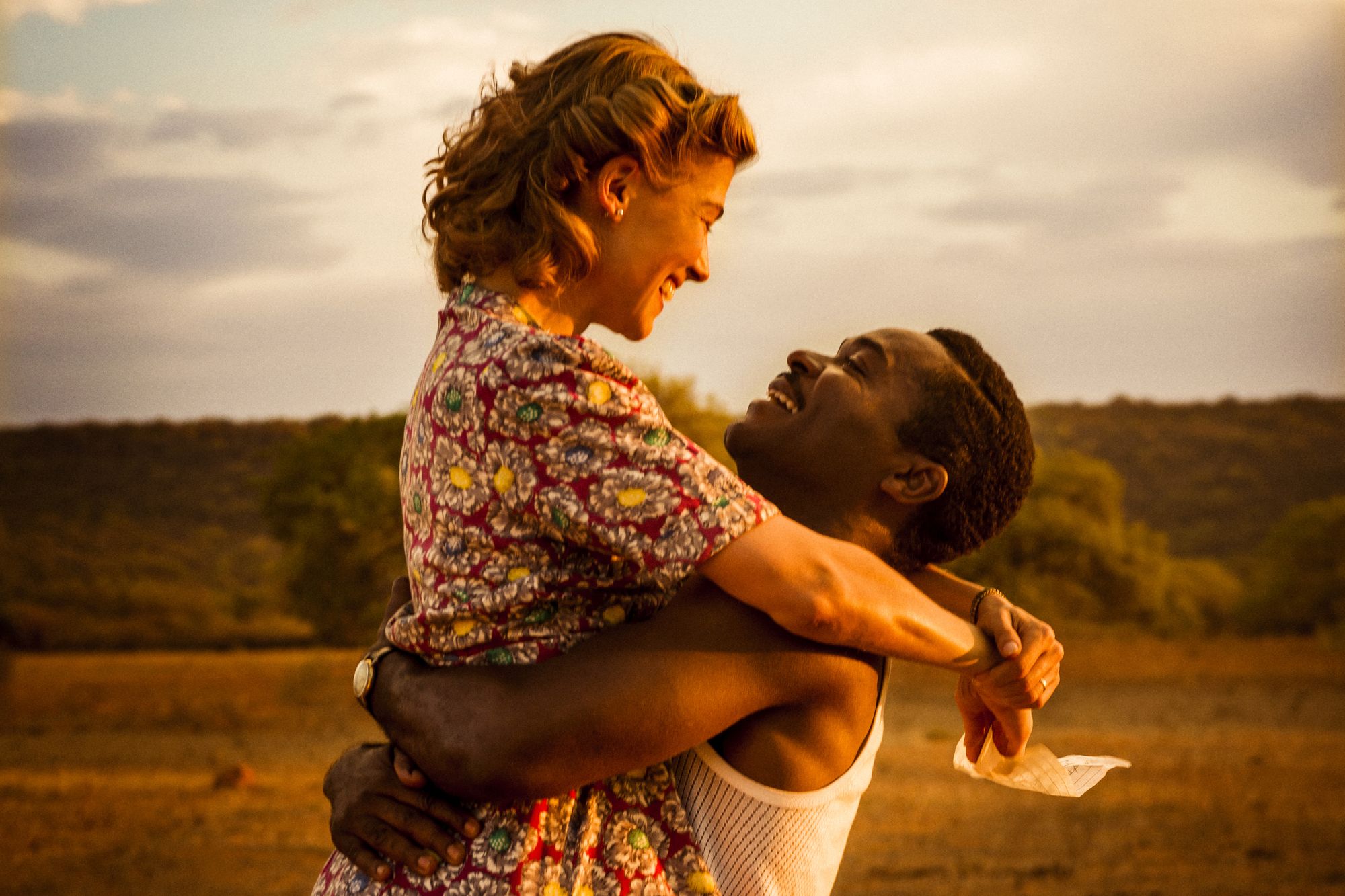 It's hard to imagine such a cruel and vindictive punishment. Like Edward the eighth, a king is forced to give up his throne for the woman he loves. In the case of Seretse and Ruth Khama, there is a happier ending. Free at last from British shackles, they hold democratic elections and Seretse becomes the first president of Botswana with Ruth at his side. The couple remained devoted to each other until Seretse's death from cancer in 1980. Today they are buried side by side in the royal burial grounds in Serowe.
A United Kingdom is steaming on BBC iPlayer, Netflix and Amazon Prime Video
Subscribe to Support Independent Journalism and Publishing
I hope you enjoyed reading this piece of independent, handcrafted magazine journalism. Are you a supporter and subscriber? If you are that's wonderful, thank you for your support. If you are not a paying subscriber, please consider becoming a paid supporter right now. We depend on paid subscriptions, our exciting new ticketed culture show and storytelling for responsible brands. Thank you, AJ, founder and editor.