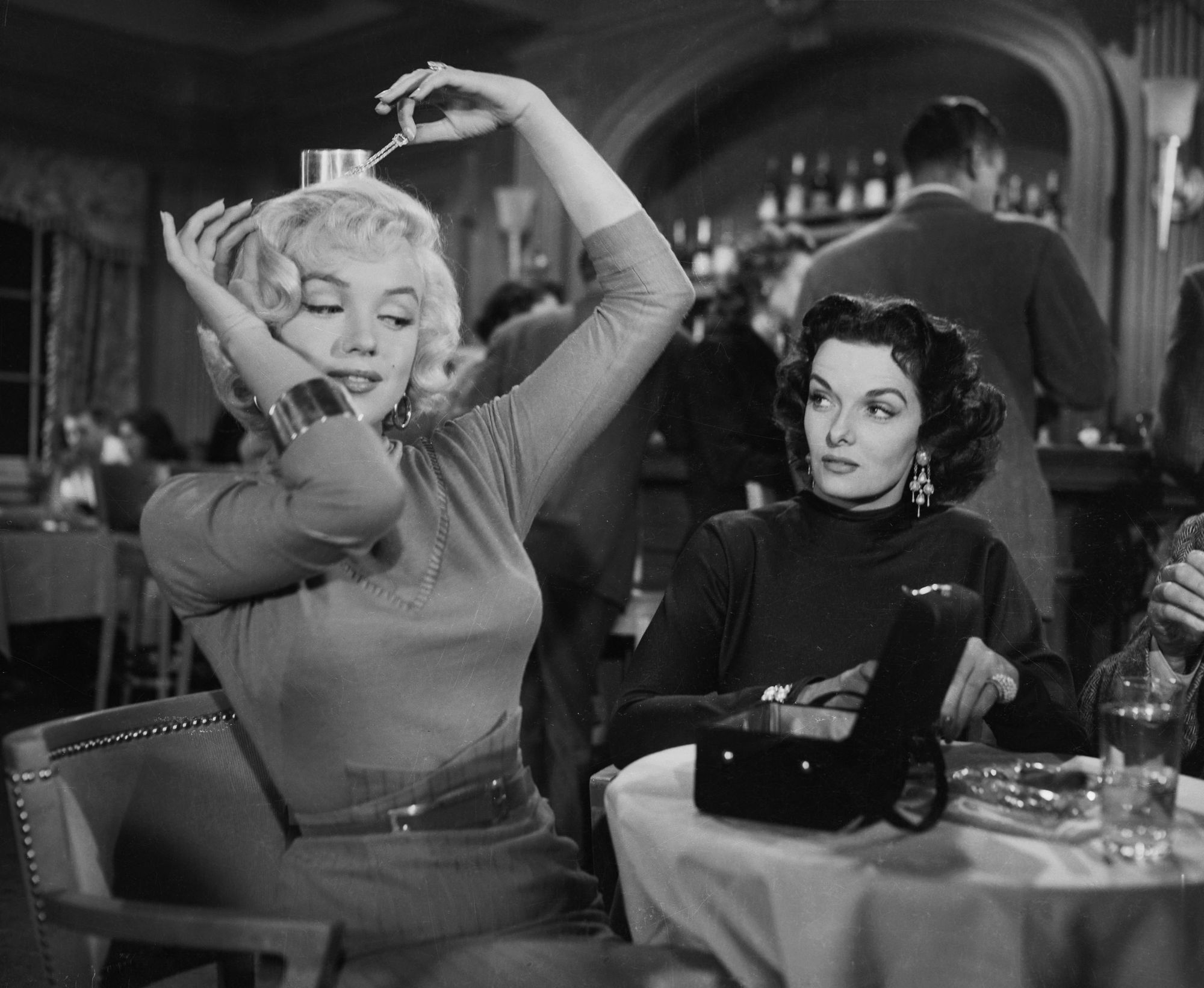 Intro
When Marilyn Monroe married playwright Arthur Miller, one witty newspaper headline declared ' hourglass weds egghead'.  
We approve of the wit, but Marilyn was so much more than the hourglass and patron saint of sweater girls. She was smart. And we could say that Miller was just a man and love-struck husband as well as a good playwright!
Marilyn ushered in the sexual revolution through the clothes that she wore and her brave, bold ideas about femininity, freedom, and sexual politics. She also set up her own film production house, garnered a Golden Globe for her performance in Some Like It Hot, and demanded equal pay with her male co-stars and got it, eventually.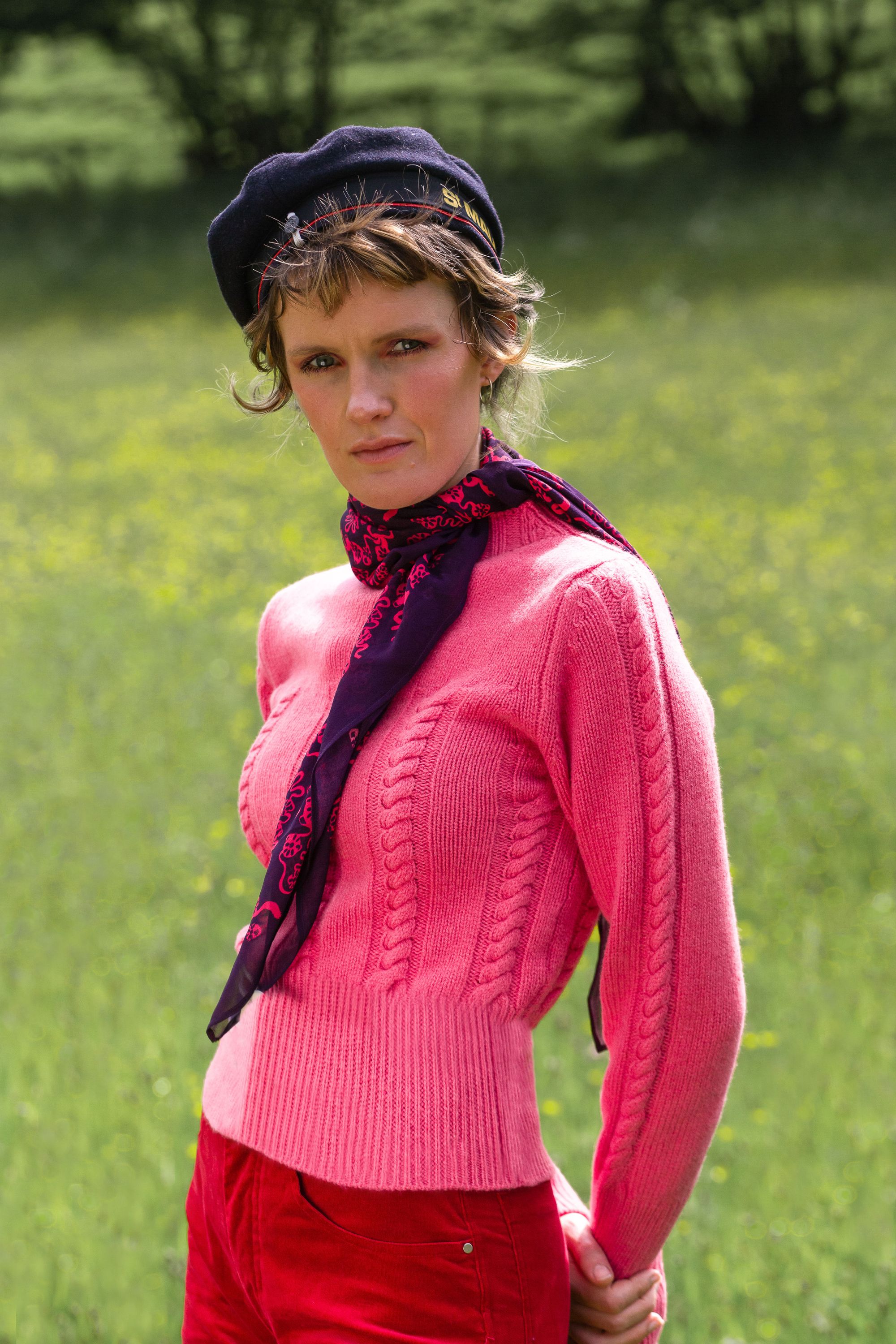 Fast forward sixty years, and in a delightfully original and whimsical fashion coup for winter 2022, Brora, the artisan, slow, Scottish cashmere house and the talented grandchildren of Laura Ashley celebrate Marilyn Monroe's enduring influence on fashion and knitwear as the sweater girl agent provocateur with the Marilyn sweater alongside scarlet jeans, folk-inspired needlecord dresses, tank tops, and cropped alpaca cardigans.
The collection is a riotous, delightful ode to dressing up, artisan craft skills in fashion, and wearing patterns, colour, and texture with flair and individuality. Most importantly it is all made to last and be slow, heirloom fashion and collectable future vintage.
The iconic star of the collection is the sublime, form-fitting, colour-pop, rose cable-knit cashmere Marilyn Sweater sweater in a Scottish cashmere and wool blend with a deep, flattering high rib.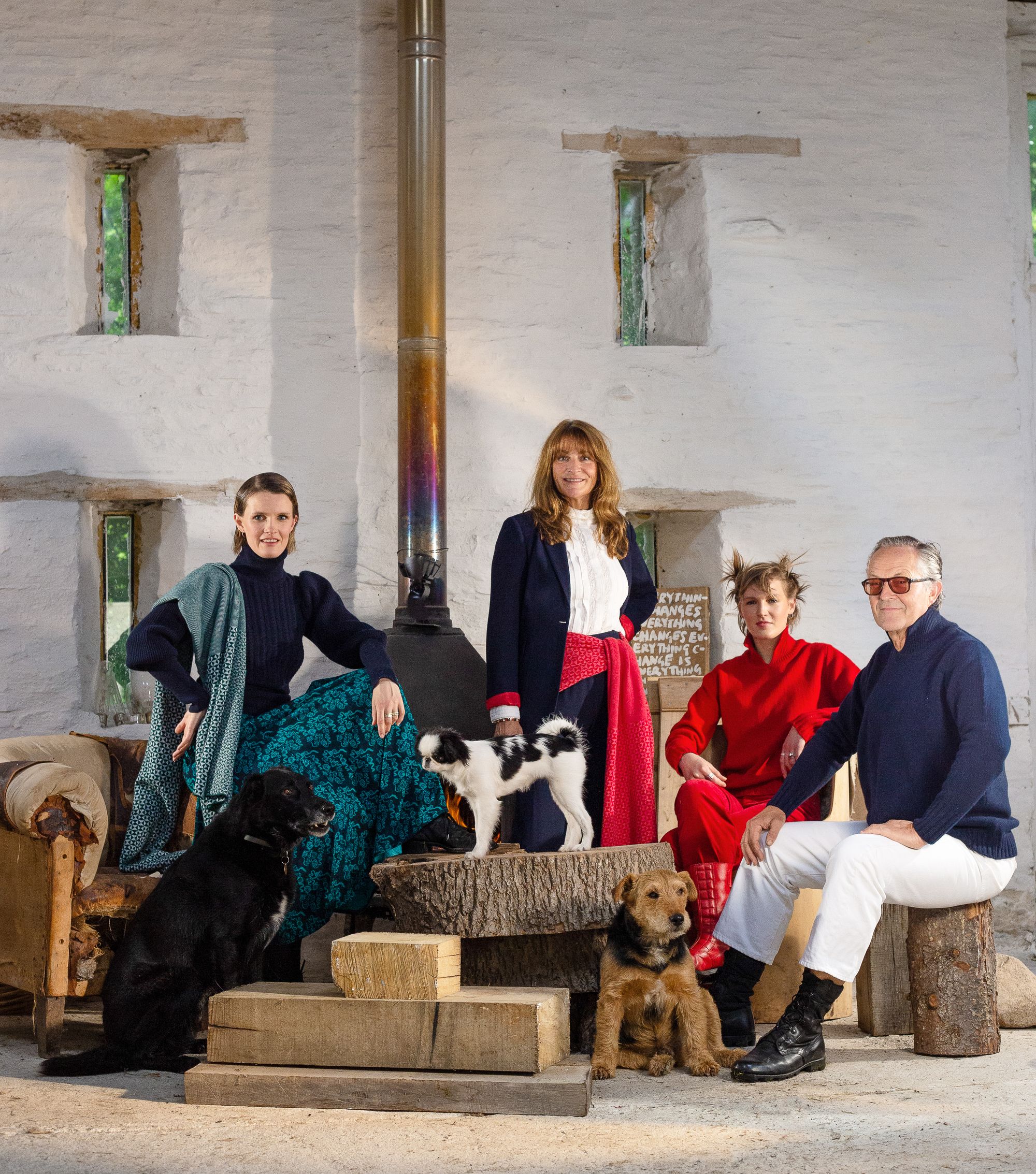 The Marilyn sweater is part of a 30-piece brilliantly English Eccentric Brora collection with a dash of Victoriana, that was fifteen months in the making. Nick, Lily, and Edie Ashley are following in the footsteps of their mother and grandmother Laura Ashley who founded a fashion empire on her kitchen table in fifties Britain.
Nick is a designer, Lily is a poet, musician, and performance artist and Edie is a fashion designer and artist who works for Vivienne Westwood.
I think Marilyn would have adored the sweater named in her honour. It's a bold, feminine masterpiece in svelte, form-fitting cashmere that is both practical and sexy. It's deliciously warm too (yes, I discovered it in Brora's Oxford shop) and it hugs the body in all the right places. It is chic, pretty, and timeless.  (The Marilyn sweater also comes in ivory).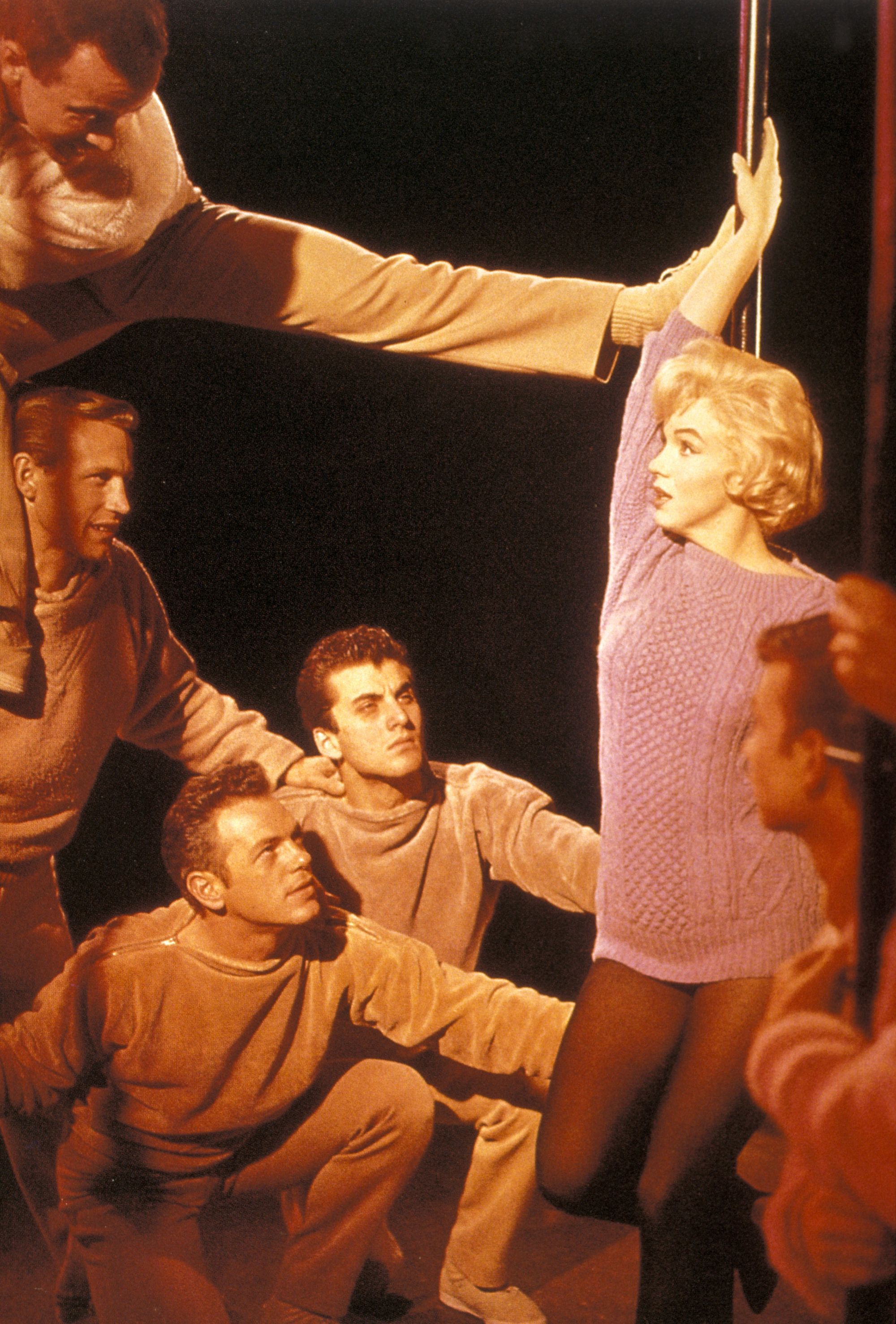 Marilyn wore a stunning cable-knit sweater in the film Lets Make Love, pictured here. In her off-duty moments, she was often photographed in a succession of classic knitwear garments whilst reading a script, relaxing at home, or running into the California surf. When she put black and white together she created a fashion statement that has become the epitome of style and an eternal, timeless way to wear monochrome.  
The advent of the 'sweater girl' first surfaced in Hollywood when Lana Turner wore a body-conscious sweater in the 1937 film They Won't Forget. The magazines and newspapers of the day were quick to catch on and Lana was christened 'the sweater girl'. Jayne Mansfield and Jane Russell continued the trend and then along came Marilyn Monroe.  
Not everyone approved. A police chief condemned teenage girls for flaunting their breasts in public and the advent of the bullet bra led to the popularity of the pinup girl, which is how Marilyn got her start as a model and calendar girl before she was offered her first film contract.  In 1945, she showed her luminous charisma and star quality when she was photographed at the beach in a bright emerald sweater, gingham pants, and an oversized bow in her hair.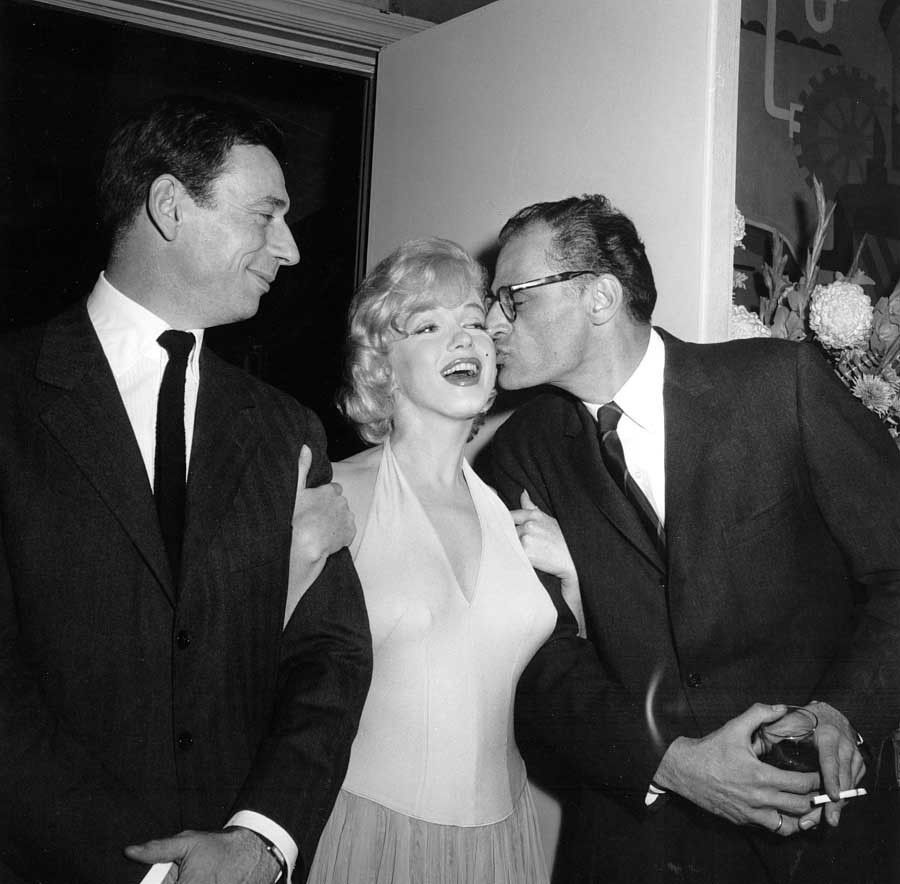 In 1968,  the exaggerated hourglass look almost caused a riot on Wall Street. Francine Gottfried was a clerk who worked for Chemical Bank. When word got out about the Wall Street sweater girl men left work to watch her progress from the station to the office. Things got so heated that Francine's boss had to ask her to stay home!
Marilyn Monroe magnified that effect on the world and to film audiences to a degree that has never been repeated.
Honed on Saturdays at the movies, she was a living and breathing Hollywood goddess who once said, " One of the best things that ever happened to me is that I am a woman. All girls should feel like that."
We couldn't agree more.
Brora and the Ashley Family Fashion Collaboration is featured at Brora Online
Watch Marilyn Monroe in the film Let's Make Love
Copyright Alison Jane Reid December 2022
Love reading our slow, one-of-a-kind film, fashion, and culture journalism? Then join our family and #paythecreator  Subscribe to The Luminaries Magazine as a paid supporter here.