Stop Press! To everyone who has been captivated by AJ's one of a kind feature writing we need your support to recover from the economic fallout of Covid-19 and bring you more great journalism that touches you. Support our crowdfunding campaign and become a subscriber today!
Help us get to £2,500 so that AJ can get match-funded by the Nat West Bank for talented female entrepreneurs.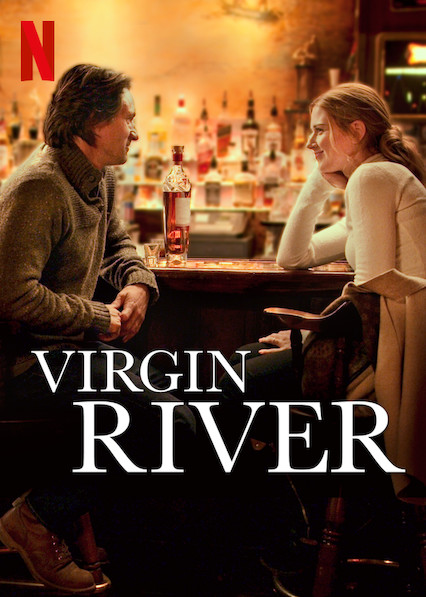 Virgin River Review By Alison Jane Reid
Take me to Virgin River right now, this very minute. I want to admire mountains, glory in trees and eagles frolicking in the slipstream. I want to feel free! Then I will make a beeline for Jack's bar, the heart of the community in this kale and apple-pie slice of utopia and bag a seat at the bar just like Mel when she first arrives as a beautiful stranger in town.
In my fantasy, Jack comes straight over to talk to me, then his mercury eyes meet mine and soon we are discussing the idea of fate v free will.
My Fantasy Isolation Man
While Jack, my lock-down fantasy boyfriend attends to his customers, (believe me, I'm on my tenth viewing, what's yours? ), I would bask in the delight of unhurried conversations, the click of snooker balls and the chink of whisky classes and the sudden adrenalin rush of introspective rock 'n' roll on the duke box. So far so perfect.
I could forget that the world is facing a global wobble, and
celebrate the idea of people hanging out with people and having a good time.
How precious and faraway that simple act of quiet social interaction seems now.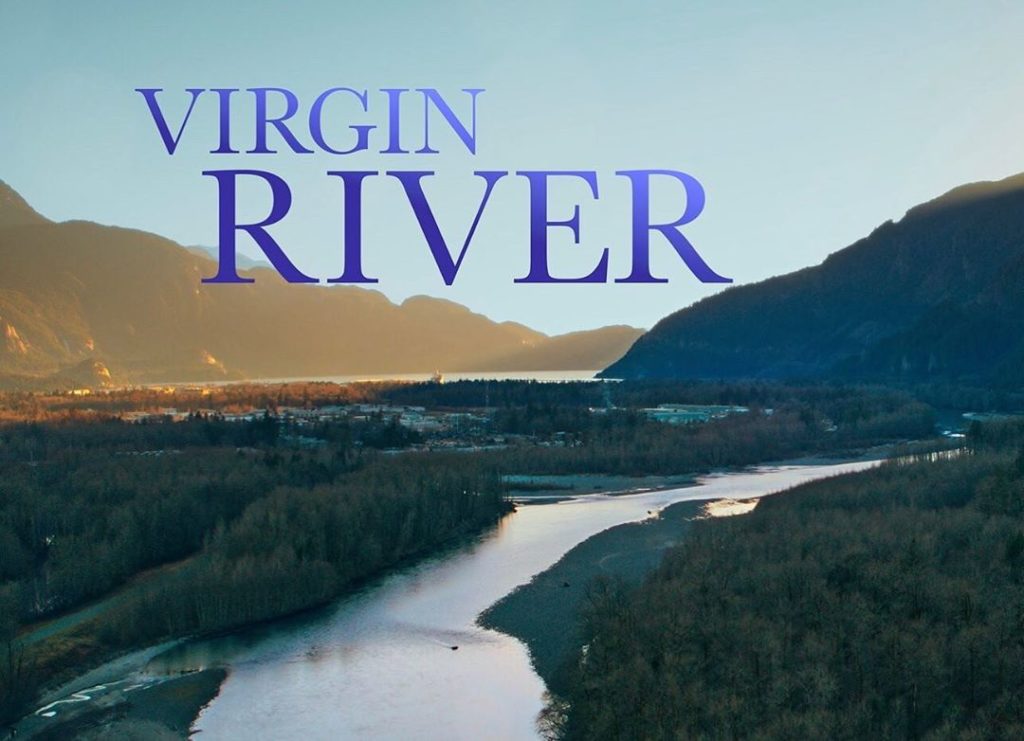 After lingering decadently over Preacher's gourmet California cuisine, I might go and sit on that sandy promontory where Jack takes Mel and baby Chloe and lose myself in the elemental power of nature, stillness and that clear blue water, with the eagles to inspire a sense of wonder.
Virgin River, Netflix's hit slice of paradise laced with
grit, gossip, heartbreak and desperadoes growing pot in the woods is beginning
to look more and more like the blueprint we all crave for a better world in the
midst of the global Coronavirus pandemic.
The Importance of Community
Given our increasing alienation from each other, and ourselves, perhaps it can inspire us to value the importance of community, and the value of looking out for our neighbours and anyone facing a crisis who needs a helping hand. Perhaps it is also a plea for the world to grow smaller again.
There would be no danger of the local store or Jack's bar running out of the farm to table food. There would be no panic-buying allowed or un-neighbourly behaviour and Mel and Doc would have a plan to keep the town and it's most vulnerable inhabitants safe.
Forget gritty detective series or epic adventures set in the distant past, and give me Netflix's runaway hit romance drama starring pretty woman Alexandra Breckenridge, Martin Henderson and the majestic high peaks and free-flowing rivers of British Columbia standing in for northern California.
Nature and Community
Virgin River is a meditation on nature, on the idea of community, on real food and people helping people. A place where folks really do take care of each other. A place where it is possible that even the most lacerating wounds from war and love lost can be healed when we learn to trust, to let go and love again.
The only downside to this vision of paradise? You have to put up with outrageous levels of gossip, meddling and intervention too. I sure wouldn't want a tongue lashing from Hope or feisty Connie. Of course, perfection doesn't exist, but perhaps Virgin River is as good as it gets.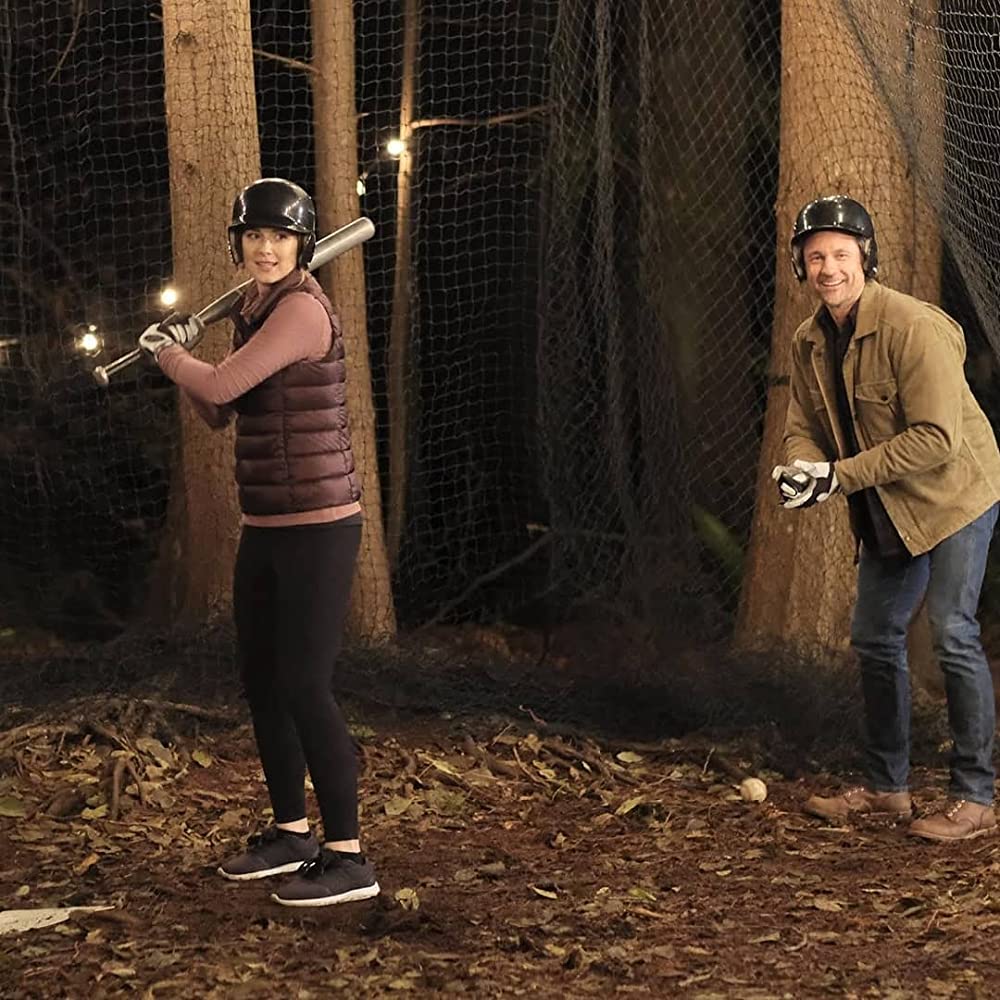 Of course, it helps that the leading characters played by Alexandra Breckenridge and Martin Henderson possess almost indecent levels of charisma and beauty than is fair.
And yes, I want Mel's swishy Mermaid hair, which always looks goddess-like, even when she is being held hostage in a drug den in the woods whilst cooly plucking a bullet from a drug Zsar's leg and delivering breech babies without pausing to rearrange her hair.
Mr Darcy Reincarnated in a Bar
While cool-hand Jack is basically Mr Darcy reincarnated in a bar in rural California. With one exception. He is broken rather than proud. He reads Dickens and Kirkkegaard and he can turn a broken-down cabin into a chic bolt hole that wouldn't look out of place in World of Interiors.
He's also an ex-marine and war hero and he longs for our heroine from the moment of all the bars in all the world, she has to walk into his.
Because The Lady Loves Lattes
If the scenes between hero and heroine are at times a little too sugar sweet and charming to be real, especially the way Jack charges to the rescue with picnics, baseball in the woods and not one, but two coffees, because the lady loves lattes, I love it.
Men behaving gallantly, let's make it a thing. I will take all the romantic cheese I can get right now. Bring it on. It's comforting. No one wants a man to behave badly in times of existential crisis.
The Americana Dream Disrupted
Jack's bar makes me nostalgic for the trip I went on in the late nineties to cover the making of a Wrangler jeans commercial with Ridley Scott Films and supermodel Paula Abbott in Santa Fe.
After the interview, we went to a bar and some locals asked me and my pr chaperone to dance to some good old rock n roll. I was living the Americana dream dancing to Lynard Skynard until things suddenly turned very ugly and we had to be rescued by some of the crew and flee in a hurry.
Bullets and Strawberry Muffins
America is like that. It's deceptively amiable. One moment the good folks of Virgin River are eating plump, homemade delicious strawberry muffins, the next moment someone is pointing a gun at Mel and Jack when they are on their way to pick up supplies from an organic farm for Lily and her new baby.
Which brings us back to the central characters of Mel and Jack. I must confess to having a bit of a complex relationship with Breckenridge's swishy, Celine toting super duper nurse practitioner from the city of angels.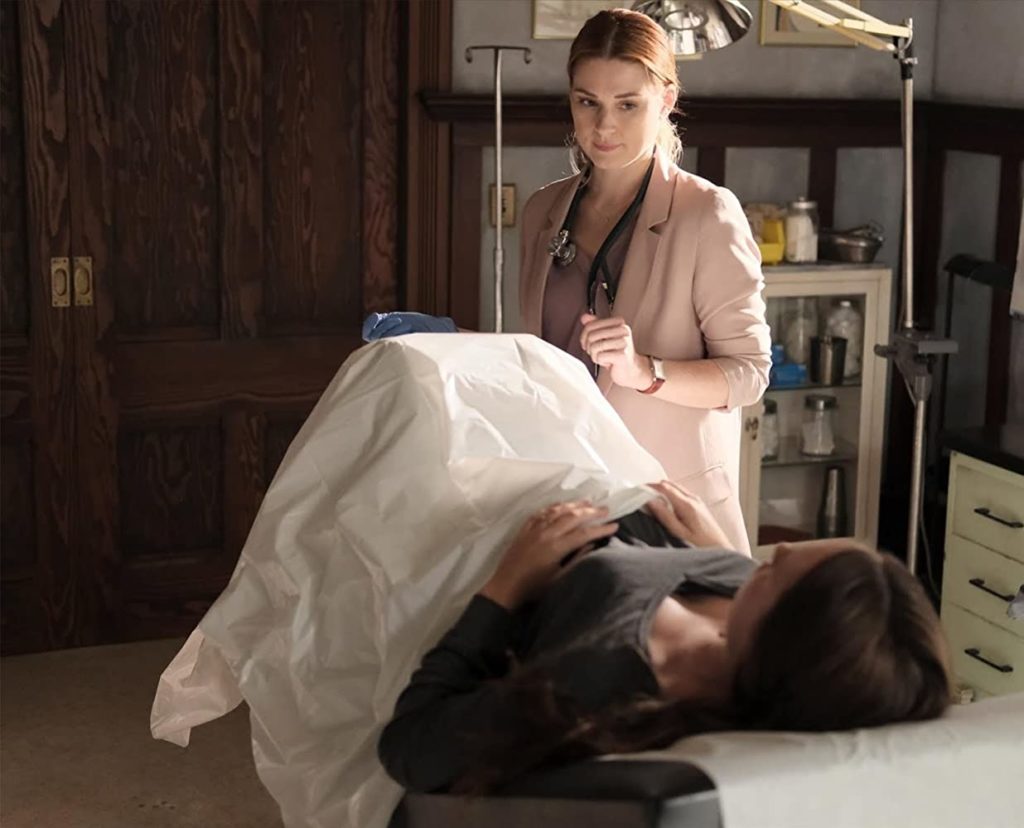 I have endless admiration for her when she is faced with a life or death medical crisis. As Jack says, 'I think you perform better under pressure than some special forces guys I know.' She is portrayed as confident, independent, sassy, compassionate and highly capable when she is called upon to act quickly in an emergency.
Her character is less likeable when she reverts to the latte-loving 'city slicker' adorned in Cartier, who turns up for a hike with Jack with her Celine bag and a latte looking if she is about to take a stroll to an achingly chic LA cafe, rather than fight her way through a riot of brambles.
A Hollywood Princess
She's a bit of princess and she can come across as
childlike.
Perhaps that is the point. On the surface, she is accomplished, capable and fearless. And yet there is a tragic duality to her character. Breckenridge is very at ease in showing the complexity and contradictions in her character.
Mel is the pretty woman who married the handsome, kind doctor. Led a high octane, mostly privileged, prosperous life in LA, apart from brushes with maniacs high on PCP, and then the dream life fell apart with the loss of a longed-for baby, postnatal depression and the tragic death of her husband.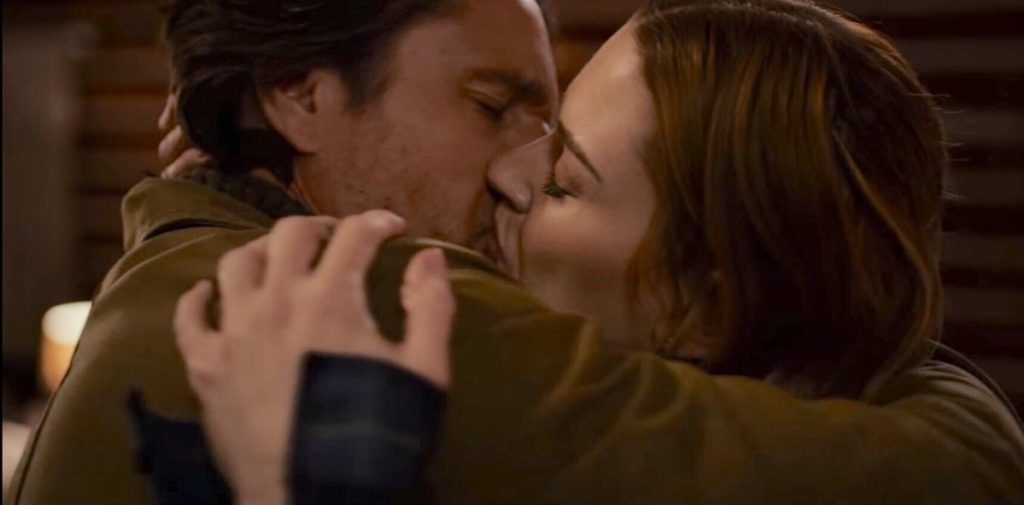 She is brave enough to leave her old life in LA and set up a new life in a small, close-knit town where everyone is a stranger to her. Yet underneath the bravado, there is a woman who is completely broken and filled with guilt for the death of her husband Mark, after a tragic argument about yearning for another child.
She Breaks Like a Little Girl
Mel can walk into a bar full of men who looking at her and not even notice their mile-long stares, but she breaks just like a little girl as Dylan sang when she is alone in her room during a storm or when Charmaine reveals that she is pregnant with Jack's baby.
What makes Virgin River so compelling is the backstories to Jack and Mel who are drawn together both by physical attraction and as fellow 'war veterans' as Jack jokingly describes Mel's time working in ER and his twenty-year career as a marine serving in Iraq and Afghanistan.
A Complex Portrait of a Man
It's exciting to see such important subjects as PTSD, domestic violence and post-natal depression explored with such powerful storytelling. Martin Henderson (Grey's Anatomy, Secrets and Lies ) delivers a compelling and richly complex portrait of a man who clearly has an extraordinary sense of duty, responsibility and discipline whether he is running a bar in rural California or as an officer in the Marines.
But this is also his weak spot. Jack's kindness is preventing his own recovery from PTSD. As a result of his misplaced guilt over the death of a young soldier, he not so secretly turns to drink to deal with the pain and sudden flashbacks.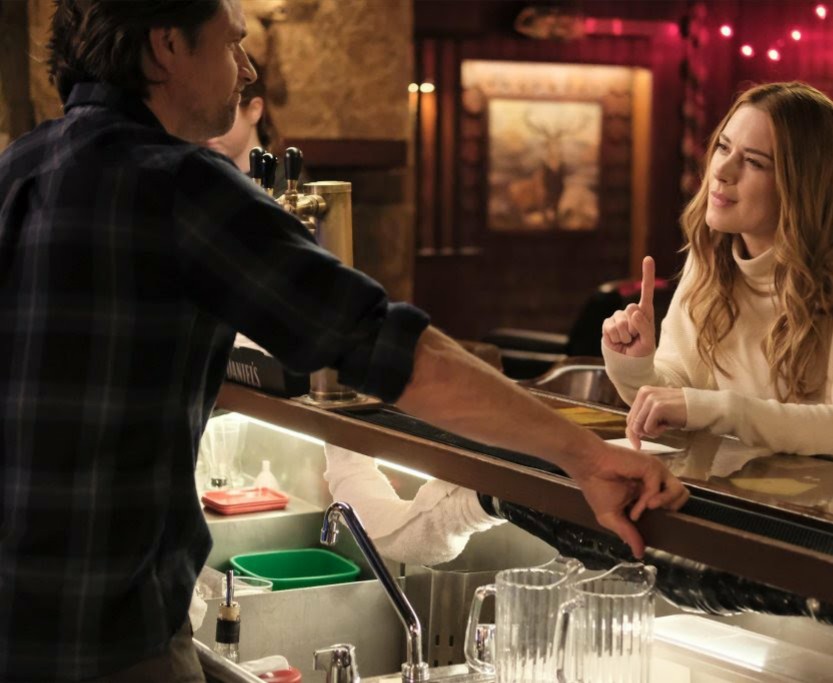 In a moment of trust and intimacy, Jack lets Mel see his war wounds and the shrapnel still embedded in his leg. Even though it causes him so much pain that he dulls it with alcohol, he tells her that it acts like 'a map' which he holds onto to make sense of what he saw, lived through and experienced.
This does make perverse sense. Jack would rather hold on to the physical wounds of war because he is still trapped in a warzone in his head.
A Losing Game
Then there is the mess he has got himself into with Charmaine. How many good people have found themselves caught in a spider's web of a relationship with a person they don't love through manipulation or a surprise pregnancy?
Unrequited Love is a Losing Game
But is it true? Can Charmaine suddenly and inconveniently be pregnant?! Maybe it's just her desperate ploy to wrench Jack back from Mel the woman he really loves because she isn't smart enough or gracious enough to see that trying to force a man to love you is a losing game.
Love Lost and Found
While we will have to wait a few more months to find out, there is a great love affair that has finally matured and found wings to fly again – the love between Doc played with humanity and good old fashioned chauvinism by Tim Matheson and his beautiful, one of a kind Hope, beautifully played by Annette O'Toole.
What a great and believable portrait of a marriage, of love, lost and found again, of fiery, passionate people, their failings, their strengths, and the sweet realisation that they would rather be together again than apart.
I can't wait to be back at Jack's Bar again this winter for Virgin River series two. Mine is a kale and Brussel sprout salad with a whisky straight up.
Alison Jane Reid – Copyright April 2020.
Viring River is Live Streaming on Netflix. Series Two will be out in late 2020.
Support Alison Jane and Ethical Hedonist Magazine
Love Reading Alison Jane's Drama Reviews? Read her review of Sanditon next.
Support our crowdfunding campaign and become a subscriber today!
Help us get to £2,500 so that AJ can get match-funded by the Nat West Bank for talented female entrepreneurs.