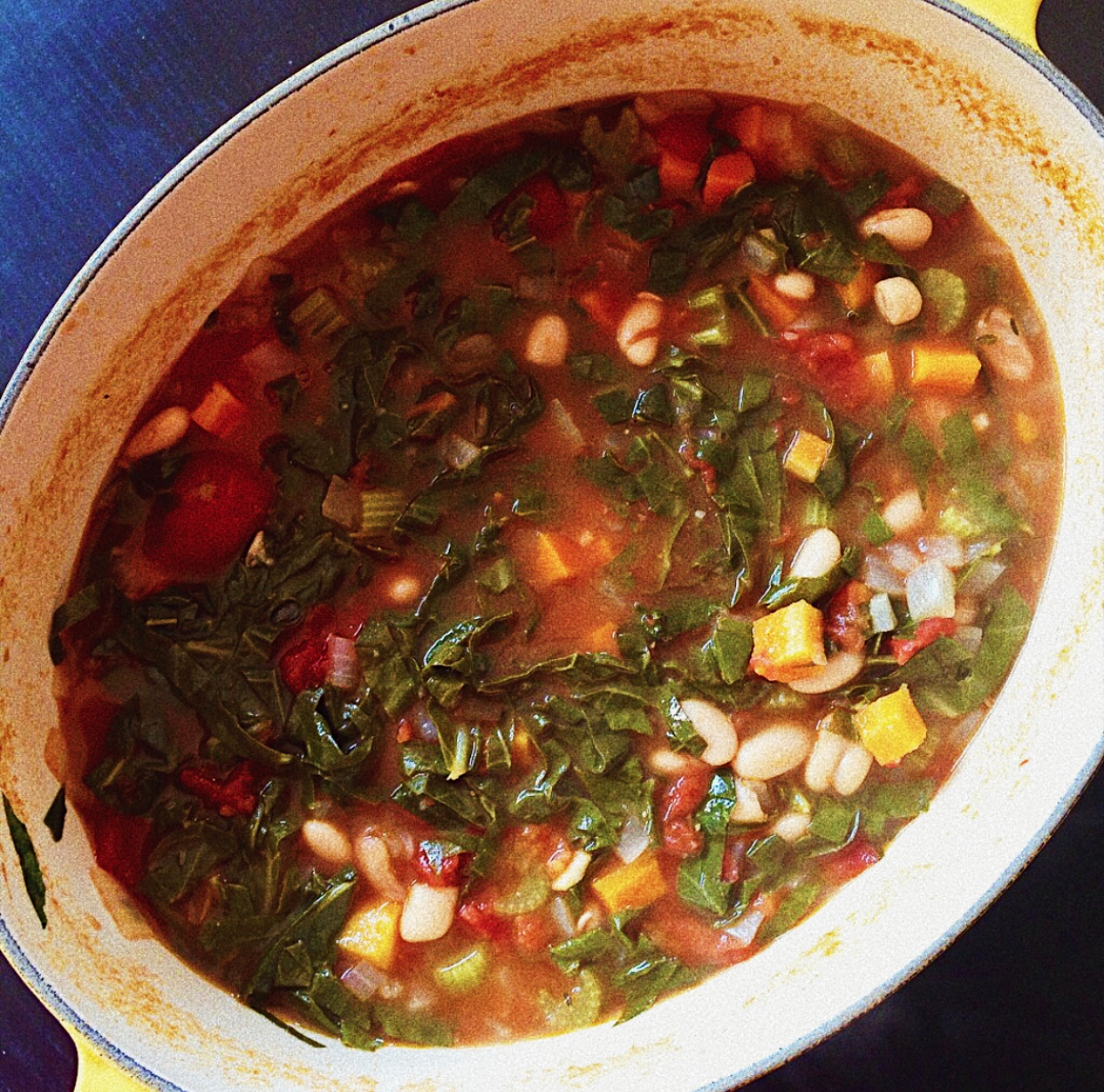 Organic Ribollita! I first sampled this peasant soup in an Italian cafe optimistically called Limoncello, near the Angel in Islington rather than gazing out at the Tuscan hills.
The soup was so flavoursome and brimming with fruity oil and bright, jade green kale that it instantly transported me to Italy in my lunch hour.
Now, just pronouncing the name for Tuscan bread soup with a touch of La Dolce Vita makes my heart skip.
This wonderfully hearty organic soup is very forgiving, simple to make and jam-packed with juicy vegetables and stock. Do make it the day before you want to feast on this robust soup so that the flavours come together to create a dish fit to feed your heart, tastebuds and soul. Once you have made ribollita, you will be smitten and very well-fed.
INGREDIENTS
Your Organic 5- A Day
Ribollita Recipe
5 tablespoons good quality organic extra virgin olive oil
1 small onion, chopped
1 carrot, chopped
1 celery stalk, chopped
1 tablespoon minced garlic
Salt and  black pepper
2 cups cooked or canned cannellini beans
1 15-ounce can whole peeled tomatoes or you use fresh baby tomatoes
1 litre of vegetable stock, bone broth or filtered water, add more stock if too much liquid evaporates during cooking. You are aiming for a robust, stew-like consistency.
1 fresh rosemary sprig
1 fresh thyme sprig
1 pound chopped kale, spinach or spring greens
4 large, thick slices sourdough or homemade bread, toasted
1 small red onion, thinly sliced
A generous chunk of Parmesan, pecorino, or goats cheese to grate or slice on top.
COOKING METHOD
Put 2 tablespoons of olive oil in a large pot over medium heat. When it starts to sizzle add onion, carrot, celery and garlic; sprinkle with salt and pepper and cook, stirring occasionally, until vegetables are soft, 5 to 10 minutes.
Slow Cook to Develop Flavour
Heat the oven to 180 degrees. Drain the beans; if they're canned, rinse them until the water runs clear. Add them to the pot along with tomatoes and their juices and stock, rosemary and thyme. Bring to a boil, then reduce heat so the soup bubbles steadily; cover and cook, stirring once or twice to break up the tomatoes, until the flavours combine, taking about 15 to 20 minutes.
Discard rosemary and thyme stems and add the greens. Taste and adjust seasoning. Lay bread slices on top of the stew so they cover the top and overlap as little as possible. Scatter red onion slices over the top, drizzle with the remaining 3 tablespoons oil and sprinkle with Parmesan.
A Golden Parmesan Crust
Put the pot in the oven and bake until the bread, onions and cheese are golden and crisp, 10 to 15 minutes. (If your pot fits under the grill, you can also brown the top there.) Divide the soup and bread among 4 bowls and serve or bake in a casserole dish.
Serve with a glass of robust and fruity Terre de Fiano organic red wine and take a holiday from your glass to Tuscany.
To find an organic box scheme near you check the following organic and biodynamic trade organisations –