Is there anything cozier than cuddling up on the couch with a cup of tea and a great program on the TV? It's truly one of the best things to do when the weather is cold outside and Christmas is right around the corner.
We've curated the 7 shows and 3 Christmas films that you should definitely be watching this holiday season, all found on a variety of channels for your viewing pleasure.
This review is spoiler free!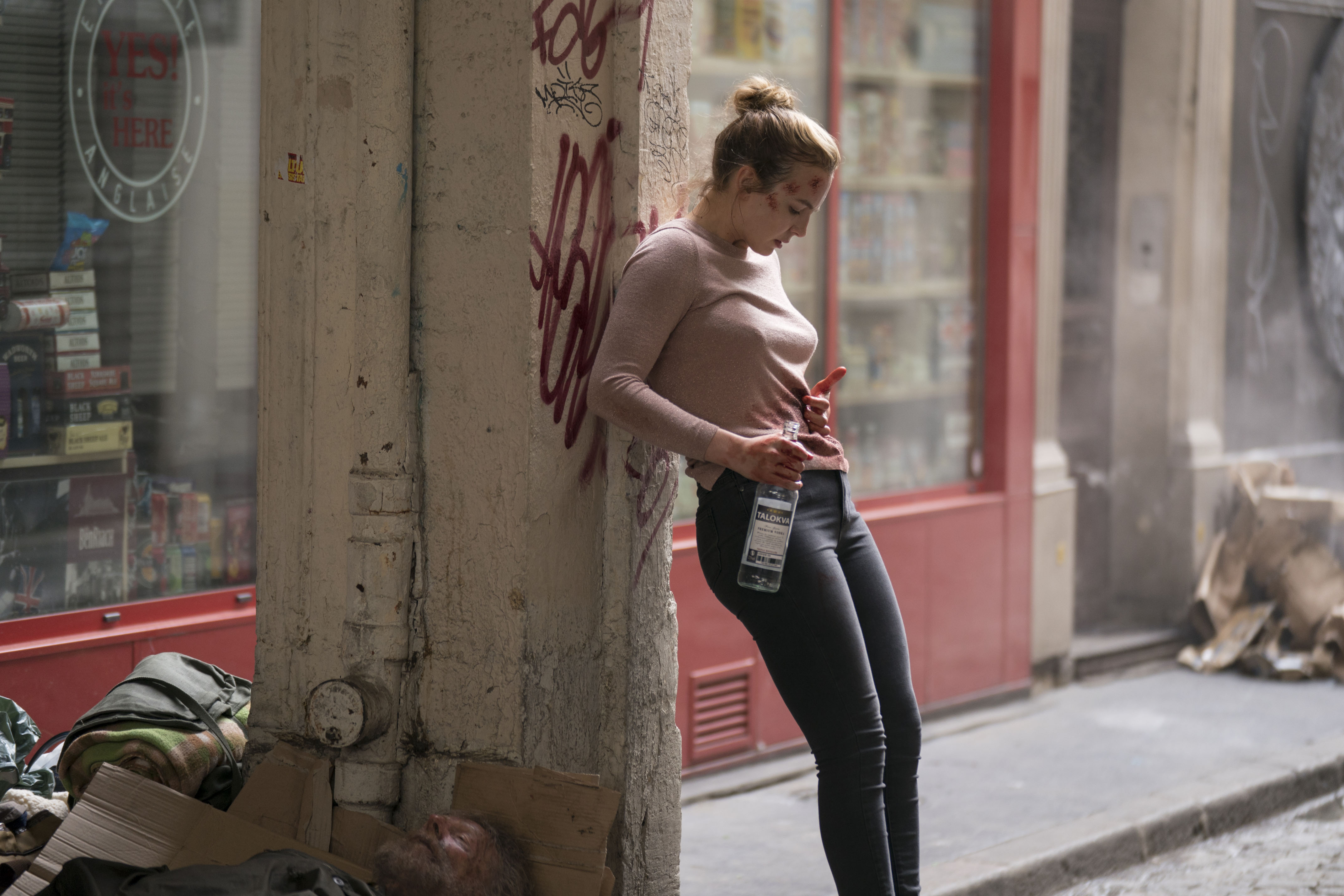 1. Killing Eve (BBC 3)

People have been talking about Killing Eve for so long. There's even ads for it on busses. It stars the immaculate Sandra Oh and a potentially unfamiliar face, Jodie Comer, who is just ridiculously talented and charming. The show follows Eve (Oh) who's a brilliant M15 officer-become spy who falls into an exhilarating game of cat and mouse with Villanelle (Comer), an incredibly dangerous psychopathic assassin. It has its visceral moments of violence (noted to us by an audience warning at the beginning of each episode), but is somehow still lighthearted and endearing. Each episode beautifully blends into the next, and keeps you at the edge of your seat scene after scene. Killing Eve is easily one of the best shows of 2018.

2. Would I Lie to You? (BBC 1) 

If there's one thing that's at the heart and soul of British media, it's panel shows. Would I Lie to You, a BBC 1 comedy panel show, is hosted by Rob Brydon, with David Mitchell and Lee Mack as weekly team captains, as well as guest celebrities and comedians each episode. The point of the show is for guests to reveal unusual information about themselves, and for teams to decide whether that information is a truth or a lie. The show is simply so much fun and so ridiculous. You end up learning lots about these guests and the (very often) true events that actually have happened to them, otherwise you witness their keen lying skills. It's similar to the banter between you and your own friends and is truly the best show to watch over dinner.

3. House of Cards (Netflix)

Netflix's original series, House of Cards, is certainly a well-known one. It has been around for 6 seasons, with Netflix claiming this previous season as the very last one. It stars Robin Wright and previously starred Kevin Spacey, and tells the story of the ruthless politics of Washington D.C.. It follows the Underwoods (Wright and Spacey) viciously making their way to the top of the political hierarchy. The show is an absolute must-watch; the storylines are compelling and exciting, despite the fact that people might find a show about politics to be quite dull (it's not). The cinematography is stunning– some of the highest quality camerawork I've seen on TV. House of Cards really serves as the series that catapulted Netflix into a much more serious realm of entertainment. As a result, suddenly anything deemed a "Netflix original series" became a must-watch.

But content aside, what was really astounding about this final season of House of Cards was the way in which the series dealt with the drama surrounding the show. Spacey recently faced various sexual assault allegations, and as a result, has lost all of his credibility and was immediately fired from House of Cards. But what a difficult predicament to be in, firing the lead role – the show runner– from your show. But the show did a fantastic job picking up the pieces. They didn't want to give Spacey or the drama anymore spotlight than necessary, so they simply wrote him out of the script in the newest season in a way that was natural and logical. Robin Wright subsequently took over the entire show and did an absolutely incredibly job making the show her own, giving the series a compelling feminist makeover. So, whether you consider yourself a "political person" or you just like an exciting, well-made show, consider having House of Cards be your next binge.

4. Dark Tourist (Netflix)

Dark Tourist is a Netflix original documentary that many are comparing to the work of Louis Theroux documentaries, which couldn't be more accurate (and who doesn't love Louis Theroux?). It's hosted by David Farrier, a journalist from New Zealand, and it follows him as he gives us a glimpse into the world of dark tourism. Never heard of it? Neither have most people– that's what makes the show so darn interesting. According to the show, it's an entire industry that Farrier describes as being for people who "avoid the ordinary and instead head for holidays in war zones, disasters sights, and other offbeat destinations." Some of the episodes include a town hit by heavy radiation in Japan, a reenactment of an illegal border control crossing in Mexico, a voodoo festival in Benin, and so much more. It's that sort of train-wreck-you-can't-look-away-from content that gets us instantly hooked. Farrier is similar to Theroux in his ability to remain quite objective in scenarios where it seems impossible to do so, but he still fully immerses himself in the surrounding chaos. The content is absolutely fascinating, and truly unlike anything else on TV.

5. Hasan Minhaj's stand up, Homecoming King (Netflix)

Netflix has a wide variety of stand up to choose from, so it can be difficult to know where to start. Well let me give you a suggestion: start with Hasan Minhaj. Minhaj is a comedian, as well as a writer and a (former) political commentator for The Daily Show. His humour is refreshing and unique, as it pulls from his experience growing up as an Indian-American and subsequently the lessons he's learned and racism he's experienced. He manages to interestingly blend these political messages with incredibly witty and hilarious humour, as well as personal anecdotes that paint a vivid picture of what he was like growing up and how his experiences have shaped him. It's one of those standups that you just can't seem to watch enough times.

6. Mad Men (AMC)

AMC (American Movie Classics) is an American television channel that has made a name for itself over the years as a creator of incredible original TV shows. Some shows that have come from AMC have been Breaking Bad, Better Call Saul, The Walking Dead, and Preacher, all of which are award winning and/or critically acclaimed. One AMC show that really stands out for me is Mad Men. The show stars Jon Hamm as Donald Draper, and tells the story of a 1960s New York City ad agency and the individuals within this agency. While the show was running (it ran for seven seasons, from 2007-2015) it was recognized year after year for its incredible costume and setting design. The attention to detail in the show is truly what convince the audience that this show very well may have taken place in 1960s New York. In addition, from the very first season, the show depicts just how terrible women were treated in the 1960s and how they were never taken seriously in the workforce. But by season 7, the women have truly taken over and are revealed as the ultimate champions within the series as the characters we had been rooting for all along. The show is truly a spectacle, and if you're a lover of a well-made period piece, you'll love Mad Men.

7. The Handmaid's Tale (Hulu)

The Handmaid's Tale

can be found on Hulu, a streaming service of many well known TV shows and films. Like Netflix, Hulu has begun to produce their own original work, and in doing so has created

The Handmaid's Tale

, a series based on the novel by Margaret Atwood of the same name. The show is about a dystopian future, totalitarian society in which women are treated as property of the state and are meant to deal with the plummeting pregnancy rates facing the society. While it sounds quite dark (and it is) It stars Elisabeth Moss (who, coincidentally, played the incredible protagonist Peggy in

Mad Men

) who brings so much life to the show. She spends every single episode trying to fight back against this society, and we come to learn that there's truly nothing that can keep her down. While the show has been set in a dystopian realm, there are constant allusions made to modern day politics; the show perpetuates the idea that if things don't get better soon, a

Handmaid's Tale

type world isn't far off. The women in the show have been used as a symbol for real life protests and women marches, which really just goes to show just how impactual this show has been on audiences.

8. Hallmark Channel

One of the quintessential parts of Christmas for Americans involves watching Christmas movies on the Hallmark channel. The channel has its annual Countdown to Christmas in which it plays Christmas movies everyday to get audiences in the Christmas spirit. Some of these movies includes A Christmas Prince (2017), Crown for Christmas (2015), and Once Upon a Holiday (2015). Haven't heard of them? That's probably because they've never really been seen anywhere but the Hallmark Channel. That being said, while they're not particularly well-known, they're incredibly fun and easy to watch, and always succeed in getting you in the Christmas spirit.

9. Home Alone, Chris Columbus:

Home Alone is absolute classic Christmas film from 1991. It stars a young Macaulay Culkin who is forced to defend his home from robbers after his family accidentally left him home alone during their Christmas vacation to Paris. It also hilariously stars Joe Pesci as one of the robbers, and he's truly one of the best parts of the film; Joe Pesci is normally in more intense films in which he has much more colourful language, so it's quite a spectacle watching him filter his language for a younger audience. The film is critically acclaimed and enjoyed by all, regardless of age, with some incredibly memorable scenes and moments.

10. National Lampoon's Christmas Vacation, Jeremiah S. Chechik:

This 1989 Christmas film starring Chevy Chase is one of the funniest you'll see this season. It's also one of the most quotable, as it brings Chase's hilarious line delivery and screen presence. It's apart of the "National Lampoon" series that are full of humour and ridiculous family antics. Its humour comes from the ways in which the audience can relate to the absolute chaos of family gatherings at Christmas, while simultaneously being completely unrelatable in just how chaotic and ridiculous their family is.