The Sanditon Review by Alison Jane Reid
Stop Press! To everyone who has been captivated by AJ's one of a kind feature writing, we need your support to recover from the serious economic fallout of Covid-19 and bring you more great drama, film and arts journalism that touches you.  Subscribe or buy a very special keepsake version of this admired Sanditon Review.
Sidlotte fans! We have around 20 limited edition reviews left! The review costs £20 plus postage. Postage to the US is just over  £10.  Please email us if you would like to buy one - Email AJ, our editor and mark your enquiry -  Sanditon Review theluminariesmagazine@gmail.com
Dear  Sanditon Sisterhood, we have created a printed novel-style keepsake version of the hit Sanditon Review and Brean Beach Stunt Story + fan art for you to own and treasure in support of our independent arts and culture magazine. The keepsake costs £20 including a donation to the magazine and postage and £30 for the US and rest of the world including a donation and signed and tracked  postage - here is our crowdfunding link - https://www.crowdfunder.co.uk/sanditon-review-4-more-arts-culture-journalism
Another important way you can support our magazine is to become a monthly subscriber, enjoy the entire magazine and come to our inspiring magazine evenings with inspirational interviews, prizes and a sense of community. Join here -  Sign up and support the Luminaries Magazine for more independent arts and culture journalism that delights you.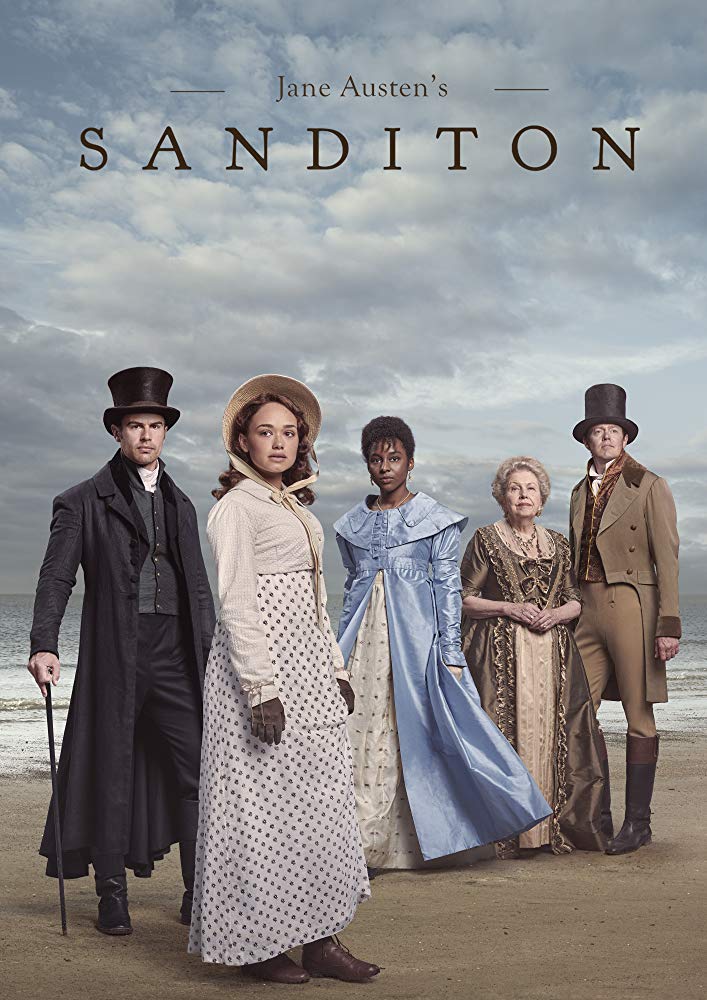 Reader, dare I utter the words Sanditon and an outrageous clifftop ending without eliciting an extreme attack of biliousness, disquiet, shock and disappointment at the audacity of love undone? Reader: he didn't marry her. Isn't Brexit enough misery to heap on a nation? Sidney and Charlotte should have been the new Darcy and Elizabeth.
Rose Williams – a Renaissance Muse
Mr Andrew Davies, it's a dangerous game to meddle with an Austen happy ending. The only consolation is that Rose Williams gives a career-defining performance as Charlotte Heywood in Jane Austen's quite remarkable final and unfinished novel.  A daring, colourful exploration of love, entrepreneurship, identity, and family. Charlotte is no pale, insipid girl waiting for a wealthy man to propose. She's an accomplished renaissance woman.
https://youtu.be/wGbTtppD0zw
When she isn't in a scene we long for her presence. She's a joy to watch and she shimmers with coming of age charm, intelligence, the right degree of impulsiveness and the beauty, elegance, and charisma to make us all long for fittings for the mid-summer ball and the ability to excel at cricket, dancing, architecture and the classics!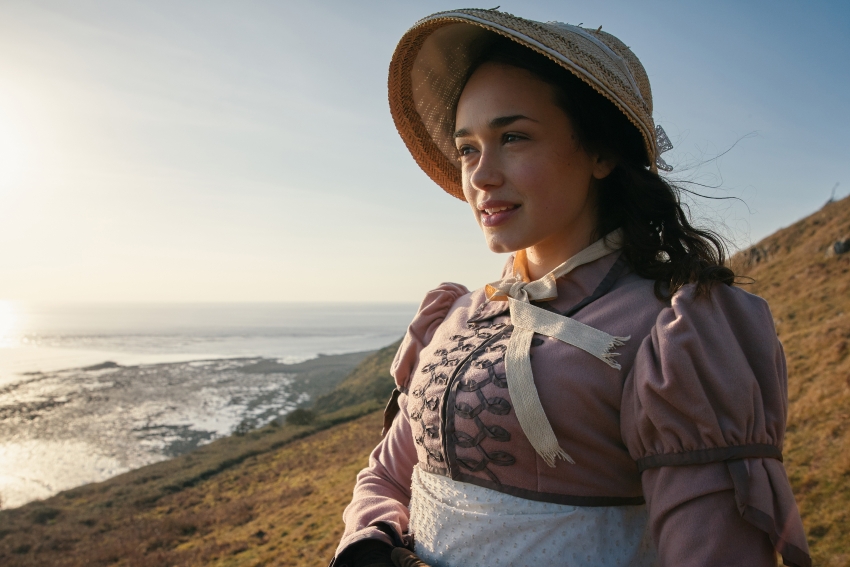 She's no simpering sypher to any man either. She can stench a wound, think fast when her friend is abducted, give the boys a run at cricket, admonish her man for the slave trade and quote from the classics. In many ways, she is a very modern role model and that is important because we can relate to her struggles, triumphs, youthful social gaffs, and crushing disappointments.
Oh to be 22 again, and wafting around in sprigged white muslin in rowing boats and carriages reading Heraclitus.
A Man of Fashion and Intellect
While Theo James was born to play the misunderstood and broken Darcy archetype. Even though Austen's original manuscript ends shortly after Charlotte and Sidney are first introduced, she provides enough riveting information about Sidney as a man of fashion, intellect, and humour by his brother Tom, for Davies to make him the hero of Sanditon and Charlotte's inevitable love match.
The Hero! Mr Sidney Parker
"There is someone in most families privileged by superior abilities or spirits to say anything –  In ours it is Sidney, who is a very clever young man, and with great powers of pleasing – He lives too much in the world to be settled; that is his only fault. – He is here there and everywhere. I wish we may get him to Sanditon. I should like to have you acquainted with him. – And it would be a fine thing for the place! – Such a young man as Sidney, with his neat equipage and fashionable air. – You and I, Mary, know what effect it might have: many a respectable family, many a careful mother, many a pretty daughter, might it secure for us to the prejudice of Eastbourne and Hastings."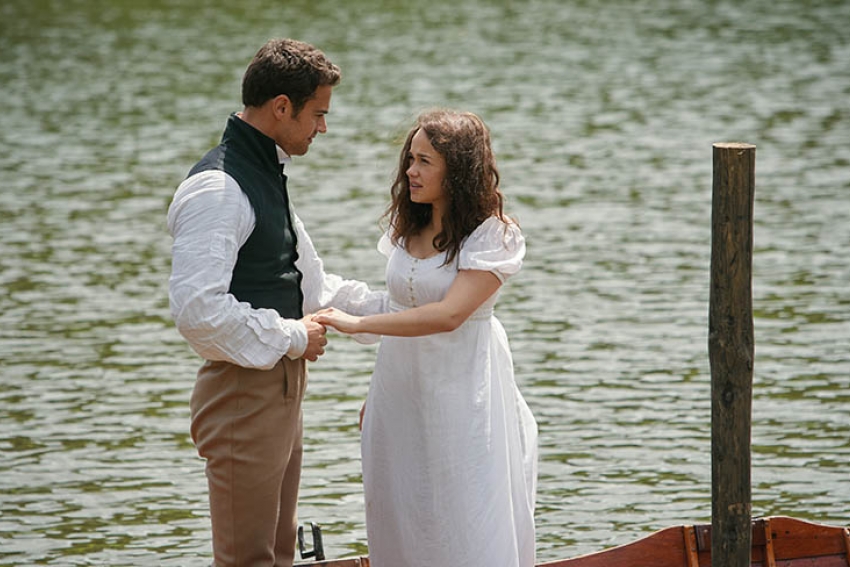 Initially, James plays him as a lost man about town, who boxes, runs with a fast set and appears, rude, cruel and closed off. Then we learn that his heart was broken by a woman called Eliza who suddenly ended their engagement to marry a wealthier suitor.
Animal Magnetism and Pure Emotion
Sidney's romantic rehabilitation is subtle, slow and authentic. We see his disdain for Charlotte turn to surprise and then admiration as his heart thaws. Nor is he afraid to show his feelings when he declares, "I don't want to dance with anyone else," " I underestimated you'  or " I am my truest self when I am with you." – now that takes balls. Theo James plays Sidney with a mixture of animal magnetism, English eccentricity, wildness, and emotion – no wonder the rumours about playing 007 are circulating. His performance as Sidney Parker is more than equal to Colin Firth's performance as Mr Darcy in the 1995 dramatisation of Pride and Prejudice.
The Thrill of Courtship
Did you notice that Davies reworks the infamous scene in Pride and Prejudice where Colin Firth emerges from his lake in a clingy white shirt, the equivalent of a wet t-shirt for the Regency period? This time Davies is more daring and naturalistic.
Nude Swimming and James Bond
Sidney emerges from the waves after a spot of nude swimming, at which point he runs into Charlotte who promptly runs away in horror.  Is it necessary for James to be naked? Well, Daniel Craig kept his shorts on in Casino Royale and caused a global incident. For heat, I prefer the scene where Sidney and Charlotte come together for the first time and dance at the masqued ball after rescuing Georgiana from 'ruination'. Who knew that hand placement could be so hot, so thrilling, so electrifying, so everything.
And that carriage chase was quite something. Classic melodrama and perfect training for 007.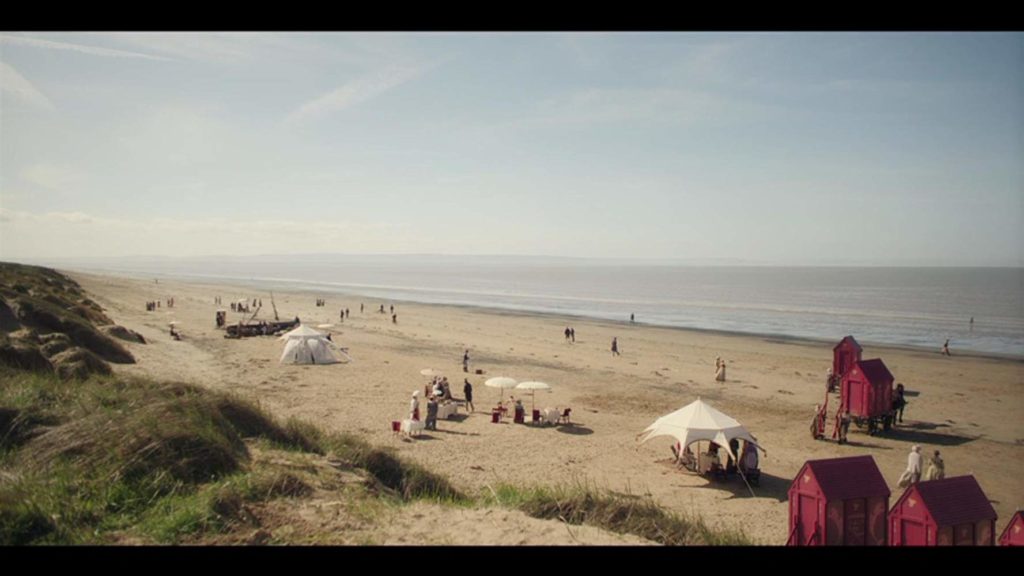 Up until this point, Davies's bold, ravishing to look at adaptation of Jane Austen's wickedly satirical but unfinished last novel Sanditon, has, on the whole, been a success and required Sunday night viewing. Though in truth, it is just Pride and Prejudice retold, beside the sea. But that doesn't matter. There are many ways to tell the same story and Jane Austen devotees will happily wallow in each and every one of them because they represent the ideal of love.
But was it worth the eventual
disappointment?
The answer is a resounding yes, because Andrew Davies is so very good at making period drama relevant and compelling to a 21st– century audience, and we're obsessed with the past. It's also a chance for some great ensemble acting and costumes to inspire a new rush for frockcoats and empire evening gowns. How could we tire of that?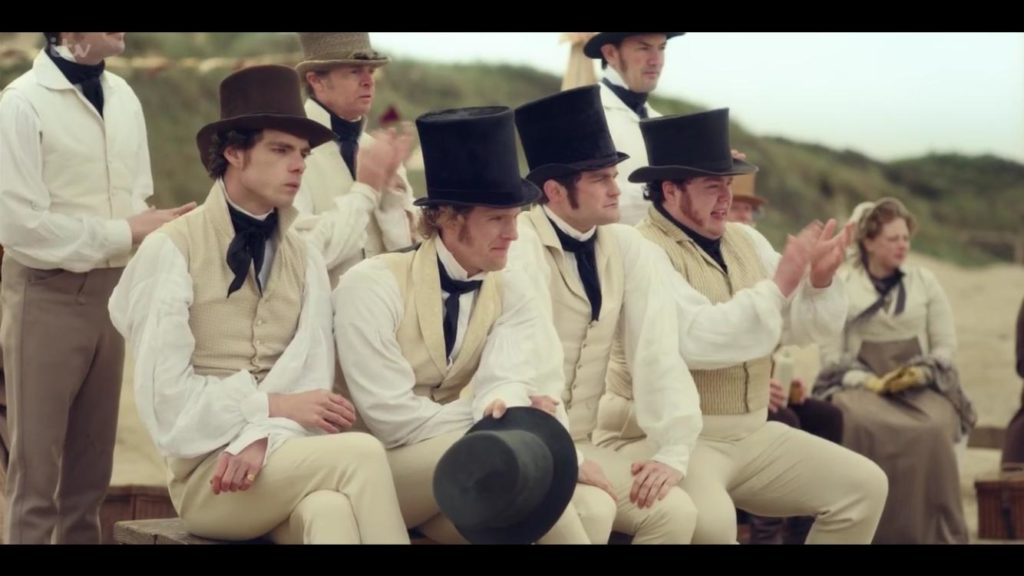 So, picture those languorous,
painterly scenes of alpha men in their towering top hats and cricket whites on
the beach and Charlotte's beguiling transformation from rose-bud country girl
to the sensuous, gilded golden belle of the masqued ball.
Love is Like the Measles
The romantic highwater mark
of the entire adaptation comes when Lord Babington asks Charlotte if it is
possible for a woman's entire opinion of a man to change in a matter of a few hours.
At that point we see our heroine acknowledge her growing and bewildering attachment
to Mr Sidney Parker, "a man who inspires such anger in me; and yet his good
opinion matters to me more than anyone," she tells her new friend Lady
Worcester, who delivers this immortal line, "My dear girl, love is an
affliction, one cannot choose who one falls in love with – it's like the
measles."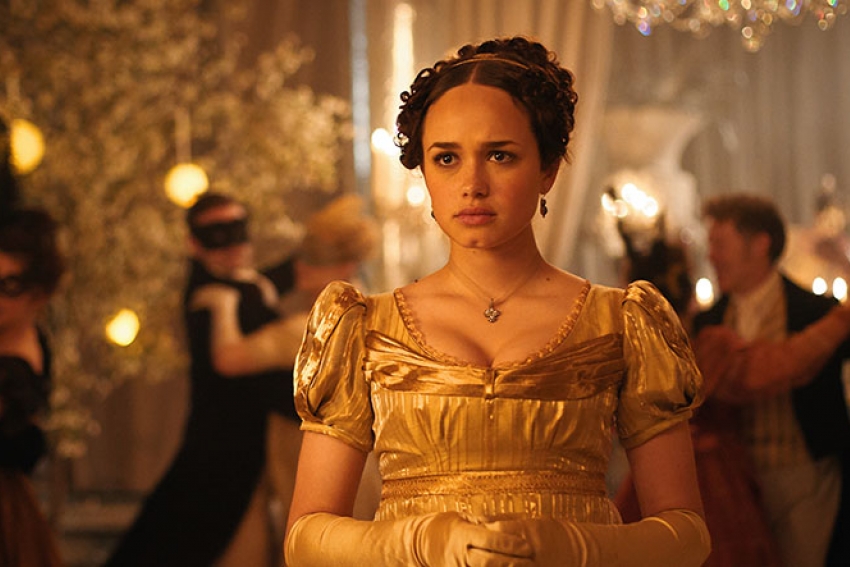 Minutes later Charlotte and
Sidney are locked together in that dance which is as hot as Dirty Dancing!
Girls we need to learn the Quadrille.
Now to the script. No writer who dares to finish or adapt a novel by Miss Jane Austen can ever quite match her wit, her wasp turn of phrase, or acute, penetrating dissection upon what it is that makes us human and fallible. Even so, Davies's Sanditon does sparkle with some memorable lines on the abiding themes of all Austen novels – love, money, position and power, and the glue that ties it together – matrimony.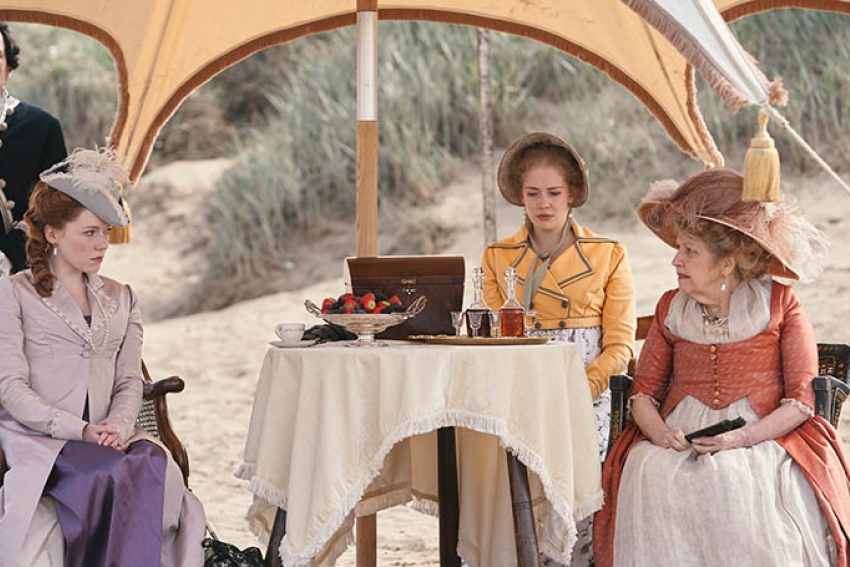 Ann Reid frequently steals every scene she is in as the fierce and grumpy Lady Denham, a woman with a knack for marrying above her station and outliving each of her husbands' adding to her wealth. She also has the best lines, especially this, "It is better to be loved than to love," and "Love! Love! Marriage is a business contract, nothing more."
Pride and Prejudice Revisited
Given how unfinished the Austen manuscript is, Davies borrows heavily from the Pride and Prejudice narrative which goes like this. Boy meets girl. Boy and girl fall out spectacularly. Hatred, contempt, and misunderstanding ensue. Then, comes gradual rehabilitation and discovery. There must be a trial or act of heroism that leads to admiration, love, declaration, and matrimony.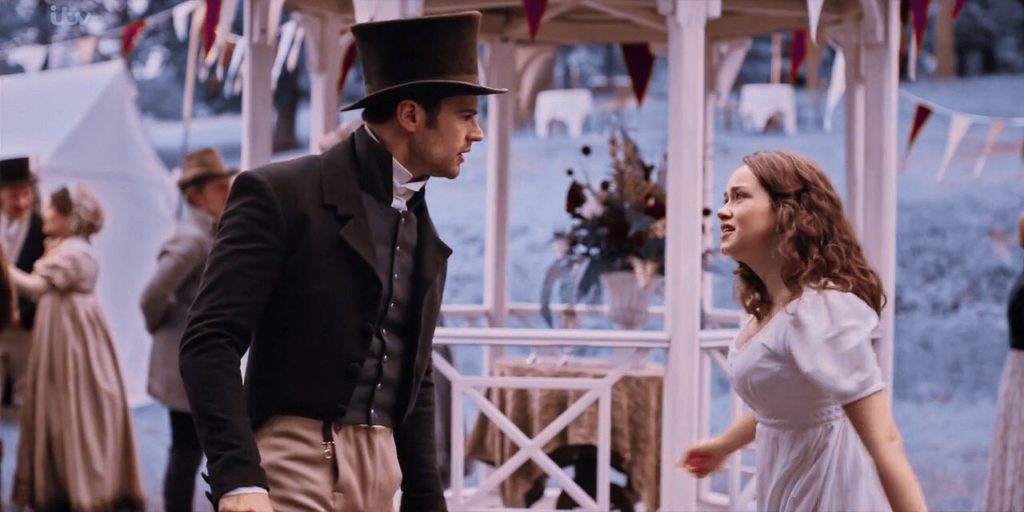 Having read and re-read Austen fragment in recent days, I do feel that Davies has succeeded in capturing Austen's vivid, picaresque sketched portrait of Regency seaside life. Especially the character of Mr Tom Parker, played by Kris Marshall. Tom's reckless obsession with turning a small fishing village into the glittering playground of the beau monde is not matched by his abilities to succeed.  Kate Ashfield plays his neglected wife with grace, elegance, and steel when required.
Plots to Rival the Medici
While the constant scheming and bickering of Lady Denham's impoverished heirs reflect Austen's very detailed back story of the Denham clan, which Davies embellishes with plots and escapades worthy of the Medici.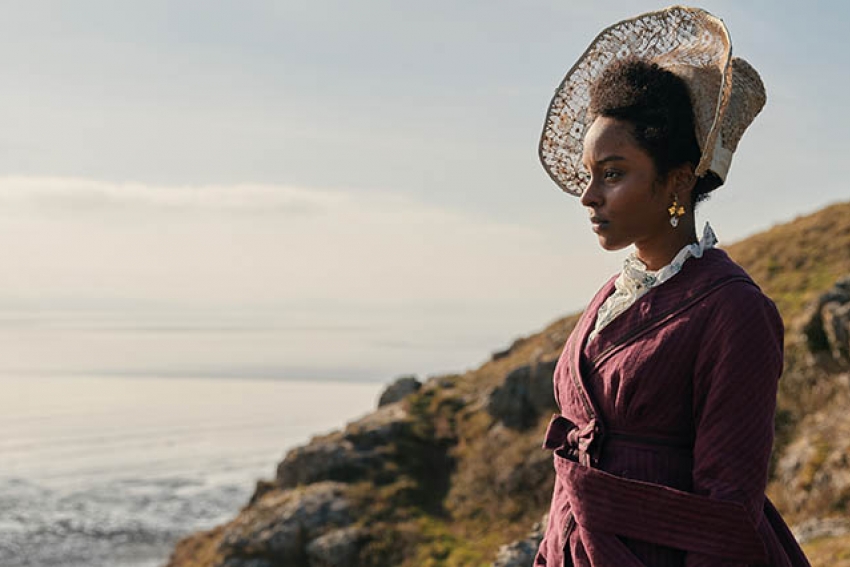 One area where he excels is in the story of Miss Georgiana Lambe played by Crystal Clarke – the mixed-race heirless from the West Indies with a fortune of £100,000, a vast sum in the 19th century.  While Austen paints her only black heroine as frail, Davies prefers to make her feisty, cultured, love-sick and quite bereft, lost between two worlds, the first that of her white aristocratic father, and the second, the world of her enslaved mother. Her story is full of Austen melodrama, but it is in the scenes where she and Otis talk about grand houses, sugar, and cotton built on the backs of the slave trade that her story is most powerful.
Davies's Sanditon dissects many universal themes, which are just as relevant today – social class, race, money, power, aspiration, and identity.
It makes engrossing
television.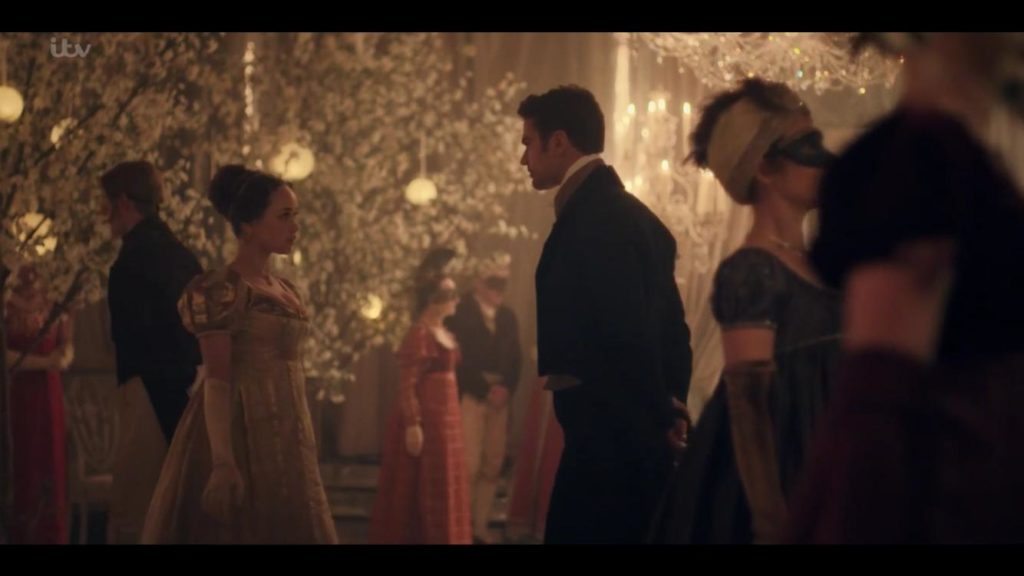 Then, at the very last frame, Davies throws the audience off a cliff, when what we wanted was more quadrilles and erotic hand touching at the Mid Summer Ball and for Sidney to sweep Charlotte off the balcony where he had once thoroughly insulted her in true harmonious Austen style.
Jane Austen is Not Amused
While I do think that Jane Austen would be delighted with Rose William's thoroughly affecting debut as her spirited and very capable heroine of Sanditon, Charlotte Heywood –  a ' pleasing' young woman capable of surprising even the most jaded and broken of men with her beauty, humanity and accomplishments;  But I don't think Austen would be amused by Andrew Davies daring to meddle with the priceless Austen formula.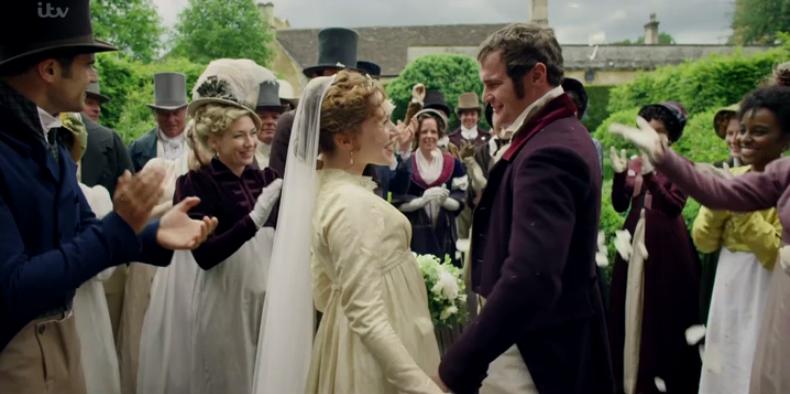 Instead, Davies gives us a different wedding as the consolation prize when the petulant, troubled and insecure Esther bags Lord Babington, played with charisma and aplomb by Mark Stanley. Charlotte spencer delivers an accomplished, complex portrait as Esther Denham. A woman without a fortune, who is caught between her cruel, coercive step-brother Edward and her fierce, mercenary aunt who would happily marry her off to any man with £50,000.  Unsurprisingly, she feels worthless and is astonished that Babington loves her just as she is.
The Perils of Esther Denham
What a prince amongst men who won't be the first or last man to be turned on by a shrew who isn't really a shrew at all. But we really didn't need to witness Esther glowing like a queen as she bags herself a lord, a fortune and a champion – at what should have been Charlotte and Sidney's wedding!
Lord Babington is a Catch!
However, I will say this. Babington, I would go carriage driving with you forever and a day. In many ways, you are the ideal of the perfect man –  handsome, sexy, not messed up, very rich, dashing in a frock coat, laid back, but never boring, and all you yearn for is to walk by a woman's side. Babington, you are a catch!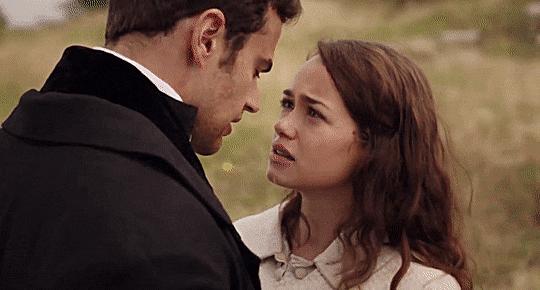 That was cruel Mr Davies. How
will you ever make amends? How about Sanditon Part Two? I hear you have some
very exciting ideas for what happens next to Charlotte and Sidney. Please whisk
us back to  Sanditon and the Parker and
Denham families very soon. We demand two more happy endings. One for Charlotte
and the other for Miss Lambe.
The Sanditon Review Copyright Alison Jane Reid November 2019.
Watch Sanditon on the ITV Hub at www.itv.com
Images courtesy of ITV Press Office.
Subscribe and Support Quality Arts  Journalism.
Love reading Alison Jane Reid's long-form entertainment reviews? Please support quality independent journalism by signing up for our journalism features and interview feed. You can choose to become a paid or free member of our people-powered magazine. Like the Guardian, we really on readers who understand the value of a quality press and pay for our journalism. Become part of our family and get involved in our community for many more inspirational features and live magazine shows.  Then read this one –  A Merlinesque Love Letter to The Durrells
Support our crowdfunding campaign and become a subscriber today! Help us get to £2,500 so that AJ can get match-funded by the Nat West Bank for talented female entrepreneurs.