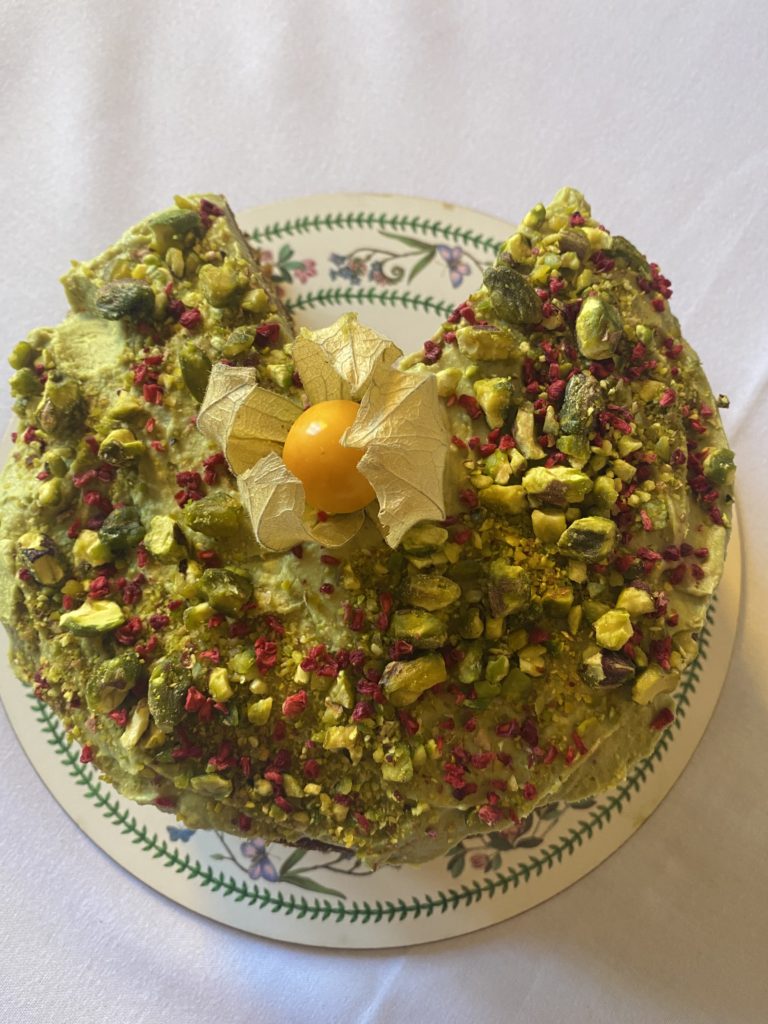 My mother almost died three weeks ago for the second time in four months. I held her tiny, ice-cold hands all the way to the hospice in the ambulance, and then much to her dismay, she didn't slip away.
Living is Just Too Hard
Yes, that's right, my mother no longer wants to live, because she says 'living is too hard, too much effort'. Mum has a rare form of cancer in the bile duct, severe IBD, which is similar to Crohn's and is hell to live with. She also has stage three kidney disease, borderline type two diabetes and vascular dementia, which we have successfully reversed with organic CBD oil and science-based nutritional supplements from a functional medicine doctor for the past two and a half years. For the sceptics, I can tell you it works and it rejuvenated my mother's mind for more precious time together. She even became the most senior member of her local gym.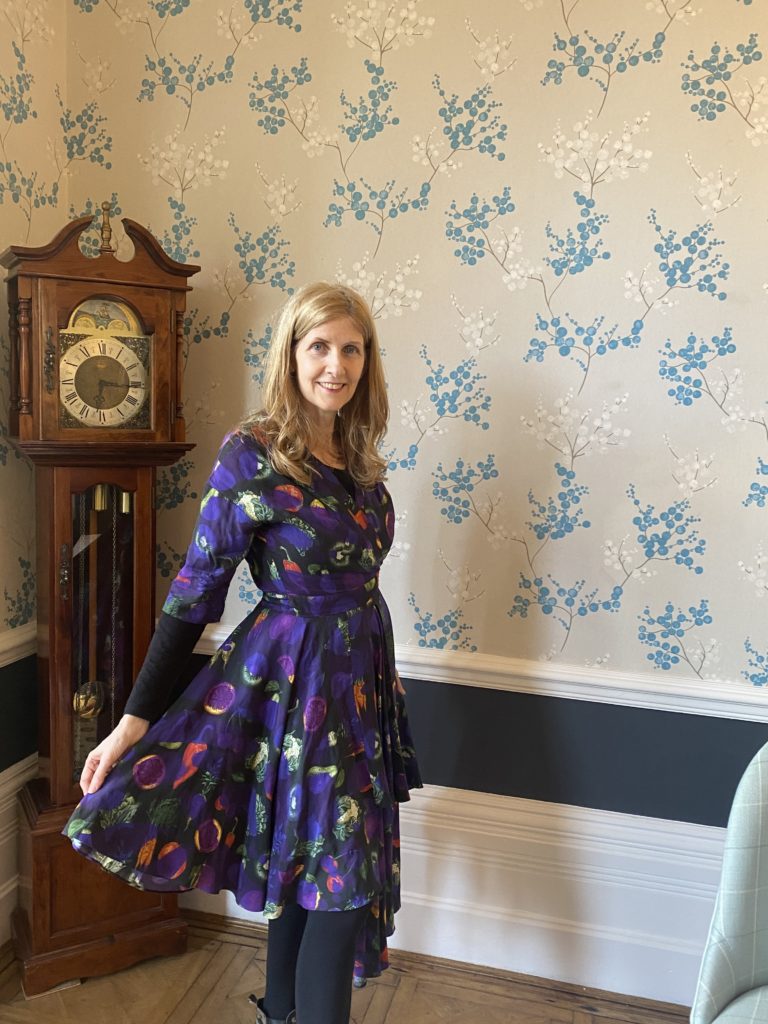 The Gut Microbiome & Antibiotics
In fact, my mother made dramatic progress with all her health conditions under the care of our functional consultant, until she developed a sudden urinary tract infection and she was rushed to the local hospital. That's when disaster struck, and the only form of treatment offered by the NHS was strong antibiotics. The problem is that they wipe out the gut microbiome, which is the engine room of all human beings and controls our immune systems. Mum has struggled to recover from this harsh, one size fits all intervention. To be effective, medicine must be personalised to the individual and any underlying conditions. What is the point of treatment if it leads to unacceptable levels of suffering and feels like a living death?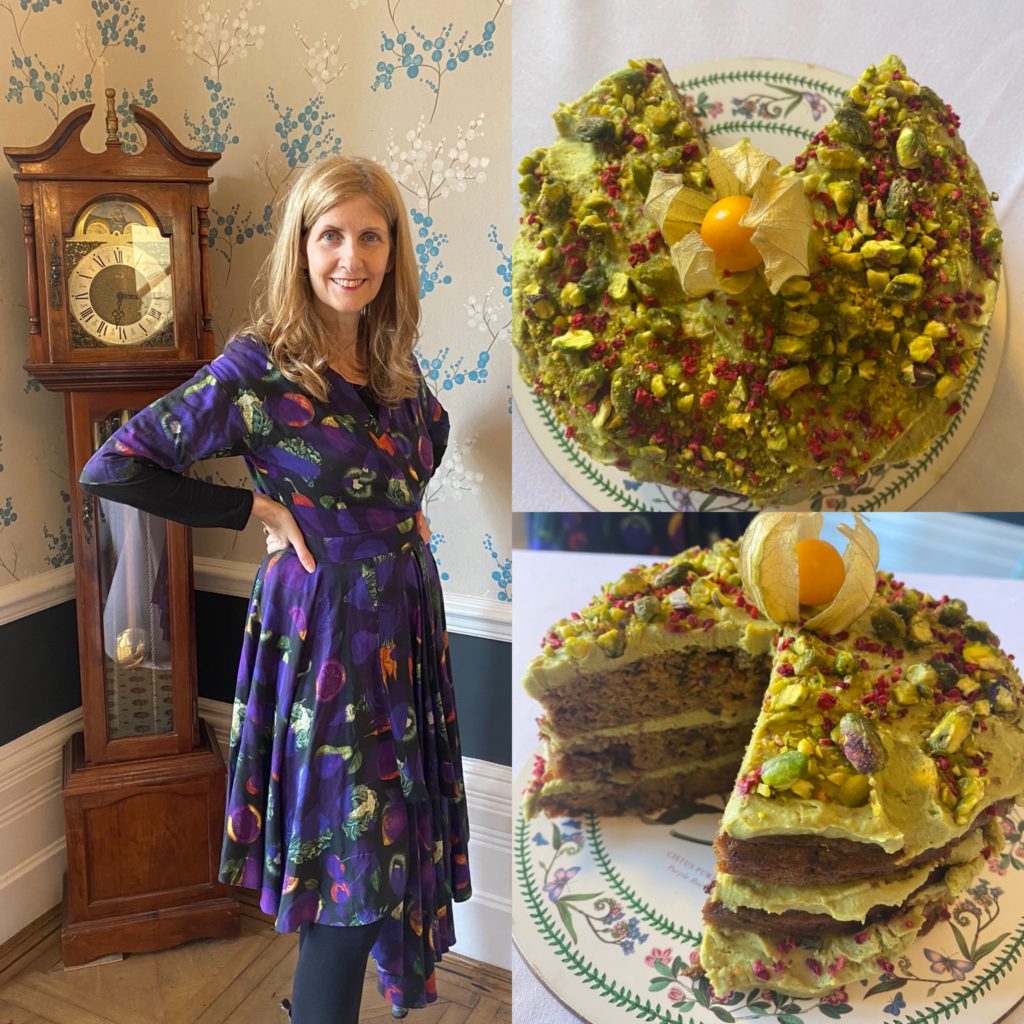 Shell-shocked and exhausted, the only thing I could think to do to make things better was to bake my mother the best, most fabulous organic, food as medicine cake ever.
Gung Ho Food for Thought Dress
This is mums emerald, jewel-encrusted organic pistachio, lime and basil cake. I discovered the recipe on the Pukka Herbs website and I have wanted to make it for months. The dress I am wearing to flaunt my organic and sustainable ideals is by Sophie Dunster, a talented slow fashion designer to watch, based on a barge beside the Thames in London and the founder of Go Ho Design. Sophie has a rare flair for making everything from wonky veg to endangered big cats the charismatic stars of her thoughtful, beautiful, educational collections in the most captivating prints.
Pesticides in the Food Chain
The dress is from her current Food for Thought Collection and shows the amount of pesticide residue left on conventionally grown fruits and vegetables. Did you know that according to the UK Government's own analysis, the amount of pesticide residue in a non-organic orange can be up to 96%? Now that's food for thought. Time to subscribe to an organic box scheme or move to Sicily and grow your own.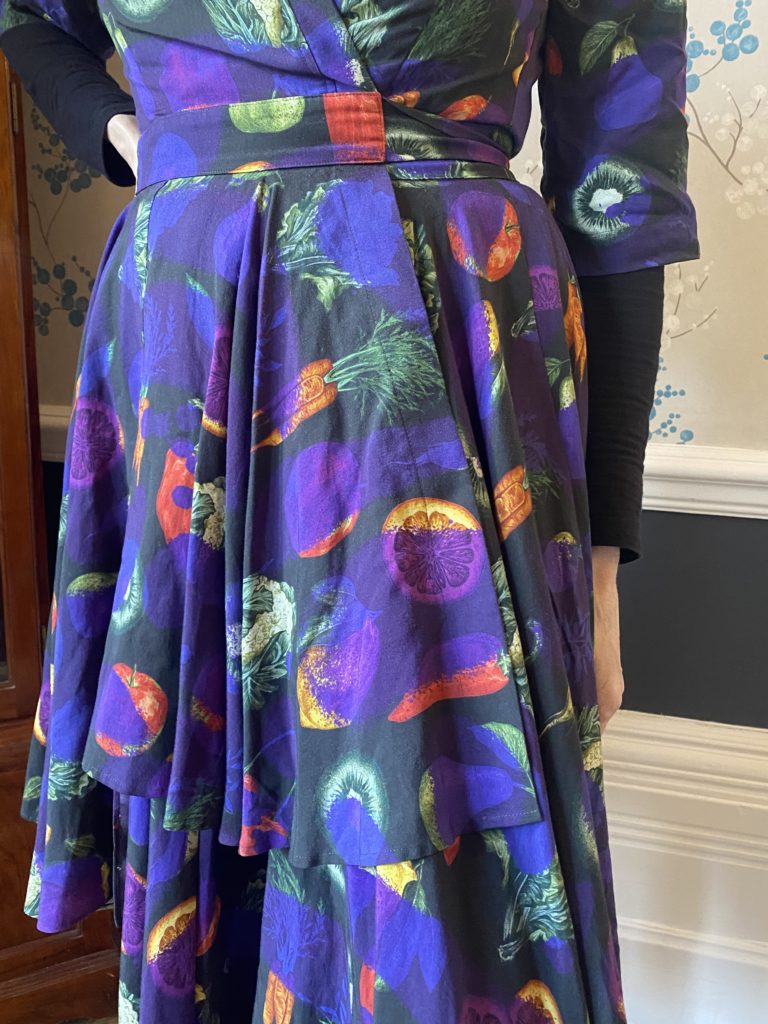 The cake doesn't just look pretty, it tastes of sunshine and carefree days in Italy, admiring lemons on a biodynamic smallholding. The main ingredients are – courgettes, avocados, ground almonds, lime juice and zest, basil and lots of elbow power, zesting for England, washing up and love.
Baking with Friends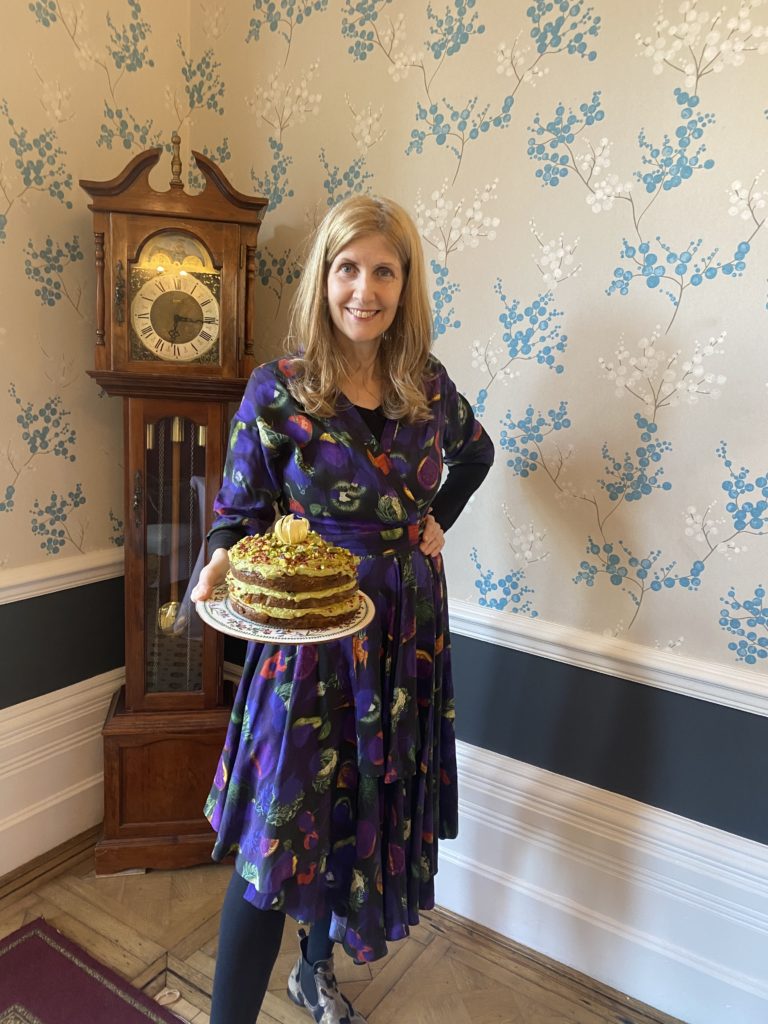 My mother loved her very special organic cake and so did all my friends. Never has a cake disappeared so fast! This jewel of a cake is jam-packed with vegetables, organic eggs, nuts, and sunshine and one slice is very filling and yummy without being sickly sweet. In fact, the avocado and lime icing is so delicious, I licked the bowl clean! Baking is so therapeutic and fun. Do get together with your friends and bake cakes, laugh and savour every minute. Today, I have promised to bake mum some fluffy quinoa scones and I have also promised not to work the dough! – so you can see my mama is still as sharp as a button and let's celebrate that.
Incredible Organic Pistachio, Basil, Courgette Cake with an Avocado Lime Cream Icing
90 g (3 oz / ⅔ cup) pistachio nuts, preferably activated dried
60 g (2 oz / ½ cup) coconut flour
1½ tsp baking powder
1½ tsp bicarbonate of soda (baking soda)
180 g (6¼ oz) courgettes (zucchini), grated
150 g (5¼ oz / scant ⅔ cup) natural coconut yogurt
150 g (5¼ oz / scant 1¼ cups) coconut sugar
3 eggs
¼ tsp Himalayan pink salt
Finely grated zest of 3 limes
15 g (½ oz / ½ cup) basil leaves, finely chopped, plus about 4 extra leaves for scattering over the lime cream
60 g (2 oz / generous ¼ cup) coconut oil, melted, plus extra for greasing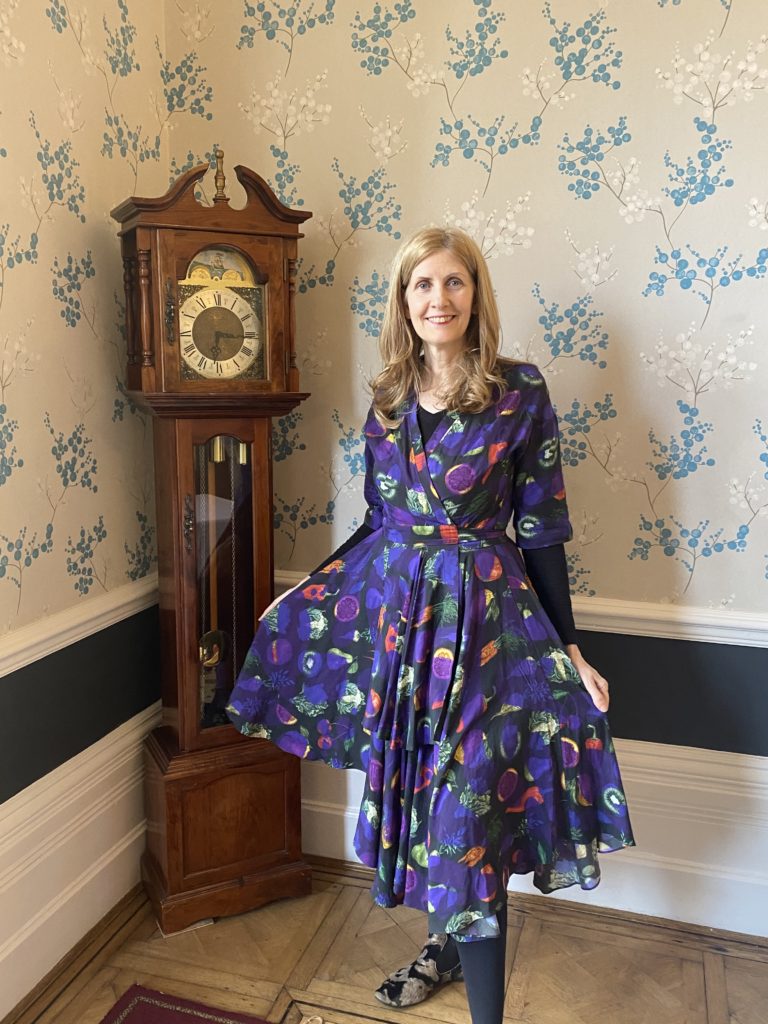 Avocado lime cream
200 g avocado flesh (about 1 large avocado)
250 g natural coconut yogurt
100 g blonde coconut nectar
Finely grated zest of 1½ limes
60 ml lime juice
80 g coconut oil, melted
To Finish
170 g quick-cook raspberry jam or no added sugar high fruit content raspberry jam
Small handful chopped pistachio nuts
Edible flowers such as honeysuckle or rose
Method
Make the avocado lime cream first as it needs time to firm up in the fridge. Blend the avocado, coconut yogurt, coconut nectar, lime zest, and juice in a blender until smooth. Add the coconut oil and blend until completely smooth. Place in a bowl and cover the surface of the cream completely with cling film so it does not oxidize and lose its colour. Chill in the fridge for 2–3 hours to firm up.
Preheat the oven to 170°C/325°F/Gas Mark 3. Grease and line the base of three 23 cm (9 inch) loose-bottomed or springform cake tins with coconut oil and baking parchment. Line a small baking tray with baking parchment.
Toast the Pistachio Nuts
Spread the pistachio nuts out on the lined baking tray and toast for 5–7 minutes until just getting becoming toasted and firm to touch. Leave to cool then roughly chop into small pieces.
Mix Mum's Organic Cake
Sieve together the coconut flour, baking powder and bicarbonate of soda into a bowl. In a large bowl, mix together the rest of the sponge ingredients except for the oil. Add in the sieved flour mixture and chopped nuts, then finally stir in the oil. Divide the mix equally between the three tins (about 300 g per tin). Spread the mix with a palette knife (frosting spatula) or small knife to make a thin layer.
Bake the Trio of Sponge Layers
Bake for 10 minutes, rotate the tins and bake for another 10 minutes until the top is dark golden brown and bounces back slightly when pressed. Leave to cool, remove from the tins and carefully peel off the baking parchment from the bottom of each sponge.
How to Assemble the Cake
To assemble, spread the bottom layer of the sponge with half the jam (jelly) and about a quarter of the avocado and lime cream. Tear the basil leaves into small pieces and scatter half over the lime cream. Top with the middle layer of sponge and repeat the process with the jam (jelly), cream and basil. Carefully place on the final layer of sponge and top with the remaining cream, spreading it over the top of the cake and around the edges. Decorate with chopped pistachio nuts and edible flowers.
This cake will keep in the fridge for up to three days but it is best eaten fresh when all the flavours and colours are at their most vibrant.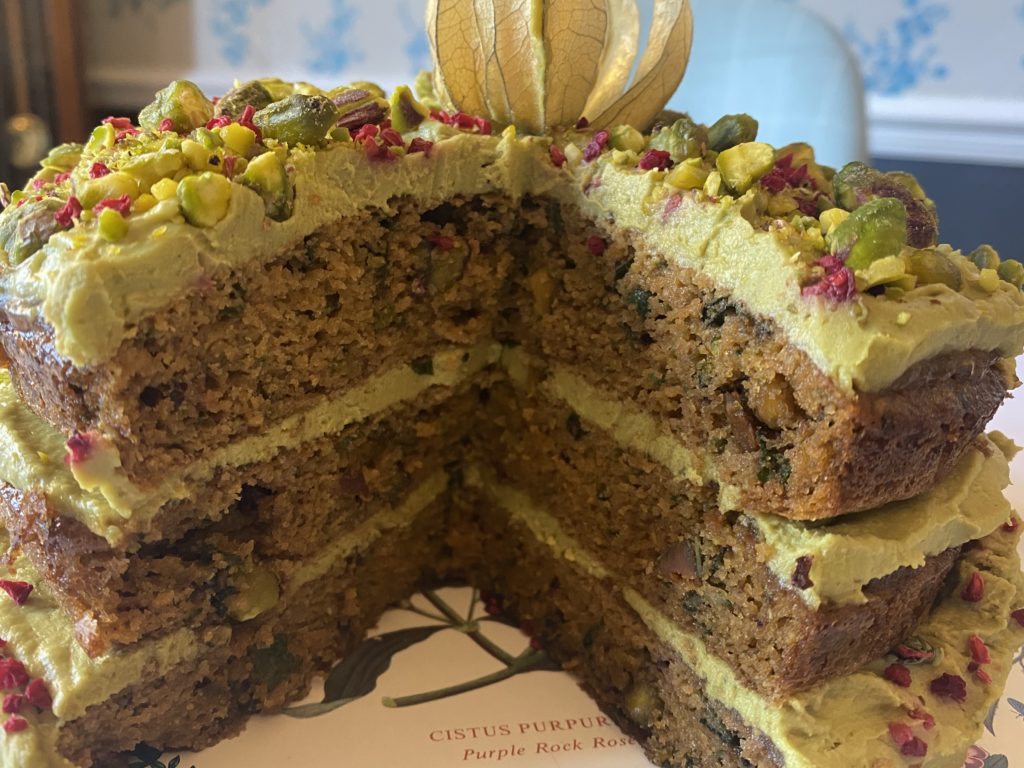 VARIATION
Lime mousse
Serve the Avocado lime cream in small glasses or cups, topped with shavings of fresh coconut, to make a light and fresh end to a meal.
Recipe extracted from Clean Cakes by Henrietta Inman, photography by Lisa Linder. Published by Jacqui Small (£20).
We hope you have enjoyed this food for thought feature. Read more journalism by Alison Jane Reid Here – Marvellous Mary Quant at the V&A
Pictures of Journalist Alison Jane Reid by Lape. Copyright Alison Jane Reid. All Rights Reserved February 2020.