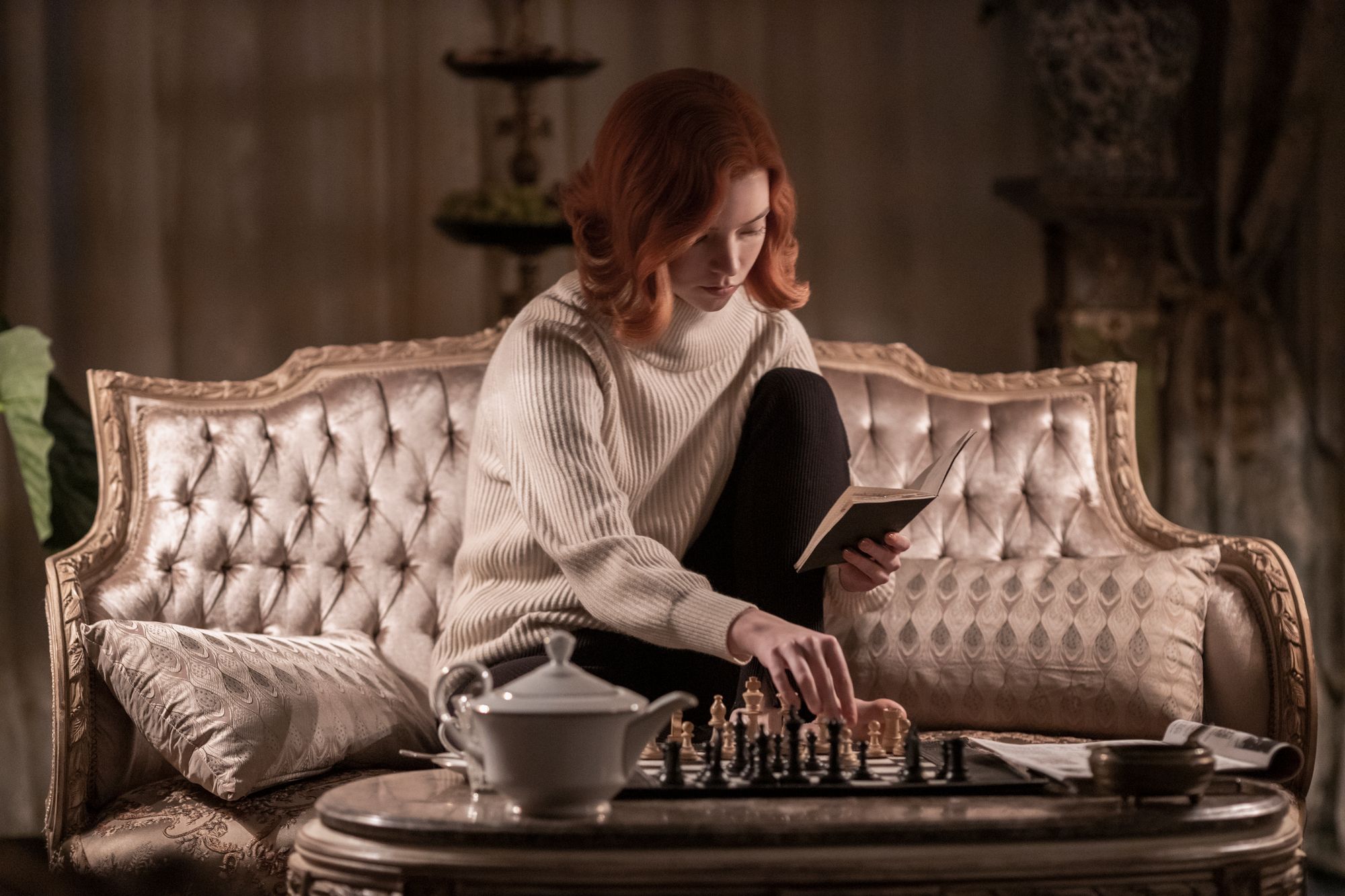 The Queen's Gambit requires your undivided attention. Cancel your plans, cancel everything to watch the birth of a star and take a hypnotic trip back to the sixties. Everything about this coming of age feminist fantasy is immaculate from its leading lady to the characters that pivot around her to the sixties sets, music and lust-worthy style.  
Thanks to Harman, I now have a burning desire to learn how to play chess and tear up my opponent and embark on one hell of an adventure like Anya Taylor-Joy as Elizabeth Harman, a teenage chess-princess-protege who plays chess if she is a gladiator, as if her whole existence depends on winning.  As a consequence she obliterates a generation of male grand masters with that mile long angry stare, kohl-black velvet eyes, extraordinary focus and a delectable, ever-changing wardrobe of film star kittenish couture.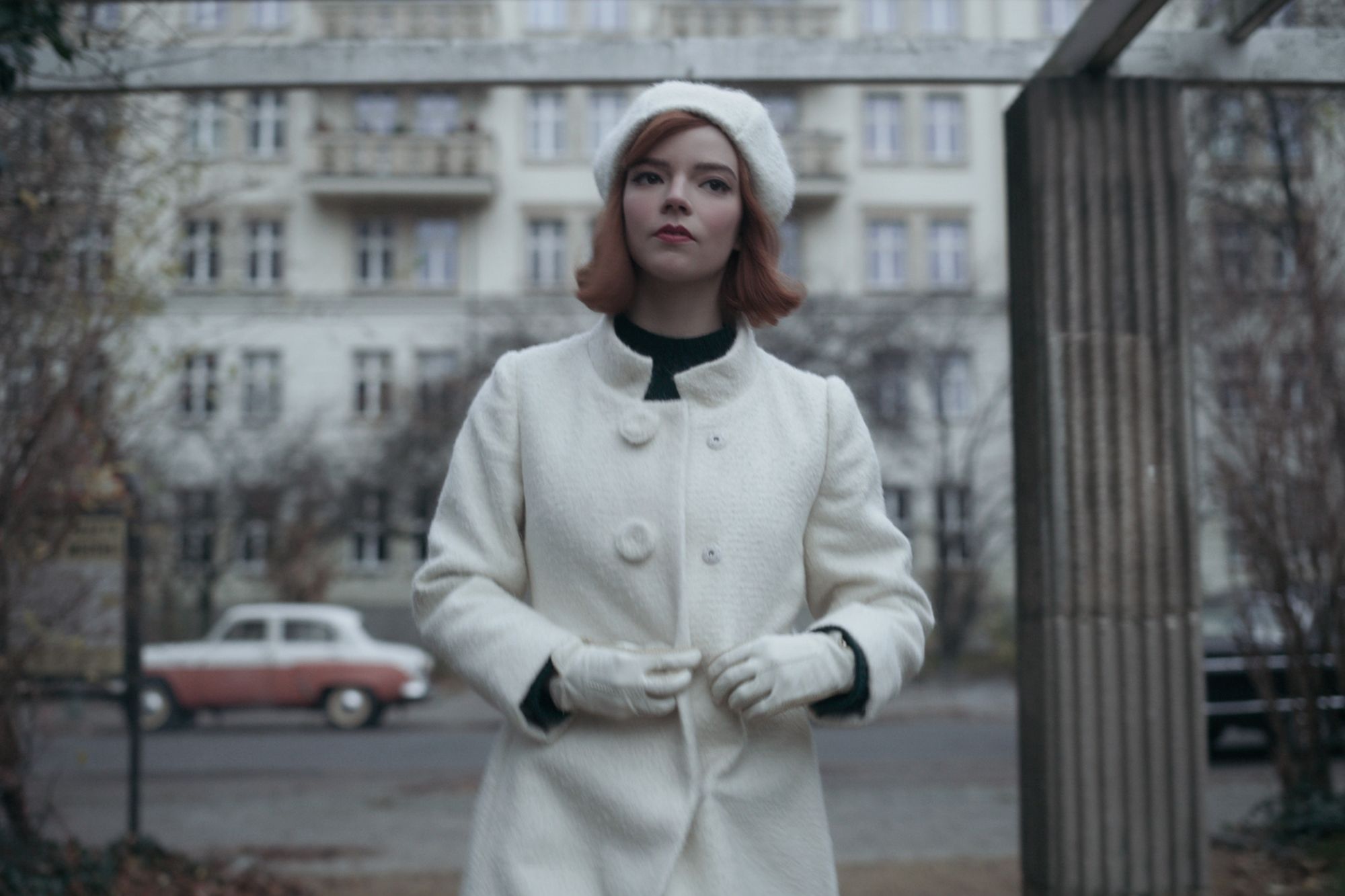 Alas, anger and genius can only get you so far. Self sabotage is Beth's weakest move. Will she master her demons in time to beat Borgov -  the world champion and Russia's finest export?
Anya Taylor-Joy delivers a performance of genius, addiction, allure and pain that will delight, horrify and enchant you until very last the moment when she takes Russia by storm as the white queen and yes,  she has the fabulous wardrobe to match and I predict a rush for white coats and over-sized Jackie O hats this winter.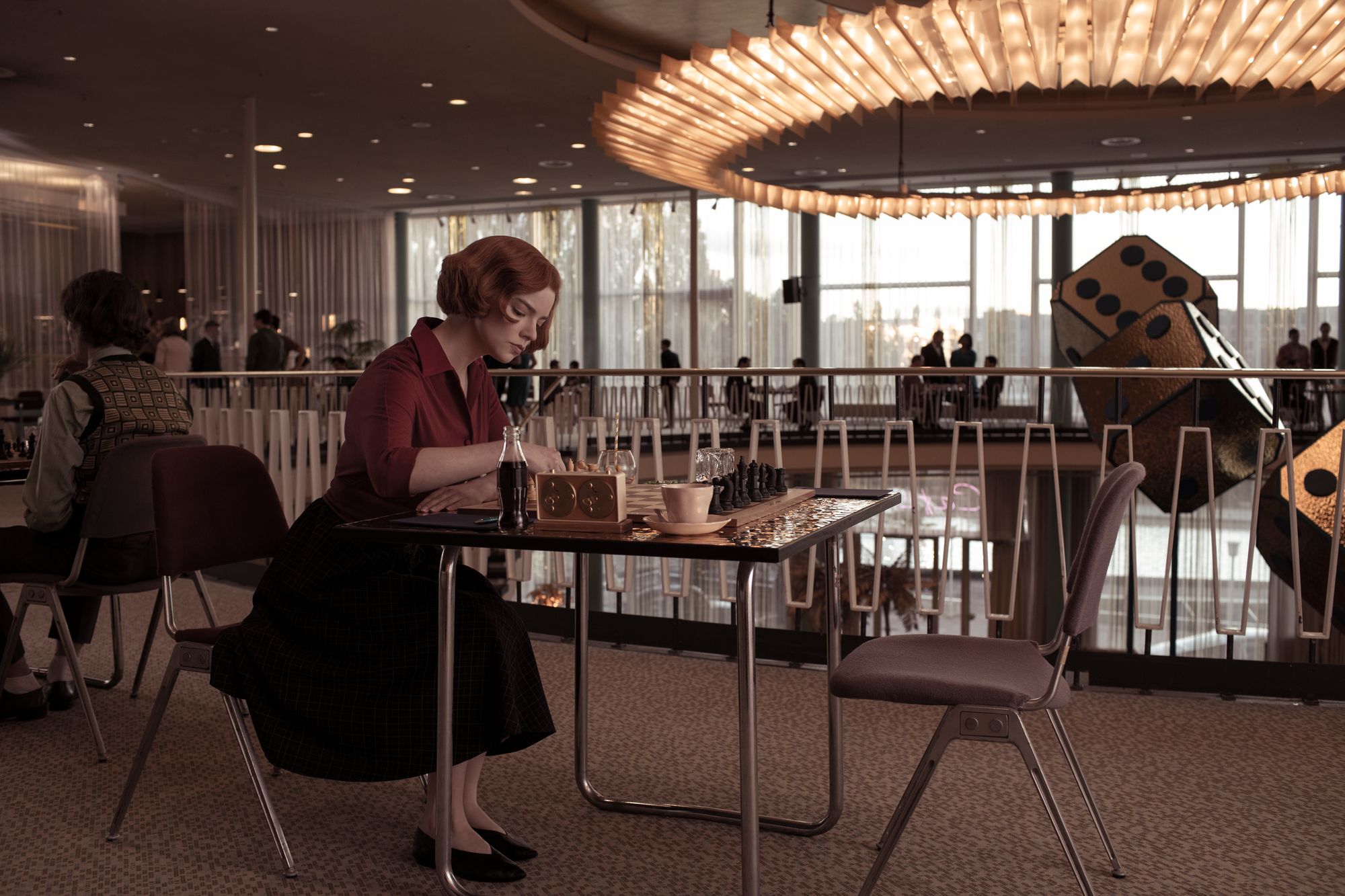 The fierce chess matches also deserve star billing along with its leading lady. The producers hired chess master Bruce Pandolfini to construct the games and make them as accurate and dynamic as possible. It turned out that Bruce was Walter Tevis' chess consultant for the novel. Then Bruce introduced the team to the greatest chess player of all time, Gary Kasparov.
Anytime the characters move the chess pieces, the moves are orchestrated by Pandolfini and Kasparaov and many of the matches recreate celebrated chess games by grand masters.
Anya came to the role of Beth Harman with little experience of playing chess. However, she quickly became very good at faking it and she is now a reasonable chess player!
Taylor-Joy describes Pandolfini as not only a chess master, but also a "marvellous hype man and one of the kindest old school gentlemen you will ever meet". She says, "He is kind of like my Brooklyn godfather. I really love him. I can't think about chess now without hearing his accent. He was so sweet and so kind because I came to this with no knowledge of chess and that can be a bit intimidating. Essentially I learned all of the sequences like dances and because I'm a dancer, that was helpful in terms of remembering how everything worked out. Bruce was really encouraging, and at the end of chess tournaments, you would see him fist pumping in the back! I think he cried when he watched the show, which is the biggest seal of approval that you can ask for."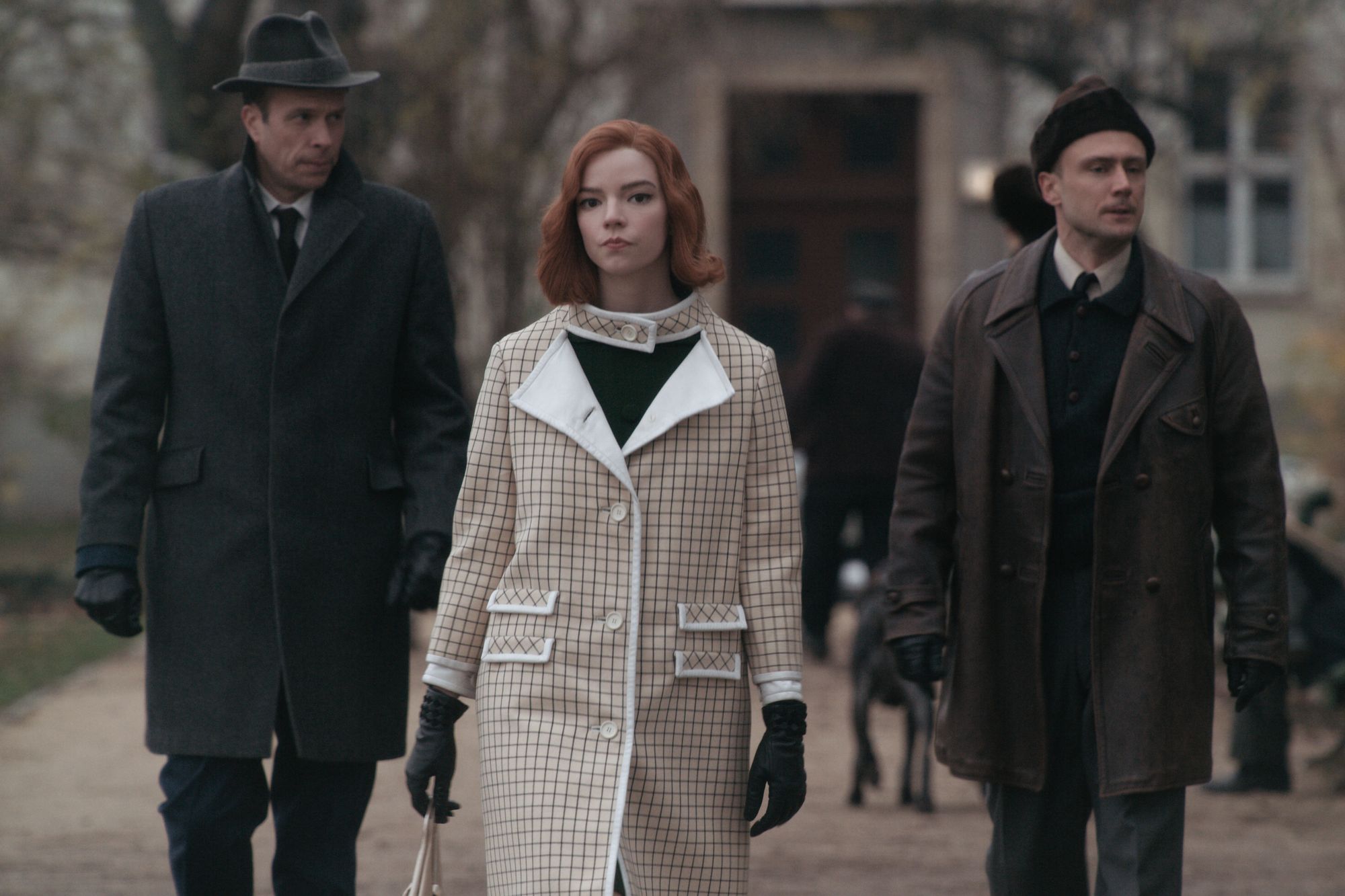 The Queen's Gambit is thrilling in every way. From the authentic sixties period detail to Beth's wardrobe as a dazzling, beautiful and glamorous misfit.
I hope it inspires a flirtation with sixties fashion moment and the sense of feminine liberation and a wonderful sense of fun.
Chanel, Cardin and Courreges and the thrill of the jet-age rides again and it's time to liberate the vintage, knitted Chanel car coat and monochrome mini dresses all over and over again for a back to the sixties homage to this thrilling coming of age drama celebrating girl power, immaculate style, the romance of travel and beautiful hotels and the exciting idea that you can do anything in life if you become incredibly passionate about it.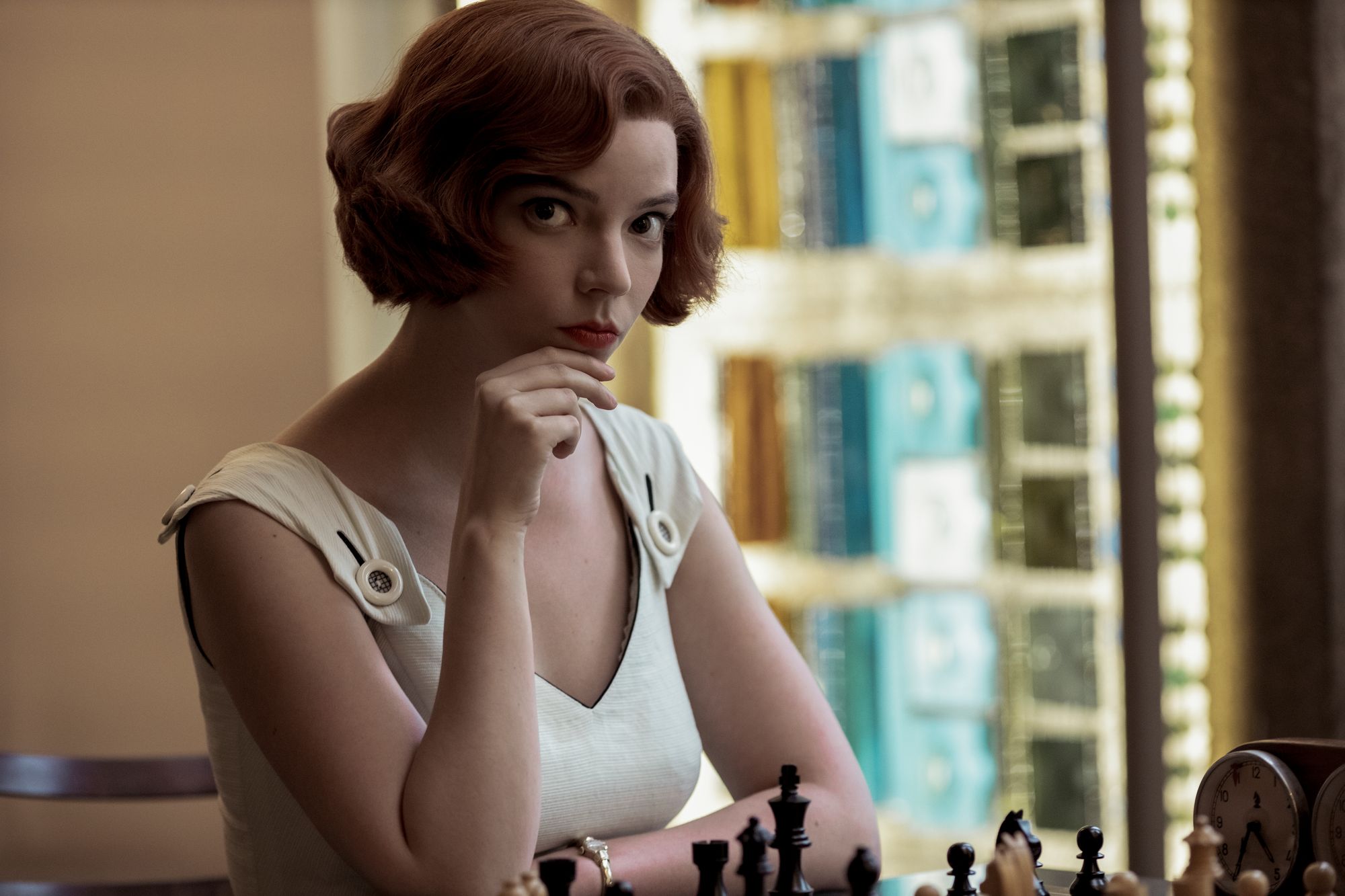 The only disappointment is that there is no real Beth Harman. The story is based on Walter Tevis's 1983 novel, and it is a brilliant, potent work of fiction.
Anya Taylor-Joy leads a talented cast with an uncomfortably brilliant performance as Beth Harmon, a smart, self-contained orphan who is haunted by her tragic early life and the loss of her maternal mother Alice, played by Chloe Pirie. Alice has PH.d in maths from Cornell but also appears to be suffering from paranoia and madness, leading to her suicide by car crash, with Beth in the car.
These tragic early scenes between Beth and her birth mother are shown in haunting flashbacks. While they are profoundly disturbing and sad and a believable portrait of madness, I would like to know more about Beth's mother. How did she go from brilliant Cornell student to a single mother living in a trailer filled with hate and anger. What is her story?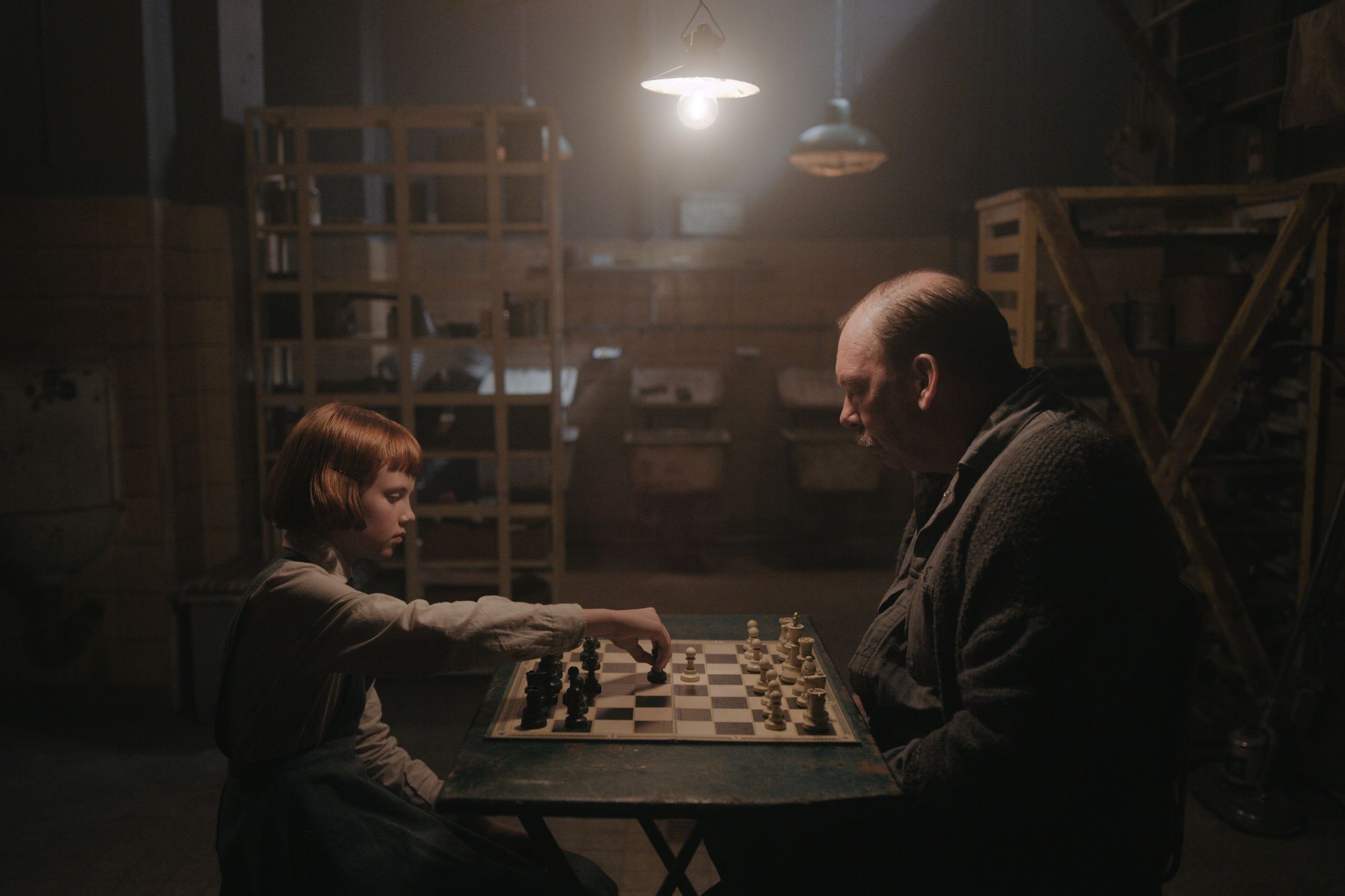 Beth walks away from the car crash unscathed and ends up languishing in a church-run orphanage where the girls are deliberately given tranquillisers to subdue their misery. The scene where the orphans are watching Richard Burton in Anthony and Cleopatra while Beth breaks into the first aid room to steal the entire jar of tranquillisers and then overdose on the floor is daring and shocking.
It is also the best indictment I've seen against putting children in institutions. It shows a child's absolute desperation and how her needs are not being met despite her learning to play chess in the basement with the janitor, Mr Shaibel played with quiet brilliance by Bill Camp.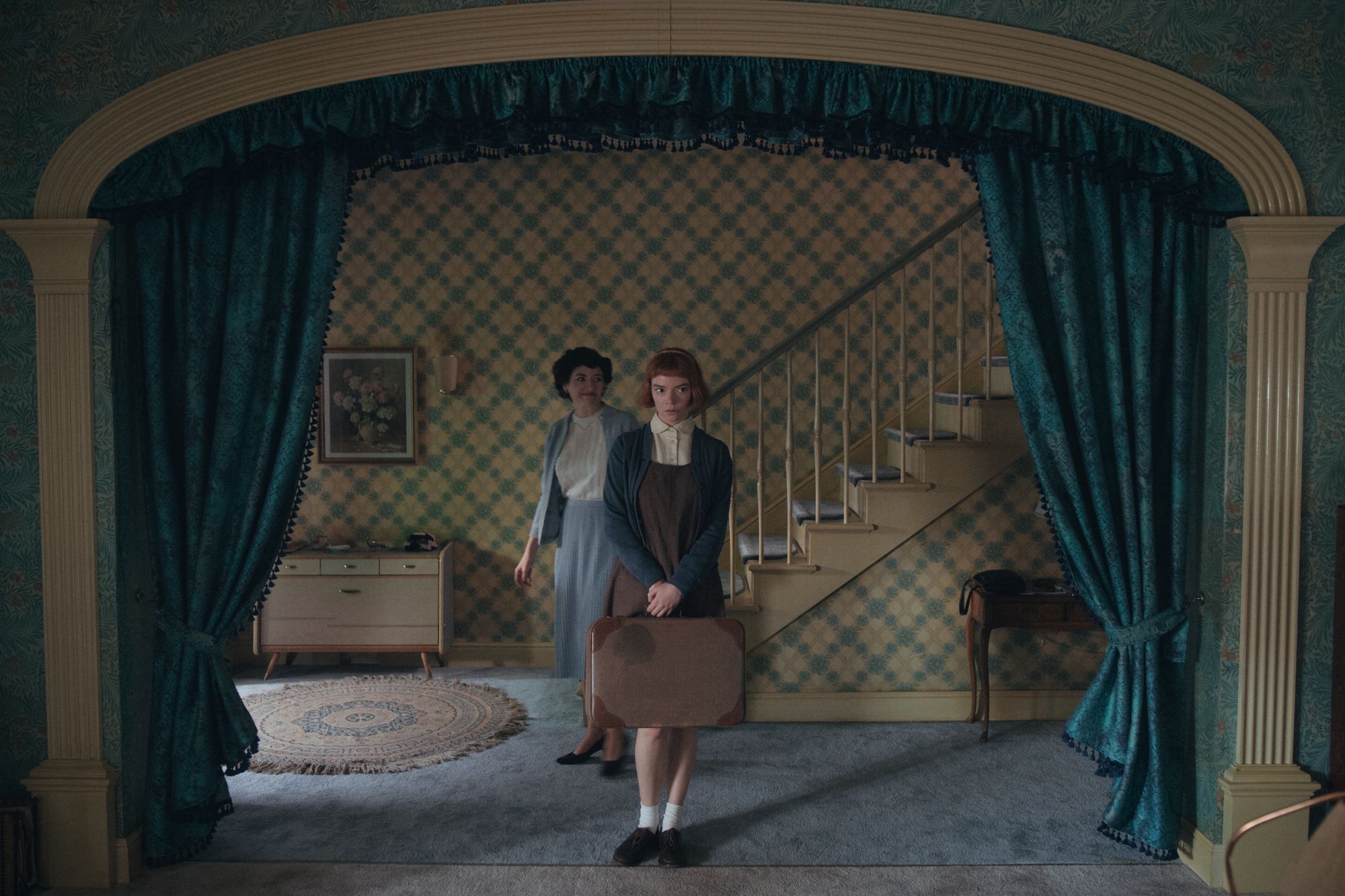 Suddenly, she is given an escape route. She is adopted as a companion for Alma Wheatley, played by Marielle Heller, a bereft and sick housewife who is soon deserted by her cold, unfeeling husband after the death of their child. Beth and Alma are more like sisters, as the older woman writes sick notes so that her daughter can transform their finances and skip school to play in chess tournaments for serious money. Heller brilliantly captures the conservative house wife who sees an opportunity to go on a great adventure and be a mother at last.  
The scenes where they enjoy their new found freedom, money and girly fun appear so precious after Beth's hard years in the orphanage and Alma's loveless marriage. We also witness Beth grow close and truly fond of her new 'mother'  and the scenes where Alma plays Eric Satie in the hotel in Mexico, shortly before her death, are full of longing, unrealised talent, growing confidence and happiness in the moment.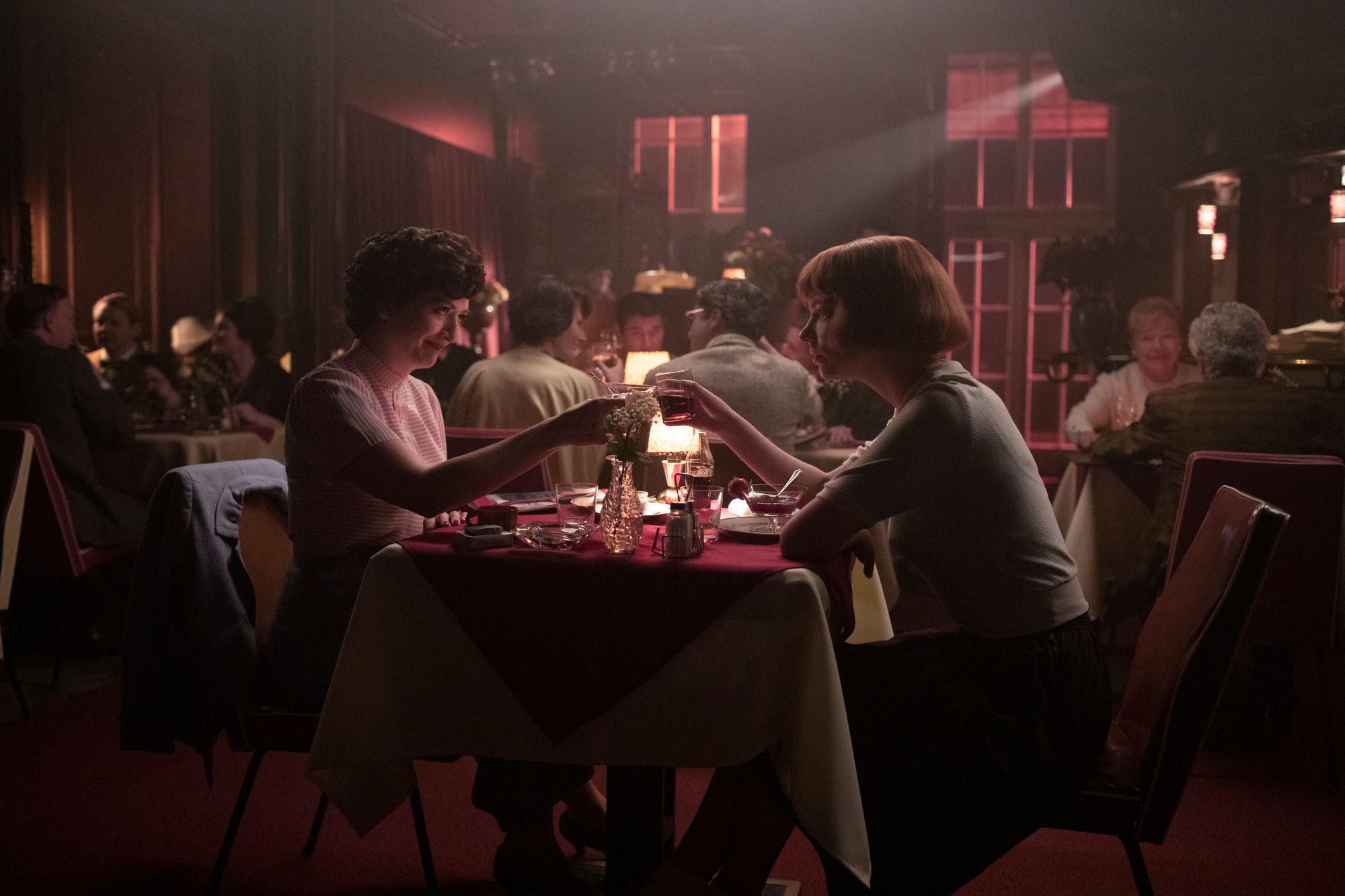 Beth plays her first match with Borgov and loses. Filled with anger she returns to the hotel room to talk it over with Alma only to discover that she has passed away. The girl with no attachments who doesn't know how to make friends had grown to love her adoptive mother. She is heartbroken and adrift.
She returns to the family home still angry and still in self-destruct mode.
Fortunately for Beth, Beltik, one of her men she slayed at chess turns up to help her sharpen her game and come to terms with being alone again.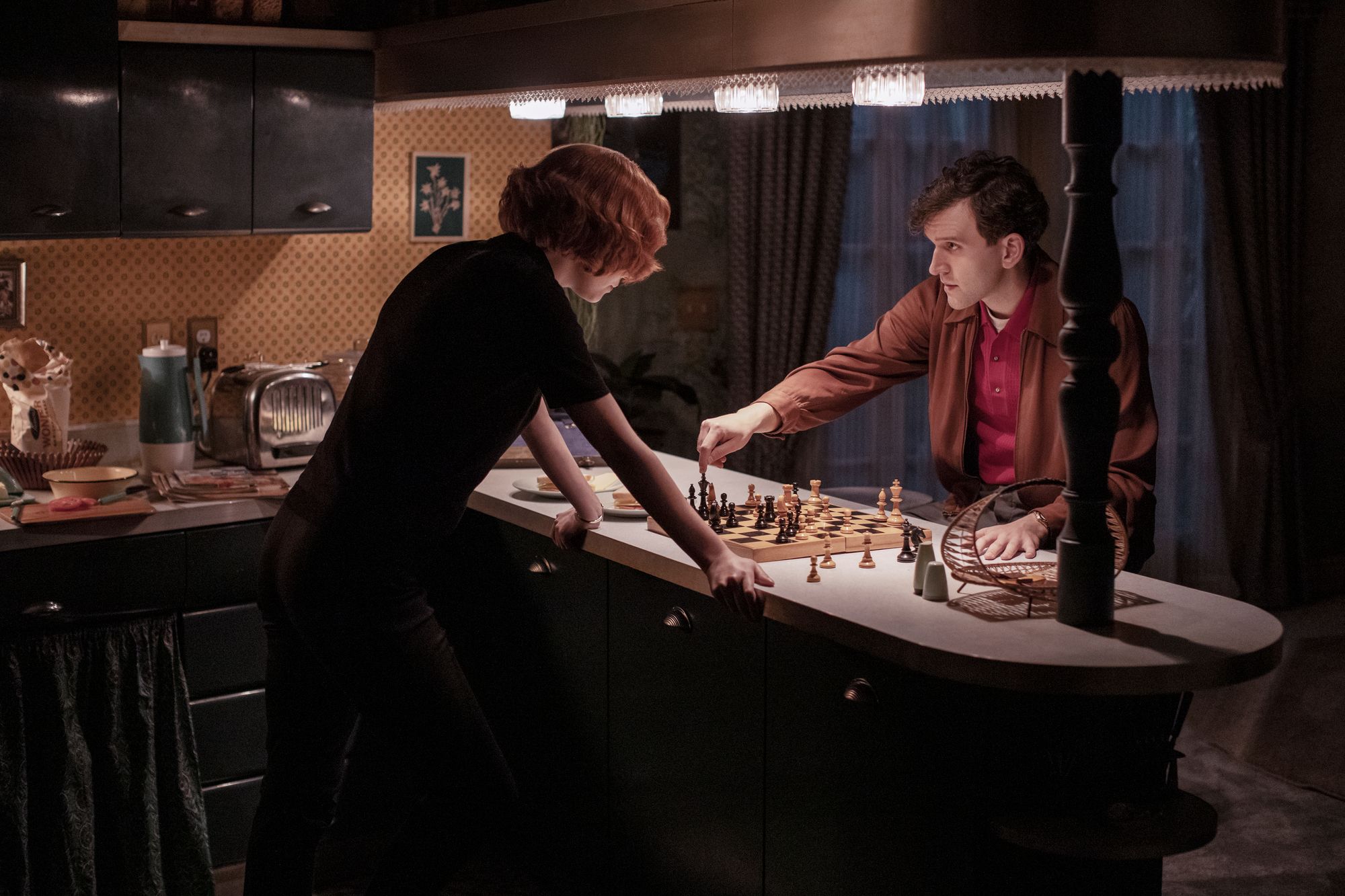 Glamour and brains are a lethal combination. But hold the anger. As Beltik tells Beth, "Anger is a potent spice, but too much dulls the senses."
Now is a good time to issue a warning. The Queen's Gambit is uncomfortable to watch at times and incredibly intense. It depicts a relentless desire to win, and it shows what it costs, in the form of early trauma, isolation, addiction to pills and crazy amounts of alcohol until the desire for self-immolation is no longer a potent spice because you've won everything there is to win.
However, if you are okay with that, it is one of the most remarkable performances and dramas you will see this year. It is also a drama filled with hope, with a soundtrack that will run around your brain and all the pain, joy and bewilderment of being a girl on the edge of womanhood from periods to what sex is all about and negotiating friendships and one's place in the world. Look out for the delicious scene where Beth drives Harry Beltik uncomfortably wild by dancing in front of him to Fever! It is funny and sweet - and you will witness the birth of Taylor-Joy as Bafta's choice as the actress most likely to become a superstar.
Taylor- Joy as Beth Harman shows that if you are hungry enough and dedicated enough, you can achieve your dreams, no matter what obstacles might lie in your path. She also makes chess appear to be the sexiest pursuit on the planet and that is no mean feat given that is mostly dominated by geeks and Russians in suits and ties.
Oh, apart from Benny Watts, played by Thomas Brodie-Sangster. Are their chess grand masters who dress like rock stars? I hope so. I've got crushes on all Beth's clever men, especially Towne's played with saturnine magnetism by Jacob Fortune-Lloyd (Wolf Hall). But Benny is a prince amongst chess players and men. It helps that he still looks like the love-struck boy from Love Actually, aged about thirteen, but is now thirty. He is convincingly obsessed about chess, eccentric and arrogant and the scenes where he takes the girl under his wing are full of charm, camaraderie, youthful excitement and confusing sexual experiences.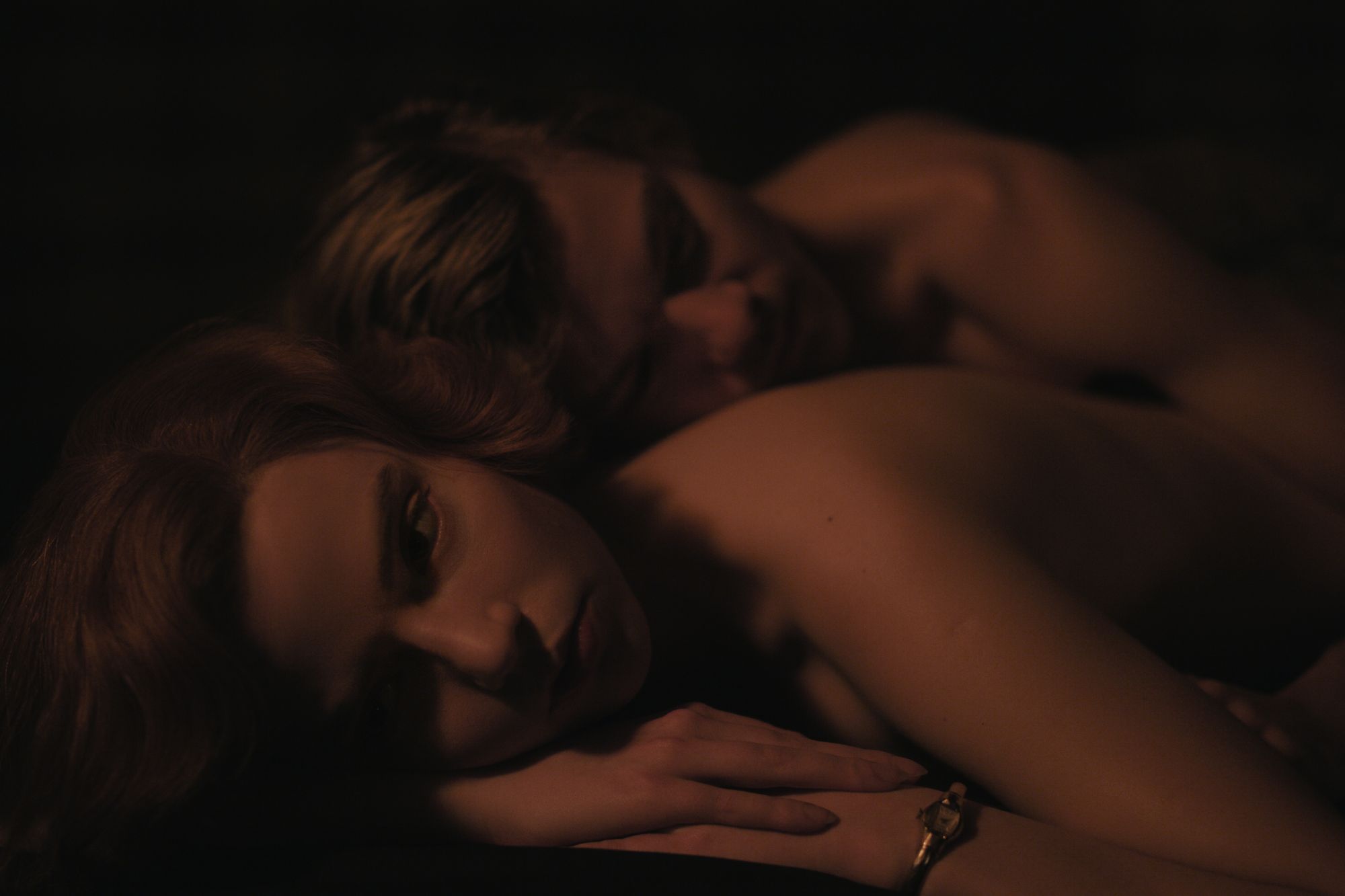 The last time chess was this hot was seeing Steve McQueen play Faye Dunaway in The Thomas Crown Affair.
The Queen's Gambit is an irresistible, trip back to the sixties and the idea of those counter-culture revolutionary times. It all about girl power, played out to a zingy, frenetic pop soundtrack that perfectly captures the idea that the times they are a changing for women. Suddenly, a girl can do anything, go anywhere, be anyone, if she is smart and clever and has the focus to make it happen.
Drop everything to watch it. The Queen's Gambit is a thrilling, elegantly-conceived retro masterpiece about genius, loss, love, coming of age, addiction and feminism. It captures the freewheeling sixties, the introspective world of competitive chess and young girls' explosive entrance and acceptance into a world dominated by clever men.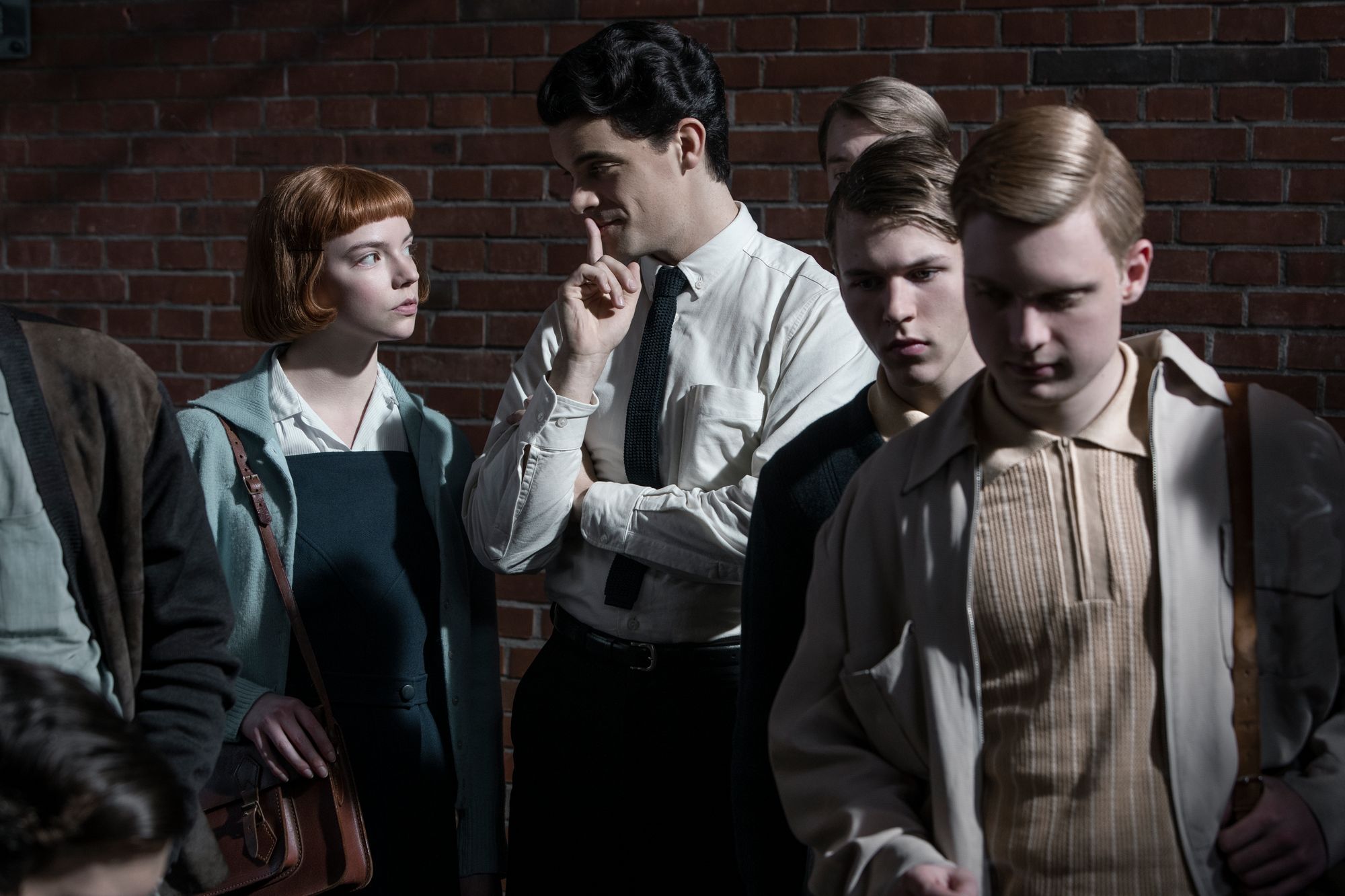 Along the way, and despite all the attempts to mess things up and remain closed off, Beth is admitted into an extraordinary boys club where the men are both in love with her and in awe of her and they look out for her and become her family.