Ten Things I Hate About You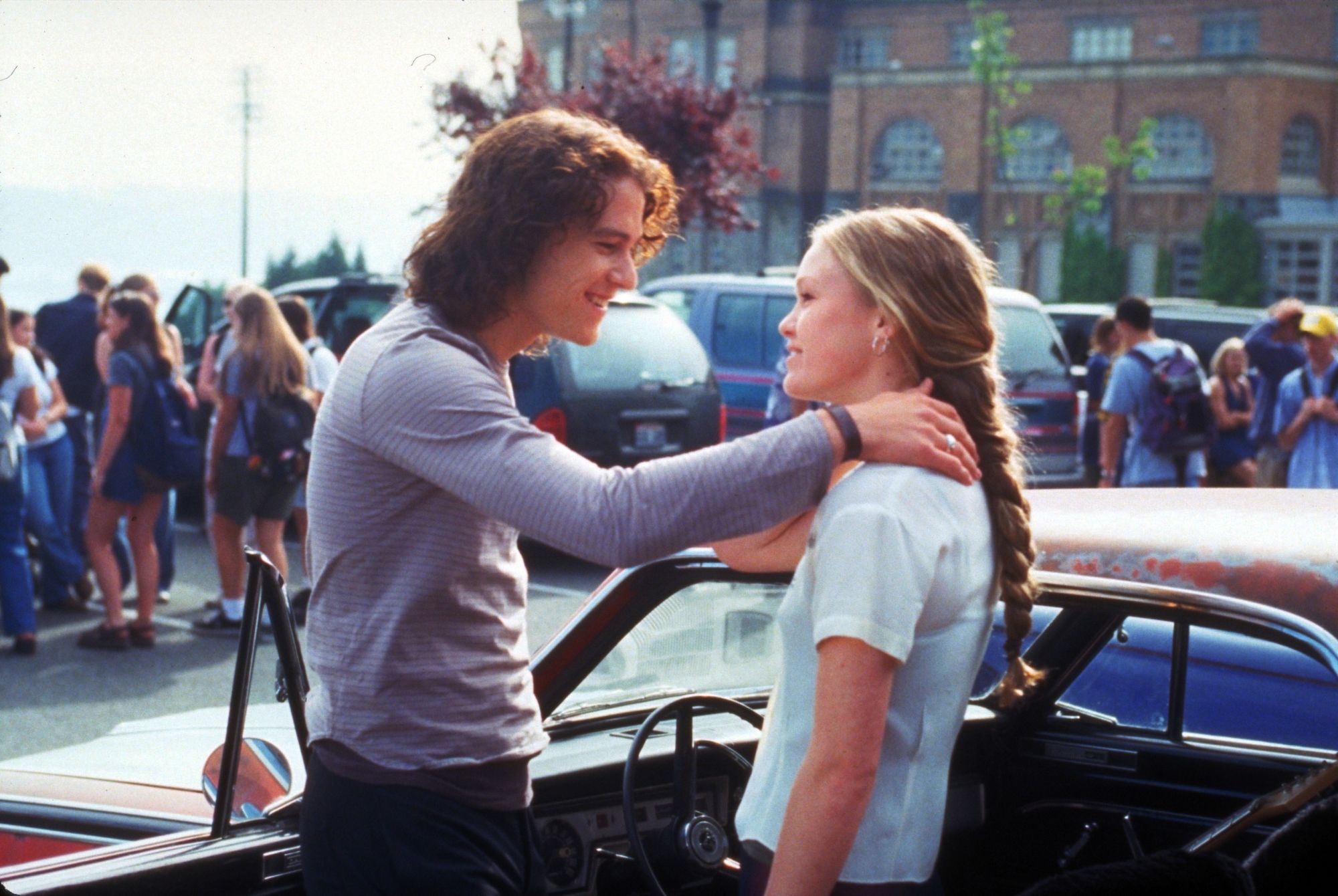 Is Ten Things I Hate About You starring Heath Ledger and Julia Stiles the smartest, coolest, most charming, poetically loquacious, definitive coming of age rom-com ever made?
Oh, I think so. It sure seems to have inspired the tone of Sex Education. Never mind that it pays homage to Shakespeare's Taming of the Shrew written between 1589-92 which gives it a peerless pedigree and endless opportunities to embellish the script with references to the Bard that cooly bathes the story in mythical, literary magic.
Heath Ledger was just nineteen years old when he conjured up his enigmatic, flawless leading man with a plethora of inspiration from Richard Burton's performance as Petruchio in the  1967 film of Taming of the Shrew with Elizabeth Taylor, together with Jack Nicholson's charismatic smile and the dance routines of his hero Gene Kelly.
Patrick Verona is the leading man who ruins all other leading men. He's understated and perfect and Ledger became a star.  
Raging Hormones, Bad Girl Rock and the Birth of Ledger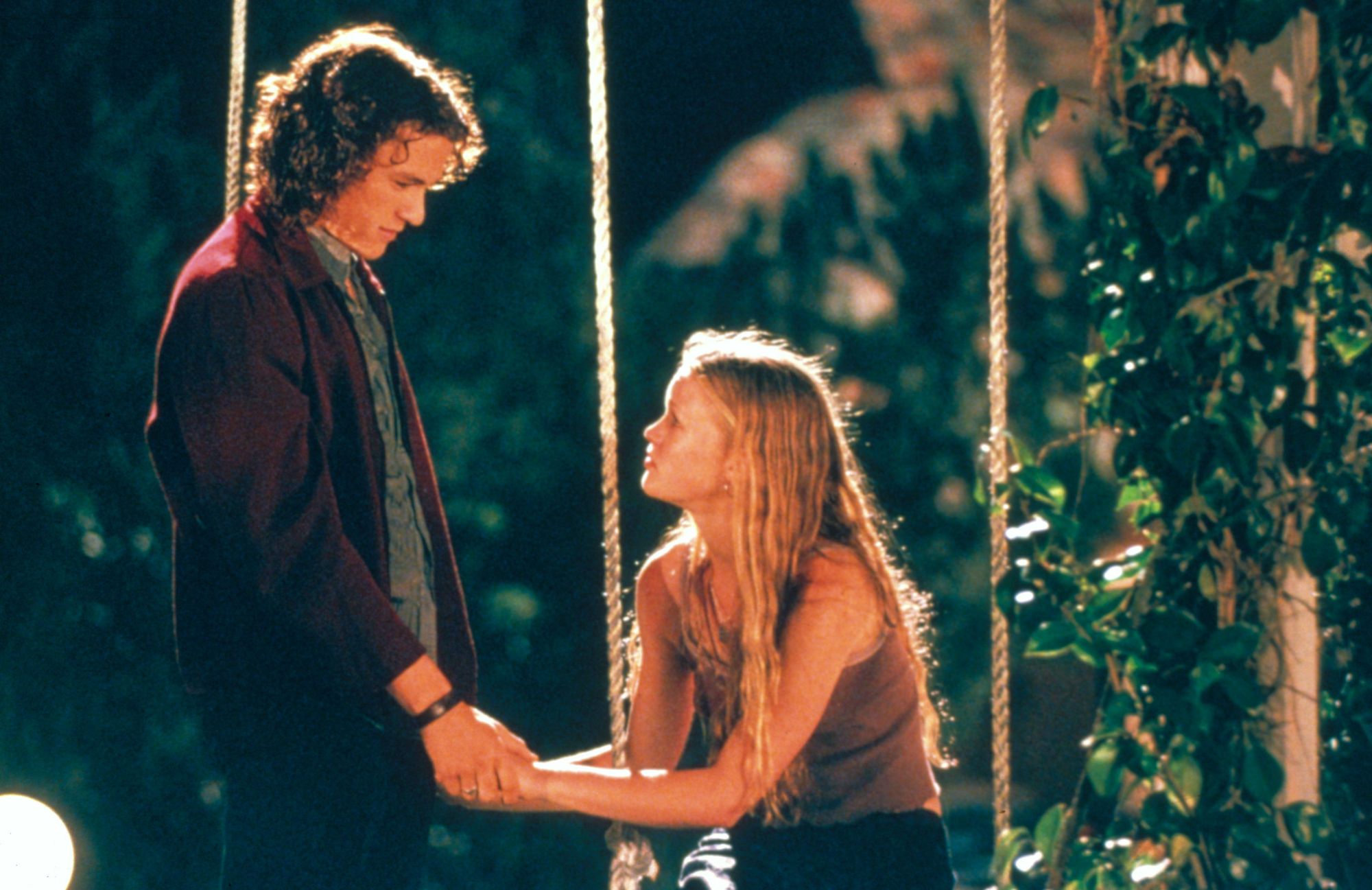 Ten Things is a time capsule for the end of the 20th Century, the debut of a remarkable actor and the music captures the zeitgeist of raging hormones, delirious coming of age love, sex, angst, more sex and longing, going out and staying in... and teenagers being teenagers... the word petulant sums it all up, it's such a lovely evocative word.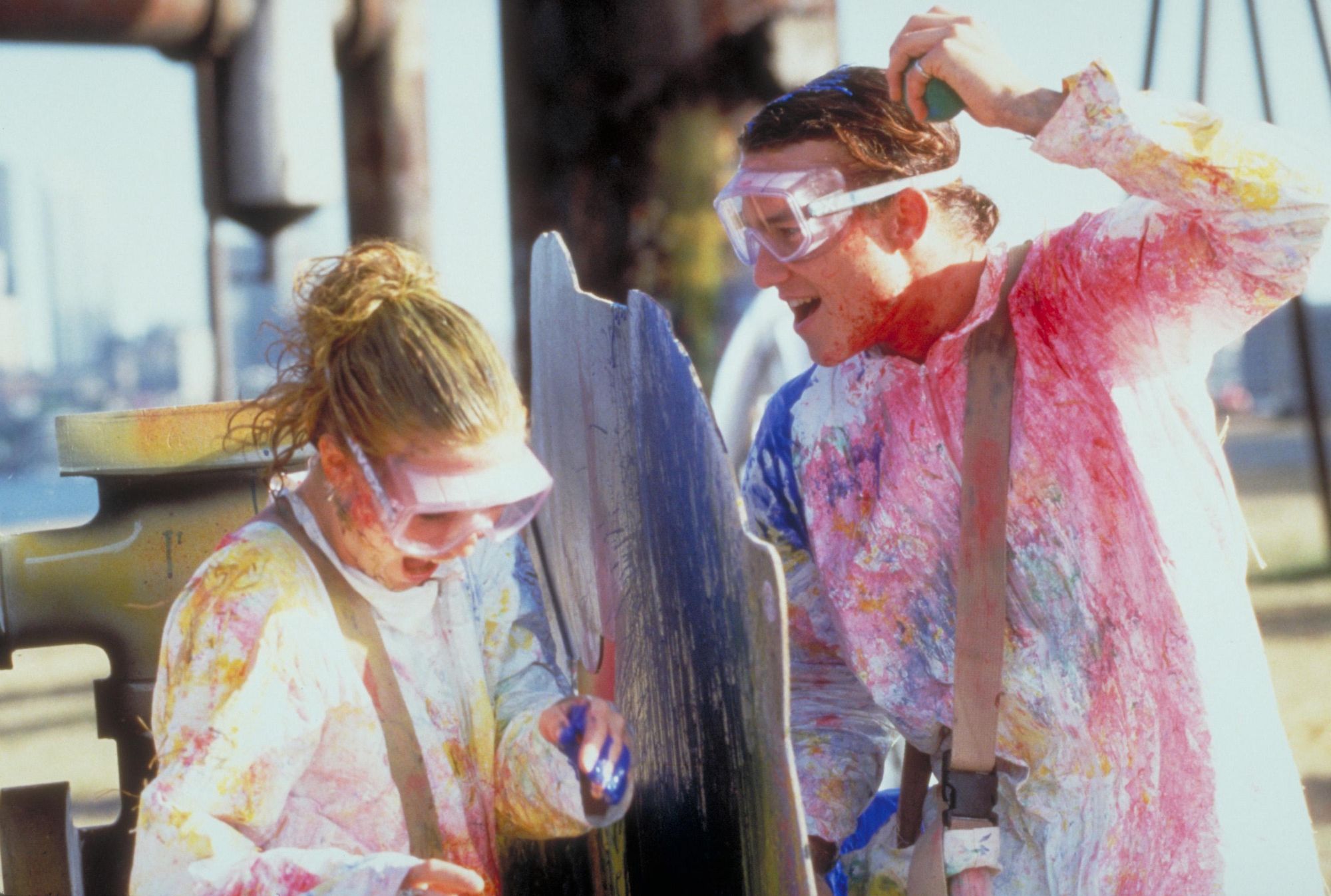 The sour-sweet, rapid-fire rom-com takes us hostage from the moment it opens with a riotously clever script, a wild, anarchic indie rock 'n' roll soundtrack that more than tears up the screen as Heath Ledger's Patrick Verona nonchalantly takes aim at the mewling rampalian shrew herself, Julia Stiles, as Kat Stratford. She quite something. The angriest, smartest, bad girl in school with a father who won't let Kat or her pretty, empty-headed, Prada-wearing sister Bianca date until they graduate.
So the scene is set for all kinds of teenage angst and shenanigans.
A Leading Man with Ineffable Charm and Charisma
The pairing of Heath Ledger and Julia Styles just works. It is one to rival Liz Taylor and Richard Burton in The Taming of the Shrew and Cat on a Hot Tin Roof and it is just as thrilling 23 years later; perhaps even more so. Heath Ledger is the personification of ineffable charm in the role of Verona and delivers a masterclass in how to play a leading man with a cloak of mysteriousness, together with charisma, confidence and sensitivity that has nothing to do with arrogance. Thus, he's more than a match for Julia Stiles' brilliantly disaffected blue stocking wasp Kat.
In the first two minutes, we learn that that entire school is obsessed with sex. That means talking about it, writing about it, plotting to have it, not having it and writing very bad novels about it too. Oh and if all that fails, banning it! It's the original Sex Education.
Down with the Prom!
The heroine, Kat Stratford, Julia Stiles tears down a high school prom flyer, establishing her angry girl cred and Heath Ledger takes a moody but slightly less confrontational tone when he is sent to see Alison Janney's student guidance counsellor Miss Perky over his stunt with a Bratwurst.
So far everything revolves around sex. It's worth pointing out that Shakespeare was pretty bawdy too.
It's All About Love, Sex, Money, Power and Being Cool
Not only does Ten Things I Hate About You demonstrate the eternal genius of Shakespeare's ideas transplanted from 16th Century Verona in Italy to a high school in Seattle, Washington, at the end of the 20th Century, it also shows us that our preoccupations are the same in any age. It's always about love, sex, money and power. Oh and popularity and status.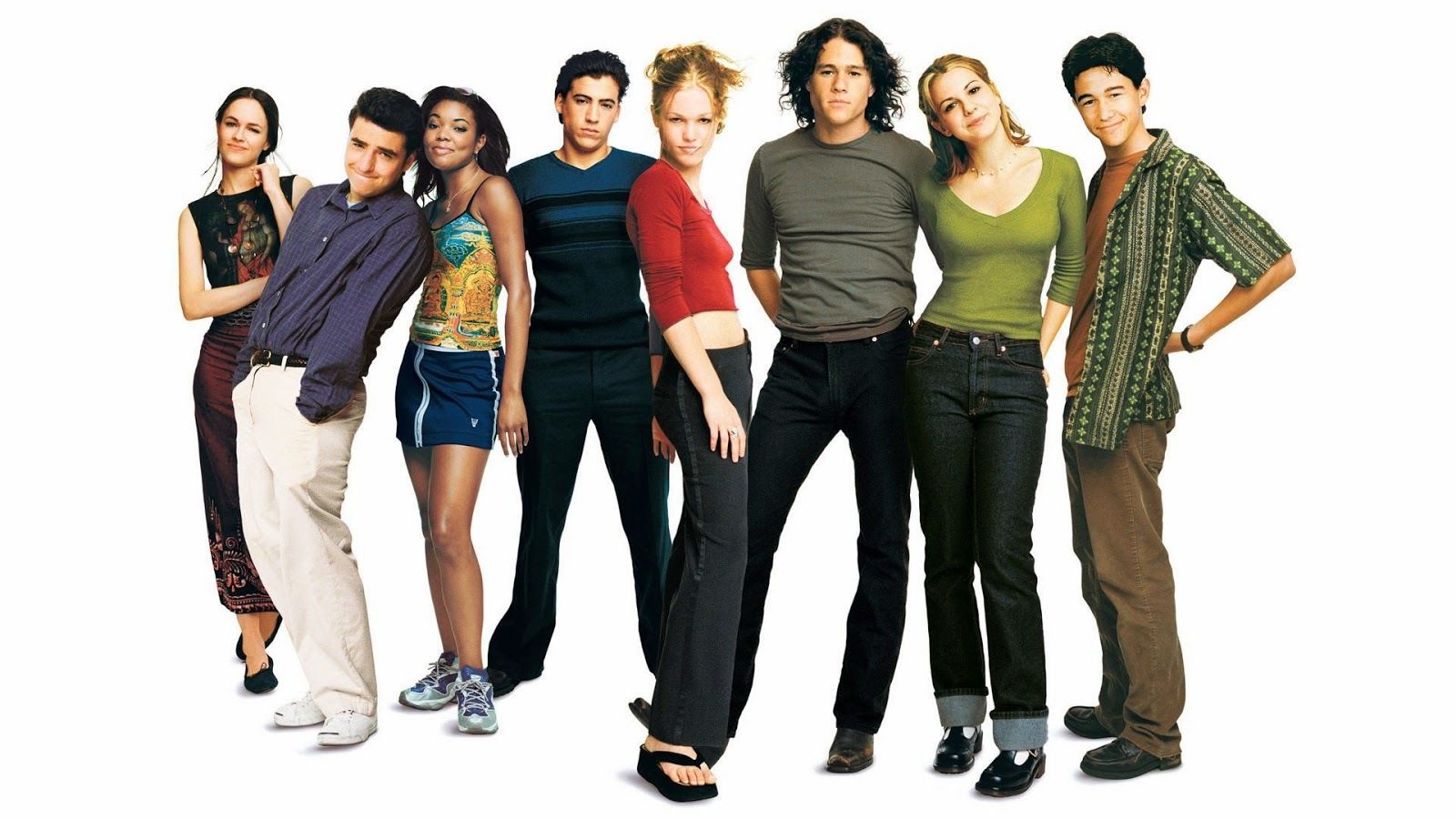 Who didn't want to be Julia Styles as clever, cool-girl Kat in 1999 or right now? She's whip-smart, she reads all the right books any self-respecting English lit major would read (Sylvia Plath's The Bell Jar and Shakespeare's Sonnets and think that Hemingway is a sexist, chauvinist pig) and most importantly she is a maverick who doesn't follow anyone. She drives a wreck of a car and she's smart with a wild streak.
Kat is Complicated, Fearless, Smart and Excels at Table Dancing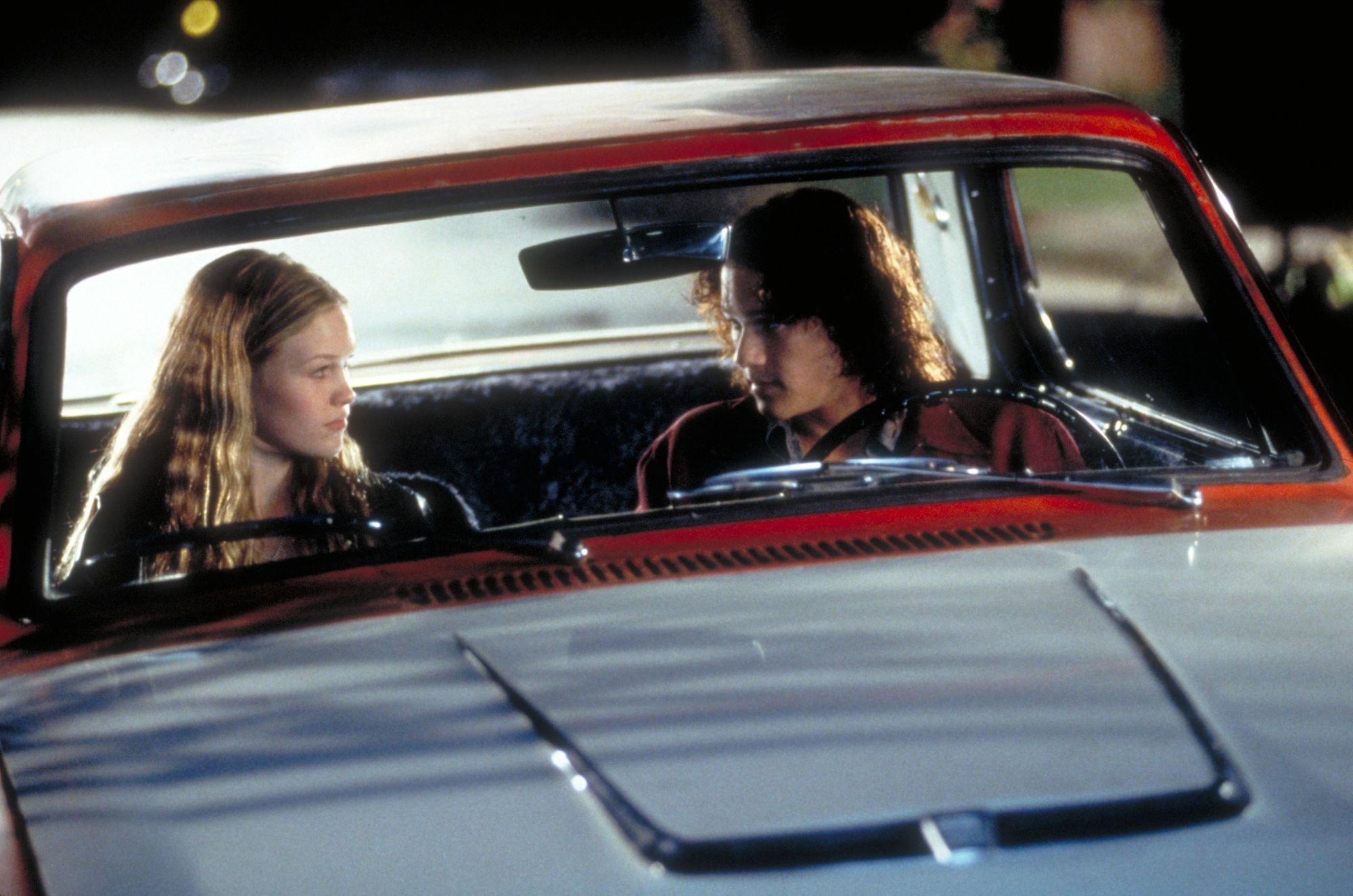 What makes Kat the perfect coming of age heroine is that she is also complicated and fearless. Stiles plays her with an irresistible mix of insouciance, bravado and bookish, well-read, opinionated superiority, which makes her a poster girl for every generation of aspiring female writers and feminists.
She's clever enough to get into an Ivy League school, but not averse to table dancing, which she's far too good at, flashing her breasts to get Verona out of detention and she doesn't think twice about crashing her beat-up car into Joey's penis extension, shiny new sports car. Whoops!
Julia Stiles in Exquisite Grunge Couture a la Voyage
Stiles also gets to flaunt a wardrobe of understated yet exquisite, vintage style, late nineties, haute grunge fashion treasures (think cult fashion house Voyage) from the perfect embellished cardigan and blouse to black velvet trousers and a purple evening gown which goes very well with Heath Ledger's not so shabby black-tie evening jacket. Any man who wears a dress jacket without a tie is a keeper don't you think?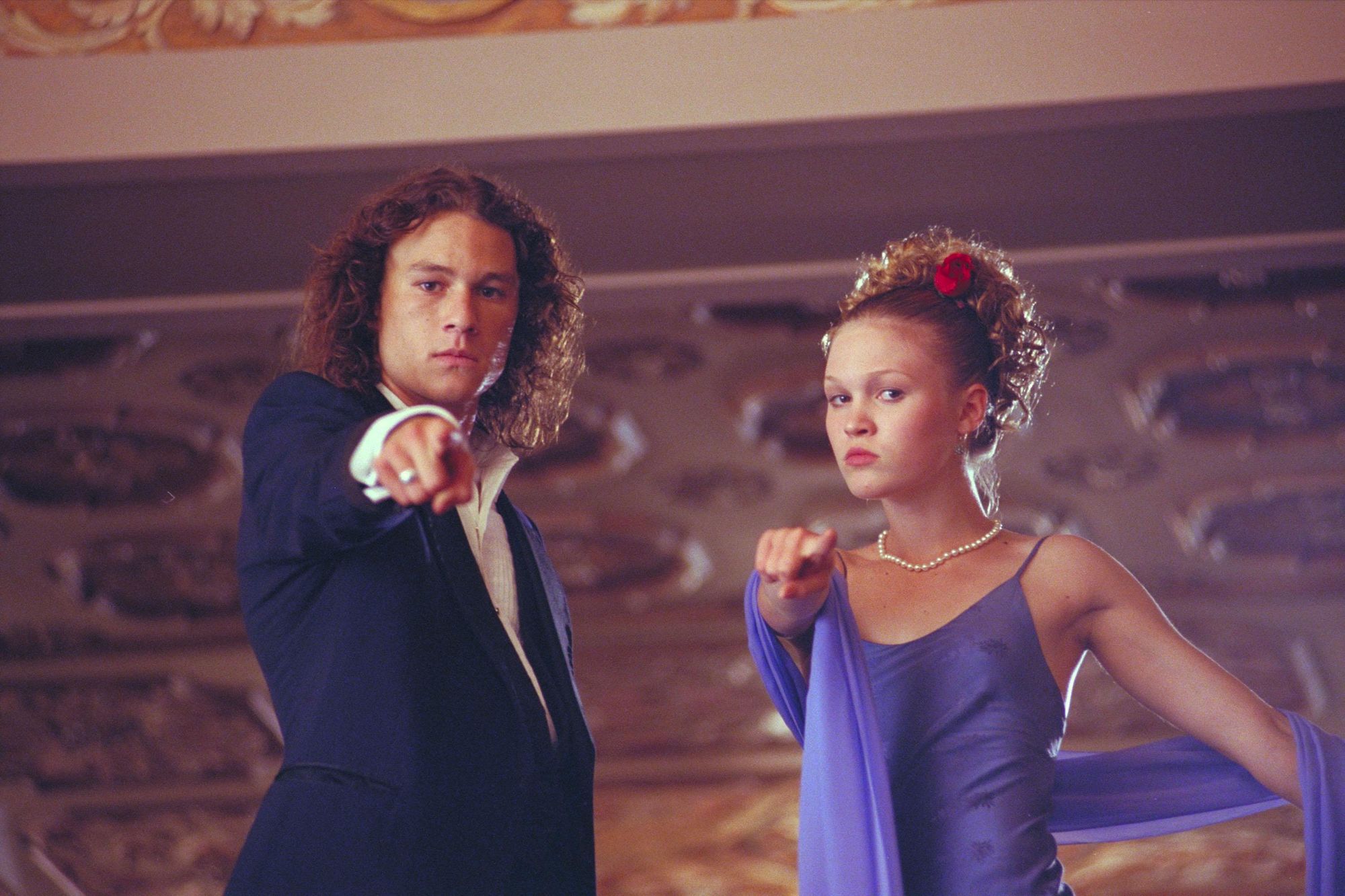 The point is that Kat and Patrick are made for each other because they are both rebels and highly individual. Neither cares what their peers think.
The supporting characters who revolve around Kat and Patrick are really good too. Notably vacuous, materialistic Bianca played by Larisa Oleynik, Joseph Gordon- Levitt as the idealist, love-struck Cameron, David Krumholtz as his clever, uncool sidekick who is transformed when he gets the power of a line from Macbeth and woos Mandella at the school prom with a brilliant red velvet jacket.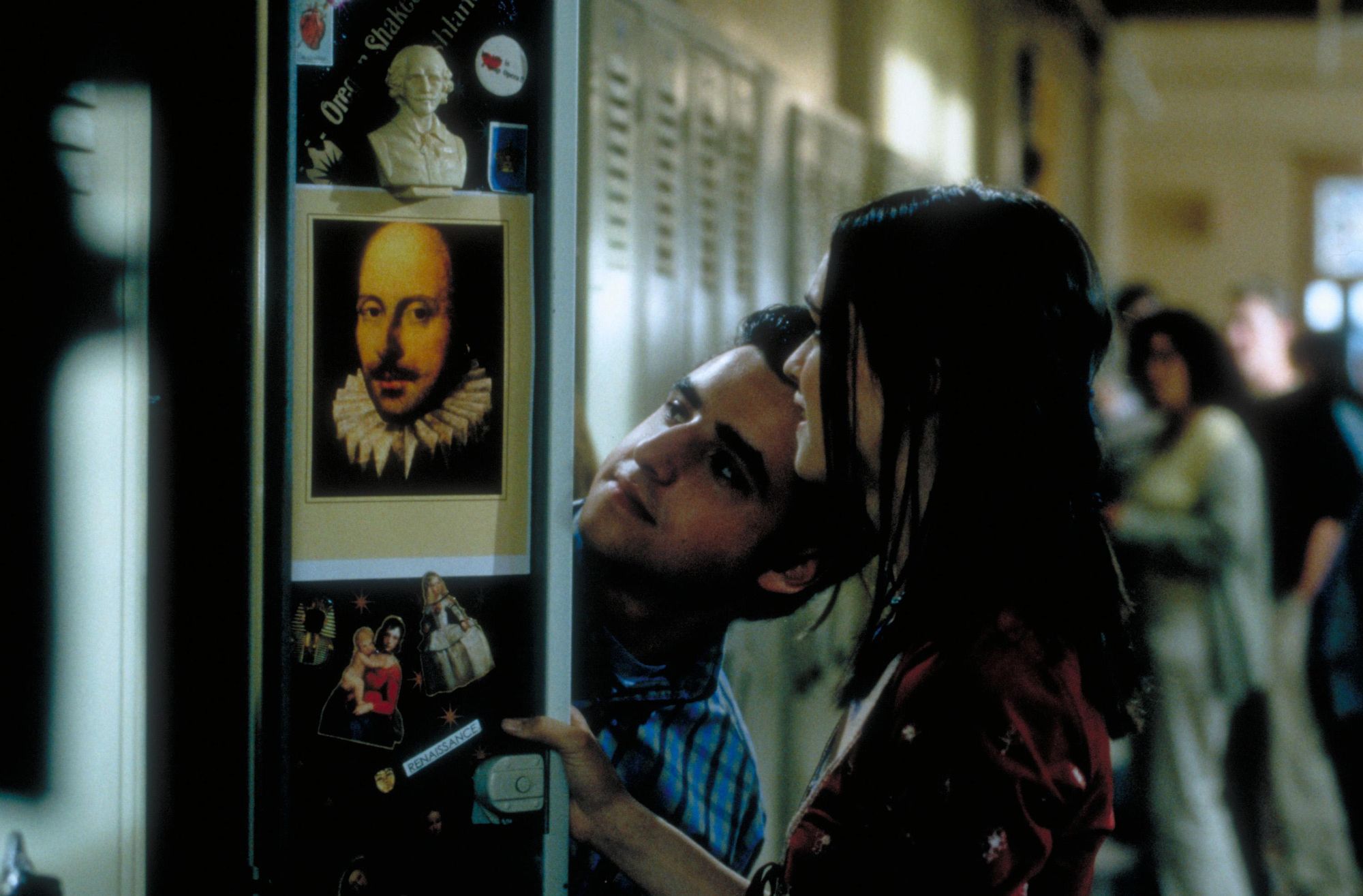 A King of Comedy
Then there's the girl's anti-sex, obsessed gynaecologist father, Larry Miller. Miller plays the role like a king of comedy who spends his days, 'up to my neck in placenta', delivering twins to teenage girls. He doesn't have any illusions about what really goes on at parties, the school prom or a study group. "It's an orgy," he screams! As a result, he won't let his precious daughters so much as look at a boy in case he impregnates them. Don't you just love the belly suit? I think that should be mandatory in sex education classes in school.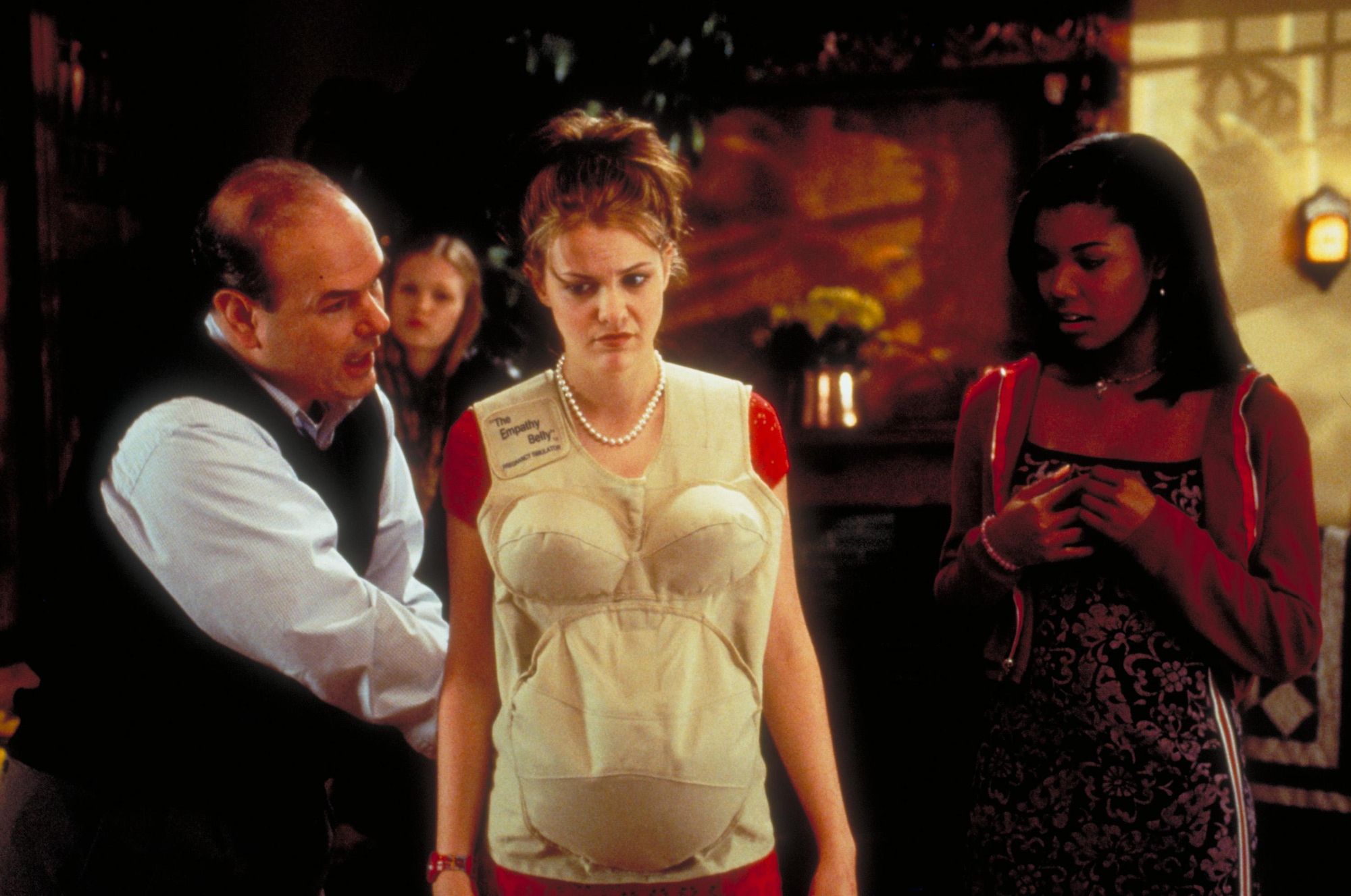 Director Gil Junger auditioned various leading men for the role of  Patrick Verona including  Josh Harnett before Heath Ledger walked through the door.
Ledger thought he had blown the audition because he was nervous but Gil remembers things differently. He told the New York Times, "There was an energy to him, a sexuality that was palpable. When the audition was over and Ledger had left the room, I turned to the women in the room and said, 'Ladies, I have never wanted to sleep with a man, but if I had to sleep with a man, that would be the man. Please cast him immediately.'"
I Can't Take My Eyes Off You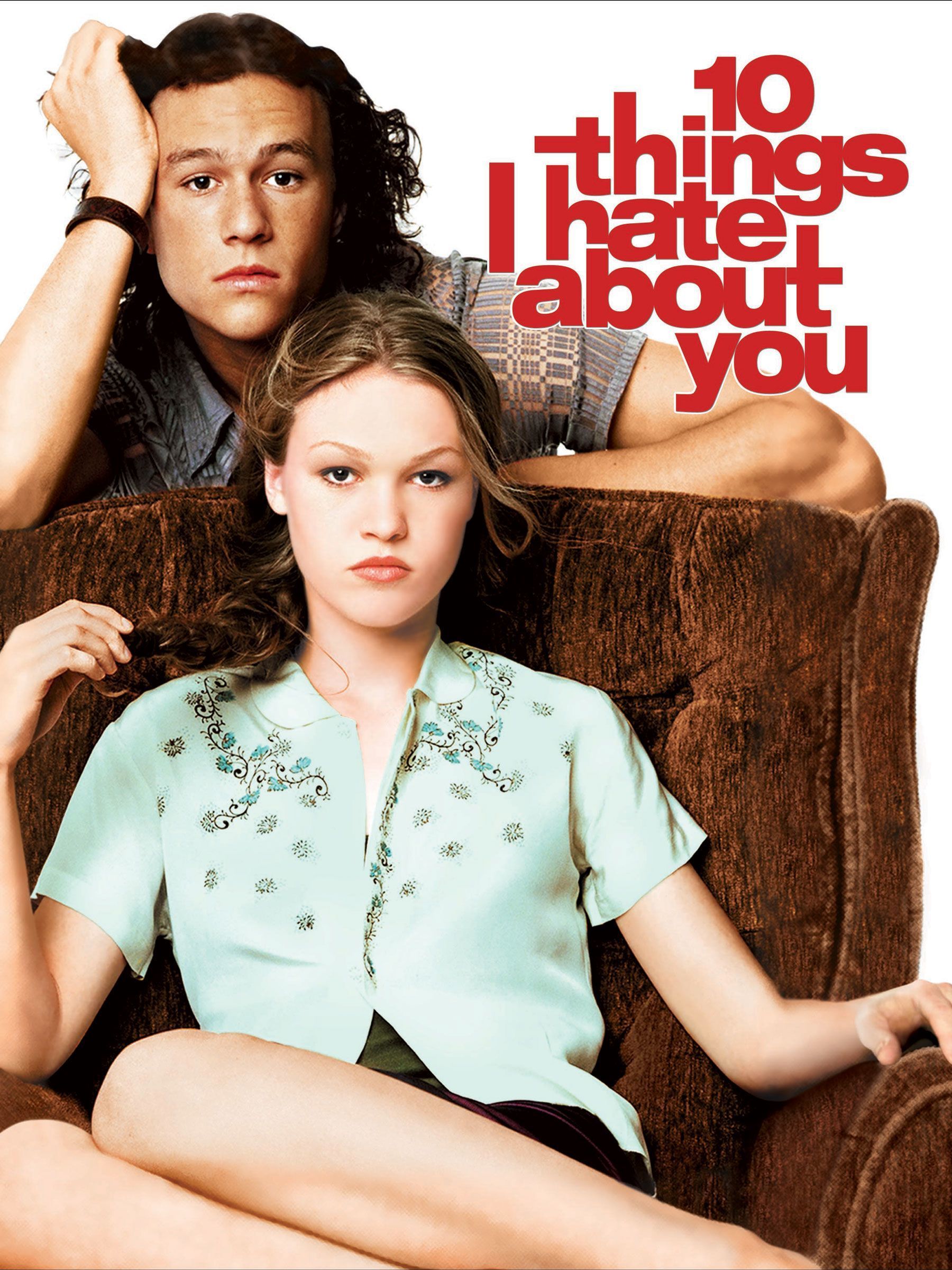 Perhaps what I love most about Heath Ledger's performance is the quiet way he pretends to be a bad boy who looks moody, fierce and inscrutable and hangs out in biker bars playing pool, while when it comes to it, he exudes a quiet, unaffected leonine charisma and charm and he is fearless enough to risk public humiliation and lay his heart on a platter to woo Kat in public. There are many seriously good scenes but one of the best is where he dares to risk everything. No one expects him to turn into Frank Sinatra or Dean Martin. Ledger changed the song to the Frankie Valli hit  - Can't Take My Eyes off You - because he thought it was more romantic.
And don't even get me started on the scene where Letters to Cleo act like they are in their own music video on the postage-stamp-sized roof of Padua High. The director, Gil Junger, didn't get permission to do that. He went ahead and did it anyway, risking everything including the band landing up in Puget Sound for a final moment of fantasy, riotously good music and movie-making brilliance.
The Prince of Padua
As a parting and important final observation, I like the scenes where Heath Ledger is observant and makes subtle gestures that bad boys (like Joey) never make with women. He is tender when Kat is very drunk on tequila and softly strokes her hair, and doesn't take advantage, and he blows all the money he was given to take her out on a Fender Strath guitar so his lady love can start her own rock 'n' roll band after taking time to discover her secret passions. Notice that as Harry Styles has stated publicly, fantastic real men don't play games. They are bold, imaginative and thrilling to be with.
Heath Ledger as Patrick Verona is such a man. What a Prince of Padua.
Ten Things I Hate About You is streaming on Amazon.  
Sex Education
So, Sex Education 3 is here at last! The question is it anywhere near as earth-shatteringly, 5 gold stars, zeitgeist-excellent as series 1 and 2?
The short answer is no. However, before you scream in protest, it's still bloody brilliant at times.  Its leads still get to shine, especially Emma Mackey, Gillian Anderson,  Asa Butterfield, Ncuti Gatwa, Connor Swindells and newcomer Dua Saleh.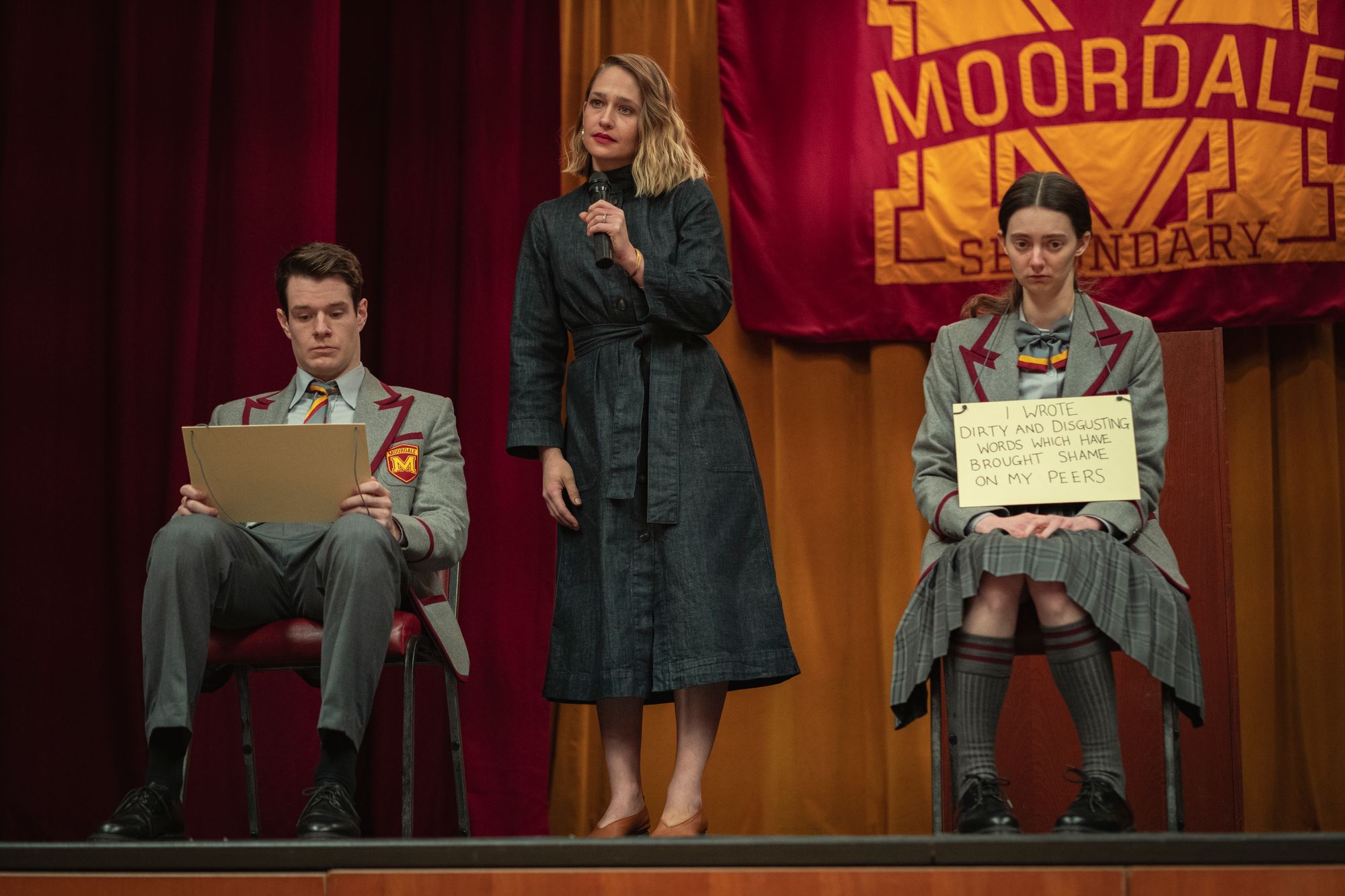 The main reason that Sex Education 3 doesn't quite live up to the hype is that the storyline that surrounds the new head-teacher Hope Haddon played with Cruella de Vil villainy, ambition and coldhearted cruelty by Girls star Jemima Kirke just doesn't work.
Hope is a crimson-lipped, one-dimensional cartoon character and the idea that Moordale Secondary, the  'sex school' could suddenly become a place of sexual repression in the 21st century just falls about as flat as a burst condom or Adams mournful attempts to write Eric love poetry. It lacks originality too.
Hope's poorly sketched villainess is no match for the complex character of ex-headmaster Groff played by Alistair Petrie with a rare vulnerability and nothing short of pizazz as he goes from down and out and homeless to born again as he discovers the joy of Fajitas and cooking and confronts why he bullies his son with the showdown with his ghastly brother.
This is far more interesting than the idea that you could ever stop teenagers from exploring or talking about sex or doing it anywhere which way they please.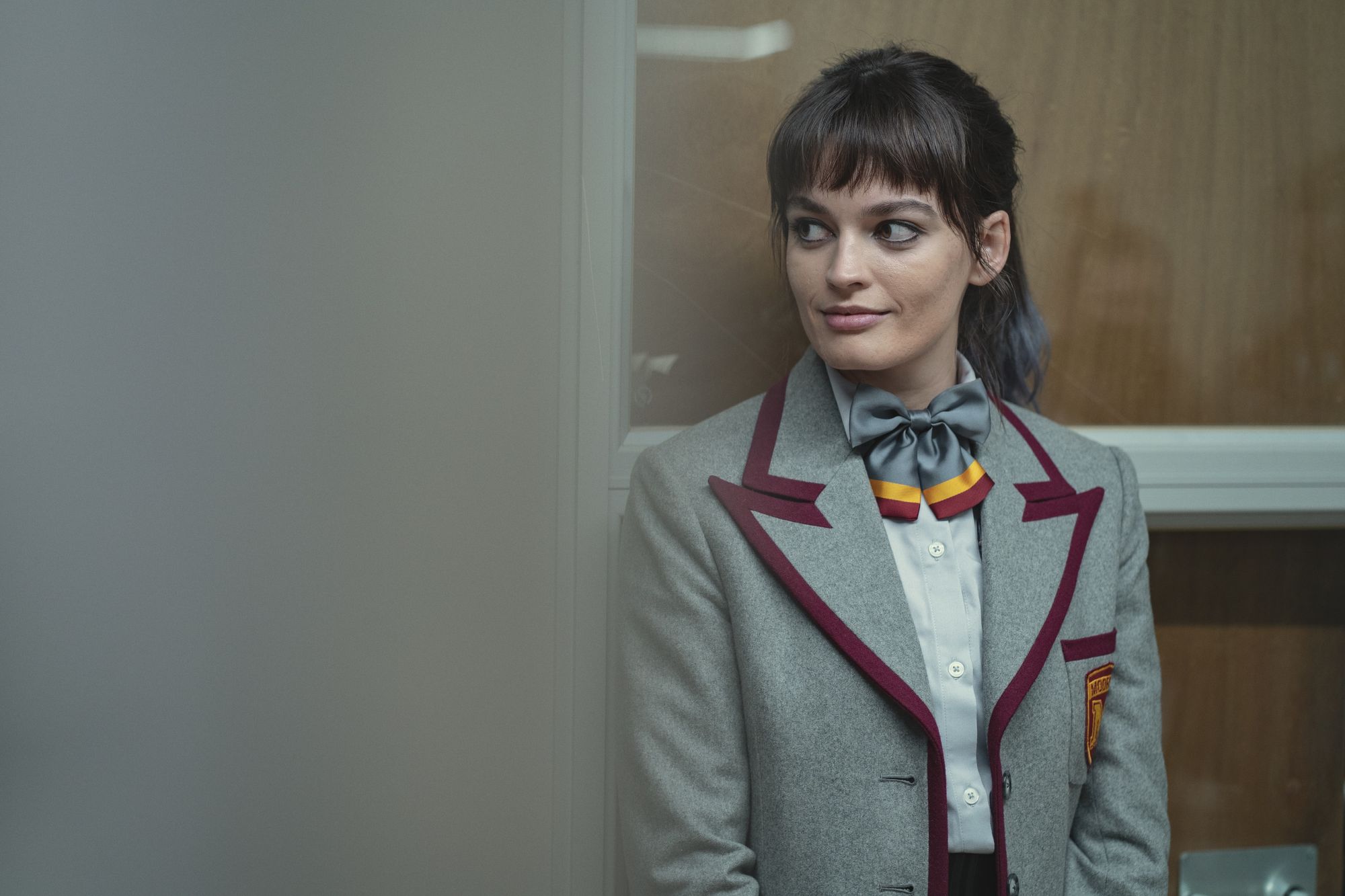 The other issue with Sex Education 3 is that it feels too fragmented. The action no longer revolves around Otis and Maeve running their brilliant, underground sex clinic.  We fell in love with this exciting new telling of the Taming of the Screw, which made stars of  Asa Butterfield and Emma Mackey and now the attempts to keep them apart seem awkward and annoying.  This is a shame. As a result, the over-arching compass seems less exhilarating, although Mackey's continuing exploration of what it means to be bright and poor is still one of the strongest threads running through Series 3.  
Maeve Fights with Aimee over an Act of Kindness
Maeve Wiley shines when she is able to flex her anger and sense of alienation even from her best friend, the poor little rich girl played with wide-eyed ditsy sweetness and sadness by Aimee Lou Wood.
Although Maeve's most powerful scene comes when she allows herself to grow close to her friend Issac, portrayed with wicked candour and longing by George Robinson. The scene where they explore sex and disability with humour, authenticity and a sense of joy and excitement is a season highlight.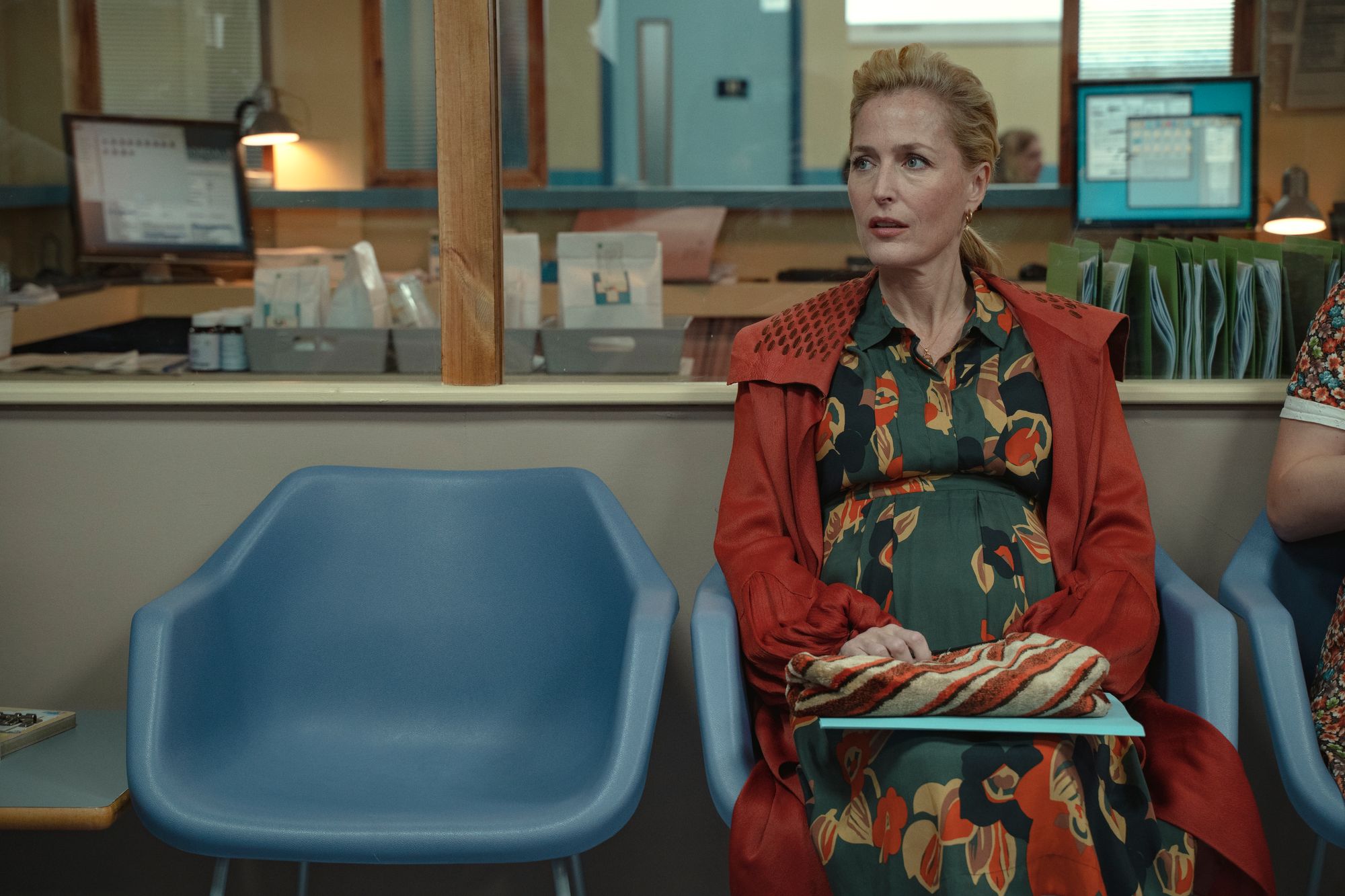 Sex Education 3 has still been absorbing enough to ruin my new rule of going to bed before midnight. How could I even consider sleep before finding out what happens to Gillian Anderson's fearless, queen of sex therapists, Dr Jean Milburn, after she gives premature birth to a daughter and suddenly starts to haemorrhage?
Will she live to demolish another head-teacher, ageist maternity doctor or man who can't keep up?  Or will Otis be motherless, and have to be adopted by Eric's family or move in with Maeve? I won't spoil it for you.
More Sex Therapy with Gillian Please!
Apart from the kick-ass way she handles finding out she is pregnant, I wanted to see more of Gillian Anderson's Jean Milburn.  Anderson is such a fine actor and she feels under-used this time.  It would have been fun to see her clash and take on the new head-mistress, and perhaps even mount a sex ed coup. Instead, we have to make do with the attempts to be a family with Jakob and Ola or her therapy sessions with Aimee Lou Wood where she deals eloquently with trauma and shame.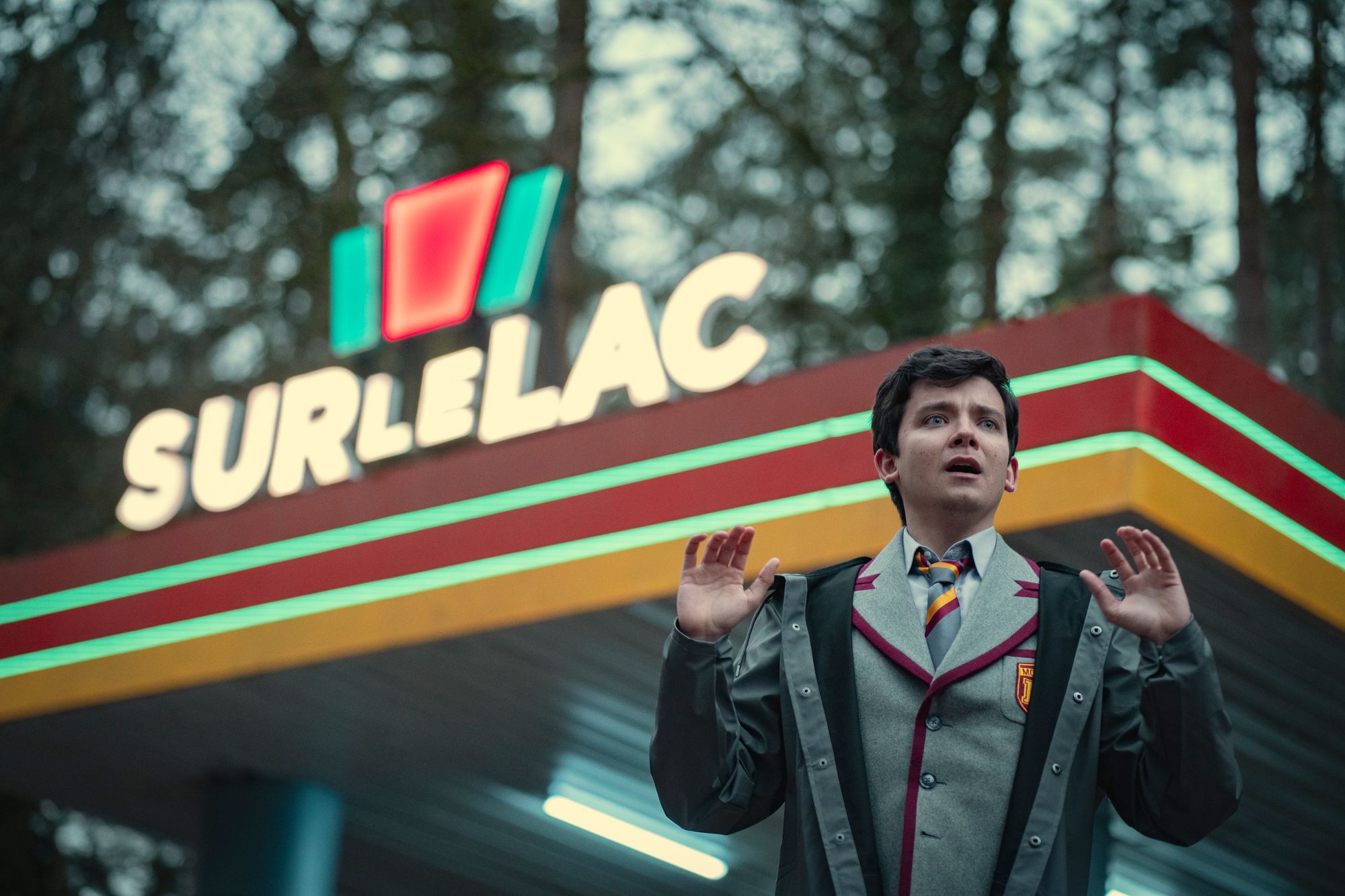 This season, there's still much to delight in, although writing about poo in almost every episode is not one of them. Please stop. Just stop. The school trip to France was seriously yucky and a bit lacklustre, apart from Otis and Maeve get to call a truce and open talks again.
Interestingly, it's the storyline between Adam and Eric, that really develops, shines and takes centre stage in sex Education 3. Connor Swindells' attempts to navigate the world beyond his sense of failure and social awkwardness and to feel comfortable in an openly gay relationship with Eric, Ncuti Gatwa, are simply a joy watch.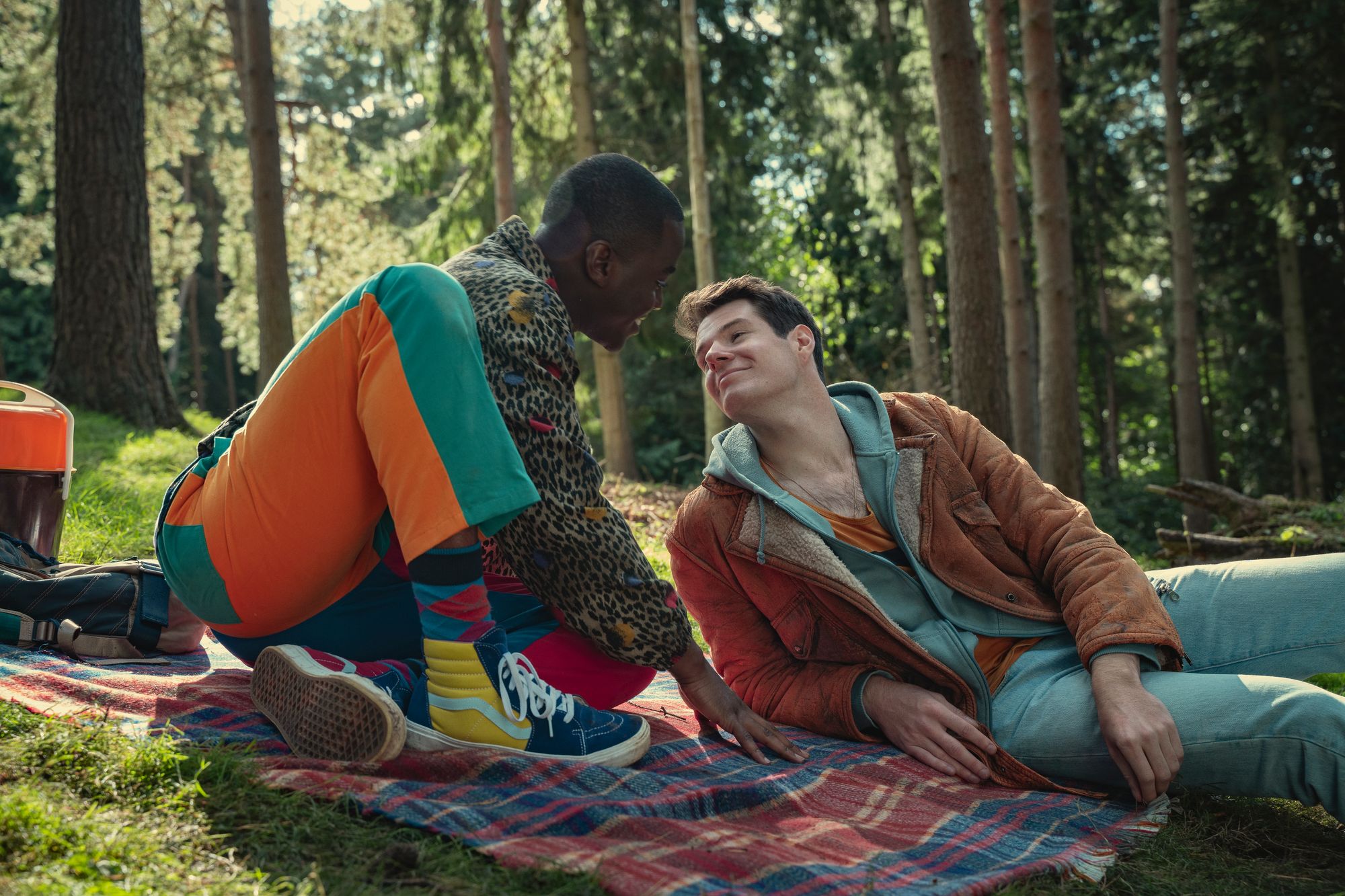 Both actors are wonderful to observe in their respective roles, and it is the authentic, subtle, tentative steps that they take together and apart that make their respective character development seem so real and enthralling.
Opportunities and a Voyage of Discovery
The soundtrack is as good, restless and frenetic as before. The storytelling excels when it pushes the discussion around important topics that are playing out in society now from poverty to gender equality and identity. It could be Lily escaping into the world of Alien role play, Otis learning through experience that he prefers meaningful connections to casual, no-strings-attached ones and Maeve beginning to understand that it's okay to accept help with grace and to enjoy the benefits of a first-class mind.  
Where Sex Education excels is in showing every nuance of character, each moment where we put ourselves out there and either crash and burn or learn to try again until we fly.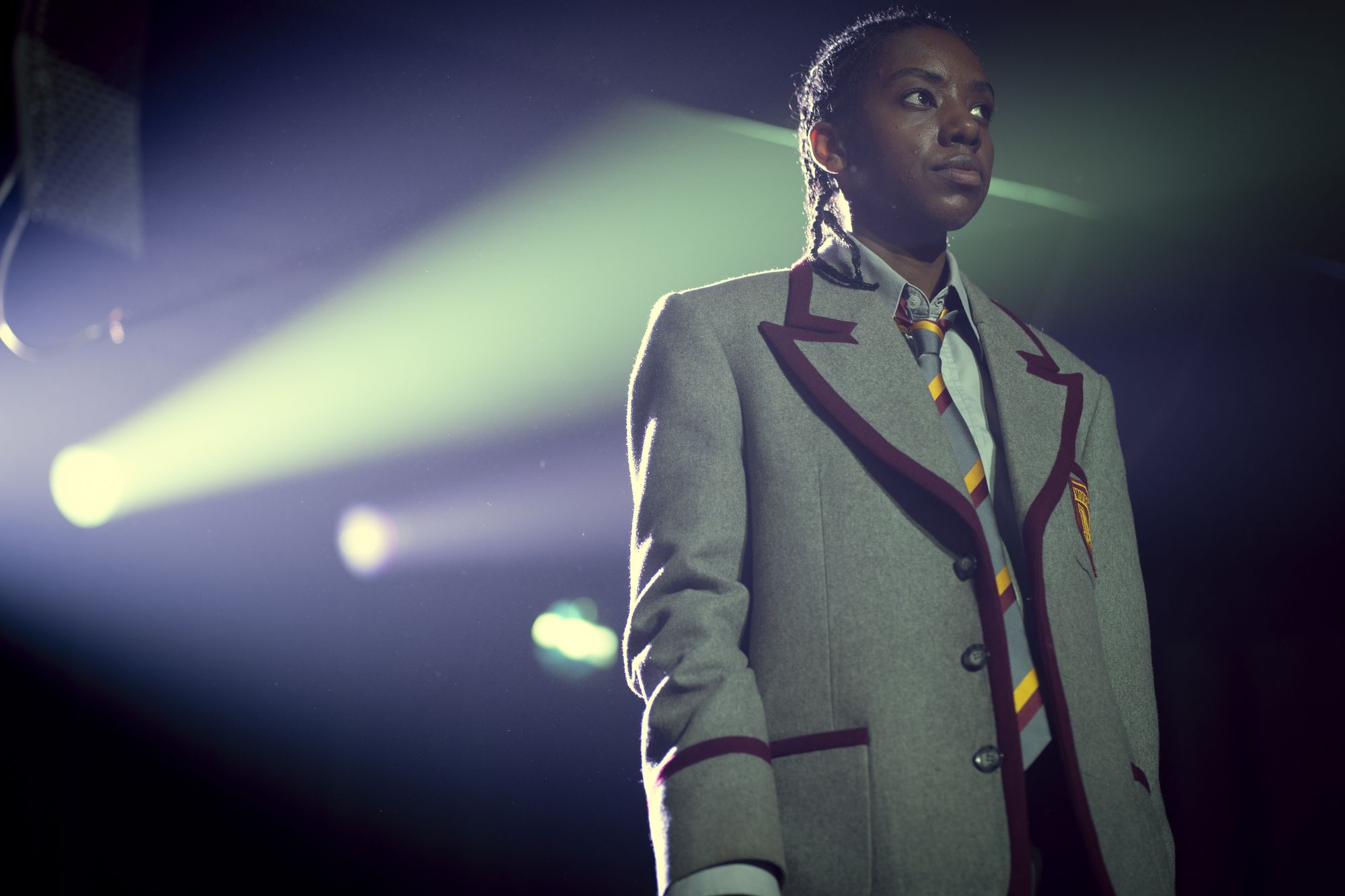 There's strong competition from newcomer, Dua Saleh, who makes a remarkable debut plays non-binary student Cal with a mysterious air of invincibility and rebellion. There's a magical sweetness to her friendship with Kedar Williams-Stirling which is tested when Jackson wants more than friendship. Aimee now has a goat as a cross between a security blanket and the now redundant boyfriend. Who needs a status symbol bag when you can promenade around Moordale Secondary with a goat instead of a mean girl?
It's Always  Maeve and Otis
But then, all roads lead back to Maeve and Otis. These two are the characters we care about. It's The Taming of the Shrew Meets Ten Things I Hate About You all over again. Will they realise that love can't be hurried? Will Adam finally give himself permission to follow his passion and become the king of the dog show? Will headmaster Groff go from down and out to reborn and get a reprieve and turn out to be the school's greatest secret weapon in the battle for a real education?
There's only one way to find out. Sex Education 3 is steaming on Netflix now.  
James Bond Soundtrack Through the Decades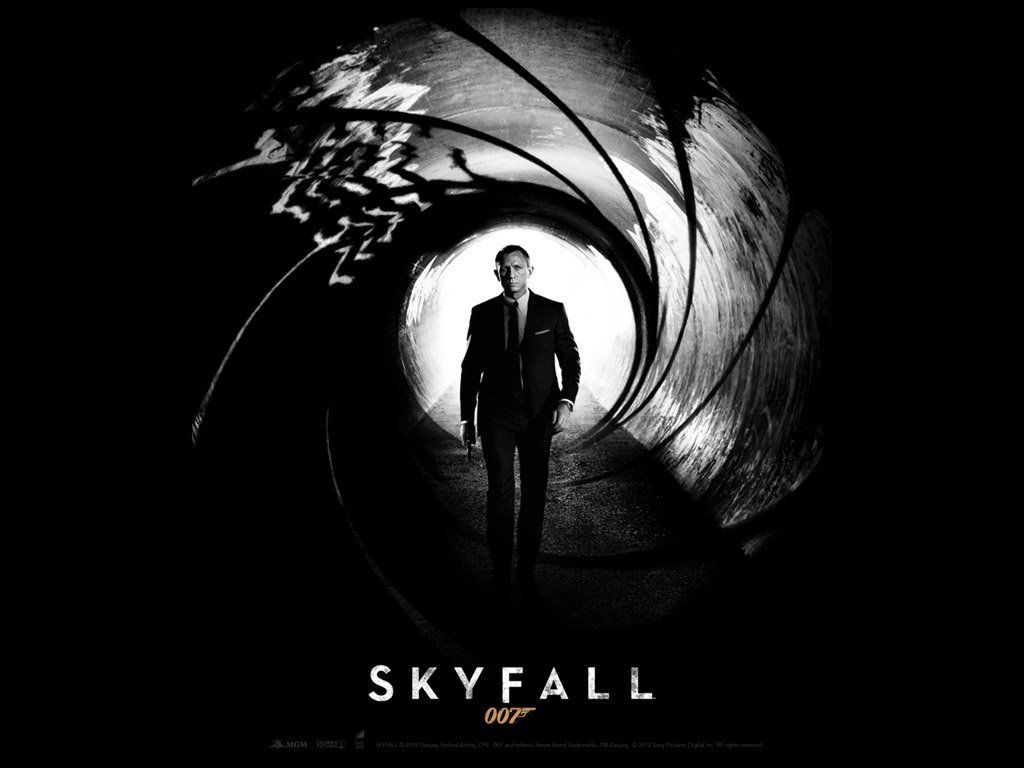 I like Daniel Daniel Craig as James Bond. I await his final outing in no Time to Die with excitement and a sense of mourning too. Out of all the 007's who came after Sean Connery, he is the closest to Sean in that he shares the same quality of animal magnetism and unknowable allure which is essential to the man, the spy and the myth. Will he live, die or retire to a pile or bat cave in Scotland? We don't know.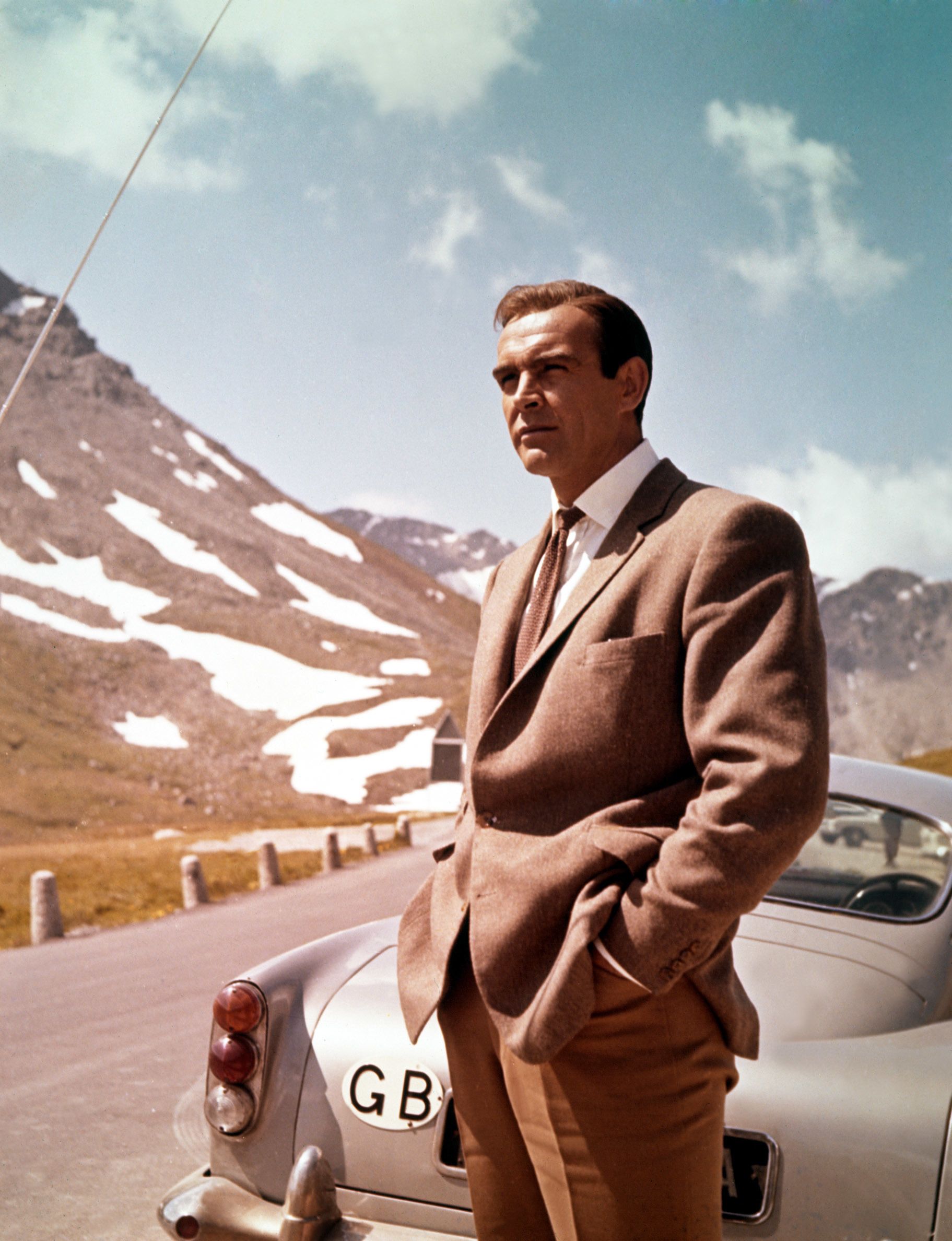 While we wait to find out, you can revisit the essential Bond anthems from Paul McCartney and Wings Live and Let Die to Madonna's Die eerie,  techno masterpiece Another Day and Adele's soaring, stain-glass window shattering, Oscar-winning theme song to Skyfall on BBC Sounds which is as essential as Bond's Aston Martin, his Brioni wardrobe and his vodka Martini's which must be shaken not stirred because science dictates that is how to achieve the perfect chilly temperature.
Listen  to a Dance Through the Decades with a James Bond Theme
Watch Skyfall Streaming on Amazon
The pick of music for relaxation, focus and to drift off to sleep.
Want to go on a mindful musical odyssey? Listen to composer Hania Rani's spellbinding compositions for piano and a wonderfully eclectic, dreamy playlist to tune out, recharge and burnish your imagination. Hania's playlist is here on BBC Sounds and you can bookmark it and play it over and over again!  
More Film Hot Picks
Somethings Gotta Give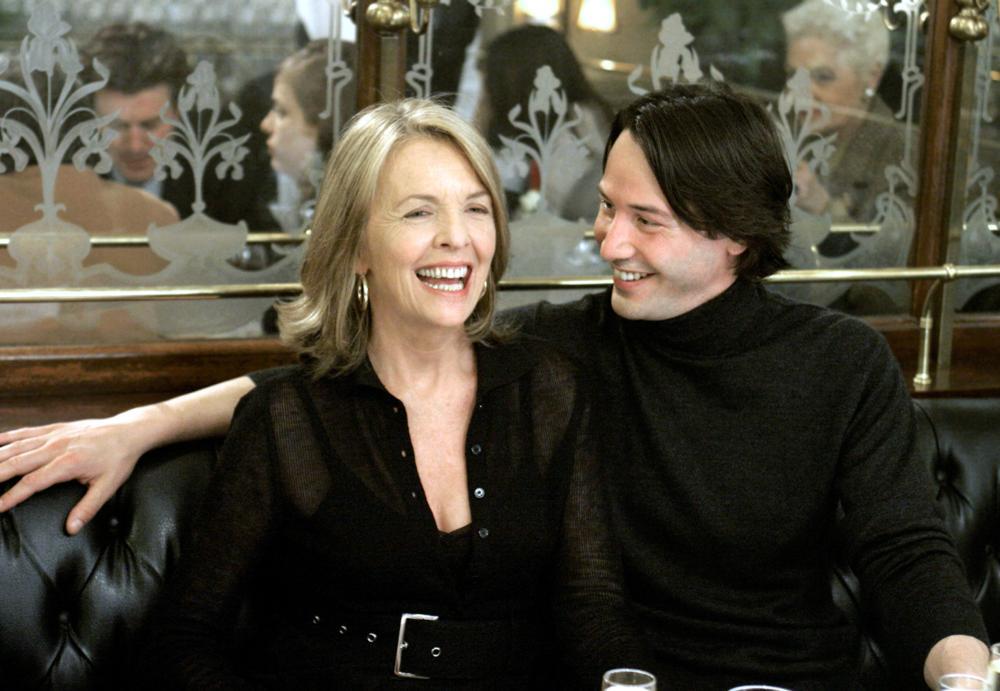 Somethings Gotta Give starring Diane Keaton, Keanu Reeves, Jack Nicholson and Frances McDormand is a satire on the older man who never dates women his own age. Nicholson has a type. Any woman so long as she is under thirty.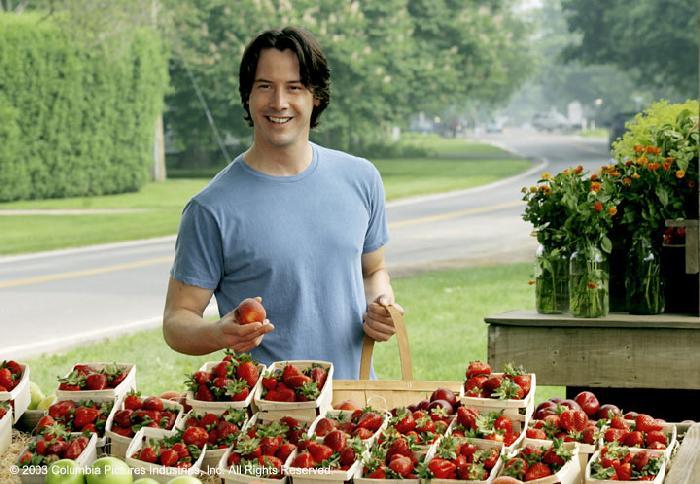 He's the charming bad-boy bachelor,  'escape artist' who always manages to get away from long-term romantic entanglements until he meets Diane Keaton's sassy, successful Broadway playwright whilst dating her daughter. The scene where Nicholson is mistaken for a burglar raiding Keaton's Hampton's fridge naked is very funny and sets the scene for what is to come with great comic performances from all the leads. While New York in the snow and the Hamptons during a summer rainstorm has never looked more glamorous, romantic and get on a plane enticing.  
The Love Triangle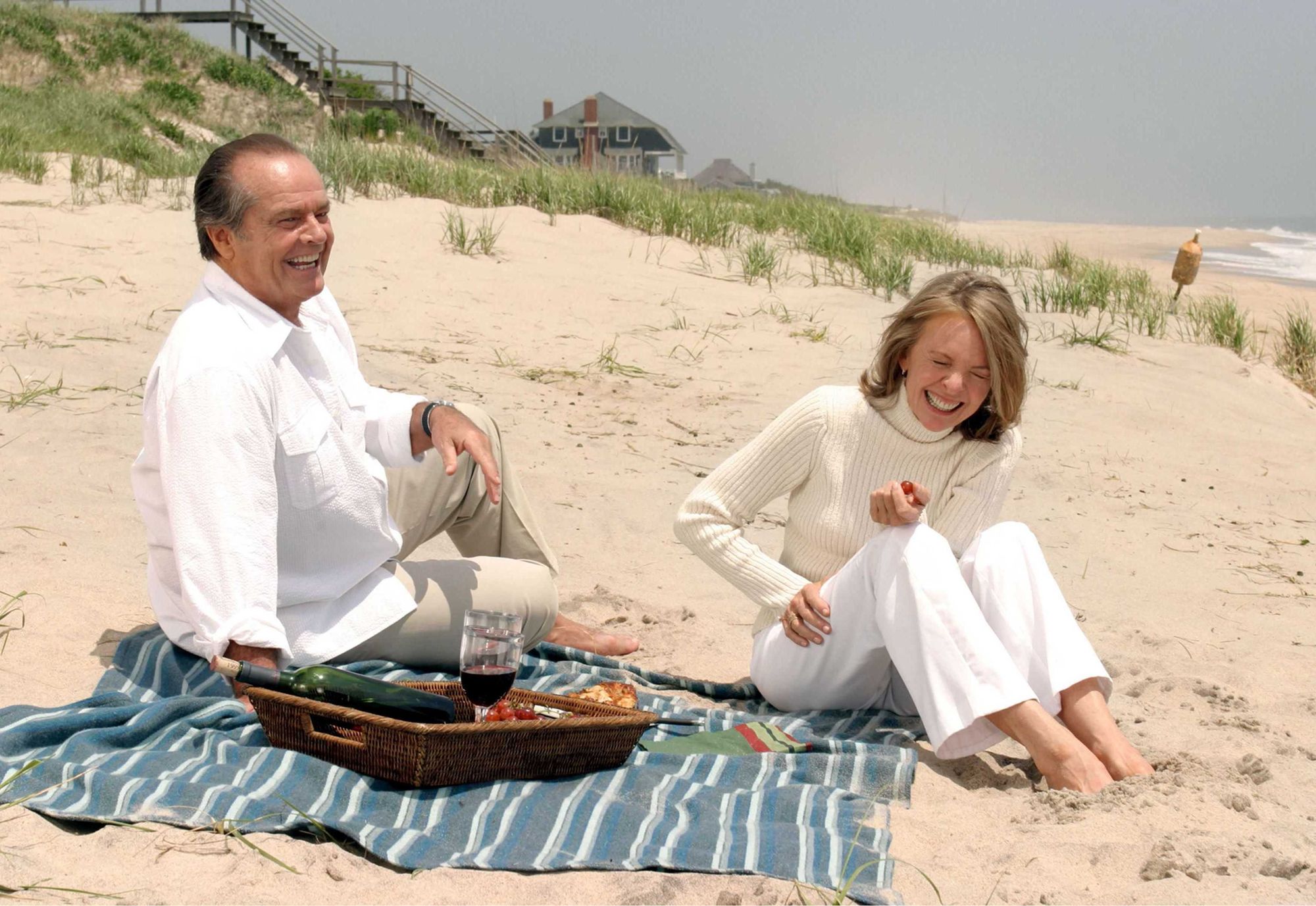 But what about the older woman dating a younger man? Keaton's character doesn't court the attention of Keanu's Reeve's smitten doctor, who is 20 years younger, she warms to the idea when her one night stand with Harry (Jack Nicholson) only leads to being treated like all the younger women who went before. I will confess to wanting Diane Keaton to forget about Harry and settle down to a life of mutual admiration with Keanu Reeves who adores her for her brains and beauty.
To find out you will just have to watch the movie! It's the perfect escapism for the weekend.
Watch Somethings Gotta Give on Netflix