Sundance Next Fest – A Voice for Artists Who Felt They Didn't Have a Voice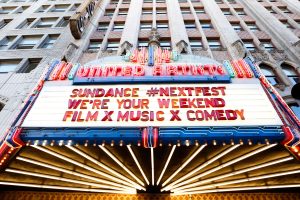 Are you doing anything special from this Thursday to Sunday? Yes! No! Or even if you are, I sweetly encourage you to drop everything and jump on a plane and go to the Sundance Next Fest, at a bone fide, movie palace, at The Ace Hotel in downtown Los Angeles. Even the name conjures up pictures in my head of Mary Pickford and Douglas Fairbanks Jnr and the glory days of old Hollywood. So, let the power of human self -expression and the eternal allure of the movies, restore your faith in ideas, in independent film, music and comedy and the idea of people helping people.
The Sundance Film Festival and all its many, remarkable, green offshoots was started by film icon and environmentalist, Robert Redford in 1981.  It is a love letter to movies and humanity –  a super duper place to hang out, where people who feel they don't have a voice or opportunities to do incredible, cool artistic things, get to do exactly that.
Sundance Next Fest – A Celebration of Art, Movie Making and Humanity
This year's Sundance Next Fest is as good as it gets. It's about the power of the human spirit to find laughter in the darkness; poetry in the wake of war and human suffering on the streets, and love, deliriously sweet, late blooming love, where previously there was only struggle, isolation and the sense of always being on the outside, looking in on other people having a whole lot of fun and making a success of their lives. Each film screening comes with a music gig, top female comic and the chance to hear the director talk in conversation with a celebrity guest. The lineup includes: Music acts – Sleigh bells, Rizzo and Electric Guest; comediennes – Natasha Leggero, Kate Micucci and Kate Berlant. So far, confirmed stellar guests include – Quentin Tarantino, Peter Bogdanovitch, America Ferrera, Ava DuVernay and Larry Wilmore. Check the Raindance Festival website for last minute updates.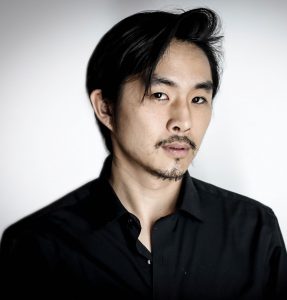 Sundance 'conspires' to create extraordinary environments where budding film directors, actors, musicians and life's outcasts and goof balls can come together and be nurtured and encouraged to make art, beautiful, messy and affecting art. But most of all its about making independent movies that change opinion, create a sense of magic and help to galvanize movements all around the globe.
All the action takes place around the theatre at The Ace Hotel, and many of the films being screened this year are in some shape or form a love letter to the LA scene or were shot in and around the city of dreams and angels.
Dina – The Breakthrough Darling of the Festival
For me, one of the standout films of the festival is Dina, which took the Grand Jury Prize at The Sundance Film Festival in the documentary category. Dina is the work of two of the most thoughtful, charming and sensitive filmmakers you could every wish to meet. Dan Sickles and Antonio Santini are the kind of well-suited boys you can definitely take home to meet your granny. I have no doubt the film will make a star of Dina, a natural comedienne, star and self-styled diva, and the undeniable, break-out darling of the festival.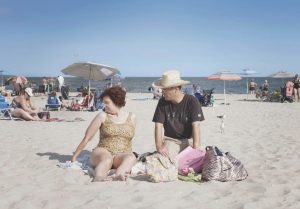 Just listen to the lines she throws like pearls to the camera – "I was thrilled and ecstatic when you asked me to appear in this movie. It's everything I ever dreamed of – movies, movie stars, parties, drinking… sorry."
Woody Allen should work with this natural comic heroine.
Dina is first and foremost a love story, and rom com and the most affecting, illuminating, honest film you could see on what it is like to live on the autism spectrum and struggle to appear normal. Dina tells the story of its heroine; a woman who lives on her own for thirty years and then gets married to her boyfriend Scot, and struggles with all the challenges that the rest of us find difficult enough with coupledom.
It's Exhausting Trying to Be Normal
Always blunt and honest, Dina confides in Dan and Antonio, that it was 'exhausting' to try and be normal, and that now she has finally learnt to let her hair down, in spectacular fashion, with clothes that light up, so it's pretty and always Christmas, and a husband who clearly adores her – 'you're not an older woman – you're beautiful' – he tells her at the beach, amid a never ending stream of consciousness banter which is funny, brave and startling for its honesty, in a world where people frequently obscure or hide their true desires or feelings.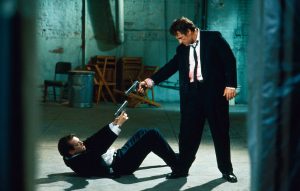 If that isn't enough magic, on Thursday, the opening night of the festival, Quentin Tarantino, fans will be able to watch a very special, 25th birthday screening of Reservoir Dogs in vintage 35 mm. The film was originally launched as a Sundance Lab Project, and shows just how far a talented filmmaker can go with the right incubation and backing at the outset of their career. Quentin will be at the festival to receive the Vanguard Leadership Award and there will be a fundraising after party for Sundance.
Michelle Morgan – a 21st Century Woody Allen
Now, how about an achingly stylish new pretender to be the crown princess of aspiration and neurosis? Interested?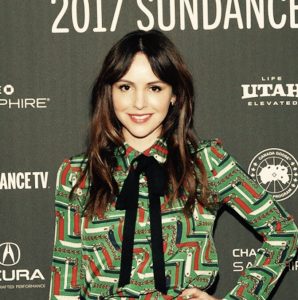 Then meet the fizzing director, of LA Times, comedienne Michelle Morgan, (you have adorable dress sense by the way), who declares that her debut film is a love, hate letter to the city of her birth. It's good to see a new director pick up the wise talking, naval gazing angst baton from the director of Annie Hall, and take the temperature of social aspiration, love and anxiety in the 21st century. This assured film beautifully subverts the genre, and follows the lives of a group of thirty something Los Angelinos as they try to navigate their way through love, life and opportunity in a new comedy of errors.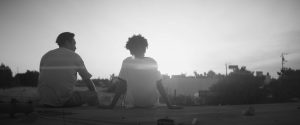 Gook is another you have to see.  Set in 1992, on the day of the Rodney King verdict, director Justin Chong goes in search of  hope, where initially there is only hate, in  this intense, heavy, darkly comic film, which examines racial tension amid a hypnotic, dream-like sound track and balletic cinematography as it dives headlong into the lives of two families, one Afro Caribbean and the other Korean. It's all there, fear, tenderness, hate, menace, love and the fight for survival. At the end, I think of the words of the slain British MP, Jo Cox, who said ' there is more that unites us than divides us' and so it is with Gook.
I really like the diversity on offer at Next Fest. The human condition is definitely under the microscope in ways that will delight you and make you squirm. Drop in  on Gente-fied – a hit web series about the inhabitants of Boyle Heights and how they come together to deal with the  impact of gentrification and attempts to erase them from their own community and let me leave you with this delicious comic jewel. Feeling stuck, flat or just need to laugh until you cry? then – you have to see the film Lemon.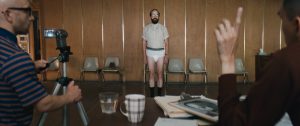 Comic Brett Gelman plays a man who is failing at life, spectacularly. Watch his life unravel in the most excruciating ways as his blind girlfriend of ten years dumps him and the film deliciously dissects Jewish and Afro Caribbean culture as Gelman starts dating again. But what if you just don't have the tools most people have to life your life and make a success of it. What then?
For more information on to book tickets. Visit the Sundance Website – Sundance Next Fest
All Images Courtesy of The Sundance Institute. All Rights Reserved. No Reproduction without permission.
Love this Arts Review and Want to Support Independent Journalism?
Support me and get involved @Patreon – Ethical Hedonist and AJ On Patreon