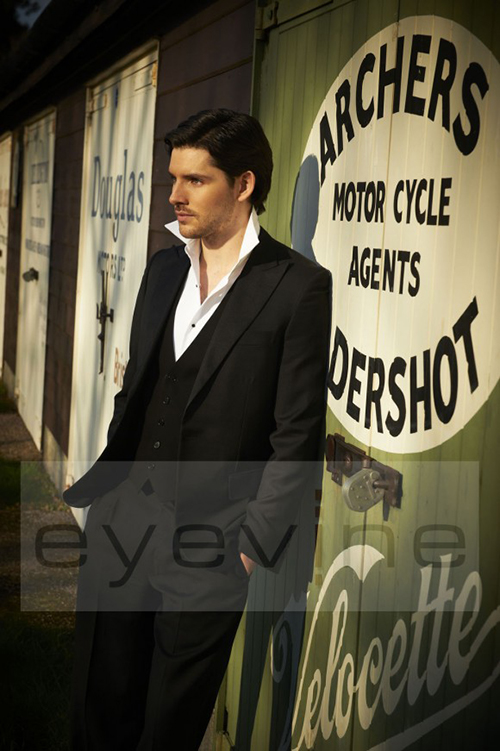 This week's archive interview and fashion story from my memoir – Tantrums, Tiaras and Typewriters –  is all about the Irish actor Colin Morgan, star of Merlin, Testament of Youth, The Living and the Dead, Humans and The Fall. This jazz age fashion story with Colin and Katie McGrath was a memorable, iconic collaboration with stellar fashion photographer Mike Owen at Brooklands Motor Museum, for The Lady Magazine. Here, Colin Morgan is dressed as a homage to James Bond, in a black tie suit by Gieves and Hawkes, Made in Britain tailors to the Prince of Wales.
Back in 2012, I had been waiting for months to interview the actor Richard Wilson, for his role in the BBC hit series, Merlin. It just wasn't happening and in exasperation, I told the publicist that I would much rather interview the real star of the BBC hit drama, Colin Morgan, an actor from Northern Ireland. Morgan was the undoubted star of Merlin. I was drawn to his performance. His character was utterly at home in the natural world and he possessed that rare quality that all leading actors have – a once in a generation charisma that belongs to some of Ireland's finest actors, including Richard Harris, Peter O'Toole, Kenneth Branagh, and Gabriel Byrne.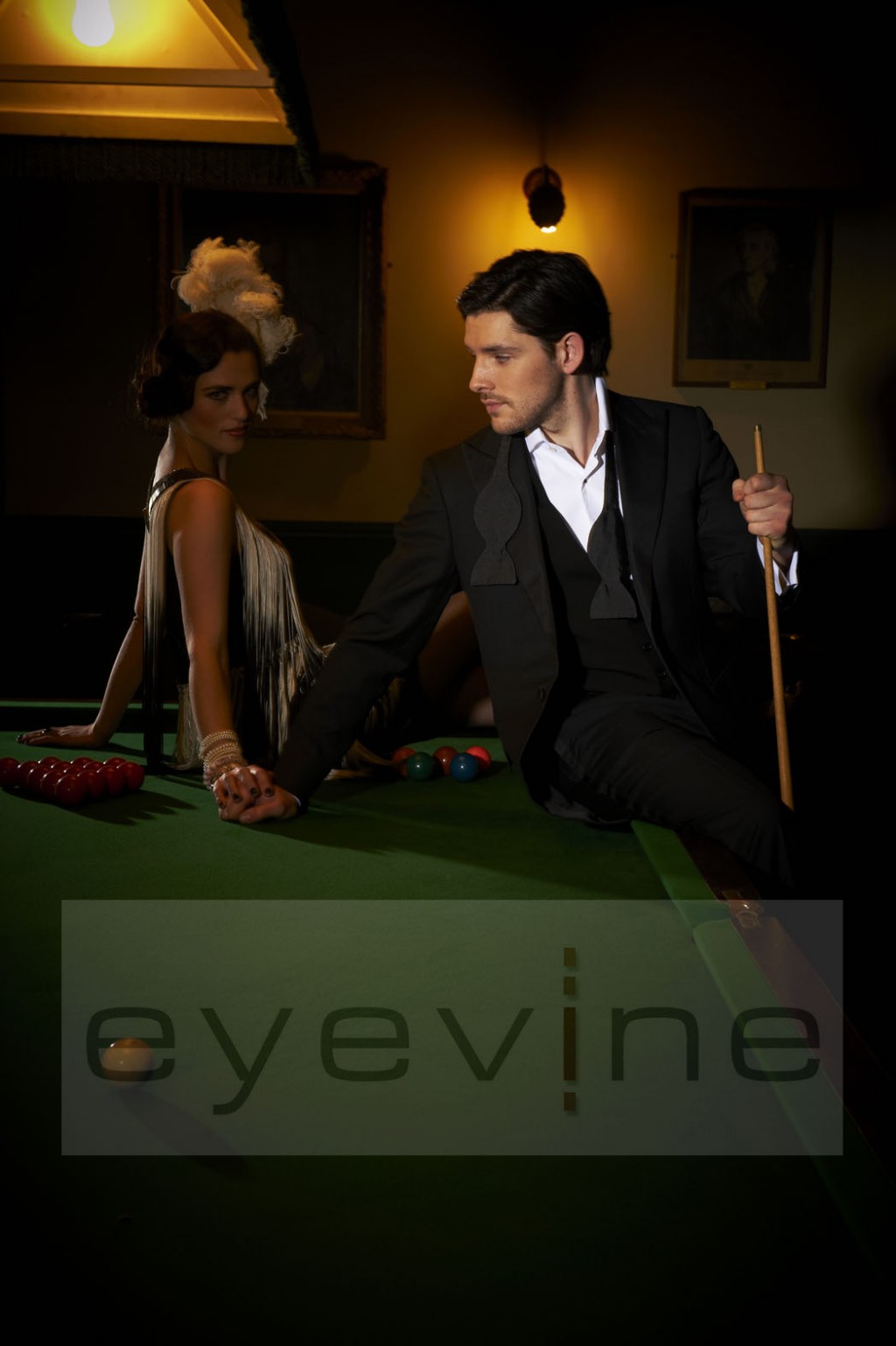 A week later, I found myself in a tiny airless basement interview room at Freud Communications, just off Oxford Street in London, and Colin walked in, looking incredibly tall and every so slightly nervous, and immediately shook my hand, looked at me with his intelligent, warm, dancing eyes and asked if I was having a good week. Wow! Very few actors bother to ask a journalist how they are. We hit it off at once and discovered a shared interest and passion for nature, endangered species, and the environment. You've all read my interview about Colin's burning passion to act, and how he overcame time and place, to follow that dream. This is what happened next.
Colin Goes Back Back to the Roaring Twenties!
A couple of weeks after the interview came out, Colin got in touch to say how much he liked the interview, and he told me that it was a faithful account of his life and journey. I was thrilled and I asked him if he would do a follow piece accompanied by the fashion story at Brooklands, with a Roaring Twenties fashion theme. He said yes at once, and asked fellow actor Katie McGrath to take part too. I will never forget our day out at Brooklands. Colin arrived in a taxi, and he immediately thanked me for organising the feature. Looking back, someone in my team asked who he was. It is true that he is a typical chameleon actor, and looks quite different from his screen persona. The makeup artist asked where he was, and I said 'you are looking at him, he is mucking and helping to hang up the fabulous wardrobe he and Katie will be wearing!' That is Colin – one of the gang and a very down to earth, warm, generous human being.
The moment Colin stepped in front of Mike's lens, everything changed. We saw the man who was becoming an icon all around the globe. I took my inspiration from the idea of a young James Bond – and Colin pulled off the conceit with a dash of fire, humour, and savoir-faire – and the rest is history.
Postscript – Give Colin Morgan another decade, and he will have the depth of experience and suave magnetism to play James Bond.
Words Copyright Alison Jane Reid/Ethical Hedonist. Pictures Copyright Alison Jane Reid/Mike Owen/Eyevine.com All Rights Reserved. No Reproduction without Permission. #TantrumsTiarasaTypewriters –  A Memoir By  Journalist, Alison Jane Reid.