Rose Garden Cocktail
Served in a Dainty Watering Can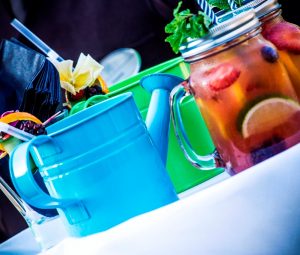 Sopwell House hasn't just stopped to smell the roses – they have mixed them into a summer cocktail and devised a bloomin' marvellous Rose Garden Cocktail, served in its very own mini watering can.
Head Barman, Terry Woods, has combined boozy botanical blends, sure to have you potty on petals in no time. The cocktail is created from Hendricks Gin, Homemade Rose Syrup, Lemon Juice and muddled Cucumber topped with Soda Water. Once the ingredients have been shaken, they are double strained into a mini watering can along with crushed ice. The cocktail is completed with a delicate rose petal garnish.
The Perfect Alfresco Summer Cocktail
The Rose Garden Cocktail is available throughout the summer months at £10.95 per dainty watering can.
Sopwell House has a strong affinity with Chelsea Flower Show Gold Medallist Ann-Marie Powell. Ann-Marie designed the hotel's eye-catching gardens, which will be in full bloom for summer and are a talking point for guests all year round.
A Secret Luxury Hotel, Just 20 Minutes from Kings Cross
Sopwell House is an elegant Georgian manor house located in the city of St. Albans, just half an hour from London, and nestled within the Hertfordshire countryside. Located only 20 minutes from London St. Pancras, the hotel is the idyllic authentic luxury getaway just outside of the hustle and bustle of the capital, with its 128 stylish guest rooms and 16 bespoke Mews suites. The hotel is the perfect place to dine, boasting two restaurants, an elegant cocktail lounge, and conservatory bar, all of which look out on 12-acres of serene, beautifully tended gardens.
Sopwell House, Cottonmill Lane, St Albans, AL1 2HQ
For reservations, please call: 01727 864477
www.sopwellhouse.co.uk