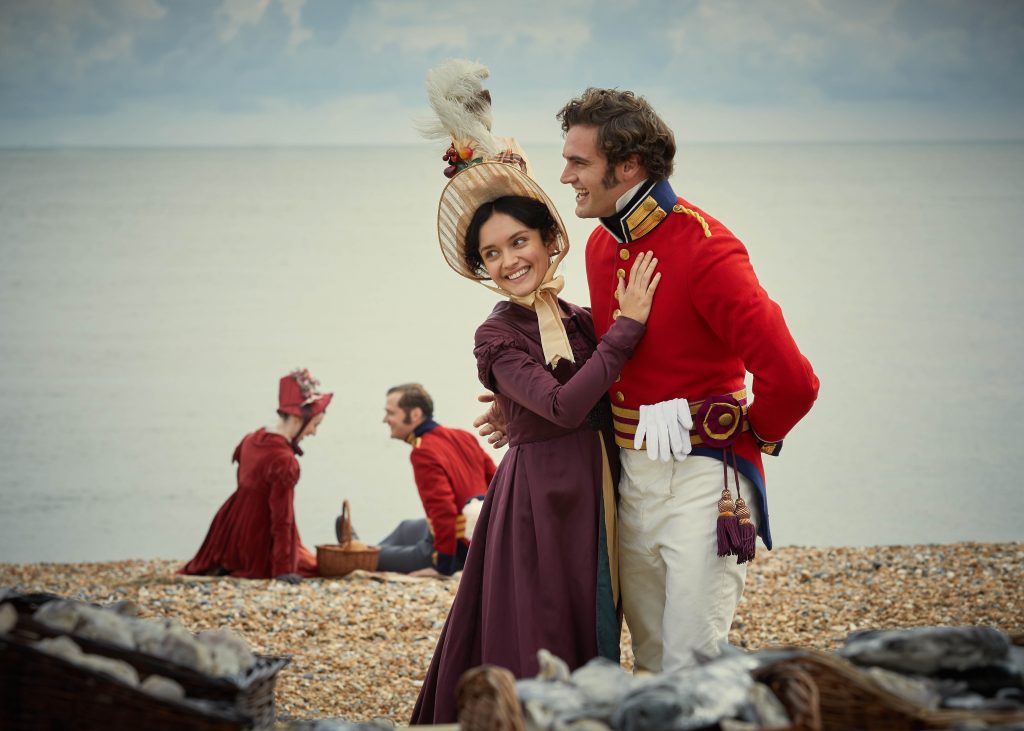 Thank goodness the Sunday night costume drama is back. Olivia Cooke sparkles as Vanity Fair's modern material girl, Becky Sharp.  Olivia plays Becky with a breezy, rather charming, picaresque sense of breathless desperation, steely resourcefulness and brazen bravado, and a fashion arsenal worthy of a modern Instagram princess. Despite her precarious financial position, she manages to dress like a duchess in ravishing bonnets as high as wedding cakes and achingly romantic empire gowns, whilst flitting about stately piles, gilded coaches and balls to rival Downton Abbey, with assorted, dashing gentlemen in scarlet uniforms to sigh over a la Prince Harry. Isn't the Napoleonic era wildly romantic? I predict a winter rush for empire line dresses, the military look and eternal rebellious red.
Have you all lost your hearts to the dashing Dobbin yet played with such heartbreaking introspection by Johnny Flynn?
How Could Amelia Spurn Dobbin?
Dobbin, please tell Amelia you love her to bits!
But let's talk about Vanity Fair's star Olivia Cooke, (Bates Motel and Me and Earl and the Dying Girl). Cooke fizzes in the role of Becky Sharp, the great anti-heroine of English Literature. Writer Gwyneth Hughes has humanized Becky a little, and I think we can all relate to her economic desperation in an era when Victorian values seem to be on the rise again, homelessness is a social abomination and children go hungry. There is less social mobility in Britain and America right now than at any time since the sixties. Why shouldn't Becky use her intelligence, her wits, education, and prettiness to get on in life and escape poverty?
Olivia Cooke is supported by a stellar cast which includes a deliciously grand and cynical performance by Frances de la Tour and Martin Clunes as a mad, bad and dangerous to know baronet whose wives expire just as fast as Henry V111.
A 21st Century Adaptation of Vanity Fair
Vanity Fair's leading lady has talked in interviews about being daunted by the role of Becky. I think her portrayal of Becky Sharp has a breezy lightness and insouciance that is full of charm and realism.  Becky is like an IT girl, brimming with charisma, intelligence, chutzpah. She's the cool girl everyone yearns to know. And what else is she supposed to do? She is forced to become the breadwinner in a man's world. Becky is a thoroughly modern material girl, negotiating and flirting her way to the top of the social tree, with her youth, intelligence, the best dresses at the ball and a restless soundtrack of pop and rock songs that have upset the purists. I like hearing Madonna's iconic eighties pop song. It catapults the 19th-century novel straight into the 21st century, so much more interesting than another classical soundtrack.
The good, the bad and the ugly side of humanity
I like this feisty, less formal adaption of William Makepiece's Thackeray's novel which takes a scalpel to high and low society, and exposes the good, the bad and the ugly behaviour of humanity, all vying for their position in the greasy pole of life.
Today, Becky would be a social media star, doing a roaring trade in flaunting bonnets, gowns, and jewels for cold, hard cash and becoming the CEO of her own company.
Vanity Fair – Sundays at 9 pm on ITV
Love Ethical Hedonist and our j0urnalism?
Did you enjoy this original piece of journalism? Then get involved and start supporting original, feature writing and journalism on our crowdfunding platform for talented creative people @patreon – Ethical Hedonist CrowdFunding On Patreon 
Our aim is to develop a vibrant culture, entertainment and fashion magazine with a green and sexy edge. We also run invaluable mentoring programmes for undergraduates in media, pr and marketing.
The suggested pledge per month is $4 approximately £3 in sterling. If you can afford to give more please do.