An Exploration of Coming of Age Love, Class, Mental Health and Transformation By Alison Jane Reid
Stop Press! To everyone who has been captivated by AJ's one of a kind feature writing we need your support to recover from the economic fallout of Covid-19 and bring you more great journalism that touches you. Support our crowdfunding campaign and become a subscriber today!
Help us get to £2,500 so that AJ can get match-funded by the Nat West Bank for talented female entrepreneurs.
Intro
I am captivated by the dramatisation of Normal People on BBC Three and Hulu from the moment Marianne Sheridan strides through school proceeded by her flawless, intricate, mermaid French plait.
That plait has a life all of its own. It's a calculated, look at me, work of art, amid a sea of merely pretty girls, with long, poker-straight shiny hair or unruly curls and vacant, mile-long sullen stares.
It speaks volumes and sets her apart before she utters a word. Not since Mia Farrow's kooky Vidal Sassoon chop in Rosemary's Baby has a teenage heroine's choice of hairstyle sent out such important smoke signals about class, sex, superiority, control and pubescent innocence and power. It's just too perfect not to be undone.
A Visceral Love Story for the Social Media Age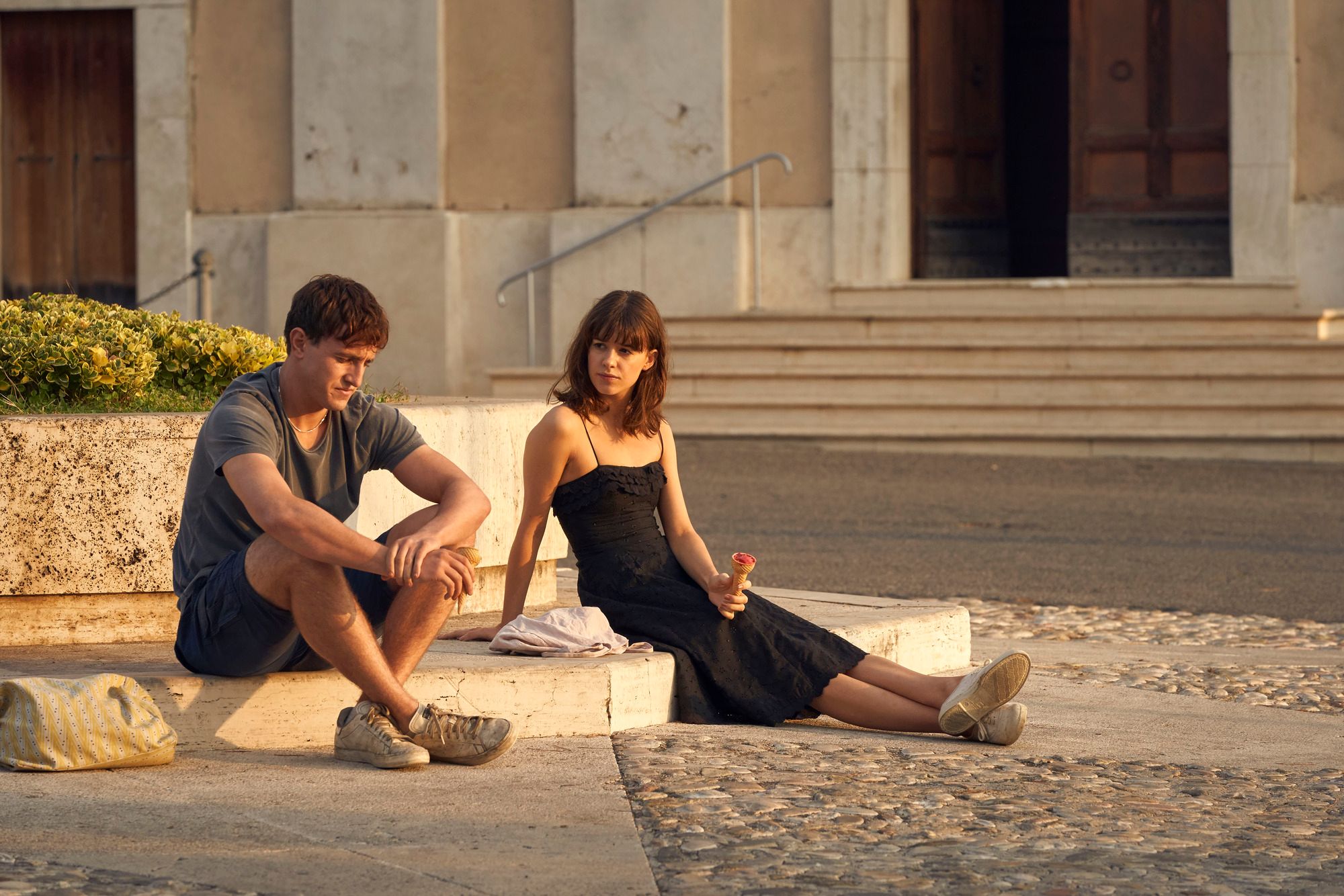 Sally Rooney's extraordinarily intense, candid, visceral novel is the love story of the social media age. It's a virtuoso display in sharing the pain and joy of everyday existence. There's no punctuation in the book, and the almost forensically detailed stream of consciousness, Jack Kerouac style of the writing invites us to live inside the heads of the main characters in a way that is both unsettling and absorbing. It's almost as if Rooney wrote it with film or television in mind.
The Devil is in the Detail
While the writing can come across as mundane rather than beautiful at times, the devil is in the detail. It is intoxicating and clever. Did you devour the book and watch all twelve episodes of the drama in 24 hours? Many of us did because we can. We live in an age of gratification. For once, the gratification is justified. Normal People cuts straight to the heart of two endemic problems in society whether you are rich or poor - domestic violence and abuse and soaring rates of mental health breakdown. And it does so in a way that offers hope, understanding and transformation.
I feel for the actors in Normal People. They have become overnight media stars and the scrutiny is bordering on hysteria. There is no doubt that Mescal is being objectified by the tabloids as a 'hottie' for various scenes of full-frontal nudity, but especially the one where he lies spent on the floor after making love to Marianne in a particularly tender scene. But that's the trouble with the British. We just can't be relaxed like the Swedes about sex and nudity.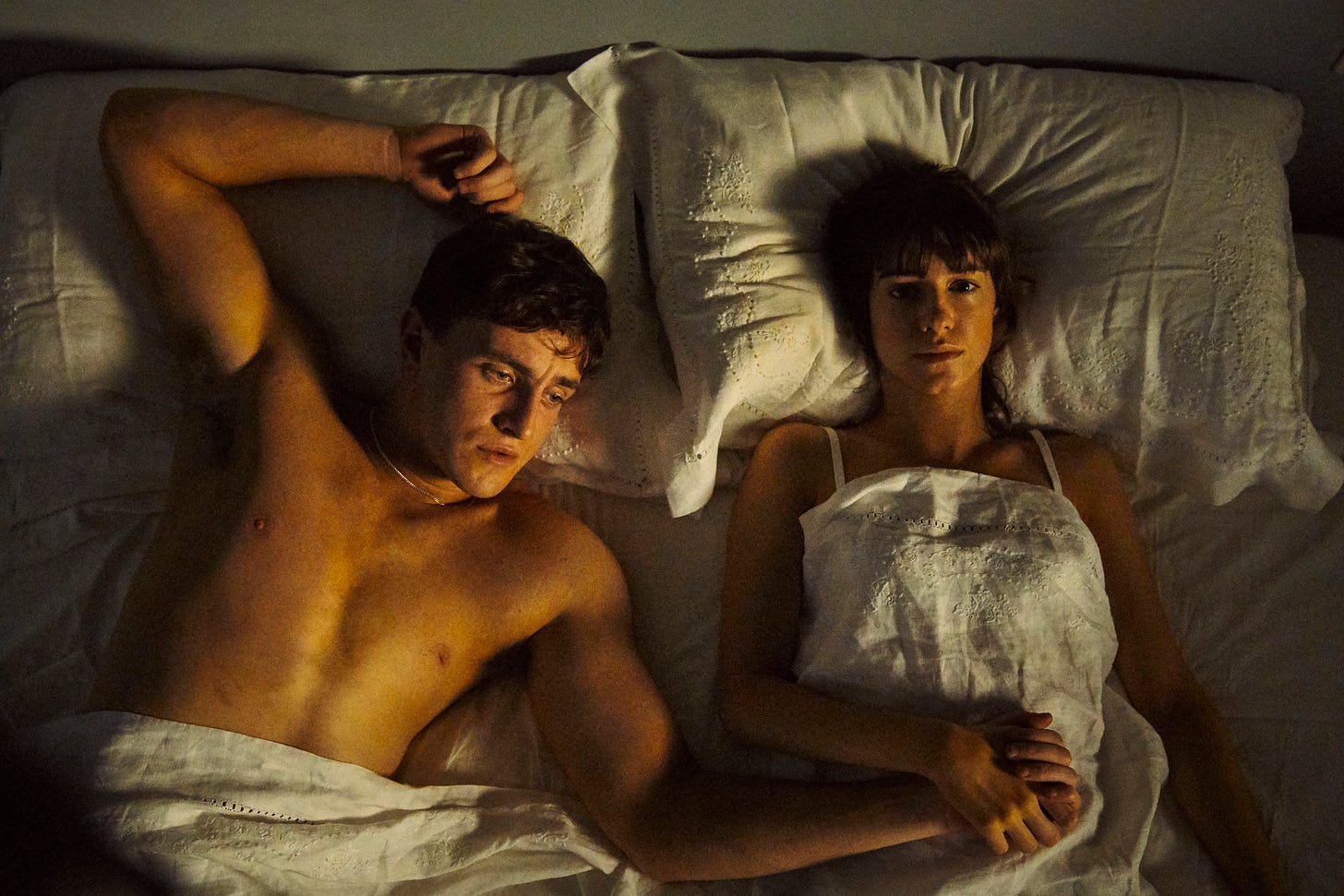 Do I give a damn what Paul Mescal bought in his local shop on an unseasonably hot, hot day?! No. What I care about is who his acting heroes are, the roles he wants to play and whether he will return to the theatre anytime soon. Paul is a gifted stage actor and he has already played some of the juiciest and most coveted roles open to an actor in London and Dublin. He's following in the well-trodden footsteps of fellow Irish luminaries Peter O'Toole, Richard Harris and Liam Neeson, appearing in high profile productions of Angela's Ashes and the Great Gatsby at the Gate Theatre in Dublin and The Lyric Theatre in London.
Young, Gifted and Depressed
Undoubtedly, Paul's time at the Lir Studio and his theatre work prepared him well for the complex and emotionally challenging role of Connell in which he is called upon to bare his soul and show what it is like to be young, gifted, alienated depressed.
While Daisy Edgar-Jones gives a portrait of a flawed, fascinating and enchanting heroine who charms and shocks in equal measure whilst retaining the face of an angel.
Edgar-Jones has this chameleon ability to adopt many personas and make them all believable. In school, her anger and stifling grey uniform makes her appear dowdy, small, plain and invisible. Then like a butterfly fleeing its chrysalis, she transforms into a magnetic, it girl at Trinity, a pretty woman in Tuscany, and ultimately into Connell's 'girlfriend' after a lot of growing up and misadventures.
On the whole, the dramatisation of Normal People is even better than the book and that is down to three elements. The freshness and coruscating performances of the actors' Daisy Edgar-Jones and Paul Mescal, a stripping back of the detail in the book, and the remarkable fly on the wall intimacy and trust conveyed on screen.
Together these factors create a powerful and compelling coming of age story about love, mental health and class that is elevated above the authentic greyness of Sligo and Dublin into something profound and optimistic about the power of human kindness to change lives.
Marianne & Maeve - Sisters Under the Skin
It begins with Marianne as the schoolgirl outcast, a familiar theme in Sex Education, where Maeve Wiley could be Marianne's secret, trailer trash, bluestocking sister, living on a caravan park. Imagine if they teamed up?
Marianne doesn't fit in at school. Like Maeve, she is fiercely intelligent and combative as a form of self-defence. They both carry deep wounds as a result of serious family fault lines and this is expressed by anger and hostility.
School can be such a brutal place if we aren't born with the coping skills to either be invincible, a diplomat or just blend in. Marianne is despised, taunted and pronounced ugly and flat-chested by her peers simply because she makes no attempt to fit in. Instead, she dares to flaunt her superior intellect. If only she invited the girls over to her house for sleepovers and parties she would be the belle of the school.
Sometimes, Being a Rebel is About Survival
But sometimes, non-conformity is the only answer when you are hurting inside and you feel different. The rest of the time she exhibits the classic signs of disassociation as she stares out of the window blankly into space.
Are the alarm bells ringing yet?
The only person who shows her empathy and talks to her is Connell one of the most popular boys in school who is very bright, but shy, and something of a sporting god on the football pitch.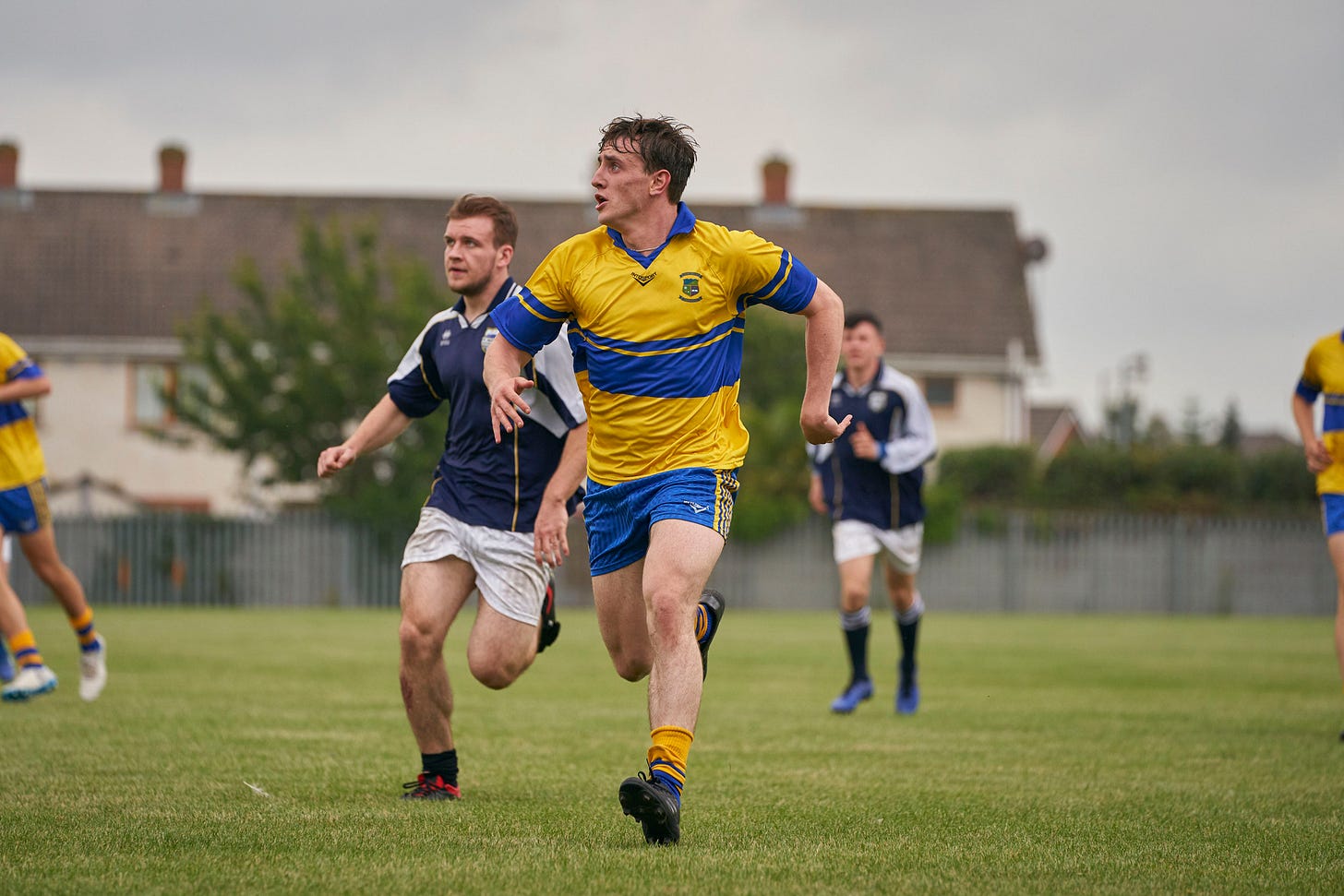 How can the prettiest and most accomplished girl in school be such a social misfit?
Then we discover Marianne's secret. She is nothing less than an abused child growing up in a white stucco 18th-century mansion with all the surface trappings of wealth and privilege, including a preciously sophisticated wardrobe for a sixteen-year-old that I want to steal, but without love, encouragement, care or safety.
Marianne is systematically threatened and verbally abused by her weak brother Alan, while her ghostly mother Denise looks on and does nothing. Denise is a lot like Beth in Robert Redford's Ordinary People. It's all about keeping up appearances of normality now matter how much damage is inflicted.
Love Across the Class Divide
All this remains hidden until Marianne boldly tells Connell that she likes him and their very different worlds collide.
A story of coming of age and love across the class divide is not original. But it is rich and eternal ground for some of the most enduring books, films and dramas over the last three hundred years. It's the story of Jane Eyre, Pride and Prejudice, Dirty Dancing, Pretty Woman, The Notebook and You Before Me and so on.
We are obsessed with love across the class divide.
What makes Normal People appear so original is the forensic degree to which we the viewer have been invited to experience the love story of Marianne and Connell. The rawness and all-engrossing intimacy, honesty and realism are simply stunning.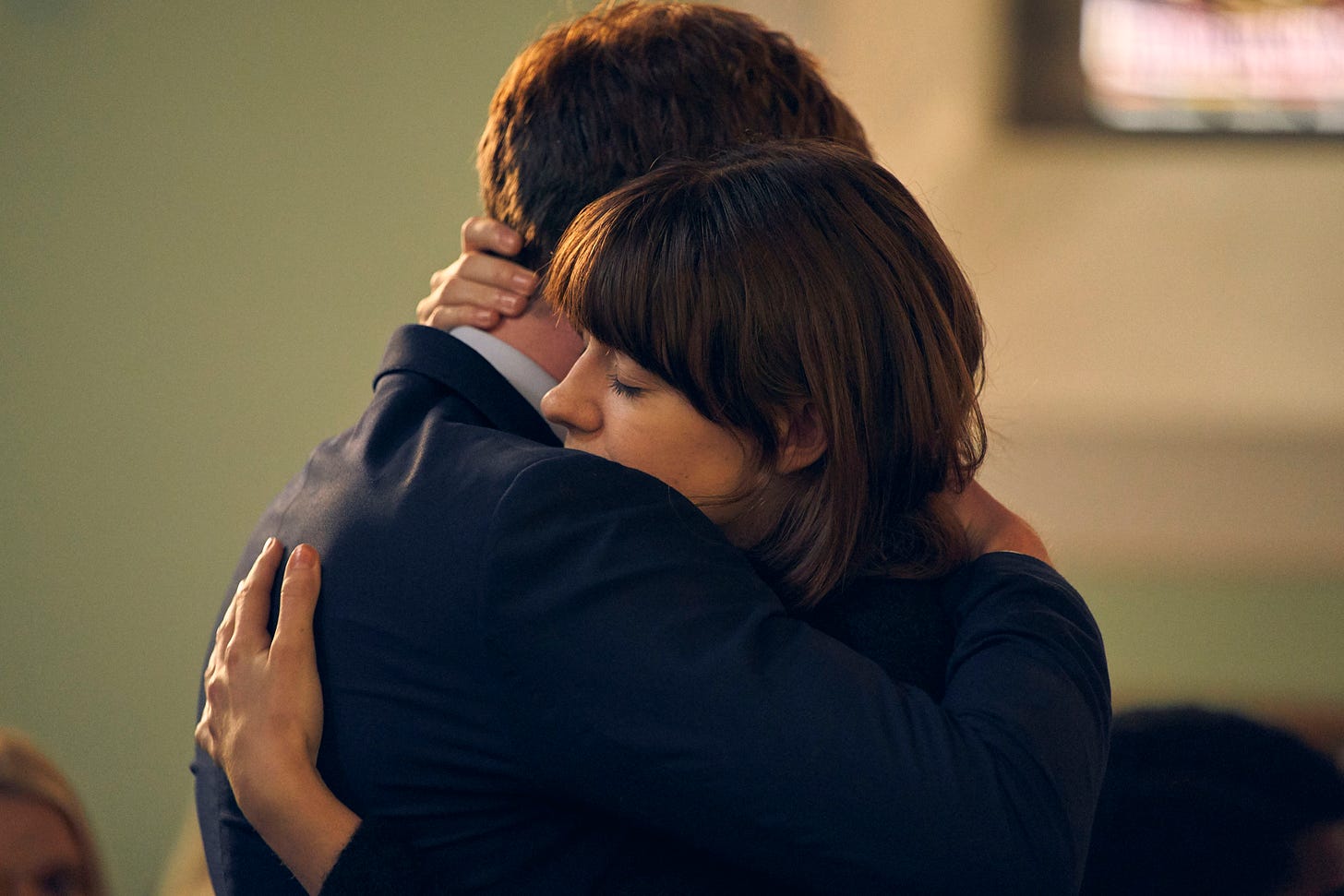 Also, most importantly, it never feels anything other than a privilege to be with our hero and heroine as they enter a long and difficult voyage of emotional, psychological and sexual discovery.
So, we witness Marianne's elfin delight in her very first kiss to the afternoon when she tentatively applies eye makeup only to take it all off again before she goes round to Connell's house to lose her virginity with the same girlish glee, nervousness and excitement she reserves for getting an A1 in history. Do you remember feeling that way too?
Baby Bardot and an Original Mind
The little details really make this scene from Connell making a cup of tea to the way Marianne peruses his posters and giggles with nervous excitement as they both undress. She reminds me of Kate Moss and those Corinne Day images of her for Calvin Klein. Who doesn't remember their first time, in minute detail, whether it was good, terrible or disappointing?
The almost documentary style of Normal People captures this with engaging realism and charm. We experience every flicker of emotion, surprise and wonder as Marianne becomes a woman through her Bardotesque alter ego at home, complete with her far too grown up, off-the-shoulder, siren sweater and bedroom hair. This does seem a tad over the top novel for Sligo, but then I guess Marianne has the money to indulge her fashion fantasies and her clothes are as fascinating, original and urbane as her mind throughout.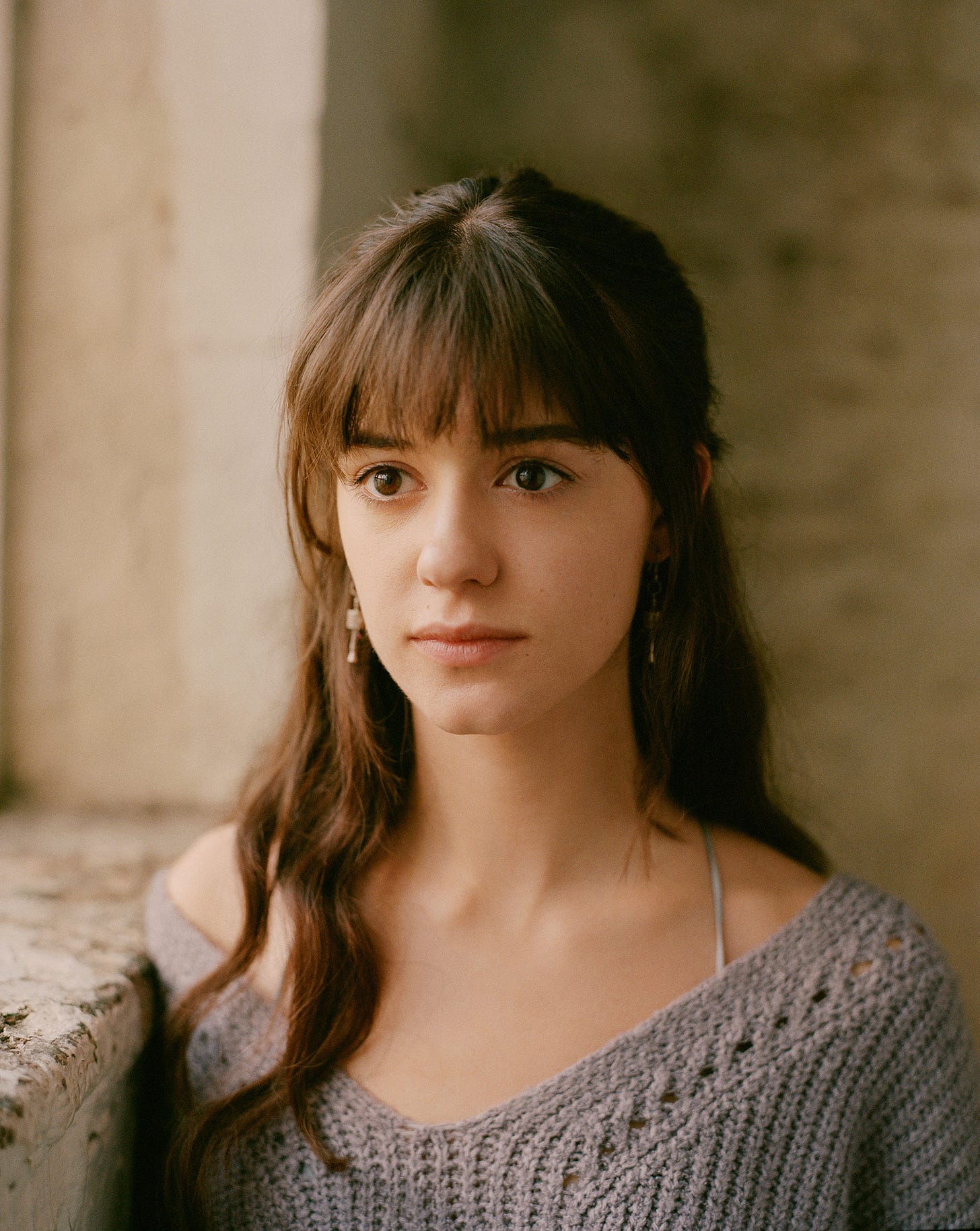 It's exciting to see how Marianne's clothes mirror her class, wealth, personality and level of sophistication. She's like a young Vanessa Redgrave or Jacqueline Bisset. I particularly love the nod to a boho seventies look with vintage velvet jackets, skirts below the knee and demure silk blouses and scarves. Her fashion choices brilliantly reinforce her character and original mind and set her apart from all her peers.
Marianne has all the makings of a style icon fit for a sustainable age from her alluring yet understated little black sundress for the bicycle ride in Tuscany to her Marilyn Monroe off duty glamour at home. I predict a rush to recreate Marianne's Trinity wardrobe the moment vintage stores and slow fashion houses are able to open again.
From fashion to love, sex, friendships and leaving home for the first time – Normal People is a searing and multi-layered account of coming of age, the redemptive power of love, identity, education, travel and the devastating effect of abuse, criticism, poverty and violence on families.
All and Nothing At All
Perhaps the story of Marianne and the violence at home is all the more powerful because on the surface she appears to have it all. Of course, abuse cuts across all classes and it lays bare the effect on a child's mental health and sense of self- worth as they negotiate the already tricky passage from childhood into the adult world. The clues are there right from the start. Rooney garlands the text with them like a broken string of pearls.
It begins with the casual cruelty of Alan throwing his sister out of the car in the pouring rain so that she arrives at school drenched, late and so downtrodden she asks for detention. Though the darkest scenes are between Marianne and her funereal mother, who never shows her any affection or encouragement.
A Broken String of Pearls
Then, Marianne casually tells Connell that her father used to hit her mother, and the jigsaw puzzle begins to fall into place. The atmosphere at home is as chilly as Manderley.
In reality, Marianne is by far the most beautiful, original and gifted girl in school, but no-one can see past the Taming of the Shrew wild-cat persona, apart from Connell, who despite his obvious shyness, seems drawn to Marianne and is the only person who appreciates her intellect, directness, originality and prettiness.
At times, the story of two beautiful teenage misfits growing up in Sligo and then Dublin is like a slow car crash.  It goes from exquisite intimacy, exploration and love and sex in the afternoon to the fiasco of Marianne's attempt to drive Connell crazy in public with her nineties siren bandage dress. It worked but not in the way she wanted. Ah, our stupid teenage mistakes.
Then, comes betrayal, stupid decisions, loss, confusion, cruelty, despair, shame, and dislocation and back to love again. But for how long? The lovers exclaim that ' it's not like this with other people' and yet their love is still so fragile, so unsure, fluttery, and so vulnerable to breaking to smithereens in a heartbeat.
I needed to go for a long walk in the sun after watching it to make sense of everything the BBC Three adaptation of Rooney's dark, sour-sweet coming of age love story quietly unfurls at the viewer like a black velvet glove. It's emotionally and intellectually exhausting.
Fifty Shades of Growing Pains
Normal People doesn't hesitate to explore some very uncomfortable topics that for the most part remain hidden and taboo – mental health, domestic violence, masochism, bullying, social exclusion, gaslighting, depression, anxiety, self-esteem, class and privilege.
But the one thing it isn't is fifty shades of Sligo. It's more fifty shades of growing pains. Sure, there is quite a lot of sex, which is filmed with a rare sensitivity and sweetness and never, ever feels gratuitous. It just feels real.
Normal People is about the evolution of Connell and Marianne – two teenagers who don't fit in at school and discover that they have an intense, powerful head and heart connection to one another which grows and changes out of the pain and suffering of becoming adults and dealing with the added challenges of mental health and trauma.
What it does so well, is show how confused, insecure, cruel and inept we can be as teenagers as a direct result of our earliest experiences and how secure and loved we have felt in our formative years.
Sometimes, Love isn't Enough
Although, interestingly, Connell's own sense of alienation and not knowing how he feels about many things is not clearly explained.  He does have a beautiful, laid-back, warm and encouraging mother played with charisma and warmth by Sarah Greene.  How does being the child of a single parent affect him? We just don't know the trigger for his depression, other than he is devastated when he and Marianne break up over the school prom. Then, he struggles to fit in at university, surrounded by people who seem so much more confident, affluent and sophisticated than he does.
Right from the start, it is class and social status that sabotages Connell's relationship with Marianne. School is such a tribal place, and Marianne is perceived as rich, brainy and arrogant with classmates imagining a string of servants and ponies. While it doesn't excuse Connell's behaviour, we can understand why he is too scared to own up to his relationship with the most unpopular girl in school.
Connell's mother Lorraine cleans for Marianne's mother and they are poor and now he is sleeping with her daughter. It's not exactly meet the parents' territory.
Though the relationship is really undone by Connell losing his job waiting at tables to pay his rent at university. Did you scream and shout when he is too ashamed to explain his situation to Marianne and ask if he can stay with her until he gets his job back?
Then, slowly,  they circle towards each other again through loss, experience and tragedy. Connell helps Marianne see that she deserves to be with a man who likes and cares for her and doesn't hurt her. While the scenes where she talks to him without judgement and then quietly watches over him from afar while he struggles with depression and the death of his friend are some of the most powerful in the series and make up for all their stupid, senseless breakups.
It's exciting to see mental health being explored and tackled with such compassion, openness, care and authenticity on television.
Selfless Love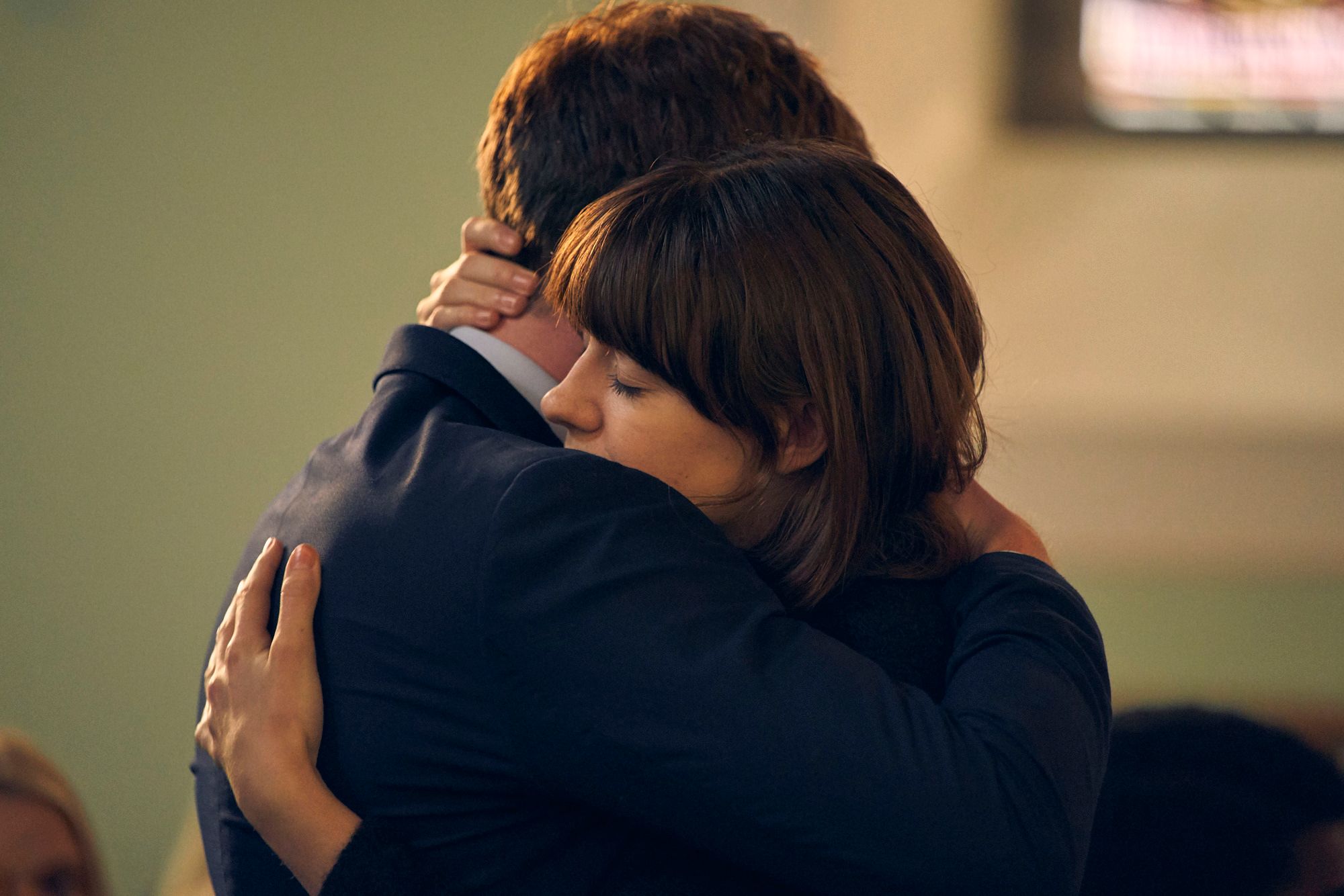 Our Marianne and Connell are growing up, gaining maturity and beginning to experience what selfless love feels like.
Normal People offers a powerful message. It doesn't get any better as adults, unless we develop the self-awareness to deal with events in our childhood that sabotage us as we become adults. If we don't, we will continue to live messy, heart-breaking lives instead of nurturing and developing the courage to ask for help, to talk about our problems, and to learn to communicate and be open about what we need and want to thrive in life and in a relationship with another human being.
Of course, when you are a teenager everything is a thrilling or bewildering experiment.  Normal People brilliantly captures that sense of teenage awakening, spontaneity, uninhibited couplings and the dreamy idea of a rich, exciting life stretching out in front of us, where settling down is something we will do in the far distant future.
What Normal People does so deftly is the telling of our teenage stories in a way that is raw, honest, funny, freewheeling, sometimes deeply embarrassing, painful and authentic.
From that first, horribly invasive kiss by the ugliest boy in school at the end of term disco – to having sex for the very first time in your shared room at university while your best friend has agreed to stay in the library until the coast is clear. Then holding hands, having tea and going for a walk and feeling elated that everyone must know that you have just lost your virginity. When in truth, no one knows, except the best friend who would like to come home now.
Marianne and Connell are like that until in a moment of crass, cruel, stupidity, Connell devastates and betrays Marianne's fledgeling trust and confidence by telling her is he is going to take another girl to the school prom because he doesn't have the confidence to be open about her to the entire school and show her off with pride.
A Broken Self Image
In a stroke, he has reinforced her experience at school and at home of being unloved, despised and constantly criticised. Later she talks about being unlovable and says, 'why can't I make you love me' when Connell has told her many times that he loves her while she pushes him away.
At this point, for anyone who has ever experienced criticism from parents or a partner, I just want to hug Marianne, like Connell's lovely, caring mother Lorraine and say, 'it's alright. Don't you know how beautiful, smart and amazing you really are?'
Sadly, it is not so easy to unlearn early conditioning. Despite Marianne's obvious gifts, she wilfully goes out of her way to self-harm by confusing Connell and pushing him away. From the moment they first become intimate she encourages him to sleep with other girls as if their union means nothing to her and by telling him ' you can do anything to me', which is warning of a broken self image and of what is to come.
Masochism & Horrible Jamie
Inevitably, when she isn't with Connell, Marianne chooses men who are unworthy, obnoxious and sadistic, culminating in her horrible relationship with Jamie and then a photographer in Sweden, which turns increasingly dangerous, grim and sad.
It's hard to witness that degree of self-loathing. I am sure I am not the only one who exhaled when Marianne called time on this sadistic game before it ended in tragedy. Though the hardest scene of all happens when Marianne and Connell are reunited and there is a glimmer of hope. Then she asks him to hit her. It's shocking. It is meant to be. It is also the point at which Connell begins to understand what has been happening to her at home and ultimately, he comes to her rescue.
Love, Hope and Transformation
While the hopeless romantics amongst Normal People's global fandom clamour for a neat happy ending and more of Marianne and Connell, it doesn't exactly mirror the ups and downs of real-life or the ability of humans to mess things up. And yet, in many ways, Normal People offers so much hope. Connell and Marianne do ultimately transform each other's lives and that brings them a new maturity, happiness and contentment together.
It's there in the magical scene in the car, with Christmas presents piled high as Connell takes Marianne home to spend Christmas with Lorraine and his family. Their delight in each other after all that they have come through is the happy ending.
Now their lives are opening up before them, with education portrayed as an open door to freedom, choices, security and success in life, no matter who you are or where you come from. They have broken free of the problems of family, money, abuse and social conditioning and life is lighter and filled with possibilities and simple joy.
The Lion Heart of a Writer
As for Connell the school boy who couldn't imagine studying English at university or winning a scholarship. It won't be the exam results that land him his first magazine commission and his name in lights. It will be the fact that he has this quiet, burning, never give up determination to keep going after repeated rejections and write about life in all its raw, brutal, heart-breaking strangeness and beauty with or without his Marianne.
Copyright Alison Jane Reid - June 2020. Normal People is Streaming on BBC iPlayer as a part of a BBC Three Co-Production. Pictures BBC/Element Pictures/ Enda Bowe All Rights Reserved June 2020.
Support our crowdfunding campaign and become a subscriber today!