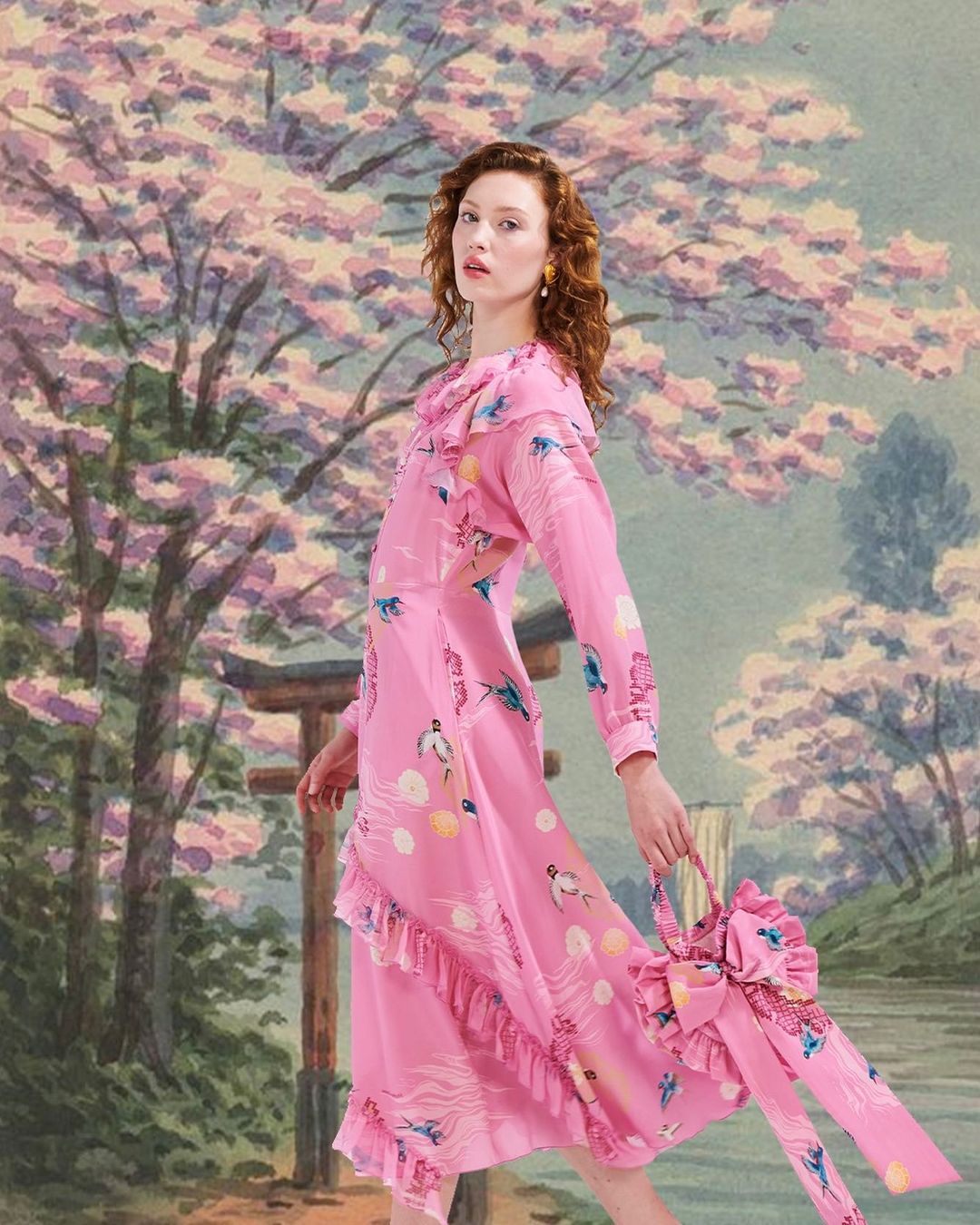 Prepare to look on with wonder! In an increasingly homogenised fashion world, Hayley Menzies is something of a maximalist slow-fashion miracle and a champion of nature's natural fibres. Meet a slow fashion designer out of Africa and India with a dash of Americana, Menzies certainly has a first-class fashion imagination. Her world is a charismatic Jungle-land of tigers, flower power and horses prancing - emblazoned across exquisitely conceived extrovert, handcrafted fashion treasures brimming riotously with bows, frills and flashes of iridescence and glitter.
Imagine a boho dressing-up wonderland that pays homage to the sixties and seventies and the icons who dominated it from Talitha Getty to Vanessa Redgrave and Julie Christie. A style cornucopia of day and evening dresses, duster coats, decadent lounging robes, skirts and jackets imagined in a fertile rainforest of whimsy, colour, print and animation, all handcrafted slowly to become the heirlooms of the 21st Century.
A Love Affair with Wool and Charismatic Big Cats
I fell madly in love with Menzies's fashion work of art big cat duster coats and capacious cardigans whilst researching animal motifs in fashion. I call her The Princess of Prints - reigning over a wild kingdom where charismatic cats, flower power and nature rule the roost across a riotous visual kingdom of print utopia.
For the winter 23/24 collection, Hayley Menzies's imagination appears boundless. The collection is a jungle alive with courageous tigers, supine cheetahs, blossoms and birds on the wing, prowling across a luscious landscape of wil 'o' wisp fluffy clouds and rarefied chinoiserie or a dreamy, irresistible impressionist idyll. Her blossom and bird-strewn think-pink day dresses are achingly pretty and destined to be the look-at-me party dresses of the year.
Barbie - keep up!
If you hate fashion that is boring, bland and awash with untenable landfill mountains of greenwash and plastic, this is for you.
Fashion that Celebrates Joy and the Miracle of Nature
I also like the donations and campaigning for less well-known conservation charities. Isn't it about time that human beings paid to license the beauty of nature and to help protect it?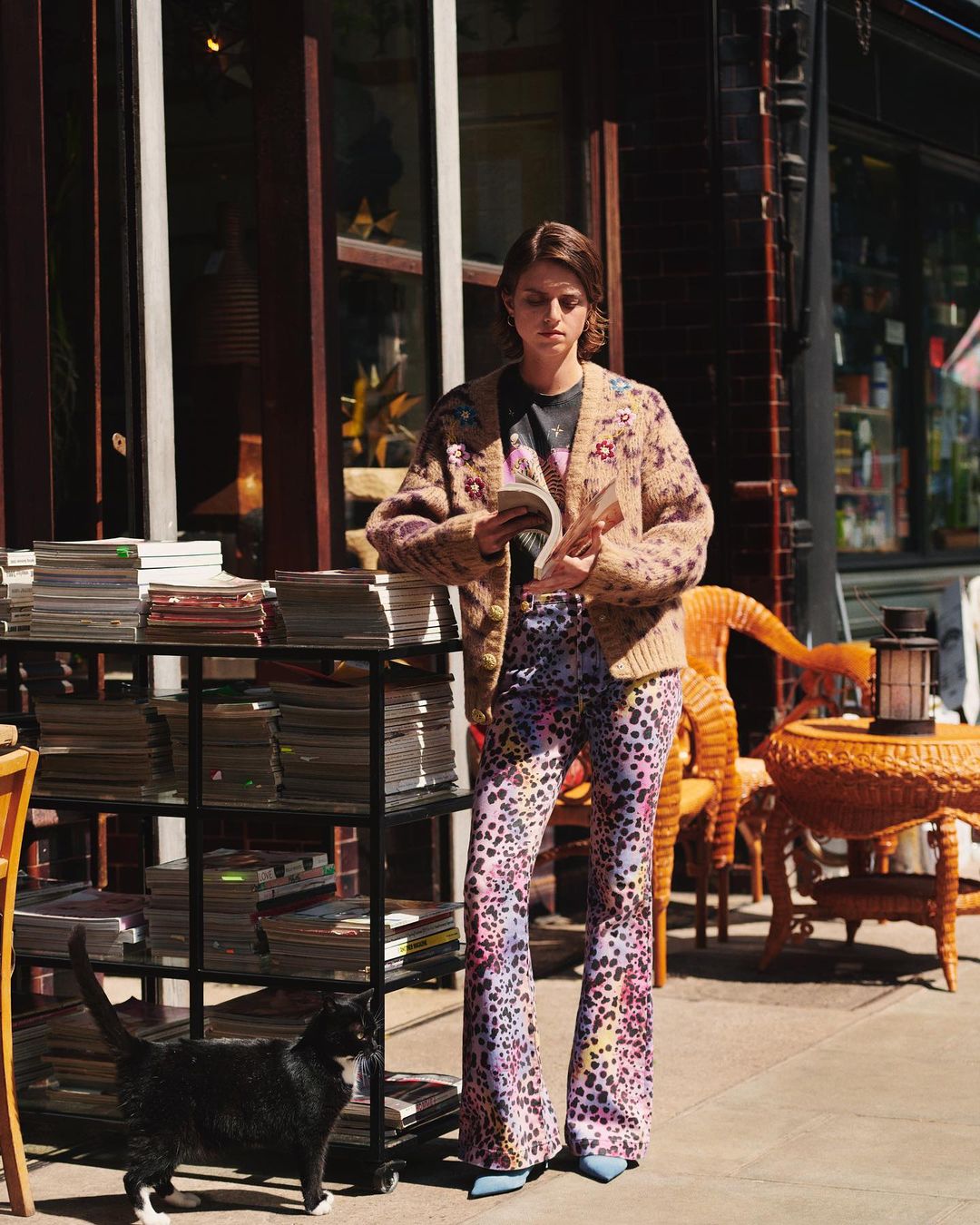 The miracle is that Hayley Menzies exists at all. Menzies started out with a stall in Portobello Market selling a small edited collection of vintage style fashion inspired by a peripatetic life via the rave scene, The London College of Fashion and Bali. The individuality and charisma of her idea struck a cord and found a following and the Hayley Menzies slow fashion house was born. To this day, Menzies remains a self-financed fashion house, an impressive feat. Slothful fashion invention wins the day.
Bravo!
In the interests of journalistic research, I was so intrigued by Hayley Menzies and her iconic, big cat jacquard cardigans that I made a special trip to her Chelsea emporium earlier this year to see if the quality of the garments lived up to my fashion editor's hunches. The visit exceeded my expectations. The quality of the fabrics in organic cotton, jacquard, silks, fine merino and alpaca wool left me captivated and impressed. It was better than I dared to imagine. The clothes seemed to belong to another age, where slowness and quality were prized and celebrated.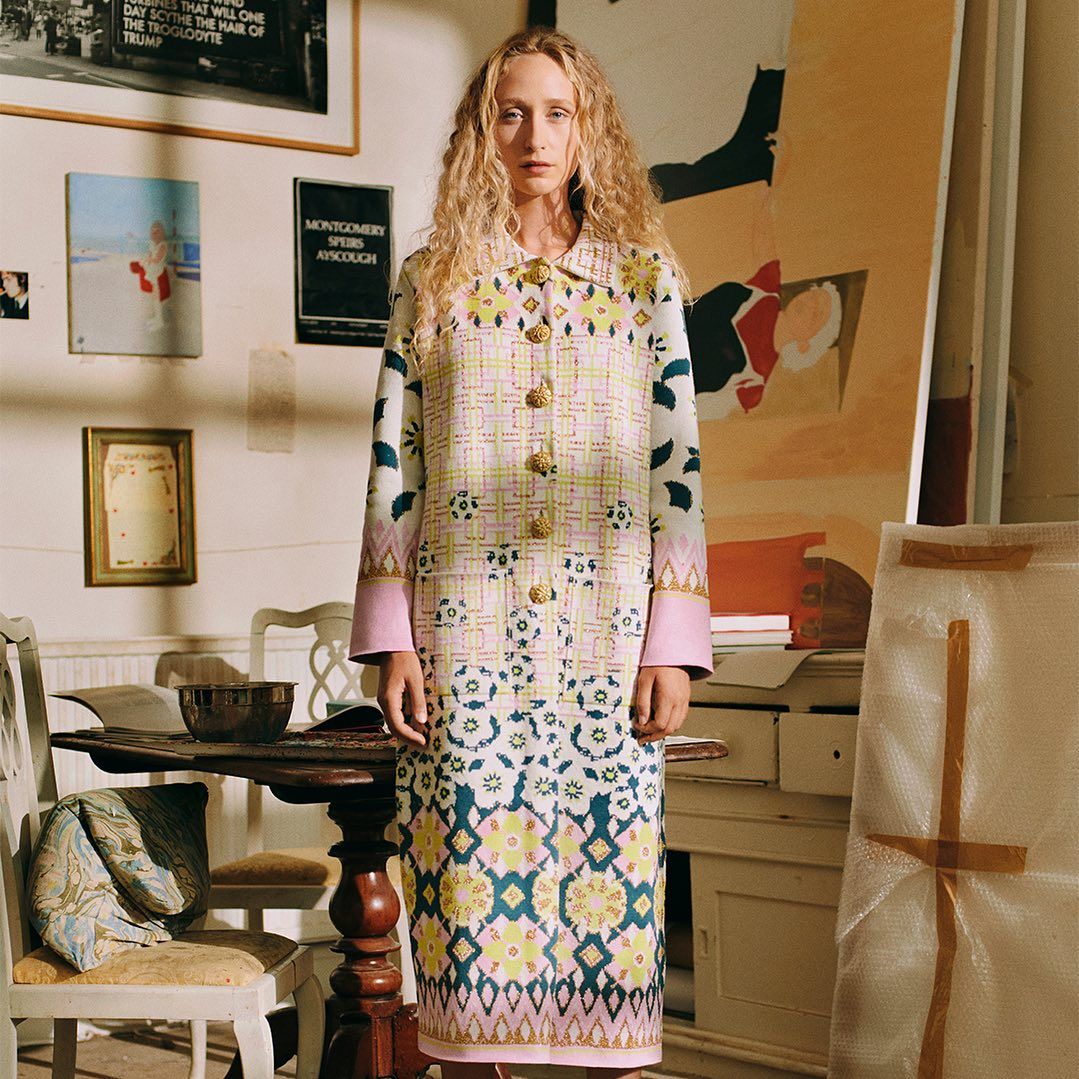 Menzies is the artisan designer to discover now and invest in one of her truly beautiful, heirloom cardigans or a dress you will never tire of wearing. So much care goes into these works of art, slow fashion masterpieces, crafted to be beautiful inside and out and become indispensable, timeless slow fashion wardrobe stars.
A fellow lover of big cats, Menzies takes the tiger, leopard, cheetah and panther and flaunts them on her opulent, maximalist cardigans, dresses, and skinny jeans and shirts and the effect is the cats meow. It's cat-tivating!
Tigers Running Riot, Chinoiserie and Blossoms Galore!
Menzies is a slow designer who knows how to captivate and enthral an ever-increasing loyal fashion following by appealing to their love of fantasy, nature and English eccentricity.
It is also very important to say that Hayley Menzies is a designer who clearly enjoys dressing and empowering women. Her extrovert original garments can be worn fearlessly whether you are 19 or 90.
Discover all About the World of Hayley Menzies on her website or visit one of her two emporiums in Chelsea or Soho, off Carnaby Street.
Colour Revolution - Victorian Art, Fashion and Design, Ashmolean Museum, Oxford University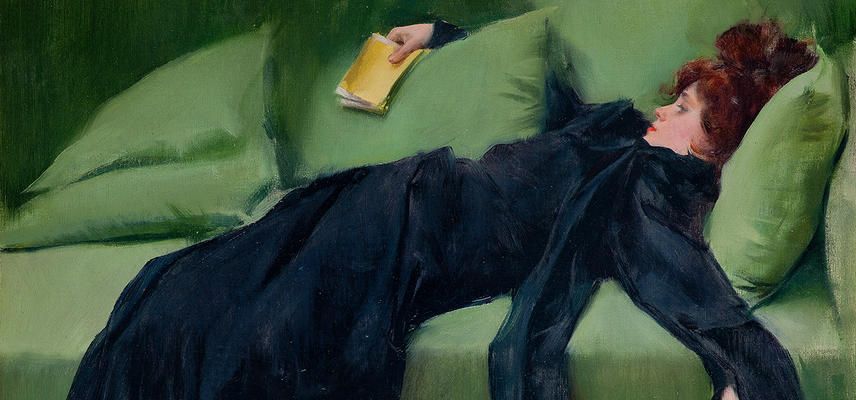 Colour Revolution at The Ashmolean Museum, Oxford University - open now until February 18th 2024
Do you think of the Victorian Age as a sombre period of dark satanic mills and a Queen dressed in mourning black for forty years? The Ashmolean Museum Oxford, presents a very different and decadently colourful view of the age in its main autumn exhibition, Colour Revolution, from now until February 2024.
Through the lens of 140 spectacular exhibits of fashion, art, design and jewellery, the Victorian era is redefined as a time of scientific discovery, bold, sensuous art, spectacular gowns in purple and green using the new synthetic aniline dyes and tiaras and necklaces fashioned from the slaughter of iridescent beetles, hummingbirds and weevils.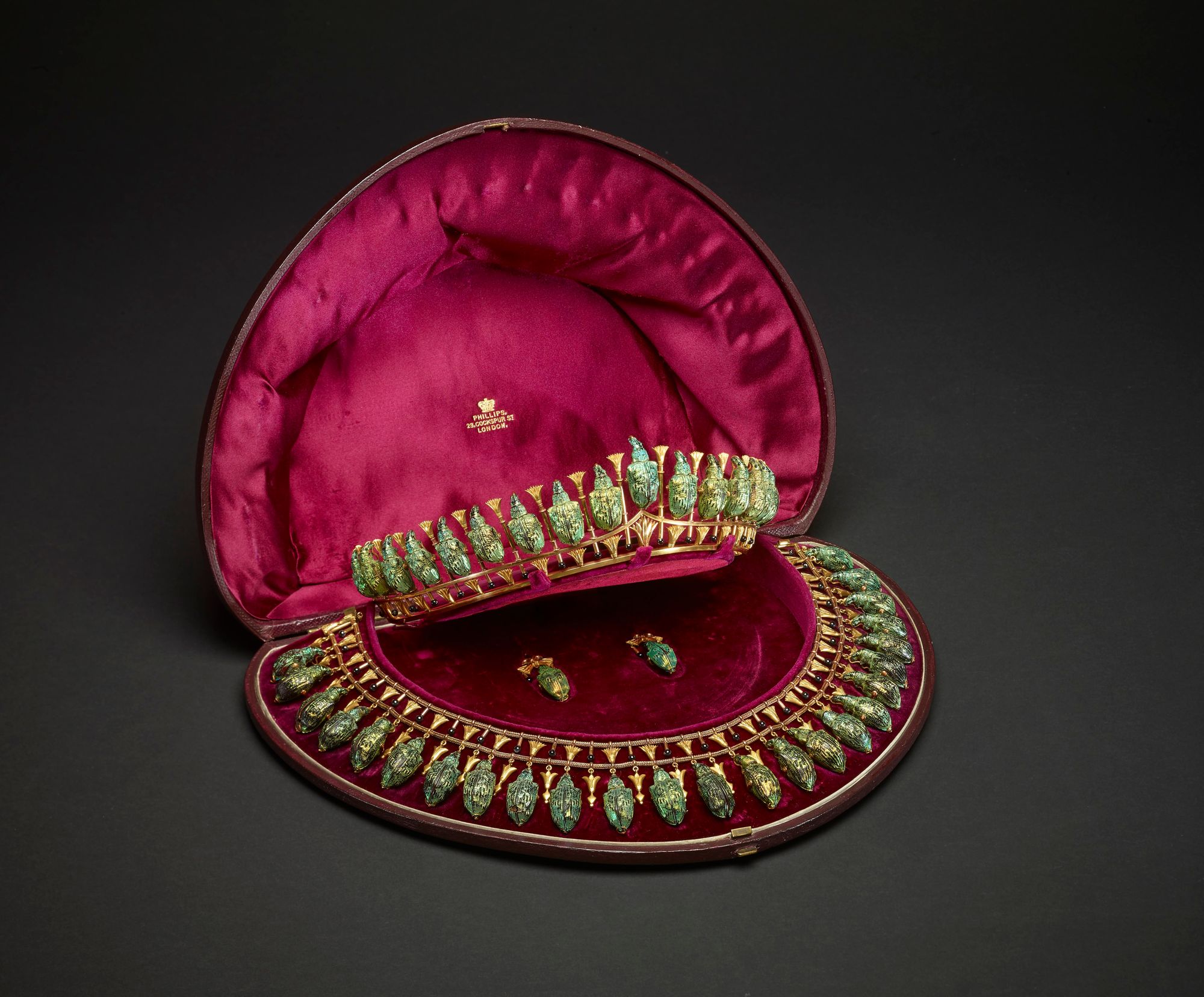 One of the highlights of the exhibition is a purple gown, crinoline and matching shoes. Never mind that the rivers and streams that ran by the nation's mills were poisoned in the name of fashion fads and that striped stockings led to rashes from the toxic dyes. The colour purple was suddenly all the rage.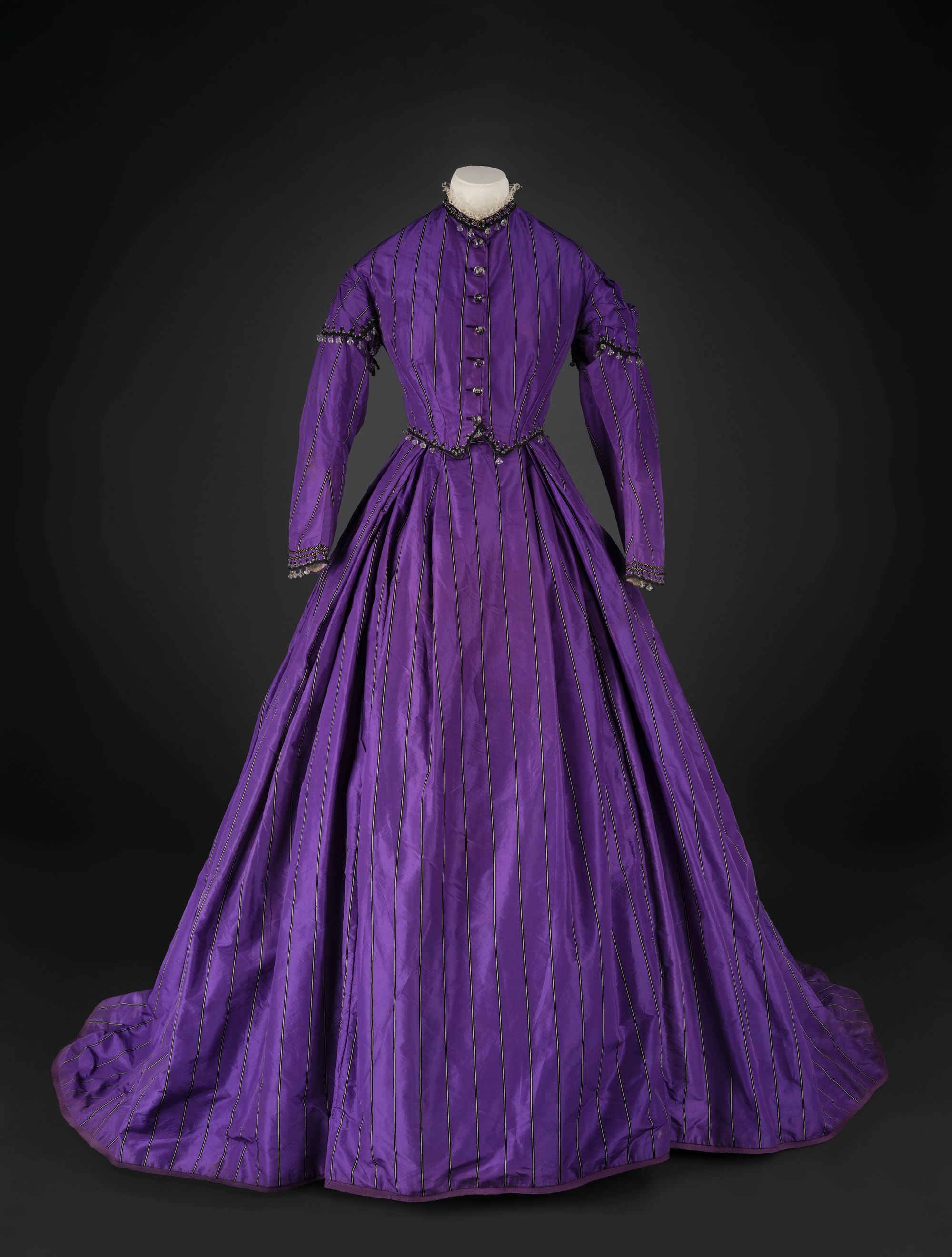 Colourful fashion in the Victorian era sometimes came at a deathly price. A factory girl working with artificial flowers died from arsenic poisoning, arsenic being the key component that made bright green dye and paints, leading to the grim pronouncement 'walls of death.'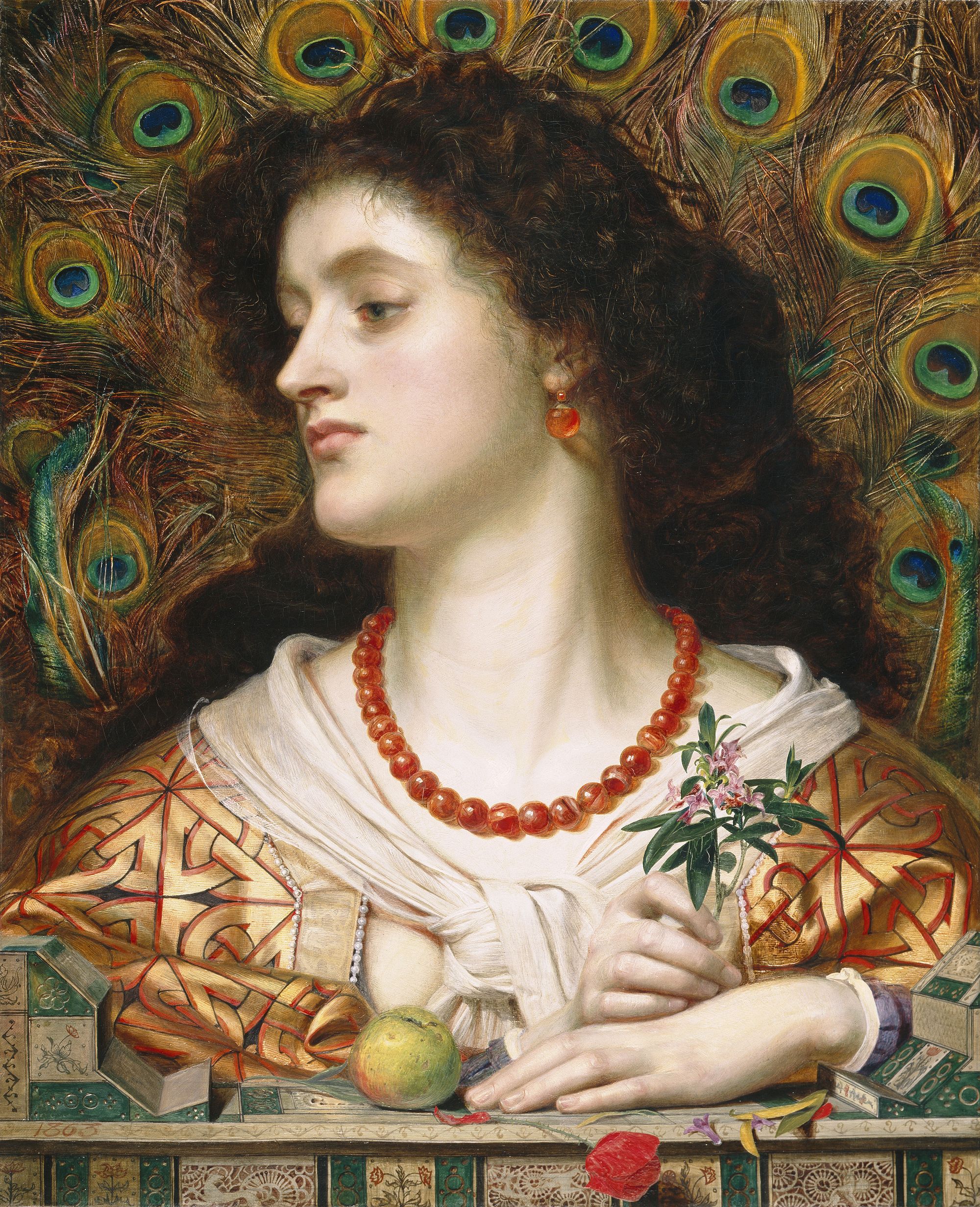 The artistic and intellectual glitterati of the day were very divided about this new-fangled Colour Revolution. Ruskin thought artists should stick to the god-given colours of nature, while Oscar Wilde flaunted a dyed green carnation and James McNeill Whistler was all for colour for colour's sake and embraced the new artificial paints.
Find Out More, Visit the Ashmolean Museum Online and Book Tickets Here -
Ashmolean Museum, Oxford University, UK.
Field, Fork Fashion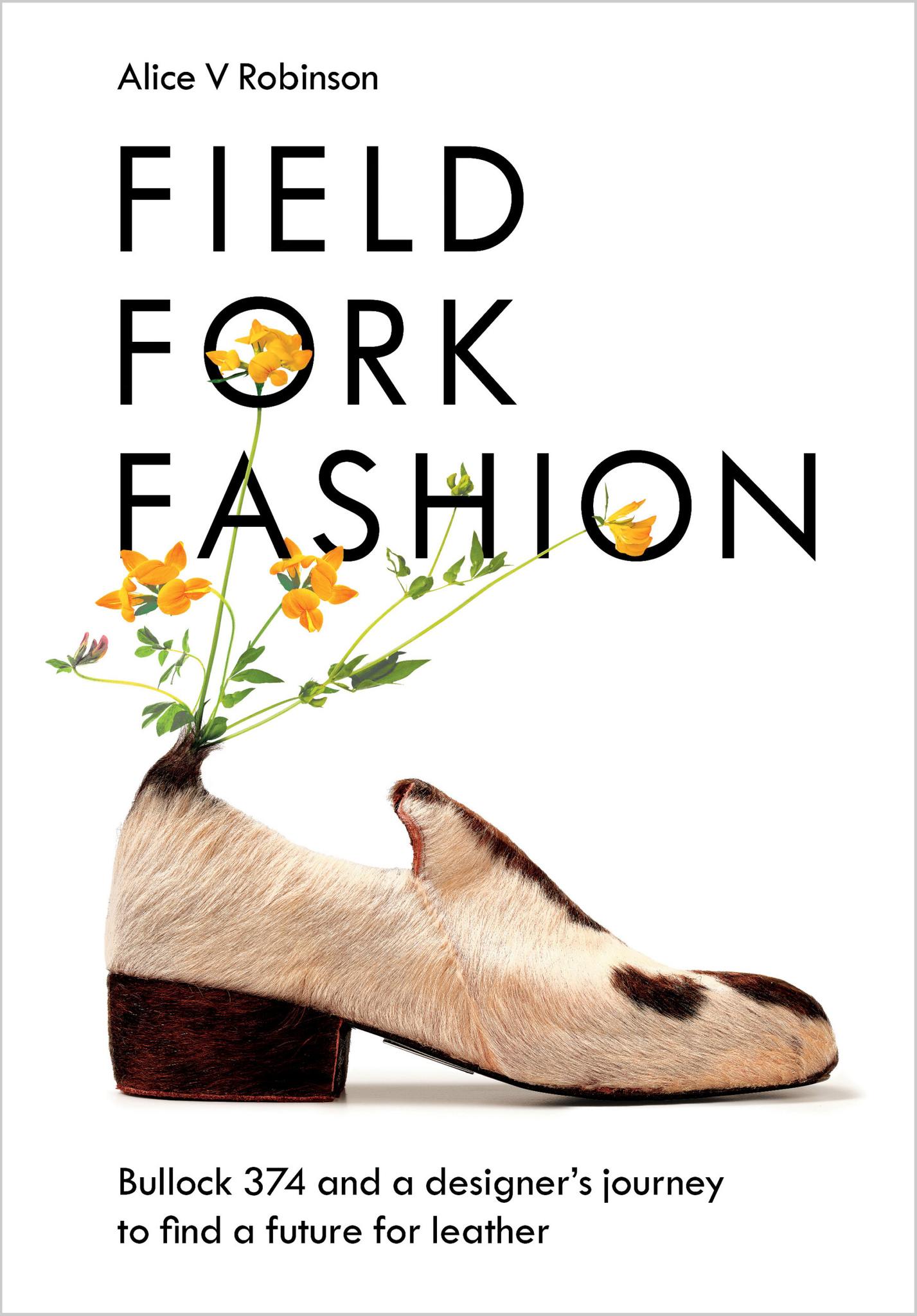 In Field, Fork Fashion, published by Chelsea Green Publishing, Alice V Robinson, an accessories designer to discover now and a graduate of The Royal College of Art sets out on a slow, meticulous journey of rediscovery to show the connection between farming, food and fashion - from the field to the fashion atelier. With intimacy, candour and authenticity, Alice documents her journey to make and celebrate a wonderfully tactile artisanal fashion collection with a traceable supply chain from the farm to the atelier with leather as a circular luxury by-product of regenerative food, farming and biodiversity.
As there was no supply chain, Alice bought her own bullock from a charity farm and so began the story of Bullock 374- from the field to the table to the V&A Museum.
The book is gorgeous to pick up and dip into takes the reader on a gentle yet remarkable journey of discovery to the heart of nature, farming, animals, food and artisan luxury fashion and shows how everything is interconnected and interdependent.
The greatest strength and charm of Field, Fork, Fashion is Alice's authentic story of growing up as the daughter of a country vet, being around 'muck and medicine' and then charting the story of how a pasture-raised bullock from an ancient breed feeds a local village and then goes on to become a treasured slow fashion idea via the hallowed echelons of The Royal College of Art and the V&A Museum.
The book is a powerful call to action to understand our vital connection to the land and farming and how it has sustained us for thousands of years until the disastrous advent of processed, industrial farming, toxic pesticides in the soil and in the food chain and the corresponding epidemic in disease and loss of biodiversity.
Regenerative farming has a vital role to play in the restoration of nature and habitats and in providing secure, healthy food and slow fashion that can last for generations.
Let this book inspire you.
Field, For, Fashion. Hardback. Published by Chelsea Green Publishing. Price £27.00 UK and $34.95 US. For more information visit the publisher here.
Copyright The Luminaries Magazine/Alison Jane Reid. All Rights Reserved and Absolutely No Reproduction Without Permission. October 2023.
Independent Journalism Needs You! Support The Luminaries Magazine.