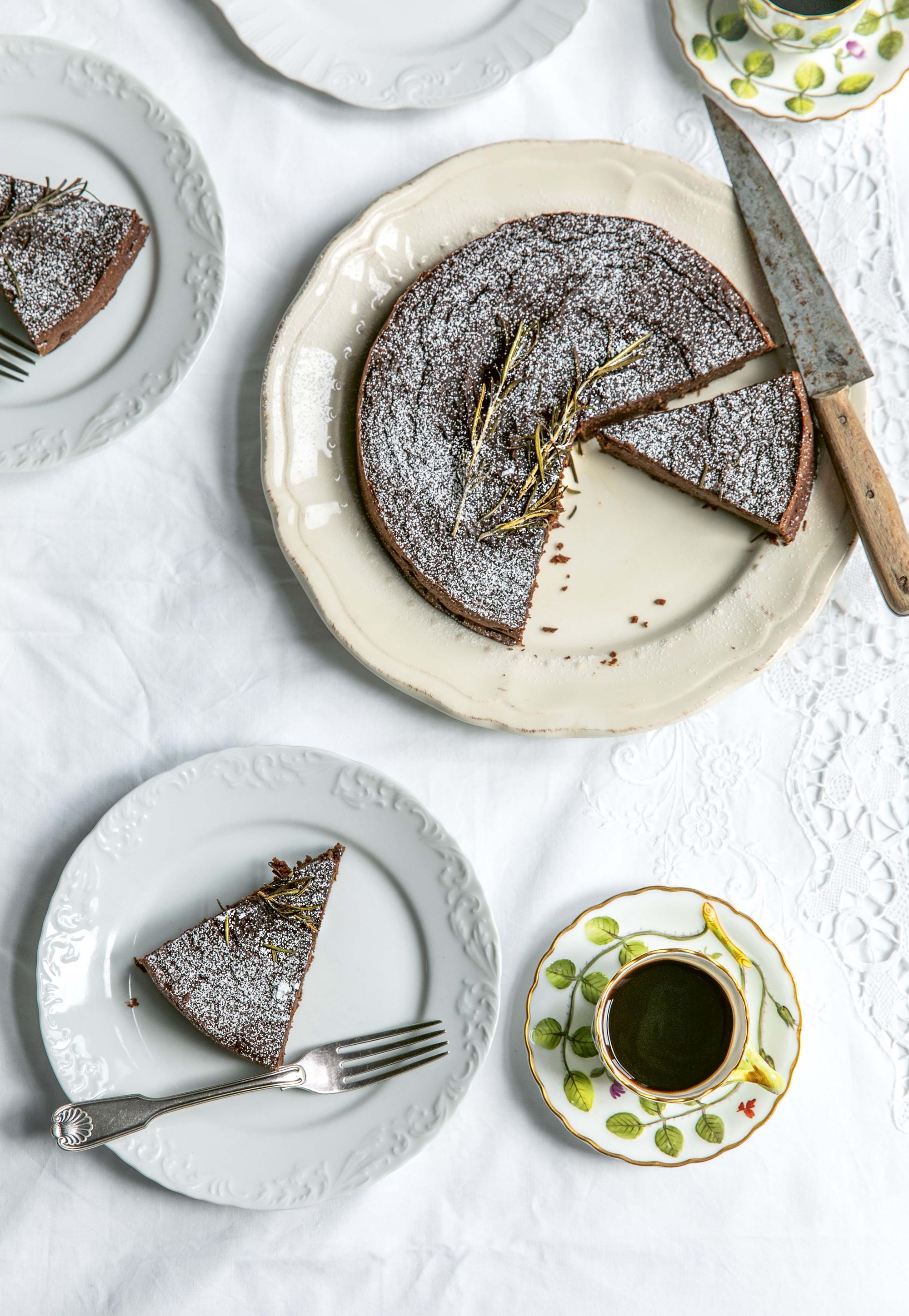 Flourless Chocolate,  Chestnut and Rosemary Cake
Prep Time
10 minutes

Baking and Cooling Time

45 minutes baking 2 hours cooling
FOR 8–10
Salted butter, for the tin
500g sweetened chestnut purée
4 eggs
75g ground almonds
40g cocoa powder
Leaves from 4 rosemary sprigs, plus extra sprigs for the top Icing sugar, to dust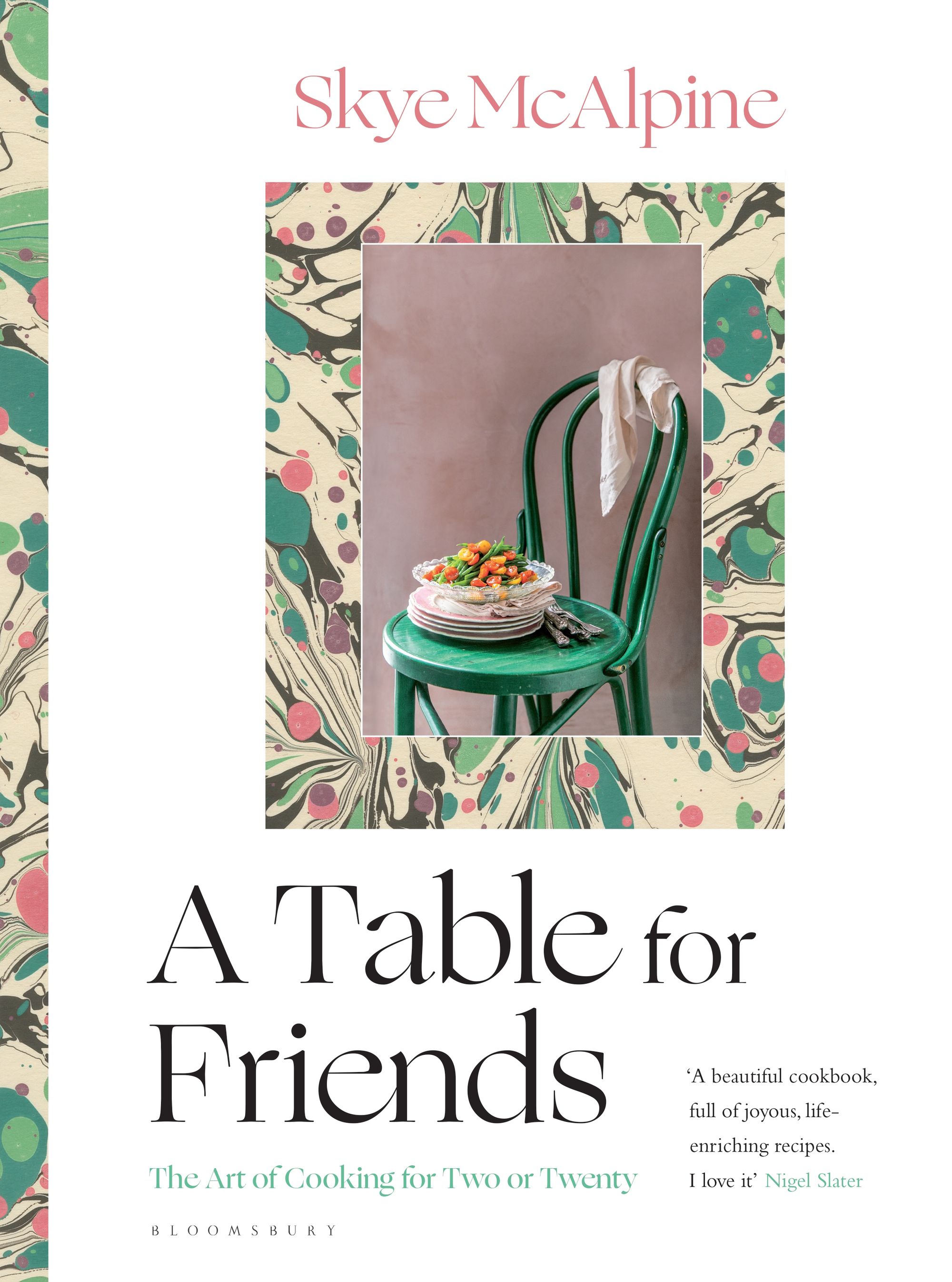 Editor's introduction
The problem with recipes for chocolate cake is that they often over promise with their sumptuous exteriors, only to appear dry and lacking that sumptuous, gooey richness on first bite. Venetian cook Skye McAlpine has the answer in her new cookbook Cooking for Friends - The Art of Cooking for Two or Twenty.
Skye explains, "A few years ago, I made this for a bake sale at my elder son Aeneas's school, and found myself swamped with requests for the recipe, which is adapted from the old Venetian cookbook, ATola Coi Nostri Veci by Mariù Salvatori. Chocolate cake is often dry and, in spite of its dark, sumptuous appearance, rather disappointing to eat. This, however, chic-ly dusted in a cloud of icing sugar, is the ideal balance of velvety chestnut and rich, fudgey chocolate. The rosemary is entirely optional, but gives it a soft grown-up-ness.
I use the cans of sweetened chestnut purée here, for ease and convenience. An import from France, it can be tricky to find, so I stock up whenever
I see tins at the supermarket or in delicatessens, as it always comes in handy, even to serve over vanilla ice cream with a little chopped dark chocolate and crumbled meringue. But if you can't find it easily, feel free to use the unsweetened variety readily available in British supermarkets: use 400g, whisking it lightly with 100g icing sugar, until smooth, before you begin.
Heat the oven to 180 ̊C/fan 160 ̊C/Gas 4. Butter a 20cm round cake tin and line with baking parchment.
Pour the chestnut purée into a large mixing bowl. Separate the eggs and lightly beat the yolks with a fork, then add them to the purée. Pour in the ground almonds, add the cocoa and mix well. Roughly chop the rosemary leaves and add them to the batter, then stir until well combined.
In a second bowl, whisk the egg whites until stiff, then fold into the chocolate mix. Pour into the tin and sprinkle on a few rosemary sprigs. Bake for 40–45 minutes until a skewer comes out clean. Leave to cool in the tin, then turn out. The cake will keep nicely for 2–3 days."
——
Dust with icing sugar before serving.
SERVE WITH...
Because of the chestnut (albeit canned), this feels like a cold weather pudding and it works well with wintry, autumnal flavours; moreover, because it's a cake, it will make up for an otherwise simple meal. For dinner on a weeknight, I love TAGLIATELLE WITH GORGONZOLA, PEAR & WALNUT (p.62), which takes moments to throw together, alongside
A REALLY GOOD CHICORY SALAD WITH CREAMY MUSTARD DRESSING
(p.110), then this cake, prepared a day (or more) ahead.