Butterfly Child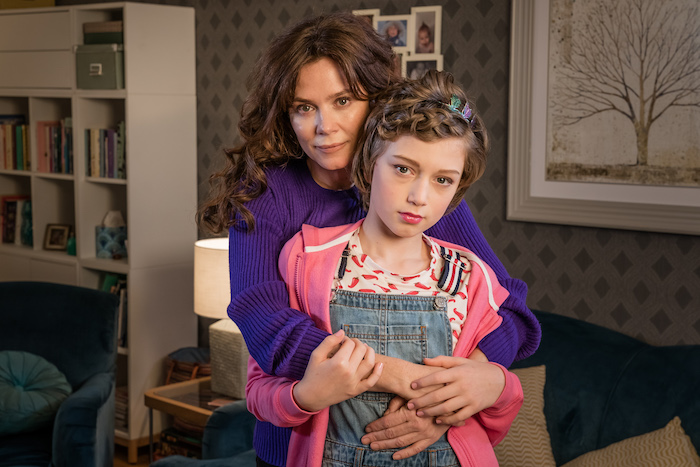 Ana Friel stars in Butterfly a family drama about gender and identity. Friel is an accomplished and daring actor, who continues to choose bold, exciting and sometimes controversial roles on the small screen.  In Butterfly, she plays a mother torn between holding onto her son and letting him fly as the girl he has always wanted to be in a family already fractured by separated parents. Butterfly was created and written by BAFTA award-winning screenwriter Tony Marchant, and also stars Emmett J. Scanlon, and child actor Callum Booth-Ford who gives an incredible performance as max.
How would you cope if your child told you they were simply born in the wrong gender?
From the earliest age, Max, played by Callum Booth-Ford has identified as a girl but has tried to suppress these feelings in a heartbreaking attempt to win his father Stephen's approval.
I'm a Girl, I'm A Girl, I'm a Girl
When Max's desire to live as a girl becomes overwhelming, the family is tested to its core by the opposing views of his separated parents Vicky and Stephen.
As the crisis comes to a head, and Max declares he now wants to be Maxine, Stephen moves back into the family home, convincing himself that with love and support and football sessions his son will just grow out of this phase. While Vicky finds it hard to say goodbye to her little boy, she is much more accepting and just wants to protect her child and look after Maxine's mental health, as she transitions to being a girl with all the pleasure, excitement and heartbreak that ensues.
Over three episodes, viewers will see how the family prospers or falls as the challenges unfold.
About Red and Nicola Shindler
Nicola Shindler established the multi-award-winning RED Production Company in Manchester in 1998 to work with the best writers producing modern and innovative programming and has executive produced Butterfly with Tony Marchant. Caroline Hollick, Creative Director at RED, is also an executive producer. Adam Kemp is executive producer and his boutique indie company AENON (Our Zoo) a co-producer.
Butterfly is a three-part mini-series on Sundays at 9 pm on ITV