By Meggin Thwing Eastman, Impact and Screening, MSCI ESG Research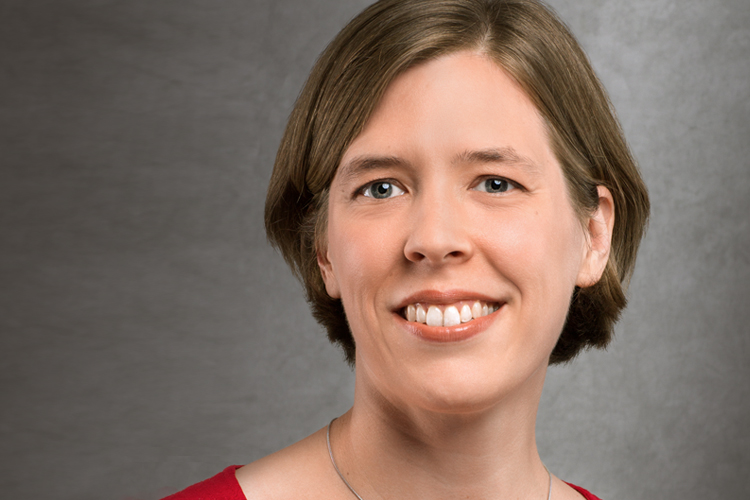 All About Meggin
I started my career over two decades ago at the socially responsible research and index firm KLD Research & Analytics (which was acquired by MSCI in 2010). From this vantage point, I have watched environmental, social and governance (ESG) investing garner more and more acceptance and enthusiasm in the market. It is an exciting, compelling time to help define and shape the field of ESG as investors tackle some of the most urgent environmental and social issues of our time, from climate change to social inequalities. I have long been passionate about women's advancement and inclusion in the workplace — MSCI ESG Research's recent studies have found that diversity has been a compelling element of human capital management for long-term corporate resilience.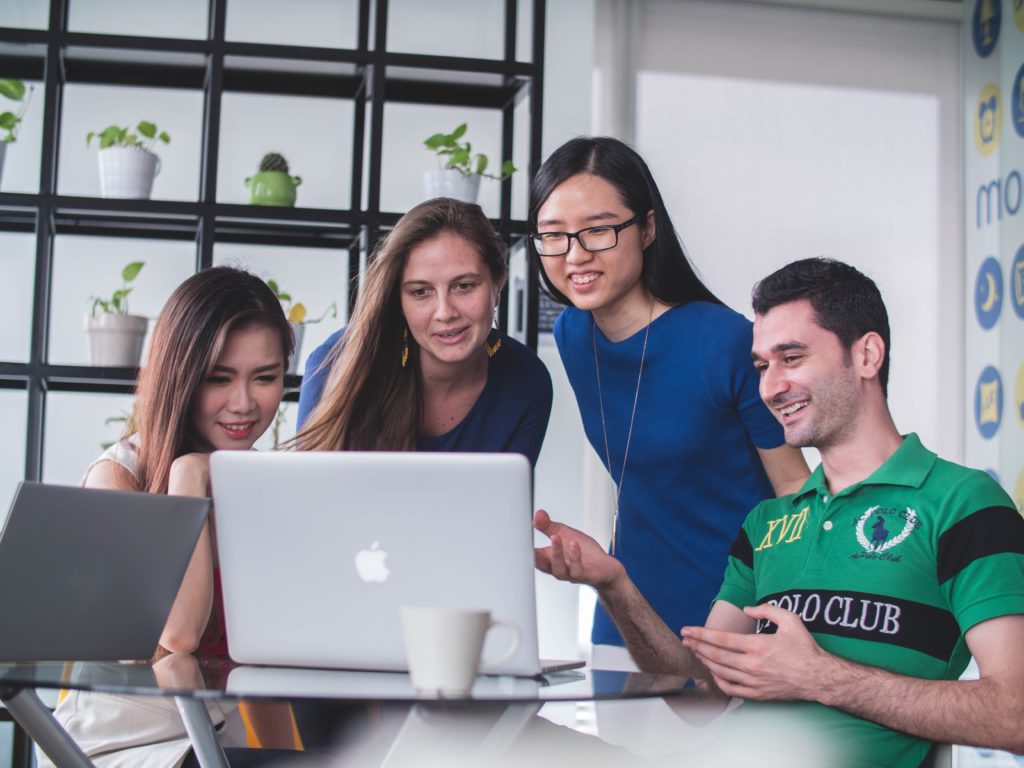 Diversity Compels Corporate Innovation and Resilience
With International Women's Day just behind us, we looked at the relationship between some of the most innovative publicly listed companies in the world — including Amazon.com Inc., Nike Inc. and Visa Inc. among others — that have something in common that you might not expect: more women on their boards than their industry peers. They also tended to have stronger diversity and inclusion programs.
We examined constituents of the MSCI ACWI Index that had been recognized as innovators on one or more annual lists produced by Forbes, Fast Company, MIT Sloan and the Boston Consulting Group between 2015 and 2018. All told, there were 202 index constituents in 42 industries over three years, with the majority (161) clustered in 17 industries, such as software and services, pharmaceuticals and automobile manufacturers. Strong female presence on the board was a defining feature of these companies compared to others in their industries.[1] They were also about 1.5 times as likely to have quantitative diversity targets for recruitment and/or senior management dedicated to overseeing gender diversity and inclusion initiatives.
Innovators Tended to Have More Female Directors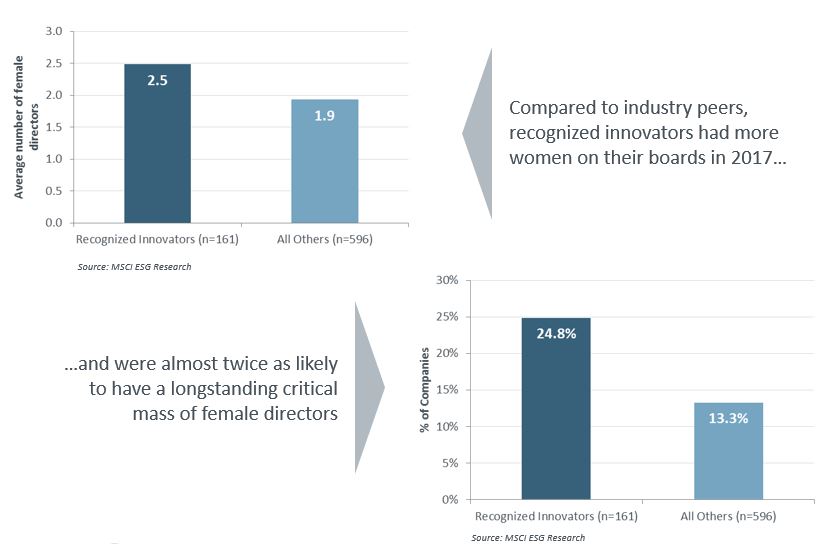 While we can't tell what's cause and what's effect – a culture that embraces new ideas might also be a culture that values gender diversity – there's research suggesting that more diverse groups are more creative.[2] And our analyses have found that companies with more women on the board also tended to have more gender-diverse workforces and senior leadership teams.[3] Investors interested in innovation capacity might do well to take a hard look at board gender diversity.
Further Reading on the Topic:
A growing body of research shows that having three women on a corporate board represents a "tipping point" in terms of influence, which is reflected in financial performance. U.S. companies that began the 2011-2016 period with at least three women on the board experienced median gains in Return on Equity (ROE) of 10 percentage points and Earnings Per Share (EPS) of 37%. In contrast, companies that began the period with no female directors experienced median changes of -1 percentage point in ROE and -8% in EPS over the study period. However, a causal link was not established.

MSCI ESG Research has been reporting annually on the state of women's representation on corporate boards of directors since 2014. As part of this evolving series we have added other areas of interest, relevant to the investment case for gender equality on boards, the differences in compensation regimes between male and female CEOs, and market specific corporate gender diversity issues, such as in Japan, and industry specific issues, such as those in Financials companies. This latest paper in the series provides an update on the state of female representation on corporate boards and in senior management for MSCI AWCI Index constituents as of October 16, 2018.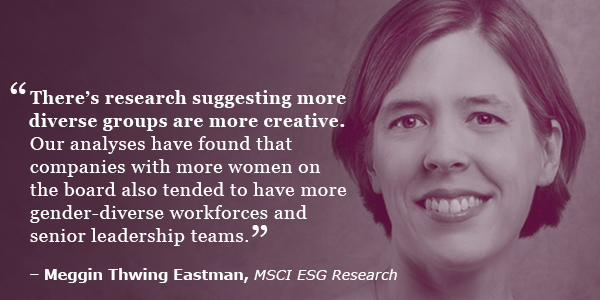 Previously, we have asked whether the number of women on boards has a relationship to corporate financial performance. Research suggests that it has. But is that the whole story? Does the number of women on boards reflect companies' overall approach to managing human capital and their financial performance?
In its Sustainable Development Goals for 2030, the United Nations set out a vision of a world that includes economic growth, increases in productivity and the eradication of gender discrimination so that women have "full and effective participation and equal opportunities for leadership at all levels." Our latest research suggests the connection between these goals is relevant to investors.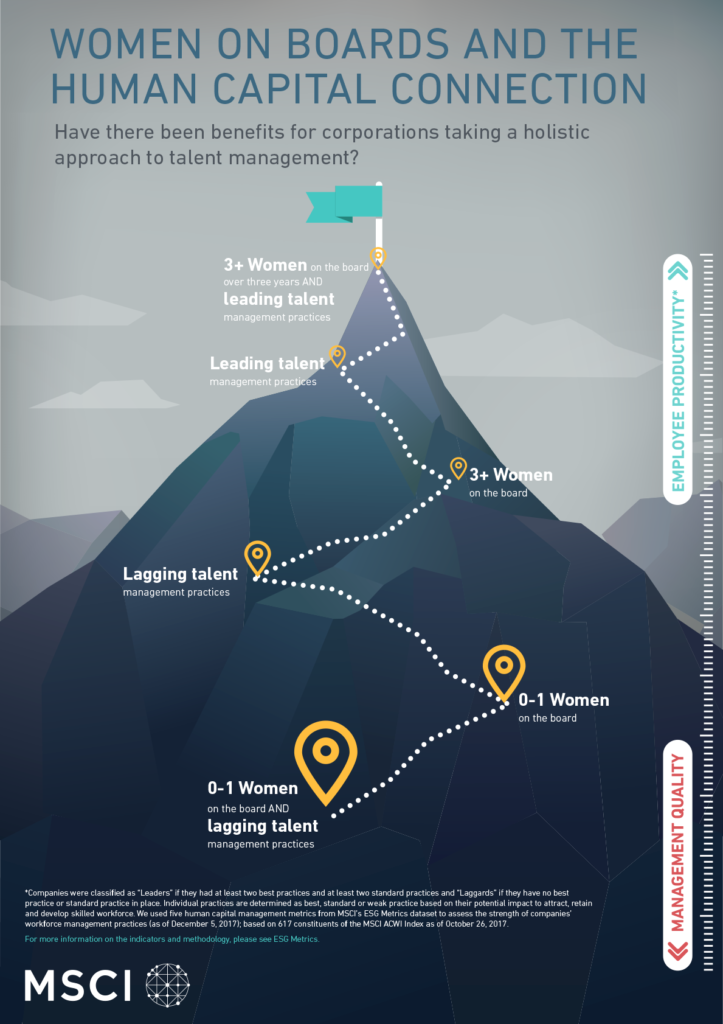 Studies have asked whether having multiple women on a board of directors has translated into better financial performance. But is that the whole story? Does the number of women on boards relate to a company's overall human capital policies and its financial performance? Our findings suggest that the whole is greater than the sum of the parts. Companies with both a more diverse board and stronger talent management practices enjoyed higher growth in employee productivity compared to companies with a diverse board only and to companies with strong talent management practices only.

Article by Meggin Thwing Eastman, Head of Impact and Screening Research for MSCI ESG Research, which includes business alignment with the UN Sustainable Development Goals, controversies, global norms, and involvement in controversial business activities such as tobacco, weapons, and fossil fuel extraction. She has authored numerous research insights and guidance for asset owner and asset managers seeking to incorporate ESG considerations into their investment process. Corporate gender diversity is an area of particular focus.
Recent publications include The Right Stuff: Talent Management and Innovation, Institutional Investing for the SDGs (with the OECD); Women on Boards and the Human Capital Connection; Bitter Pills: The US Opioid Crisis and Potential Impact on Healthcare Companies; Investor Responses to Gun Violence in the US; The State of Investing for SDG Impact Through Public Equities; and Has Gender Pay Parity Arrived in the Executive Suite?. Meggin has worked in the ESG field since joining the former KLD Research & Analytics in 1998. She holds a BA from Williams College and an MA from University of California, Berkeley.

This article was first published in GreenMoney as part of a series of articles on Women in Finance.
We hope you have enjoyed this inspiring and informative article on women in impact investing and sustainable finance. Want more articles on responsible finance and the green economy? Check out the previous GreenMoney feature article about Women in Impact Investing!