Travel Life – Live like a native and experience slow luxury travel, authentic local Food and nature up close and personal – is there a better way to see the world? – Our editor Alison Jane Reid finds out.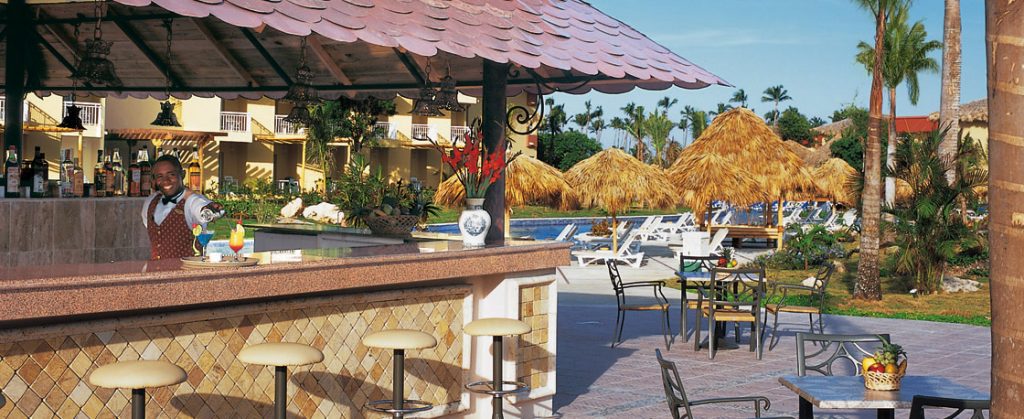 The Pick of Slow Luxury
Welcome to the collection of Travelife Gold Certified, sustainable slow luxury travel hotels and resorts – from Montego Bay Jamaica – to serene Riad in Morocco – this is the pick of eco-conscious, considered luxury, where you will come away feeling you have truly lived and dined like a native on the very best local, artisan and kitchen garden organic produce.
Explore Local Food and Culture
Sit back and let us transport you on a far-flung gourmet trail, with irresistible stories of local food, chef alchemists and warm-hearted local people who can't wait to share their culture, food, nature and wildlife and a better way to holiday in slow luxury travel style and protect endangered species, biodiversity and the environment.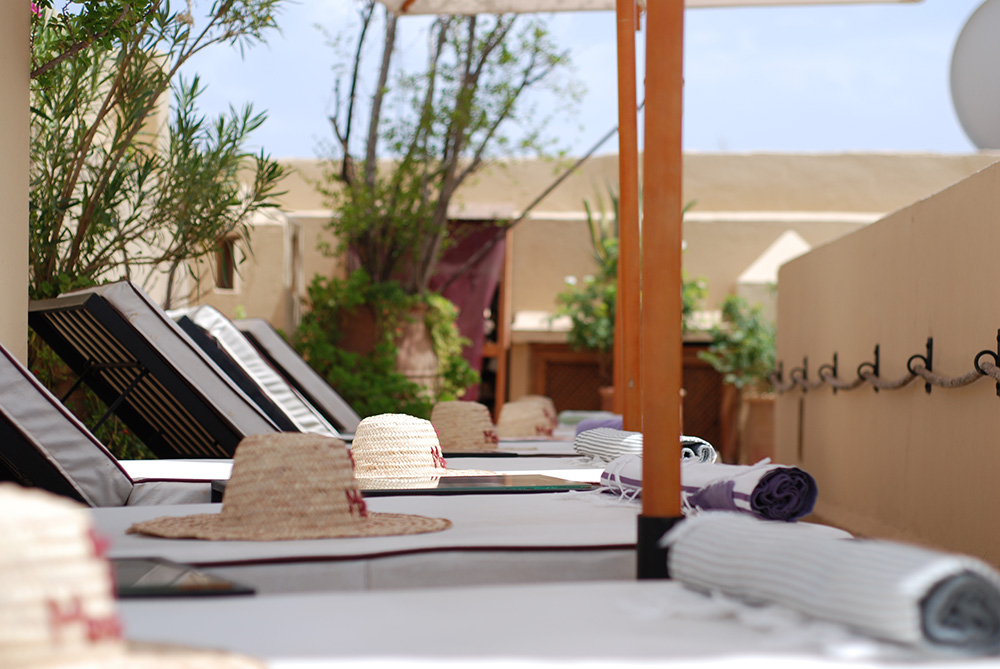 How would you like to feast on the freshest organic vegetables, herbs and sustainable, local seafood from the hotel kitchen garden and local fisherman? Or learn to cook exquisite, authentic, regional cuisine, whilst admiring the wildlife on a pristine, verdant biosphere in Myanmar? Come with us, and we will show you how with my top five eco-conscious, sustainable slow luxury travel resorts to visit soon.
Costa Rica – Casa Corcovado Jungle Lodge
Stay at the heart of a sequestered private nature reserve founded thirty-five years ago by an American naturalist, at the Casa Corcovado Jungle Lodge and you can look forward to an eco wildlife adventure that is like falling down the rabbit hole in Alice Through the Looking Glass.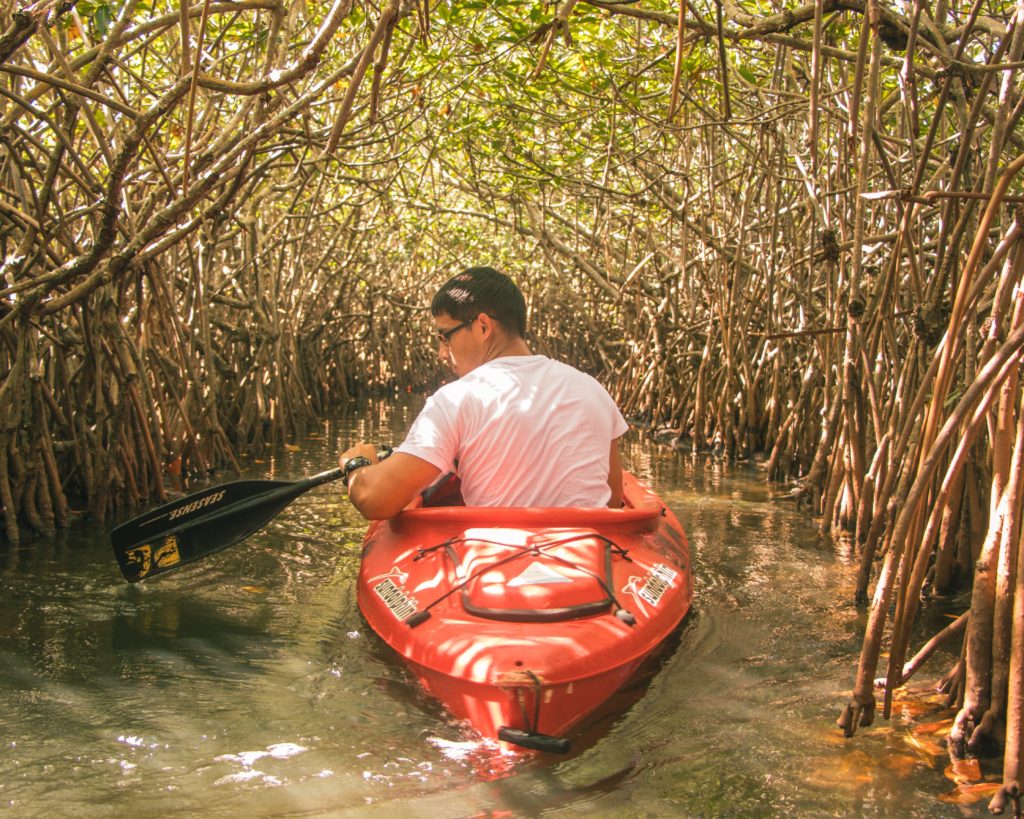 Glide Through the Mangroves
If you are drawn by a sense of adventure and love the idea of responsible slow luxury travel tourism, truly off the beaten track, then this is your ideal sustainable, wildlife holiday adventure. The only access to the lodge is by boat. Your holiday adventure begins the moment you dock at the Hacienda, in the sleepy town of Sierpe. From there, it's a 90 -minute boat ride gliding through the mangrove wetlands of Central America's Pacific Coast. Along the way, you can expect to see monkeys, crocodile; a plethora of birds and there's a very good chance of spotting dolphins and whales too.
Watch the Monkeys Play
Situated on the edge of the Corcovado National Park, the jewel in the crown of Costa Rica's celebrated national park system, the Casa Corcovado is set on a commanding hilltop, and offers the ideal marriage of organic local design and all the authentic creature comforts you could wish for including four poster beds, hammocks and mosaics made my local craftsmen. Even better you can watch the monkeys play from your stylish, open air shower, and it will only take you a minute to walk to the perfect, palm-fringed beach, barefoot, of course.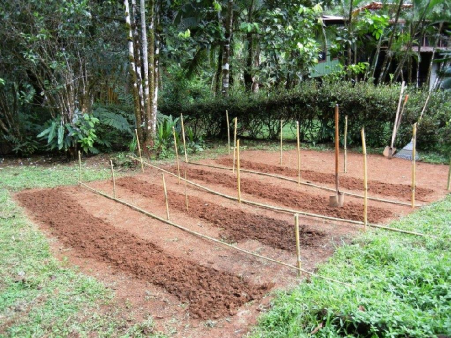 Food is an haute cuisine tropical feast at the lodge, and the chef makes full use of sun, sea and forest for the freshest ingredients. Dine in the elegant Los Vitales restaurant on traditional Cost Rican dishes, prepared with local plantain, squashes, hearts of palm and giant local mangoes. Don't forget to sample the local rum and Tico cheese, made on the slopes of the local volcano.
Bird Watching & Night Safaris
Casa Corcovado is about getting away from it all with a spirit of eco adventure. Activities revolve around the rainforest and ocean, and include: hiking tours, night safaris, scuba diving, and bird watching and kayaking. The hotel is noted for its use of solar and hydroelectric power. Recycling has been in place since the nineties, and the hotel funded a waste recycling centre, which benefits a local school in Sierpe.
Miramar – Villa Inle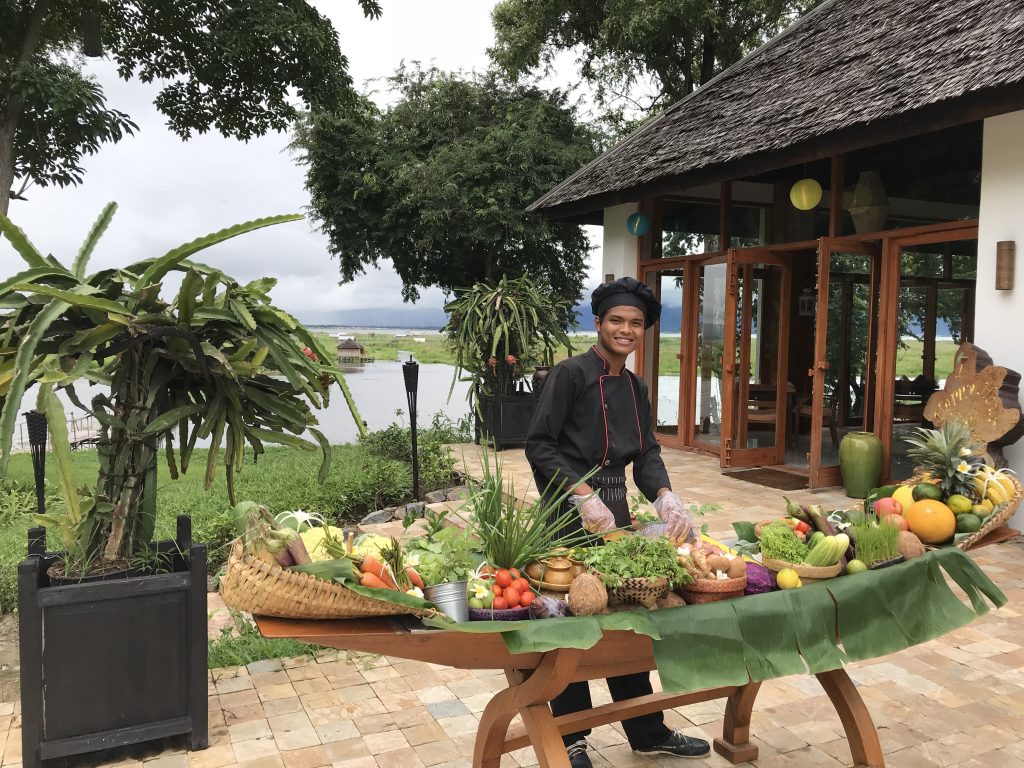 Villa Inle, Miramar, is situated on the eastern shore of Lake Inle, in a Unesco biosphere nature reserve, in the land that time forgot – a place of floating villages, ancient monasteries and fishermen gliding serenely across Burma's second largest freshwater lake.
Villa Inle is a boutique hotel that sets the benchmark for eco conscious luxury by truly embracing the idea of localism – from employing more local people to celebrating the heritage and customs of a remarkable water-bound eco system.
Handcrafted Wooden Villas
The hotel consists of 27, handcrafted lakeside wooden villas inspired by the architecture of a local monastery and traditional local houses. Expansive picture windows afford endless vistas of flocks of migratory birds and the water buffalo cooling off in the shallows. Local craft skills have been thoughtfully applied to the exquisite interior décor and the serene interiors are furnished with handcrafted furniture made by local carpenters, artisans and sculptors. There are day beds dreamily positioned to capture all the activity on the lake, covered in local kapok cloth and beautiful lamps are fashioned from bamboo and the famous local Shan paper, which is embedded with local flowers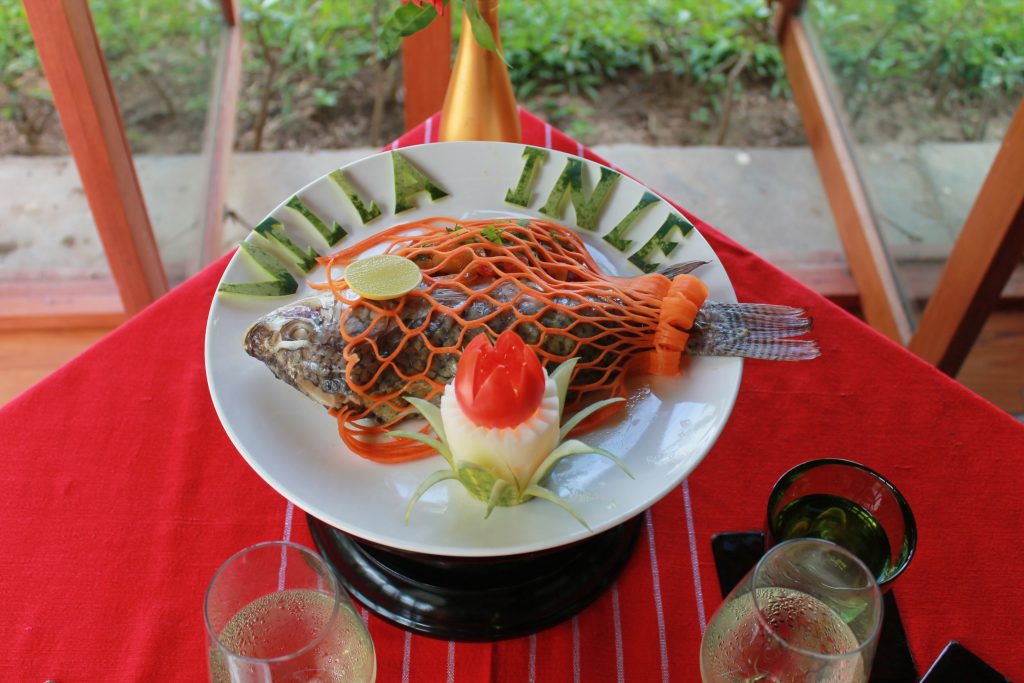 Want to escape the madding crowd and live like a local? Then come to Villa Inle and you can look forward to intimate farmhouse kitchen suppers, trips to see the famous hanging tomato gardens by local boat, and the highlight? The not to be missed opportunity to participate in mindful, healthy, Burmese cookery classes with the chef, using produce from the hotel's botanic and organic kitchen garden, while you sip a glass of local wine and admire the dreamy view. You can also discover the thriving artisan craft culture, with visits to see local handicrafts, including silk and lotus weaving and cheroot making. At the end of fascinating, carefree day, you can relax with cocktails at sunset and dream about your return visit.
Jamaica – Secrets Wild Orchid and St James's Bay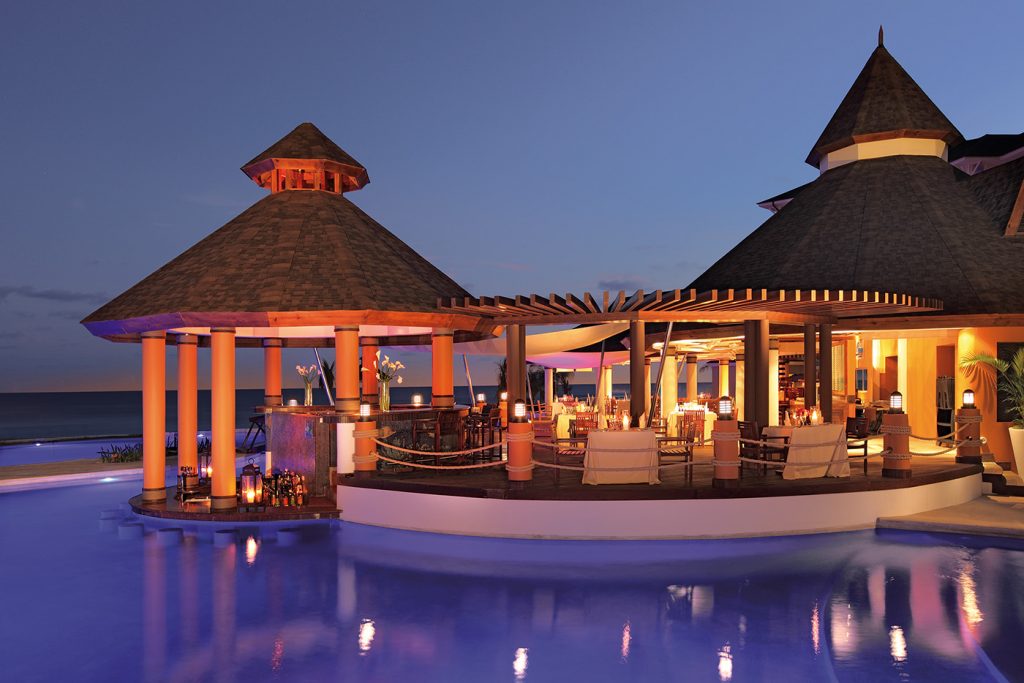 Set on its own secluded peninsula, stretching like a garland out into the celebrated 'Mobay' in the Caribbean, this super chic, adults only, holiday pleasure dome, offers every comfort, luxury and opportunity for relaxation and rejuvenation, whilst treading lightly on the local environment.
There are eight restaurants, cafes and bars to feast in, serving local produce and foodie delights, including the jerk chicken cart and famous local Jamaican patties; all making use of jewel green, aromatic herbs from the resort's kitchen garden.
There is a weekly, craft market, featuring the work of the local artists, or you could take a Jamaican cookery class or get up close with nature on a guided walk or bicycle ride. The resort employs 98% of its staff from the local community; runs beach clean ups, donates to local hospitals and schools and composts its waste.
Morocco – Riad Al Massarah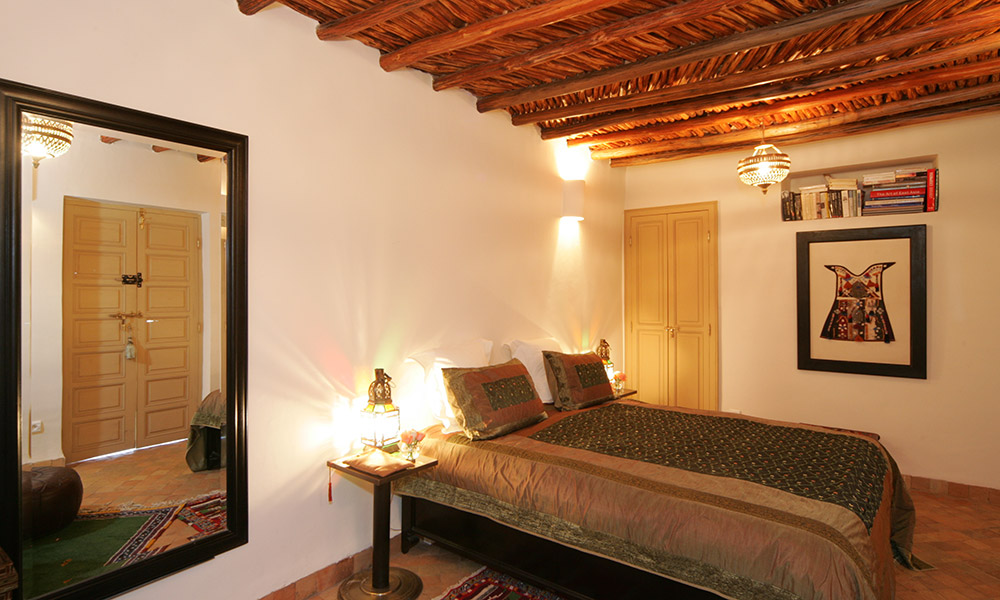 You only have to read the reviews for the Riad Al Massarah, to see that Michel and Michael, the attentive, French-British owners have created a refined oasis of sustainable luxury and calm, that utterly exceeds visitors expectations. Local food is a highlight at the Riad, which is furnished with exquisite taste and flair with handmade pieces by local artisans and treasures from Europe.
Feast on a Fragrant Tagine
Food ingredients are purchased daily from the local market and transformed into a colourful, scented and vibrant fusion of European and Moroccan cuisines with flair and imagination. Feast on authentic tagine and when you are tired of this rich, filling stew, your hosts will be delighted to prepare a dish which is light, healthy and delicious.
Madeira – Gala Resort, Hotel Alpino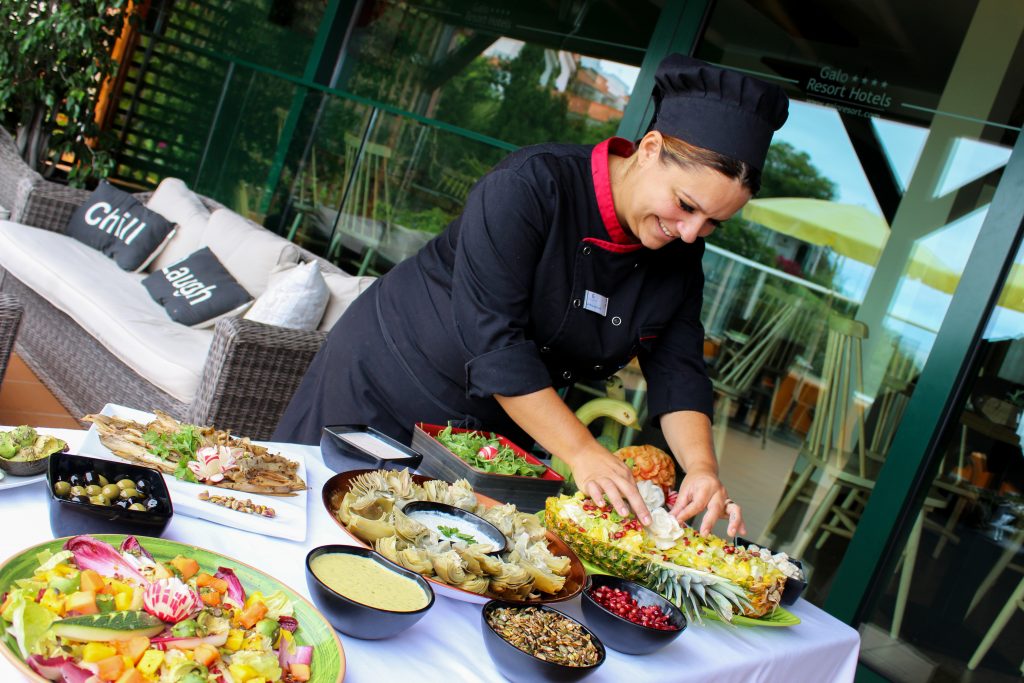 Do you crave complete rest and mind and body rejuvenation? Then the Galo Atlantico Ayurvedic Resort is the place to kickstart your detox and healthy reboot.
Ayurveda is the ancient medicine system of India, focused on the art of living wisely and in harmony with all living things. During your stay, you will have a consultation with the in-house Ayurvedic chef, and discover your constitutional type – pitta, vata or kapha.
Graze On Organic Local Produce
Then you will graze on delicious, gourmet vegetarian and plant-based vegan food prepared according to your type and designed to promote optimum health and wellbeing. Sip organic tea made from herbs grown in the organic garden and eat vibrant, light, healthful local organic produce based on – herbs, shoots, roots, fruits, seeds and spices that follow the seasons and are designed to energise, strengthen and renew your mind and body.
Feature Sponsored by Travelife – The sustainable Kitemark for Certifed Sustainable Slow Luxury Travel and Hotels Across the Globe. Please note that hotels certified by Travelife are subject to change at any time. Please check the website for up to date members of the scheme. Details correct at time of going to press.
Love our authentic journalism on food, travel and fashion? Check out our editor, Alison Jane Reid's evocative travel feature on her trip to China and the City of Pandas – AJ Goes to Pandaland