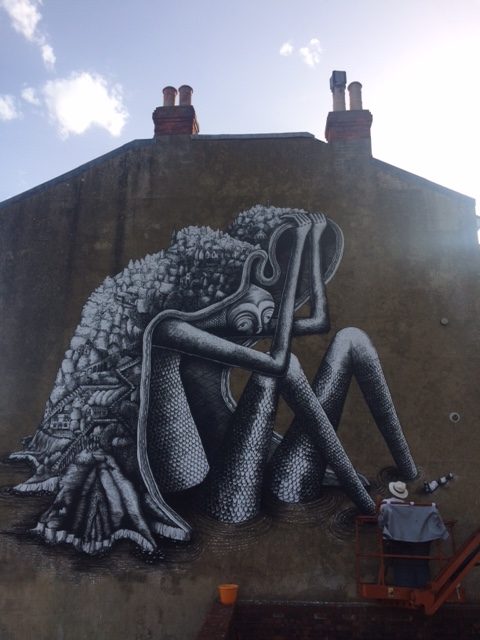 Sometimes, I just stumble across the most remarkable people and a great interview! Like @phlegm_art who just happened to be perched up a crane, a modern Leonardo at work with a spray can and masonry paint one halycon summer afternoon. Phlegm originally trained as a sculptor, before he started to focus on illustration and iconic street art inspired by ancient fairytales and myths and legends. The world-renowned artist wears a gentleman's Panama hat to shade him from a merciless sun and the ever-present hazard of seagull poo missiles! Clearly, an artistic hazard. He also tells me how physical large, free-form painting is, "it's like doing a gruelling workout of squats in the gym."
Banksy was here 
Phlegm is softly spoken, charming and very modest. He likes his identity to remain hidden, and let artistry and imagination rule the roost. He also tells me that Banksy left his mark on this wall too, after an enjoyable trip to Bestival, only to have it swiftly obliterated by the local council. I bet that is one officious decision they regret now.
Phlegm – Artist in Residence 
Phlegm is currently artist in residence at the Ventnor Fringe arts festival on the Isle of Wight, an island renowned for incubating exciting new festivals from music to multimedia.
As you can see from the video, Phlegm brings his sleepy, mournful giant to life with the intricate painstaking skill of the engraver. Just look at the detail, at the charisma and the power of painting in monochrome in an everyday world of colour. Phlegm captures Queen Victoria's isle – amid cathedral cliffs, Victorian gothic heritage hugging the coast, wild nature, and the dinky toy iconic Needles. "The artwork is a snapshot of everything I have read or observed since I arrived on the Isle of Wight. It's also about what I can see from my lofty eyrie."
The perfect blank canvas
He also reveals that competition is fierce amongst top street artists for a nice, empty wall to paint, and he is delighted with his blank canvas in Ventnor. "This wall is ideal. It is hard to find a great building to paint in London, it is very competitive."
I just want to pop it all in my handbag and take this strange and wonderous masterpiece home and put the kettle on for a cup of proper tea and celebrate the lovely idea that art and creativity is all around us. All you need to do is open your eyes.
Love my journalism and Ethical Hedonist Magazine – get involved in our crowdfunding campaign @patreon – great journalism for the price of a good cup of coffee every month.